egg masala fry, ande ki sabji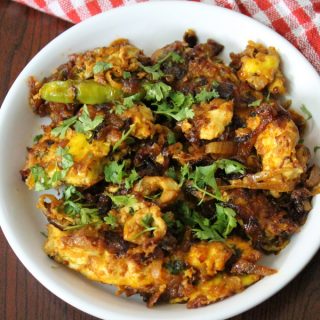 2 tbsp oil
4 medium onions, finely sliced
salt to taste
3 slit green chillies
1 tsp red chilli powder
¼ tsp turmeric powder/haldi
2 tbsp freshly chopped coriander leaves
½ cup water
4 eggs
2 tbsp chopped coriander leaves
Firstly, take a pan, add oil and heat it.
Add finely sliced onions, saute and cook them until they turn soft.
Add salt as per taste.
Cook the onions until they turn slight golden in color.
Keep stirring in between.
Add slit green chillies and cook until the onions are nice and golden.
Add red chilli powder, turmeric powder, coriander leaves.
Mix them well and cook the masala well for few minutes on low flame.
Add some water and give a mix.
Break the eggs and add them into the masala.
Add some freshly chopped coriander leaves.
Cook the eggs for few minutes on low flame.
Flip the eggs and cook the other side too for few minutes on low flame.
Make sure both the sides of the eggs are cooked well.
Once done, switch off the flame.
Serve the egg masala fry with roti or chapati.
1. Here I have fried the onions until they turned golden in color and little late can make the onions burn and spoil the curry.
2. Therefore, one has to be very careful in cooking the onions and not let them cook until they reach a stage where they can burn if little late in adding the spices.
3. After adding the spices do not cook on high flame as the spices may burn the masala. Cook it on low flame and just for few seconds.
4. Following these simple tips could make your egg masala an easy and a delicious egg dish.
Recipe by
Yummy Indian Kitchen - Indian Food Recipes
at https://yummyindiankitchen.com/egg-masala-fry-ande-ki-sabji/