Hyderabadi Dahi Vada or vade or wada/wade/baray is an authentic Ramadan delicacy. It is usually made with chickpea flour batter or urad dal batter . This Ramazan delicacy is very popular in India mostly in Hyderabad .
Do click on the link Hyderabadi recipes to learn more of hyderabadi cuisine…
Recipes to try this Ramazan:
Hyderabadi dahi kadhi recipe or dahi bade
It is mostly eaten during iftar time in Ramazan, it is made almost everyday in every muslim household during this month. Hyderabadi Dahi vada is basically made with deep fried balls or vada of chickpea flour batter and then transferred to whipped yogurt and tempered.
This dish keeps you filled after breaking the fast during Ramazan. It is very yummy, nutritious, healthy and cool to your stomach. It is sometimes made with blended paste of urad dal or chickpea flour batter.
Other popular ramazan snacks which can be eaten during iftar are pakodas such as onion pakora recipe, aloo fritters, spinach fritters, egg fritters etc…
Here I am showing the recipe of vada dumplings of chickpea flour batter dipped in creamy yogurt. Let us check out in depth on how to make these delicious hyderabadi dahi vada.
Also check out the video procedure for Hyderabadi dahi ki kadhi below which is also a famous hyderabadi dish made usually during Ramzan with dahi kadhi and besan ke pakode.
Hyderabadi Dahi Vada Ramadan Special: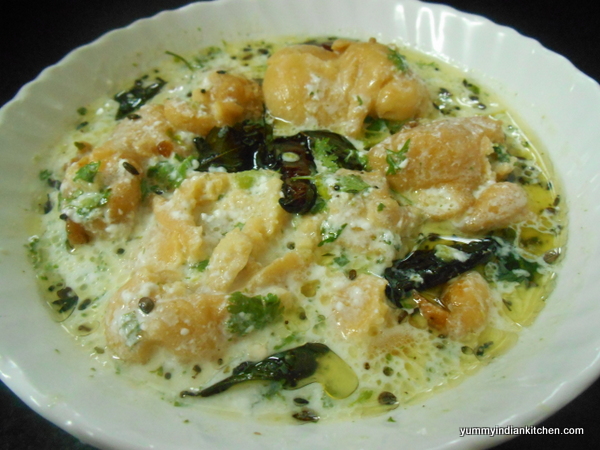 Hyderabadi Dahi Vada,Snacks recipes ,Ramadan Special Dahi Vade
A special dahi vada made especially during Ramadan month and eaten during iftar in Hyderabad...
Print
Pin
Rate
Ingredients
For the vadas:
2

cups

Chickpea flour

besan

salt to taste

1

tsp

red chilli powder

1/4

tsp

turmeric powder

1

tsp

ginger garlic paste

1/4

tsp

baking soda

2

tbsp

finely chopped onions

2

tsp

finely chopped coriander leaves

1

tsp

finely chopped green chillies

1/2

cup

water
For the Yogurt sauce:
2

cups

yogurt/dahi

salt to taste

1/2

tsp

blended paste of green chillies

1/2

tsp

blended paste of coriander

1/2

tsp

blended paste of mint leaves

1/2

tsp

ginger garlic paste
For Tempering:
1

tbsp

Oil

1

tsp

mustard seeds

Rai

1

tsp

cumin seeds

Jeera

4-5

curry leaves

2-4

dried red chillies
Instructions
For the vadas:
Firstly, in a bowl add the chickpea flour, then add salt, red chilli powder, turmeric powder, baking soda, ginger garlic paste, coriander leaves, onions, green chillies and mix well.

To the mixture add water gradually and mix well and stir it till we get a batter consistency which is neither too thick nor too watery.

Make sure the batter consistency is thick enough to get good dumplings or round balls.

Once the batter is ready beat it well or whisk it well.

Take a frying pan or wok/kadaai, add enough oil for the vadas to fry and heat it.

Make round biscuit like balls of the batter and add it to the oil.

Deep fry the dumplings or the vadas on sim flame so that the inner batter is cooked well. Check if the vadas are turning golden brown on every side and keep flipping from one side to other and carefully remove it and keep aside.
For the Yogurt sauce:
Whip the yogurt quite well so as to remove lumps in it.

To it add salt, ginger garlic paste, paste of green chillies,coriander and mint, and stir it well.

Once the yogurt sauce is ready transfer the yogurt sauce onto the vadas and rest aside until the vadas absorb the creamy whipped yogurt sauce.

Add the tempering/baghar to the dahi vada.
For the tempering:
In a saucepan heat oil, add mustard seeds, cumin seeds, red chillies, curry leaves and pour it over the dahi vada.

Garnish it with coriander.
Notes
Generally the vadas are not soft after frying , so one needs to soak the fried vadas into a bowl of water for about 3-4 minutes after frying and then squeeze out the water from the vadas and then add to the yogurt sauce .This way the vadas are very soft to eat .
Nutrition
Want To Watch Video Recipes?
SUBSCRIBE US ON YOUTUBE!