Puffed Rice Upma Recipe or uggani is an upma recipe made in South India mainly Andhra Pradesh. Puffed rice is commonly called as murmura in hindi and maramaraalu and borugulu in Andhra Pradesh.
                          Puffed rice recipe is mainly served as breakfasts by making it in the form of upma in south india. Its a unique and wonderful dish almost similar to poha. Kanda Poha and Aloo Poha are most common dishes across Maharashtra but uggani is mainly served in South India.
                        Puffed rice is a grain made from rice and is usually eaten as a street food or breakfast item or as an evening snack. It is also called as borugula upma but commonly called as uggani in telugu lingo.
                        The most common dishes made with murmura are murmura chivda, bhel poori( a popular Indian chaat), cakes and also used  to offer to deities in temples.
                         I have learnt that this dish is served with bhajiye or mirchi bhajiye in some parts of South India. The puffed rice is given tempering almost similar to lemon rice  and finally adding lemon juice for some sour taste.
                           Let's take a look at this wonderful breakfast item called as uggani or borugula upma or vaggani , a popular dish across different parts of Andhra Pradesh mainly in rayalaseema region.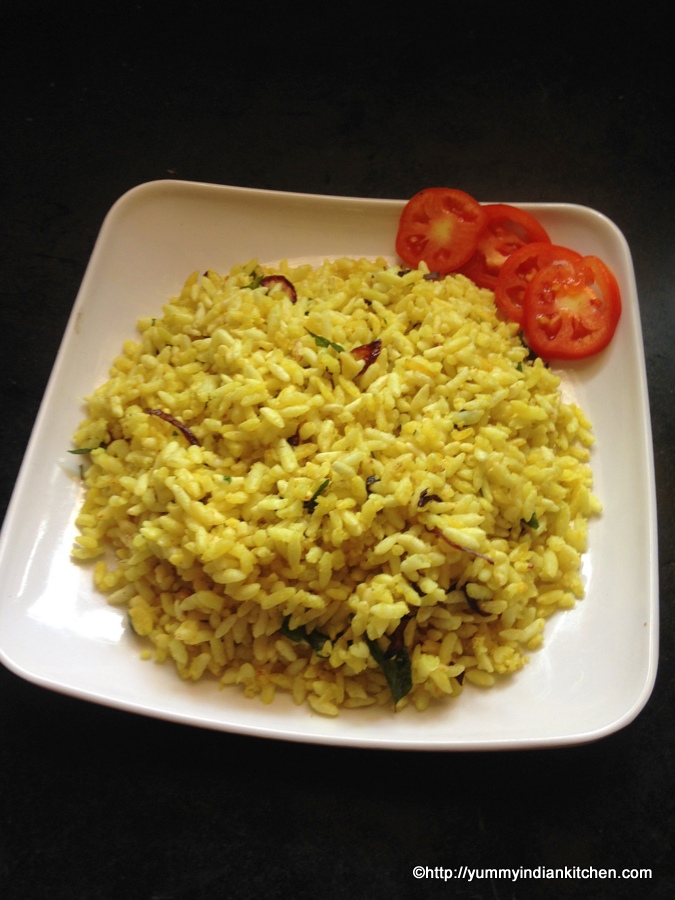 Detailed recipe of puffed rice upma or puffed rice upma recipe or borugula upma or uggani :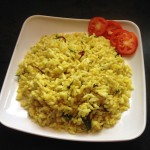 Print Recipe
Puffed Rice Upma Recipe,Uggani,Borugula Upma
Puffed rice upma made for breakfast is a healthy recipe made like upma.
Ingredients
1/4

kg

puffed rice or 8 - 10 glasses of water

salt to taste

4-5

green chillies

1

tbsp

phule chana/roasted chana dal

1

tbsp

oil

1

medium sized onion finely sliced

1

tsp

mustard seeds

1/2

tsp

turmeric powder

4-5

dried red chillies

4 -5

curry leaves

1

lemon extracted juice.

1

tbsp

coriander leaves for garnishing
Instructions
Firstly, take a deep bowl, add water into it approximately for about 3 - 4 litres of water.

Add puffed rice into it, dip or soak them for about 2 minutes.

Remove the puffed rice by squeezing out the water from the soaked puffed rice.

Place the squeezed out puffed rice separately in a large bowl.

Make a powder of phule chana/roasted chana dal, salt,3 green chillies by blending well.

Add the blended powder into the puffed rice and mix or toss well.

In a heavy bottomed cooking vessel, add oil and heat it.

Add mustard seeds and let it splutter, add 2 slit green chillies.

Add sliced onions and fry till slight brown.Add dried red chillies and saute well.

Add curry leaves and when we get a crackling noise, add haldi/turmeric powder.

Add the mixture of puffed rice ,mix well very delicately or toss well, add lemon juice all over the puffed rice and toss well.

Switch off the flame.

Garnish with coriander leaves and serve with pickles or bhajiye or chutneys.
Notes
In this recipe, you can also add peanuts as well while giving the tempering.
Nutrition
Like and Follow on Facebook:
Like or Follow us on our facebook page @YummyIndianKitchen to receive all the latest posts and videos from this blog....
SUBSCRIBE TO OUR YOUTUBE CHANNEL
To watch our recipe videos do SUBSCRIBE! and do not forget to press the bell icon to receive every update!!!