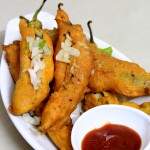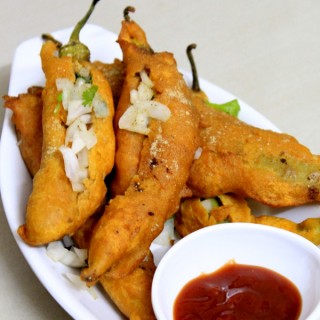 Print Recipe
Mirchi Bajji Recipe, Mirapakaya Bajji with Stuffed Andhra Masala | Chilli Bajji
A popular street food snack recipe made using stuffed green chillies and deep fried in oil.
For the besan batter:
6

tbsp

besan/chick pea flour/senaga pindi

1

tbsp

rice flour

salt - to taste

a pinch of baking soda

1/4

tsp

ajwain/vaamu

carom seeds

3/4

th tsp red chilli powder

1/2

tsp

turmeric powder

haldi

1/2

tsp

roasted coriander seeds powder

1

tsp

ginger garlic paste

1

tsp

oil
Step 1(Boil, slit and deseed the chillies):
In a vessel, add some water to boil, add green chillies and blanch them in water for about a minute.

Doing so takes away the hot and spiciness of the chillies and the bajji can be eaten along with the chilli.

After boiling slit the chilli vertically leaving the corner edges of the chilli.

Do not slit the entire chilli, just slit vertically the centre part of the chilli.

Remove the seeds from the chilli completely.
Step 2(Stuffing):
In a bowl, add tamarind paste, salt as per taste, roasted cumin seeds powder, chaat masala powder and mix all the ingredients well.

Take each chilli and stuff this paste into all the chillies and put them aside.
Step 3(Making the batter):
In a bowl, add besan, rice flour, salt, baking soda, ajwain and mix all these.

Into it add red chilli powder, turmeric powder, roasted coriander seeds powder, ginger garlic paste, oil and mix it well.

Add water and make a batter with a consistency neither too thick nor too liquid.

The batter should be mixed well without any lumps in it.
Step 4(Dipping and deep frying):
Heat oil in a wok for deep frying.

Take each stuffed chilli, dip the stuffed chilli into the batter.

Take the dipped chilli and drop it in oil.

Similarly dip and drop the rest of the chillies too.

Fry them on low to medium flame until they turn golden brown on all sides.

Take them out on an absorbent paper.
Garnishing:
Take each fried chilli bajji, take a knife and give a small slit to the fried chilli.

Stuff the slit part with very finely chopped onions and coriander leaves.

Similarly garnish the rest of the fried chillies.

Sprinkle chaat masala powder generously all over the mirchi bajji.

Finally, serve them hot with any chutney!!!