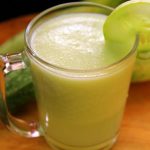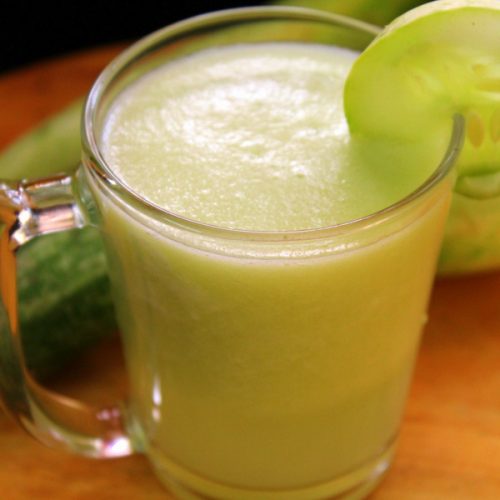 Print Recipe
cucumber juice recipe, juice for weight loss
a cool and refreshing drink made using kheera/ cucumber.
1

fresh cucumber

salt - to taste

1/2

lemon

4-5

ice cubes
Peeling of cucumber:
Firstly, take a fresh cucumber peel it completely with the help of a peeler.

The kheera that is used should never be bitter in taste.

Make small pieces of the cucumber with the help of a knife.
Making the juice:
Take a blending jar, add the cucumber slices into it.

Add salt as per taste aprpoximately 1/4 teaspoon.

Add few lemon drops into it.

Add some ice cubes.

Cover the lid and give a good blend for 2-3 minutes.

Take a serving glass.

Pour the juice into the glass.

Garnish with cucumber slices or mint leaves.

Serve chilled.
Do not strain the juice and serve it directly without straining.
Black salt or kala namak too can be added for a better taste.
Also mint leaves too can be added and it is totally optional and one's own choice.
Do not add sugar to the drink.
Consuming it weekly twice brings much relief to the tummy and helps in losing weight.
Do not store the drink in refrigerator nor store it for days. It has to be consumed fresh and never stored.
Storing changes its taste and makes it inedible.
Like or Follow us on our facebook page @YummyIndianKitchen to receive all the latest posts and videos from this blog....
To watch our recipe videos do SUBSCRIBE! and do not forget to press the bell icon to receive every update!!!