Cucumber juice, a healthy refreshing drink perfect during summers is a coolant to drink using simple ingredients and blending all together. Cucumbers are available in plenty in summers and this is the best and coolest fruit or vegetable highly used in summers in various ways.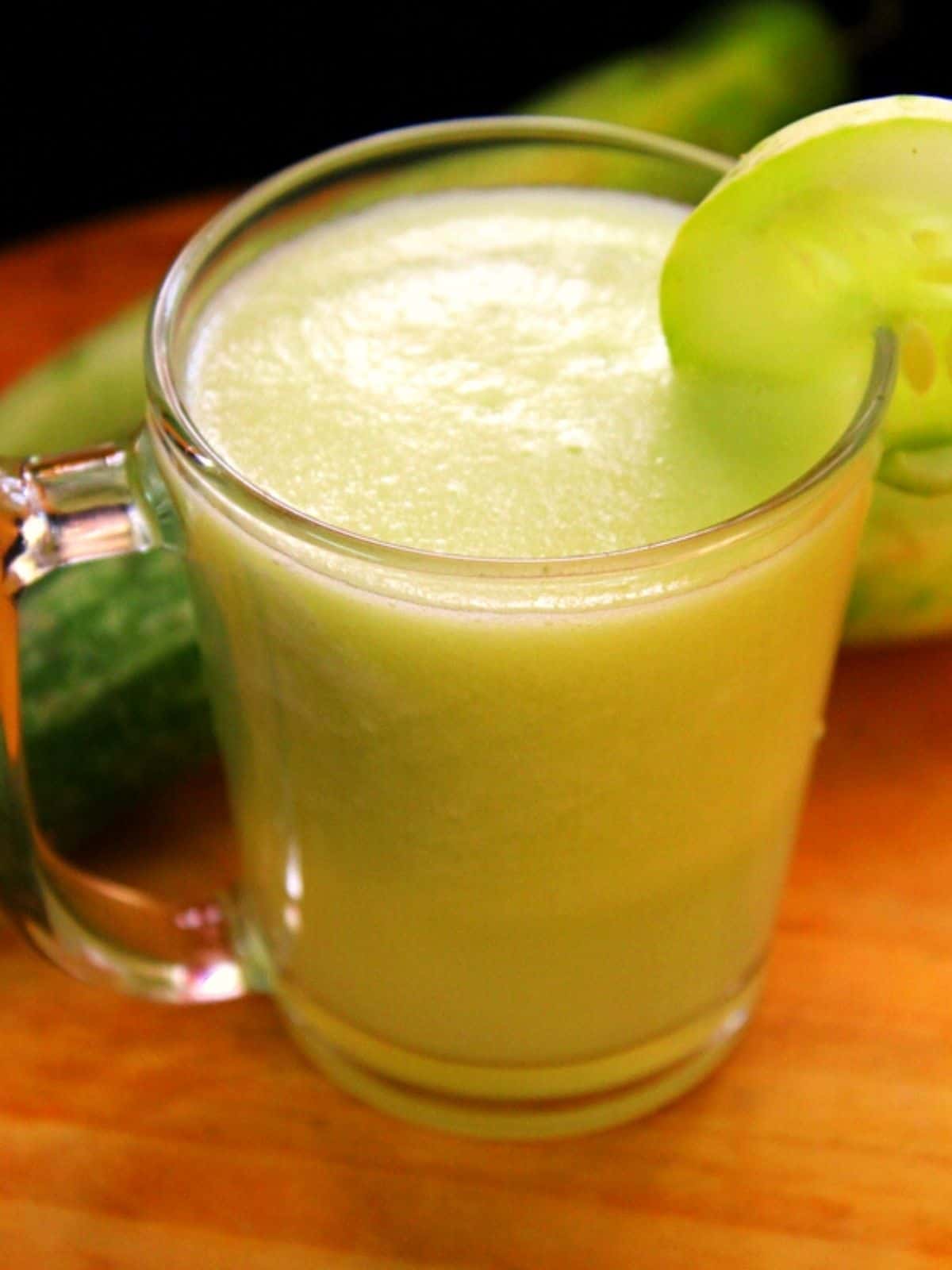 Jump to:
About the recipe
Cucumber in the Indian language is commonly termed as Kheera. It is a medium-long size cylindrical shape green colour fruit/veggie mostly available in summers in Indian regions.
We find fruit vendors selling Kheera/ Cucumber in abundance in every nook and corner in this season and is the best time to make use of the cucumber in every way possible and reap its benefits.
A simple drink made by blending the slices with some ice cubes and salt which is a great coolant for the stomach.
Other healthy drinks on the blog which are healthy and aids in weight loss are ginger tea for cold, jeera water and also check out other healthy refreshing drinks such as cinnamon water drink for weight loss, masala chai, muskmelon juice etc...
There are many other green drinks or healthy drinks such as aloe vera juice weight loss drink made out of green aloe vera leaf and then I have also posted apple cider vinegar for weight loss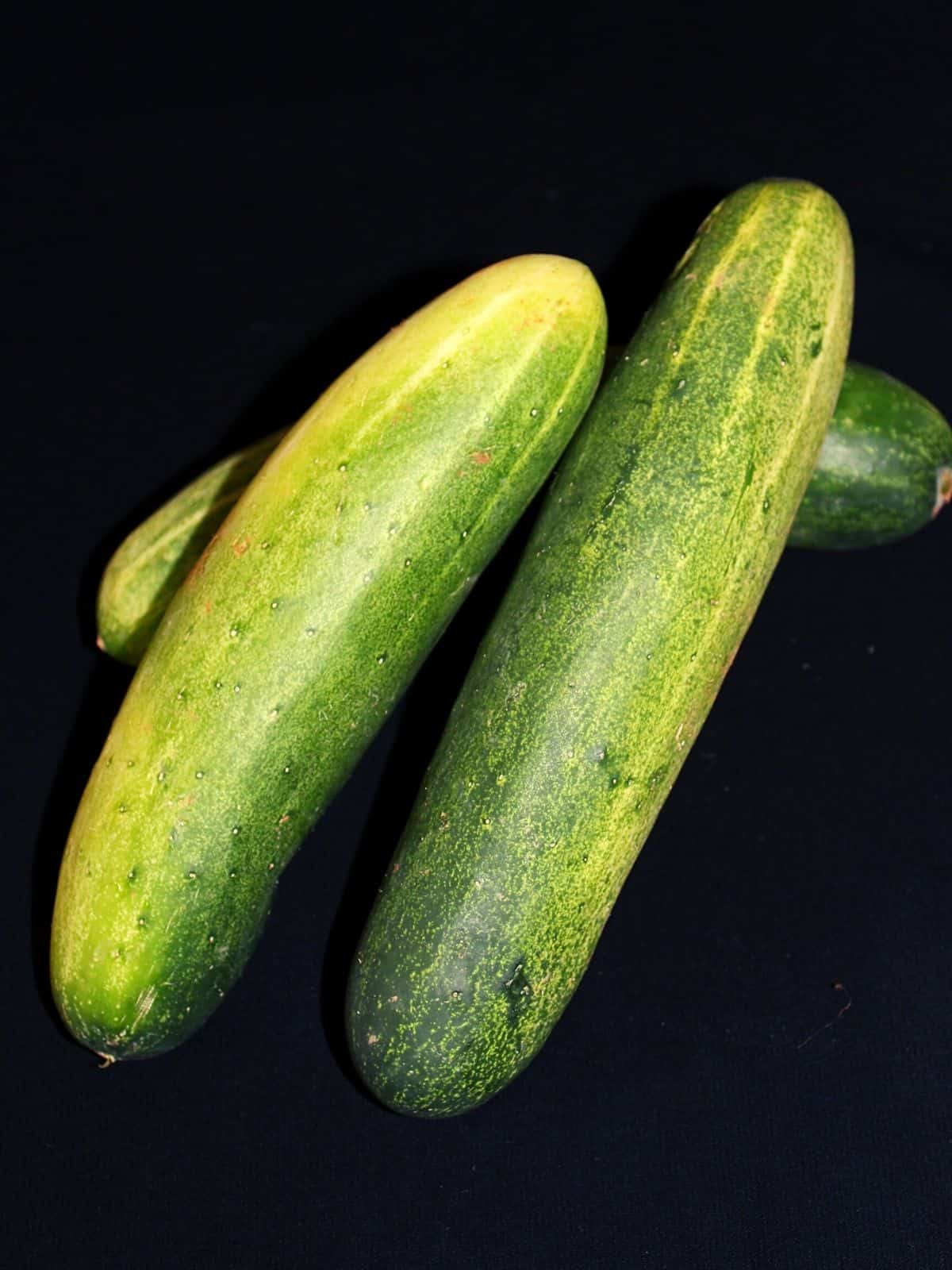 Uses and benefits of Cucumber
Cucumber is highly used in salads, dressings, garnishing and it gives much relief to the tummy.
It gives a soothing effect to the eyes mainly eyes that suffer from dark circles, puffiness or irritation. Taking a round slice of a cucumber and placing it on the eyes gives a cooling effect to the eyes...
Cucumber aids a lot in weight loss and eating it regularly cuts down the fat deposit in the body.
It prevents constipation and various other diseases.
Also, it is rich in vitamins and minerals such as Vitamin A and Vitamin C and it is the best ingredient to treat skin related ailments and skin problems.
Cucumber flushes away the toxins in the body and regulates blood sugar levels, blood pressure levels and cholesterol in the body.
Just peel it and keep eating it in your free time without the need of making a juice and reap its benefits in the long run.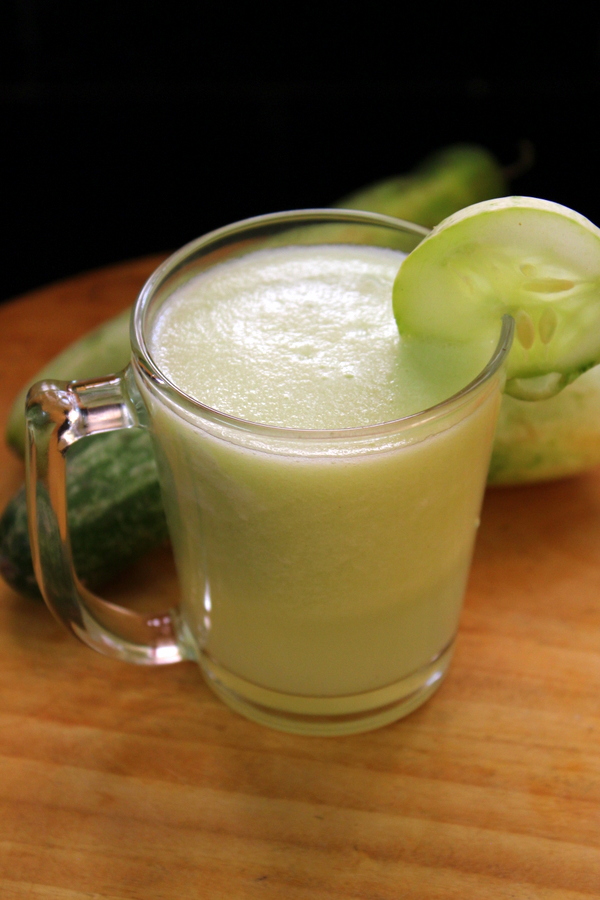 Step by step procedure
Below is a simple recipe showing quite a few ingredients juice and in step by step detail.
Take a blending jar, add the cucumber slices or pieces into it. Peel the cucumber before chopping it into pieces.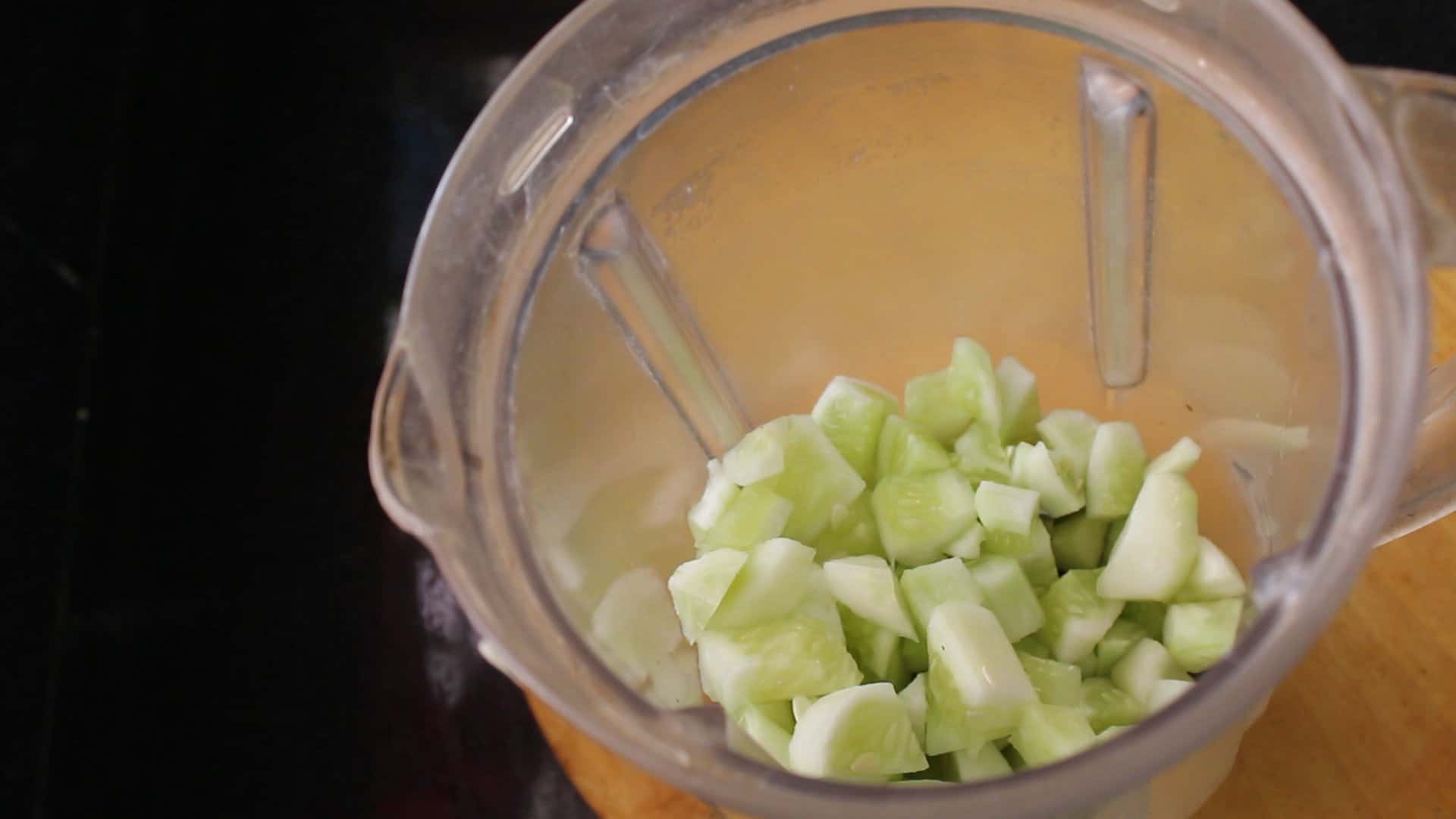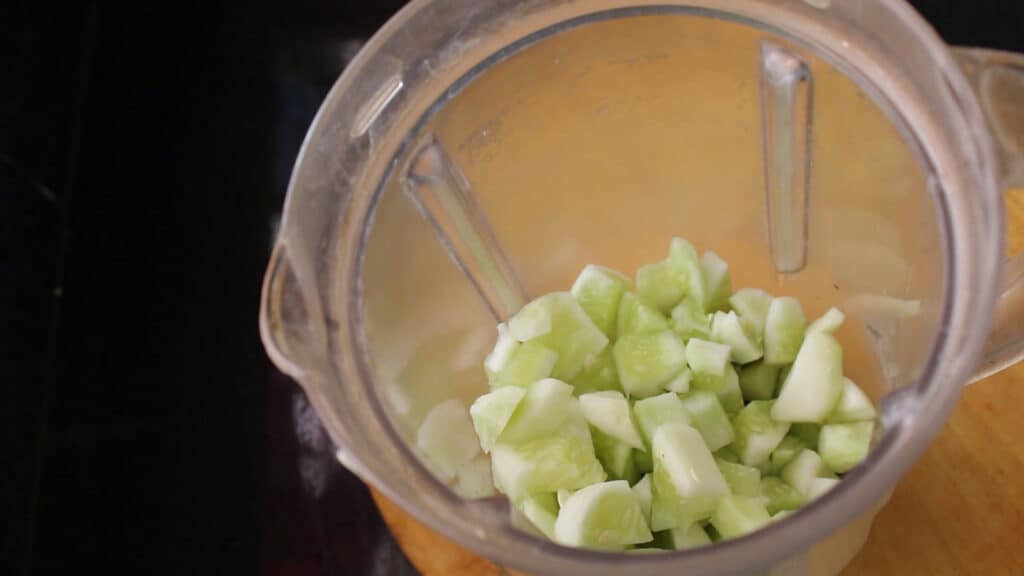 Now add salt as per taste aprpoximately ¼ teaspoon.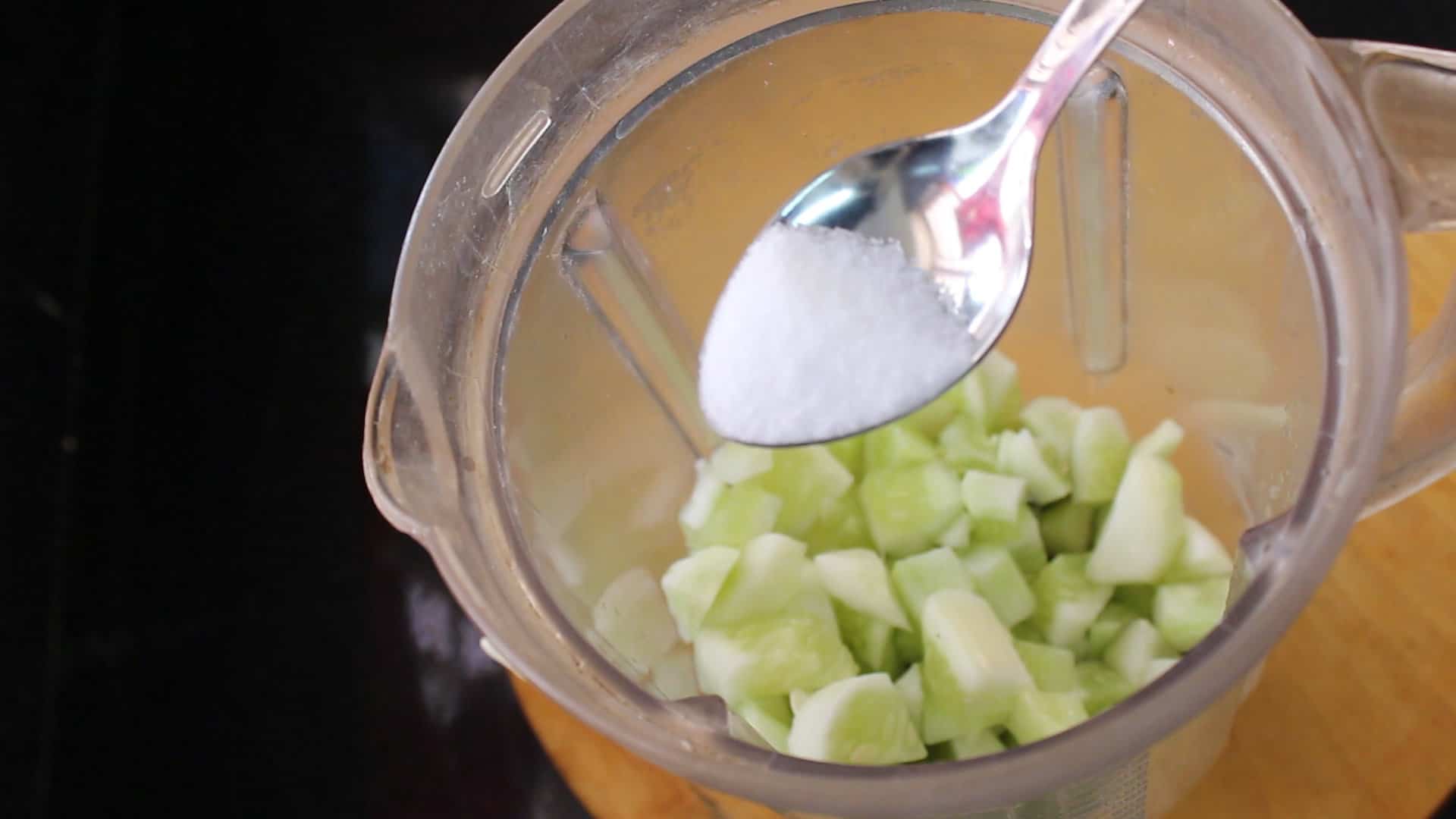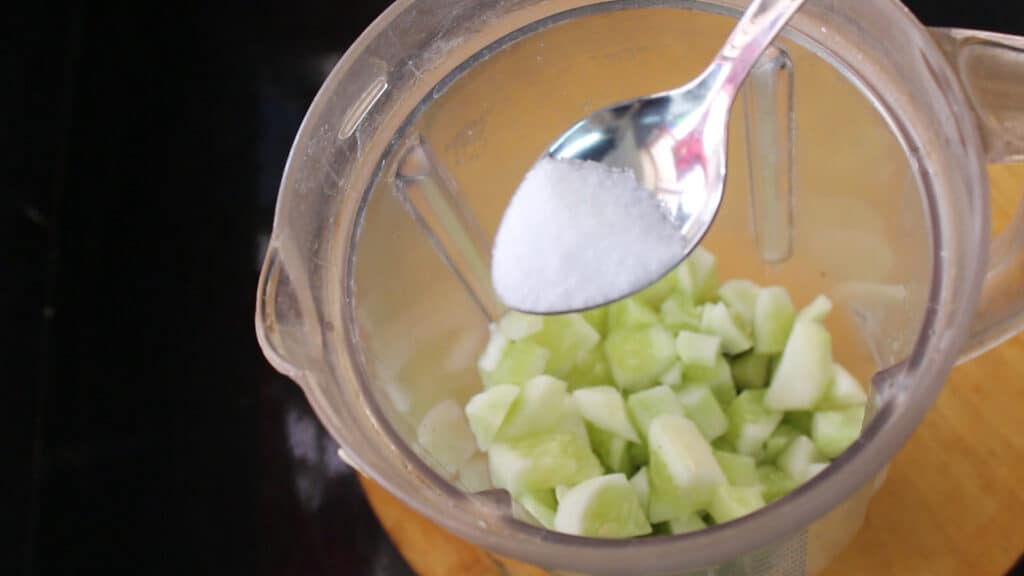 Add few lemon drops into it.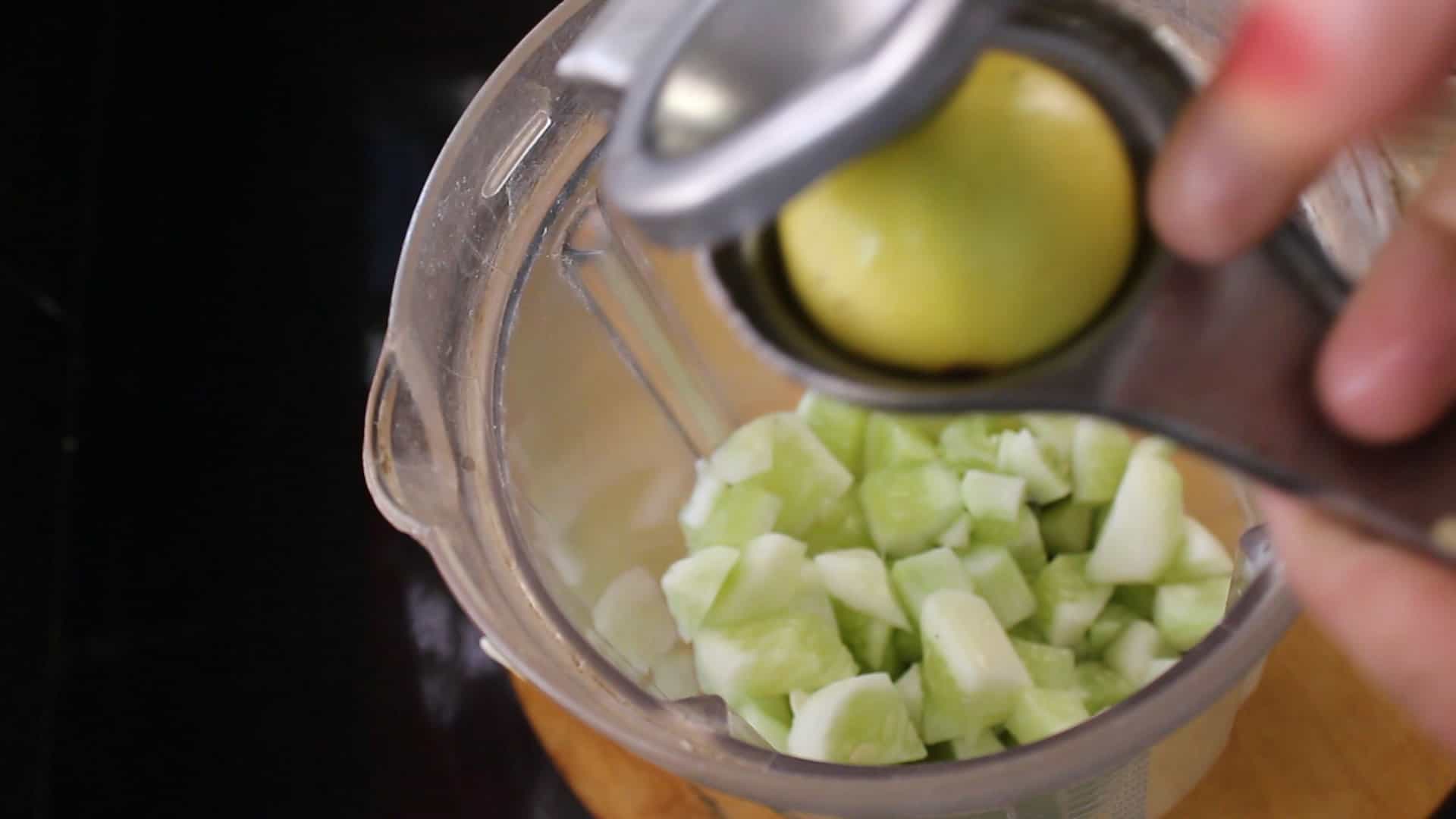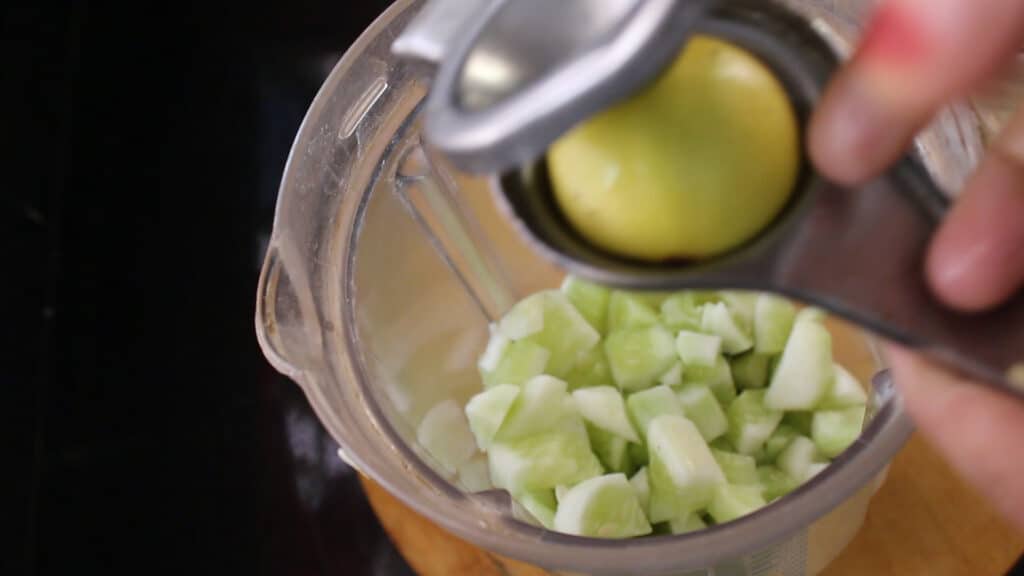 Add some ice cubes. Cover the lid and give a good blend for 2-3 minutes.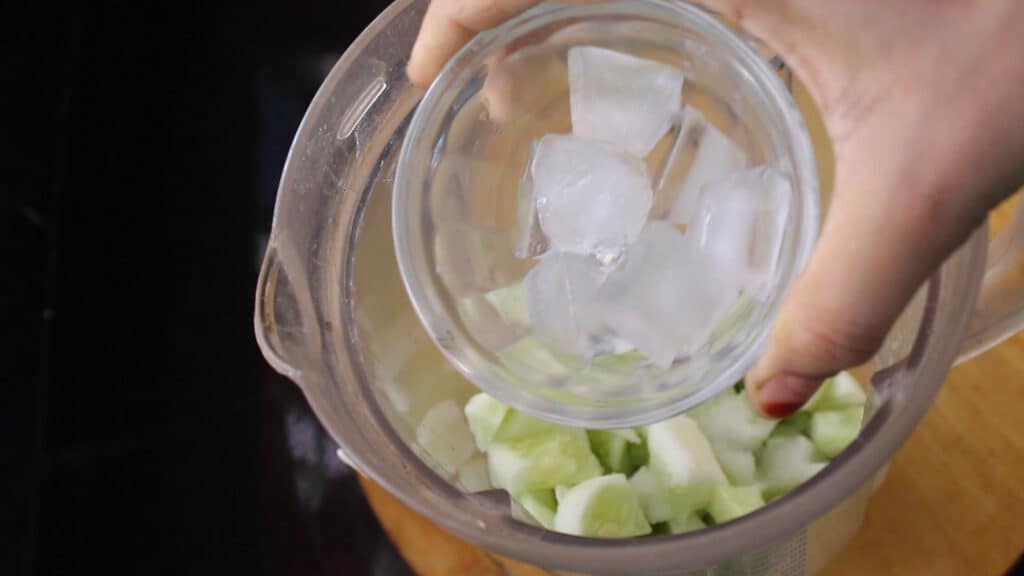 Strain the juice which is totally optional. Take a serving glass, pour and serve chilled with cucumber slices in it. Straining is one's choice but generally, it is not required.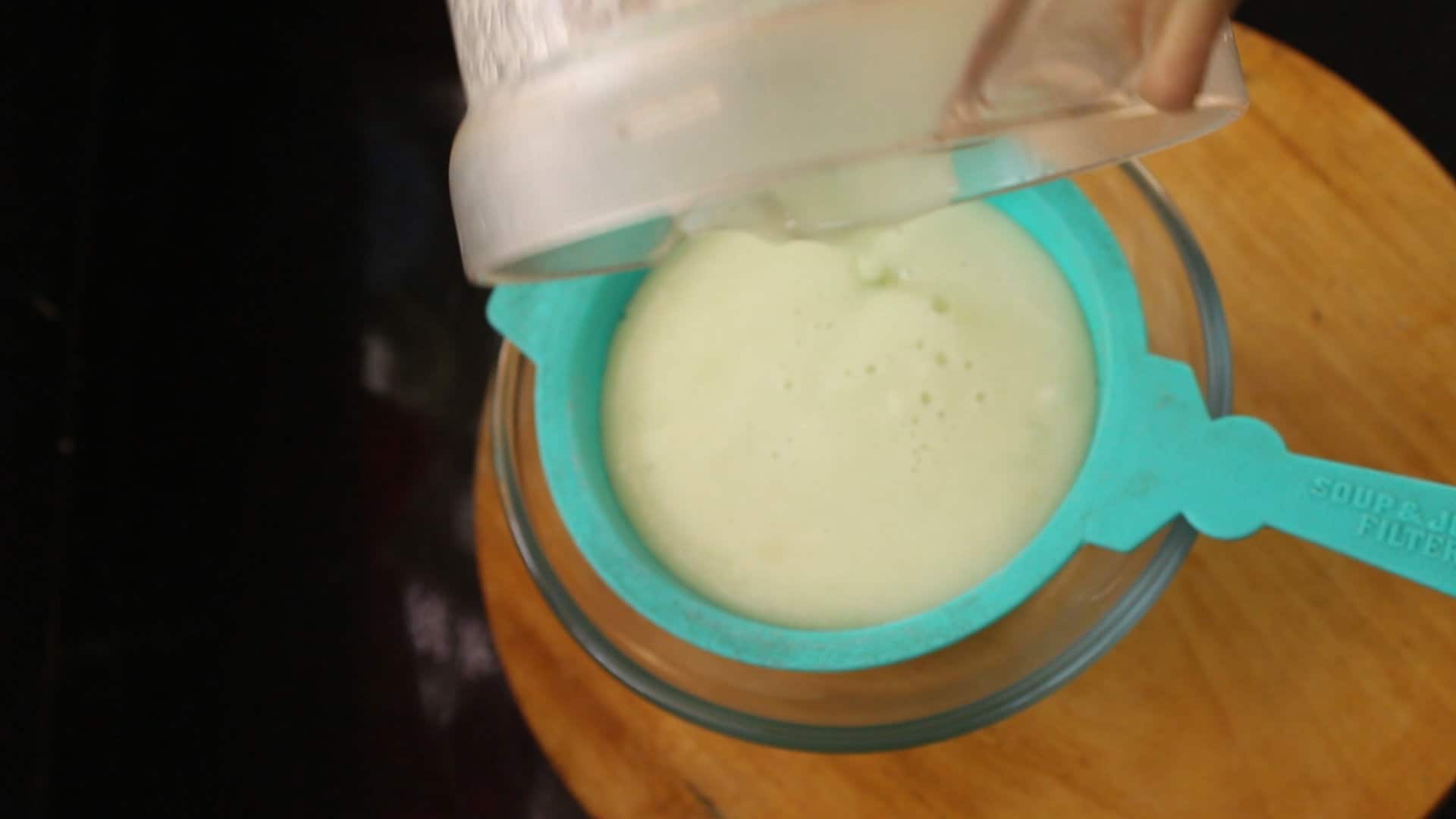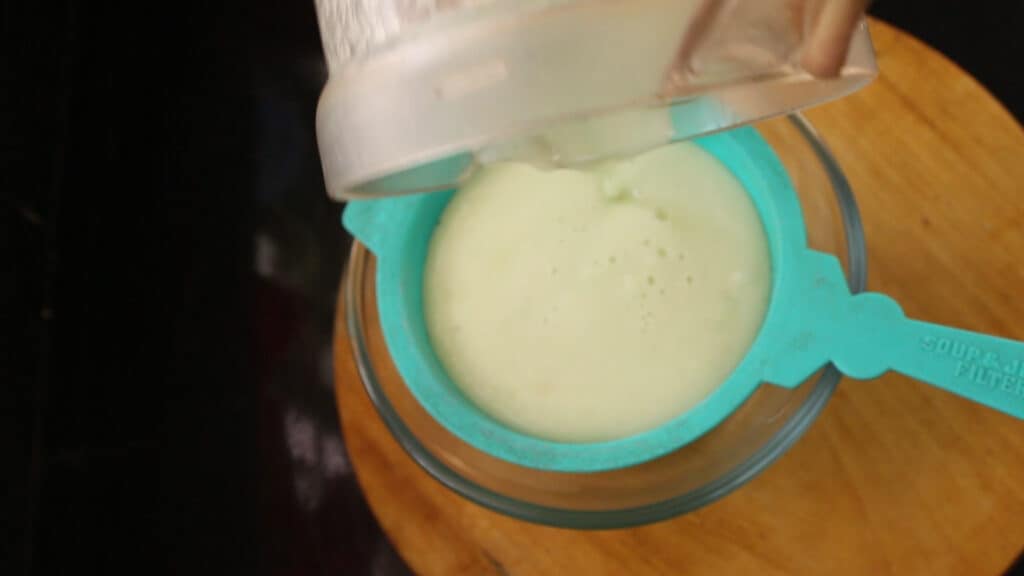 Recipe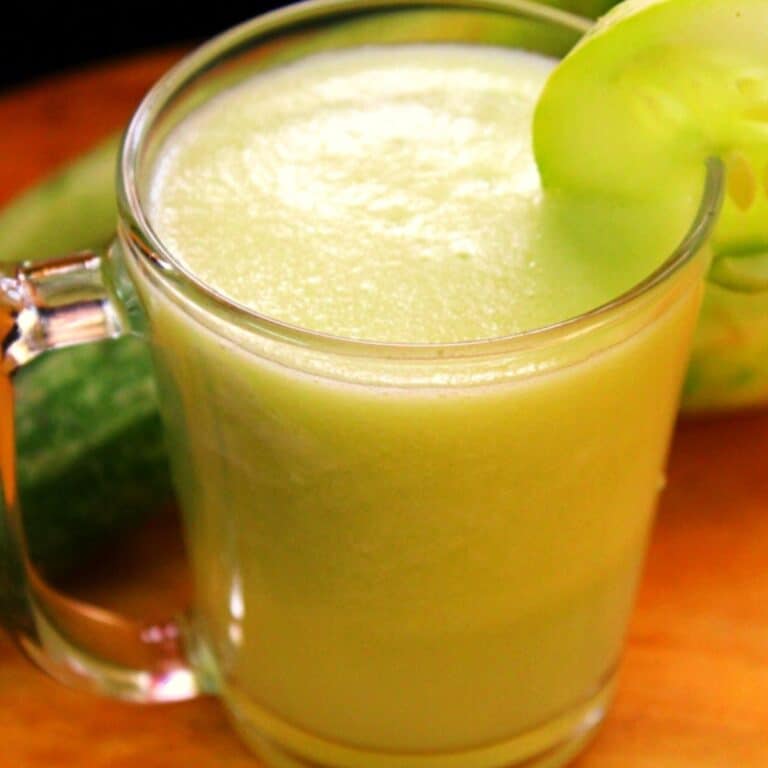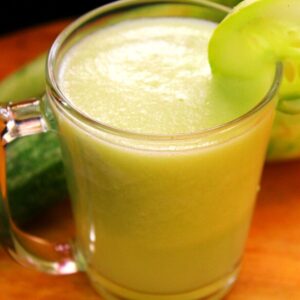 cucumber juice recipe, juice for weight loss
a cool and refreshing drink made using kheera/ cucumber.
Ingredients
1

fresh cucumber

salt - to taste

½

lemon

4-5

ice cubes
Instructions
Peeling of cucumber:
Firstly, take a fresh cucumber peel it completely with the help of a peeler.

Taste a portion of the cucumber and if it is bitter discard the cucumber and use another fresh cucumber that is edible and not bitter.

The kheera that is used should never be bitter in taste.

Make small pieces of the cucumber with the help of a knife.
Making the juice:
Take a blending jar, add the cucumber slices into it.

Add salt as per taste aprpoximately ¼ teaspoon.

Add few lemon drops into it.

Add some ice cubes.

Cover the lid and give a good blend for 2-3 minutes.

Take a serving glass.

Pour the juice into the glass.

Garnish with cucumber slices or mint leaves.

Serve chilled.
Notes
Do not strain the juice and serve it directly without straining.
Black salt or kala namak too can be added for a better taste.
Also mint leaves too can be added and it is totally optional and one's own choice.
Do not add sugar to the drink.
Consuming it weekly twice brings much relief to the tummy and helps in losing weight.
Do not store the drink in refrigerator nor store it for days. It has to be consumed fresh and never stored.
Storing changes its taste and makes it inedible.
Nutrition
Nutrition Facts
cucumber juice recipe, juice for weight loss
Amount Per Serving
Calories 8
Calories from Fat 9
% Daily Value*
Fat 1g2%
Sodium 2mg0%
Potassium 37mg1%
Carbohydrates 3g1%
Protein 1g2%
Vitamin A 6IU0%
Vitamin C 14mg17%
Calcium 8mg1%
Iron 1mg6%
* Percent Daily Values are based on a 2000 calorie diet.
Tips
If the cucumbers are baby one's and fresh and organic then it is better to make the drink without peeling. If the skin of the large cucumber skin is bitter or tasteless, it is better to peel and make the juice.
Just make slices, add water and some mint leaves for mint flavour, ice cubes, a pinch of salt and blend well. It results in a refreshing coolant which is best to consume during summers.
Beauty Uses
Cucumber prevents hair loss and there are special packs available in markets for hair but always seek doctor's help before using any of the packs for hair.
Cucumbers are a miracle ingredient to cool the eyes and placing cucumber slices around the eyes not only soothes the eyes but also helps in lightening the area around the eyes.

Cotton balls can be dipped in plain cucumber juice and placed on the eye area which is very relaxing and soothing for the eyes.
It also works to remove or lighten dark circles as much as possible.
Usage in recipes
Kheera/ Cucumber is always used in salads, raita recipes and here I am using it to make a juice or drink out of it which consumed once in a while helps in proper weight control.
Use it to make many other variants of refreshing drinks and better to eat it like a salad by sprinkling some salt all over it before consuming.
Cucumber juice made here is very cool, light, refreshing and slightly tangy due to lemon drops added into it. It is definitely a healthy juice without sugar and with healthy ingredients to it.
Add Lemon to enhance the taste and make it more refreshing. Cucumber cools down our body and especially in these scorching summers it is must-eat fruits and vegetables which have much water content and are hydrating such as watermelon juice and cucumber.
FAQ'S
What is the best time to drink this juice?
It is always a better suggestion to consume during the day time before breakfast that is on an empty stomach. If required one can even drink before any meals as it keeps us hydrated and also is a wonderful drink to keep the tummy cool.
What are the side effects of cucumber?
It is sometimes known to cause cold but not in everyone because of its cooling properties.
How to store this juice?
My advice is to consume the drink as fresh as possible and store it for 1 day but it can be stored in a bottle for 2-3 days in the refrigerator. Having a fresh form of juice is best especially if it homemade as it loses all its nutrients if stored for a long time.
What other ways the juice can be stored?
If using the cucumber for external purposes then make the juice of only cucumber slices, take an ice tray and make cucumber ice cubes which can be deep-frozen and used when required to apply them on skin and face.
It is a wonderful remedy that is highly useful when cucumbers are not available.
Does it work for weight loss?
Yes, cucumber is known to lose weight and it acts as a fat cutter to the body of it is taken in the form of a juice or by just having plain slices of cucumber.
Hope you liked this healthy drink which is an amazing drink for summers and works wonders for weight loss.
If you have any version of this drink which tastes good and healthy then do leave your suggestions below in the comment box.
You may also like