A healthy vegetable salad recipe for weight loss is a mixed veg salad mainly consisting of healthy veggies and a dash of healthy oil, pepper, cilantro etc that gives a good texture and flavour to the salad recipe. Making it every day and including it in daily diet is a great and healthy choice of using this salad.
Other healthy weight loss recipes on the blog to check out and to try are overnight oats for weight loss, scrambled egg whites, detox drinks for weight loss, green juice for weight loss, nighttime smoothie etc...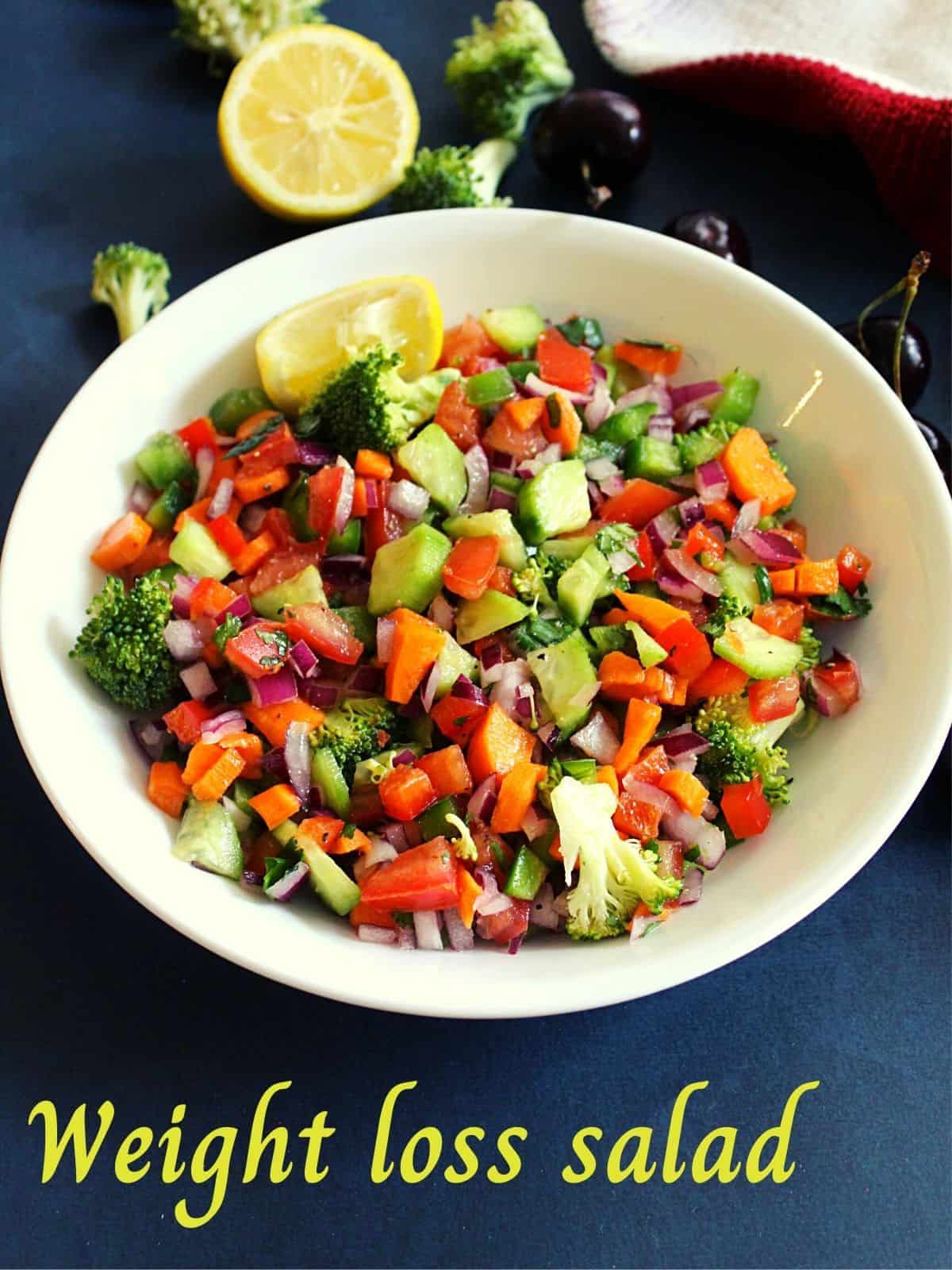 About the recipe
The recipe is an extremely simple salad yet a healthy one that should be a regular dish while serving lunch or dinner along with other meals. This can be a part of a balanced diet and can also be tried as a weight loss diet recipe.
The veggies I am using here are basic and are easily available in every vegetable store. I am basically using common veggies such as onions, tomatoes, cucumber, cilantro, parsley, carrots and many other veggies too can be included.
Adding broccoli to the salad makes a healthy option and I have included it along with the above-mentioned veggies. To make the salad flavorful, adding some tangy touches such as lemon as well as olive oil makes it edible and easy to eat.
Check out the detailed ingredients used below to make the recipe that is a perfect option for a weight loss salad or weight loss diet. The ingredients can be changed as per our preference and many other veggies can be altered and replaced with the one's used here.
Ingredients
Onion: These form the essential vegetable for any salad recipe as it makes the salad delicious and also adds a slightly sweet touch and a balanced flavour to the mixed salad.
carrots: Adding some chopped carrots to the veggies also gives a healthy touch as well as sweet flavours and also makes it healthy as carrots are a rich source of vitamin A. This makes it a healthy diet option for good eyes.
bell peppers: Using any bell peppers such as green capsicum, red, yellow or orange goes well with any salad. It is important to deseed the capsicum as the seed are too spicy. Just chopping, the capsicum without seeds makes it perfect for any dish topping.
tomato: Adding chopped tomatoes preferably by removing seeds or there are many varieties of tomatoes available that are suitable to add to the salad recipes. In American regions, we usually get Roma tomatoes that go very well for toppings as well as salad recipes.
cucumber: Adding a cucumber that is a baby cucumber or a normal cucumber is a healthy weight loss option. It acts as a hydrating vegetable that has amazing water content to it.
It is also a first choice to add to salad recipes. Sometimes making only cucumber salad is also a great option.
broccoli: This is known to be one of the healthy vegetables with amazing benefits and it is used to make many quick recipes such as steaming it or adding it to different salads.
cilantro leaves: A combination of cilantro makes it flavorful as well as these two work well for weight loss as they contain those properties if used regularly.
salt and pepper: Seasoning with salt and pepper not only tastes good but also makes it edible and is a must for most of the salad recipes.
lemon: To add a slight tangy touch adding lemon is a must or lime too can be added.
olive oil: Adding olive oil is healthy as well as an important step in making various salad recipes.
Variations
The veggies added are of my choice and mostly added with a weight loss diet in mind. There are many variations that can be done to the salad recipes and veg salad recipes. Many different veggies can be added other than the one's used here.
Some other alterations to the salad to modify as make it more delicious can be to add veggies that we love. Adding boiled corn is a healthy option and a great enhancement. Also, adding lettuce in chopped form is also another wonderful and healthy option too.
I also personally like to add boiled chickpeas to the salad which makes it a full meal. It can make a healthy breakfast or dinner along with some lean meat or a chicken breast as another healthy diet option along with salad to make a complete balanced meal.
Adding cabbage is another great option to add to the salad as a weight-loss option.
Other healthy recipes to check out are apple cider vinegar and honey drink, oatmeal smoothie weight loss, aloe vera juice for weight loss, salt water flush , black tea to lose weight etc...
Benefits of salads
Including raw veggies definitely add value to health and if looking forward to having salads only with an aim of losing weight then be careful in choosing veggies to add to the salad.
Avoid some of the veggies if aiming for weight loss. Mainly tomatoes, capsicum and other veggies that are added here are a rich source of Vitamin C and also other veggies contribute to other Vitamins.
Overall, salads are a rich source of various Vitamins, also contain fibre depending on the ingredients we add and is the best choice to replace unhealthy and junk food with healthy salads.
They keep the sugar levels in check as well as contribute to having a healthy heart as there are no ingredients in it that can increase the body fat or cholesterol levels.
Step by step procedure
Take a mixing bowl. add ½ large onion by chopping it finely.

add finely chopped carrot by peeling it and chopping into small pieces.
add in a small cup finely chopped orange, green, red bell peppers. or capsicum.
add tomato, finely chopped by deseeding or using deseeded tomatoes.
add a cup cucumber, finely chopped.
add in half cup of broccoli florets. Chop them into pieces if they are too large.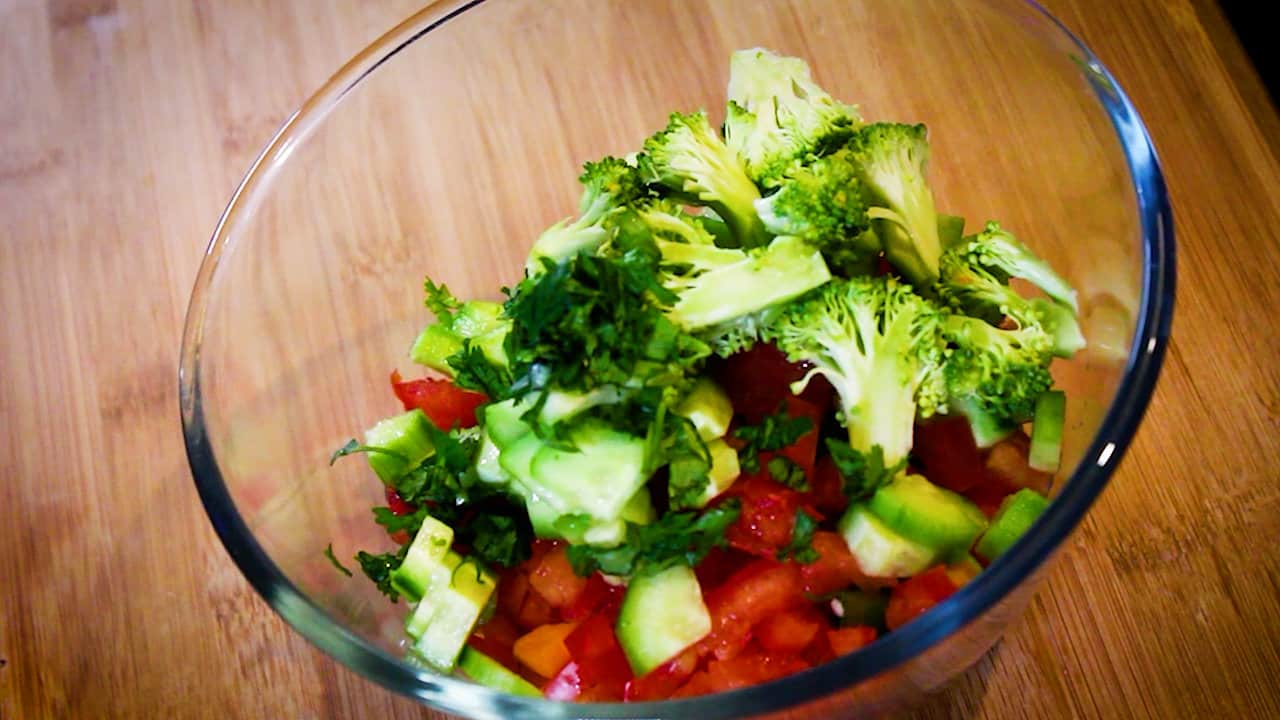 add a tablespoon of finely chopped coriander leaves.

adjust salt as per taste taste and add black peppercorn powder.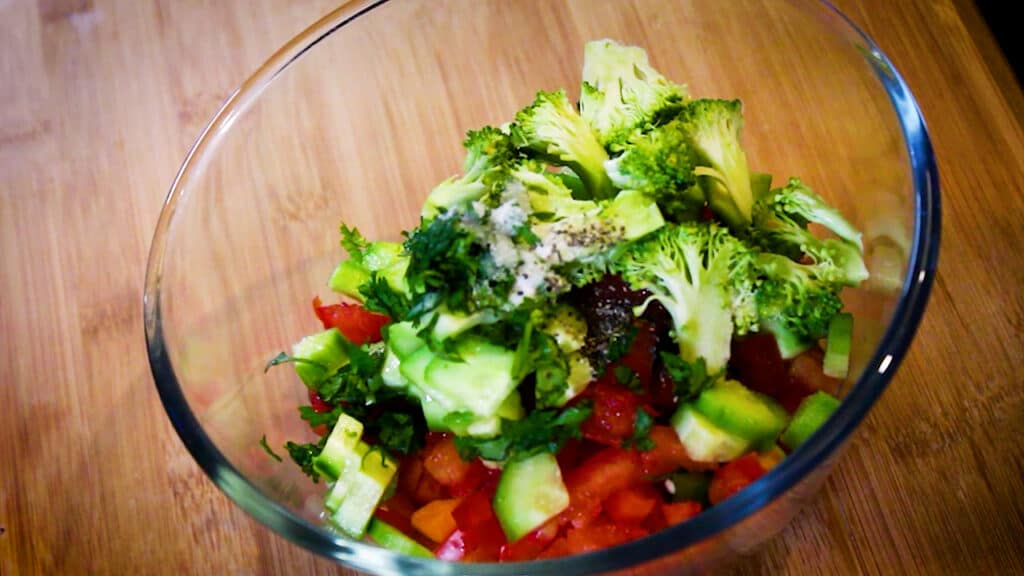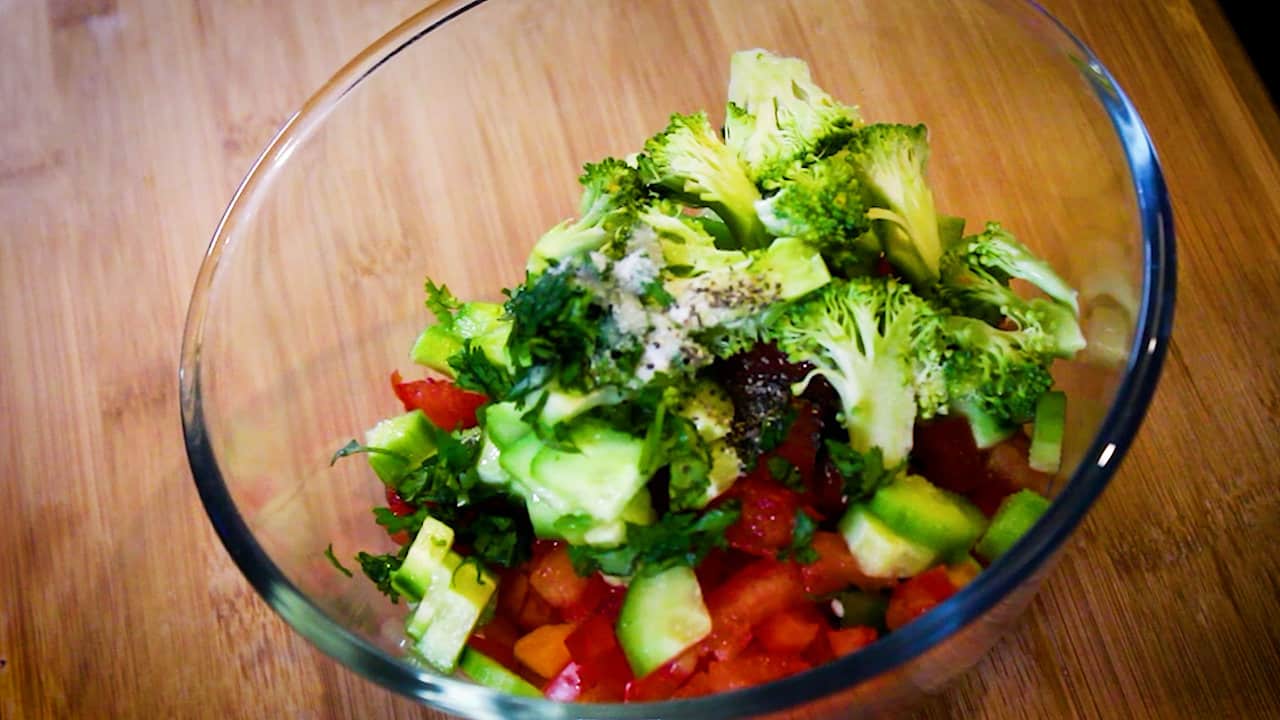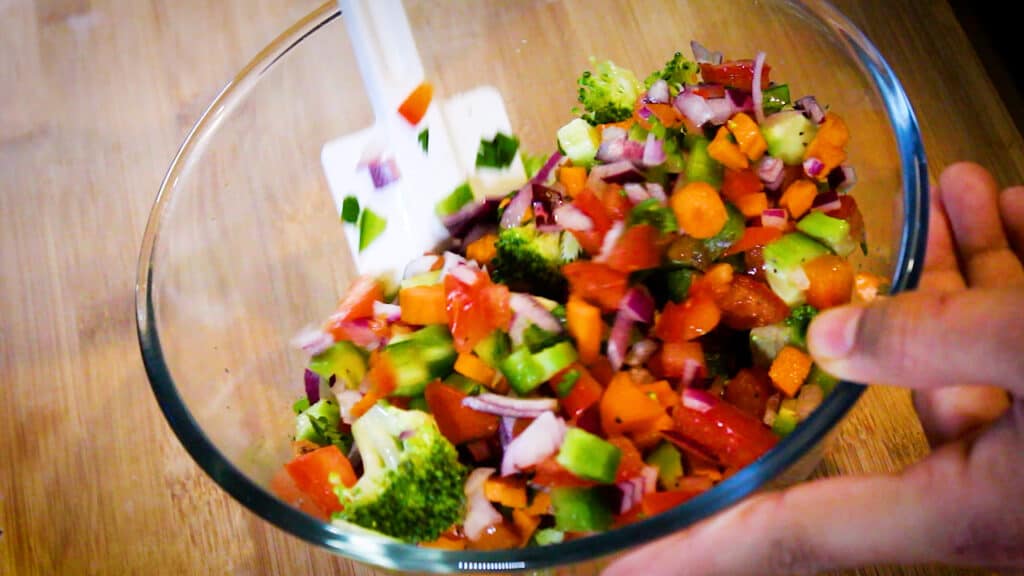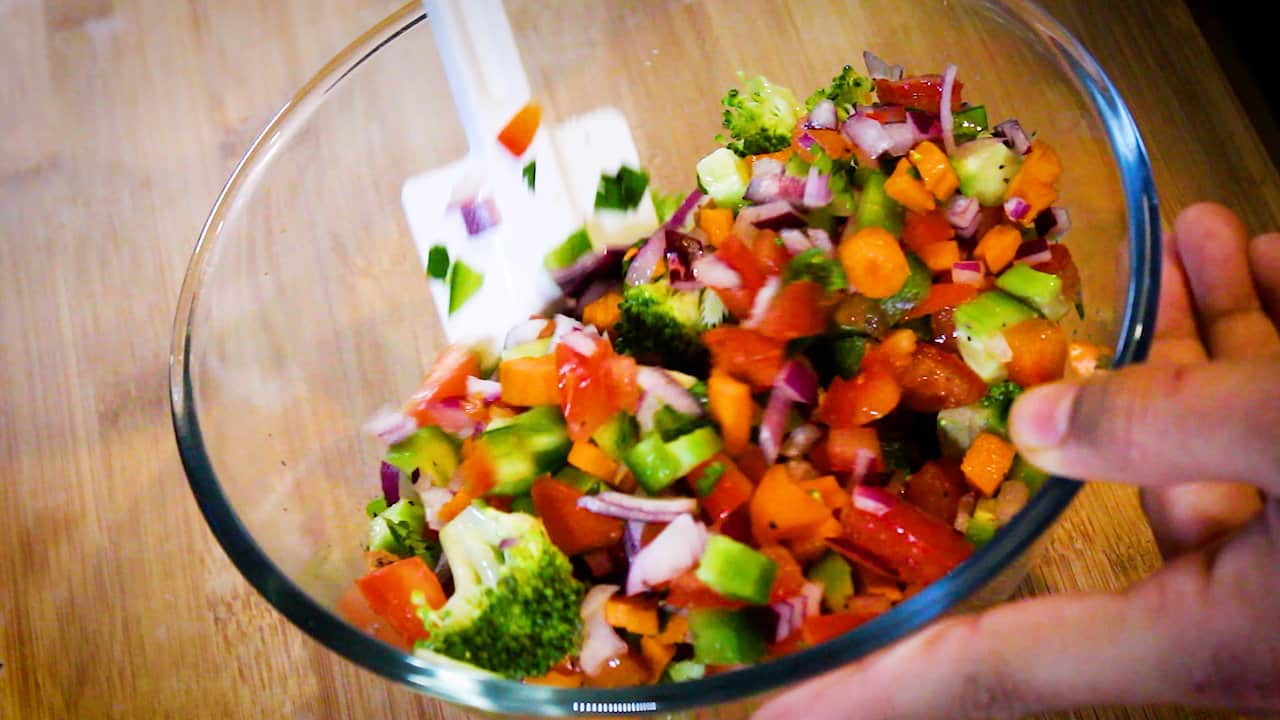 add a teaspoon of lemon extracted juice.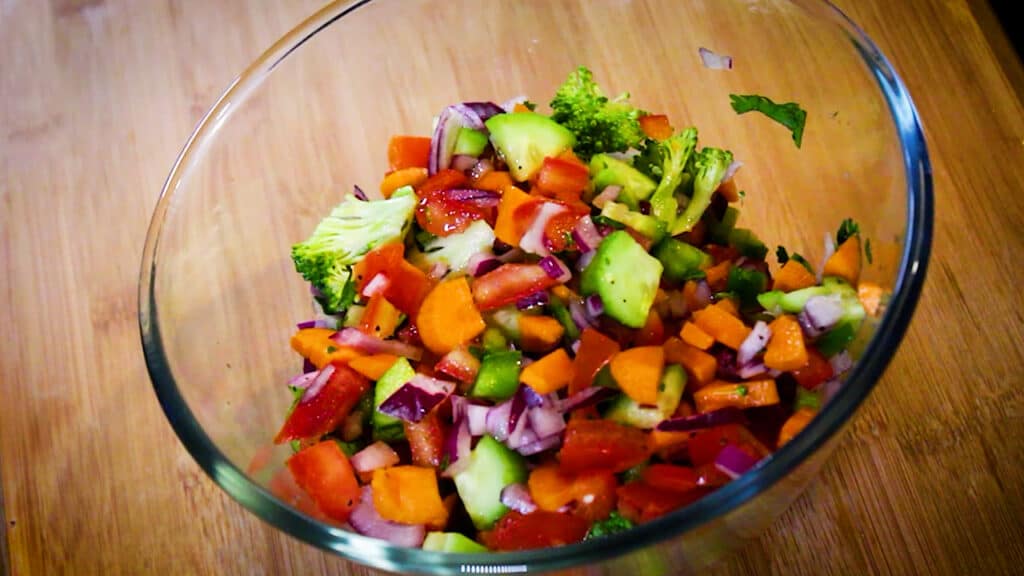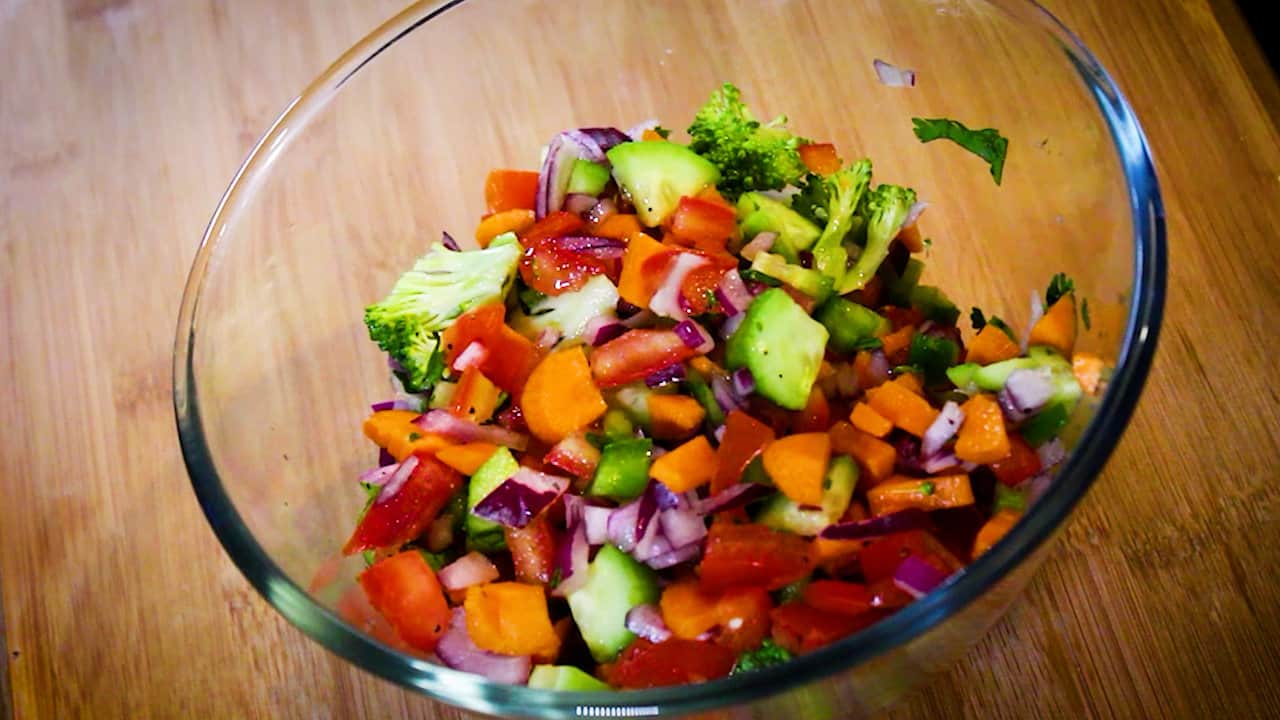 add olive oil.
Give a good mix.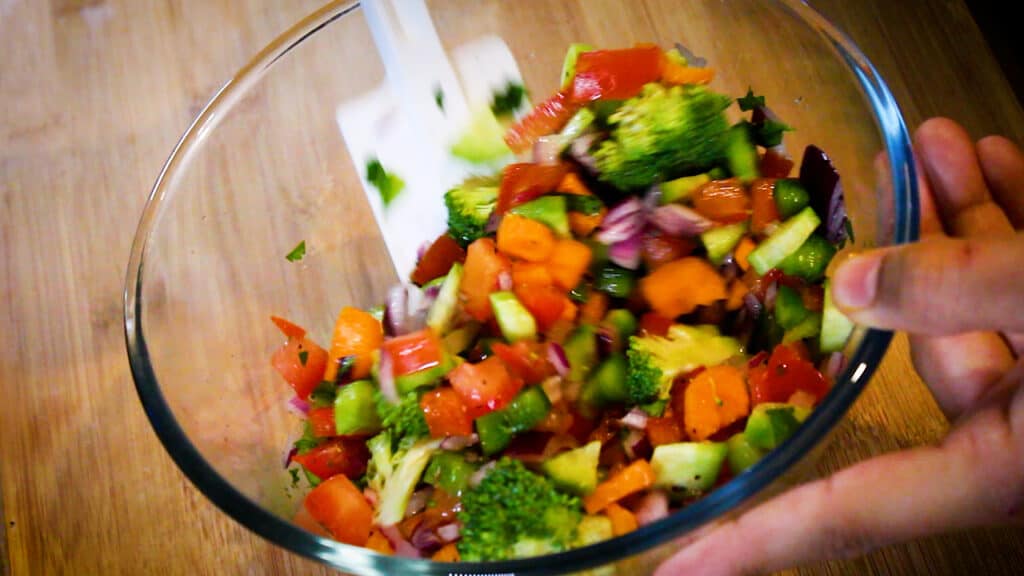 Serve the vegetable salad recipe for weight loss as well as a healthy diet option.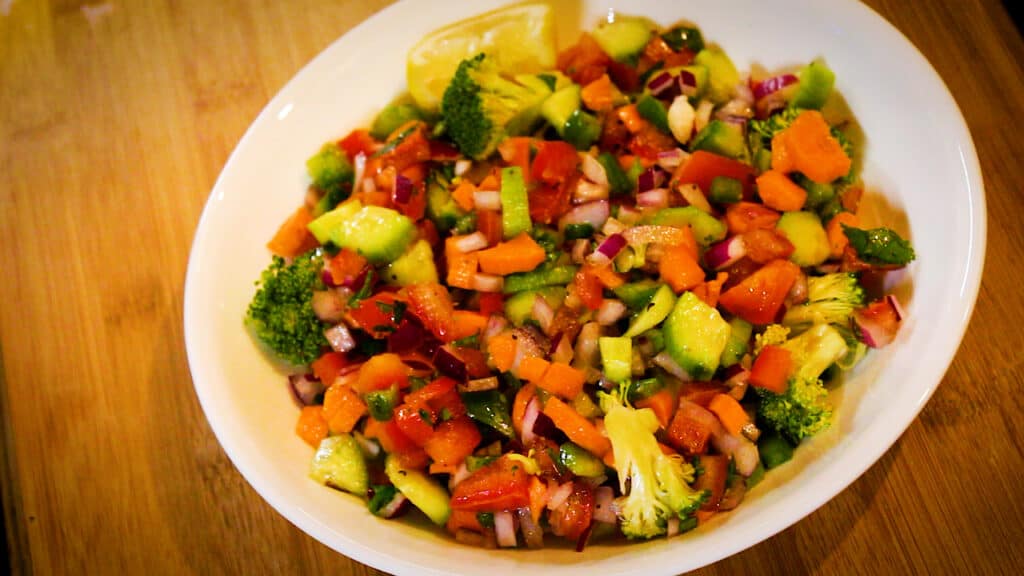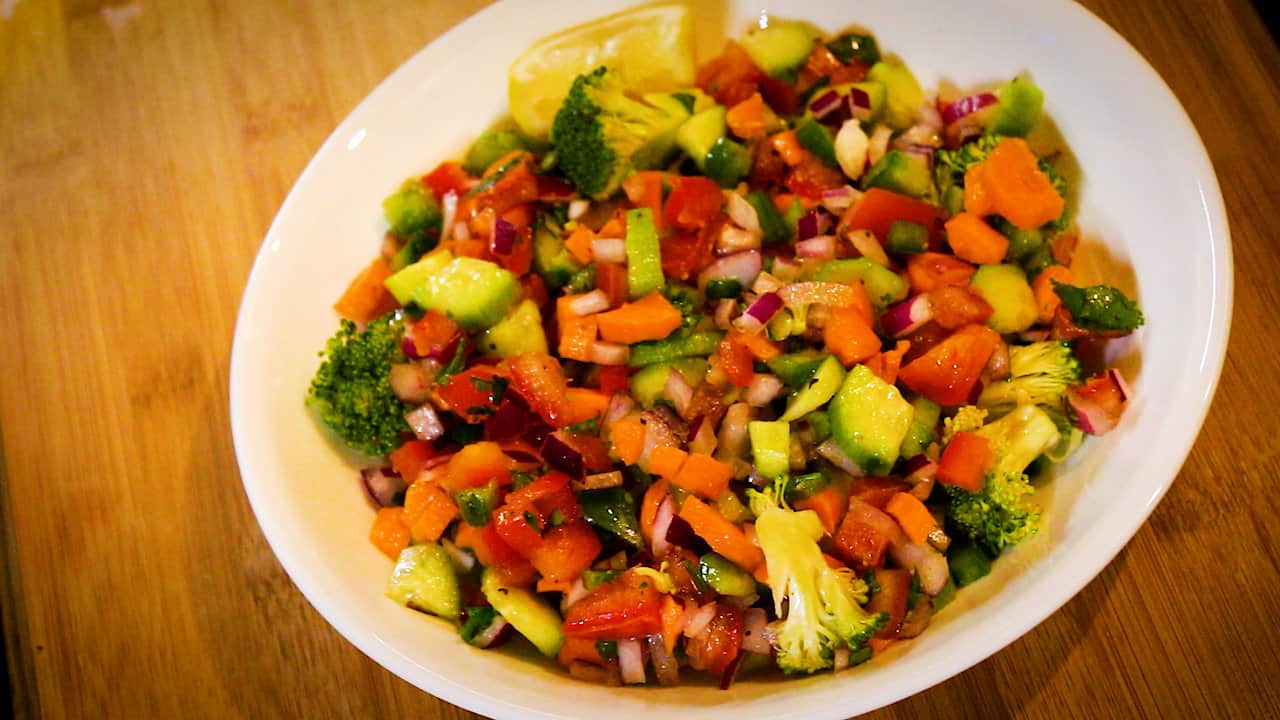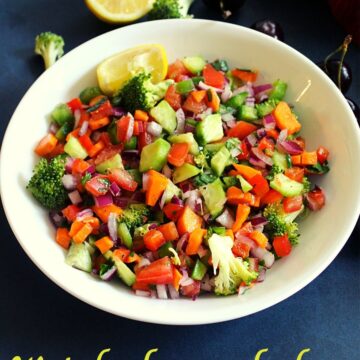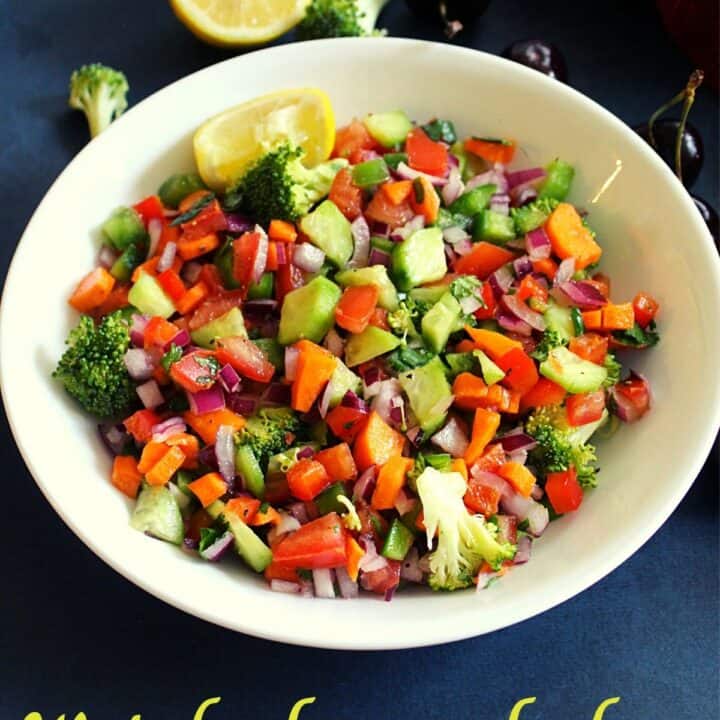 vegetable salad recipe for weight loss
A mixed vegetable salad made using simple veggies such as onion, tomato, cucumber etc.
Ingredients  
½

large onion

(very finely chopped)

1

carrot

(finely chopped)

1

small cup finely chopped

(green, orange, red bell peppers)

1

tomato

(finely chopped)

1

cup

cucumber

(finely chopped)

½

cup

broccoli florets

1

tablespoon

finely chopped coriander leaves

salt to taste

¼

teaspoon

black peppercorn powder

1

teaspoon

lemon extracted juice
Instructions 
Take a mixing bowl.

add onion, very finely chopped.

add carrot that is finely chopped.

a small cup of finely chopped orange, green, red bell peppers.

adding tomato, finely chopped.

a small cup cucumber, finely chopped.

half a cup broccoli florets.

a tablespoon of finely chopped coriander leaves.

salt to taste.

add black peppercorn powder.

Give a good mix.

add lemon extracted juice.

Give a mix.

Serve the healthy vegetable salad.
Nutrition
Nutrition Facts
vegetable salad recipe for weight loss
Amount Per Serving
Calories 62
Calories from Fat 9
% Daily Value*
Fat 1g2%
Sodium 36mg2%
Potassium 551mg16%
Carbohydrates 14g5%
Protein 3g6%
Calcium 49mg5%
Vitamin C 83mg101%
Vitamin A 6031IU121%
Iron 1mg6%
* Percent Daily Values are based on a 2000 calorie diet.
WANT TO WATCH VIDEO RECIPES?
SUBSCRIBE US ON YOUTUBE
Faq
Does this salad work for weight loss?
This is a simple weight loss salad to have regularly and it contains cucumber, cilantro which can contribute to losing weight. However, having just salad does not support weight loss and requires working on several other things.
Including other activities such as a healthy lifestyle, healthy diet and exercise can play a major role if aiming for weight loss
Can we add other veggies to the salad to lose weight?
Yes, adding more green leafy veggies such as kale, spinach, lettuce help a lot in cutting down the fat and also makes it a good meal if served with some lean meat such as chicken breast or just enjoy plain salad adding more green leafy vegetables.
Recommended