Healthy overnight oats recipe for weight loss is a simple weight loss diet recipe using oatmeal soaked overnight with some of the weight loss ingredients.
Simple ingredients such as honey, cinnamon, chia seeds, oatmeal, and almond milk are all healthy and work perfectly for a healthy oats recipe.
There are many oats recipes that I would like to share, and some of them already posted on the blog are instant stovetop oatmeal, oats weight loss smoothie, overnight oats with water etc.
Also, similar recipes to meals are healthy meal prep ideas for weight loss, low carb high protein meals.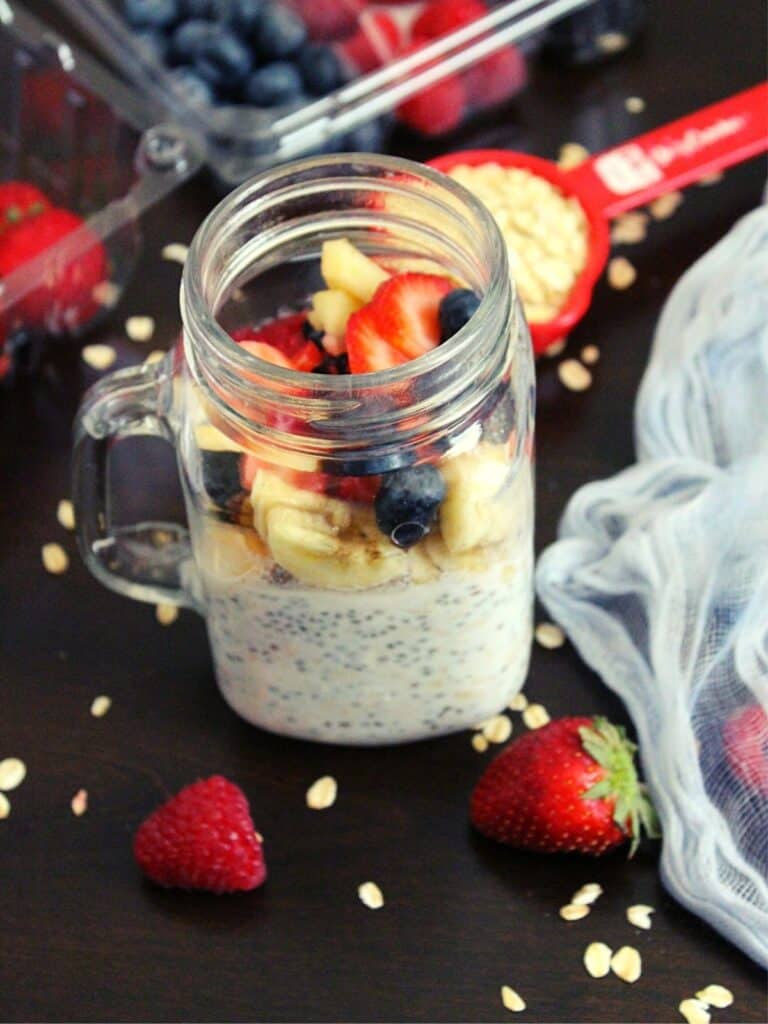 Jump to:
About the recipe
This simple and quick recipe with minimal ingredients works well for a healthy diet.
They are simple ones easily found in kitchens, such as honey, chia seeds, and oats, all soaked in milk overnight.
Overnight oats are healthier if eaten in soaked form than cooking them quickly and having them.
I am using rolled oats as a healthy option as they take a few hours to soak well and are good to eat.
Using rolled oats is a healthy option as they are less processed and contain fiber in large amounts.
This is basically a simple recipe but needs to be soaked for a few hours and can be later eaten as a breakfast meal or dinner or anytime and replacing it with unhealthy diet options.
To have oats to lose weight, this is a perfect and healthy overnight oats recipe for weight loss.
Choosing the right kind of oats is essential to make overnight oats, and there are several varieties of oats that are less processed to more processed.
Another healthy recipe to check out on the blog to lose weight is the vegetable salad recipe for weight loss.
Types of Oats
Instant oats: These are quick oats and are perfect for quick recipes such as making smoothies or any quick milkshakes or pancakes.
These quick oats do not require cooking for a longer time and cook in just a minute, whether in a microwave or can be used directly.
These are healthy but are thin as they are processed well.
Rolled oats: These are less processed than instant quick oats and require at least 4-5 minutes if made on the stovetop or need a few hours to soak well before consuming.
These processed oats, too, are healthy and slightly thick, but the cooking time for each variety of oats varies. These contain fiber as well and are suitable for health with zero cholesterol.
Steel-cut oats: These are in the form of grains and take longer to cook. They take around 25 to 30 minutes to cook well.
Therefore, the better oats to use for soaking and making overnight oats recipes are rolled oats.
The recipe that I will be sharing down below is a healthy overnight oats recipe that can be used by anyone or with the primary purpose of losing weight.
The ingredients required to make are listed below.
Also, check out some more healthy recipes related to weight loss: chia seeds for weight loss, salt water cleanse, etc...
Ingredients
Oats: I am using rolled oats to make this recipe, not quick or steel-cut oats.
The rolled oats are full of fiber, soak quickly, and are perfect for an overnight oats recipe.
Oats are a high source of protein and digest well too.
Chia seeds: The chia seeds are a rich source of iron and calcium and contain fiber.
Fibrous foods help with good digestion and help in losing weight with their usage. They are tiny black seeds and are packed with lots of healthy nutrients.
Cinnamon: This is used in powdered form in the recipe, which is a commonly used ingredient in weight loss recipes and adds flavor.
Almond milk: This is healthier than whole milk, cream milk, or full-fat milk. Using soy milk or almond milk contains less fat and is an excellent replacement for high-calorie milk.
Honey: This adds slight sweet flavors as well as a healthy sweetener. Using honey as a weight loss ingredient gives different drinks good flavors and helps consume or eat the dish effortlessly.
Fruits: I am using fresh fruits such as strawberries, blueberries, apples, and bananas, and using other fruits to make the dish is also suggested.
Finely chopping the fruits after soaking and before serving is a great option.
Related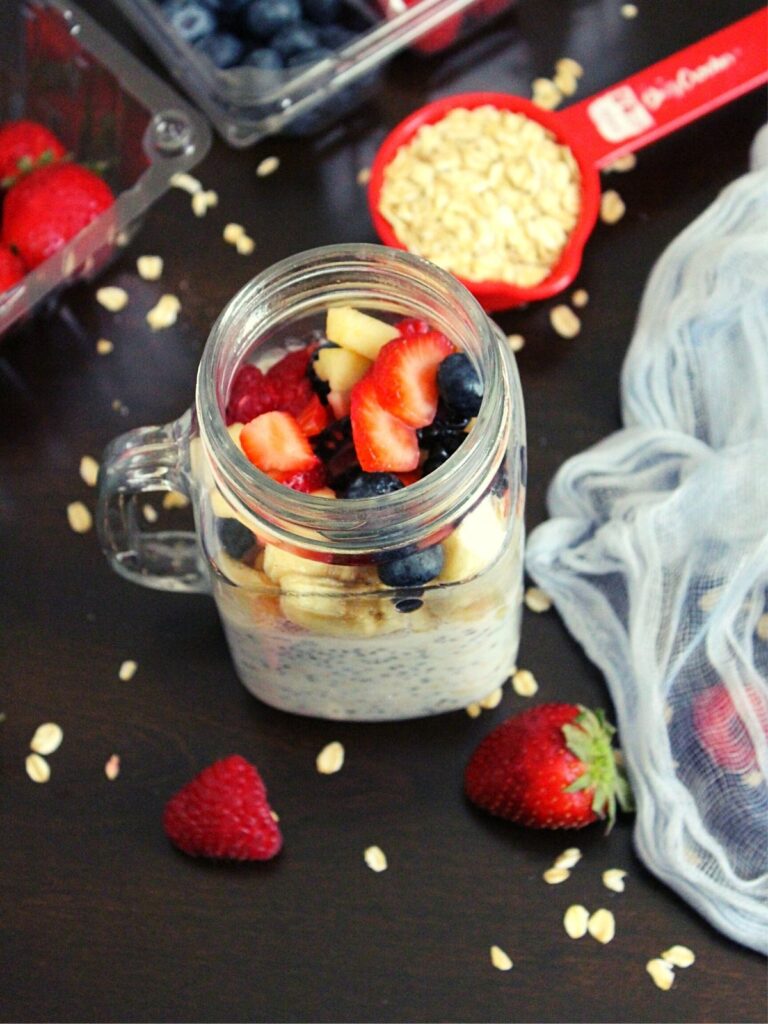 Benefits of low-calorie overnight oats
As we all are familiar with, oats are packed with lots of protein and are rich in fiber.
Fiber helps in good bowel movement, digests food quickly, and deposits less fat or cholesterol in our body.
These are low-calorie foods; to choose a good diet to look forward to losing weight, one must follow a healthy diet with healthy ingredients.
Oats make a perfect and quick choice to make a meal with less or zero cholesterol value.
It gets ready in a few minutes and does not require many ingredients to make the dish.
Chia seeds are rich in iron and calcium. It is a powerful ingredient for losing weight. Just soaking them in water and drinking them has many benefits too.
Using chia seeds in oats or smoothies improves heart-related health issues, controls blood sugar levels, and has high protein content too.
Combining the above ingredients with low-fat almond milk, honey, and cinnamon makes a great meal.
Cinnamon is free of cholesterol, it improves heart and sugar level issues, and using honey is a great sugar-free and weight-loss option.
There are many other healthy drinks as well as weight loss recipes on the blog to try out further than the overnight oats for weight loss recipe, and they are apple cider vinegar and lemon juice, lemon cucumber detox water with mint, scrambled egg whites, black coffee, turmeric water, etc.
Step-by-step procedure
Take a jar, and add rolled oats into it.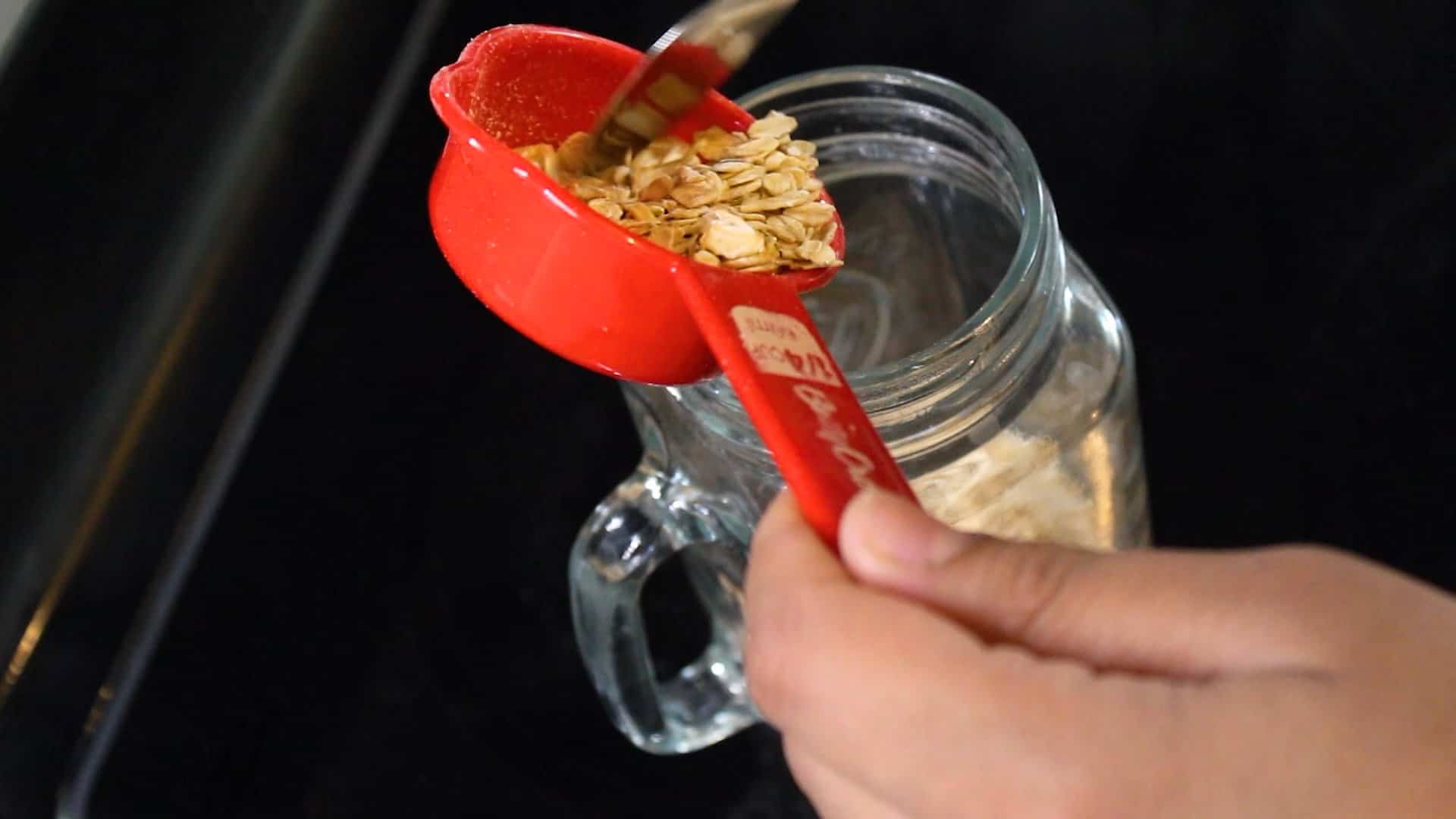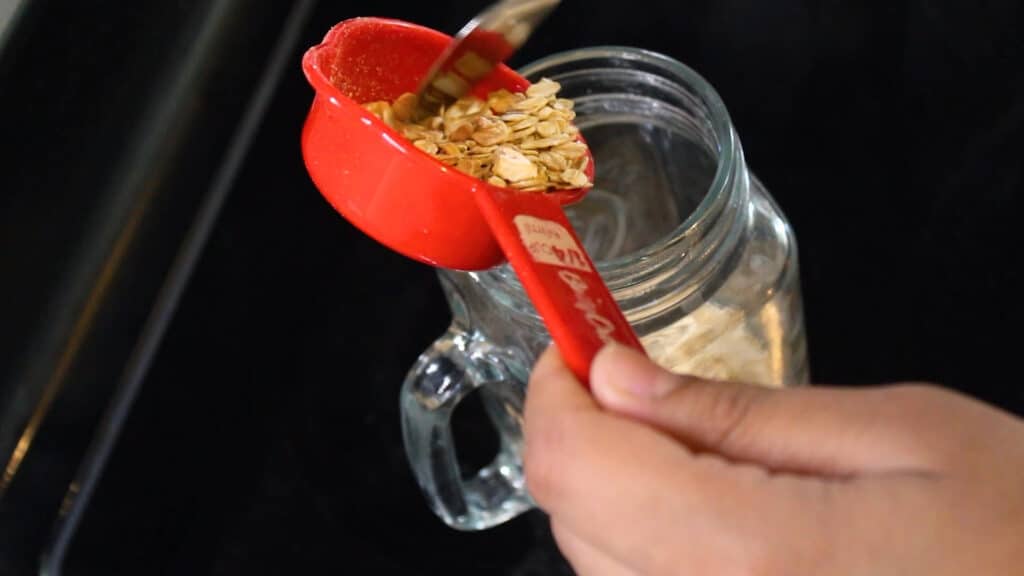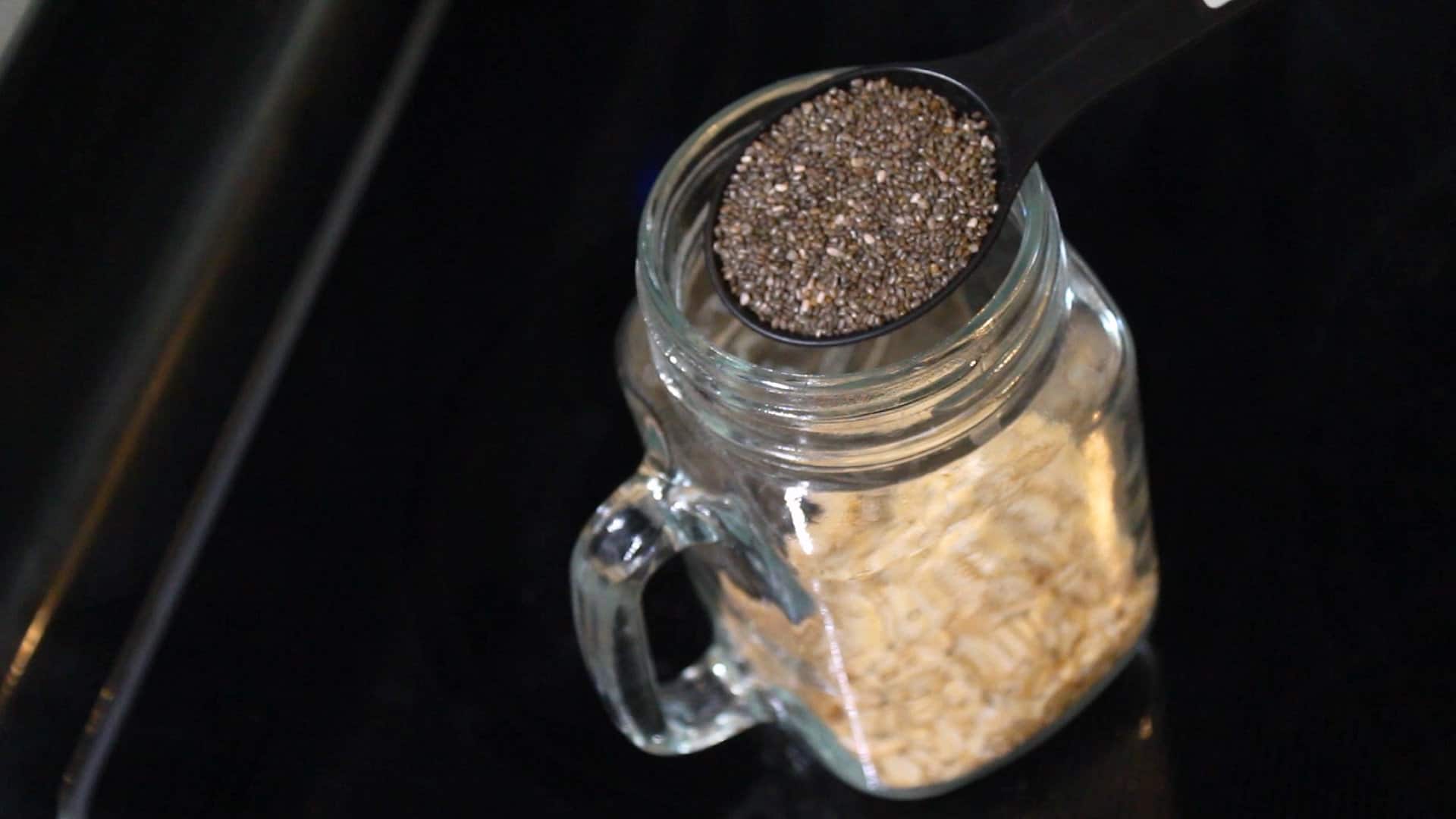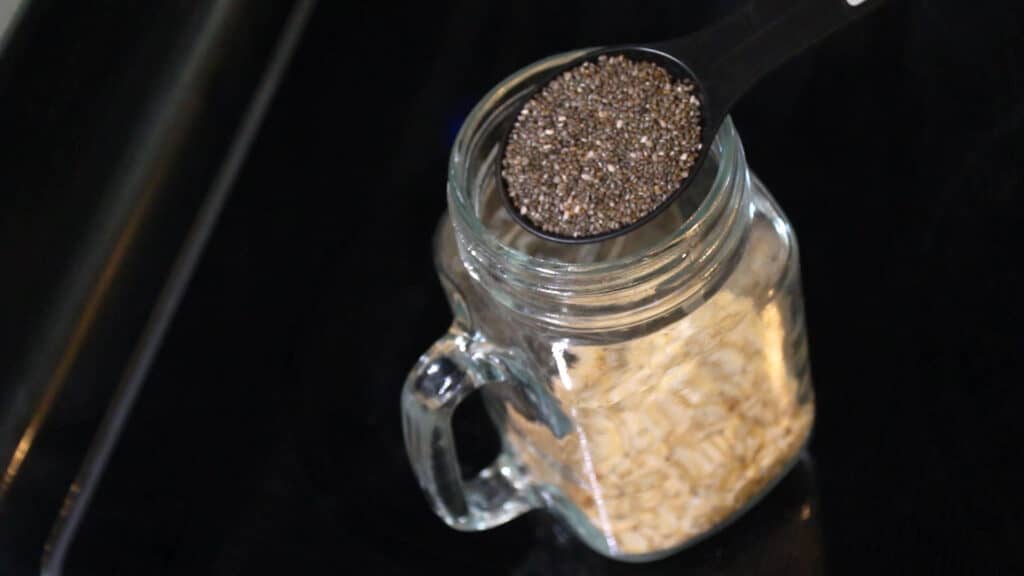 Add cinnamon powder as per flavor intensity. Adding powder is an excellent choice to lose weight.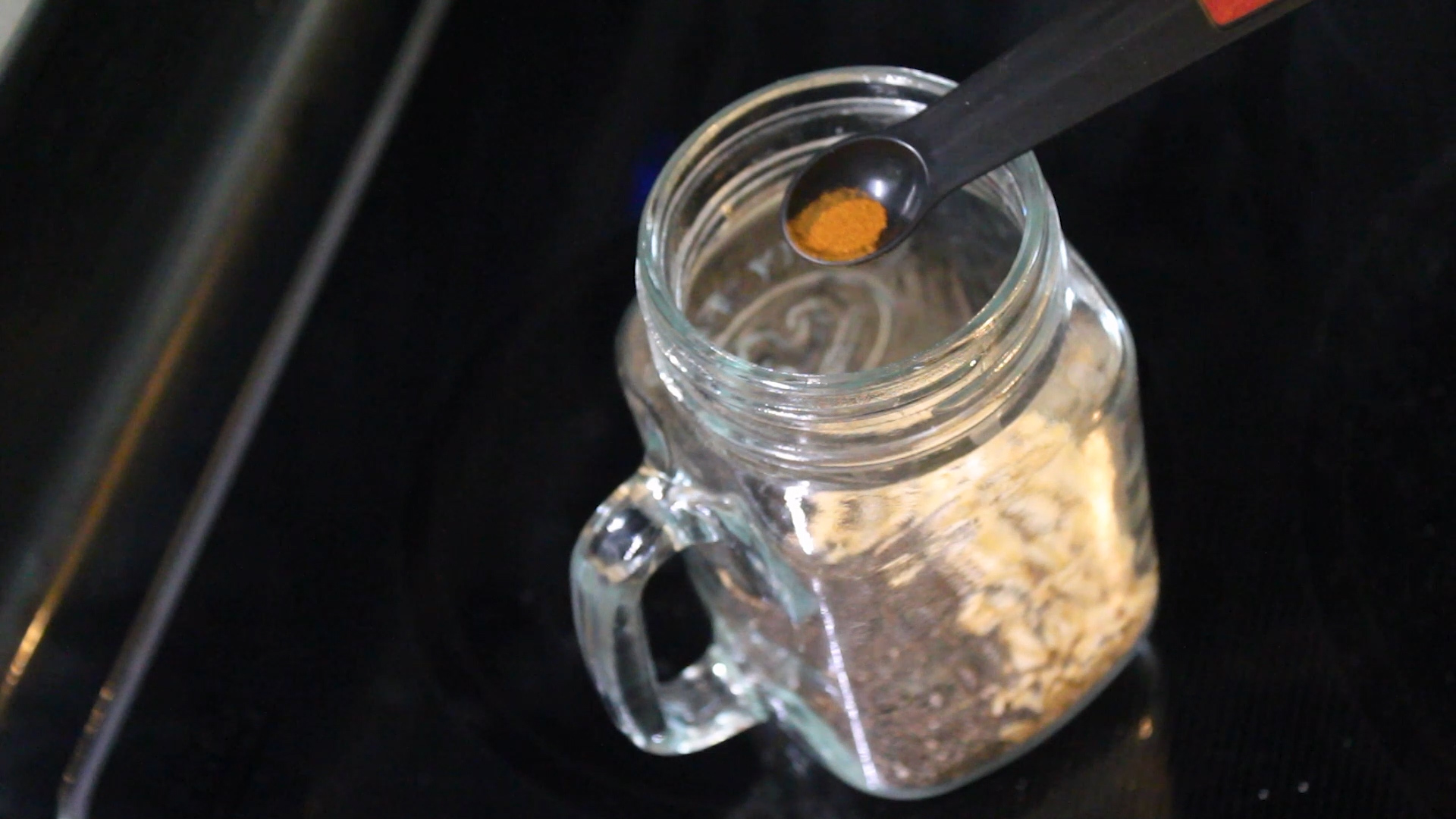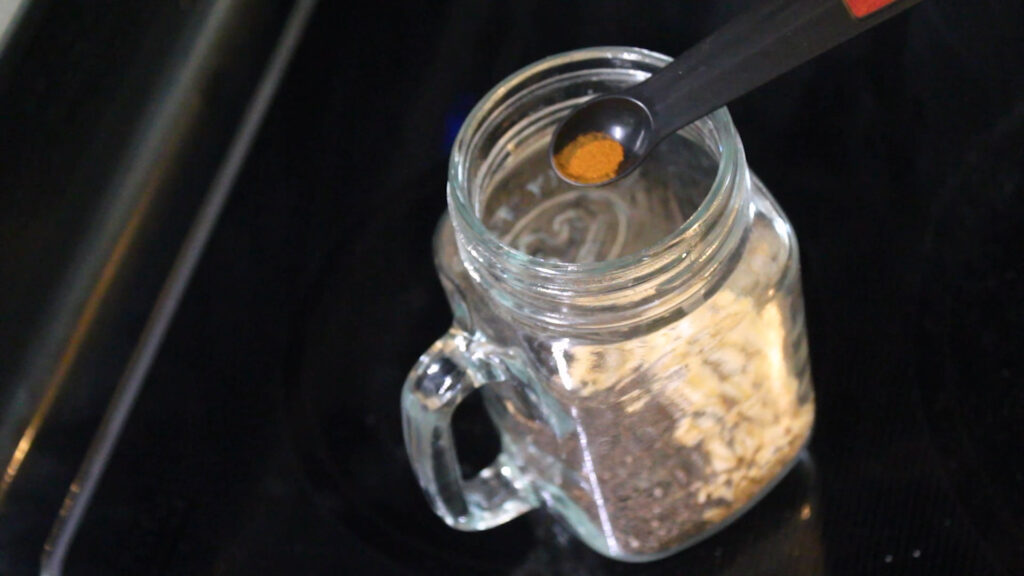 Add almond milk to the oats recipe.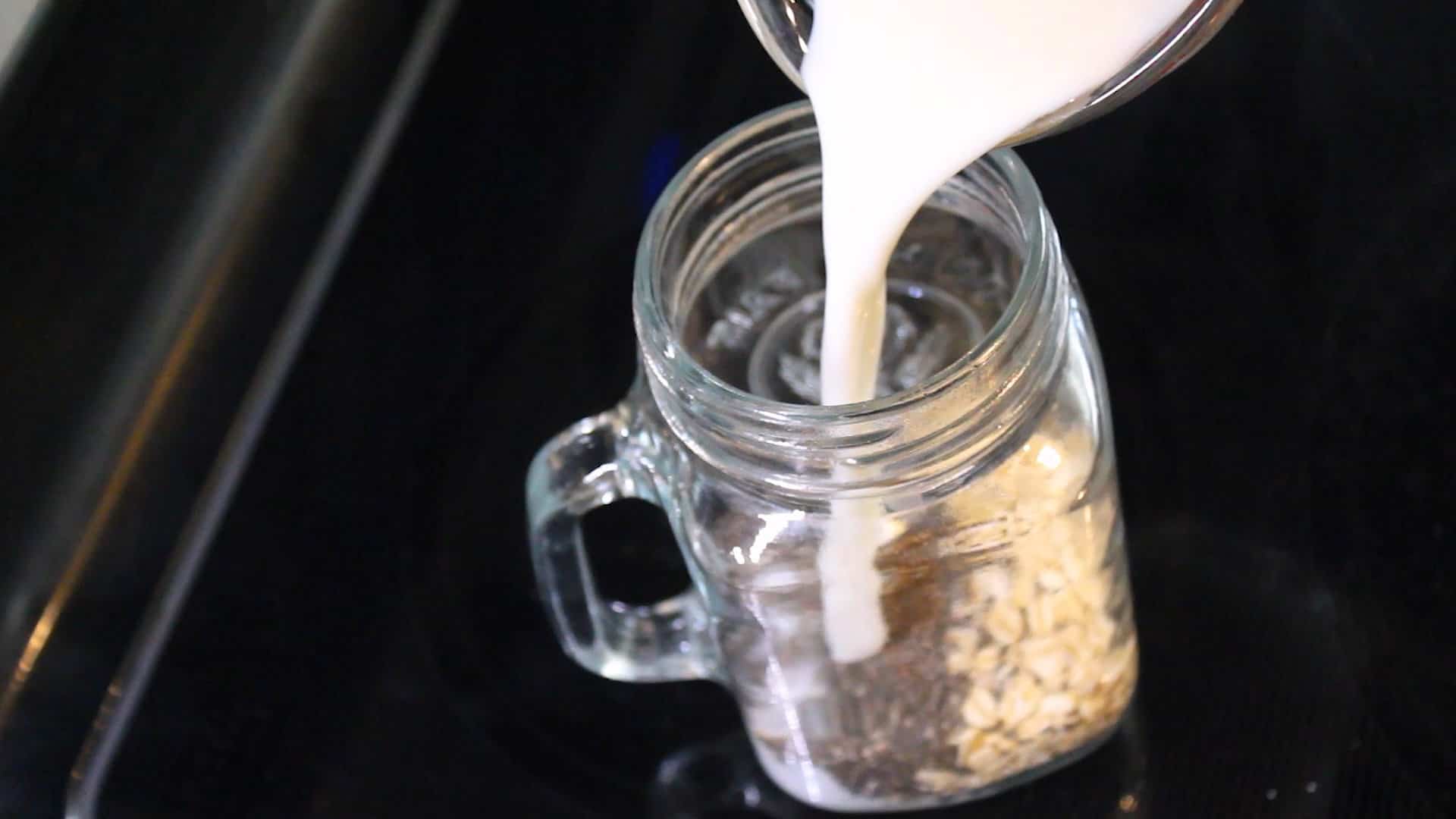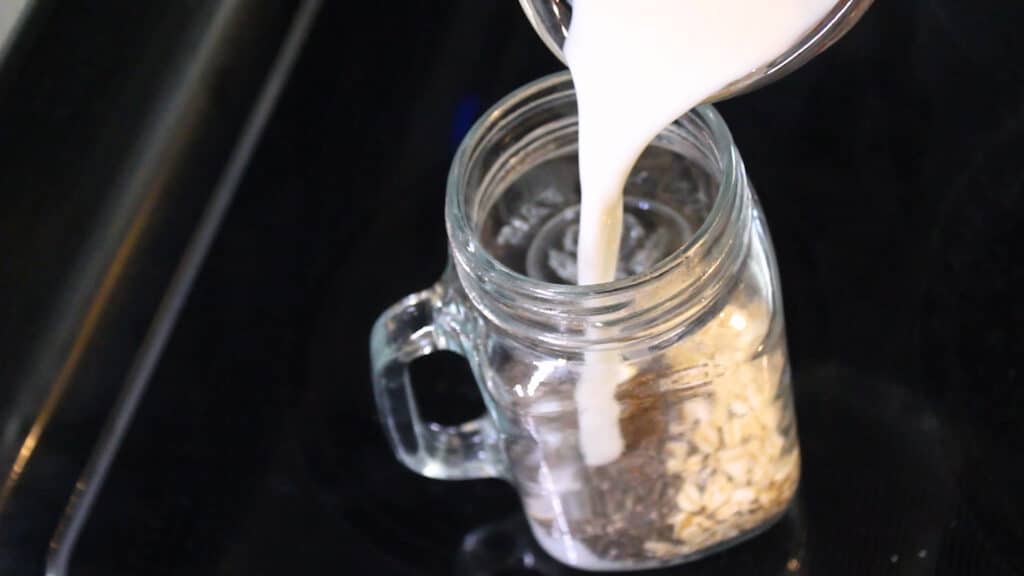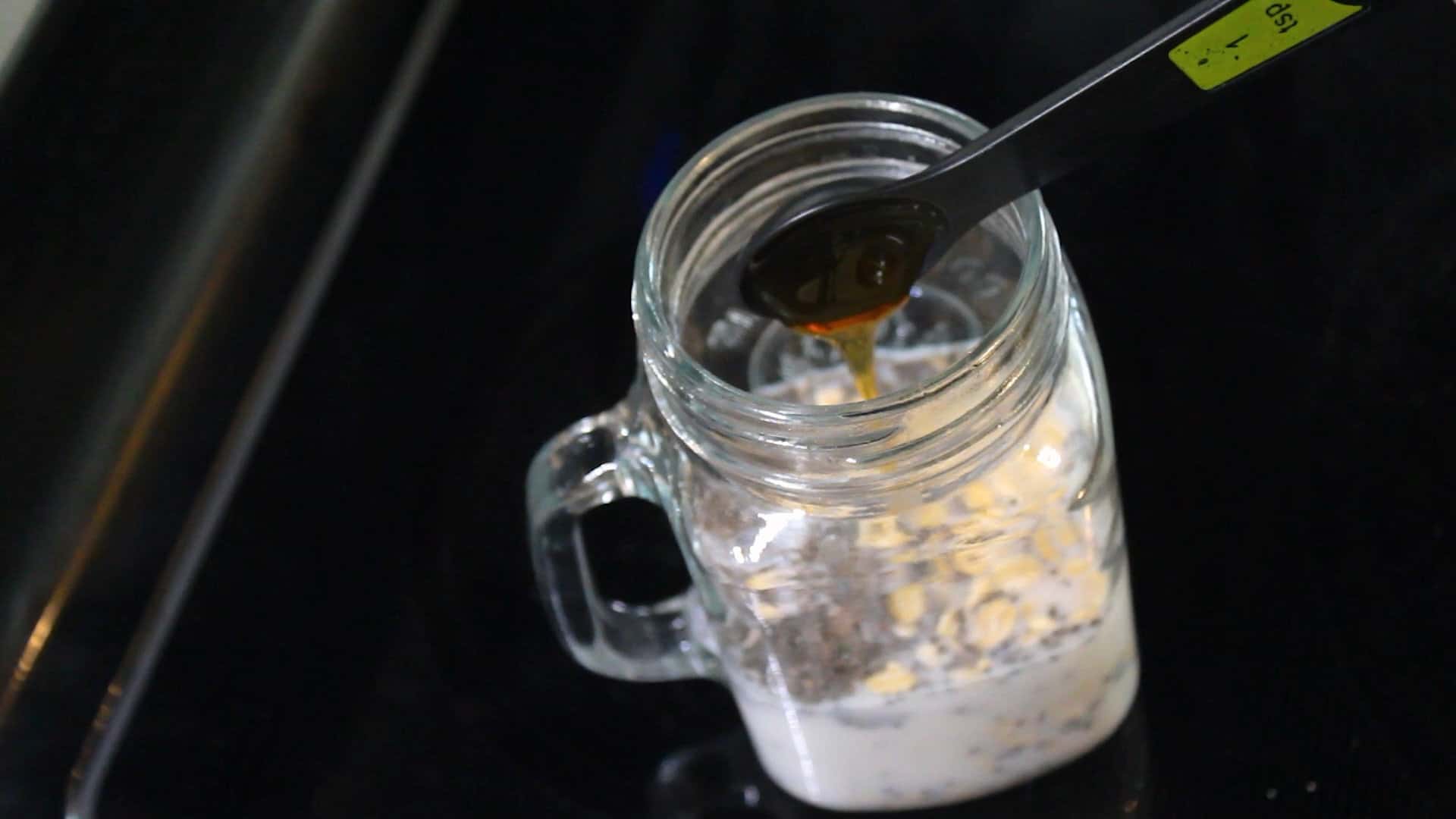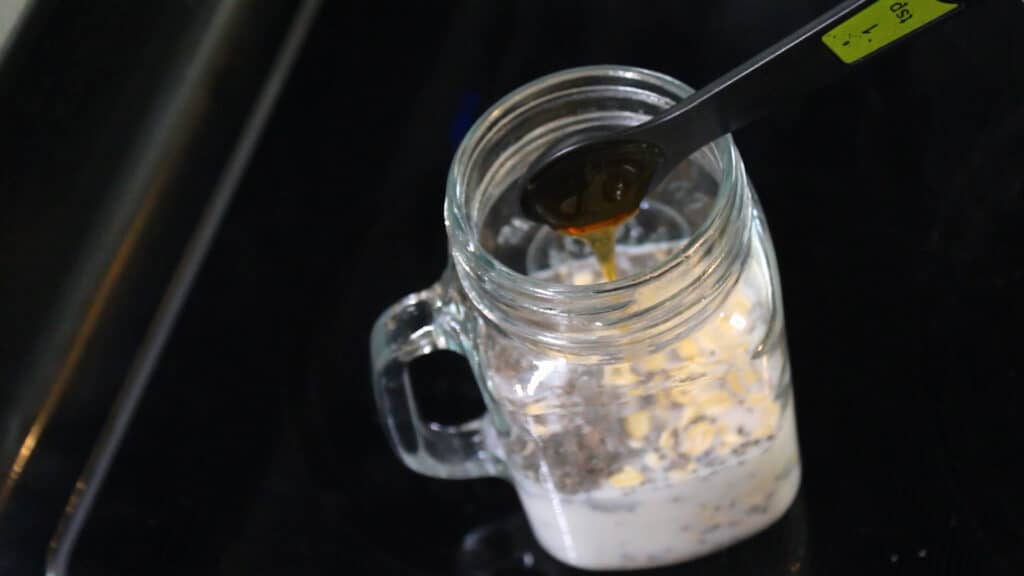 Close the lid and soak them overnight or for 6-7 hours in the refrigerator.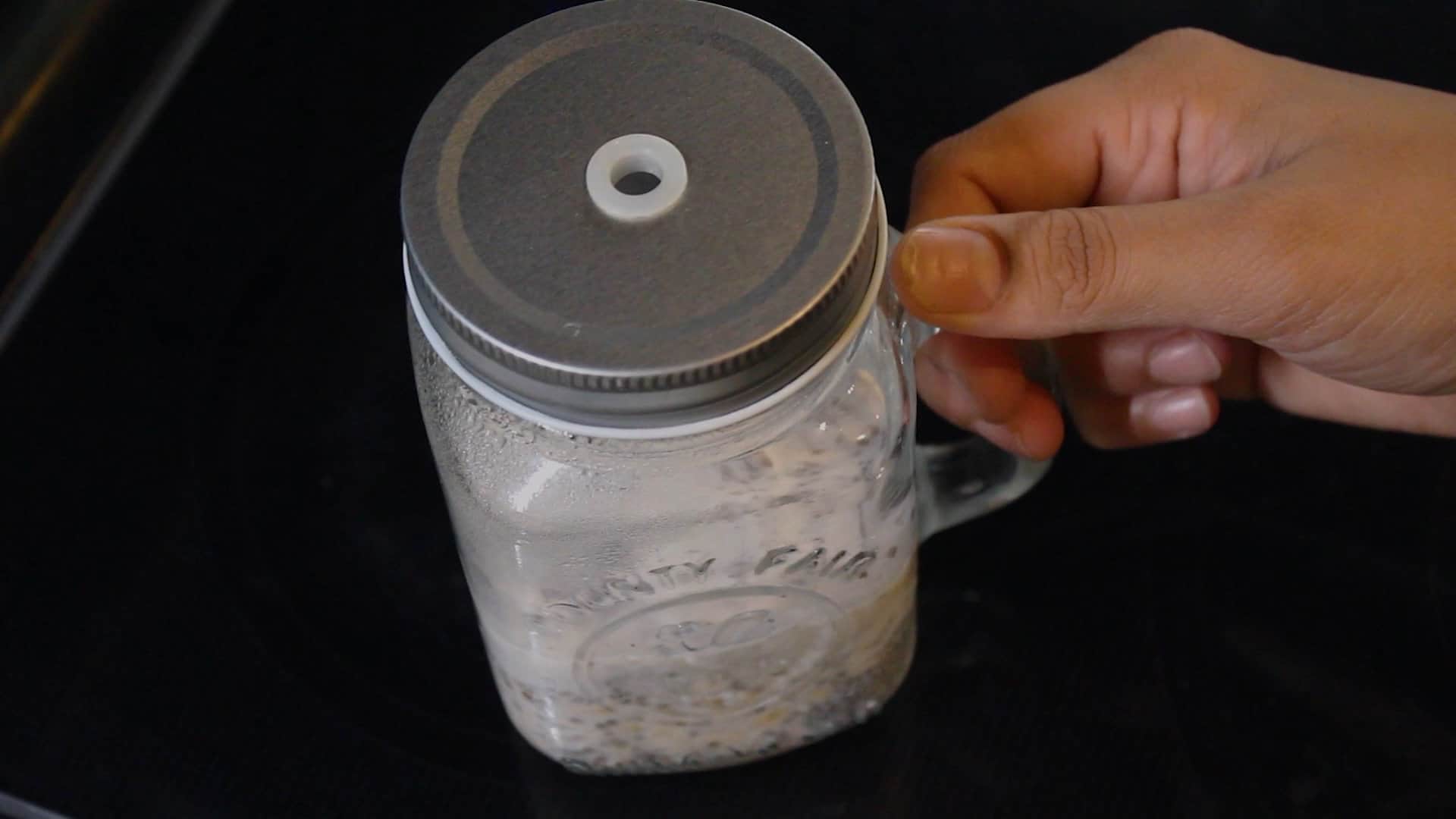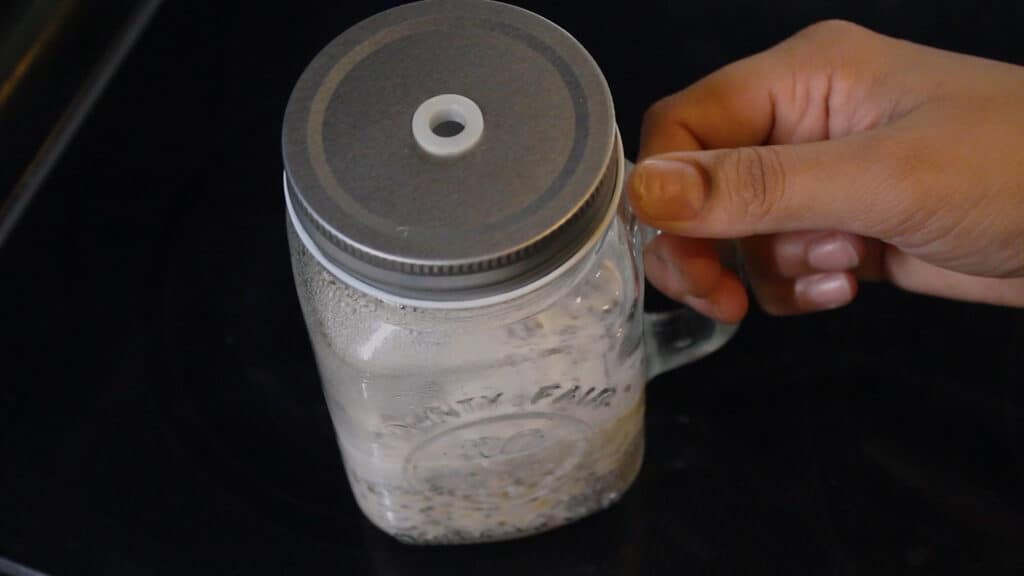 Remove the lid, add finely chopped fruits, and mix well. I am using strawberries, blueberries, raspberries, apples, and bananas that are all finely sliced.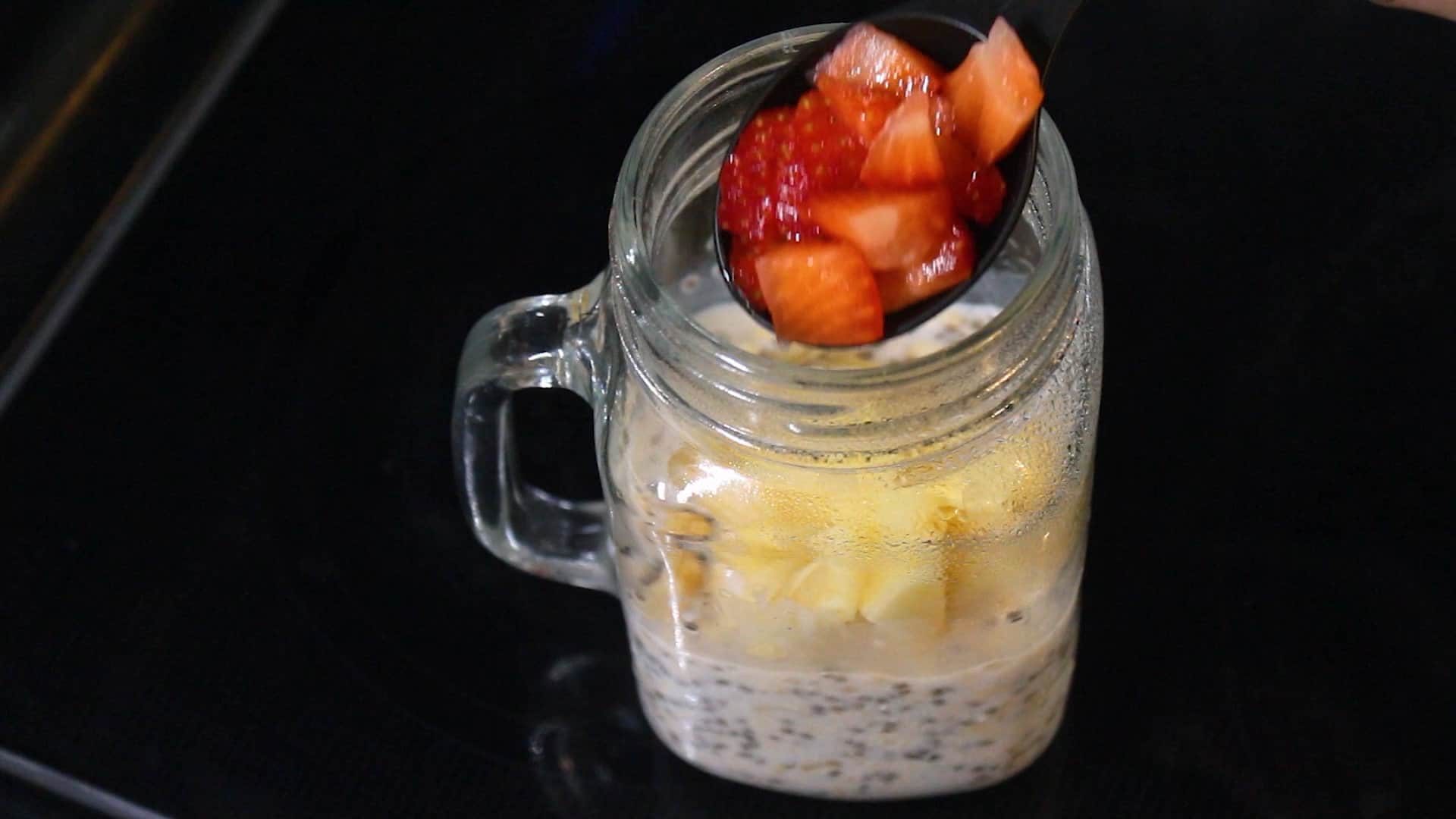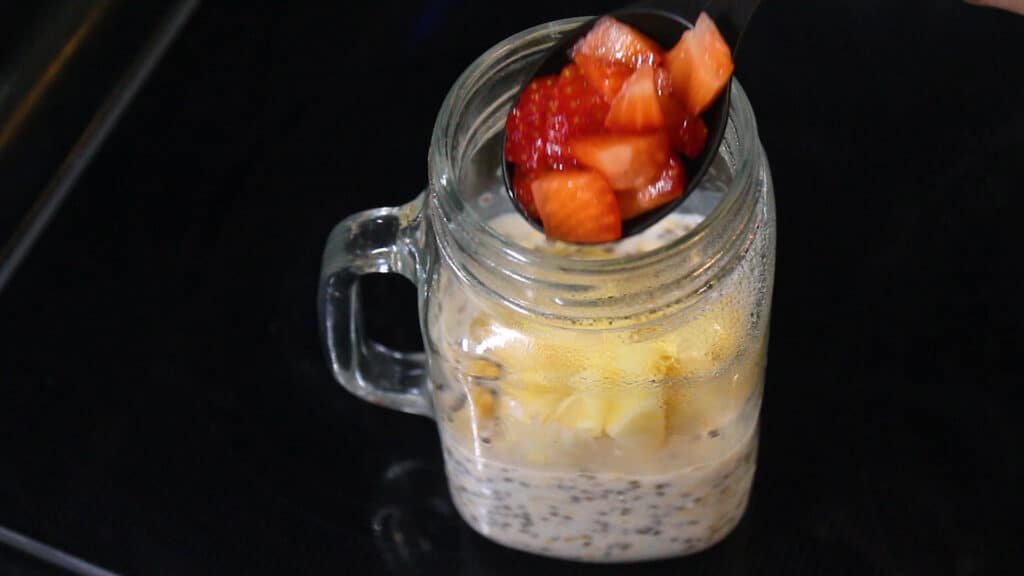 Stir well. Top with any fruits and enjoy the meal.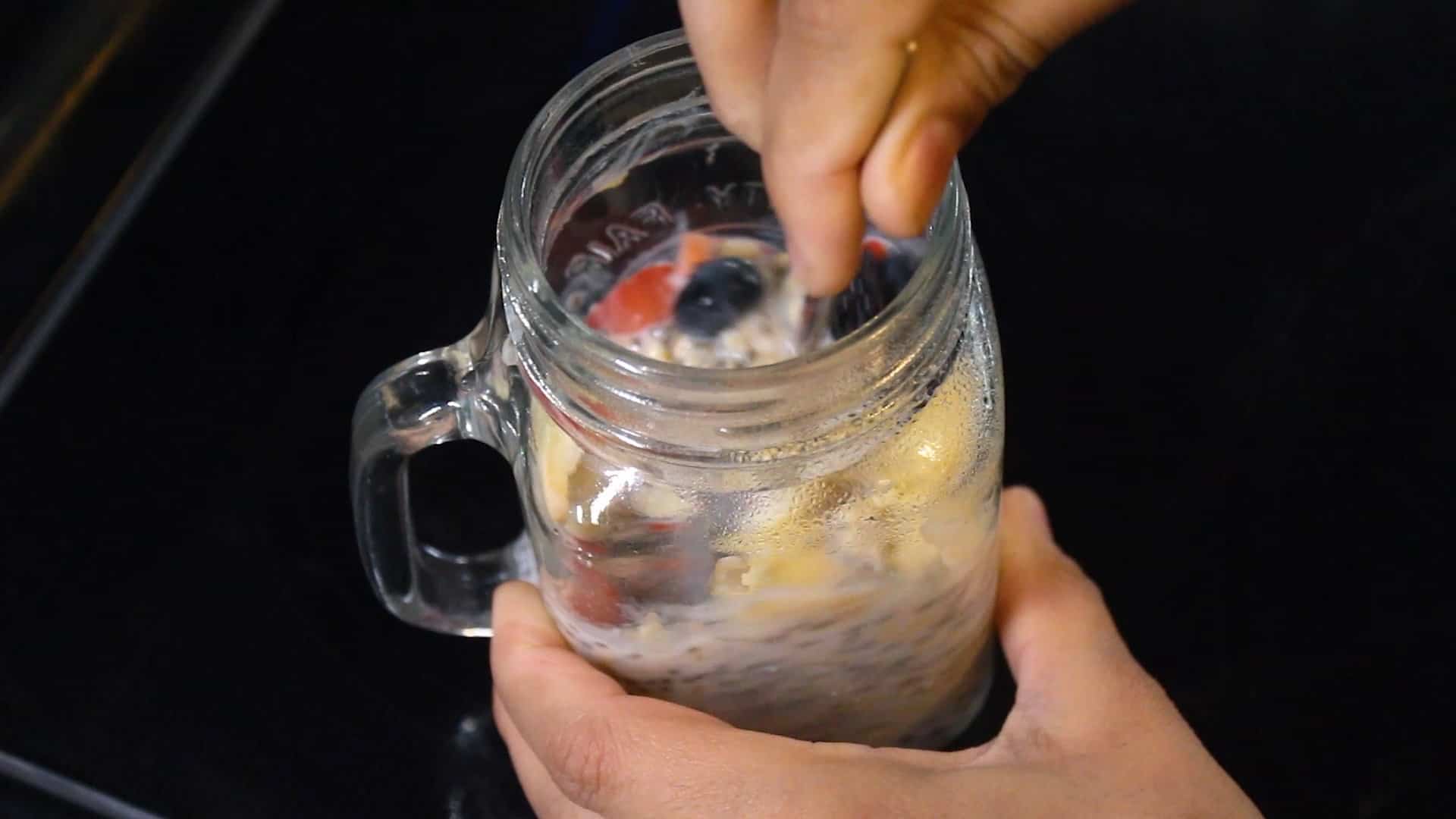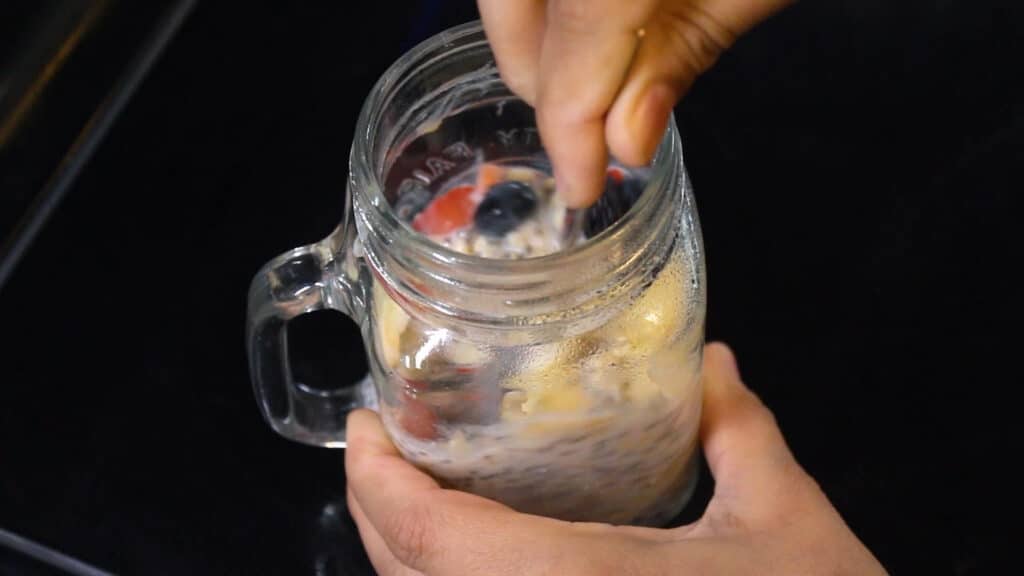 Variations
Using other low-fat milk instead of almond milk can be done just in case if making it a simple breakfast recipe.
Any fruits can be added and not necessarily the mentioned fruits. Add in these available fruits in the respective region or country.
One can add various toppings using dried nuts, jam as layering to soaked oats, nut butter such as almond butter or peanut butter.
Different chopped fruits, nuts give healthy nutrients to the breakfast meal and supplies with necessary vitamins and minerals.
I added honey, but different sweeteners such as maple syrup or brown sugar are a good choice to make it sweet in a healthy manner.
If you do not want to add honey or maple syrup and trying to make it sweet in a different way, go with dates and raisins as they are a healthy choice and give a sweet flavor to the overnight oats.
Combine oats with different toppings to make it delicious rather than having it plain.
Are overnight oats good for losing weight?
Yes, since it has less cholesterol and is highly fibrous, it digests well, does not cause constipation and is a zero-cholesterol meal anytime.
Making oats in different ways using different ingredients makes excellent meals, primarily for breakfast for kids and young ones.
Oats are rich in fiber and they are slow in digestion which helps keep you full without feeling hungry.
This feeling of fullness will definitely avoid in overeating until your next meal and helps to stop looking at other unhealthy junk foods or high calorie foods that can gain weight.
Recipe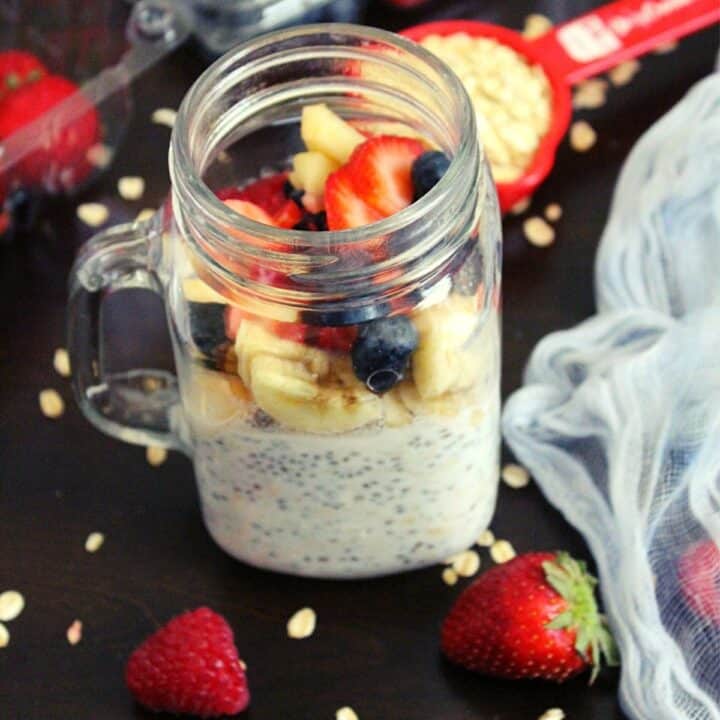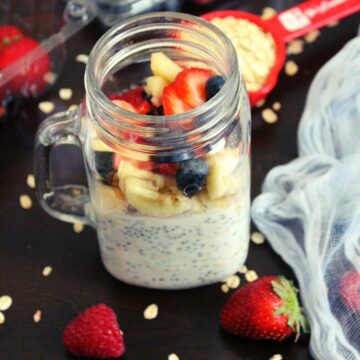 healthy overnight oats recipe for weight loss
A quick soaked overnight oats using oats, almond milk, chia seeds, honey, cinnamon.
Ingredients
¼

cup

rolled oats

1

tablespoon

chia seeds

pinch

of cinnamon

½

cup

almond milk

1

teaspoon

honey
Instructions
Take a jar, add in rolled oats into it.

Add cinnamon as per flavor intensity.

Add almond milk to the oats recipe.

Close the lid and soak them overnight or 6-7 hours in refrigerator.

Remove the lid, add finley chopped fruit s(strawberries, apple banana and berries) and mix well.

Top with any fruits and enjoy the meal.
Nutrition
Nutrition Facts
healthy overnight oats recipe for weight loss
Amount Per Serving
Calories 174
Calories from Fat 63
% Daily Value*
Fat 7g11%
Sodium 166mg7%
Potassium 126mg4%
Carbohydrates 25g8%
Protein 5g10%
Vitamin A 6IU0%
Vitamin C 0.2mg0%
Calcium 237mg24%
Iron 2mg11%
* Percent Daily Values are based on a 2000 calorie diet.
Faq's
How long do I have to soak overnight oats?
Soaking them overnight works well, or soaking them for at least 6 to 7 hours in the refrigerator makes them soft and good enough to eat.
What container to use for storing oats?
A glass container works well to store them, and taking any jar, glass, or glass bowl is a good idea to make a large number of overnight oats and keep them for a few days in the refrigerator. Have it when required.
What can I mix with oats to lose weight?
We can add chia seeds, low-fat yogurt, fruits, honey, berries, low-fat almond milk, soy milk, cinnamon, etc... These are all perfect choices to add to the meal if looking for a weight loss diet.
Recommended