Apple cider vinegar and honey weight loss drink is a quick detox drink that aids in weight loss if consumed regularly as well as helps detoxify the body with its consumption on a regular basis. I am sharing this quick and easy yet another weight loss beverage that can not only aid in losing pounds but also has many other advantages.
Other DIY recipes to check out on the blog are how to juice aloe vera, how to make rose water, chia seeds for weight loss, ginger water recipe, celery juice for weight loss.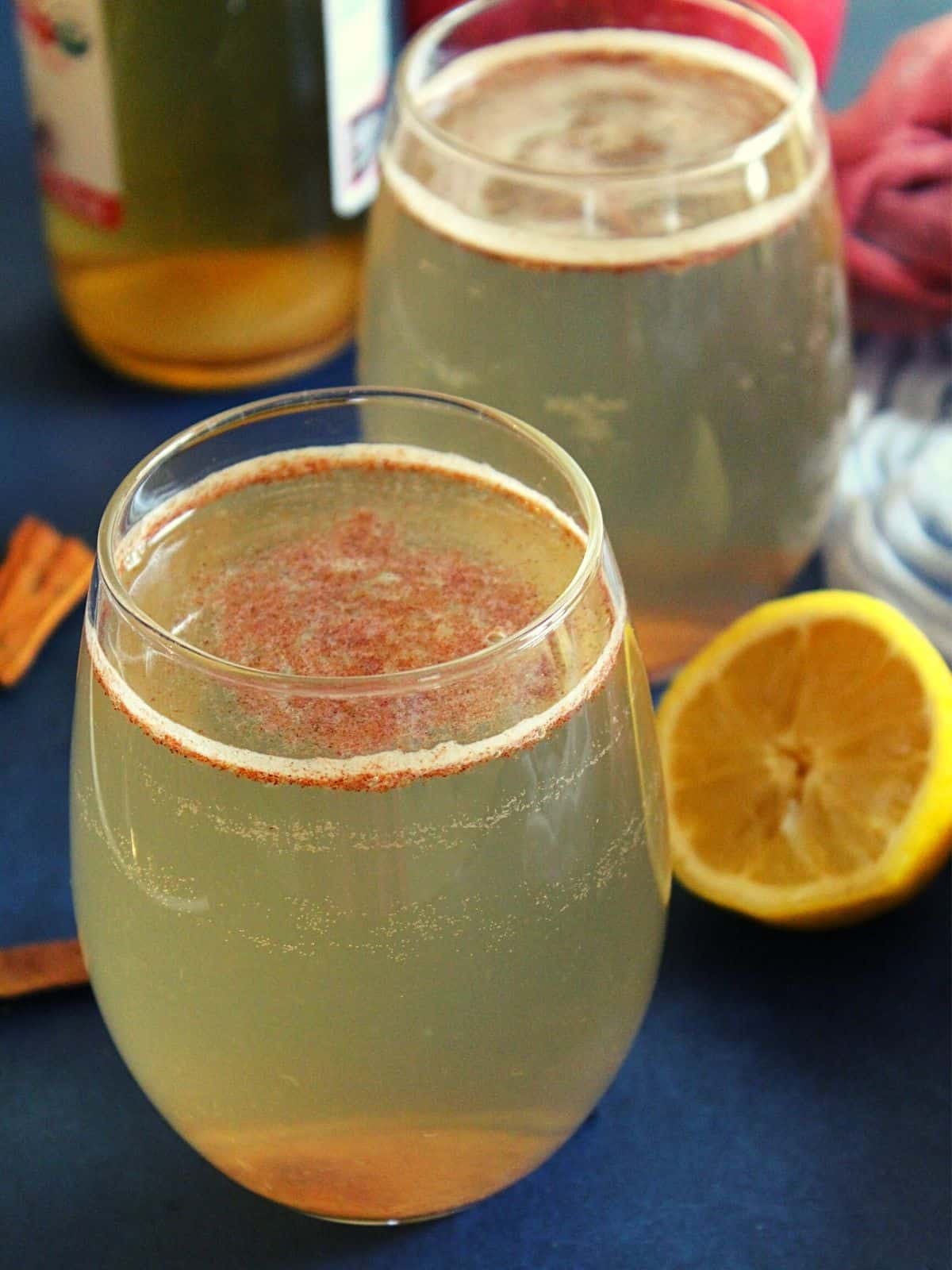 Jump to:
About the recipe
I am making this drink using raw organic apple cider vinegar which is highly recommended to use in place of inorganic ACV as organic apple cider has more potential to work effectively than inorganic vinegar.
I am not making a plain drink but this is a drink that can cleanse the colon and keeps the gut clean with regular usage. I am using simple handy ingredients such as lemon, honey to add to the apple cider vinegar along with some cinnamon.
Cinnamon can be skipped but to make it even more effective, I added this spice ingredient which has many benefits that I will be listing down below.
Check out the recipe details as you keep reading below.
Benefits of Honey with ACV
This combination is an effective way of losing weight as well as helps with digestion issues and is slowly gaining popularity due to its effectiveness.
It not helps cut down the fat but also helps in reducing cardiovascular issues and heart stroke problems.
The main health benefit of using apple cider vinegar in any drink or on salads by making a vinaigrette or in any form is it helps reduce the blood sugar levels to a large extent.
People suffering from diabetes can dilute a tablespoon of apple cider vinegar and consume it before going to bed. This method in studies has shown an effective decrease in blood sugar levels in people who experimented with ACV.
It can also be helpful in curing many other ailments such as high cholesterol issues, food infections or poisonings as well as can be mostly used to solve obesity.
It can curb appetite and avoid binging on unhealthy substances that can cause weight gain.
Difference between organic ACV and inorganic ACV
Organic ACV is a pure form and raw form of ACV that does not make use of any fertilizers and pesticides and is made purely by crushing apples using yeast and converting it into alcohol.
The alcohol is then converted to acetic acid with the help of bacteria. This form of making apple cider is called raw, organic and with the mother. The organic form is not processed at all.
Inorganic apple cider is completely processed and has no good benefits as it kills the bacteria in its making process.
I have already shared detailed articles on apple cider in my recipe articles such as apple cider vinegar to lose belly fat as well as apple cider vinegar and lemon juice. Also, check out other healthy drinks such as detox water recipes and green juice for weight loss recipe.
Today, I am sharing another drink by enhancing it using honey and helping it to drink easily.
Benefits of honey
Honey is a widely used ingredient in every kitchen for ages due to its vast medicinal properties. It is highly useful when used as remedies and has benefits of its usage from head to toe.
Honey is healthy for the skin, in food, in drinks, in treating hair issues as well as for beauty purposes. It has many health benefits internally too such as it treats digestion, it is high in antioxidants and has many powerful cures if combined with various foods and drinks.
Honey is a natural sweetener and avoiding sugar and using honey for many recipes and consumption purposes can keep the sugar levels in control.
Apple cider is acidic in nature and combining it with honey makes it powerful as well as a drink to detoxify.
Benefits of cinnamon
There are many benefits to cinnamon too as there are with honey and ACV. Combining all these together makes it a power-packed detox drink to have any time of the day.
Cinnamon can cure issues related to weight gain to a certain extent. There are main studies that are still going on which are not proven but it is certainly an ingredient that can help in fighting unhealthy and bad fats and cholesterol levels in a human body.
It can be useful in treating different kinds of bacterial infections as well as good to control sugar levels. It has properties that can help to prevent cancer-causing issues as well as has rich antioxidant properties.
Benefits of lemon
Lemon is so powerful and beneficial in ways that one cannot imagine. For instance, I would like to state some of its pros that I am aware of and have researched so far. It has high healing properties that can fights various infections and common ones are to treat cold, flu etc.
It is good for skincare, has high properties in treating nausea, digestion etc...
It keeps the body hydrated with regular consumption of fluids by mixing lemon extract in drinks.
It helps in cleansing the gut and keep the liver clean from toxins. It helps to detoxify and get rid of toxins from the body.
Combining all these ingredients to acv makes the drink highly effective and a must-try.
Ingredients
Apple cider vinegar: I am using raw, organic with the mother acv commonly available in stores and is very affordable.
Lemon: It is easily handy in every kitchen with many medicinal properties and a must for this recipe to enhance the benefits.
Cinnamon: Cinnamon here is added in powdered form. If no powder is available just crush some cinnamon and add to the drink.
Water: To dilute the drink, water is necessary as ACV is highly acidic and can spoil the tooth enamel if taken in a concentrated form. It is better to use it by diluting with a glass of water and not necessarily hot water.
Step by step procedure
Take a glass or a jar, add a tablespoon of apple cider vinegar concentrate in it.
Add a tablespoon of lemon extract concentrate to the glass.
Pour in a glass of water.
Add a teaspoon of honey to the drink.
Add cinnamon in powdered form as per requirement. Be careful in adding as it can give a strong smell. If required and not finding tastier, it can be skipped.
Stir all the ingredients well.
Serve apple cider vinegar and honey immediately and consume any time to benefit in the long run.
When to drink?
Drinking it on an empty stomach is more preferable as it can help in digestion throughout the day and helps clean and detoxify the body. However, if one has time to drink it during the day, consume it any time of the day or before meals and follow it weekly twice or thrice.
It can be hard to consume every day as it is highly acidic in nature and therefore, reduce or cut down its consumption as per choice but also consider eating a healthy diet and maintaining a healthy lifestyle with diet and exercise and enjoy the results the drink gives.
Storage
I suggest making it fresh and if willing to store it, make the drink and store it in such a way that can last for not more than two days and always give storing a second preference.
Drinking it fresh is more beneficial than storing and drinking it. It is almost an acid and can change the taste and nature as well as can also cause harm if using a drink that is stored for a longer time.
Recipe
apple cider vinegar and honey with cinnamon (weight loss drink )
A quick detoxifying drink with apple cider, honey, cinnamon and lemon.
Ingredients  
1

tablespoon

apple cider vinegar

(raw and organic)

1

tbsp

lemon extract

1

glass

water

1

teaspoon

honey

¼

teaspoon

cinnamon
Instructions 
Take a glass or a jar, add a tablespoon of apple cider vinegar concentrate in it.

Add in a tablespoon of lemon extract concentrate to the glass.

Pour in a glass of water.

Add a teaspoon of honey to the drink.

Add cinnamon in powdered form as per requirement. Be careful in adding as it can give a strong smell. If required and not finding tastier, it can be skipped.

Stir all the ingredients well.

Serve.
Nutrition
Nutrition Facts
apple cider vinegar and honey with cinnamon (weight loss drink )
Amount Per Serving
Calories 26
Calories from Fat 9
% Daily Value*
Fat 1g2%
Sodium 13mg1%
Potassium 17mg0%
Carbohydrates 6g2%
Protein 1g2%
Calcium 14mg1%
Vitamin C 1mg1%
Vitamin A 1IU0%
Iron 1mg6%
* Percent Daily Values are based on a 2000 calorie diet.
WANT TO WATCH VIDEO RECIPES?
SUBSCRIBE US ON YOUTUBE
Variations
I am using cold water and I suggest using normal cold water but there is no harm in adding ACV to warm water as well.
If one finds adding all the mentioned ingredients difficult and not handy when needed just use apple cider and honey as the main ingredients and drink them whenever possible or during any time of the day.
Other enhancements that can be done with the drink is to skip the cinnamon and add grated ginger which also is helpful to burn the body fat.
Another modification is to add turmeric to the drink and combine it with ACV which also makes a wonderful detox drink.
Faq's
How useful is it to combine apple cider vinegar and honey?
It can help with bloating issues, digestion issues, weight loss problems and other health issues such as increased sugar levels can be prevented. It keeps the liver and stomach healthy if taken on an empty stomach or 20 to 30 minutes before every meal.
Can I use hot water to make this drink?
I prefer cold water and not use warm water because honey can be dangerous and turn toxic when mixed with hot or warm water. Try to avoid using honey with warm water. If drinking plain ACV in water without honey then go ahead with warm water as well.
What are the side effects of this drink?
It is an acidic drink and can cause tooth erosion and prefer using a straw without touching the teeth to drink. Also, studies show that they cause nausea, heartburn and throat burns as well as decreased potassium levels with a high dose of ACV. Limit its intake and never use it in concentrated form.
Related