Homemade rose water, an essential and organic homemade spray that could be used for all purposes ranging from face, skin and cooking purposes as well. This article will show the natural method of making rose water at home which can be transferred to a spray bottle and used as a toner for the face as well as for skin.
There are other DIY's or recipes that can be easily made at home such as aloe vera juice, hibiscus tea, turmeric milk, ginger tea, apple cider vinegar for weight loss etc...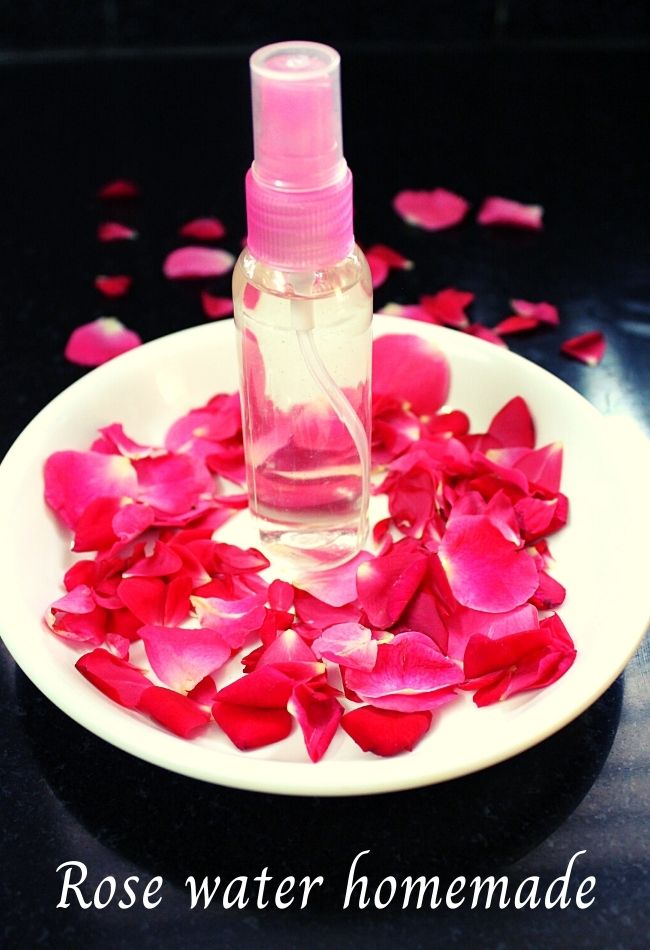 What is Rose Water?
This is a natural extracted water from the petals of roses from the rose plant.Here, I have made the water in a natural way which can easily be stored for at least 20 days whereas the rose water made in industries can be used until the date of expiry is mentioned on the product.
Since the water is made homemade using it for shorter period is suggested and can be made fresh once the water is about to finish.
Rose is a beautiful flower and everyone loves roses. They are used for many purposes such as celebrations and on various occasions as well.
In this article I would like to highlight the main use of roses in our day to day life and it is mainly used to enhance our beauty as well as used in cooking.
There are few recipes which are traditionally made and in such recipes rose water is an essential ingredient to give out fragrance and aroma.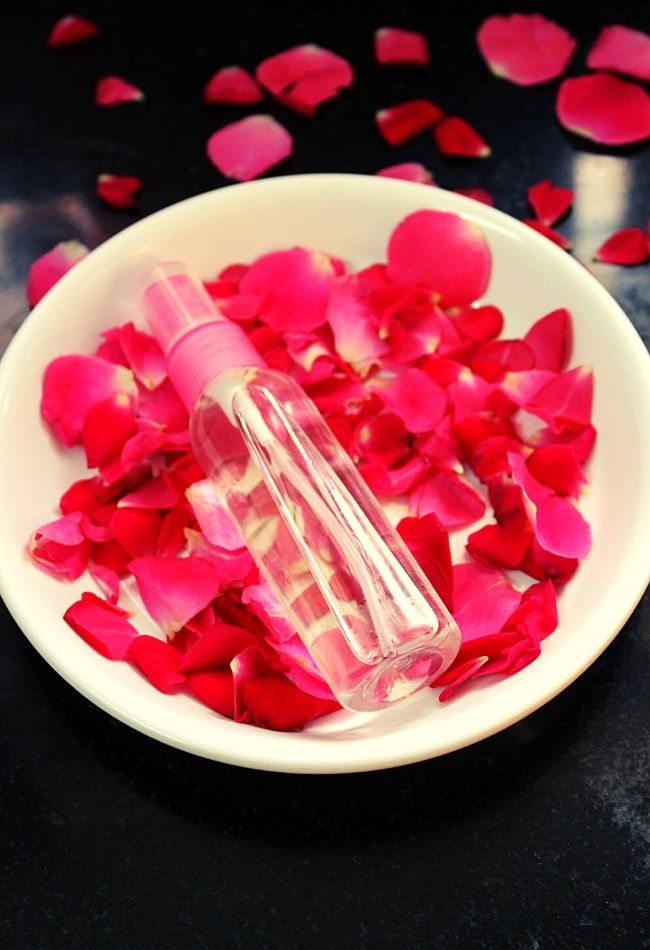 Time taken to make at home?
Since this is my personal experience on making this spray, it took me more than an hour which is approximately close to 2 hours to make it.
It is necessary to make use of many flowers and only the petals of the flower should be used while making and therefore it is better to use at least 20 to 25 flowers with only petals.
The petals are placed in a big bowl and allowed to be heated on a very low flame which release steam and that steam is collected inside a small bowl placed inside the big bowl. The resulting steam if collected for few hours condenses and becomes the natural rose water from the petals.
It is definitely a time consuming process but it is definitely a DIY activity that can be tried at home. It can be used at times where the rose water that is bought from stores is not available.
The rose water spray bought from stores to enhance the beauty should be organic without any chemicals mixed. This kind of organic products are safe compared to the one's which are chemical based.
There are plenty of uses of rose water which I would be highlighting according to my personal experience:
Uses
Rosewater is used mainly to enhance the beauty of the skin.
It is mainly used for external purposes but if we consider the usage of rose water decades ago then it has been used as an edible ingredient mainly for cooking.
If beauty is considered, then it is used to spray all over the face which gives instant freshness and glow to the skin.
It also acts as a great toner.
If it is applied to dark circles, it is said to reduce the puffiness around the eyes as well the lightens the area around our eyes.
It is a natural glow spray for the face if used regularly.
It also lightens the dark spots if applied to the affected area with cotton.
Other than the beauty purpose it is used for the purpose of cooking which is usually added to give a pleasant aroma or flavor.
Instant way of the water
To make quick rose water follow the following procedure:
Take a pan, add the rose petals, add water and close the lid.
Allow the petals to steep well into the water and the color of the water should change.
The water should be strained well and this strained water can be cooled and stored in a bottle for at least 10 days and used on the skin.
This is the quickest method to make homemade rose water at home but cannot be used for a long time whereas the long procedure is effective and can be used for a long duration.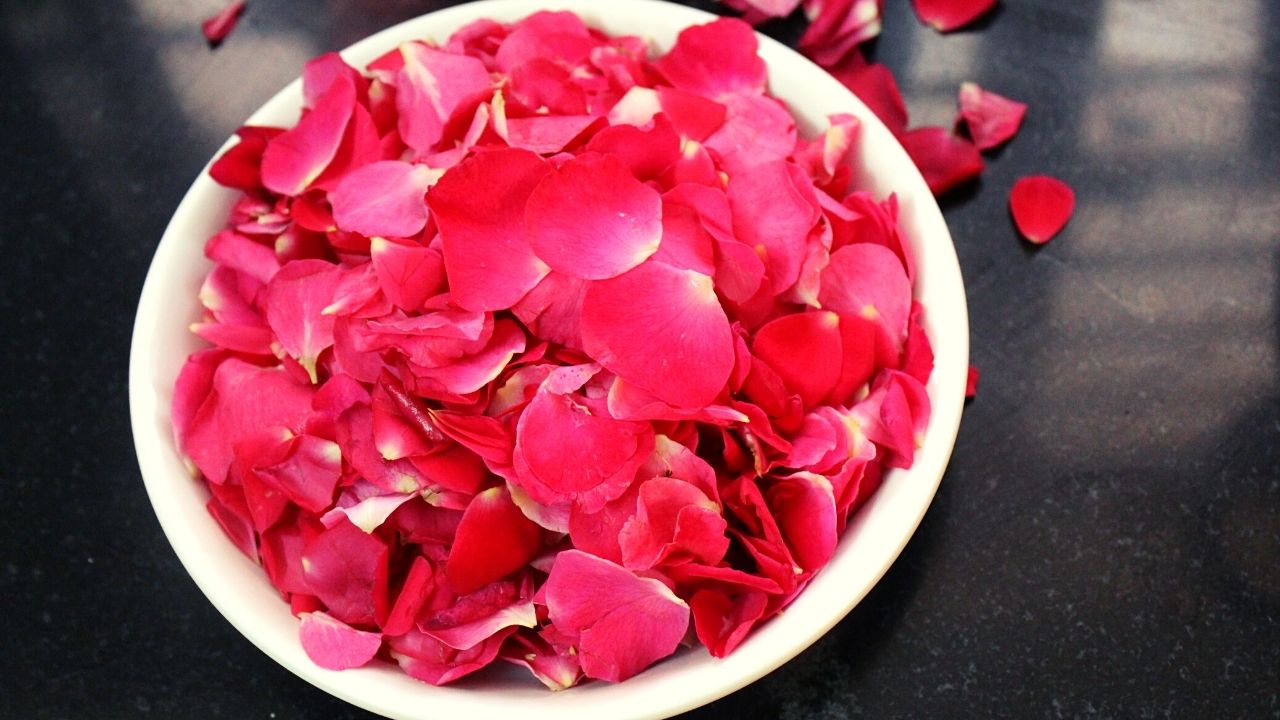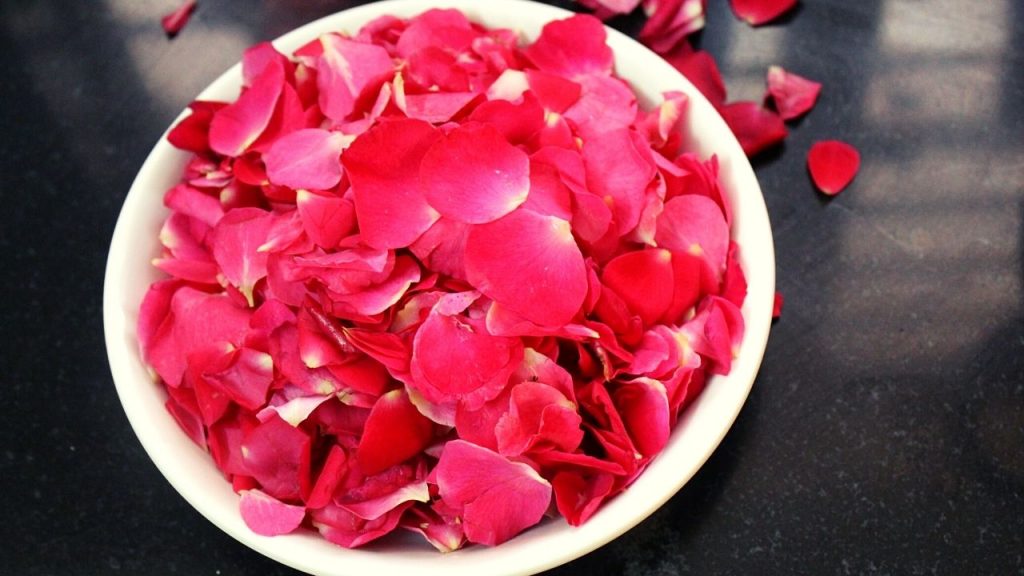 Below are the details on how to make homemade rose water for the face which is a definite DIY that should be tried at home.
Recipe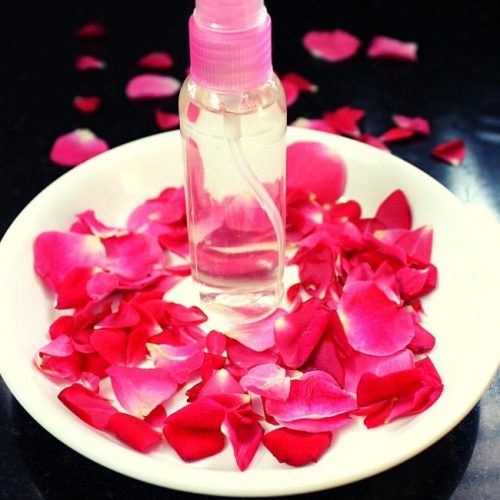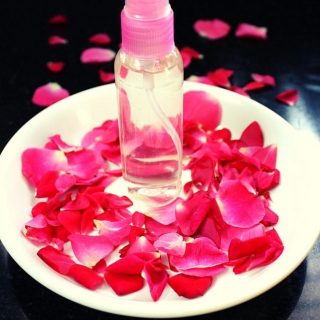 homemade rose water for face, rose water spray for skin (DIY)
Natural way of extracting rose water from the petals.
Ingredients
20

rose flowers

(only petals of them)

1

cup

water

6

ice cubes

1

wok or pan

a small bowl

a lid
Instructions
Separate the petals from the rose flowers.

Take a wide pan or a wok and place the rose petals all over the pan and only leave the centre part of the pan empty.

Place a small bowl at the empty centre part.

Add a cup of water all over the rose petals.

Cover the pan with a lid or a plate.

Place some ice cubes on the plate.

The rose petals start heating and release vapors and touch the plate.

Once condensed the vapors condense and get collected into a bowl.

This process should be continued for at least 1.5 to 2 hours if more flowers and water is used.

Once all the rose fragrance water is collected into a bowl, switch off the gas.

Take out the small bowl which consists of condensed rose water.

Allow the water to cool down.

Pour the water into a spray bottle.

Store and use for 15 to 20 days for face or skin.
Nutrition
Nutrition Facts
homemade rose water for face, rose water spray for skin (DIY)
Amount Per Serving
Calories 1
% Daily Value*
Sodium 16mg1%
* Percent Daily Values are based on a 2000 calorie diet.