Detox water recipes or drinks are a great way to cleanse our body and also help in losing weight with regular consumption and usage along with other implementations such as diet, healthy lifestyle, exercise and proper sleep. I shall be updating this article as I keep posting many more detox drinks and would love to share a compilation of all the drinks useful to detoxify.
We often look for detox water that is helpful in cleansing, aiming to lose belly fat, and aiming for weight loss. In this article, I tried to include some of the simple and easy drinks that can help us in reaching our goals if followed regularly. Also, check out detox smoothies for weight loss for more detox recipes.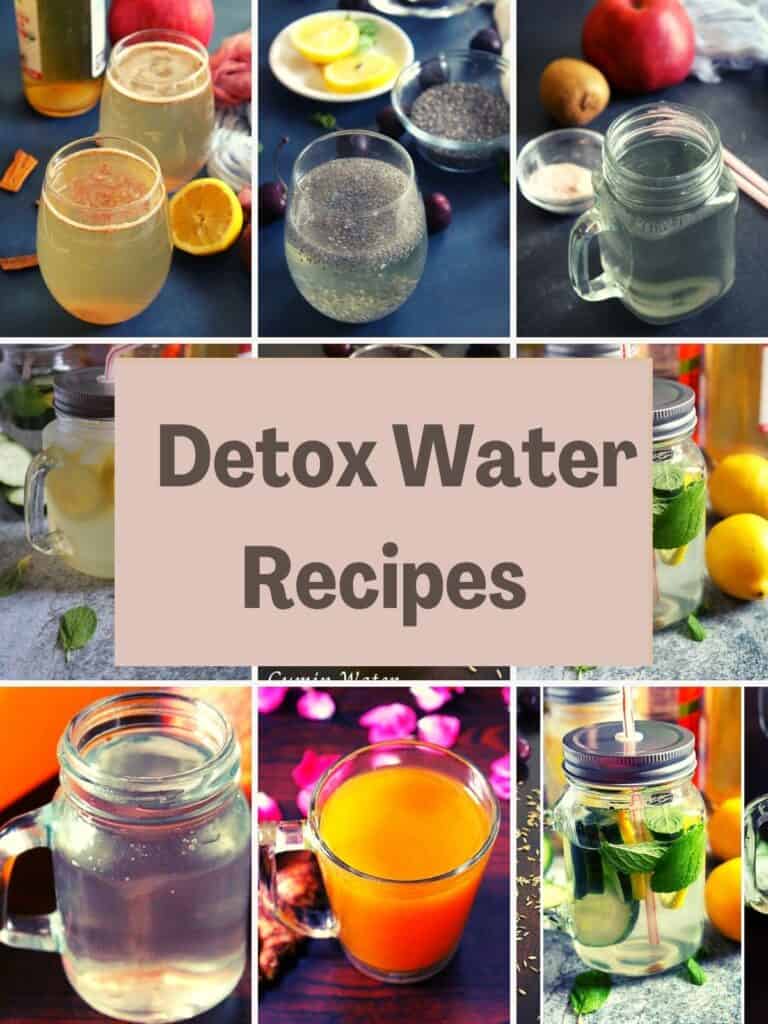 Jump to:
About detox water
Detox water drinks help in removing or flushing out the toxins from the body with regular consumption. We often tend to indulge in unhealthy food eating habits as well as include high-calorie drinks or food in our diet and these can cause trouble in our body with digestion.
Detox drinks help in removing away the toxins deposited due to unhealthy food lifestyles to a certain extent. One cannot entirely depend on these drinks and eat whatever comes our way. These drinks are a natural way to cleanse our bodies to a certain extent.
Note: I would suggest always consulting a physician or a nutritionist or a medical expert who can solve issues related to detoxifying or weight loss issues.
I am not a medical advisor but I am trying to share some of the articles from my blog which could be useful with the help of a doctor's advice.
What is detox water?
In simple terms detox, water or detox drink is the drink that comes out after hours of soaking water in fruits or vegetables. Most of the times herbs and detoxifying ingredients or weight loss ingredients are used to make the detox waters.
These infused water recipes work well in detoxifying, cleansing and with weight loss mainly if consumed on an empty stomach followed by a healthy lifestyle.
I have shared some of the water recipes that are made instantly as well as made by infusing them for a longer time and both kinds of drinks work well to help detox as well as in cutting down the unnecessary fat.
I am trying to share natural homemade detox water recipes and each recipe will take a detailed way of making the water, its uses, and benefits and also give many tips and tricks along with their variations. Try to refer to each recipe and follow the best one suitable to each individual.
These are made commonly using lemons, herbs such as mint or cilantro, ginger, cucumbers, fruits such as berries, some more herbs such as parsley, cilantro and many more fruits and veggies that can be used to make detox water for weight loss.
Benefits and uses of homemade detox drinks
Do check out my individual detox recipes which dive into the detailed uses and benefits o each drink.
In brief, these detox water recipes help in remove the toxins from a human body as well as help in keeping the digestive system clean.
If digestion happens well, most of the problems in our body solve and help us keep refreshed, and energized throughout the day and help us stay active too.
These drinks or water recipes help in losing body fat or belly fat with proper usage and with correct advice from the doctor.
Replacing high-calorie drinks with these sorts of detox drinks can easily keep one's weight in check without gaining unhealthy fat in the body.
These work on boosting our immune system, fights ailments and helping us stay active through simple homemade water recipes.
The best detox water to lose weight is warm water or plain water. Dring at least 3-4 litres of water or at least 10-12 glasses of water is the best way to cleanse our body and is the best drink to detoxify.
Different kinds of weight loss detox drinks
I will be linking some of the detoxifying drink recipes below but would also like to share different kinds of detox recipes that are useful along with my own recipes.
Listing the various homemade detox recipes that one can make easily and with simple homemade ingredients. These infused water for weight loss recipes are pretty easy to infuse in water jars or glasses and also can be stored for later usage.
Lemon cucumber detox water: Lemons and cucumbers are highly used in making weight loss water drinks and these are just added to normal water and allowed to sit for a few hours before consuming.
A refreshing and quick to make water drink to detox.
Cucumber ginger detox water: This is a combination of cucumber and ginger pieces infused drink and enhancements to these drinks are made essentially by adding lemons. Lemons are commonly added to every detox water as they are an essential ingredient in giving the required results.
mint detox water: This is a combination drink using mint as the main ingredient along with other main ingredients such as cucumbers, parsley, ginger etc... Adding these detoxifying ingredients and letting them sit for a few hours is an easy way of making any drink.
Just being aware of the ingredients needed to make detox drinks is the only easy option to make them and all the ingredients that are commonly used are listed here.
apple cider vinegar detox water: These detox drinks to lose weight are exclusively made using apple cider vinegar and to add a taste to these drinks lemons, honey, cinnamon, cayenne pepper or mint or ginger are added.
pineapple and cucumber detox: This is a combination of pineapple and cucumber drink that turns out tasty and has many benefits too.
saltwater detox: Made using pure sea salt and a detailed version of the recipe is posted on the blog and the recipe link will be posted below in the recipe round-up box.
hot water detox: This is the best and most simple way of detoxifying oneself and it is none other than the universal drink that is water. No other drink has so many benefits as plain water or warm water does.
watermelon mint water: Infusing these two ingredients too makes a great detox drink.
Always make sure to drink lots of water and see the results with daily usage.
Benefits of detox ingredients
Below listed are the benefits of some of the most commonly used ingredients to make detox water drinks and hope these benefits may be useful to my readers.
Lemons: Powerful ingredient to clean the gut, help improve digestion and has many medicinal properties plus have high usage in weight loss recipes. These are high in Vitamin C and give a good glow to the skin.
Cucumber: It is a very hydrating vegetable, high in fibre which can help with cleansing and digestion and hence can help in losing the unwanted fats. A just veggie to include in every detox drink. Check out my articles for detailed benefits.
Ginger: It is high in anti-oxidants and is known to fight problems related to obesity as well as help in lowering high cholesterol levels and blood sugar levels. A great source to include in the diet for digestion and has been used for digestive purposes for ages.
Honey: This has many medicinal properties and can fight several ailments too and acts as a natural sweetener. Try to replace high-calorie sugar with low-calorie honey in any drink and see the difference. Always use natural organic honey and not processed ones.
Cinnamon: This ingredient too has benefits related to treating cholesterol levels, heart issues, and sugar levels and is a common spice used in American recipes. It is also a powerful ingredient known to fight obesity issues.
Cumin: A wonderful spice mainly used for bloating digestion issues. Adding this spice to drinks too can work wonders in reaching weight loss goals.
Apple cider: Using raw organic apple cider vinegar helps in lowering blood sugar levels, fights heart-related issues, throat issues, weight loss issues etc...
Mint: This powerful herb is a must use in drinks as it can help with flatulence, bloating, cleansing and many other medicinal properties.
These are some of the highly used ingredients in weight loss detox drinks and there are many more but listed only the most commonly used ones.
Variations
Here, making a drink in one way is not necessary but mixing all the mentioned ingredients to make infused water for a few hours in one single water recipe can also be done.
Trying out different flavours which are preferred to make infused water is suggested and any ingredient mentioned in the article can be added to water and let it infuse. The benefits of all the weight loss ingredients are listed in the article and can be used accordingly.
Storage
The best advice is to make these drinks as fresh as possible as there are more chances of valuable nutrients lost from the drink if stored for a long time. The freshness and taste change as well. Do not store it for more than a day or two as they lose their nutrients if storing these drinks for many days.
Detox water recipes
Recipe
Also, take a look at other healthy recipes on the blog related to these detox water recipes such as...
Faq
Note: Please consult a doctor if there are any health issues or medical issues as these recipes are just some of the recipes from my blog and cannot be assured with hundred per cent results as everybody is different and each body can react differently to these drinks.
Always seek a doctor's advice before using them as these tips are not presented by any medical expert. Pregnant women should not consume these drinks and please consult a doctor before using any health tips.
Recommended