Would you like to try apple cider vinegar and cranberry juice to reach your weight loss goals? Making this drink and consuming it fresh is quite effective, as apple cider and cranberry can bring excellent results.
Also, try other drinks from the blog such as salt water flush, liver detox drink, lemon tea for weight loss, weight loss green smoothie, almond milk smoothie for weight loss, etc.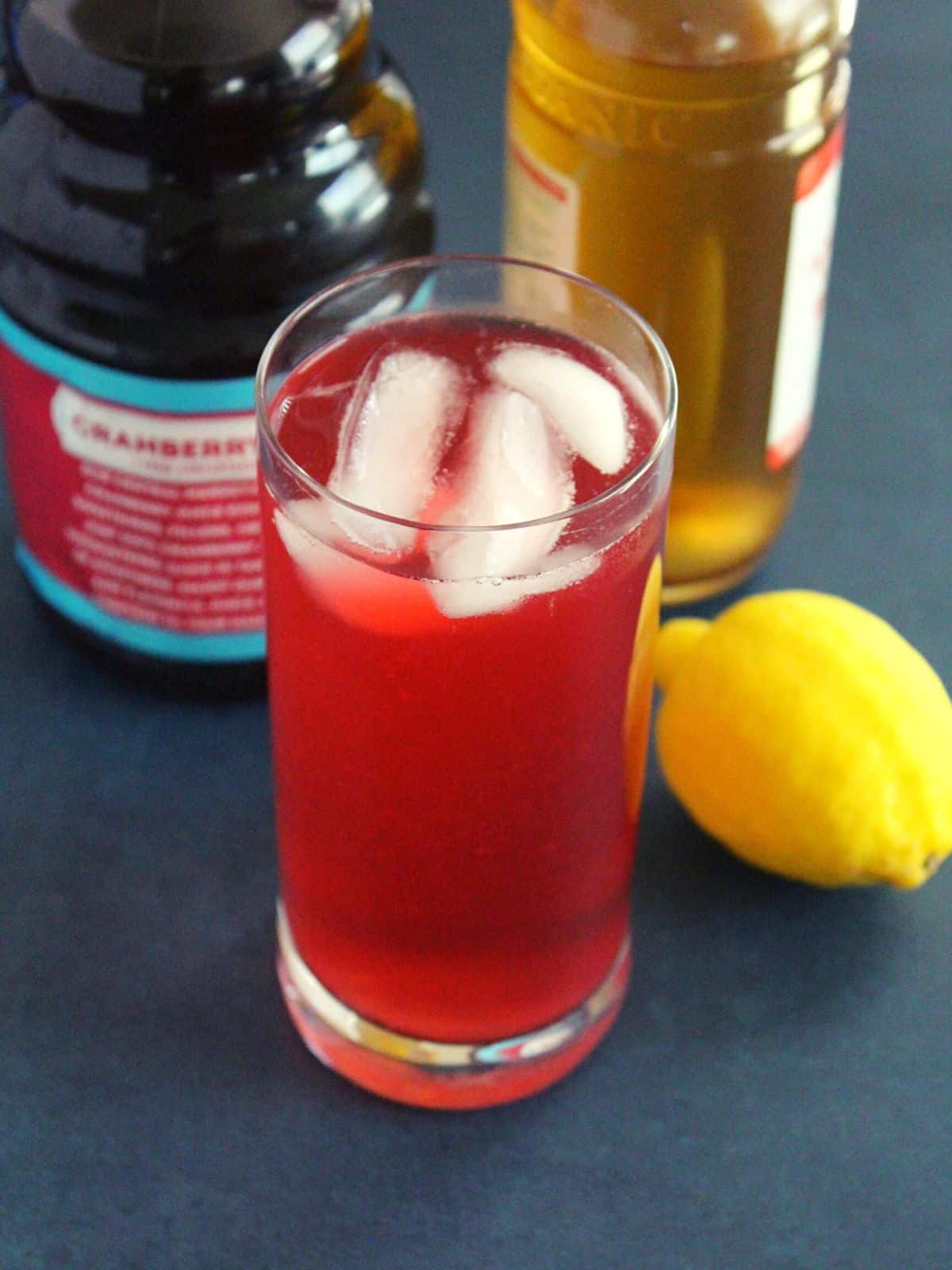 What is apple cider vinegar?
The apples are crushed to extract apple juice, and apple cider vinegar is formed when the juice ferments well. The juice we obtain is highly acidic and contains acetic acid but has powerful medical benefits.
Buying or using apple cider vinegar with the mother is more beneficial as this can be more helpful. This ACV with the mother is used for consumption and treating different health issues such as obesity.
ACV with mother vs. without mother
ACV with the mother is the raw form of apple cider vinegar that is completely unrefined and not filtered. This form of apple cider can be more beneficial.
ACV without a mother is the more processed form and filtered and is not an excellent choice to make any beverages or consume them internally.
While making detox drinks or using them for dressings and other cooking purposes, using apple cider with the mother can give good results.
What is a Cranberry?
We all have come across cranberries, especially if you live in the United States of America. The stores sell these small red round fruits in frozen form and fresh cranberries in season.
If you do not get fresh cranberries when you visit the stores, grabbing a bottle of 100% cranberry juice or frozen cranberries can save the day.
Cranberries can be highly beneficial as they are rich in vitamins, minerals, and antioxidants.
They taste sour or bitter but using them in beverages or combining them with certain fruits makes them consumable.
The cranberry juice is dark red and has a sour flavor; if combined with apple cider vinegar, it can have the best results in reducing weight and preventing obesity.
Benefits of apple cider vinegar
Apple cider vinegar gives a better outcome if consumed regularly just by mixing with a glass of water and having early mornings on an empty stomach or before bedtime.
ACV gives good results to those looking forward to shedding some pounds and keeping their weight under control.
ACV is not a miracle drink to help you lose weight; we need to follow many other lifestyle changes to achieve our weight loss goals.
There is no complete evidence that apple cider treats losing weight, but since it aids digestion and lowers cholesterol levels, it is slightly helpful to cut down the fat.
ACV helps reduce blood sugar levels and is always suggested to drink to reduce sugar levels.
Apple cider vinegar keeps you full and does not increase your appetite, which can stop one from overeating and increasing weight.
Benefits of Cranberry Juice
Cranberry juice is commonly used to treat urinary tract infections and can serve this purpose better.
It also helps in proper digestion and delays aging by producing collagen, as cranberries are a rich source of vitamin C and fiber.
They work wonders in improving heart health and reducing cholesterol levels.
Also, it boosts immune health and prevents various diseases.
Cranberries help fight several bacterial infections, and having at least 8 ounces of cranberry juice or cranberries a day can be beneficial for better health conditions.
Apple cider vinegar and cranberry juice combination
Combining both to make a detox drink or a drink to lose weight is a good option as both have immense health benefits.
Apple cider vinegar and cranberries are sour and help digestion, improve heart health, fight infections, and lower blood sugar and blood pressure levels.
They also help in reducing appetite and avoiding overeating. Also, assist in properly functioning the immune system and fights several issues such as cancer and other heart problems.
How to make apple cider vinegar and cranberry juice drink
ACV and cranberry combination helps detox well. Mixing these two ingredients in water and consuming them shows promising results for those who use them regularly to treat weight loss or detox than those who do not have apple cider vinegar.
To make the drink, mixing two tablespoons of apple cider vinegar and cranberry juice in a glass of water is fine.
If you do not feel like consuming it as it is, changing the ratio of ACV or cranberry juice is a good choice.
One can increase cranberry juice's percentage to ACV if you need that way and add honey and lemon juice to make it consumable.
Adding some ice cubes, too, is an excellent option to make a chilled drink.
Variations
Adding some pineapple juice to this concoction is an excellent enhancement to the weight loss drink and acts as a good detox.
Also, increase the amount of cranberry juice added to help it more consumable as per requirement.
When to drink?
Drinking this juice combination any time of the day, mainly before meals, is a good choice but can be taken after meals, on an empty stomach or during bedtime.
Using this drink regularly can bring good results and aid weight loss but do not depend totally on this drink as other lifestyle changes are essential for proper weight management.
Tips to buy
While buying apple cider vinegar, check the label only if it mentions 'with the mother' for consumption purposes. Several brands are now available that sell it, and make sure to choose a good brand.
Cranberry juice is available in stores; check the label to see if it is in pure form and 100%. Such labels assure us that it is a purified extract; some sell by adding sugars to the juice.
Do not add cranberry juice with sugars as it will not benefit in any way and, in return, increases weight and causes more harm than good.
Side effects
Every human is different, and not everybody gets the same results. Some may face the opposite reactions and can slow down certain things.
Consulting or seeking a physician or medical expert's help is what I suggest.
The information in this article is written by checking authoritative resources and going through useful information available across different sources while writing. Still, not all can get the same results, depending on any health concerns one faces.
These drinks, if consumed more than the recommended dosage, can cause adverse reactions such as heartburn and slow digestion, and cranberries, too, should be limited to 8 oz a day.
Cranberries are high in carbs and can cause weight gain and increase blood sugar levels in the body. Consuming more than the suggested dosage can give you stomach trouble and causes diarrhea.
Acv causes enamel erosion as it is acidic and sometimes causes heart and throat burn, so be careful while using these drinks.
Recipe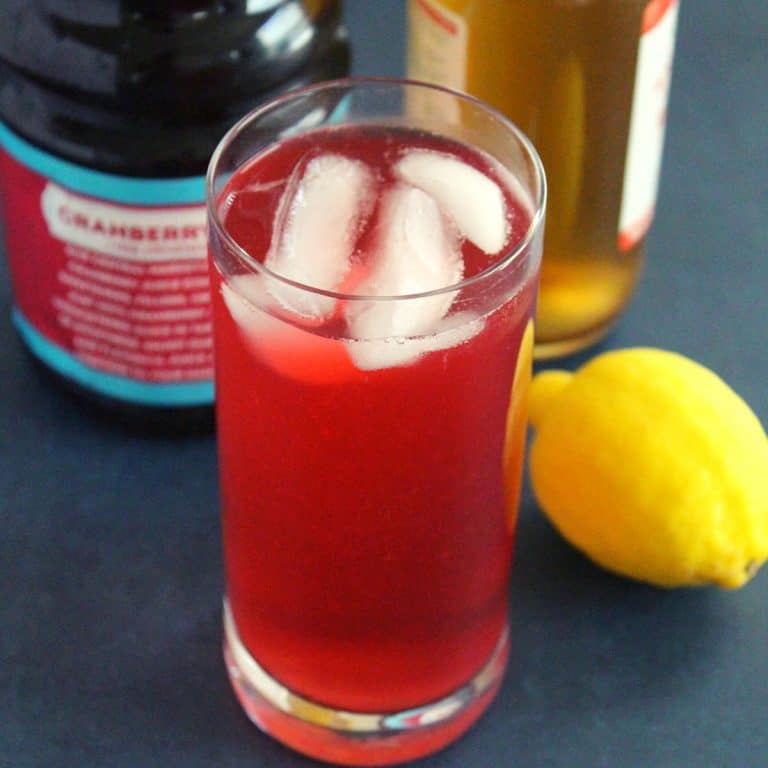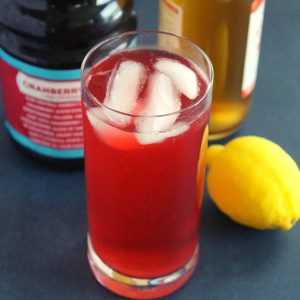 apple cider vinegar and cranberry juice
A simple and quick weight loss drink with apple cider vinegar and cranberries.
Ingredients
2

tablespoon

apple cider vinegar

2

tablespoon

cranberry juice

1

tablespoon

lemon extract

Ice cubes

1

cup

water
Instructions
Add apple cider vinegar to a glass.

Add cranberry juice to it.

Also, add lemon extract to the above ingredients.

Some ice cubes; add crushed or as it is.

Pour water into the glass.

Stir all the ingredients and serve chilled.
Notes
Increase the quantity of cranberry juice and add amounts of ¼ cup or some extra tables well for better taste.
Nutrition
Nutrition Facts
apple cider vinegar and cranberry juice
Amount Per Serving
Calories 66
% Daily Value*
Sodium 15mg1%
Potassium 36mg1%
Carbohydrates 16g5%
Protein 0.01g0%
Vitamin A 10IU0%
Vitamin C 14mg17%
Calcium 12mg1%
Iron 0.1mg1%
* Percent Daily Values are based on a 2000 calorie diet.
Faq's
How do cranberry juice and apple cider vinegar help?
Combining ACV and cranberry juice to make a detox drink and consuming them can help one get a flat stomach or a flat belly as they reduce cholesterol levels together and aid in weight loss.
Can cranberry juice help weight loss?
Cranberries work well for digesting; this helps remove toxins from the body and allows the system to function well by fighting infections.

This juice in detox drinks can improve weight and is highly beneficial when mixed with apple cider vinegar.
Can cranberry juice help weight loss?
Cranberries work well for digesting; this helps remove toxins from the body and allows the system to function well by fighting infections.

This juice in detox drinks can improve weight and is highly beneficial when mixed with apple cider vinegar.
Does ACV and cranberry help get a flat belly?
Consuming the drink regularly can be more effective in showing results leading to losing weight or getting a flat belly by burning overall fat.