The salt water flush recipe is a different drink on the blog that I would like to share today. It is a colon cleansing or flushing recipe that needs simple ingredients to prepare and takes just a couple of minutes to make.
This drink can help in cleansing the stomach once in a while if facing bowel movement issues.
There are several other detox drinks or flush drinks on the blog, and more to come can help my viewers try out and make any drink that could benefit their body or health.
Some beverages to check out from the blog are black coffee for weight loss, cumin water, lemon cucumber mint water, apple cider vinegar for weight loss recipe, chia seeds for weight loss drink etc.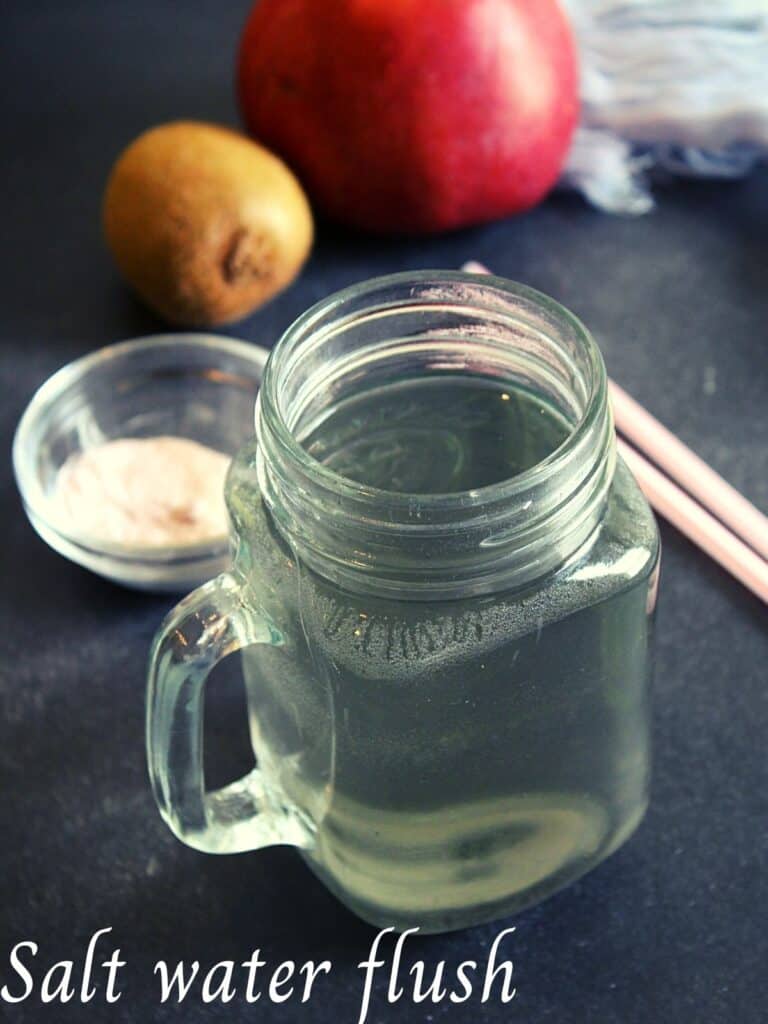 Jump to:
About the recipe
This colon cleanse salt water detox drink is easy to make at home. Use this cleanse if a human body faces irregular bowel movements or has other regular issues such as constipation.
The primary purpose of its consumption is to have a clean colon by removing toxic substances from our bodies once in a while.
Some detox drinks can quickly help detoxify the body, but sometimes one may need the urgency to clean the colon, remove impurities, and have a healthy colon. This drink can save those looking for such recipes.
There is no scientific evidence whether the drink works to cleanse the colon, and it is always a suggestion to go for a doctor's advice before consuming the drink.
Also, check out other International recipes on the blog, such as how to make rose water, instant stovetop oatmeal, overnight oats for weight loss, oats smoothie for weight loss.
Ingredients
This recipe requires two simple ingredients to make, which I will list below.
Himalayan salt or pink salt: This is a salt that is in its purest form, less processed and has a high demand for its excellent benefits.
This is why it has high use in some recipes, mainly detox recipes or stomach cleansing or digestion-related recipes because it has those properties.
I am using this pure pink salt in the saltwater flush recipe, which is readily available in markets.
Warm water: Warm water usage helps detoxify the body more quickly than cold water, and I will use this water along with salt to make the cleansing salt flush.
These are just two essential ingredients and if Himalayan pink salt is unavailable, try to use pure sea salt but not table salt.
Below I will list some details on the benefits and valuable properties of pink salt that can bring immense benefits to the human body.
Benefits of Himalayan salt
This salt is high in possessing many essential minerals and nutrients and is suitable if taken along with some water. It is mainly available and occurs in the rock areas of Pakistan.
This salt has less amount of sodium when compared to regularly used processed table salt and is better known to treat stomach-related issues such as digestion, constipation etc.
It gives the body the lost minerals if excessive sweat is released from the body.
Drink it by adding some pink salt to the water, and it helps regain the lost nutrients immediately and energises the human body.
It balances the ph levels of the body if it creates any imbalance due to any issues.
This salt water flush drink can immediately help balance the levels and bring back the needed electrolyte requirement in our body.
Using regular table salt causes excess sodium to deposit and retain the fluid in our body. The reason is the high sodium content in the table salt compared to pure sea salt.
The processed table salt contains artificially added iodine, but pure sea salt has natural iodine content.
High fluid retention in our body can cause health problems such as heart and blood pressure problems and can lead to heart attacks.
Always ensure a diet low in sodium and not high that can cause high blood pressure problems.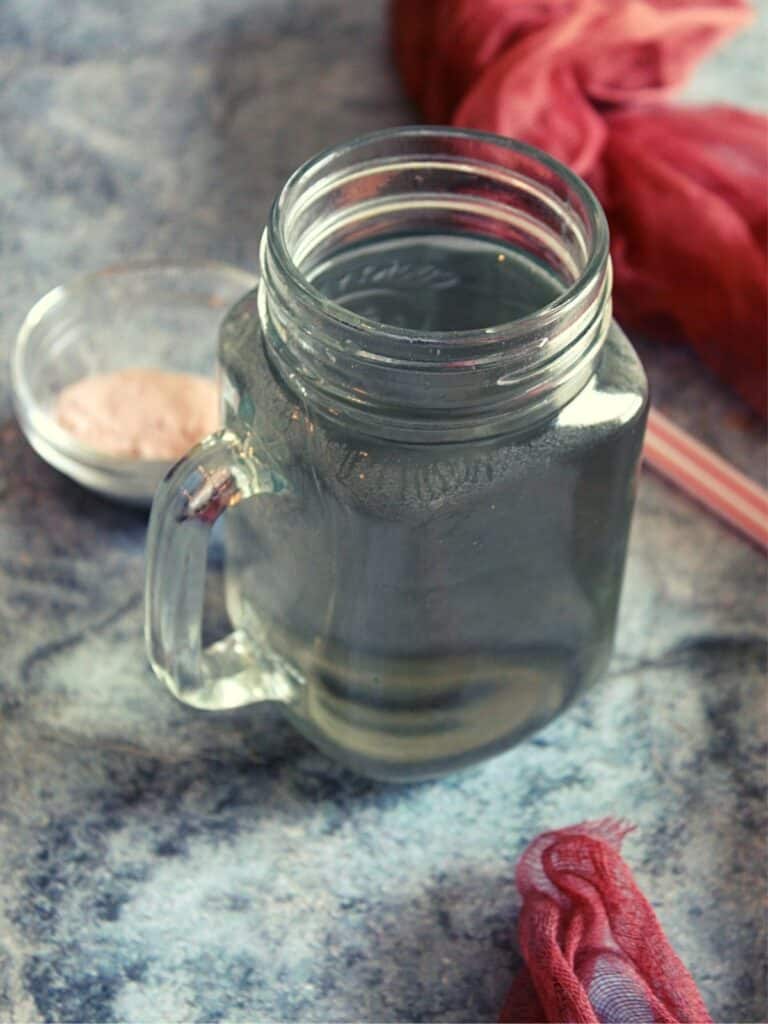 Other benefits
Use it to have saltwater baths and remove impurities from the skin. It is an excellent exfoliator if mixed in the water while having a bath or applying it on the skin by mixing hair oils.
Typically, it is called 'Kala namak' and added to many digestive drinks such as 'aam panna' or pani of the golgappa other than the detox drinks to make it tasty.
Why this drink?
This sea salt flush or sea salt cleanse helps to flush out excess toxins from the bowels and helps to treat irregular bowel movements by cleaning them after using this drink.
Suppose we have had many unhealthy drinks that have been deposited and not flushed out and continuously retained in the body; this drink can help flush them out by cleaning the stomach and colon.
It cleanses the stomach quickly by treating constipation, bloating, and digestion issues.
If any fluid remains in the body that is harmful to blood pressure issues, this drink consumption works wonders by removing the excess liquid from the human body.
If there are other problems, such as sore throat issues, this drink can help ease those issues smoothly.
It is a drink to solve or treat all gastrointestinal issues.
Since the body flushes out all the impurities and makes us feel light, it can temporarily appear that a body has lost weight due to excessive flushing, but it is just temporary.
Therefore, if looking to lose weight temporarily, try this saltwater flush weight loss recipe and check out some more detox drinks for weight loss.
Also, check other exciting weight loss drinks such as honey apple cider vinegar with cinnamon, smoothies to lose belly fat fast.
Drawbacks
Sometimes excess bowel cleaning with this drink can lead to excess salt loss and imbalances in the body's electrolyte levels.
In this case, having an electrolyte drink or powder can help balance the electrolytes.
The saltwater cleanse drink can also lead to tiredness and causes fatigue in the body. It can cause blood pressure fluctuations and causes vomiting or vomiting sensations, and nausea-like symptoms.
It can also cause muscle spasms, and one needs to take care of the frequency of this drink consumption as it can be more dangerous to have it regularly.
How to drink it and when?
Prepare the drink by mixing a tablespoon of Himalayan pink salt or pure sea salt into one quart or around 16 ounces of warm water and stir well.
Consume it on an empty stomach, give a gap of at least 30 minutes before having something, and try to use it early in the morning.
Do not try to flush the saltwater in the middle of the day or on a busy schedule with an active routine, as it can require many visits to restrooms to ensure the bowels clean well.
This salt can be dangerous with regular consumption, and do not consume daily.
Just use it in case of emergency and on a relaxing day. Just taking care of this can save the day in regularly visiting restrooms or bathrooms.
Salt water flush didn't work?
Since this is not an often suggested drink, try to include or use other methods to flush out or detoxify.
Various methods can include having or maintaining a healthy diet of soups, salads, a diet rich in potassium, iron etc.
Avoid smoking and drinking, and this can work a lot in maintaining a healthy colon.
Exercising regularly can be effective for better health and digestion rather than following unproven methods.
Check out the master cleanse recipe below.
Note: Always seek a doctor's help before following any of the detox drinks from the blog, as the information provided is not given by a medical expert and may require a doctor's assistance.
Recipe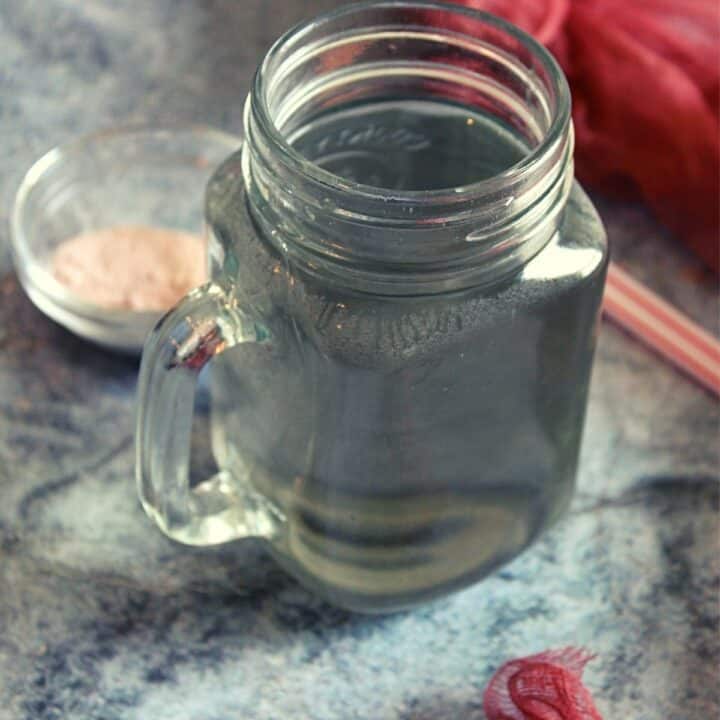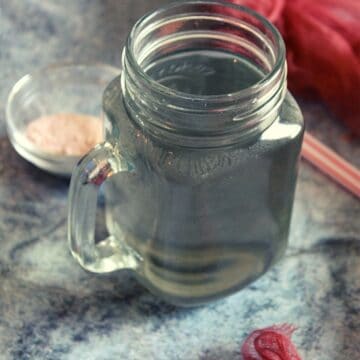 Salt water flush recipe (salt water cleanse detox)
A quick flush detox drink made using salt and water.
Ingredients
1

glass

water

1

tablespoon

himalayan pink salt

(kala namak or black salt)
Instructions
Take a glass of water or approximately use 16 ounces of water.

Warm the water by using a microwave or on stovetop but do not boil it fully.

Use slightly lukewarm water.

Pour the water into a glass.

Add in a tablespoon of pink salt or pure sea salt into the water.

Stir well until the salt is dissolved completely.

Consume it on an empty stomach.

Give a gap of 30 minutes before morning meal.

Try to lie down to right side to help flush out the bowels quickly.

Helps clean the bowels and improves constipation, bloating and digestion issues.

Do not consume on a regular basis.

Add some lemon extract to make variation to the drink.
Notes
The taste of the drink is quite different and can make it difficult to drink in the beginning and be cautious with its taste.
Once the bowels are cleaned drinking any fluids such as water or any other natural water is essential to hydrate the body.
Nutrition
Nutrition Facts
Salt water flush recipe (salt water cleanse detox)
Amount Per Serving
Calories 1
% Daily Value*
Sodium 1680mg73%
Potassium 1mg0%
Calcium 11mg1%
Iron 1mg6%
* Percent Daily Values are based on a 2000 calorie diet.
Faq's
How many times do I need to drink?
Just drink it when the bowels are not regular, and you have trouble with bloating or constipation. Taking it monthly once or a maximum of two times is advisable.
Can I have it any time of the day?
No, it is always a good idea to have it during day time.
Recommended