Starbucks isn't just a coffee shop; they also have Starbucks smoothies! And if you're looking for a healthy and delicious way to start your day, their options are worth checking out.
From fruity to protein-packed, Starbucks has something for everyone. In this article, there are some best Starbucks smoothies on the market, and we recommend which one is perfect for you.
Are we looking for a healthy and convenient way to refuel during the day? Check out Starbucks smoothies! They pack these delicious drinks with nutrients and are perfect for on-the-go consumption.
Smoothies are low in calories and easy to digest, so you can enjoy them without worrying about weight gain. We will list the best Starbucks smoothies here in this post and also some tips on making them taste great.
Suggested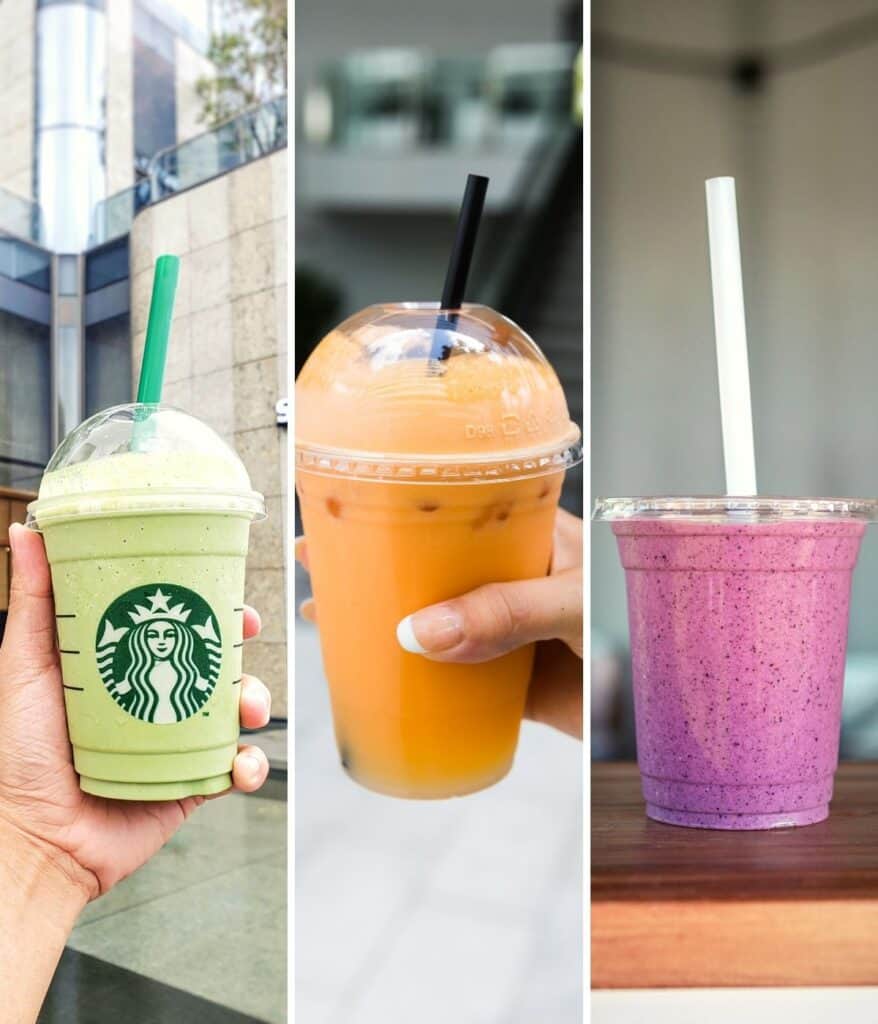 Jump to:
What is a smoothie?
Smoothie is the best way to get more fruits and vegetables into your diet. A smoothie is a drink that combines fresh fruits, vegetables, and sometimes milk and soy milk. With the help of a blender, smoothies are delicious, simple, and convenient.
Smoothies are a popular American food and drink. They make them by combining raw fruit, juice, yoghurt, and ice in a blender. Smoothies became popular in the United States in the late 1990s.
The machines used to make smoothies are called blenders. Most people call the stores specializing in selling smoothies "Smoothie shops."
Does Starbucks have smoothies?
Yes, Starbucks not only sells various refreshers or coffee drinks but also has something else to sell and they are smoothies.
One can place an order for smoothies to chill it out with a tasty drink or can also customize it with dairy-free replacements.
Head over to your favourite Starbucks coffee outlet and enjoy smoothies of a wide range and flavours including fruit flavours, strawberries, chocolate and many more!!!
The smoothies price range is starting from $3.75 approximately and can go up to $4.95 to $5.95 depending on the kind of drink and the cup size ordered.
Are the smoothies from Starbucks healthy?
You can order them with healthy substitutes such as asking for healthy dairy-free replacement in place of 2% milk as well as opt-out of sugar or sweeteners as well.
Most of the low-calorie smoothies they sell can be made healthy with customizations.
Smoothies in Starbucks
Did you know Starbucks smoothies are usually the cheapest things on the menu? And my favourite part is that even when I am in a rush, I can get my smoothie added to the end of my order so that I don't have to wait for my drink.
Starbucks has introduced smoothies, a blend of fruit, ice, and sometimes yoghurt.
Smoothies come in several flavours: Strawberry Banana; Mixed Berry; Very Berry Strawberry; Tangerine Mango, and Peach.
Starbucks smoothies are healthy, made with natural fruit, and come in various delicious flavours.
Have a dairy-free smoothie with almond milk and protein to help build your day and fuel your workout or try one with protein, chocolate, and fruit for a sweet boost.
Suggested
List of all the Starbucks smoothies
Discover the smoothie range at Starbucks. Find out where smoothies are available and see complete nutritional information, including calories, protein, carbs, etc.
1. Pineapple Coconut Green Smoothie
This Pineapple smoothie is not a white colour smoothie but a healthy green smoothie containing healthy green leafy veggies in it.
The smoothie is green because Kale and Spinach are added to the smoothie along with pineapple and coconut milk.
This is a dairy-free smoothie and asking for regular milk replacement from the barista while ordering is also another option.
Per 1 serving: Calories: 270, total fat: 7g, Protein: 4g, fiber: 6g
2. Cinnamon Dolce Smoothie
A blast of flavour and vitality with many health benefits, this is a chocolate-flavoured smoothie with cinnamon dolce syrup added to it in place of other chocolate flavoured syrups.
They pack the Cinnamon Dolce Smoothie with nutrients, including vitamins A and B, and an excellent source of protein, antioxidants, and immune-boosting properties to help you fight off everyday germs.
The low-fat vanilla yoghurt in this smoothie delivers tasty calcium, potassium, and vitamin D balance.
Calories: 235, Fat: 22g, Carbohydrates: 5g, Total Carbs: 51g, Protein: 13g
3. Strawberry Smoothie
Whip your day into shape with the satisfying taste of Starbucks ' Strawberry Smoothie. This protein-packed blend delivers a creamy freeze and an energizing boost that's smooth sailing from the first sip to the last.
They make this rich Ice Cream Strawberry Smoothie with a unique combination of strawberries and rich vanilla ice cream.
Strawberry Smoothie is a creamy yoghurt drink with the fruity taste of real strawberries.
Per 1 serving – Calories: 300kcal, Fat: 2.00g, Carbs: 60.00g, Protein: 16.00g
Suggested
4. Chocolate Smoothie
This product is the chocolate smoothie at Starbucks. For only $4.25, you get a chocolate flavour explosion to wake up your taste buds, which will not let you down.
This product has zero amounts of harmful ingredients, and everything is good for you. It's always fresh when served hot and or cold with a large amount of whipped cream topped.
The smoothie contains sugar, milk, water, cocoa powder with alkalized low-fat milk added and other low-fat milk solids and nonfat milk powder composite high fructose corn syrup and some natural vanilla flavours.
per 1 serving: calories: 320kcal, fats: 5g, carbs: 53g, protein:20g
5. Orange Mango Smoothie
Wake up your tastebuds with the ultra-refreshing flavour of Orange Mango Smoothie.
This fruity fusion of flavours brings together a satisfyingly sweet blend of orange and mango, finished with a cool undertone that keeps every sip refreshingly smooth.
Fresh mango, orange juice, and basil leaves are blended to create this bright and refreshing smoothie.
Easy to customize with your favourite ingredients, you can enjoy this smoothie at any time of the day.
Refresh yourself with a Starbucks Orange Mango Smoothie. The orange tropical taste of mango combines with orange juice, yoghurt, and ice to deliver the perfect blend of pure fruit, frothy cream, and juice.
Per serving : Calories: 270kcal, Fat: 1.50g, Carbs: 53.00g, Protein: 16.00g
6. Berry Forest Smoothie
Blend in some berry bliss with their Berry Forest Smoothie. This new dairy-free blend of blackberries, blueberries, strawberries, and raspberries is infused with açaí fruit juice and coconut milk.
It is fully loaded with Vitamin C, then topped with luscious dark cherry compote. No wonder it's so fruity and delicious.
Berries blend thoroughly with the goodness of real strawberries, blueberries, and raspberries.
The forest berry smoothie is rich in fibre, antioxidants, and vitamin C. Starbucks always tastes best when made fresh in a barista-made coffeehouse experience.
Berry Forest Smoothie is a delicious, low-calorie beverage. It contains 10.6 grams of protein and 6.8 grams of fibre per serving.
The smoothie also contains 23 essential vitamins and minerals that may aid in the reduction of the risk of certain chronic diseases. 
7. Very Berry-Licious Smoothie
A blend of blackberries, blueberries, and raspberries with other berry fruits, a hint of lemon, and a splash of vanilla. This smoothie is low in calories, with zero fat.
You're about to treat yourself to a delicious smoothie with fresh ingredients that it's hard to believe could fit in a cup or leave your lips thirst-free.
This Starbucks Very Berry-Licious Smoothie is made with ripe strawberries... and the occasional berry splash.
One cup: Calories: 148, fat:<1g, carbohydrate: 34g, Protein: 4g
8. Berry Vanilla Smoothie
The Berry Vanilla Smoothie is a perfect blend of blueberries, raspberries, and strawberries blended with bananas, peaches, and vanilla yoghurt.
Made with fresh strawberries, blueberries, and raspberries, a dash of sweet vanilla syrup, white chocolate mocha sauce, and creamy nonfat yoghurt and vanilla protein powder, Starbucks Berry Vanilla smoothie is rare among smoothies—healthy.
It's the perfect blend of strawberries, blueberries, and raspberries, coupled with vanilla ice cream for a sweet treat that'll satisfy your craving for something cold and sweet.
1 Serving: Calories: 235, Total fat: 1.5g, Protein: 19g
9. Pumpkin Smoothie
Made with essential ingredients, this recipe for Pumpkin Smoothie takes a delicious breakfast idea and crams it into a blender.
Loading the blender full of frozen fruit will give your smoothie a creamy texture, do not overdo a bit of a pumpkin milkshake on your hands.
Made from essential ingredients such as milk, soy milk, cream cheese, ice, and pumpkin puree, This smoothie recipe doesn't need to be limited to fall or even pumpkin.
When you don't have fresh pumpkins on hand, you only need some canned pumpkin puree, which you can use year-round.
Combine the natural flavours of smooth pumpkin, creamy Greek yoghurt, and nutmeg with the perfect amount of sweetness to create a delicious fall-inspired drink.
Try one today in any Starbucks location, or take the flavours home by purchasing a whole pumpkin or its puree from your local grocery store and make this smoothie yourself!
Calorie count: 339 kcal, 52 g carbohydrates, 11 g protein, 12 g fat
10. Banana Chocolate Vivanno with Espresso Shot
Let your taste buds take an adventure with one of our new Tropical Smoothie Blends.
Order a Banana Chocolate Vivanno with Espresso Shot and indulge in a tropical treat as flavorful as it is indulgent.
Taste the weekend anytime with the new Banana Chocolate Vivanno smoothie made with banana-strawberry, espresso shot, and antioxidant-rich chocolate.
The smoothie is also offered in Caramel, or Mocha flavour varieties served with an espresso shot to add a little caffeine to your afternoon diet routine.
Look for all three new protein smoothies at participating Starbucks Hot and Fresh food stores.
This drink features one of your favourite fruits in a hot or cold beverage with a hint of chocolate and authentic espresso to boost energy.
calorie count: 260 kcal, 4.50g fat, 42.00g carbs, 20.00g protein
11. Banana Orange Mango with Matcha Vivanno
Boost your day with healthy, delicious doses of whole fruit and veggies, available in their convenient and portable smoothies to go in banana and orange mango with Matcha Vivanco.
Each flavour is made with a finely tuned balance of delicious fruits and low-fat milk, blended with the great taste of matcha green tea.
All four flavours contain only 10g of sugar per shake and have 5g of fibre and 6g of protein.
Enjoy them with the FiberPlus Nutritional Booster, which provides vitamins and nutrients such as B12, folic acid, calcium, and fibre to complete your meals.
calorie count: 290 kcal, 2.00g fat, 57.00g carbs, 16.00g protein
12. Strawberry Banana Vivanno Smoothie
The drink is nutritious, with ingredients like fresh strawberries, creamy bananas, and silky soymilk. The delicious Strawberry Banana Vivanno smoothie contains complete protein and is ready in three minutes.
It's a smoothie that leaves you feeling energized and ready to take on your day. This Strawberry Banana Vivanno Smoothie has all the taste of a frozen treat with no added sugar or artificial ingredients.
They make it with fresh bananas and strawberries. This nutritious smoothie creamily combines nutrition and great taste. Enjoy its delicious flavor along with the goodness of whey protein and probiotics.
Calorie count: 280 kcal, 1.50g fat, 55.00g carbs, 15.00g protein
13. Starbucks Sweet Greens Smoothie
They make Starbucks Sweet Greens Smoothie with just one ingredient—greens.
Starbucks Sweet Greens Smoothie is a wave of fruity flavours and green goodness. This delicious beverage offers nutrients to help you look great, feel great, and live your best life.
Staying healthy never tasted so good. This refreshing blend of kale, spinach, romaine lettuce, and pineapple is served with a strawberry plus vanilla protein powder and topped with fresh banana and almonds.
Calorie count: 310 kcal, 1.00g fat, 69.00g carbs, 9.00g protein
Suggested
14. Double shot coffee smoothie with almond milk
Check out this smoothie in their updated menu, which has a balanced combination of subtle creaminess and sweetness of the coffee.
Other flavours that make this smoothie a go-to drink are the combination of almond milk and banana with dark chocolate flavours makes it a must buy and try smoothie.
Added sweeteners to this smoothie are sugars available in bottled forms to grab and have anywhere.
Per 1 serving: Calories 160kcal, total fats: 3g, total carbs: 28g
Suggested
Conclusion
Smoothies are always a healthy and delicious way to start your day. Starbucks has something for everyone. We listed some of the best Starbucks smoothies and recommended which one is perfect for you.
From fruity to protein-packed drinks, Starbucks has unique drink options every time. With the help of their special blenders, smoothies that they make turn delicious, simple, and convenient.
A Starbucks smoothie is a great way to start your day as long as you are mindful of portion control and do not overboard with unhealthy additives, a Starbucks smoothie is a great way to start your day!
Recommended