Starbucks Christmas drinks from Starbucks have been around during the holiday season. As children and young adults, we got together with friends or spent time with family members in these coffee shops.
A cup of hot coffee and some eggnog can't compare to the delicious taste of the Christmas spirit.
Are you looking for something special to enjoy this Christmas? Check out Starbucks' latest drinks line-up!
These drinks will please, featuring festive favorites like the Cranberry Bliss Frappuccino and the Eggnog Latte.
If you're a coffee lover or a fan of holiday cocktails, Starbucks has something. So don't wait! get your hands on Starbucks' latest drinks line-up and enjoy a festive drink this Christmas!
Suggested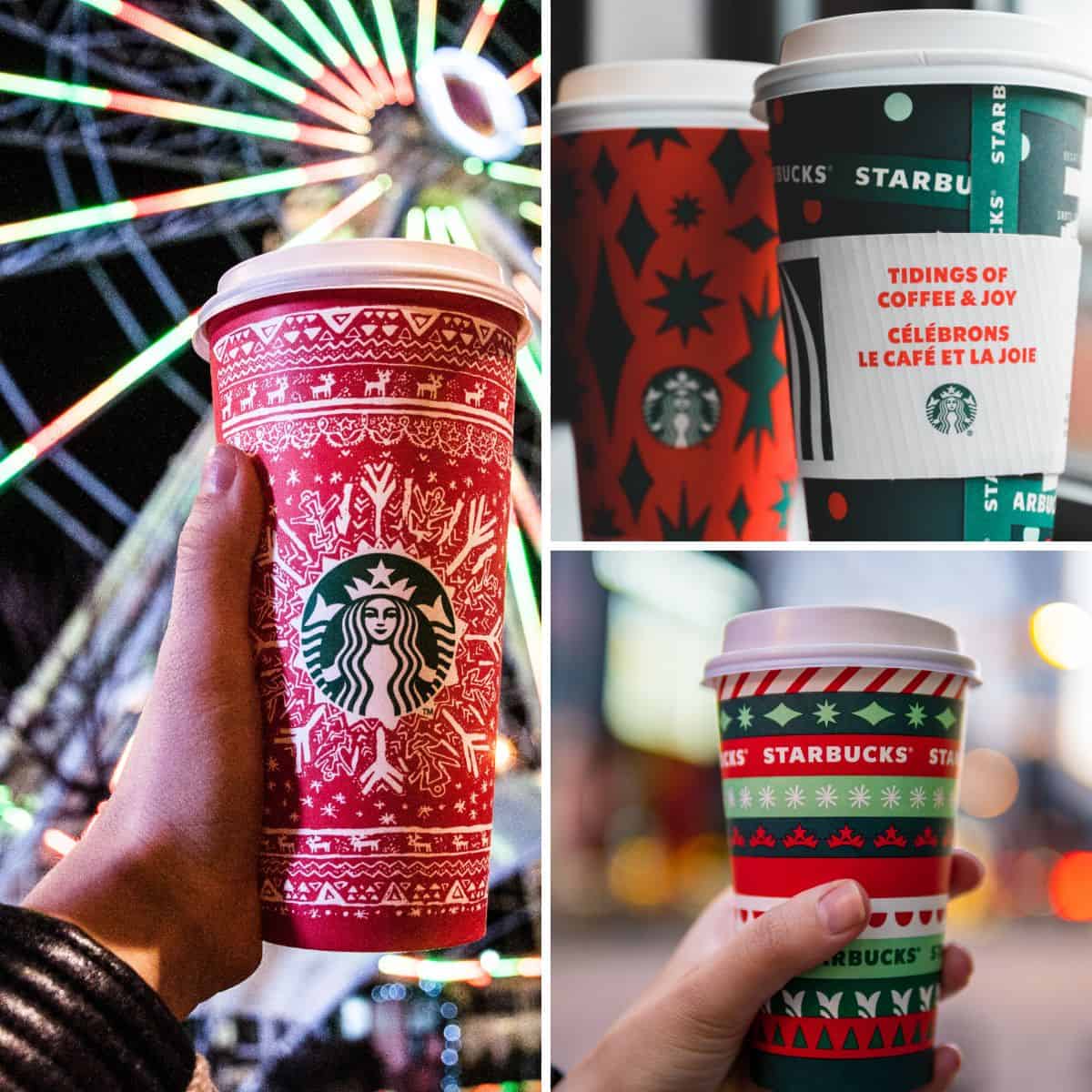 List of popular Starbucks Christmas drinks
1. Dolce cookie latte (South Korea)
The Dolce cookie latte is a sweet blend of java, chocolate, and the delicious taste of vanilla. It's made with rich Brazilian coffee and chocolatey syrup mixed with whipped cream and topped with mini cookies, drizzled with more chocolate sauce.
It originated in South Korea, and the drink has been around for years as it is one of the most famous and tastiest Starbucks Christmas drinks.
2. Merry strawberry (from America and the Caribbean)
This drink is a blend of white mocha, blended with heavy milk cream, Espresso, and ice, along with layers of mocha sauce, which are in the form of a topping with whipped cream and strawberry drizzle.
It is served both hot and cold. It's famous in Latin America and the Caribbean at Christmas time.
3. Hazelnut caramel (America and the Caribbean)
This new holiday favorite tastes in rich caramel, nutty hazelnut, and crunchy cookie.
Hazelnut Caramel Latte is a seasonal drink that consists of milk and Espresso blended with hazelnut syrup, caramel sauce, and whipped cream.
A blend of subtle and smooth hazelnut, rich caramel notes, and seasonal milk topped with a signature whipped cream swirl.
4. Caramel Brulee latte (Canada and US)
Starbucks' newest Christmas drink is a mix of smooth caramel syrup, creamy steamed milk, and cinnamon dolce syrup mixed for a rich latte, like drinking a delicious dessert in every sip.
The caramel flavor of this drink is so rich that it tastes like a bonfire. The coffee serves a creamy texture, while the caramel sauce sweetly complements the coffee cream.
If you like hot chocolate, try this Starbucks Drink and enjoy the moment!
5. Fudge brownie hot chocolate (from Europe, the middle east, and Africa)
The Fudge Brownie Hot Chocolate is a sweet and creamy drink with a rich chocolate flavor.
It is made with a rich, decadent tasting sauce that combines smooth brownies, white chocolate, and a hint of sea salt for a deliciously indulgent treat.
This drink uses 100% Arabica espresso, rich fudge sauce made from velvety dessert-quality chocolate, and a topping of whipped cream.
6. Golden wish latte (South Korea)
Inspired by the traditional Italian Eggnog, golden Wish Latte is a delicious mocha latte that combines the sweet, nutty taste of hazelnut with the rich cocoa flavor of chocolate.
It's topped with whipped cream and chocolate drizzle to add even more indulgent flavor to your day.
7. Caramel almond milk (from Japan)
Enjoy Caramel Almond Milk for a moderate coffeehouse treat with your holiday meal.
This delicious, new holiday drink combines the classic Starbucks flavor of toffee nut syrup with almond milk and salted caramel sauce.
Those late-night cravings inspire Caramel Almond Milk for an extra-sweet treat.
It is a light and sweet 16 oz. Beverage crafted from Espresso.
8. Toffee nut crunch latte and cold brew(from Asia pacific)
Toffee Nut Crunch Latte is a smooth, creamy, rich toffee-flavored Starbucks Reserve Espresso Macchiato latte with steamed milk and topped with whipping cream and crushed toffee nuts finished with a drizzle of salted caramel sauce.
Cold Brew is iced coffee made from Starbucks, a rich, smooth, and bold concentrate that delivers layers of flavor through a slowly extracted process instead of traditional hot brewing.
The result is an iced coffee drink made to order just for you. This new seasonal offering is perfect with freshly-ground Gevalia coffee beans and has just the right sweet toffee flavor. It is a Hot and cozy drink for the holiday season.
9. Toffee nut latte (from Europe, the middle east, America, and the Caribbean)
The latest drink from Starbucks, this toffee Nut Latte, might be one of the most complex drinks on the menu. It is a creamy, rich cup with a unique taste that comes together beautifully in the cup.
The Toffee Nut Latté combines a rich toffee-flavored syrup with smooth, creamy steamed milk and Espresso.
Starbucks' Toffee Nut Latte is a seasonal coffee drink the coffee shop offers in some Starbucks stores during the holidays.
As with all Starbucks drinks, Toffee Nut Latte is customizable to your taste by adding sugar or milk at the bar.
10. Gingerbread latte (from Europe, the middle east, America, and the Caribbean)
The Gingerbread Latte is the newest holiday drink from Starbucks. It's the perfect holiday latte with a delicious combination of gingerbread spices, creamy milk, and caramel syrup.
The Gingerbread Latte features traditional gingerbread's sweet and spicy flavors, with warm spices of cinnamon and clove, combined with the smooth taste of proprietary espresso roast and steamed milk.
11. Toasted white chocolate mocha (the United States and Japan)
A delectable spin on a traditional holiday favorite, this Toasted White Chocolate Mocha delivers the same warm, creamy flavor of white chocolate with a splash of bold coffee and toasted hazelnut.
Toasted White Chocolate Mocha is a creamy and rich combination of white chocolate mocha sauce, toasted white chocolate sauce, Espresso, milk, and white chocolate mocha sauce.
12. Cranberry mocha Blanco (America and the Caribbean)
Cranberry Mocha Blanco combines light and refreshing, bracing white mocha with a touch of sweetness, layers of tartness from the cranberry juice, and a dash of cocoa.
It is best enjoyed as an after-dinner coffee or as an evening pick-me-up. It is blended with winter spices and topped with whipped cream; this creamy drink is a holiday classic.
The rich, bold flavor of Starbucks Cranberry Mocha Blanco is a perfectly balanced combination of sweet berries and a touch of spicy chocolate.
It's the ideal drink to share with friends and family during the holidays or at night.
13. Iced sugar cookie almond milk latte (United States)
The new Iced Sugar Cookie Almondmilk Latte is a perfect, perfect treat for the holidays.
This iced coffee drink combines a bold, rich almond milk mocha sauce with creamy almond milk and dustings of vanilla, cinnamon, and nutmeg on a sugar cookie crumble.
They make the Sugar Cookie Almondmilk Latte with whole milk vanilla steamed Latte, sugar cookie sauce, and toasted sugar wafer cookies.
14. Snow mint chocolate (South Korea)
The perfect warm beverage on a cold day, the Snow Mint Chocolate refreshes with mint and chocolate in an indulgent latte.
This drink will bring the holiday spirit to your Starbucks drinker's heart. A peppermint mocha with a dash of snow and chocolate flakes will help you unwrap Christmas's freshness.
This rich, creamy mint-chocolate Frappuccino blended beverage features an indulgent combination of peppermint syrup, creamy white mocha sauce, and rich vanilla bean swirled with chocolate sauce topped with whipped cream.
15. Caramel waffle latte (from Europe, the middle east, and Africa)
The Caramel Waffle Latte is a delicious twist on one of its classic holiday drinks.
They start this drink with popular waffle flavors, layer them with sweet caramel syrup, and topped with whipped cream, nutmeg, and more caramel drizzle for extra flavor. It's the sweet and salty taste of a Caramel Waffle Latte.
This late-night treat will hit the spot with its delicious layers of whipped cream, caramel sauce, and freshly brewed Espresso.
This drink has the rich taste of caramel with a touch of maple and gingerbread in a delicious concoction. The combination of flavors makes this drink perfect for any occasion.
16. Pink chamomile relaxer (South Korea)
Pink Chamomile Relaxer is a new Starbucks Christmas drink released in 2022. This drink is ideal if you need to relax and refresh your mind.
This hot pink drink has upper notes of mint, lemon, and rose petals, layered with middle notes of chamomile flowers and base notes of hot chocolate.
This beautiful Champagne Frappuccino has a seasonal twist: a pink drink and topping drizzle.
It's an excellent choice if you want to capture the relaxing beauty of the holidays.
17. Red velvet (America and the Caribbean)
Adding a little red velvet to your holiday season couldn't be perfect. A classic red velvet cake inspires Christmas drinks for Starbucks.
And this Red Velvet Mocha is one of their most delicious creations yet.
Enriched with sweet cream and chocolate, brewed with chicory, this signature Espresso Roast combines a distinct blend of cocoa and spices to create a rich, robust flavor that's unmistakably Starbucks.
18. Chestnut Praline latte (United states and Canada)
It is introducing the Chestnut Praline Latte, Starbucks' latest holiday drink. A creamy espresso blended with chocolaty praline flavor and finished with steamed milk and a shining chestnut topping.
Chestnut Praline Latte is a deliciously indulgent drink that is rich in flavor. It tastes like creamy milk, with a caramel-chestnut finish and topped off with whipped cream.
This Latte is a new Starbucks holiday drink first introduced in 2019. It's made with Espresso, dark caramel syrup, and three types of milk: whole, steamed, and whipped cream.
19. Crème brulee latte (Japan)
The Creme Brulée Latte is a classic beverage with creamy, rich Espresso and a touch of caramelized sugar swirled into steamed whole milk and smooth vanilla-flavored syrup.
The result is a sweet treat reminiscent of the famous dessert. Now you can enjoy the flavors of this beloved dessert any time you want with this special edition holiday season drink.
Starbucks looks to ring in the holidays with a limited-time Creme Brulée Latte.
We're not sure it's sweet enough for anyone's holiday wishlist, but we'd love to hear what you think this decadent new drink might be missing.
20. Chocolatey gingerbread latte (from Europe, the middle east, and Africa)
The Chocolatey Gingerbread Latte is a seasonal drink at Starbucks. This recipe combines two espresso shots, two pumps of cocoa powder, and three pumps of steamed milk with a dash of ground ginger spice.
It is a warm and indulgent drink with layers of flavor. Topped with whipped cream and sprinkled with brown sugar, it's perfect for sipping as the weather cools down.
It has the chocolatey goodness of their popular Chocolate Mocha with a hint of spicy gingerbread.
21. Holiday cinnamon (America and the Caribbean)
The new holiday cinnamon latte is here and is a sweet treat. The Holiday Cinnamon Starbucks drink is a cinnamon spice-sweetened, limited-time-only beverage that brings you the warmth of Christmas in a cup.
This lightly flavored java beverage has a topping of whipped cream, a sprinkle of cinnamon, and caramel drizzle for extra sweetness.
It is a Spiced coffee with freshly cinnamon powder molasses and creamy milk.
22. Eggnog latte (from Europe, the middle east, and Africa)
The Eggnog Latte is the perfect holiday beverage, with creamy, aromatic Eggnog over a rich layer of freshly whipped cream.
With notes of cinnamon and nutmeg, this decadent drink is sure to become an instant favorite.
Enjoy it warm with a handcrafted cookie for an unbeatable holiday treat.
Eggnog Latte is a unique holiday drink that Starbucks launched in 2002. It tastes like creamy egg nog with a strong coffee flavor.
The Eggnog Latte is available only around the Christmas season.
23. Irish cream cold brew (United states and Canada)
Made with the rich and creamy combination of Starbucks Cold Brew Coffee and Jameson Whiskey, the Irish Cream Cold Brew is topped with a whipped cream garnish.
The signature cold brew is made from Starbucks 100% Arabica beans and steeped for 16 hours in cold water, creating a bold, smooth base for the whiskey to shine through.
Irish Cream Cold Brew is a perfect balance of roasted and lightly sweet, with hints of caramel and chocolate.
Starbucks Irish Cream Cold Brew is a brewed drink with a touch of Baileys and Jameson whiskey and tops the list of Starbucks Christmas drinks.
24. Globally popular Peppermint Mocha
There's nothing like the festive aroma of peppermint, chocolate, and coffee to get you in Christmas.
Starbucks baristas mix steamed milk with peppermint-flavored syrup and add cocoa powder and whipped cream to create this hot peppermint cocoa.
Freshly brewed Espresso is added to make this creamy hot drink even more indulgent.
The Peppermint Mocha perfectly blends rich mocha sauce with a hint of peppermint, steamed milk, and a dash of whipped cream.
25. White chocolate chestnut latte (from Europe)
A sweet seasonal twist on the popular Chestnut Praline Latte, this delicious drink features white chocolate mocha sauce and chestnut praline syrup.
The traditional espresso-based beverage is made with white chocolate drizzle and hazelnut syrup, creating a creamy, frothy treat perfect for sipping during the holiday season.
This Latte is a must-try for anyone craving a new twist on a classic holiday flavor with subtle notes of white chocolate and roasted chestnuts.
Conclusion
Starbucks Christmas drinks are one of the most popular. This is the year's celebration, and having a great drink is always great.
However, there are so many brands that it's confusing to find out which drinks will be available.
We've compiled all of Starbucks's latest Christmas drinks so you can enjoy your favorite drink this holiday season.