Bringing you the list of best fruity Starbucks drinks refreshments from their coffee shop to try that take your taste buds on a sweet and fruity journey. They offer a wide range of drinks that will leave you wanting more, but they also offer food that will satisfy your cravings.
Whether you're in the mood for a sinful frappe or a decadent cookie, Starbucks has got you covered. In addition to their delicious drinks and snacks, check out their newest menu item: fruit bowls!
If you're in the market for a refreshing drink that won't put you in a sugar coma, fruity Starbucks drinks are the perfect option. With tons of flavours to choose from, you're sure to find a drink that'll fit your taste profile.
Not to mention, Starbucks offers a variety of sizes to fit any need. So whether you're looking for a small latte to take on the go or a large mocha to satisfy your cravings, they provide you in whichever way the order is placed.
Check out other useful drink compilations such as starbucks coconut drinks, low calorie iced starbucks drinks iced and hot, starbucks iced coffee drinks etc...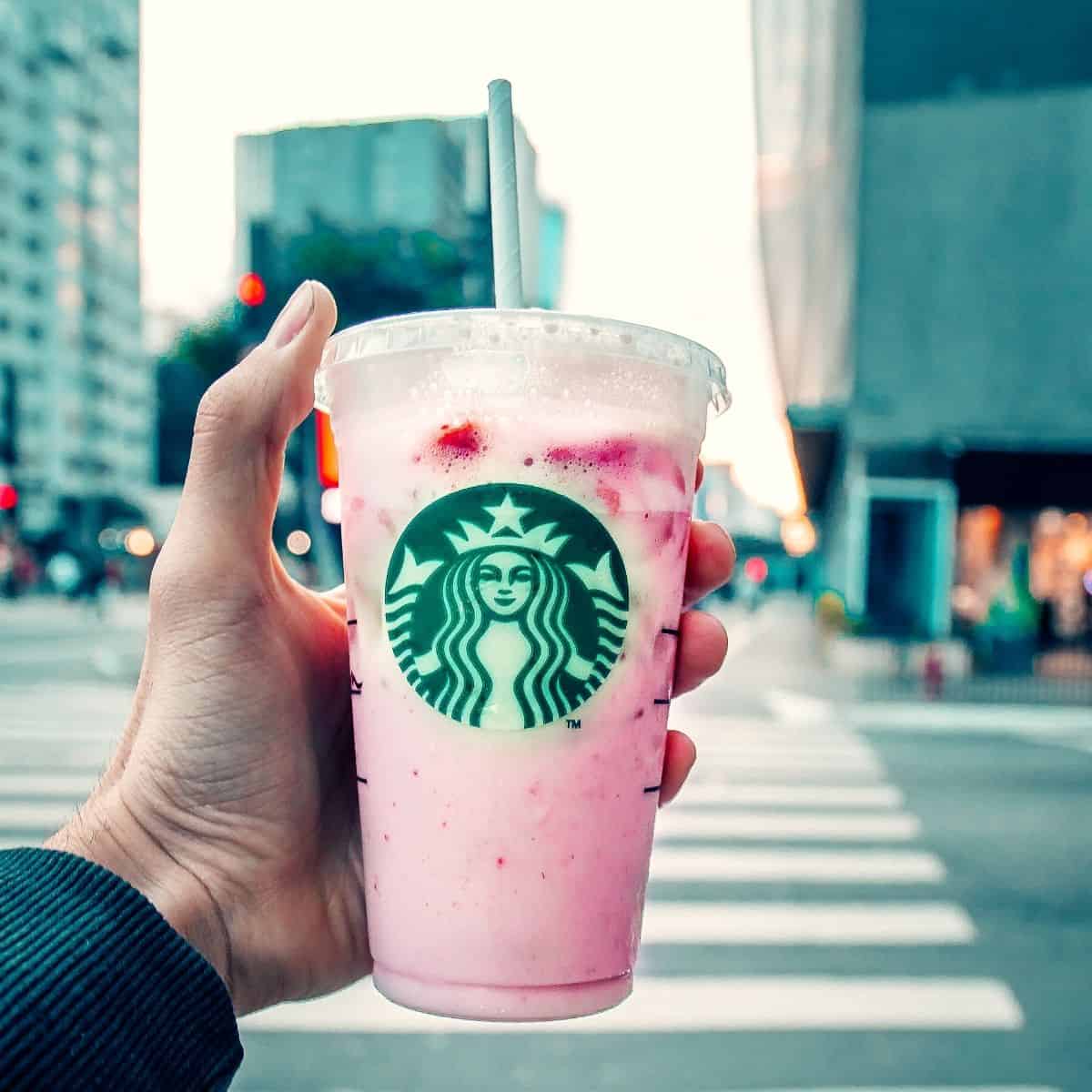 What are Fruity drinks?
Starbucks is a coffee company that also offers tea drinks and many other beverages. They are known for their good Fruity drinks, including Blackberry Mojito Tea Lemonade and Mango Dragonfruit Refresher.
Fruity drinks at Starbucks: Mocha Coconut Frappuccino Vanilla Bean Frappuccino Mocha Cookie Crumble Frappuccino Strawberries & Creme Frappuccino Fruity drinks are a great way to keep cool in the summer.
Fruity Starbucks drinks are usually caffeine-free and have a wide variety of fruit-related flavours. The Fruity Starbucks drinks range from Raspberry Lemonade to Triple berry smoothies, and they're all delicious!
Starbucks Fruity drinks are non-carbonated, refreshing beverages that feature bold and exotic fruit flavours. Flavours and ingredients will vary by market. Drinks include Mangonada, Mango Dragonfruit Lemonade Starbucks Refreshers, and Strawberry Acai Starbucks Refreshers Beverage.
Other refreshers/ Fruity drinks At Starbucks
The Starbucks menu offers a variety of options, from hot and cold-brewed coffee to pastries, sandwiches, and so much more. But, Starbucks is also an excellent choice for all your fruity drink cravings. Even better, the chain offers 13 different types of fruit to incorporate into your customized drinks at Starbucks.
Whether you are looking for something to warm you up or cool you down, the Starbucks menu has something for everyone. And with all types of sizes, drinks, and food options, there is no need to look any further than a local Starbucks cafe.
Starbucks has you covered with a wide range of refreshing drinks. You'll find so many delicious ways to stay cool. These beverages are fruity and delicious, but they are also very affordable.
Related: dairy free starbucks drinks
1. Kiwi Starfruit Starbucks Refresher
This is quite an energizing drink with plenty of refreshing flavours in just one refresher. It combines flavours of grape juice concentrate, and sugar to add sweet flavours. Also, uses fruit juice to give fruit flavour and the main ingredient to give a liquid appearance is the water along with a combination of juices.
It uses kiwi pieces or slices in fresh or normally frozen form to give the kiwi touch. The green appearance in the drink is due to the blending of green coffee flavours into it making it a perfect refresher beverage.
2. Sunrise Drink
Sunrise Drink is a refreshing way to start your morning. This fruity, orange, and pineapple drink follows a healthy recipe that includes whole milk, a boost of Vitamin C from fruit purees, and the guarana seed's natural energy. It's a fruit juice with less sugar that brightens your day!
Sunrise Drink Starbucks - Orange mango smoothie, made with Vitamin C-packed orange juice, refreshing mango, and a hint of banana.
3. Orange Drink
Orange Drink Starbucks: Orange juice, passion fruit iced tea, and a splash of coconut milk are the perfect sunny day refresher.
This tropical refresher has pieces of real orange fruit combined with light coconut milk and our cool lime base, then sweetened with liquid cane sugar.
This tropical refresher features sweet and tangy notes and hints of passion fruit, orange, and acai flavors. It's the perfect way to find a little sunshine, whatever the weather is like outside.
4. Blue Drink
Star of the Summer! The Blue Drink is made with our Cool Lime Refresher, which gets its vibrant colour and tangy flavor from blue spirulina — sea salt-like flakes sourced from algae. Topped with a lime wheel, it's a refreshing mix of sweet and tart that's sure to brighten your day!
A refreshing sip of sweetness from the Tropical Acai Refresher is combined with lush Passion Fruit, acai notes, and pineapple accents, topped with a scoop of ice and a lime slice.
Suggested
starbucks drinks without coffee
5. Fuzzy Peach Refresher
Cool down the summer heat with this sweet and tangy refresher. Made with real fruit juice, the new Fuzzy Peach Refresher is perfectly peach-pear infused and served shaken with ice.
This sweet and tangy blend features flavors of mango and peach, held together in perfect balance by triple-filtered water, our electrolyte mix, and whole blackberries. It's a juicy way to refresh and recharge.
6. Mango dragon fruit
Mango Dragonfruit Refreshers is a completely handcrafted drink with sweet mango fruit and a scoop of the fresh diced dragon fruit along with juicy pineapple and orange flavours in addition to other fruit flavours. A splash of coconut milk is the finishing touch to this bright and colourful fruit juice beverage.
It's a sweet start to summer. Introducing the Mango Dragonfruit Refresher and Dragon Drink are two refreshing new ways to sip into the season.
7. Olivia Rodrigo Drink
Olivia Rodrigo Drink is a fruity and refreshing beverage made with a creamy blend of mango syrup and Coco milk, layered on top of an iced Vanilla Sweet Cream Cold Brew, then finished with a splash of matcha. You can't go wrong!
Olivia Rodrigo's favourite drink is a strawberry açaí refresher with no water and extra scoops of strawberries and blackberries. Ingredients: Green coffee extract, freeze-dried strawberries, freeze-dried blackberries, ice.
8. Firecracker Ombré Drink
A festive twist on a crowd favorite. The Firecracker Ombré Drink starts with a splash of coconut milk and layers in the Tropical Mango Frappuccino blended beverage, Teavana Shaken Iced Passion Tango Tea, and bright pops of pomegranate pearls that burst in your mouth for a fireworks finish.
9. Raspberry Peach Lemonade
Cool down with this in-demand most favourite refresher. This tasty combination of sweet peach juice and refreshing Lemonade is accented by delicious raspberry flavor. This drink is a delightfully satisfying combination of tart and sweet with real fruit pieces throughout.
Light, refreshing, and made with real fruit. Choose from Cool Lime or Very Berry Starbucks Refreshers beverages, or discover the delicious flavor of Raspberry Pomegranate Starbucks Refreshers beverages—with just the right amount of sweetness and 50% juice.
10. Sour Patch Kids Refresher
Tart and tangy and then sweet and sour, this Sour Patch Kids Refresher combines the refresher base with real cane sugar and the bold flavor of wild berry. Made with real fruit juice and a splash of coconut milk, you'll find it's not sour at all!
Sour Patch Kids Refreshers Beverage is a sweet, thirst-quenching beverage that satisfies every craving. Made with real fruit juice and less caffeine with Green Coffee Extract, the Sour Patch Kids Refreshers Beverage offers a flavorful, delicious way to stay refreshed.
11. WandaVision Refresher
Deliciously simple and light. With each sip, this drink invites you to relax in the present moment. The magical WandaVision Refresher is blended with velvety-smooth coconut milk, freeze-dried whole blackberries, and ice, then lightly sweetened with liquid cane sugar for a refreshing taste.
The WandaVision Refresher is a cool, creamy combination of green coffee extract, real fruit, and ice. Since its made with the perfect blend of chamomile, cardamom, and other natural flavours, this beverage is a must to try from their shop.
12. Rose Gold Refresher
This is the beverage for those who follow no one. You have a wild heart and fearless spirit, and it shows. Like you, your drink of choice is bright, bold, and oh-so original – a tasty mix of sweets so you can quench your thirst with something, unlike anything you've ever tasted.
The Rose Gold Refresher takes its name from the real gold flakes added to this beverage, shimmering in rose juice with strawberry flavor. Paired with our mild Matcha Green Tea, refreshing watermelon, juicy apple, and fresh-picked raspberries, it's the perfect caffeine boost without any actual caffeine. Good luck chasing it down.
13. Pink Starburst Refresher
Light and sparkling pick-me-up with a natural caffeine boost from the green coffee extract. Available in Pink Starburst or Very Berry Hibiscus. Made with real fruit juice and flavors.
Pink Starburst flavored. Refreshers are here! Bright and juicy, this vibrant beverage is made with Pink Starburst-inspired flavors, combined with tart (and delicious!) real fruit juice, then layered over ice and lightly caffeinated with Green Coffee Extract. This fun and fruity beverage are sure to make your day a little more delightful.
14. Gummy Bear Refresher
Cool lime and real gummy bears meet iced green coffee extract for a taste that's like a party for your mouth. A cool treat inspired by the popular blackberry limeade, the Gummy Bear Refresher was born.
The tart and tangy green coffee flavor are brightened up with vibrant hues of Lemonade, sweet strawberry, and cooling mint in this unique beverage that celebrates youthfully fun flavors.
15. Purple Drink
Starbucks is known for its amazing and diverse selection of drinks. Every month they create new creations and re-release old favourites like the purple drink, pink drink, and violet drink.
This refreshing beverage combines Cool Lime Starbucks Refreshers beverages, Lemonade, and Blackberries shaken together with ice, giving you the perfect pick me up for any occasion.
16. Pink and Purple Drink
Pink and Purple Drink is a refreshing beverage that combines sweet flavors like strawberry and hibiscus. Sweet Strawberry base, poured over ice and topped with a splash of coconut milk.
It's then finished with vanilla syrup-infused whipped cream and more strawberries for a delicious taste that refreshes you from the inside out.
17. Mango Milk tea
This is a flavored iced black tea with mango syrup as an added flavor to the tea. The tea does not use water but makes use of half and half that is half milk and half cream to make it creamy along with mango flavors.
This is a special Starbucks secret menu drink. Do try these fruit special beverages and comment below if you know about more such fruity drinks.
Fruity Starbucks drinks Recipe
Do you love Starbucks but want to try something different every time you go? Fruity Starbucks drinks are the perfect solution! These drinks are unique and delicious, and they're perfect for when you want something that will take your taste buds on a different adventure. In this article, let us discuss one of the recipes to make a fruity Starbucks drink that you will love.
STARBUCKS PINK DRINK (A fruit drink)
Pink Drink is the scoop on the latest Starbucks beverage. It's a light, crisp drink that combines a refreshing blend of Teavana iced Passion Tango tea with coconut milk, then sweetened with liquid cane sugar and topped off with strawberry fruit juice.
Ingredients:
½ cup strawberries (about) (sliced)
2 cups coconut milk (sweetened) (chilled)
1 cup of water
One tablespoon VIA quick refreshers from Starbucks hibiscus powder, extremely berry
½ tbsp ice sugar
Cold Vanilla Foam (optional)
1 cup fat-free milk
2 tablespoon vanilla flavouring syrup
Instructions:
Slice your strawberries and combine 1 cup with the water, very berry hibiscus powder, and sugar in a blender.
Blend everything well.
Set aside the remaining strawberries for now.
Add 1 cup coconut milk to each cup and a handful of ice.
Stir up the blended strawberry mixture and divide evenly between each cup.
Serve with the remaining sliced strawberries on top!
(optional) Blend non-fat milk and vanilla syrup until frothy using an emulsion blender.
Serve with whipped cream generously on top of each drink as an optional part of making.
Other Starbucks drinks:
Recipe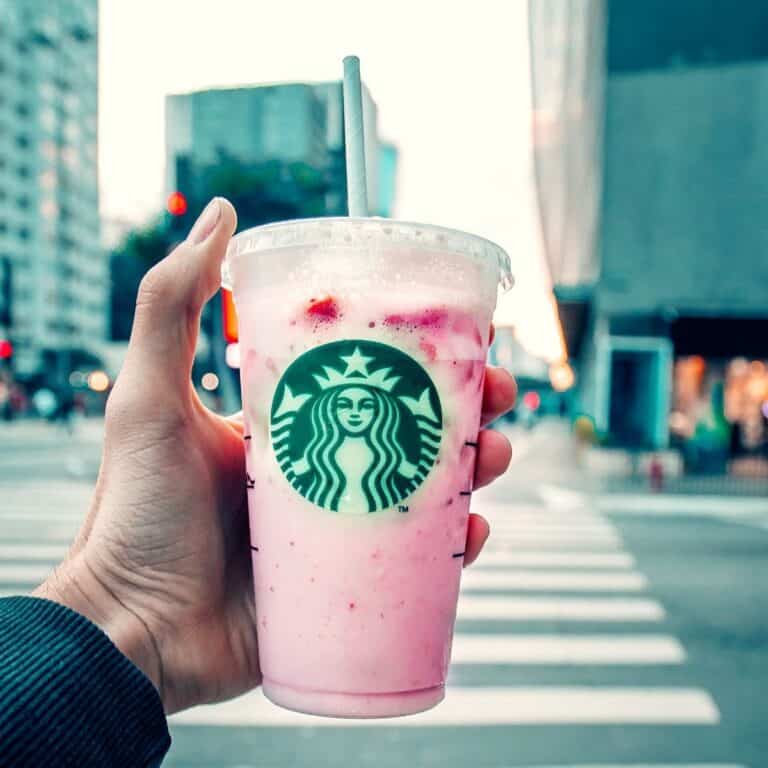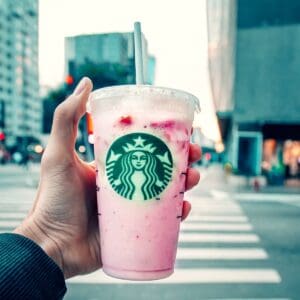 Fruity Starbucks Drink (Violet drink)
Starbucks fruity drink below is a vibrant refresher and consist of fruit flavors.
Ingredients
Fruit flavored violet drink:
½

cup

cultured coconut milk

(can buy coconut milk from starbucks store too)

1

cup

hibiscus tea

2

tablespoon

freeze-dried blackberries

(or blackberries, fresh or frozen form)

a quarter-cup of berry juice

handful of ice cubes, crushed or whole
Instructions
Make the hibiscus tea ahead of time and leave it aside to cool.

Combine blackberries and ice cubes in a mason jar or a tall glass.

Add the remaining ingredients such as berry juice, cool hibiscus tea, and coconut milk into the glass.

Mix well or shake well(only if the glass used has a lid to fit tightly.)

Consume chilled and fresh to keep the flavors intact.
Hope the readers find this compilation useful and if you know more about such drinks, do mention them below in the comment box so that one is aware of the different fruit drinks Starbucks has got to offer.
In addition to this, one can ask them to customize as per your preferences and let them know what exactly you would like to have and they can do it for you.
Recommended