Iced chai latte Starbucks or iced chai tea latte is a simple DIY recipe to replicate at home at a simple cost and with simple tea-making ingredients and whole spices at home. This is a cold form of tea latte drink made in Starbucks and trying to show a similar version of the recipe on the blog to try out and have fun.
Check out this Starbucks special drink chai latte which is easy to make with simple tea leaves and some spices that are easily available at home. Also, check out vanilla bean frappuccino starbucks which is also another special Starbucks copycat version of the recipe.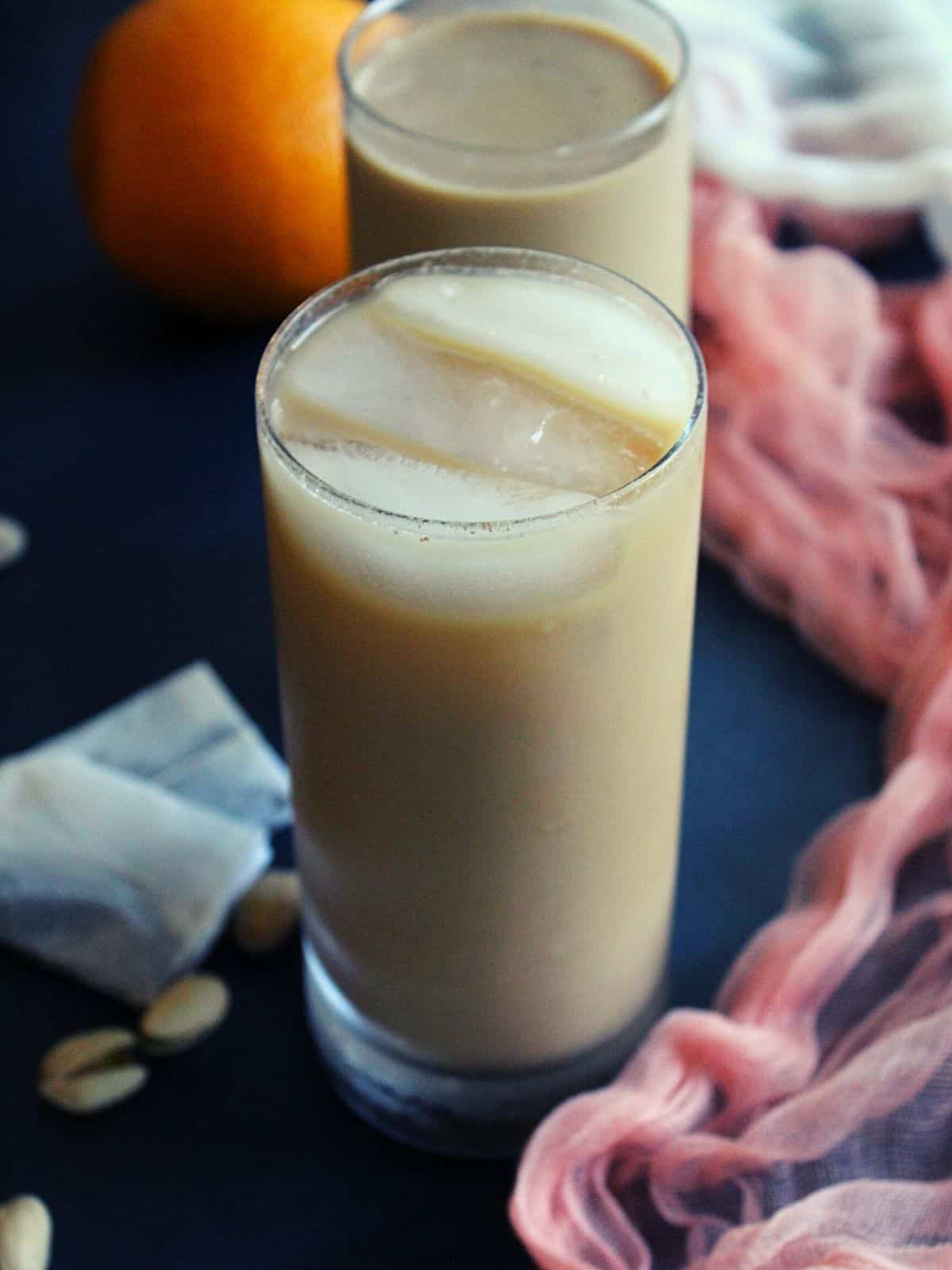 About the recipe
Chai latte is an Indian version of cold chai but made in a different manner compared to the Indian style but this is a drink perfect during hot weather. It gives a sort of refreshment to have a cold form of tea and tastes amazing compared to regular coffee drinks.
Here, cold milk is added to the chai concentrate made using black tea leaves and whole spices and the whole spices added to the brewing concentrate gives a strong flavour.
If one is looking forward to trying out a hot version of the drink then do have a look at my recipe Starbucks chai tea latte which is a hot form of this recipe where we add hot steamed milk in place of cold milk.
Below are the ingredients required to make this simple and easy drink with brewed tea concentrate and hope my viewers like this chai.
Ingredients
water: This is the main base to make chai concentrate before adding whole spices and black tea bags and the concentrate requires water to make the brewed chai.
cinnamon sticks: This is a whole spice that gives good fragrance and aroma as well as taste to the drink.
cloves: Adding cloves gives a strong flavour to the drink and all the spices mentioned are optional to add and can be added as per preferred flavours and choice.
star anise: This gives a very strong flavor to the chai and also a pleasant aroma and adding spices gives a special warmth to the drink.
nutmeg: This is available in powdered form as well as in the form of a seed and is easily available in every grocery store or supermarket.
black tea bags/leaves: To make the brewed tea, black tea leaves are essential and need to be added as per strong flavours requirement. Generally, one cup requires 1 teaspoon of tea leaves but for strong flavour concentrate, more tea leaves can be added to brew well.
ginger powder and cardamoms: Ginger powder is the main spice ingredient to add while making concentrates of chai as it gives a pleasant taste to the tea recipe and chai recipes made in Indian country adds in mostly ginger powder.
Adding cardamom too is an important ingredient in making chai and these two ingredients are enough to make a flavorful tea recipe.
black peppercorns: To give the tea a warm and spicy flavor, adding peppercorns is a good idea but no spice is mandatory and can be altered as per preferred taste.
stevia/sugar: To give the chai latte a sweet flavor basically sugar is added but other fewer calorie sweeteners such as stevia or honey too can work well with this chai.
Variations
The tea we make at home can be done with many variations and one such variation is to add spices, black tea leaves to the boiling milk and allow the masala to steep well into the milk by boiling well for few minutes.
In the traditional manner, Chai is made by either making a strong tea concentrate and then adding milk from the top or directly adding spices and black tea to milk and boiling for few minutes.
Both the methods work well but the actual taste lies in using good quality black tea which gives taste to the tea.
Using black tea bags or black tea leaves that give out an amazing flavor is the key to good chai making.
Adding spices is totally optional and just making chai latte concentrate using black tea too gives the best chai taste.
This is just a tea but if one is looking to try out their other drinks such as starbucks double chocolate chip frappe or coffee recipes then do check out starbucks iced caramel macchiato, a delicious coffee flavoured drink and also a simple brewed coffee made with instant coffee that is black coffee.
Enhancements
To make it richer one can add full cream milk and to make it healthier one can go ahead and add different healthy milk substances such as almond milk, oats milk etc...
Topping with frothy milk or vanilla creamer makes the chai latte a creamy texture drink that can be full of calories but delicious to drink. Health-conscious readers can skip adding creamers as the topping and just consume the drink in a healthy manner.
If no spices are available then adding cardamoms and ginger to the black tea concentrate and brewing well gives the best-tasting tea.
Other drink recipes
Many other tea drinks or coffee drinks on the blog that are easy to make are iced vanilla latte, masala chai, turmeric coffee and some other drinks that are extremely healthy are hibiscus tea, turmeric milk etc...
Step by step procedure
Take a saucepan and add water to the pan. I am using about 2 cups of water to make the concentrate for iced chai latte Starbucks tea.
Next step is to add spices of our choice and no spice is mandatory to add and can be altered as per our taste.

Adding cinnamon sticks, cardamom pods, cloves, star anise, black peppercorns, ginger powder.
Also, adding black tea bags to the breweing tea is an essential step. Using bags of tea leaves or loose tea leaves can make a good chai. Just add a teaspoon or two if using loose tea without bags.
Add nutmeg powder to the chai. Let the concentrate to make iced chai latte steep well by simmering for few minutes. The more the tea boils, the stronger the concentrate becomes.
Switch off the flame and strain the tea.
Add any sweetener preferably sugar but if conscious about calories then skip adding sugar and add honey or stevia. Stir the drink well.
Pour 1 cup of the strained brewed tea into a serving glass.
Generously add ice cubes or crushed ice.
Pour chilled pasteurized milk from the top. Add 1 cup for more milk flavor or reduce its quantity and its totally optional as to how much milk to add. Just adding as per milk requirement makes it better for each individual.
Enjoy the iced chai latte starbucks style recipe.
Recipe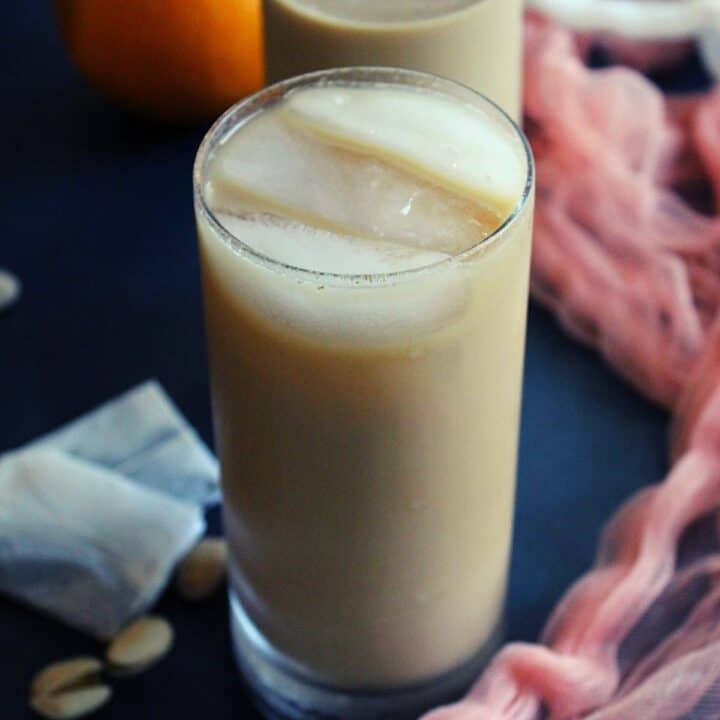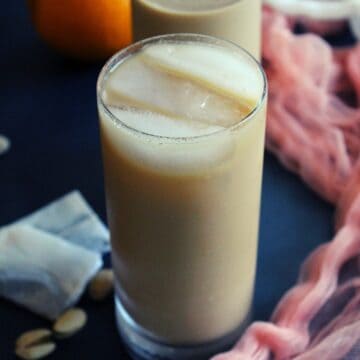 how to make iced chai latte Starbucks Style
A quick starbucks drink with ice, milk and tea concentrate.
Ingredients
2

cups

water

2

cinnamon sticks

2

cardamoms

2-3

cloves

1

star anise

5-6

black peppercorns

½

teaspoon

ginger powder

2

black tea bags

¼

teaspoon

nutmeg

1

teaspoon

sugar/honey/stevia

1

cup

milk
Instructions
Add about cups water approximately.

Add cinnamon sticks or powder form.

Add cardamoms to enhance the tea flavors.

Add cloves and is totally optional.

add black peppercorns or skip if not required.

Add fresh ginger or ginger powder.

Boil or steep well for few minutes. For more strong concentrate steep well for more time.

strain the chai concentrate.

Add a teaspoon of sugar/honey/stevia.

Stir well.

Take a serving glass.

Pour a cup of chai contentrate into the glass.

Add ice cubes crushed or whole ice cubes.

Pour a cup of chilled milk that is pasteurized.

Serve the iced chai tea latte.

Add creamer or milky froth for creamy texture as a topping.
Nutrition
Nutrition Facts
how to make iced chai latte Starbucks Style
Amount Per Serving
Calories 190
Calories from Fat 81
% Daily Value*
Fat 9g14%
Cholesterol 24mg8%
Sodium 132mg6%
Potassium 437mg12%
Carbohydrates 22g7%
Protein 9g18%
Vitamin A 423IU8%
Vitamin C 1mg1%
Calcium 389mg39%
Iron 2mg11%
* Percent Daily Values are based on a 2000 calorie diet.
Storage
Chai latte tastes good if consumed fresh as the taste of the tea changes after some time. Drinking freshly brewed tea by adding milk is the best option and can be enhanced by using vanilla flavoured creamers to lift up its taste.
Faq's
Is iced chai latte Starbucks healthy?
It is not a completely healthy drink as it contains caffeine but compared to coffee it has less caffeine and contains spices that are usually warm and have spices that have some of the medicinal properties which are proven to have good health benefits.
Can we make it sugar-free?
Yes, the drink can be made completely sugar-free and skipping sugar is fine but the drink can be hard to drink without sugar. It is better to add honey or stevia or any natural sweetener.
Is chai latte good for weight loss?
It can help in weight loss if sugar is skipped, using almond milk in place of milk can help with heart issues as well as weight loss to a certain extent.
Recommended