Did you ever try a high protein, low carb smoothie in your fitness diet? This smoothie is for you if you like to test smoothie variations and keep them healthy.
If you are looking for a weight loss drink or a low carbohydrate smoothie with low sugar and planning to replace your meals with healthy drinks, go for this smoothie.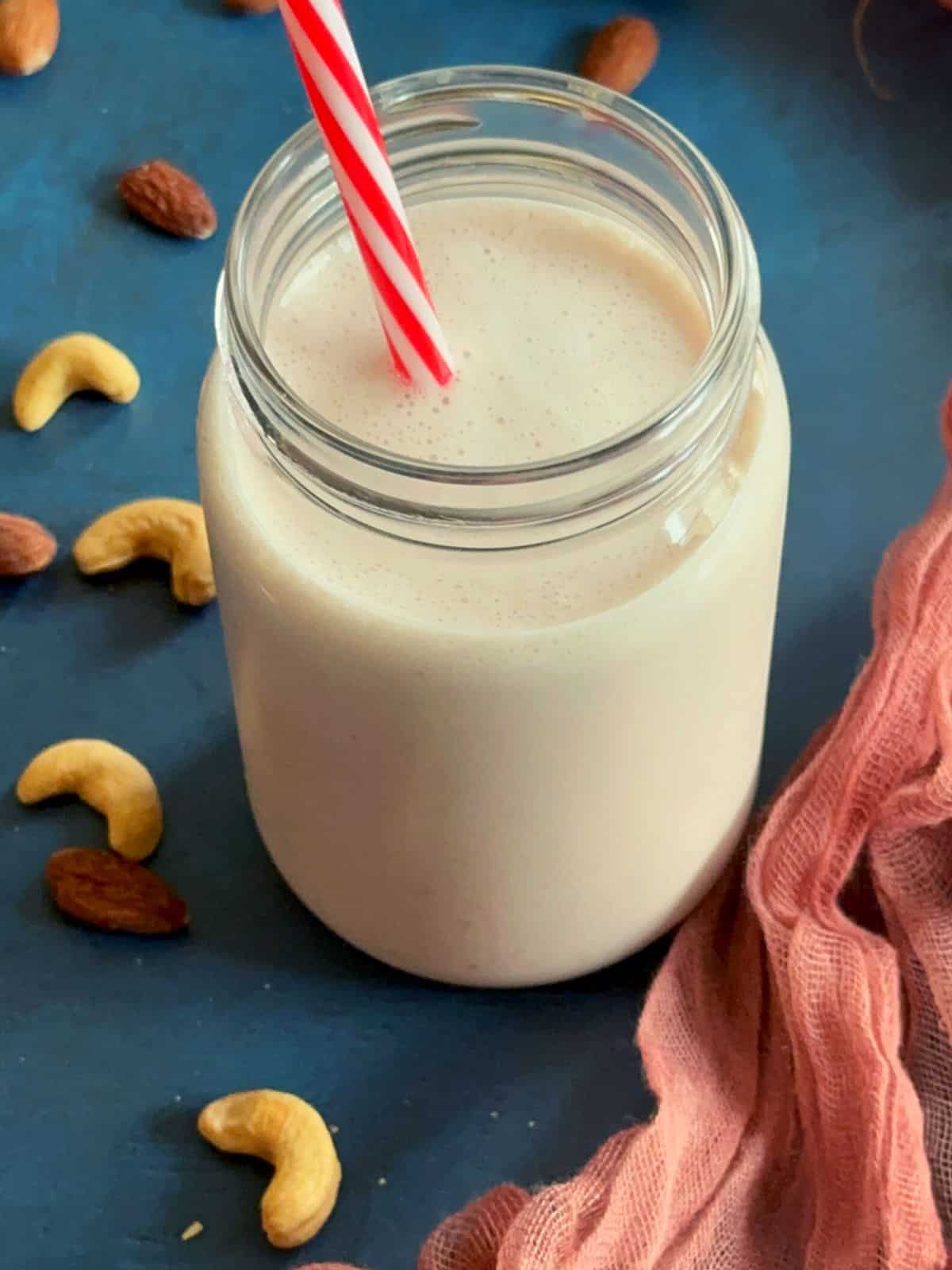 Related healthy smoothies
Jump to:
What is a high protein, low carb smoothie?
A high-protein smoothie is rich in protein nutrients and contains low sugar, making it suitable for your healthy diet.
If you are suffering from diabetes or looking for breakfast ideas or post-workout meals, this smoothie is perfect for your needs and requirements.
I have posted some healthy diabetic smoothies on the blog, such as diabetic breakfast smoothie and green smoothie for diabetics.
Mainly, high protein smoothies contain fruits such as berries that are low in carbs and protein powders to increase protein content.
Many more natural ingredients help increase the protein, which I will list below, so keep scrolling to read the recipe below and its variations.
Why do we need this smoothie?
Most of the smoothies contain high amounts of sugars naturally or added in the form of ingredients, making the smoothie unhealthy.
This smoothie is tried and tested to make it healthy and lower its sugar content.
This type of smoothie helps control the sugar intake and thus helps avoid weight gain.
These smoothies give a feeling of fullness and reduce the appetite by keeping one full for the longest time.
Benefits
The high protein low carb smoothie helps to lose weight as high sugars are a common cause of weight gain or obesity, and replacing high sugars with less sugar intake can work towards weight loss goals.
High protein foods or drinks help in losing body fat and help in making the smoothie healthy with fewer calories.
It also helps prevent food consumption at regular intervals as this smoothie gives you satiety and avoids hunger. It helps improve gut health, and high protein helps build muscles.
This drink works well to have during post-workouts, too.
Strawberries are a good fiber and vitamin C source, and almond milk is rich in vitamin E with less cholesterol.
Greek yogurt provides good protein and protein powder, making this a healthy smoothie.
Ingredients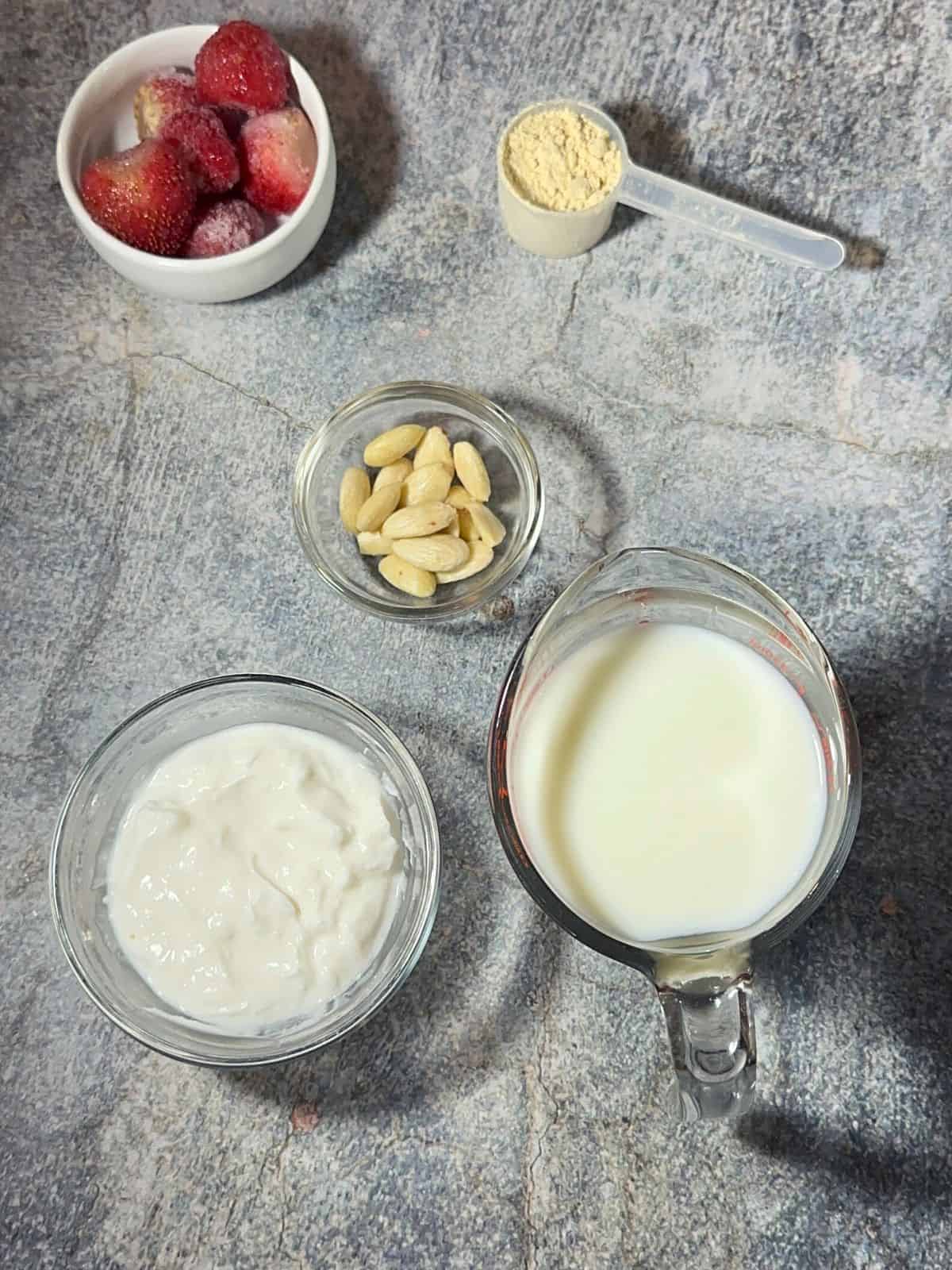 Strawberries: Not only strawberries, but any berries such as strawberries help reduce calories and are also a good source of fiber.
Fiber and fewer calories with low carbohydrates make this ingredient perfect for this smoothie.
Almonds and Almond milk: Almonds or almond milk are good sources of calcium and contain less cholesterol, and replacing high-calorie milk with low-calorie milk can work wonders when added to smoothies.
Greek yogurt: A smoothie needs good consistency, and adding Greek yogurt in place of water to make it more consumable makes it a perfect ingredient.
Adding Greek yogurt makes the smoothie thicker and creamier, providing less calories and less carbohydrates.
Protein Powder: Since this is a high-protein smoothie, adding some protein powder boosts the smoothie's protein content and helps you keep full until your next meal.
How to make a high protein smoothie
The recipe here uses Strawberries, Almonds, almond milk, protein powder, and Greek yogurt as the main ingredients.
Firstly, The main base to make any smoothie with more protein and fewer carbs is to use fruits with fewer sugars and calories.
Secondly, to increase the protein value, almonds or almond milk, greek yogurt, and protein powder are another set of healthy ingredients with less sugar and fewer calories to make this smoothie.
Always check the calories and the sugars before adding ingredients to make healthy smoothies.
When to drink it
Drinking this smoothie for your breakfasts, consuming it any time of the day, or replacing heavy meals with this smoothie are good options to have this smoothie.
Making it anytime or during snack time is another perfect time to have this drink.
Storage
Store it in airtight containers in refrigerators if you like to make it ahead and prefer to consume it anytime.
Store it for only a short time (not more than three days) as the taste changes and loses its freshness with longer storage time.
Variations
Fruits: Other fruits, such as blueberries, blackberries, raspberries, etc, can be added by replacing strawberries.
Vegetables: Veggies such as kale or spinach can be added to make a green smoothie, or skip adding any veggies.
Additional ingredients: Other ingredients, such as almond butter, can be added instead of almonds.
Sweetener: Add monk fruit extract or another zero-calorie sweetener, such as stevia, to make the smoothie sweeter and reduce calorie intake.
Substitutions
Strawberries: Replace strawberries with blueberries or mix different berries to get nutrients from various berries.
Berries are suitable for the heart and lower cholesterol; having them in smoothies is the best way to consume them.
Liquid base: Only one liquid, such as Greek yogurt or making it with only almond milk, is another option in using liquid.
Protein: To make it high protein, any protein powder flavor, such as vegan or plant-based, is a perfect choice for protein smoothies.
Tips
Add some crushed ice or ice cubes to make a chilled smoothie, or make it ahead and let it sit in the refrigerator to make a chilled smoothie.
To make a green protein smoothie, add kale or spinach, skip adding strawberries, and make it only with vegetables, almond milk, and protein powder.
To make the smoothie thicker, add just Greek yogurt; to make it slightly thin, add almond milk and balance out the consistency in the smoothie according to requirements.
Calories
This high protein, low carb smoothie is approximately around 366 calories. If one prefers more protein, add Greek yogurt or an extra scoop of protein powder while blending.
If you are willing to reduce the carbohydrates in the smoothie, cut down on strawberries or replace strawberries with blueberries.
Other High protein low carb smoothies
Berry smoothie
Ingredients
1 cup mixed berries
1 scoop protein powder
1 cup Greek yogurt or a cup of unsweetened almond milk
Instructions
Combine all the ingredients and run the blender ingredients to a smooth puree.
Avocado smoothie
Ingredients
1 avocado deseeded
1 cup spinach or kale leaves
1 cup Greek yogurt or use unsweetened almond milk
1 scoop protein powder
Instructions
Add all the low-carb ingredients to a blending jar and blend to a perfect smoothie consistency.
Recipe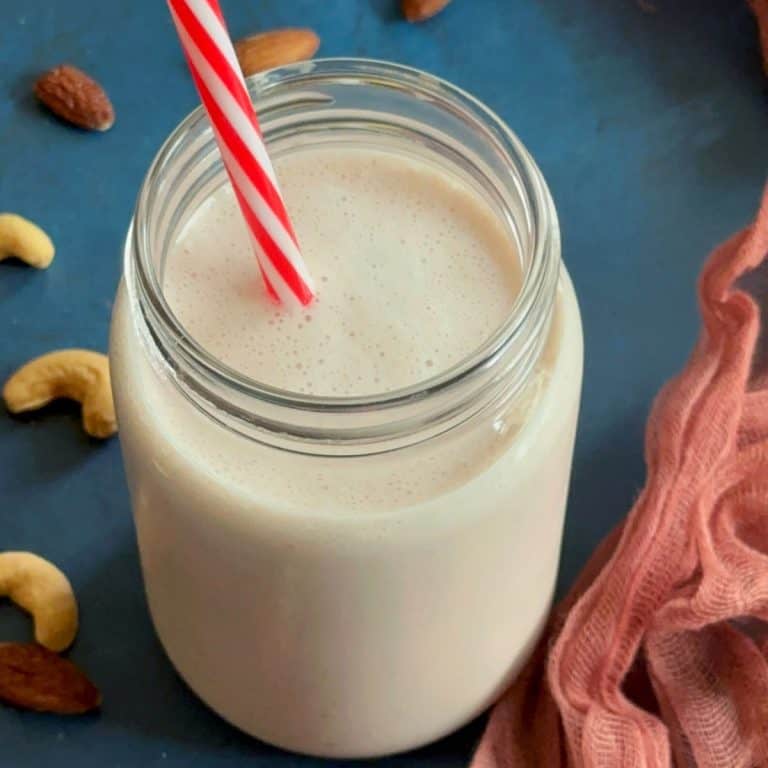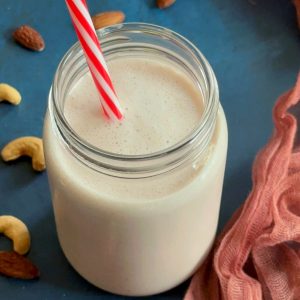 High Protein Low Carb Smoothie
A healthy high-protein smoothie with low sugar(carbohydrates).
Ingredients
8

strawberries

10-12

almonds

1

cup

Greek yogurt

1

cup

unsweetened almond milk

1

scoop protein powder
Instructions
Add strawberries and almonds to a blending jar.

Add protein powder, a liquid base, unsweetened almond milk, and Greek yogurt to the jar.

Blend all the ingredients well for a minute or two.

Blend until a fine puree is observed.
Nutrition
Nutrition Facts
High Protein Low Carb Smoothie
Amount Per Serving (1 g)
Calories 366
Calories from Fat 99
% Daily Value*
Fat 11g17%
Cholesterol 60mg20%
Sodium 443mg19%
Potassium 592mg17%
Carbohydrates 21g7%
Protein 50g100%
Vitamin A 100IU2%
Vitamin C 56mg68%
Calcium 662mg66%
Iron 3mg17%
* Percent Daily Values are based on a 2000 calorie diet.
Related