Do you like to replace a meal with a meal replacement weight loss smoothie and stay fit? This smoothie is a go-to drink to lose weight and add to all the healthy diets to reduce calories.
The blog has many healthy drinks and smoothies, and I aim to help my readers looking for healthy recipes with detailed information about the recipe.
Check out some more recipes from the blog below.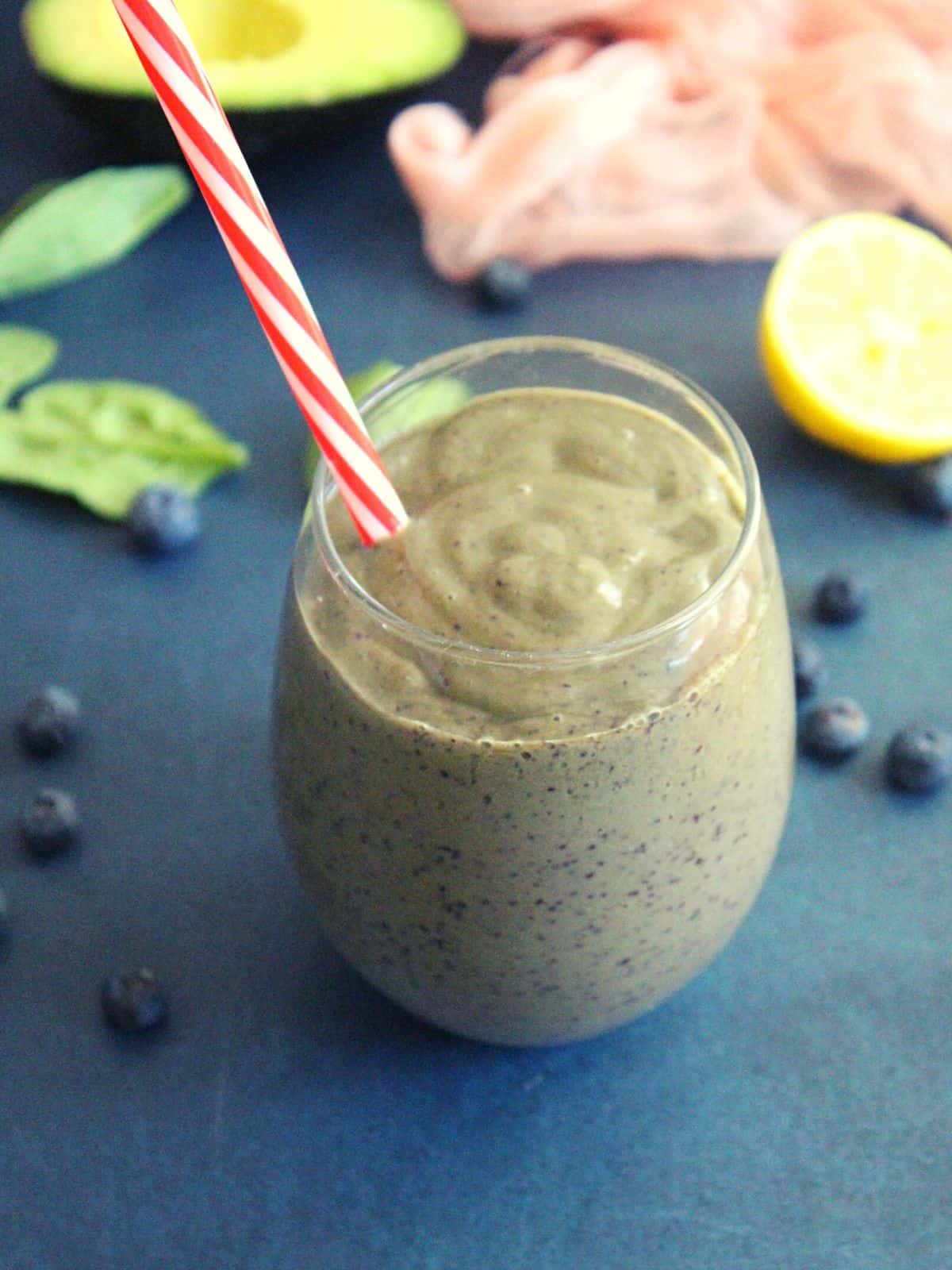 Jump to:
About the recipe
The easy meal replacement smoothie for weight loss has simple ingredients with a mix of fruit and veggie to make a complete meal and replace high-calorie breakfasts.
The main aim of the recipe is to cut down the calories and keep oneself full without increasing the appetite, as this technique helps burn calories.
The body burns calories, and at the same time, one does not even build an appetite and can continue regular activities without binging on unhealthy foodstuff.
The smoothie consists of simple ingredients such as blueberries and veggies such as avocado and spinach.
Other healthy ingredients like chia seeds and almond milk make this smoothie a perfect meal option, and replace high-calorie meals with this quick-to-make smoothie.
This is a low-calorie smoothie with good fiber and protein that makes a filling meal, and the recipe is perfect as a meal replacement smoothie for breakfast, lunch, or dinner.
Ingredients
Blueberries: Use fresh or frozen blueberries to make this smoothie, as the smoothie taste will remain the same, as well as its nutritious value.
Avocado: The avocado needs to be ripe, and use a spatula or spoon to scoop out its flesh after cutting it in half. Make sure to discard the seed in it.
Almond butter: Adding butter, such as peanut butter or almond butter, increases calories and adds protein.
Spinach: This green leafy vegetable is a healthy and low-calorie leaf that makes the smoothie power packed with many nutrients and supports weight loss.
Chia seeds: Adding chia seeds adds fiber to the diet, while topping or blending in the smoothie is fine; soak them a bit before adding them if you wish to.
Almond milk: A smoothie needs a liquid to help it to blend well, and adding almond milk makes it a non-dairy smoothie as well as helps to add additional nutrients that other fluids, such as water, do not contain.
Cinnamon: This kitchen spice has many medicinal properties and promotes weight loss.
If you do not like the cinnamon flavor, skip or add it to reap its benefits, but it is not a mandatory choice.
Lemon extract: Add some extracted lemon juice to aid the smoothie in burning calories, but it is an optional ingredient.
Calories
The weight loss meal replacement smoothie has approximately 408 to 410 calories in a glass of smoothie.
The smoothie has good calories, which help you stay longer without eating for a long time.
When you avoid overeating, the body can quickly burn the existing calories and thus help you lose weight and keep fit.
Blueberries, avocado, spinach, and seeds help you not increase appetite and provide other health benefits related to heart and sugar.
If you like to store the smoothie in the refrigerator for the other meals, double the ingredients, blend the smoothie, store it airtight in a container or jar in the fridge, and drink it in a day or for the rest of the meals.
Is weight loss possible by replacing meals with smoothies?
Yes, following a smoothie diet works effectively for weight loss if you follow a healthy lifestyle and a healthy diet and looking for a quick weight-loss strategy.
However, it may not be effective in the long run as the body requires many additional nutrients and supplements to keep it going and to maintain better health in the long run.
Other healthy recipes
Benefits
Blueberries
These tiny round-shaped blue color berries are one of the best fruits to consume anytime to reduce cholesterol levels and to have a healthy heart.
Blueberries are perfect for those trying to lose weight as they are rich in fiber and help lower cholesterol levels.
These blueberries are a rich source of vitamin C and help keep the skin healthy.
They also aid in maintaining or regulating sugar levels as well as prevent other life-threatening diseases such as cancer.
Consume at least a cup of blueberries, add them to smoothies, muffins, or any recipe you like, and include them in the diet to enjoy its benefits.
Avocado
These are healthy fats, and healthy fats are essential macronutrients for healthy development.
The fats in the avocado help burn calories quickly and speed up the rate at which the other fats burn.
Limit the amount of avocado consumption as these are high in calories but adding them in moderation to healthy diets promotes weight loss.
Since avocados suppress the appetite and avoid overeating, this help maintains a healthy weight and burn calories faster.
Almond butter
A healthy diet needs fiber and protein; therefore, protein is supplied through almonds, and protein helps one digest food slowly and not binge on other foods and increase calories.
Almond butter adds protein and the necessary healthy calories to the recipe, which helps in having a filling meal smoothie.
Use almond butter in terms of tablespoons, and do not add in larger quantities as they can spike the calories.
Spinach
This green leaf is high in fiber, but the best part of this leaf is its calories which are too low.
Good fiber and low calories are all we need to have a healthy diet and a good amount of protein with healthy fats.
Include this green leaf in every meal replacement smoothie and enjoy your weight loss goals without any struggle.
Spinach has impressive properties to control your diabetes as well as helps relieve stress and tension, and as we all know, its other best benefit is boosting the eye's vision.
Related
Almond milk
Any liquid works better, but almond milk supplies the smoothie with the required protein and is a low-fat non-dairy liquid with quite a few calories.
The almond milk used should be pure and needs to be in unsweetened form without any added sugars.
If the almond milk is sweetened, it can add sugars and carbs and make the drink unhealthy.
Make sure to check its purity before buying.
Related
Chia seeds
Fiber is essential in our daily diet; having these seeds can provide the body with the required fiber and helps you stay complete with just a tablespoon of seeds to your meal.
Add them directly or soaking them before adding gives the same benefits, and using chia seeds provides the body with enough calories and fiber, which makes it a perfect food to add to recipes such as drinks or smoothies.
Related
Cinnamon and lemon
These two ingredients are necessary as they help with better digestion and boost the metabolism along with their weight loss properties.
If you like cinnamon flavor, add it to every smoothie you make, as this can be an effective remedy in helping with your weight loss journey and also regulate the blood sugar levels in your body.
Lemon helps with digestion detoxification and is a rich source of vitamin c, and can burn fat effectively.
Related
Variations and substitutions
Additional ingredients can be added to the smoothie, such as strawberries or other fruits, such as pineapple make good additions to the smoothie.
If you like to substitute avocado with only fruits, go ahead and add more than two fruits and skip adding avocado.
Replacing almond milk with greek yogurt is an excellent option if you are looking for healthy dairy options.
Also, using flax seeds powder in place of chia seeds too goes well with the smoothie.
Peanut butter can be substituted for almond butter if you want a peanut flavor in the smoothie.
Related
pineapple smoothie for weight loss
Storage
Store the leftover smoothie in an airtight container and use it within two days to keep its freshness and taste intact.
When to drink
This meal replacement smoothie for weight loss is a perfect drink to replace breakfast, lunch, or dinner or have it during snack time.
Recipe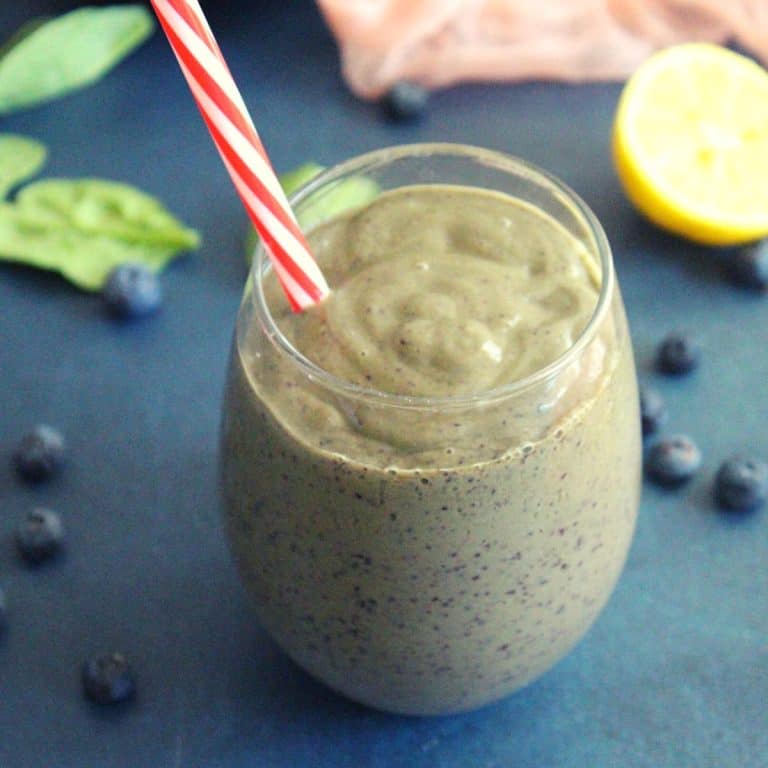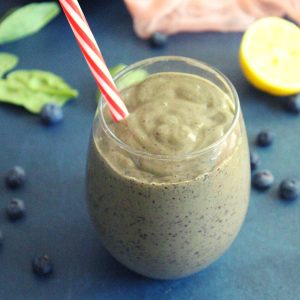 Meal replacement smoothie for weight loss
Easy weight loss meal replacement smoothie using blueberries and avocado.
Ingredients
1

cup

blueberries

½

avocado

(scooped)

1

tablespoon

almond butter

1

handful of

spinach leaves

1

cup

almond milk

½

tablespoon

chia seeds

a

pinch of

cinnamon

½

lemon extract
Instructions
Add all the ingredients to a blending jar.

Add blueberries and avocado and followed by the rest of the ingredients listed.

Blend all the ingredients well and make a fine puree-like consistency.

Blend until no lumps appear.

Pour into a jar or glass and serve.
Notes
Add ice cubes for a chilled drink while blending, or skip if you do not prefer.
Nutrition
Nutrition Facts
Meal replacement smoothie for weight loss
Amount Per Serving (1 glass)
Calories 408
Calories from Fat 261
% Daily Value*
Fat 29g45%
Sodium 336mg15%
Potassium 751mg21%
Carbohydrates 37g12%
Protein 9g18%
Vitamin A 324IU6%
Vitamin C 25mg30%
Calcium 415mg42%
Iron 2mg11%
* Percent Daily Values are based on a 2000 calorie diet.
Recommended