Are you looking for a breakfast smoothie for weight loss and a healthy morning? This recipe has covered you with the best smoothie breakfast with a healthy touch. Losing weight is just a healthy meal away.
Try out our several healthy recipes with a purpose or goal to include in your weight loss plans and have a healthy dietary lifestyle. Check out some of the weight loss-related recipes below.
Suggested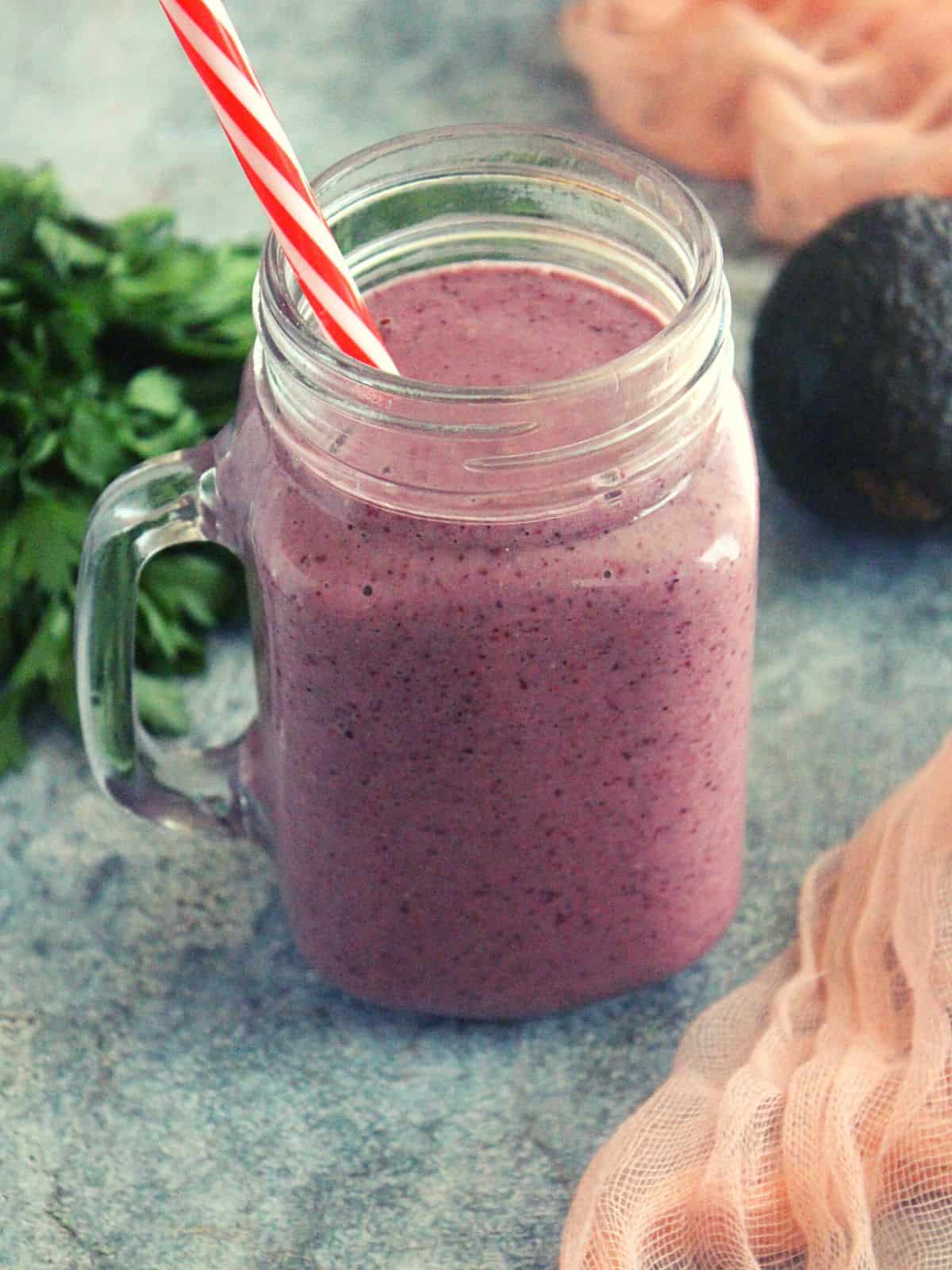 Jump to:
Why breakfast smoothie?
Generally, having a smoothie for breakfast is a healthy option, and of course, there are several healthy options, too, if you can make it ahead or make it fresh.
Smoothies are healthy if we choose healthy ingredients to make them, and it also takes 1 or 2 minutes to blend if you plan well ahead of time.
Making a freezer pack of the ingredients required is also an excellent idea to make breakfast quicker.
Other healthy options can take a couple of minutes, but smoothie making is quicker, healthier, and gives us the required calories to start the day.
The smoothie also has the necessary nutrients to get on with the daily activities and feel full until the next meal.
This weight loss breakfast smoothie is also a great meal replacement smoothie that gives a feeling of satiety and is a healthy option to replace unhealthy meals or junk foods.
The main aim here is to make a fiber-rich meal with low carbs along with giving necessary vitamins and nutrients a body needs.
Fiber and low calories give you a perfect meal to stop eating more calories.
Calories and nutrients
Having a breakfast with a calorie count of 400 to 500 is a good option with a weight loss goal but make sure the ingredients that go into making it are healthy and keep you full without building up your appetite.
This healthy breakfast smoothie for weight loss contains ingredients that may not quickly make you feel hungry and also is a delicious option to try out.
The smoothie contains berries that give us calories, plus they also have loads of benefits for the human body in terms of maintaining a good heart, managing weight, etc.
This healthy breakfast smoothie for weight loss contains fiber, protein, healthy fats, fewer carbohydrates, and all the necessary ingredients to maintain a good diet and work towards losing weight.
Ingredients
Berries: I am using frozen mixed berries, and one can also choose fresh berries, which is the key ingredient to make it delicious and yummy.
Use strawberries, raspberries, blueberries, or any berry that you prefer.
Avocado: Avocados can increase the calorie value and use in moderation as it contains good healthy fats, making them a perfect ingredient to add.
Use either half or a complete avocado flesh as per the requirement.
Rolled oats: The rolled oats are good in fiber and help keep the hunger pangs away.
Almond butter: To make a complete meal smoothie, adding almond butter or peanut butter gives sufficient calories.
Cinnamon: This is an excellent option to add while making smoothies intending to lose weight.
Honey: I am adding honey, but maple syrup is also a good option. Adding stevia will make it perfect if you want a sweet flavor with zero calories.
Unsweetened almond milk: Add almond or low-fat milk, but adding almond milk is an absolute choice for a healthy start to the day.
I am adding all the healthy ingredients, keeping the calories moderate, and using ingredients that keep you full for a long time or until the next meal without looking for other options and gaining weight.
Let me break down the benefits of each ingredient below and understand their significance in losing weight.
Smoothie weight loss benefits
Berries
Here I am using mixed berries, and I can say that berries are one of the best fruits to intake if you have a goal to lose weight.
They have plenty of advantages as they are rich in antioxidants. They can control blood sugar levels; they also improve harmful cholesterol levels.
The berries have fewer calories in a cup which comes to about 60 to 70 calories in 1 cup.
They are low in calories, but the reason to have them is they are good in fiber content.
They provide plenty of fiber, which helps you avoid overeating and stay away from intake of more calories.
The fiber keeps you full, which is why we add it to a smoothie and also berries are good due to its low-calorie count.
Fiber helps you digest food slowly, which can help prevent eating more and more.
They have carbs and fiber, are rich in vitamins and nutrients, and are low in calories, which can motivate you to have them in smoothies.
Berries are a good option for losing weight and making your skin look good and fresh.
It helps in fighting inflammation and protects against inflammation due to injuries etc.
The berries can help in snacking or pack them in a box and eat it whenever you want to as they give you a feeling of fullness and do not help build up the appetite.
Avocado
Avocados are high in calories and should be limited to moderate quantities.
The reason to include them in weight loss smoothies is that it has healthy fats in them, and these fats can help burn calories quickly.
Avocados help burn fats and calories efficiently, and they help suppress hunger and appetite if added to smoothies, salads, etc.
They can avoid gaining weight in the body and help prevent weight gain around your belly, or we can say avoid depositing fat around the abdomen.
They can lower the unwanted cholesterols and prevent them from becoming obese.
A single avocado consists of calories ranging from 200 to 300, so I suggest adding only half avocado to avoid increasing the calorie value in the smoothie.
The avocados give you the feeling of fullness and are a healthy option to include in your diet and in making smoothies.
Rolled Oats
Again, oats are a rich source of fiber and protein, and we are all aware of how fiber and protein act in our bodies.
It gives you the necessary carbs, but its rich fiber value helps you keep full and gives you satiety. The fiber slows digestion and prevents us from eating other foods that can increase calorie values.
The protein helps repair the body cells and is a good choice as protein acts like fiber by helping digest food slowly.
They can help lower cholesterol levels as oatmeal is a whole grain food, and whole grains are always a better food choice to make.
Keep in mind that do not add oats in more quantity to the smoothie as we are already adding other good and healthy foods to provide the necessary calories.
Adding oats can increase the overall calories of the smoothie and that is not the main aim.
A cup of oats ranges from 250 to 350 calories, so adding a spoon or two teaspoons to provide sufficient carbs and calories in the smoothie is a healthy choice.
Almond butter
This almond butter is again a good amount of protein and fiber content food, which prevents us from eating other foods that can build up the calories and deposit them as fats.
Using almond butter in smoothies again helps you keep full, they have fewer carbs, and the protein also helps slow digestion, suppresses the appetite, and prevents us from eating unhealthy foods.
Go for either almond butter or peanut butter and make a healthy smoothie that does not make you build up appetite or hunger.
Almond milk
Almonds, such as butter or milk, are a good source of fiber and protein. Almond milk is an excellent low-calorie choice if you include it in a weight loss diet.
Whole milk is full of fats and high in calories, and if you are looking for low-calorie non-dairy milk, almond milk is the best choice.
It contains fewer calories, has no cholesterol, and is the best choice to make to avoid carbs in your meals.
One cup of almond milk contains about 60 calories, which motivates us to replace other fatty dairy with almond milk.
The almond milk sold in stores can be in sweetened form too. Be careful and check for the quality of the product, as many brands contain sugars too.
Use high-quality almond milk that is 100 percent pure and does not contain sugars(buy unsweetened milk).
Cinnamon and sweetener
Cinnamon is a widely known spice, and it has properties that can reduce fat, regulate sugar levels, and helps digest food well too.
Thus, they help in burning calories and adding flavor to your meal.
A sweetener should always be zero calories to add to your smoothies.
Stevia makes it to the top list, but if you do not have stevia, adding honey or maple syrup is fine, but consider the number of calories they contain and add in moderation.
Adding a tablespoon of honey or other sweeteners such as maple syrup is perfect but do not add more in quantity as it can increase the calorie count.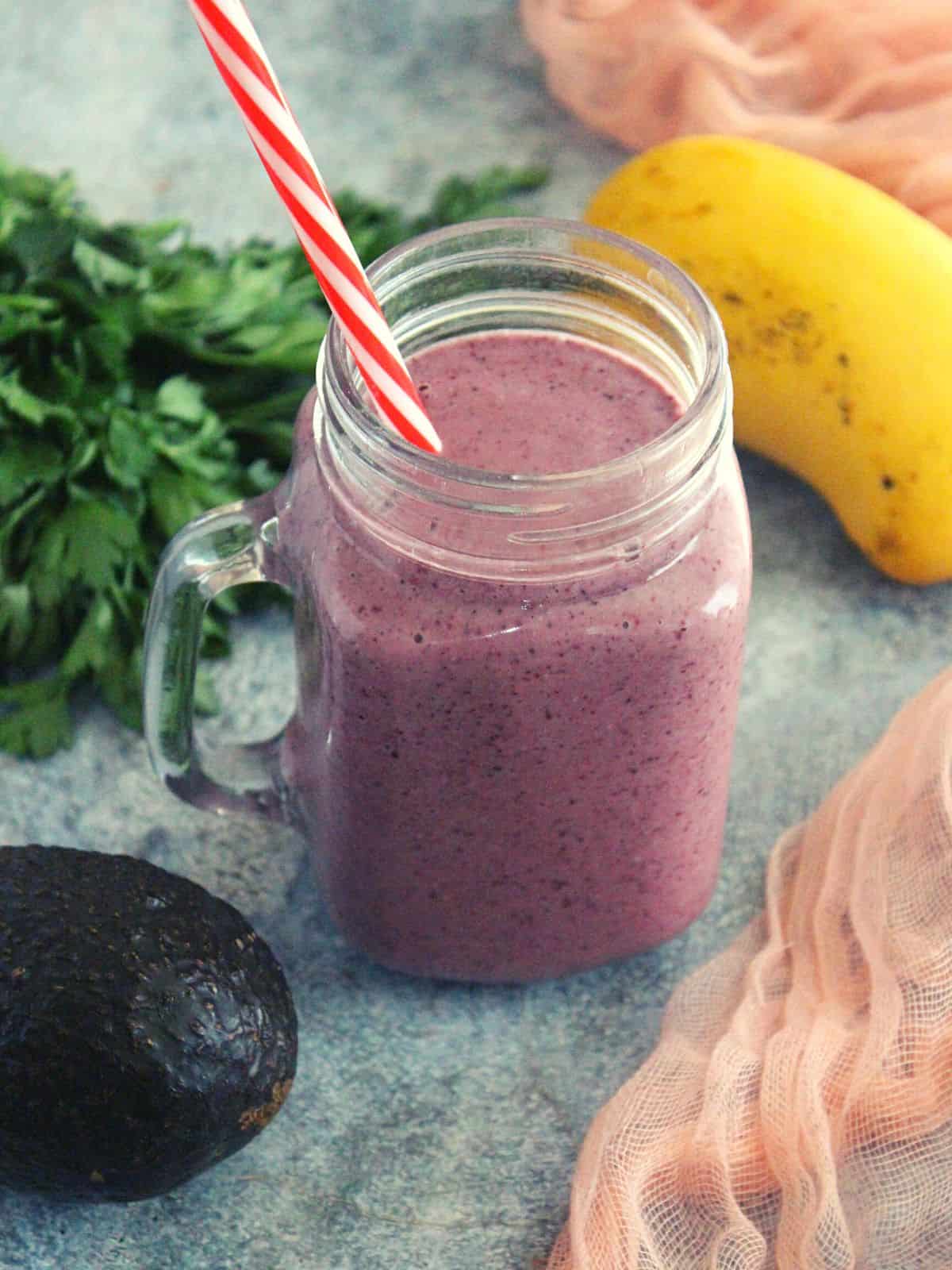 Overview
The main idea of making the smoothie here is to add more fiber and sufficient calories, mainly low-calorie smoothies.
The weight loss smoothie can be low in carbs to keep the energy levels going and also can burn easily but not more that can deposit and turn into fats.
Low-calorie smoothie is a breakfast smoothie for weight loss to keep you full and yet have low calories and provide all the essential supplements a body needs.
Tips
Use frozen berries in case you run out of fresh berries and if you do not have all types of berries, add strawberries or blueberries that are commonly available in every market.
In case you do not have unsweetened milk, adding low-fat milk(2 %) is a good alternative, but be careful of the calories of the smoothie, and the ultimate goal should be a healthy low calorie breakfast smoothie.
Cinnamon is optional if you do not like its flavor or do not want to add it to the smoothie.
To make the smoothie healthier, chia seeds can be added as a topping smoothie, which helps give the fullness one needs and, simultaneously, helps reduce body fat.
Storage
Consuming fresh smoothie is the best suggestion and freezer pack all the ingredients ahead by preparing them and blending them fresh when you are ready to consume.
I do not suggest storing them as they lose their nutrients from the smoothie, and the taste also varies.
Equipment
Using a blender is a perfect choice; we all have them in every household. Smoothie jars or blenders make the smoothie making easy without any effort.
This breakfast smoothie do not require to be filtered out or strained and can be consumed directly.
Calorie breakdown of the smoothie
The calorie estimates are approximate and can vary slightly. Please check the nutrition table for the exact calorie count.
1 cup frozen mixed berries - 60 to 70 calories
½ avocado - 150 to 160 calories
2 teaspoon rolled oats - 18 to 20 calories
1 tablespoon almond butter - 98 calories
a pinch of cinnamon - negligible
½ tablespoon sweetener - stevia(0 calories), honey (approximately 64 cal), maple syrup(approximately 52 cal)
1 cup unsweetened almond milk - approximately 60 calories.
If you add honey, the calorie of the smoothie ranges from 400 to 450 approximately, and if you skip the honey and add stevia, it will be around 400 calories with approximate calculations.
If you need more fewer calories, reduce the quantity of the almond butter while blending.
When to drink?
Drink this best breakfast smoothie for weight loss regularly if you want to lose weight, and have it as a meal replacement or breakfast smoothie.
Since it contains healthy fruits and other healthy ingredients, it is also a healthy option to drink it often and daily.
Recipe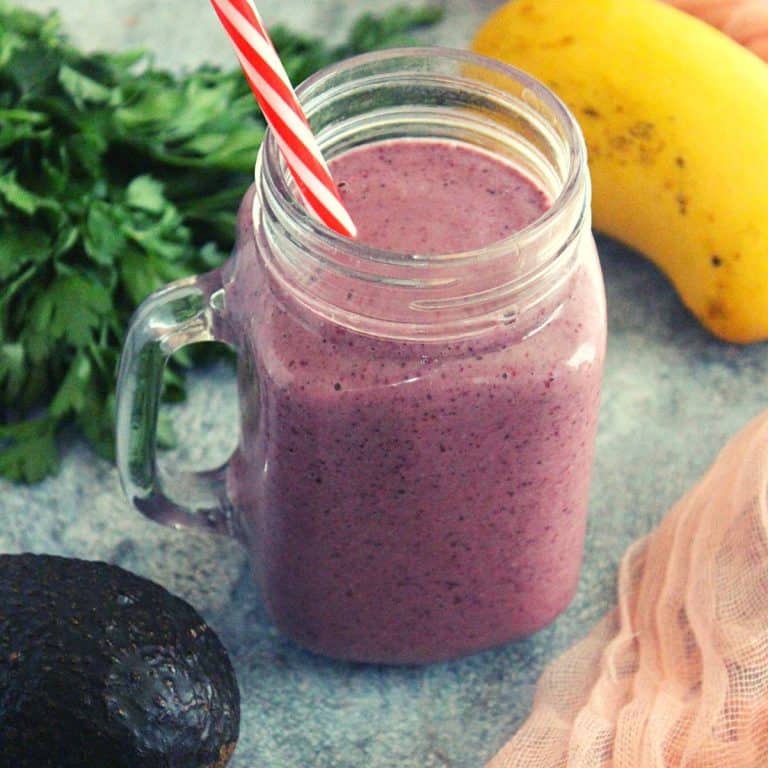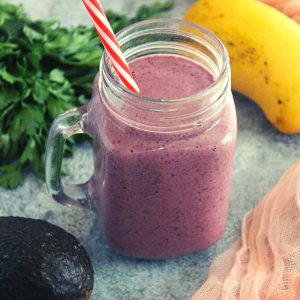 Breakfast smoothie for weight loss, healthy
A healthy breakfast smoothie to aim for weight loss and include in fat loss diets.
Ingredients
1

cup

frozen mixed berries

(can use fresh if available)

½

avocado

(peeled, deseeded and mashed or cut)

2

teaspoon

rolled oats

1

tablespoon

almond butter

¼

teaspoon

ground cinnamon

½

tablespoon

honey

( maple syrup/stevia as sweetener too can be replaced)

1

cup

unsweetened almond milk
Instructions
Add all the ingredients to a blender.

Blend all the smoothie ingredients for a minute or two.

Make a fine puree or blend well.

Pour and serve chilled.

Adding ice is optional and can be added while blending or serving.

Serve as desired.
Notes
If you like to cut down more calories, add 1 teaspoon of rolled oats instead of 2 teaspoons.
Also, if you like to cut down, even more, be careful with adding almond butter and cut down a bit which can quickly reduce some more calories and give a healthy breakfast smoothie.
Add stevia which has '0 cal' if you prefer to go completely sugar-free, including natural sugar such as honey.
Nutrition
Nutrition Facts
Breakfast smoothie for weight loss, healthy
Amount Per Serving
Calories 444
Calories from Fat 252
% Daily Value*
Fat 28g43%
Sodium 336mg15%
Potassium 734mg21%
Carbohydrates 47g16%
Protein 9g18%
Vitamin A 220IU4%
Vitamin C 14mg17%
Calcium 391mg39%
Iron 2mg11%
* Percent Daily Values are based on a 2000 calorie diet.
Faq's
Can you lose weight by having a smoothie for breakfast?
To lose weight by having a breakfast smoothie, make sure the smoothie you make is healthy and contains fiber and protein with low calories and fewer carbs.
Sugar should not be added to any weight loss breakfast smoothie recipes. Therefore, consuming sugar free smoothies daily can be effective and helpful in reaching your weight loss goals.
Are smoothies good for losing weight?
Having only smoothies is good, but what the smoothie contains is essential. The smoothies should supply the body with all the vital nutrients and vitamins.
If you make smoothies with unhealthy ingredients, then reaching your weight loss goal may be impossible.
Therefore, always make healthy smoothies such as green smoothies, fruit, or veggies smoothies without increasing calories and reducing sugars and also by adding protein and fiber which can be helpful along with a healthy diet and avoiding junk food.
I hope this recipe is helpful in effective weight management, and do leave us your feedback and comments for any queries.