Lemon ginger tea for weight loss, refreshing tea with simple ingredients such as lemon and tea leaves is quick to do drink to have any time of the day. Also, added to the tea are ginger pieces steeped well to infuse refreshing flavours which also helps with good digestion and also with weight loss.
Other weight loss tea or coffee recipes or drinks related to cutting down fat are black tea recipe, black coffee recipe, weight loss green juice, detox water to lose weight, green tea for weight loss etc...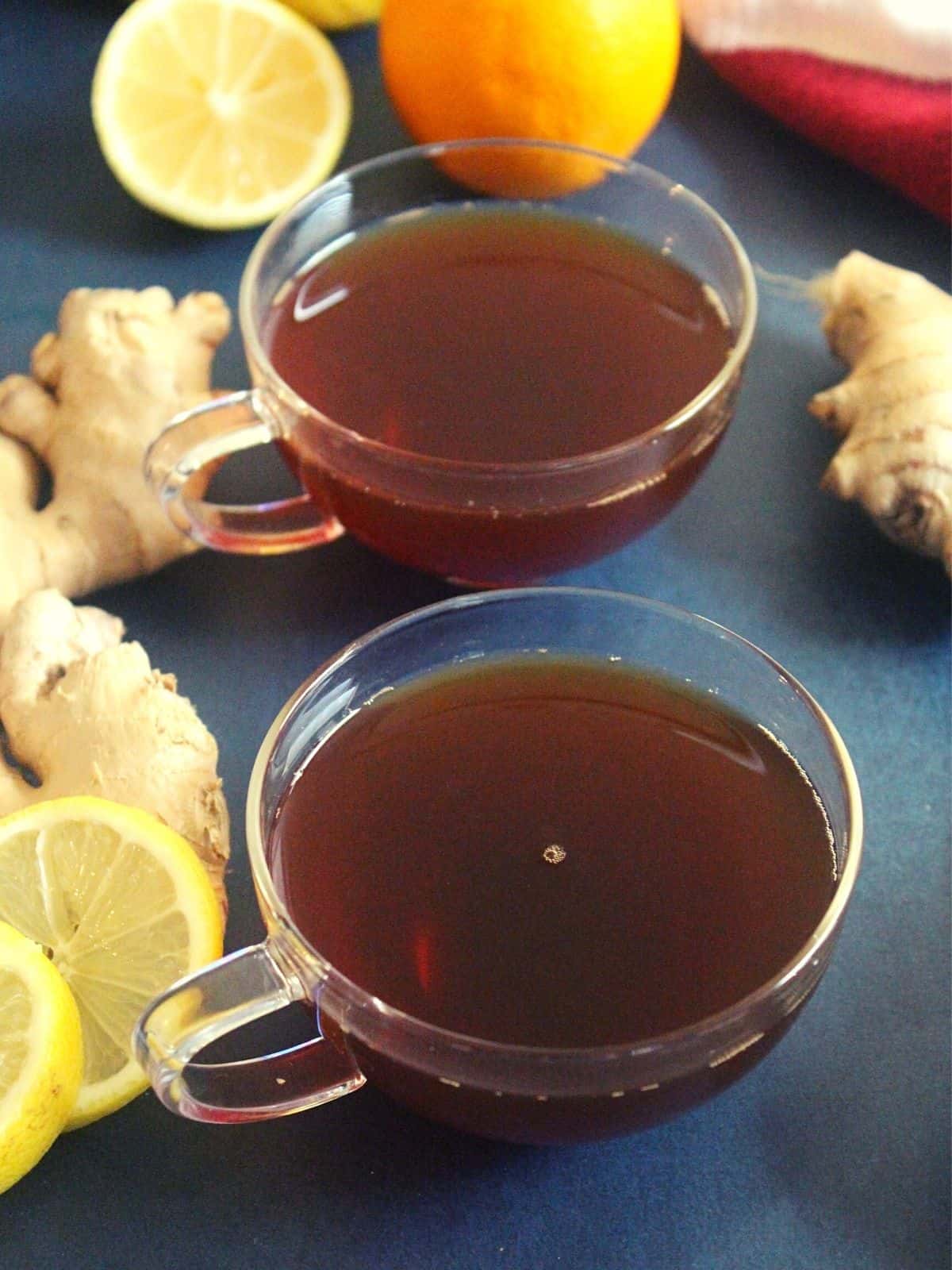 About the recipe
A tea recipe making it with tea leaves that are black tea leaves which are available in dried form in markets. The tea is simple to make because it needs only two ingredients boiling ginger and black tea.
The tea is allowed to simmer well for a few minutes until the flavours infuse deep well. The rest of the ingredients are later added while serving the tea with lemon as adding lemon has amazing benefits related to losing weight as well as has other important properties.
Ginger along with lemon makes it refreshing and since it is a hot tea, it also keeps us refreshed and warm during cold winters or chilly days. The tea is perfect to have as it has low calories and is best to replace with other high-calorie drinks.
Check out the procedure to make the tea below and also other important points to know well before using this tea. It is basically a tea just to refresh as well as can also aid to lose some calories if taken regularly.
Benefits of lemon ginger tea
This can be named an easy herbal tea because it contains herbal ingredients such as ginger, lemon, and honey along with some tea leaves. Therefore, it has some miraculous properties which are shared below.
Lemon and ginger if used separately are powerful to cure many ailments and if taken together in combination can bring more amazing results and can have more advantages with this tea.
Promotes digestion
This tea is quite hydrating as well as helps in better digestion as it uses water in the making and all these ingredients together can make the body light without feeling full and ease stomach aches too.
Treats Nausea
Ginger is always helpful in treating nausea-related uneasiness, but it is always better to consult a doctor before having any kind of tea as it can harm the baby even if it contains simple ingredients.
If using this tea to treat simple nausea and vomiting, then skip adding tea leaves and have it plain by just adding ginger and lemon to boiling water.
Other benefits
The tea is good to treat constipation, boosting immunity as well as helping to have the proper mental focus or mental focus throughout the day. Lemon, a Vitamin C rich source and ginger combined are rich in antioxidants and help in fighting off cold, nausea, and vomiting can manage diabetes well too.
The other most important property is to help shed those extra pounds by having this tea regularly which is known to reduce stress levels and increase the body metabolism which in turn reduces fat deposits and proper body functioning.
Side effects
Never consume the tea too many times a day as it can increase the sugar levels if taken with any sweeteners.
Also, make sure to consult a physician as drinking it often can lead to body allergies or can easily upset stomach when not suitable as each body is different and can suit this drink to one and at the same time can cause negative effect to others.
Ingredients
lemon and ginger: These two ingredients combined make the most important part in making this tea as they contain those properties that help in better digestion, losing extra pounds, boosting the immune system etc...
Black tea: This is not an essential part of making this tea but to enhance the taste as well as it has fewer calories, it can be added to give more flavours and add more medicinal value to the tea.
Honey: This acts as a sweetener as well as possesses additional properties valuable to our body.
Water: To make any tea, water is an essential necessity without which no tea is complete.
How to make the tea
Take a saucepan, and add water to the pan.
Add some peeled ginger pieces to the tea. The ginger can be grated to infuse strong flavours but is entirely optional to add pieces or to add in grated form.
Add black tea leaves or add a teabag. Adding in any form is fine and gives the same results.
Allow it to steep well for a few minutes or simmer for a few minutes.
Switch off the flame and strain the tea.
Add lemon extract to the tea.
Allow it to turn lukewarm and serve by adding honey(optional).
Garnish with lemon slices and serve refreshing hot tea.
When to drink this tea?
Drinking it 30 minutes before any meal is always good for better results but since it has natural ingredients and is a low-calorie drink, using it before bedtime is also a good idea for a better outcome.
Other ginger recipes to try from the blog are turmeric tea that has ginger in it, ginger water recipe etc...
Other weight loss recipes from the blog are apple cider vinegar and honey, oats for weight loss, jeera for weight loss, cinnamon water.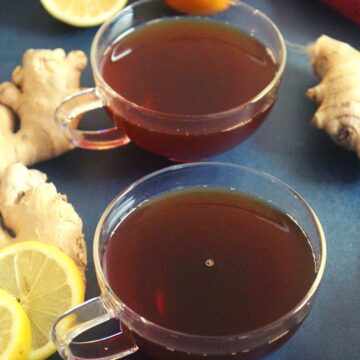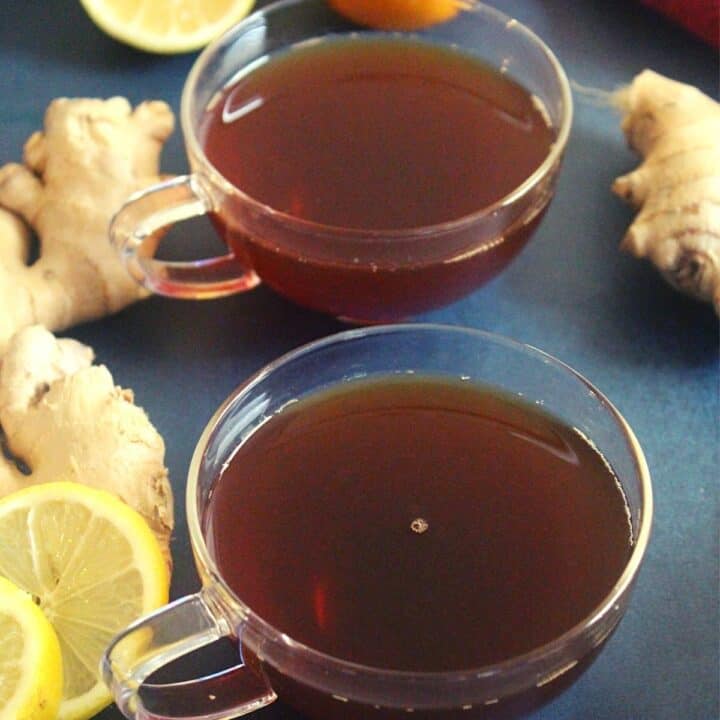 lemon ginger tea for weight loss
A herbal tea with lemon, ginger and black tea leaves in boiling water.
Ingredients  
2

cups

water

1

medium size peeled ginger piece

(cut into small pieces)

½

a lemon

(juice extracted)

1

teaspoon

black tea leaves

(or 2 black tea bags)

1

teaspoon

honey as optional ingredient
Instructions 
Add ginger pieces and black tea leaves.

Let the water steep well or boil well.

Add lemon extract and stir.

Add honey as an optional ingredient before serving and stir well.

Consume before meals for good results.
Notes
Add honey after the drink turns slightly warm or skip if one has diabetes.
Consume anytime of the day or before bedtime but try to consume regularly and ask a doctor if one has any medical issues before following any drink from the blog.
Nutrition
Nutrition Facts
lemon ginger tea for weight loss
Amount Per Serving
Calories 11
Calories from Fat 9
% Daily Value*
Fat 1g2%
Sodium 13mg1%
Potassium 53mg2%
Carbohydrates 3g1%
Protein 1g2%
Calcium 15mg2%
Vitamin C 14mg17%
Vitamin A 6IU0%
Iron 1mg6%
* Percent Daily Values are based on a 2000 calorie diet.
WANT TO WATCH VIDEO RECIPES?
SUBSCRIBE US ON YOUTUBE
Storage
Do not store this tea beverage. Try to consume fresh and make tea only when one is ready to consume. The tea loses its nutritional value if stored and also loses flavours and its medicinal properties if stored for later use.
Variations
Adding any sweetener in place of honey is fine or skipping honey too is fine. Another simple way of making this tea is to boil water by adding only ginger pieces and lemon slices and simmering the water for a few minutes. Strain the tea, add honey and drink it is also another way of making this tea.
Additional healthy ingredients to add to the tea are turmeric in the end before serving. Also, adding mint leaves or apple cider vinegar too can make the tea special and healthy.
Other healthy low-calorie drinks to check out below are
Frequently asked questions
Can I skip black tea while making it?
Yes, skip black tea and just use ginger and lemon to boil the water and have it plain. It has the same results and makes it more simple and easy with the best outcomes.
How many times can I drink this tea every day?
Do not drink it more than three times as it contains black tea and contains caffeine and can disturb sleep with frequent consumption during the day.
Recommended