Have you tried the tiktok's viral coffee and lemon juice for weight loss? I guess most of you have not tried it yet. This viral drink states that drinking coffee helps shed some pounds, but let us look at the facts and the recipe and learn how effective it can be.
I will show two different variations of making weight-loss coffee that can be used as a healthy drink but do not expect this drink to create magic with weight-loss results.
There is no evidence-based research that this is an effective drink to burn fat, but it only shows slight results in losing body fat.
Suggested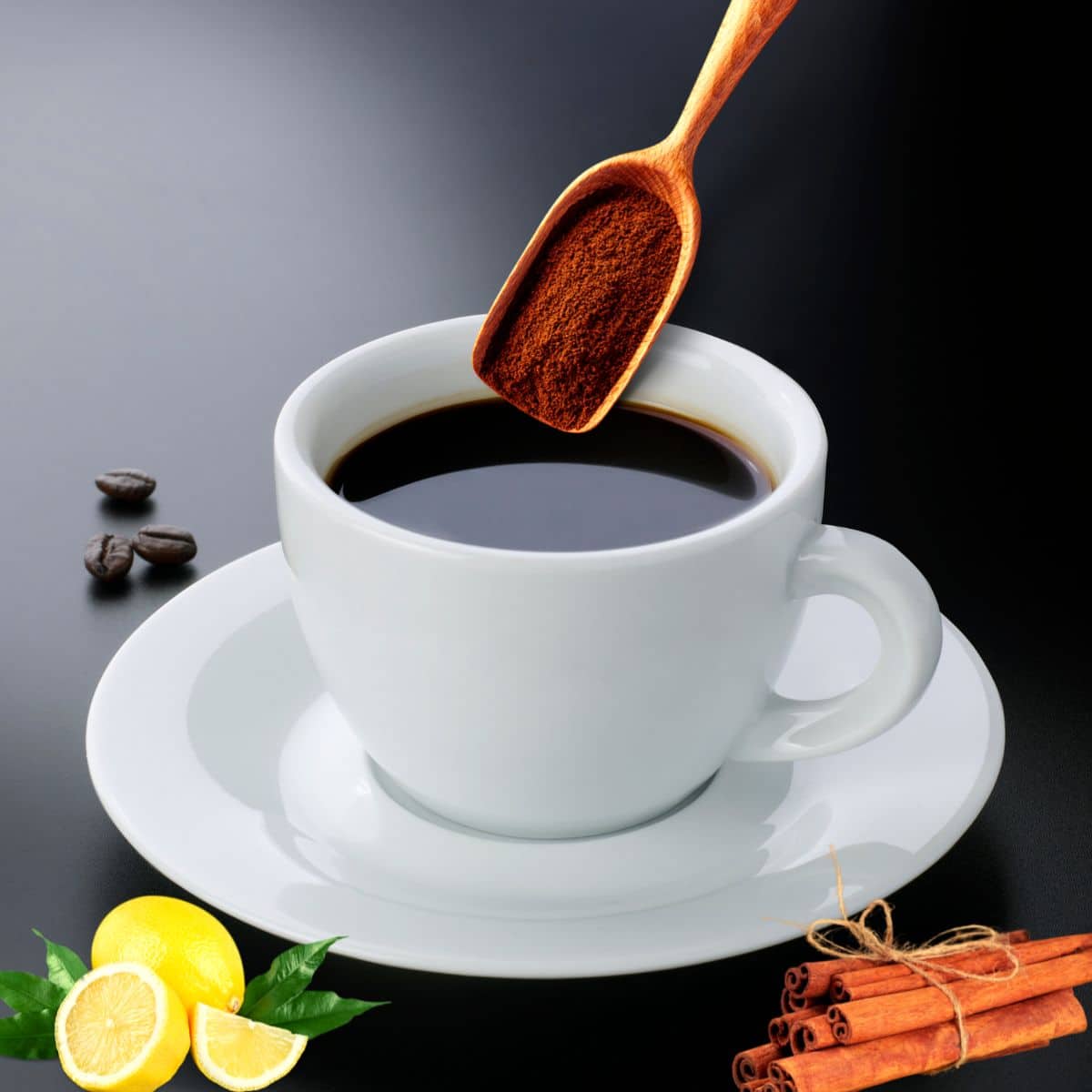 About the recipe
Sharing the recent trending recipe using coffee and lemon but with a slight variation to help and support your weight loss goals and add it to healthy diets but do not consume it with any underlying health conditions.
The recipe here uses coffee, lemon, cinnamon, and ginger which is not similar to the tiktok's viral video.
Some variations are made to the recipe to boost weight loss properties, but no evidence-based research exists that mixing coffee and lemon and drinking can work with weight loss.
Why this recipe?
This low-calorie drink uses lemon juice, cinnamon, and ginger to help with better digestion.
The liquid juice from lemon and cinnamon is mixed with instant black coffee powder to add flavor and help consume the drink.
If used individually, lemon, ginger, and cinnamon have specific medicinal properties that aid digestion, boost metabolism, and result in fat loss.
Coffee is a low-calorie food that keeps you mentally alert and lifts the mood to continue your daily activities.
Staying active throughout the day and carrying on physical tasks can help burn calories, aiding in weight loss.
Adding or combining all the ingredients makes it easy to consume all these health-beneficial ingredients but limiting its intake is a wise decision as too much coffee can prove harmful and has drawbacks.
Does Coffee help in losing weight?
A teaspoon of coffee has 2 to 5 calories, making it a perfect stimulant to add to water and consume but adding additional ingredients to the coffee and water can increase the calories.
Drinking only black coffee with water is an effective way to stay alert and help continue daily activities.
Drinking coffee without sugar twice a day can help you stay physically active, as black coffee contains caffeine, which helps improve the metabolism rate, which results in burning calories and fat.
Caffeine in coffee keeps you active and helps you move during daily work, which helps burn calories and fat.
Adding sugars, high-calorie sweeteners, syrups, or creamers to the coffee drink can increase their calories from 2 to 500 depending on the sweeteners and sugars we add.
Therefore, plain black coffee without sugars is slightly effective in weight loss.
One may not see miraculous results as losing weight with just a drink is impossible, and there are many other factors that one needs to follow, such as diet and exercise.
Drinking coffee in moderation is a good choice if you work all day and need to be alert and active.
Drinking coffee throughout the day and more than recommended can negatively impact your sleep and health.
Therefore, limiting intake is beneficial, and exceeding the coffee intake can cause severe effects on health.
Other recipe ingredient benefits
Lemon
Lemon has properties that boost the digestion process, and adding lemon to detox drinks helps detoxify.
The two essential properties of digestion and detoxification help improve the body's metabolism and result in burning fat.
Therefore, adding lemon to any detox drink helps to a certain extent in weight loss goals as it is a rich source of vitamin C and antioxidants, which can help improve metabolism.
Cinnamon
Adding cinnamon in tiny quantities to drinks and recipes helps in the fat-burning process as it has properties to reduce cholesterol levels and control diabetes.
This healthy spice is rich in antioxidants and reduces inflammation. Adding cinnamon to the lemon juice can help in proper weight management.
Ginger
Ginger is used as a worldwide remedy to improve digestion in human beings.
There are ancient remedies to use ginger for digestion or other common ailments; therefore, better digestion leads to better body functioning.
When the body functions well, the body can burn fat quickly, and ginger has a compound called gingerol that has many medicinal properties in fighting harmful ailments in the body, according to research.
Suggested
Water
Water is an essential part of day-to-day life, and it has excellent properties to keep you hydrated and flush away toxins from the body by making detox drinks with water.
The more water we drink, the more toxins we flush out of the body, leading to better weight loss results.
Suggested
Sweetener
Adding honey as a sweetener is optional, and skip it if you like to be low on sugars, but honey is another effective weight loss ingredient.
It can be added in small amounts. For example, ¼ teaspoon honey gives only 5-6 calories and can add a slightly sweet flavor to the drink.
This natural sweetener has many ancient properties that prove effective for soothing colds, coughs, losing weight, digestion, etc.; adding it is up to the reader's choice.
Note: Adding too much honey can spike sugar levels or increase calories.
Variations
Method 1: Make lemon juice separately as mentioned in the recipe below and later add instant coffee powder to the juice and stir and consume.
Method 2: Add instant coffee powder to the glass, add lemon extract and hot water, stir well, and drink.
In method 2, do not prepare lemon juice separately as in method 1.
This is the direct and quick way of making the drink and adding coffee and lemon to your diet once in a while.
Drawbacks of coffee
Limiting the number of black coffee drinks in plain form or adding lemon juice only twice a day can be beneficial, but increasing the cups per day can cause insomnia and cause sleep disruption.
It(black coffee) contains acid, and too much caffeine from coffee causes heartburn due to acid reflux.
Therefore, any drink that contains black coffee should be consumed with caution as it can have a positive or a negative impact.
Having only Black coffee contains caffeine which is a stimulant that is considered to work on reducing fat, according to research by Harvard, but excess consumption gets you in trouble.
Can I make this recipe using cold water?
To make a cold coffee and lemon juice weight loss drink, take cold brewed coffee, add lemon extract and cinnamon powder, stir and consume.
Another way is to add ice to the prepared drink and have it chilled.
Can I add sweetener to the weight-loss coffee?
Adding sweetener is a big no if it contains high calories such as regular sugar or sugar, as we aim to make a low-calorie weight loss drink.
If you like to add a sweetener without any calories, stevia extract or monk fruit extract works well, as both contain zero calories and are safe to add to the drink.
Other sweeteners to add are honey, but a tablespoon of honey has many calories, and it is better to avoid adding honey.
If you like to add honey to this coffee and lemon juice weight loss drink, add a drop of this natural sweetener to give slight sweetness.
Honey is an effective weight-loss ingredient but watch out if you are calorie conscious and want to limit your calorie intake.
Recipe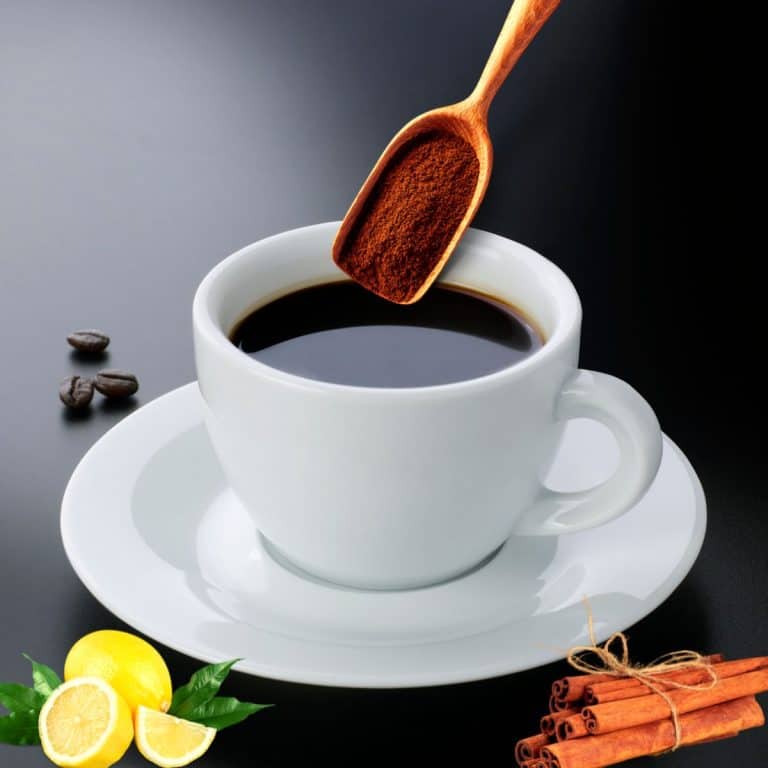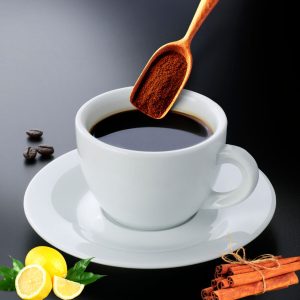 Coffee and lemon juice for weight loss
A quick weight loss coffee using coffee and other fat loss ingredients.
Ingredients
1

glass

water

½

lemon

( cut into round slices)

2

small

cinnamon sticks

or ½ teaspoon cinnamon powder

1

teaspoon

grated ginger

1

teaspoon

instant black coffee powder

¼

teaspoon

honey

(totally optional)
Instructions
Take a saucepan and add water to the pan.

Add lemon slices and cinnamon sticks to the water.

Add grated ginger to the above ingredients.

Steep them well on simmer after one boil.

Strain the simmered lemon juice.

Pour the juice into the glass.

Add a teaspoon of instant black coffee powder to the juice.

Stir and serve.

Adding Ice and honey are optional ingredients for chilled flavor and sweet flavors.
Nutrition
Nutrition Facts
Coffee and lemon juice for weight loss
Amount Per Serving
Calories 43
Calories from Fat 3
% Daily Value*
Fat 0.3g0%
Monounsaturated Fat 0.03g
Sodium 14mg1%
Potassium 149mg4%
Carbohydrates 13g4%
Protein 1g2%
Vitamin A 33IU1%
Vitamin C 29mg35%
Calcium 93mg9%
Iron 1mg6%
* Percent Daily Values are based on a 2000 calorie diet.