A refreshing dragon fruit tea recipe using brewed tea and adding flavors of dragon fruit and other fruit to make a delicious refresher tea. If you have this fruit, try to make this simple tea recipe which you will learn below, and feel refreshed.
Check out other tea and coffee recipes or drinks from the blog to try and enjoy various beverages.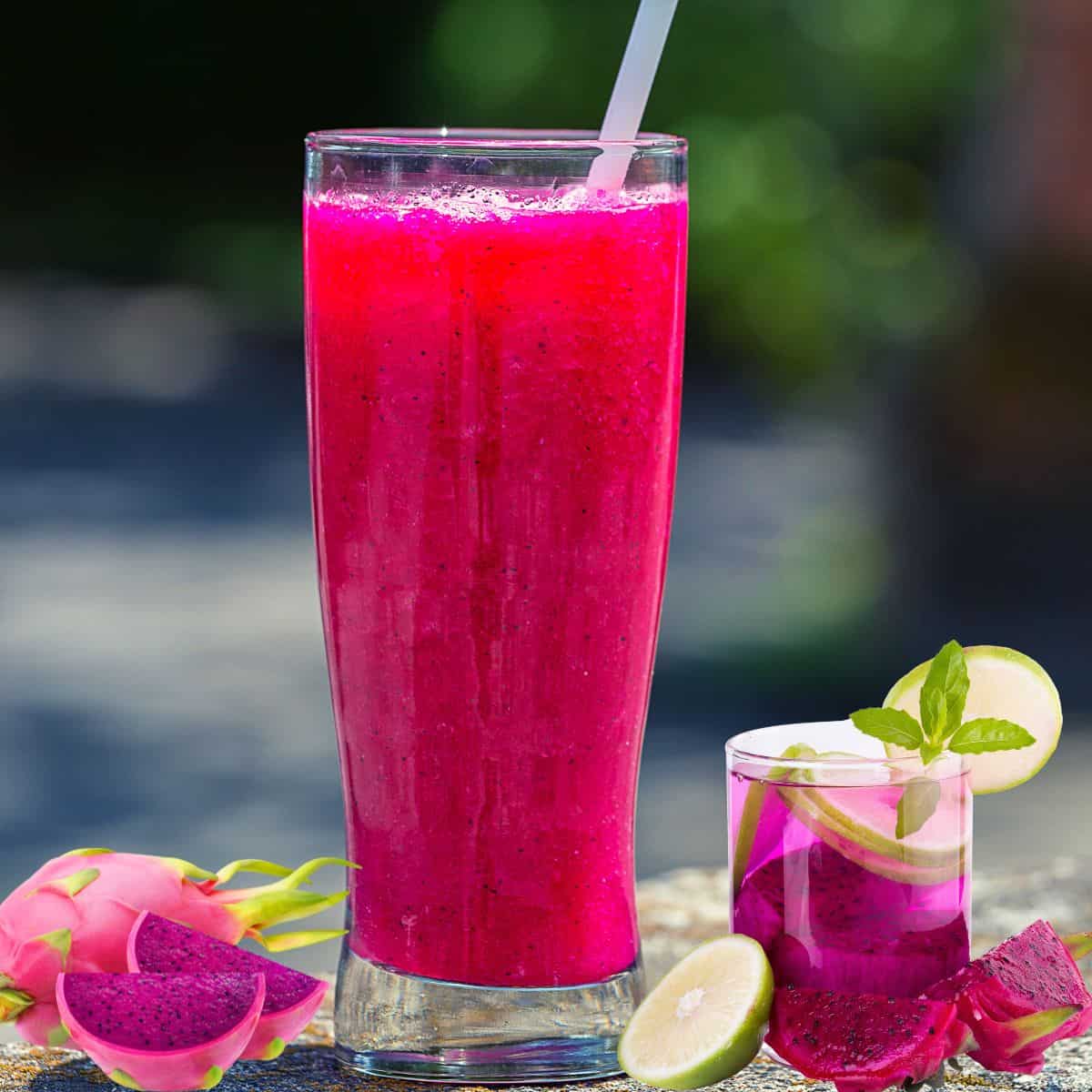 Jump to:
About the recipe
A brewed tea made using black or green tea and adding dragon fruit flavors and mango flavors makes a delicious refresher drink.
Also, adding lemon juice concentrate makes it the perfect refreshing tea one could ever ask for.
Making dragon fruit tea is quite simple, and all we need is tea bags or loose tea and yellow and pink dragon fruits to make this particular tea.
This tea is similar to the Starbucks dragon fruit tea but with slight variations.
This tea is easy to make at home and consumed immediately as a refresher tea.
Taste and look of Dragon Fruit
This fruit is commonly available in red, pink, or purple skin from the outside, with a flesh color of white or magenta/red/purple inside.
The other dragon fruit or pitaya color is yellow outside, and their flesh inside is always white.
The fruit looks unique and flowery and has flesh inside it with a citrus taste similar to kiwi and pear.
The flesh in the fruit can be scooped out quickly when the fruit is cut in half.
Is there such a thing as dragon fruit tea?
Dragon fruit tea is prepared by adding dragon fruit flavors or fruit syrup or concentrates to brewed green tea, preferably, and have it as a refresher.
This is a perfect lsummer refresher to refresh oneself and replace unhealthy high-calorie beverages with this exceptional fruit-flavored iced tea.
The tea is also low in calories which is a better option to have during snack time rather than eating fast foods.
Ingredients
Dragon fruit pulp: Scoop out the flesh using a spoon or a spatula after cutting the dragon fruit. The flesh appears any color(red/magenta/purple).
Smash it to make its pulp or add it directly. Use any color of dragon fruit pulp to make this drink.
Lemon slices: Cut the lemon into thin round slices and use fresh lemon to give the citrus touch and flavors to make it a refreshing and perfect summer drink.
Another way to add this ingredient to the drink is to extract the juice and add directly.
Brewed tea: Use tea leaves to brew the tea or make use of a tea bag to brew the tea and prefer to use brewed green tea, and the second option would be to use brewed black tea.
Ice: Crush ice generously to add to the tea. Crushed ice gives an excellent look to the drink, and crushed ice pieces give unique fruit flavors to the ice when entered into the mouth.
Sweetener: Using a sweetener is optional, but opting for a zero-calorie sweetener or adding any sugar syrup would make it sweet but is entirely optional.
If using pulps, adding a sweetener works fine, but it is better to skip the sweeteners if using store bought fruit syrups which can already contain sugars.
Mint: Mint leaves give the drink a pleasant smell and taste, or skip adding the leaves if the herb is not handy.
Mint is always an excellent choice to add to any refresher tea or drink and it is good for digestion.
Is this a healthy drink?
If you add homemade fruit pulp, this becomes a low-calorie drink and making this refresher tea without added sugars makes it healthy as it contains green tea, fruit pulp, and lemon.
Dragon fruit is a fat-free fruit with good fiber and an excellent fruit to strengthen the immune system.
Making dragon fruit tea using store-bought fruit syrups and adding sweeteners can increase the calories and make it high-calorie.
Therefore, it is totally up to the consumer how they prefer to make the tea, and I suggest always going for a healthy option to benefit their health.
How to brew tea with leaves and tea bags
Brew tea with leaves
Take a saucepan, and add water to the pan.
Add a teaspoon of black or green tea leaves to the water.
Let the leaves steep well into the water for 5-10 minutes.
Strain the tea and set it aside to add this brewed tea to the dragon fruit tea.
Brew tea with tea bags
Take a cup or a glass of warm water.
Place one tea bag into it.
Allow the tea bag to steep its flavors in the water.
Remove the tea bag, and the tea is ready to make any fruit tea.
Starbucks tea 
Starbucks tea sells this as a mango dragon fruit refresher that contains a concentrate of mango and dragon fruit with ice, citric acid, and a touch of green coffee flavors to the refresher rather than brewed tea.
It is somewhere between a pink or purple drink that comes from the mix of two different fruit bases and sugar concentrates from sugar and grape juice.
A coffee flavor and fruit flavors with a sweet flavor to the drink make it a must-buy Starbucks dragon fruit tea to enjoy as a refresher and, simultaneously, have a low-calorie beverage.
Lastly, you can also observe dried dragon fruit pieces in the refresher drink that makes it look good and taste good.
Variations and Substitutions
Another method to make the recipe quick and simple is to add dragon fruit syrup to the brewed tea and serve it chilled with ice.
Check out the alternative recipe below.
Ingredients
1 scoop Dragon fruit syrup
1 cup green tea
2-3 lemon slices
2-3 mint leaves
Ice
Directions
Add crushed ice to a glass or a cup.
Pour the fruit syrup.
Pour brewed green tea into the glass.
Stir well.
Add lemon slices and mint leaves to the tea.
Serve with a straw.
Tea Making Tips
Tastes good with green tea than black tea.
Adding lemonade, sweet lemon juice concentrate, or fruit juice concentrate makes it more delicious and gives a taste of Starbucks dragon fruit tea.
Add pineapple syrup or pineapple pulp by replacing it with mango pulp or syrup to get a perfect fruit tea flavor.
Skip adding sweeteners if using fruit syrups in the tea.
Stir the ingredients well and serve chilled with straw and mint leaves.
Another tip is to add all the ingredients, such as ice, brewed tea, fruit pulp, and lemon juice, to give a quick blend in a blender and consume the refresher.
Recipe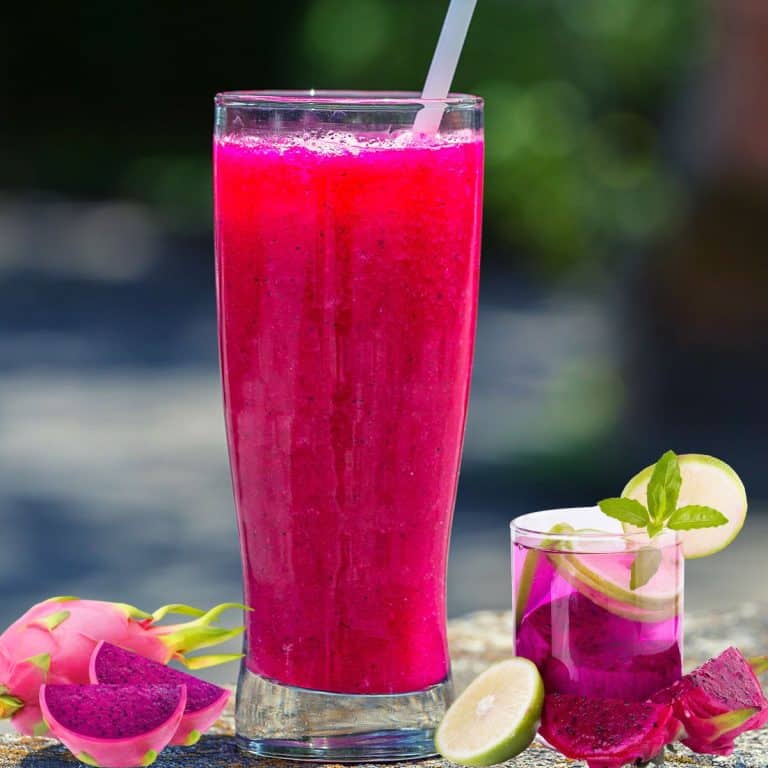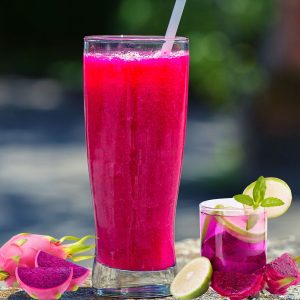 Dragon fruit tea (Iced)
An easy homemade iced dragon fruit tea with fruit pulp and brewed tea.
Ingredients
½

cup

crushed ice

4

oz

brewed green tea

(or black tea)

2

scoops

red or purple pulp of dragon fruit

(or any color flesh from the fruit you have)

2

scoops

mango pulp or puree

½

lemon extract

( or lemon slices)

1

teaspoon

monk fruit extract

(totally optional for sweetness)
Instructions
Tea Brewing
Take a saucepan and add black or green tea leaves to a cup of water.

Allow the leaves to steep well and simmer for a few minutes.

Another method to brew the tea is to add the tea bag to a cup or glass of water and let it steep, remove the tea bag and use the brewed tea to add to the dragon fruit tea.
Preparing the tea
Take a glass and add the crushed ice into the glass.

Add the dragon fruit pulp and mango pulp to the ice.

Add round lemon slices or lemon extract.

Pour brewed tea over the ice and pulp.

Add sugar or monk fruit extract to give a sweet flavor as optional ingredients.

Stir the ingredients well and serve chilled with straw and mint leaves.
Nutrition
Nutrition Facts
Dragon fruit tea (Iced)
Amount Per Serving
Calories 4
% Daily Value*
Fat 0.04g0%
Sodium 11mg0%
Potassium 42mg1%
Carbohydrates 9g3%
Protein 0.01g0%
Vitamin A 48IU1%
Vitamin C 0.3mg0%
Calcium 4mg0%
Iron 0.3mg2%
* Percent Daily Values are based on a 2000 calorie diet.
Recommended