Have you ever wanted to try overnight oats with instant oatmeal packets, not standard ones? I guess many readers use usual oats to make an overnight oatmeal recipe for breakfast in the morning.
This healthy recipe will give you all the details on making overnight oats with instant oatmeal packets. Check out some more oats recipes below.
Suggested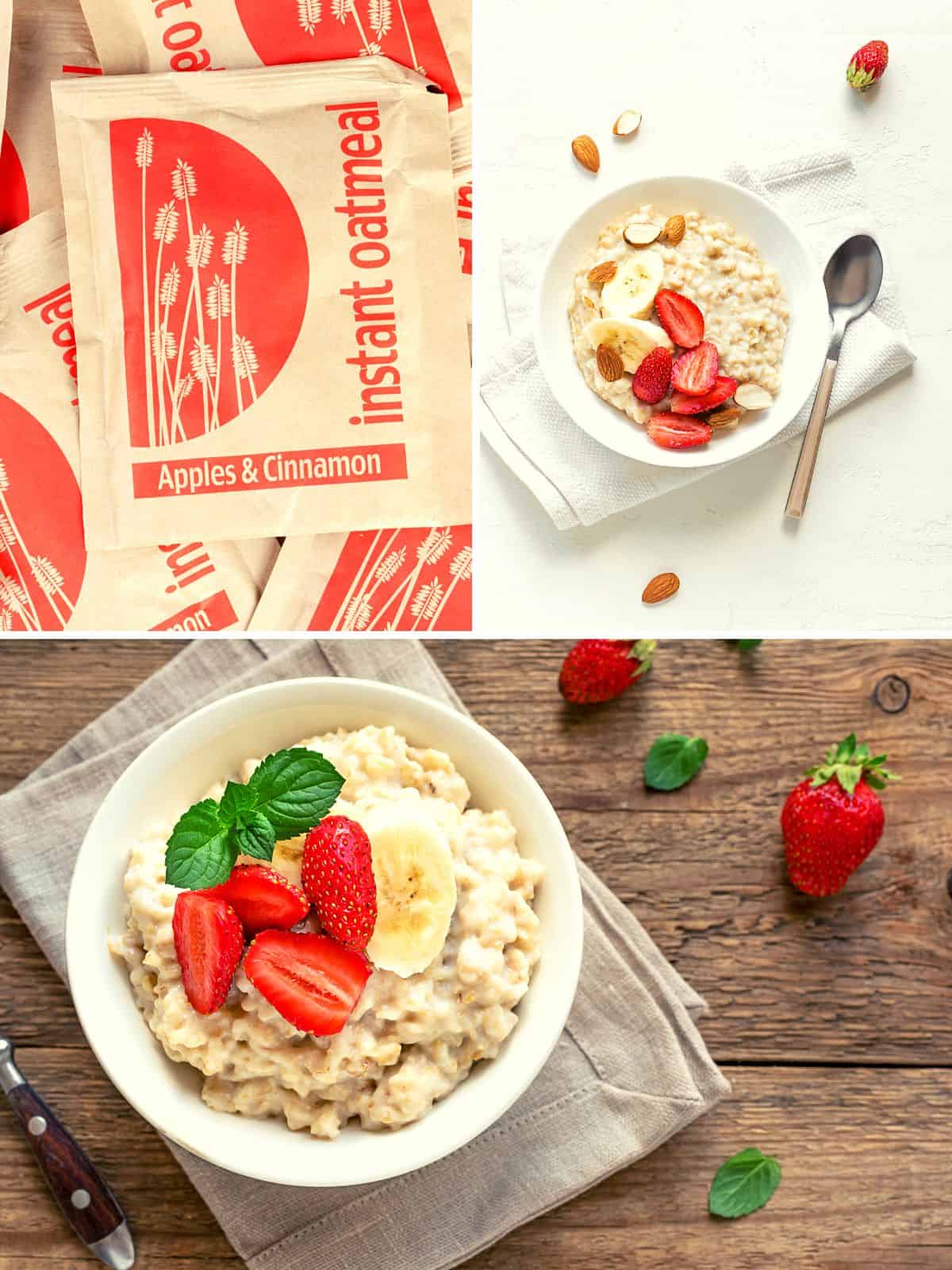 Jump to:
What is the recipe about?
Here, it is about making an oatmeal prep as a make-ahead overnight dish, not using standard old-fashioned oats, rolled oats, steel-cut oats, or quick oats.
It is about making it with simple, instant oatmeal packets with flavors in grocery stores.
Nowadays, we can buy instant oatmeal packets to make instant oatmeal by transferring the contents to a boil and adding hot milk and hot water.
We can also microwave it, which takes a minute or two to make a quick breakfast.
Sometimes, we may consider making overnight oats with other options, not just regular quick oats or old-fashioned oats.
Therefore, Instant oatmeal is the best alternative to making overnight oats when running out of other oats.
Instant oatmeal has all the flavors readily available. We only need to transfer the contents to a jar or a bowl, add water and allow it to sit in the refrigerator, and they are ready to eat the next day.
You do not need to add additional flavors, as they come in many different spice options.
The flavor and spice options make it easy to make and reduce the time and effort of adding other ingredients.
The packs come readily available, and adding a liquid such as water or milk is all we need to make it.
Suggested
How to use instant oatmeal packets?
They can be made in two ways. One is to make instant oatmeal by microwaving or adding a hot liquid to let it sit for a minute or two.
The other way is to make it as overnight oats without microwaving or adding any hot liquid to prepare instantly.
Many of us often doubt if we can use instant oatmeal packets to prepare overnight oats. The short answer is. Yes, we can make it.
However, their nutritional value may differ from quick oats or other oats as they are highly processed and precooked oats that undergo different processing stages to cook oats quickly.
The flavors these instant oats packets usually contain are maple and brown sugar, cinnamon and apple flavors, apple and cranberry flavors, dates, raisins and nuts, and many more.
They also are available as plain instant oatmeal without any flavors. This option gives you to add your preferred tastes.
Transfer the packets to a bowl, add hot milk or hot water, and let it rest for a minute or two to enjoy the meal, or just microwave for a minute or two.
The other option, which is also possible, is overnight oats soaking, which is also a healthy option.
Once done using any preferred method, add toppings of your choice or enjoy them as it is, as they are already flavorful if you do not have any toppings handy.
Adding toppings provides additional nutritional benefits, but since these already contain toppings flavors, consuming directly without any toppings is also a healthy option.
Note
The flavors added include maple syrup, brown sugar, apples, spice, cranberries, dates, and many more natural flavors.
The flavors are not artificial, and these packets do not contain artificial preservatives.
The oats are finely cut during processing with natural flavors to help cook the oatmeal quickly or to use as overnight oats.
Nutrition and Benefits
The instant oatmeal packets are made from whole grains but are finely processed and very thinly cut and steamed to make the cooking quick.
Although they undergo processing, whole grains are always a natural source of high fiber, and these oats also contain a certain amount of protein.
Fiber and protein are benefits of having these oats for breakfast and help maintain a healthy weight without gaining it.
Whole grain oats are low in cholesterol and unwanted saturated fats, which is an excellent reason to include them in your daily diet to prevent any risk of heart disease or high blood sugar issues.
The high fiber in oats keeps you full, helps prevent overeating, and burns calories efficiently.
The oats or oatmeal packets are an excellent option to add to weight loss diets as they help efficiently lose weight.
Suggested
Instant oatmeal packets vs. quick oats vs. old fashioned
As we have discussed above, instant oatmeal is a highly processed oat with fine cuts to ease the cooking process and make it quick.
They also come as plain instant oatmeal packets with different natural added flavors such as apples, cranberries, dates, nuts, etc., which ease the need to add additional toppings.
Although they come in flavors, you can add your desired toppings to make these instant oats more flavorful.
On the other hand, quick oats do not come in various flavors and are plain oats that need to be cooked well and taste well only if we manually add flavors, fruits, sweeteners, toppings, etc.
Quick oats come in large packaging, commonly used to make oatmeal on the stovetop, to add to smoothies, etc.
These can also be used to make overnight oats and cook instant oatmeal, which takes less time to cook than old-fashioned oats.
Quick oats have a faster cooking time(1 ½ to 2 minutes) than old-fashioned oats(5 minutes).
Quick oats are more highly processed than old-fashioned oats and have thin cuts compared to old-fashioned oats.
The only difference between instant oatmeal and quick oats is that the first one is available in different natural flavors, and the quick oats are plain and just oats without flavors.
The nutrition benefits are almost the same, but instant oatmeal contains sodium slightly as they are already cooked.
If using quick oats, you need to add water or milk, boil it, add oats and some salt, and cook for at least 5 minutes or until nicely cooked.
The next step is to add sweeteners or toppings; they are ready to enjoy, and this lengthy procedure is not the case with instant oatmeal packs.
Ingredients
Instant oatmeal packets: Use instant packets of oatmeal that are precooked but here, make them as overnight oats rather than instant cooking.
Water or milk: Use the liquid to soak the oats and for additional benefits, use milk and for a healthy meal, use low-fat or non-dairy-based milk.
Non-dairy can be either almond milk or oats milk, and they make a perfect substitute for milk and with excellent health benefits.
Toppings (optional): The toppings are not required as the packets are already flavored with nuts or fruits.
If you like additional toppings, go for freshly sliced bananas, berries, strawberries, apples, or any nut butter or jam, and have it as you love.
Steps to make instant oatmeal overnight oats
Take the instant oatmeal packets(any flavor or plain), and transfer the contents of the packets into a bowl or a mason jar, or any container you prefer.
Add any liquid such as milk(preferred) or water and if you use one oatmeal packet, add ½ a cup of water to soak the oats.
Since these oats are finely cut and processed and are thin in texture, ½ cup is enough to get the desired consistency.
Add a tablespoon of chia seeds if you want to as an optional ingredient and stir the mixture well.
Cover the lid and place the jar or bowl with a lid on in the refrigerator.
The soaking time can range from one hour to any time you like to consume.
The minimum time to soak is 1 hour, and if you like to have it for breakfast, prepare the mix and soak it overnight.
If the soaked oats are too thick, add a little liquid of your choice until you get your desired consistency and stir the mixture.
If you are unhappy with the packets' flavors, top them with additional toppings.
Add sliced fruits of your choice, nuts, berries, jam, peanut butter, or any topping of your choice, and serve.
Duration
Since we are using an instant oatmeal packet to soak the instant oats, the duration to soak should at least be 1 hour to let the liquid absorb the oats well and make it nutritious.
You can also store it in the fridge for the entire night and have it with your favorite toppings the next day for breakfast.
Storage
For fresh and better taste, consume within three days and do not store longer in the fridge.
Make sure to seal the jars tightly, store the mix in the fridge, and try to consume in a day or two for a perfect taste.
Tips
These taste great with additional toppings such as fruits and nuts.
Buy the packet of your preferred flavor to the desired taste and save time in preparing the toppings.
One packet is enough to yield one person for one serving. Multiply the packets and prepare them in separate jars as the number increases.
If preparing the overnight oats for 2, soak the oats in two separate jars and use two packets.
You can also use quick oats in place of instant oatmeal packets.
If using quick oats, add sweeteners and toppings before you serve.
Do not add sugar, as the oatmeal packets already have sugar.
You can buy packets with gluten-free options if you prefer to make gluten-free oatmeal.
Variations
While soaking, add chia seeds or skip them and replace chia seeds with protein powder or chocolate powder, etc.
Replace milk with other liquids such as almond, coconut, or non-dairy milk to get a creamy texture.
Add any toppings of your preference if you like, but they are optional.
Scaling
Use one single packet for one person and double the packets if serving two or triple the packs for three people.
Make them in separate air-tight containers or air-tight bowls or jars to soak the oats so that it is easy to serve when making for the entire family.
Recipe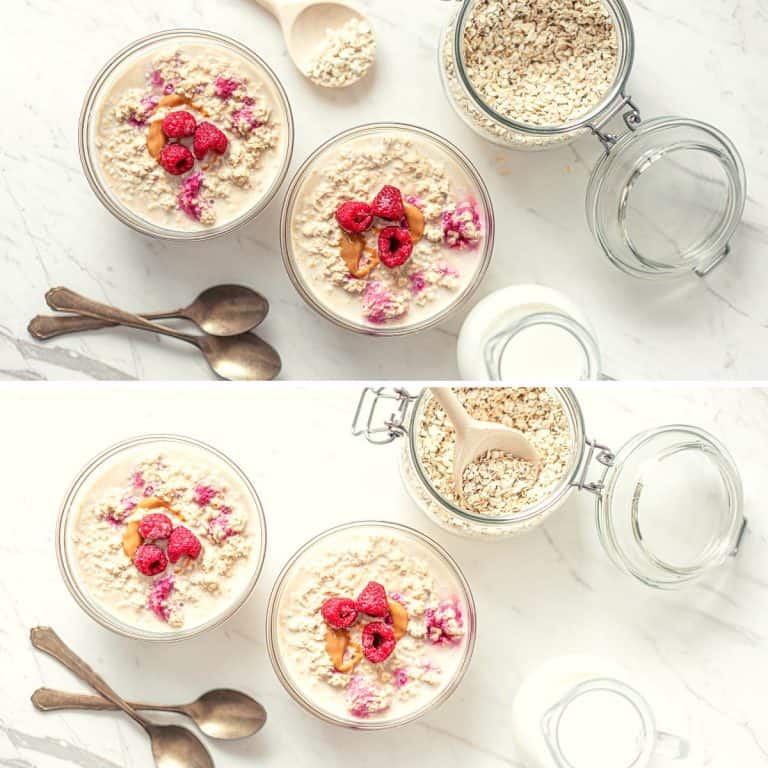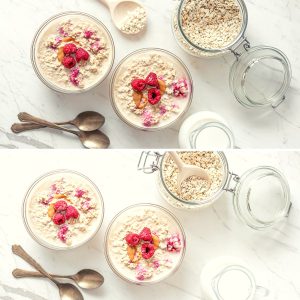 Overnight oats with instant oatmeal (using packets)
Making of overnight oats recipe using instant oatmeal packets.
Ingredients
1

instant oatmeal packet

(any desired flavor)

½

cup

milk

(can use water or non-dairy milk, but milk gives an excellent creamy taste)

1

tablespoon

mixed fruits toppings

(optional)

1

tablespoon

mixed nuts

(optional)
Instructions
Add the instant oatmeal packet to the mason jar or bowl.

Add chia seeds or skip them if you do not prefer them.

Give a mix.

Add half a cup of milk to the contents.

Stir the contents well.

Cover the lid of the jar or bowl tightly.

Place it in the refrigerator and soak them for at least one hour before serving.

For breakfast, prepare and make ahead and soak it overnight if you prefer to have it as breakfast.

Add fruit and nut toppings before serving, or have it directly.
Notes
The calories here are calculated based on milk preferences. If using whole milk, calories are as given above, and if using low-fat milk or other milk, the calories may reduce a lot.
If not adding fruits and nuts, the calories are under 250; if adding additional toppings, the calories increase and can be under 350 based on how many toppings we add.
Substitute milk or replace it with yogurt to have a creamy consistency.
Nutrition
Nutrition Facts
Overnight oats with instant oatmeal (using packets)
Amount Per Serving (1 bowl)
Calories 224
Calories from Fat 54
% Daily Value*
Fat 6g9%
Cholesterol 15mg5%
Sodium 48mg2%
Potassium 327mg9%
Carbohydrates 33g11%
Protein 11g22%
Vitamin A 198IU4%
Calcium 171mg17%
Iron 2mg11%
* Percent Daily Values are based on a 2000 calorie diet.
Faq's
Can I use quick oats in place of instant oatmeal packets?
Yes, you can use it to soak quick oats in place of the oatmeal packets. Add additional toppings and flavors after soaking the oats, as the quick oats taste plain.
Can I use cold water in the instant oatmeal to make overnight oats?
Yes, you can use cold water or cold milk or yogurt to soak the instant oatmeal packets.
Does this work for a weight loss diet?
Yes, these are whole grain oats and keep you full until the next meal; including for healthy diets is the best choice.
Recommended