Oats smoothie for weight loss or oatmeal smoothie is a healthy weight loss drink and a breakfast smoothie suitable for any time of the day and is quite a filling recipe with some healthy ingredients added to the blended smoothie.
Different variations other than the smoothie can be tried with oats, such as stovetop instant oatmeal, healthy overnight oats recipe for weight loss, etc...
Also, other weight loss-related recipes or DIYs to check out are apple cider vinegar and honey with cinnamon, breakfast smoothie for weight loss, and pineapple weight loss smoothie.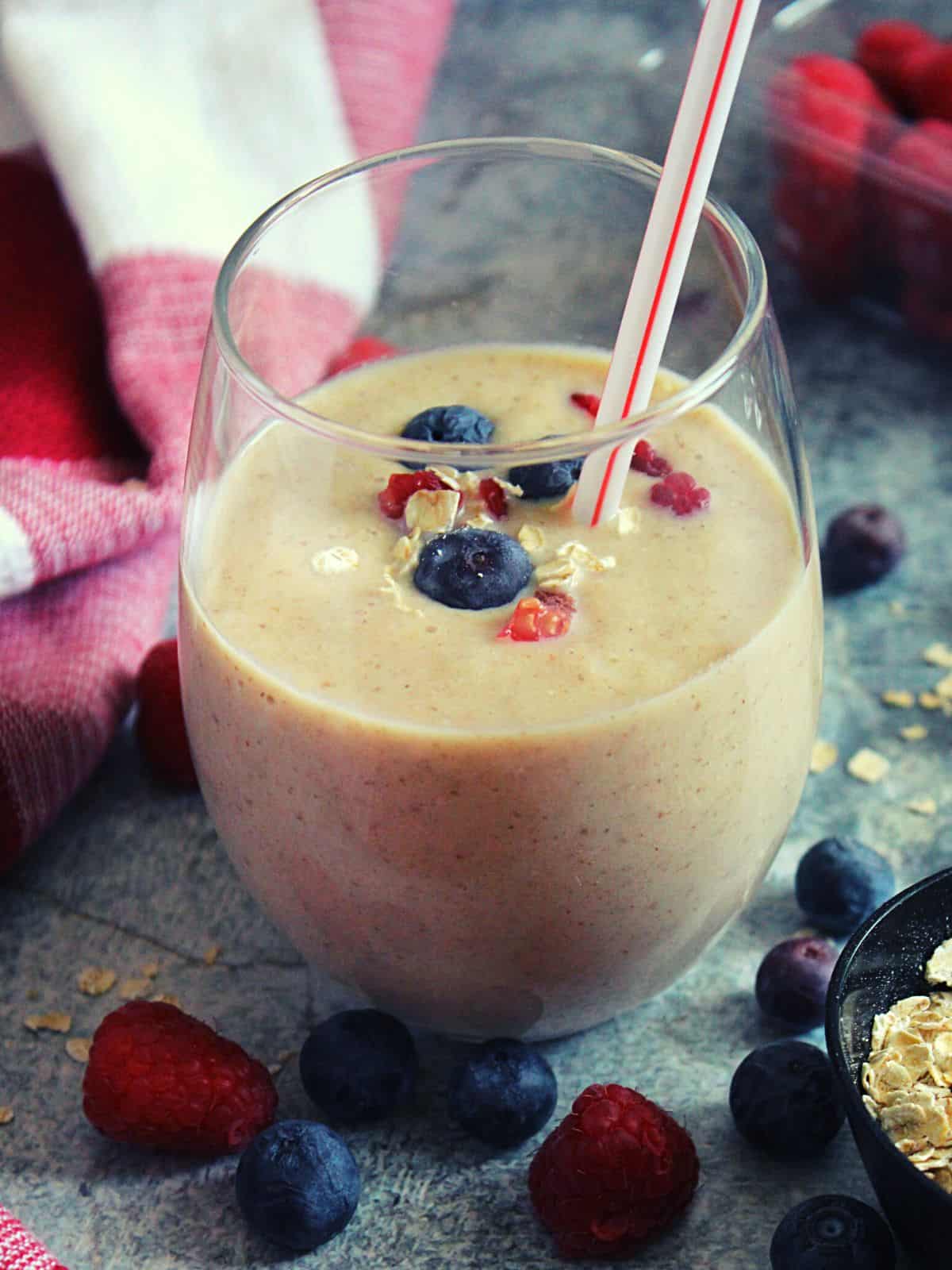 Jump to:
About the recipe
This smoothie recipe uses instant oats to add some fruits and blend them into a fine smoothie using low-fat milk.
This can be a quick oats breakfast smoothie to lose weight or a perfect recipe for those looking forward to losing weight.
I made the drink using apple oats and added another healthy ingredient, dates.
As we all know, dates are incredibly beneficial foods and give an excellent taste when added to drinks and also add some sweetness.
Combining oats with milk and some fruits makes it a delicious breakfast.
Below are the ingredients used to make the perfect morning oats smoothie. Also, check out the difference in oats in brief.
Suggestions
Check out other international recipes on the blog which are quick to make, such as iced vanilla latte, scrambled egg whites, homemade ice cream in condensed milk, iced caramel macchiato starbucks style , Starbucks chai tea latte, etc...
What is the difference between instant oats and rolled oats?
Instant oats are too flat, thin, and often processed. They cook quickly and take just a few minutes.
It can be microwaved or cooked quickly in a minute for a quick oats meal, or using them to make various smoothies is highly recommended.
On the other hand, rolled oats are thick, take around 5-6 minutes to cook, and are less processed than instant oats.
Instant oats are used to make quick recipes, and if one is in a hurry, these oats are a great option, whereas rolled oats work great when they are soaked overnight or used when one has plenty of time to cook.
They take a little longer to cook, about five minutes to six. Rolled oats are perfect for making overnight oats recipes which can make some finest healthy oats recipes in minutes.
Both oats are healthy and give good flavors, but their shape and size, cooking time, and usage are the only difference.
Any oats are fiber-rich, and one should try to include these cereals regularly in their diet.
Other weight loss or detox water recipes to check out on the blog are salt water flush recipe, turmeric coffee, detox smoothie, smoothies to lose belly fat fast recipes, etc...
Ingredients
Instant oats: I am using instant oats for this particular recipe as this is a perfect choice, as the smoothie can be blended finely using these oats without taking much time.
These are thinner oats readily available in markets and stores for simple and quick breakfast recipes to blend, cook, or microwave.
Low-fat milk: Since I am making this recipe mainly as breakfast and for a weight loss diet, I am using low-fat milk.
If trying to make it without keeping weight loss in mind, then one can use whole milk.
Adding healthy ingredients to oats recipes is always good as they benefit in the long run.
One can add almond milk for more healthy options, which works amazingly well for weight loss issues.
Apples: I am making an apple oats smoothie here by peeling the apples and chopping them into small pieces.
One can also use other fruits such as bananas, strawberries, berries, and many more fruits and make a banana oat smoothie or different smoothies of one's choice using the same recipe.
Dates: I am using slightly sweeter dates and adding them by deseeding. Oats taste sweet and delicious with dates.
Always use fresh dates, not dry dates, to blend the smoothie easily.
I am not using any sweetener in the recipe, as dates give the required sweetness without adding unhealthy sugar.
If a more sweet flavor is required, add honey, which is also a healthy ingredient and good for losing weight.
Cinnamon: This spice gives a strong flavor, and add it only if one aims to lose weight; this ingredient can be skipped while making these oats smoothies for breakfast.
Cinnamon aids in losing weight but has a powerful smell and flavor. Adding just a pinch to the smoothie is more than enough; if one loves the taste, add more.
Benefits of Oats
Having a cup of any variety of oats have many health advantages.
They are good at reducing cholesterol levels in humans. Oats contain less cholesterol and almost as well as fewer calories and are a great diet option for those wanting to shed some extra weight.
They are rich in fiber, loaded with vitamins and minerals, and are perfect for replacing an unhealthy meal with oatmeal.
Oatmeal is good in reducing blood sugar levels and the risk of heart disease because it has low and zero cholesterol.
Oats keep us fit, healthy, and light throughout the day and also help in boosting immunity.
This is a go-to diet for those aiming to lose weight without thinking twice.
Use to make many different oats recipes and have a healthy lifestyle.
Step-by-step procedure
Add about a cup of low-fat milk to the blending jar.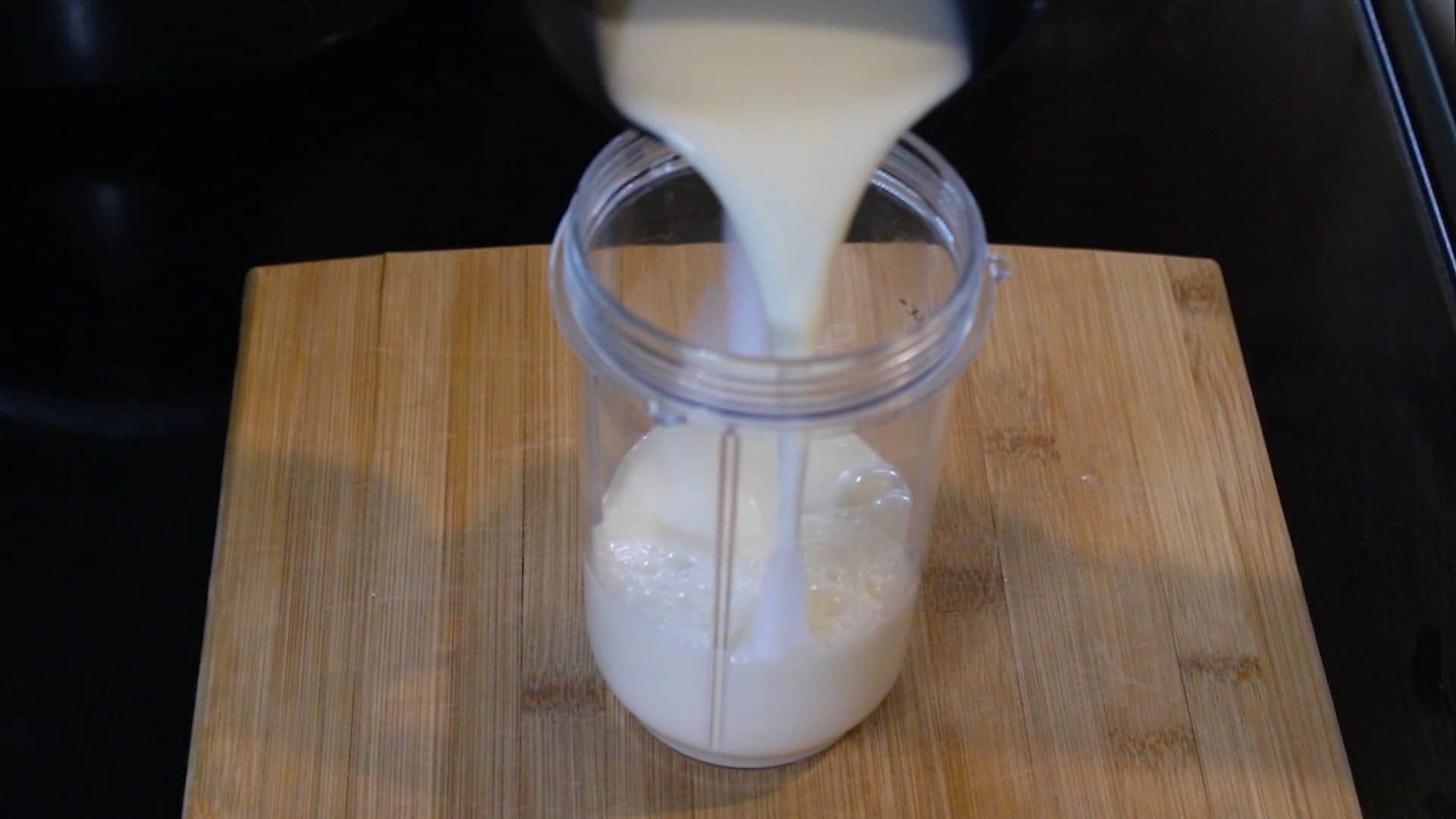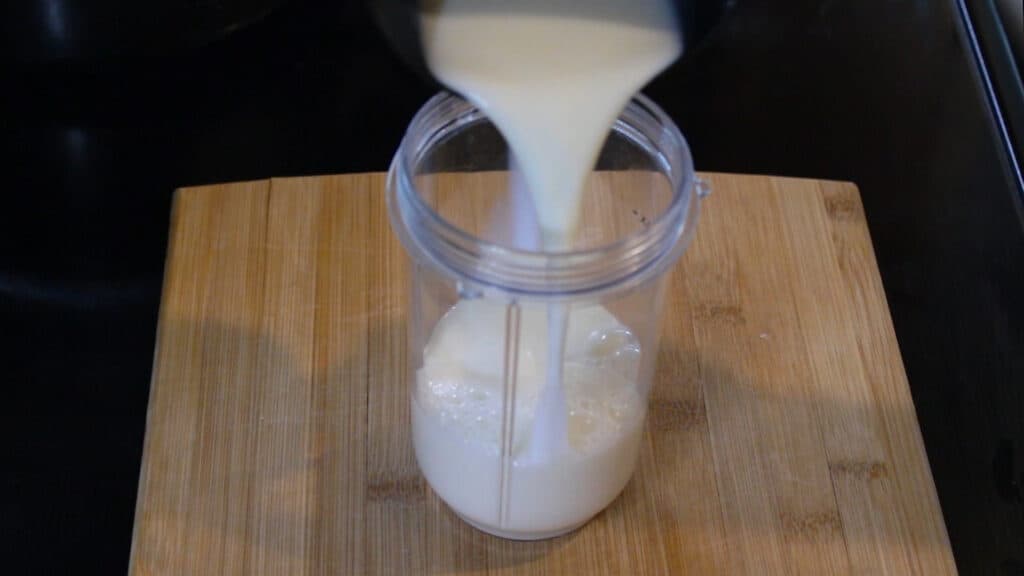 Add the peeled and chopped apples to the milk.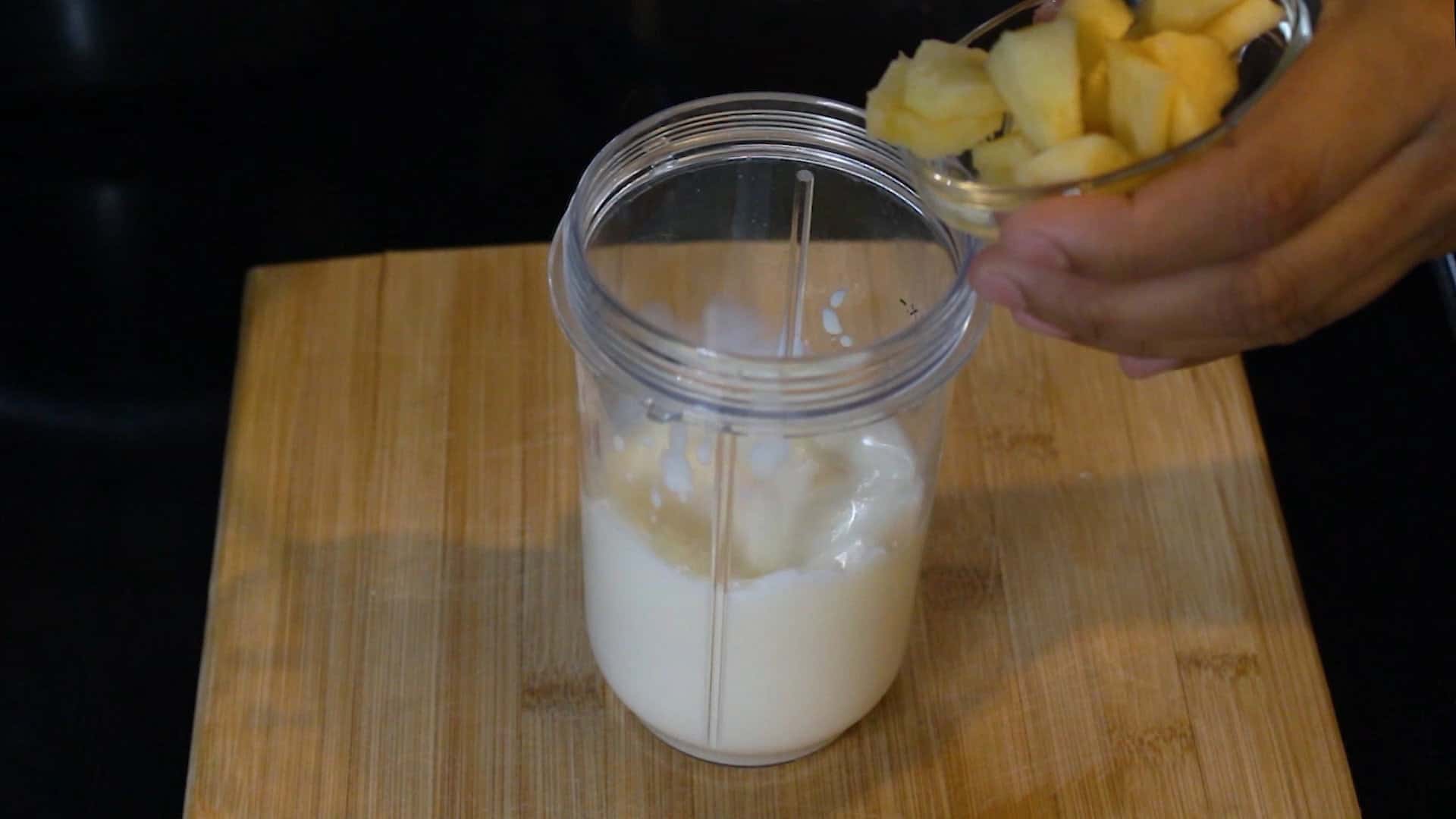 Add 3-4 deseeded dates or add more for more sweetness.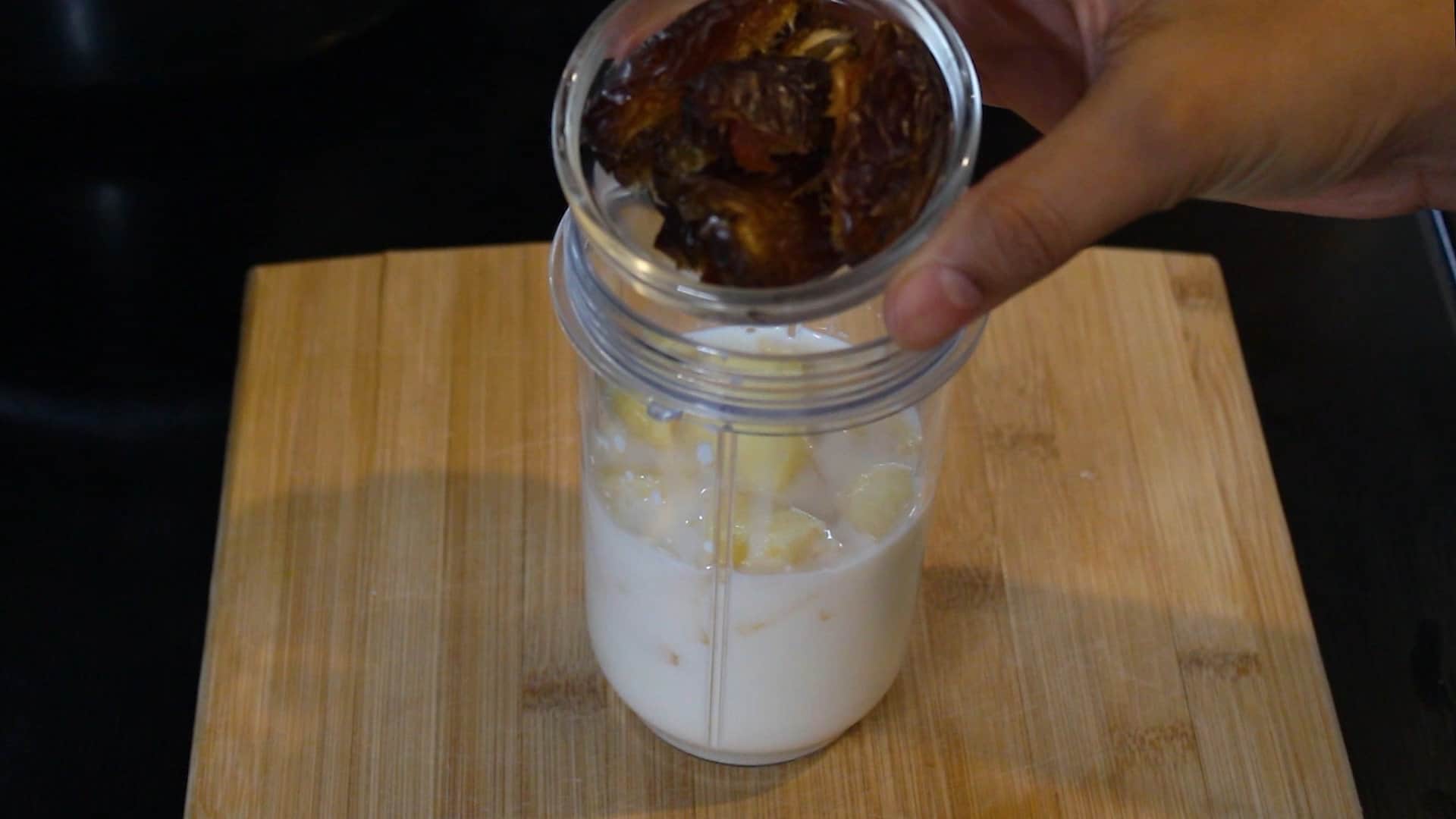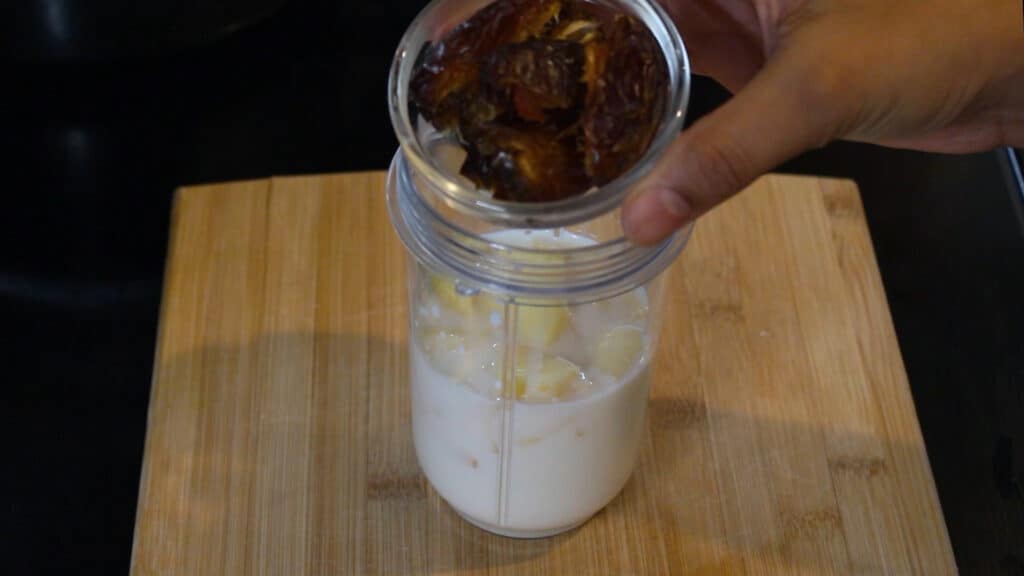 Add about 3 tablespoons of instant oats. Do not use rolled oats; if using, soak them overnight and add them to the blending jar.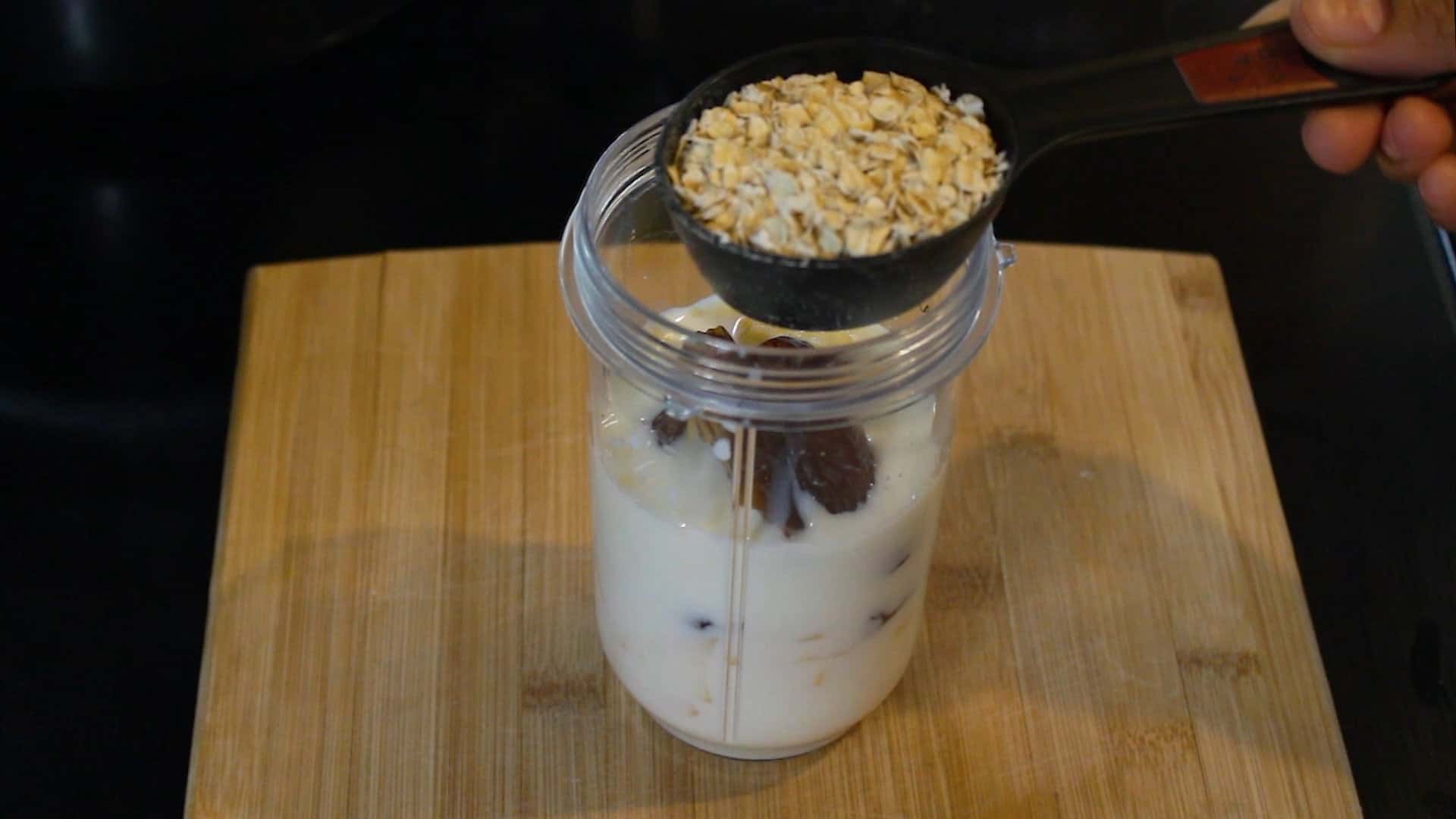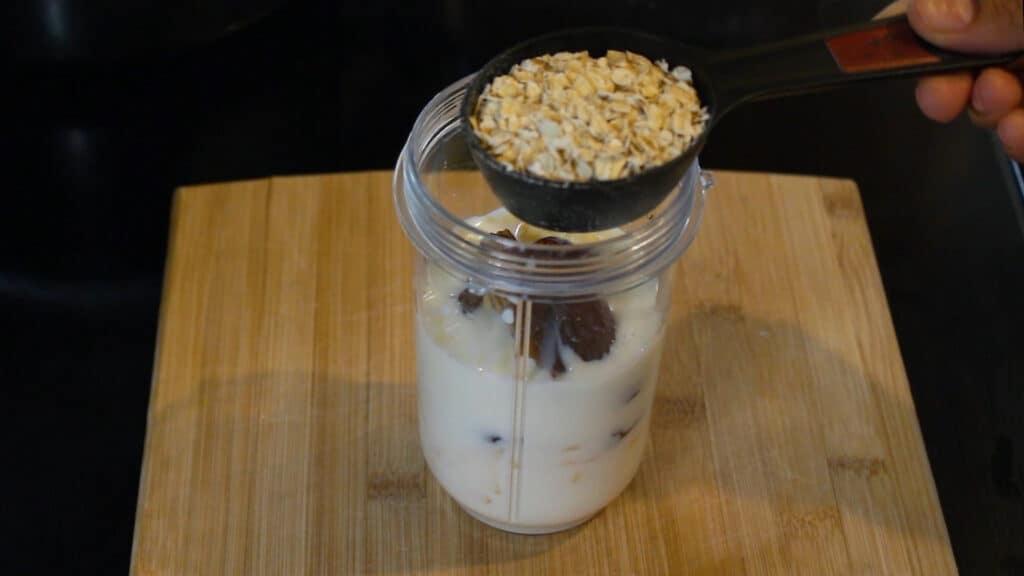 Add a pinch of cinnamon to the ingredients.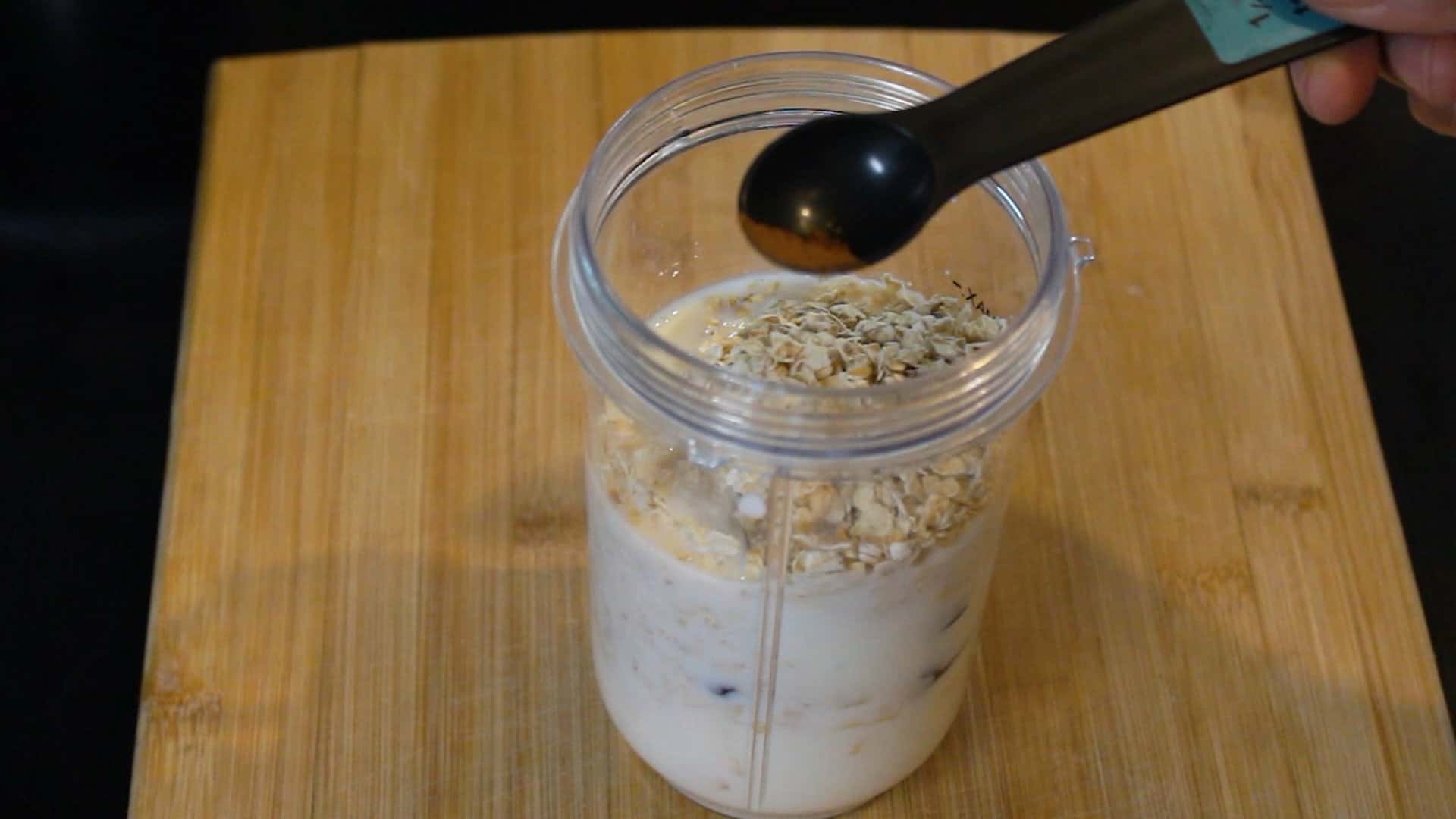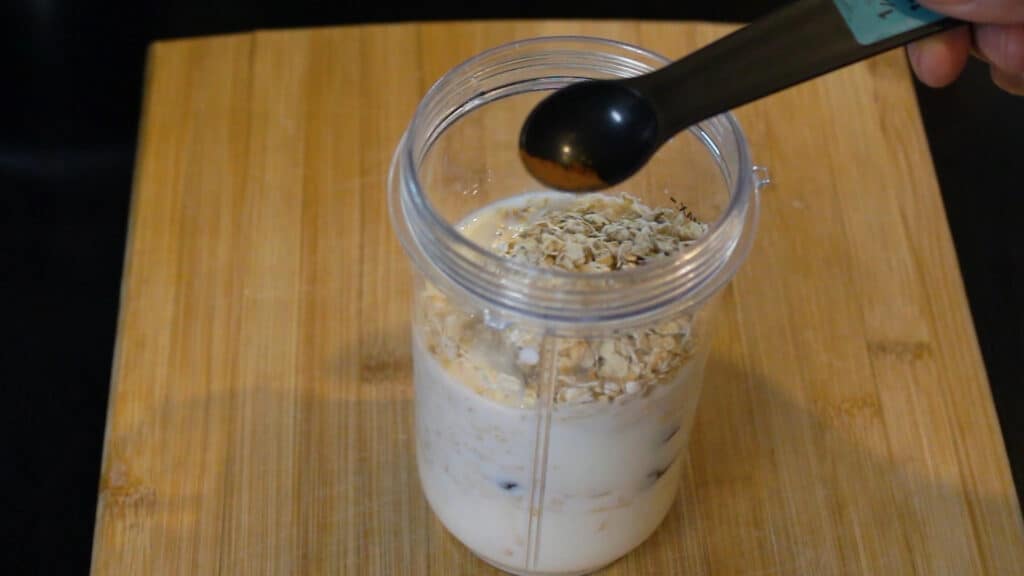 Close the lid of the jar.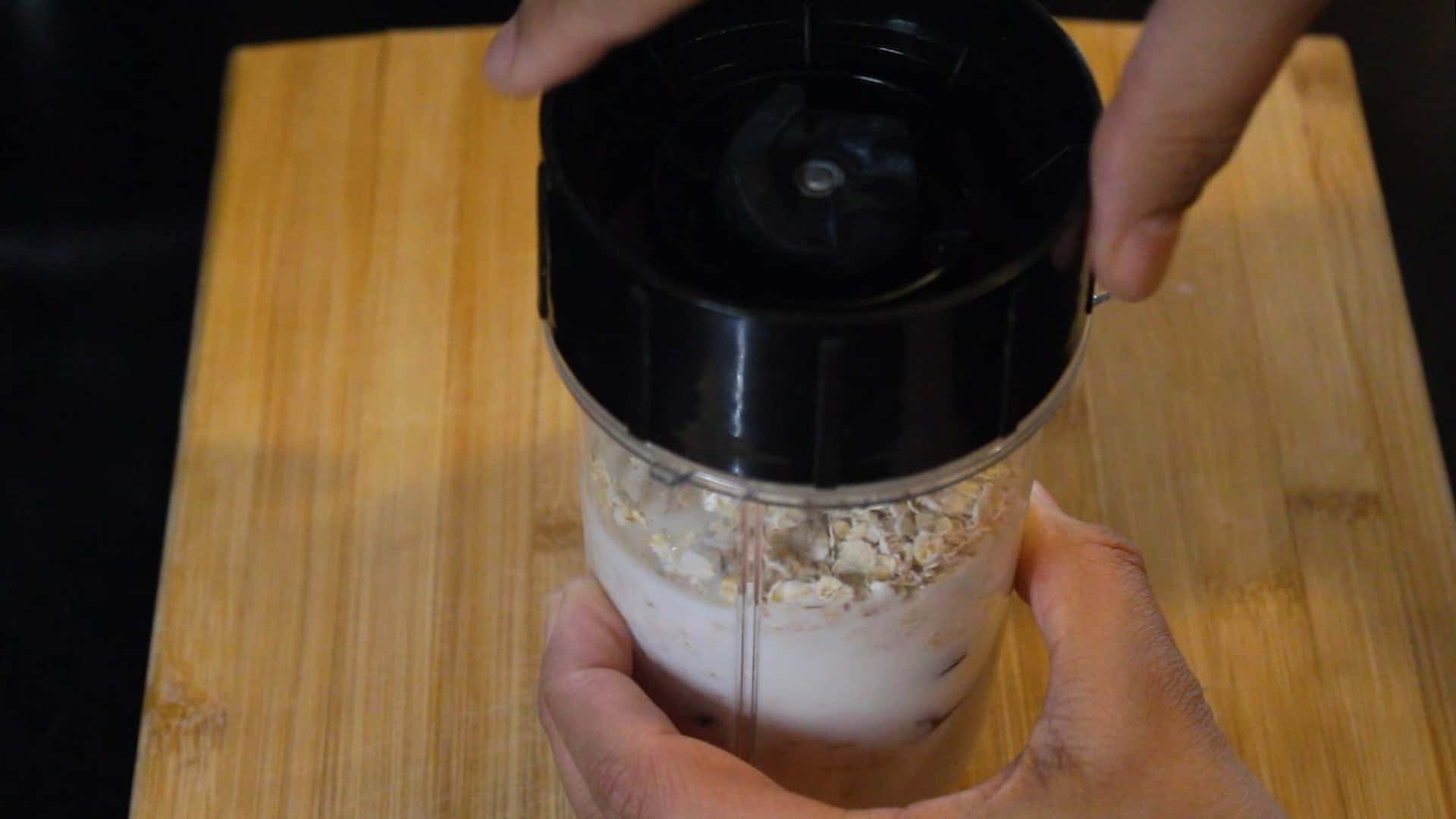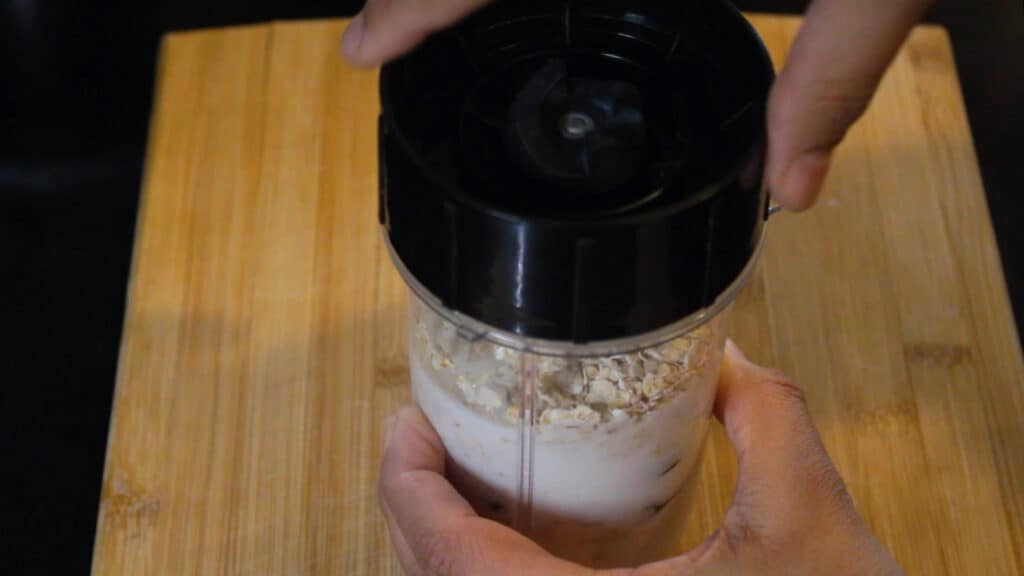 Blend it into a fine good smoothie.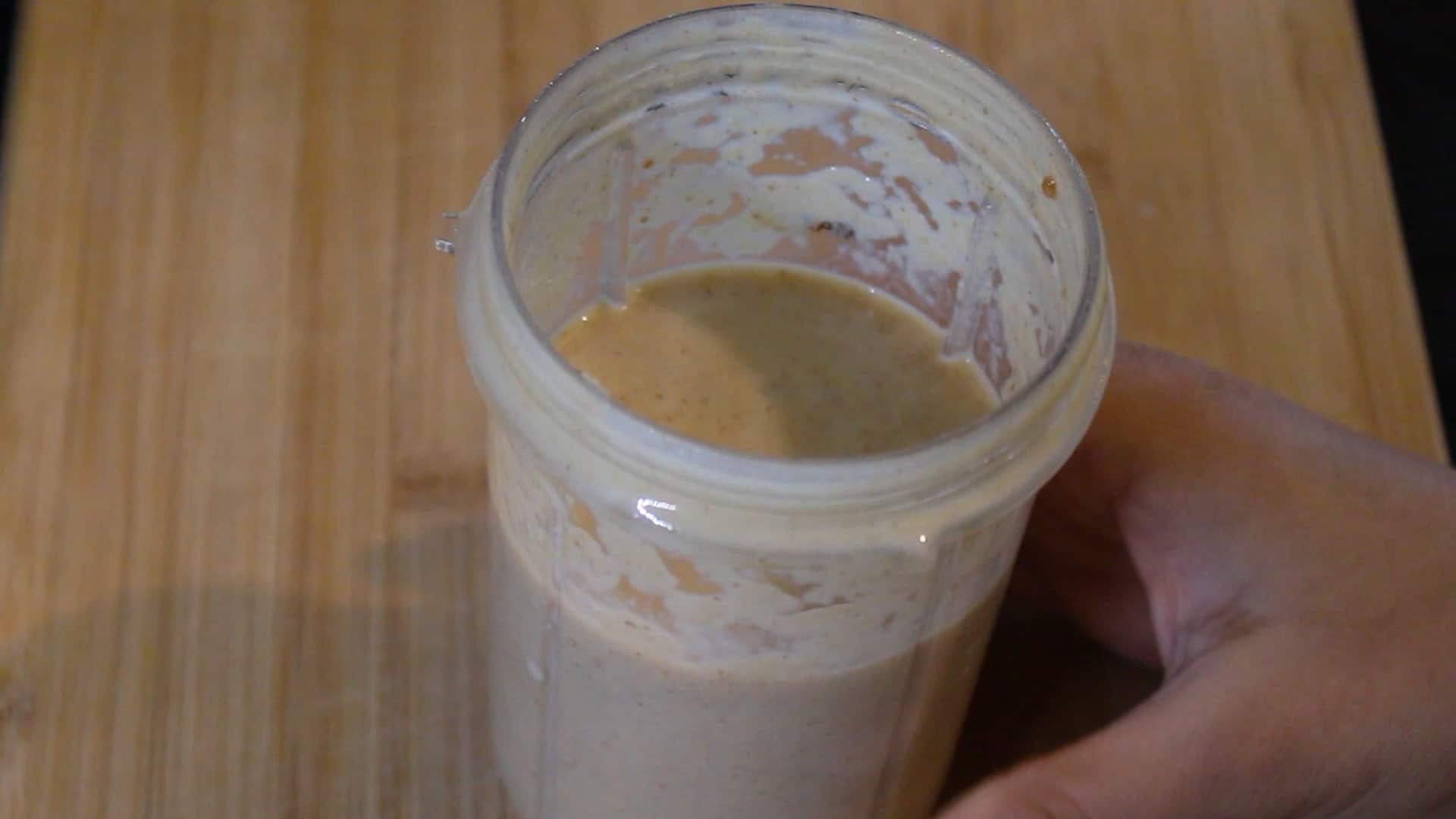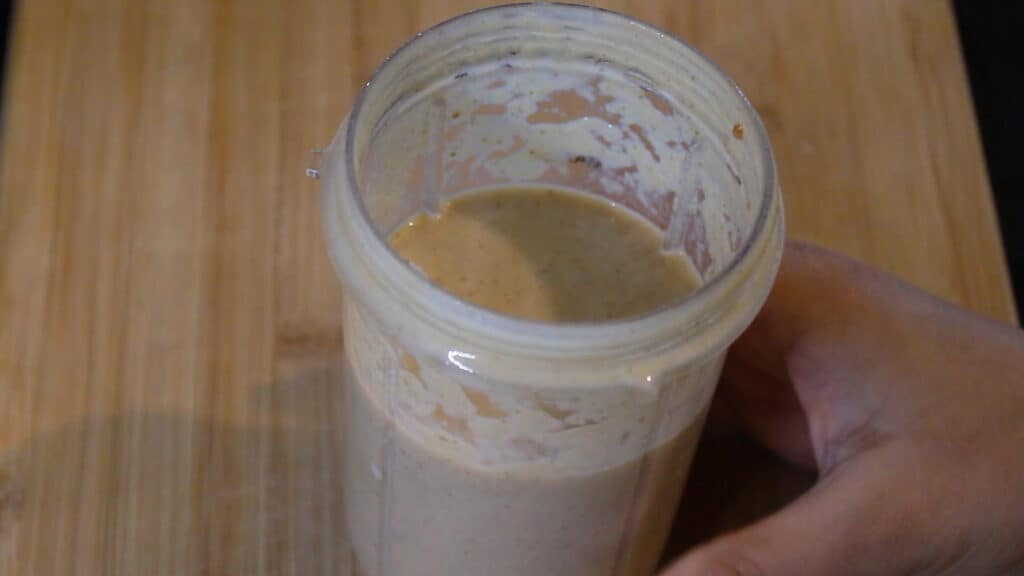 Pour the oats smoothie into the jar.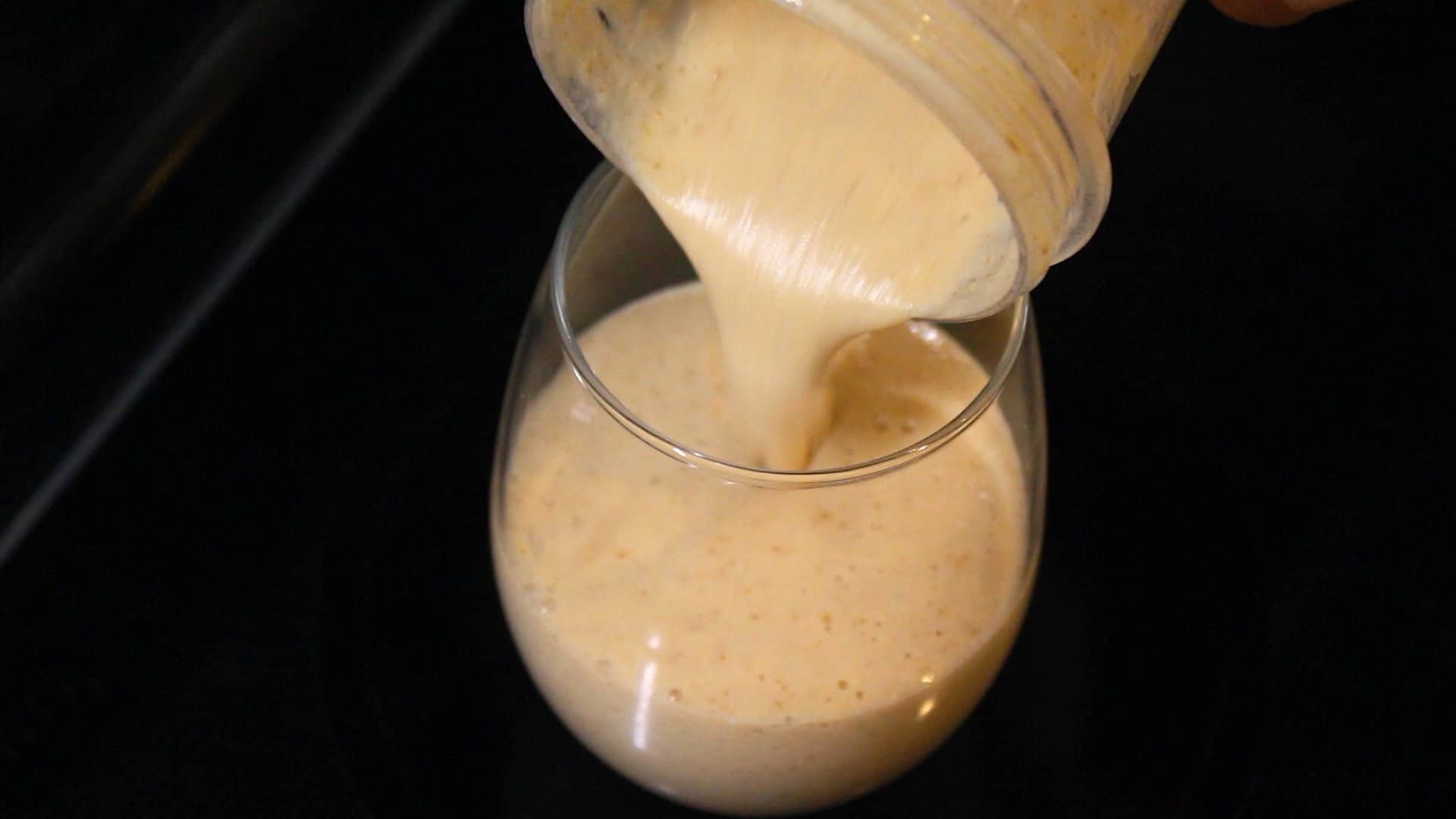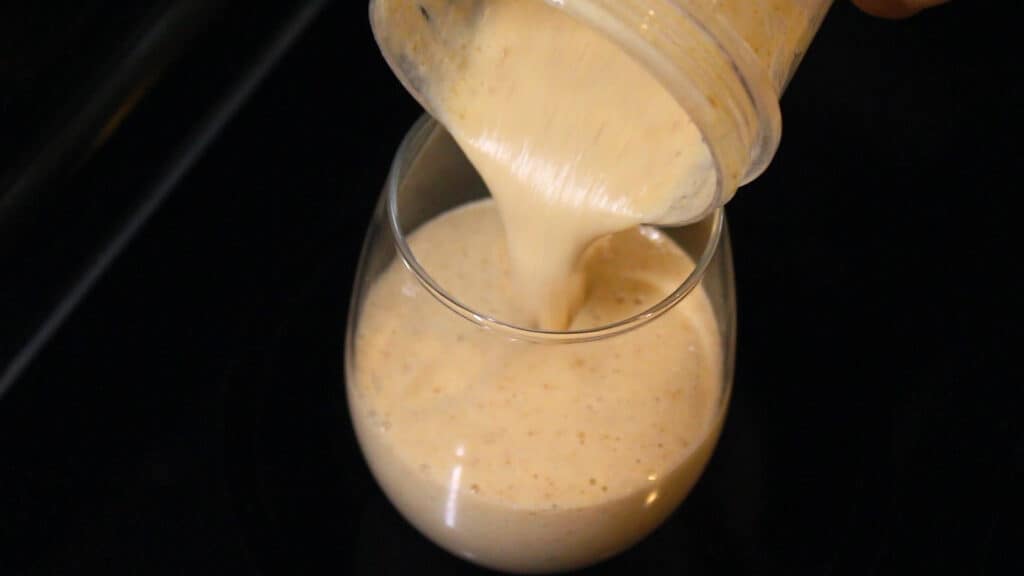 Garnish with sliced dry fruits or berries or any chopped fruits. Serve.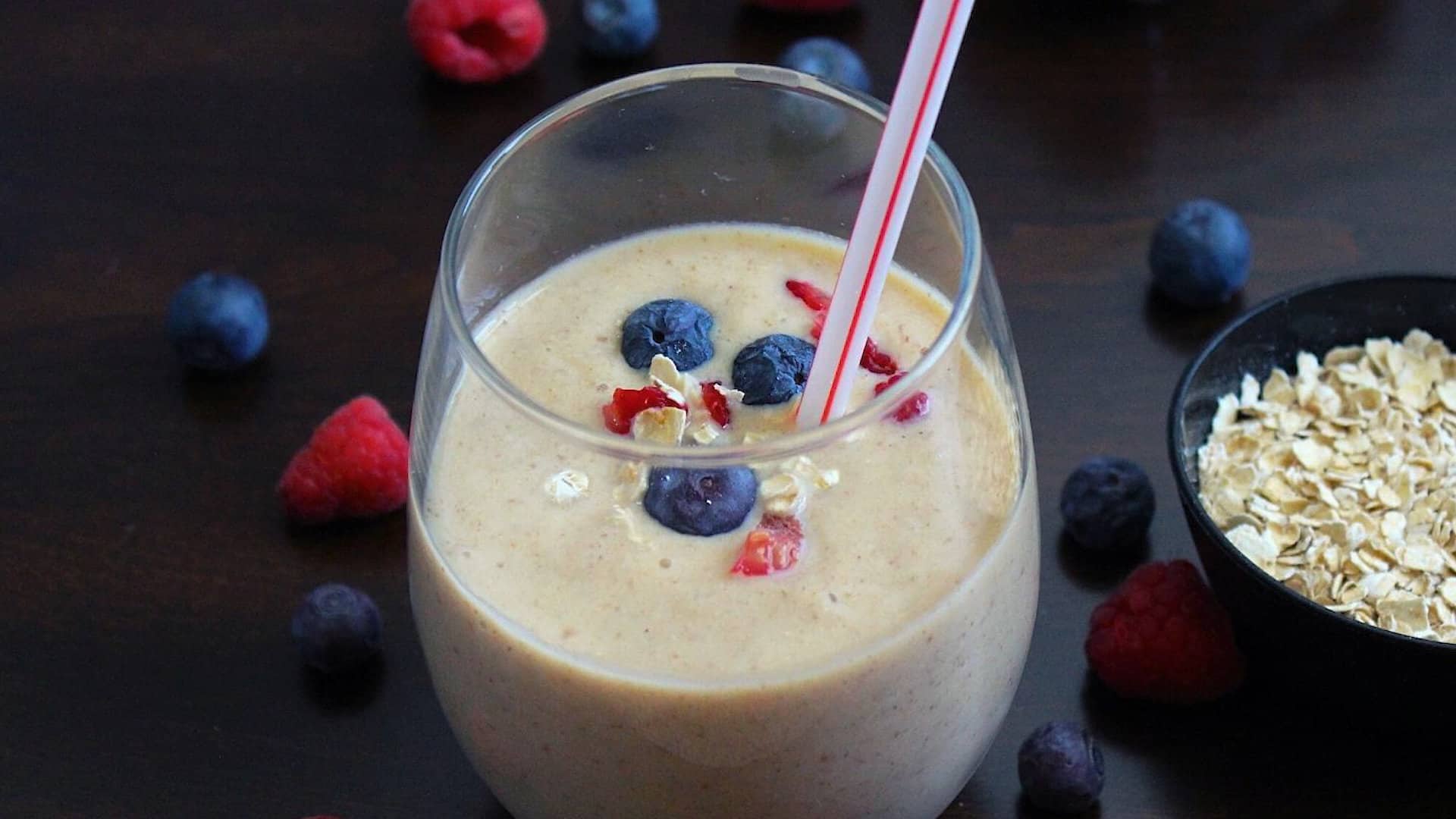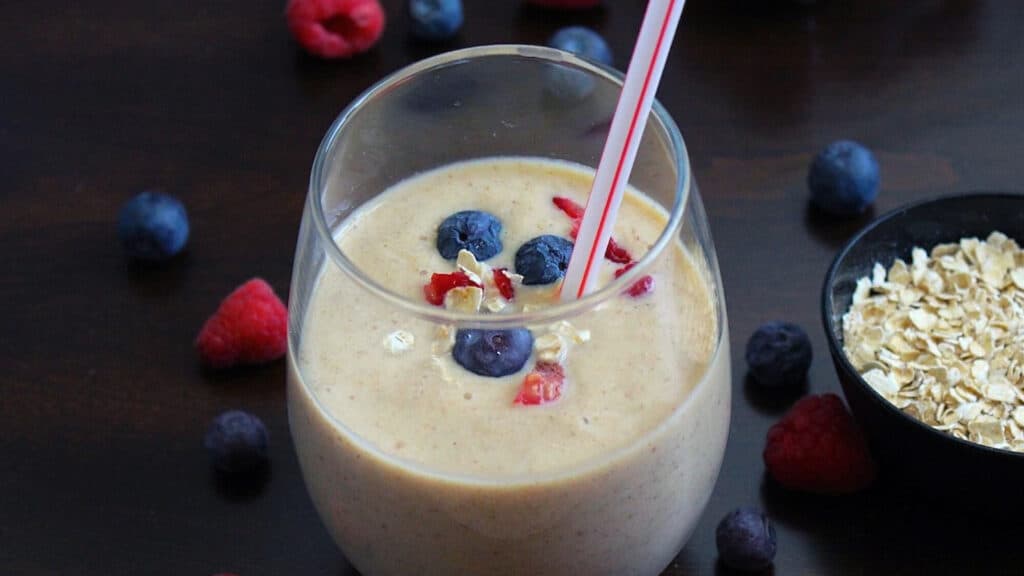 Variations
I have added apples to this oatmeal smoothie for weight loss, but one can make it more fibrous and nutritious by adding a banana or half a banana to the drink while blending.
Oats pair up well and taste delicious with different fruits such as bananas, or even adding strawberries is also a great replacement. Also, adding mango too can be a suitable replacement.
If you like to make it healthier, replace low-fat milk with almond milk, which has healthy calories and protein and can keep you away from hunger pangs for a few hours.
Add any fruit of your choice to the drink; make it healthy but always sugar-free (fruits already have natural sugars), and add low-calorie liquids such as coconut milk, almond milk, or low-fat milk.
Do not add more than one fruit, as oats already contain good calories, and the calorie value may increase if more fruits are added.
Add only single fruit that is banana, apple, strawberry, or your preferred choice, and keep the calories low as oats are already rich in fiber, which can make you feel full and reduce appetite.
When to drink
Drink this oats smoothie for weight loss a morning breakfast, replace unhealthy snacks with this healthy and quick smoothie, or have it in place of meals regularly.
Enjoy the weight loss oatmeal smoothie drink any time but try not to add other unhealthy foods while following healthy smoothie drinks as they do not bring any results.
Achieving fat loss goals is possible only with a healthy diet and lifestyle, avoiding stress, and taking care of the dos and don'ts during the weight loss journey.
Storage
Making the drink fresh and consuming fresh is the key to keeping all nutrients intact and supplying the body with the necessary nutrients.
Milk smoothies taste best when consumed fresh. To have a cold smoothie, add ice cubes while blending or refrigerate it for an hour or two in a mason jar and sip immediately once the drink is chilled.
Do not store it for a long time; this can be made in a few minutes with minimal ingredients.
If needed to store it, refrigerate it for a few hours but try to make it fresh and consume it for the best taste.
Recipe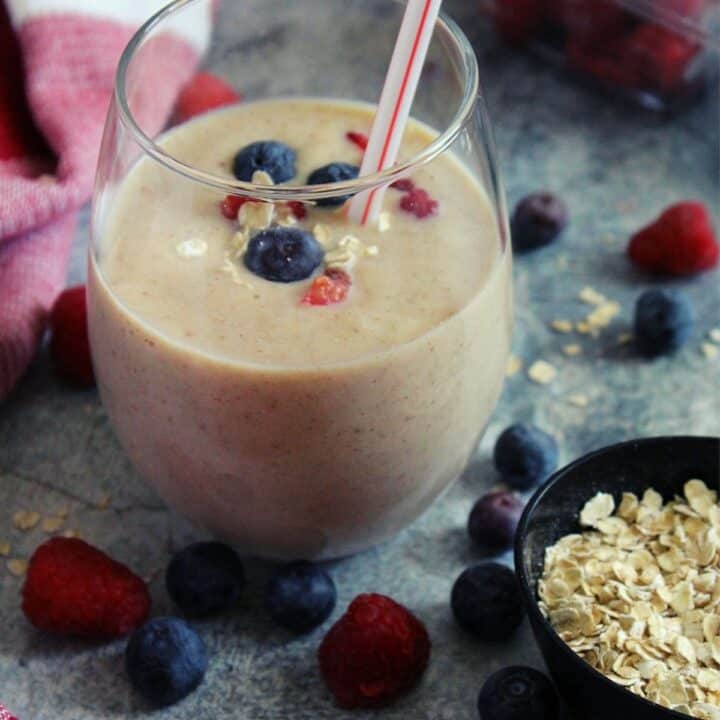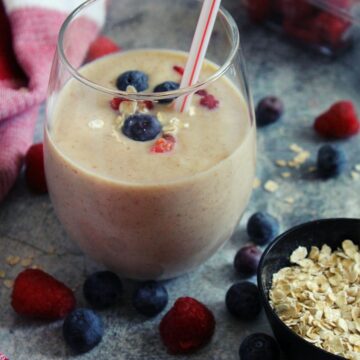 oats smoothie for weight loss (breakfast)
A quick weight loss oats smoothie with milk, oats and fruits.
Ingredients
1

cup

low fat milk

(or add almond milk)

¼

cup

peeled chopped apple

3-4

deseeded dates

3

tablespoon

instant oats

A pinch of cinnamon
Instructions
Add about a cup of low fat milk to the blending jar.

Add the peeled and chopped apples to the milk.

Add 3-4 deseeded dates or add more for more sweetness.

Add about 3 tablespoon of instant oats.

Add a pinch of cinnamon to the ingredients.

Close the lid of the jar.

Blend into a fine smoothie.

Pour the oats smoothie into the jar.

Garnish with sliced dry fruits or berries or any chopped fruits.
Notes
To make two glasses, double the quantity of the ingredients added.
Nutrition
Nutrition Facts
oats smoothie for weight loss (breakfast)
Amount Per Serving
Calories 241
Calories from Fat 36
% Daily Value*
Fat 4g6%
Cholesterol 12mg4%
Sodium 105mg5%
Potassium 590mg17%
Carbohydrates 44g15%
Protein 11g22%
Vitamin A 482IU10%
Vitamin C 2mg2%
Calcium 314mg31%
Iron 1mg6%
* Percent Daily Values are based on a 2000 calorie diet.
Faq's
Can I add raw oats to the smoothie?
Yes, raw oats taste great when combined with dairy or non-dairy milk. Cooking it with some milk or blending the oats with milk or yogurt to make a smoothie can make a healthy smoothie drink to add to weight loss diets.
Are oats good for weight loss?
Yes, oats contain fiber, can lower cholesterol, helps prevent weight gain, and has zero cholesterol. Eating oats daily can help shed those extra pounds; this is one of the best cereals to add to your recipes and start healthy dietary habits.