Starbucks Iced Vanilla Latte is a simple and easy Diy (Do it yourself) coffee at home in a less expensive manner and with homemade ingredients. It is basically a layer of brewed espresso, syrup, milk, foam and these ingredients are enough to have a refreshing iced coffee especially during Summers.
Other similar starbucks drink to check out on the blog is Starbucks iced caramel macchiato ,how to make chai tea latte and other restaurant drinks to check out are strawberry banana smoothie mc donalds style recipe.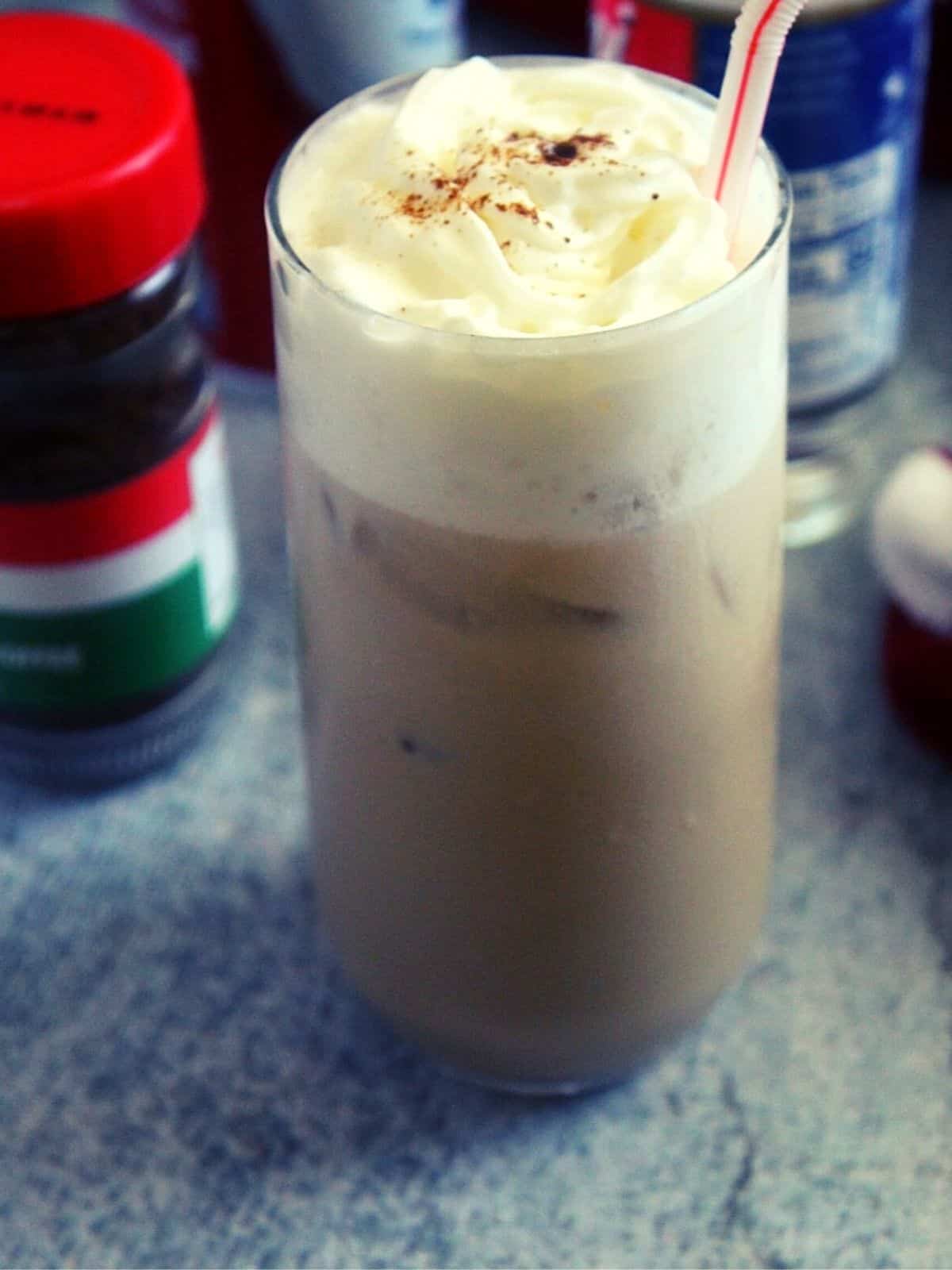 Jump to:
About Latte
This Latte is made by layering espresso shots or coffee shots at the bottom by mixing it vanilla syrup or any classic syrup.
The recipe follows by adding ice and milk and topping with foam or whipping cream. Latte mostly uses a 16 oz glass or 8 oz glass.
I tried to replicate this Latte at home so that it is easy to make. I am making it with similar ingredients at less cost.
Do check out this copycat version of how to make iced vanilla latte which is a delicious iced coffee using vanilla flavours.
I am just doing my best to recreate a version to make at home. Having it during Summers is quite relieving and cooling during Sunny Days.
How to make Brewed Espresso?
This Diy is made in many ways but one of the main ingredients that require to make it are espresso but the question is hot or cold brewed espresso.
My answer is to brew espresso using a machine. The simple trick if no machine available is to brew espresso in hot water until it turns thickly strong.
We can even brew it overnight and use it when required but this gives a strong flavour and iced vanilla latte uses a quick hot brewed espresso using a machine or by boiling it in water.
There are many espresso flavours ranging from lightly roast to dark roast espresso and opt for anyone depending on how strong is your preference for the taste of espresso.
For a coffee during morning time, then try not to go for a strongly roasted espresso. Go for a light or medium roasted Coffee.
Hot brewed espresso
Boil 1 cup of coffee by adding 1 scoop of roasted ground espresso and brew until it turns thick and strong or make it like an instant coffee and use it in the vanilla latte.
Another method is to brew it using an espresso machine which is easily available in markets ranging from low to high prices. This is the best way to brew strong coffee and use it to make all types of latte.
Cold-brewed
Cold-brew on the other hand is brewed overnight which releases strong flavours in water if kept for many hours. Just add 1 scoop of roasted and ground espresso to 1 cup of water and leave it overnight.
If you have espresso shots ready be it hot or cold, this coffee can be made in just 2 minutes with ice cubes handy. Since it is a Latte with mild coffee flavours it is better to for an instant hot brewed espresso.
Vanilla Syrup at home
Another essential ingredient is vanilla syrup since I am trying out an iced vanilla latte. The question here is how and where to get this from?
I am using a store-bought vanilla syrup but this syrup too can be made at home and is a simple Diy if you have vanilla extract at home.
Make a syrup of sugar and water and let the syrup boil well. Add a vanilla bean (optional) and vanilla extract and stir well.
If there is no option of vanilla bean then just use vanilla extract in sugar syrup and store it in a bottle which can then be used for different flavours of coffee. Check out another DIY recipe that is homemade ice cream with condensed milk using vanilla flavour.
Also, other drinks on the blog to have a look to try out are oats smoothie, strawberry juice etc...
Do not confuse with so many points as it is the easiest coffee that can be in just a few minutes.
Below are the details and steps to make coffee and I am trying to share one method of iced vanilla latte.
Enhance it depending on what flavours one prefers and how much ratio of coffee and milk used.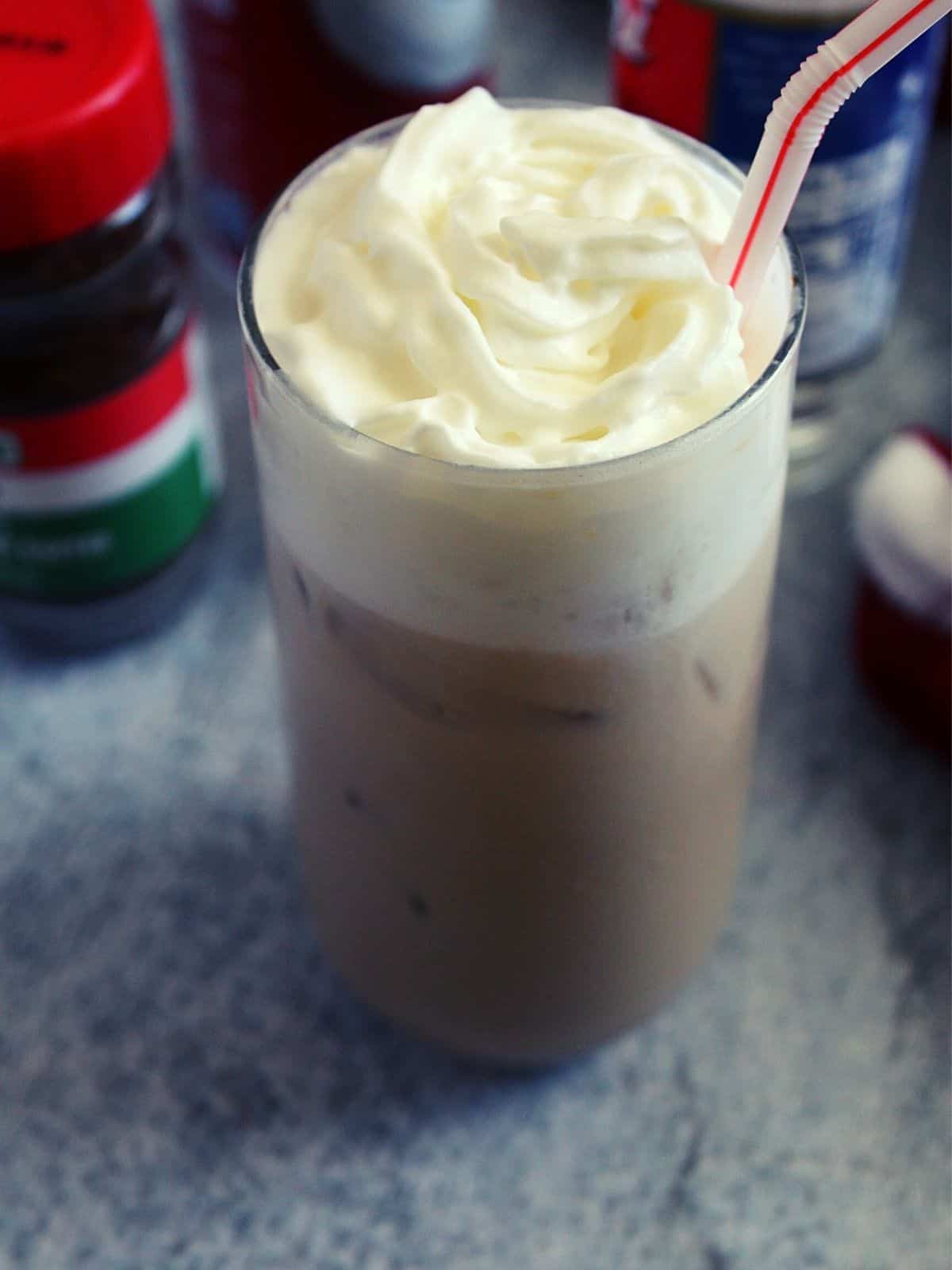 Step by step procedure
I would prefer a mild coffee flavour for a vanilla latte and I am sharing steps based on that.
It is a tried and tested recipe that turned out amazing.
Take a cup or glass of any size. Pour in brewed espresso. Brew espresso using the hot boiling water method or brew it in a machine. Cool it down by bringing it to room temperature or place the cup of coffee over ice cubes.

Use more shots for more coffee flavours.
Add in another shot for more espresso flavours and just 1 shot for mild coffee flavour.
Ground Espresso or coffee is easily available in stores.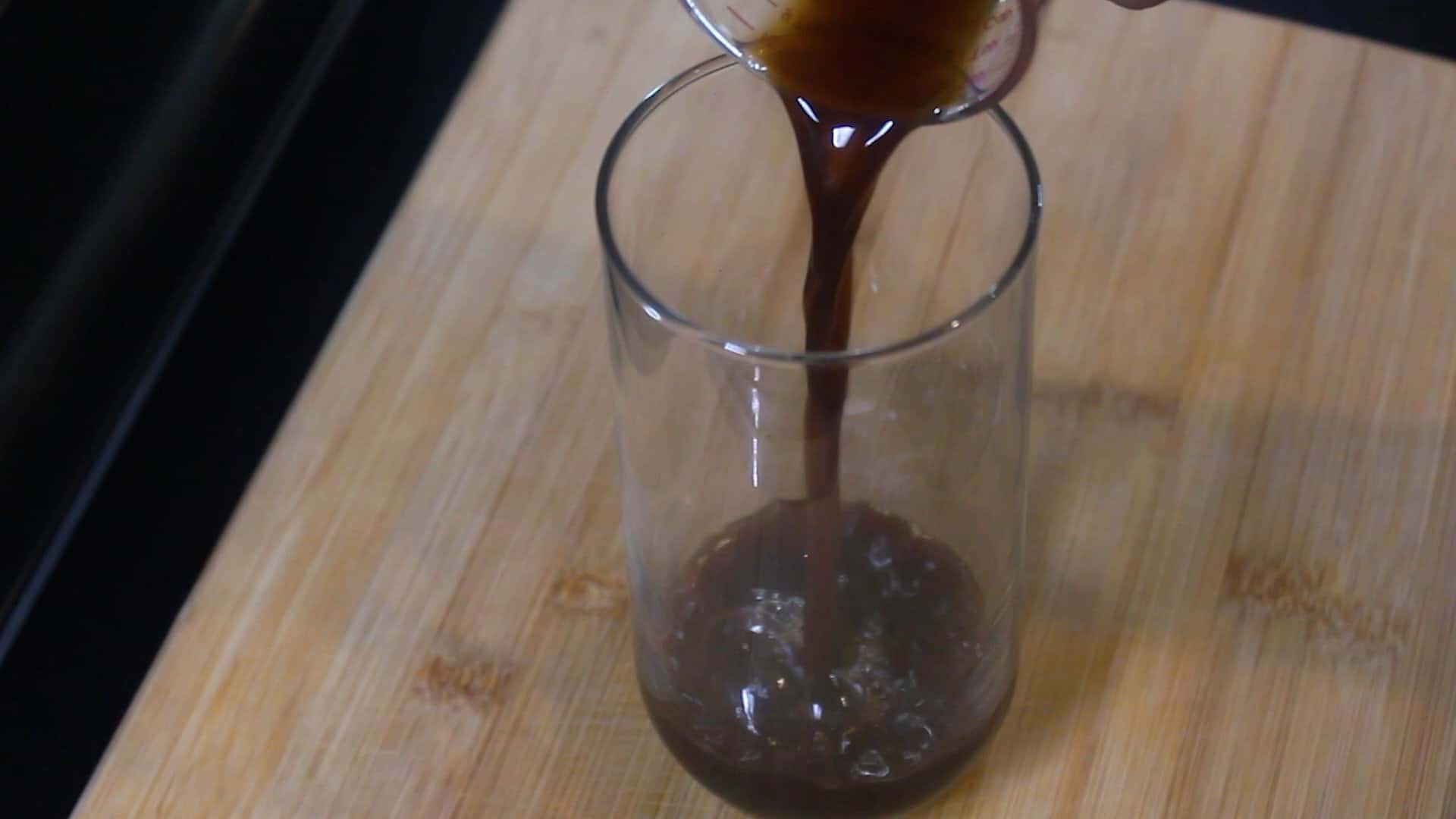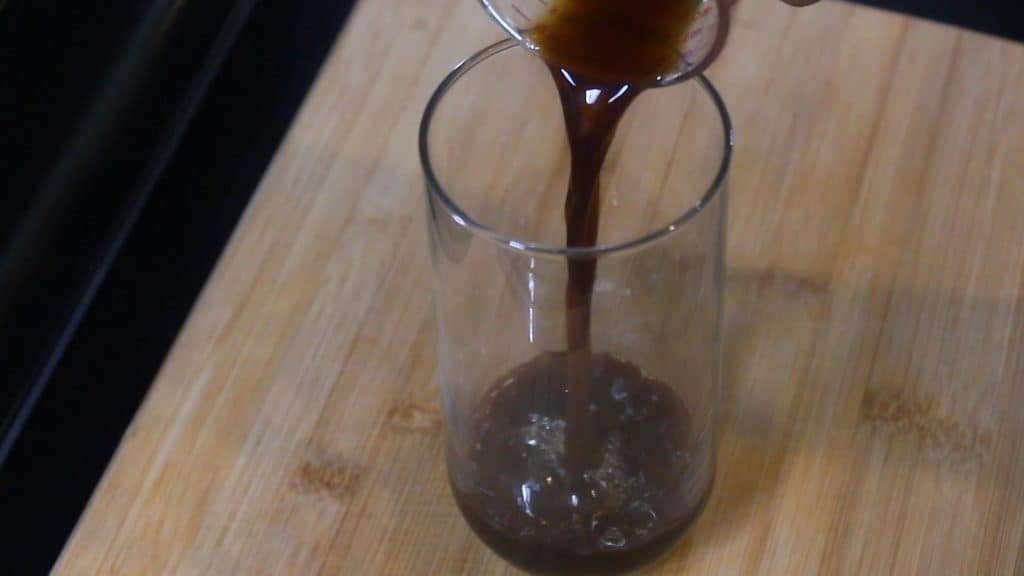 Add 2 pumps or 2 tablespoons of vanilla syrup.

If not handy then make a sugar syrup and add few drops of vanilla extract to the syrup.
Use this homemade syrup to make a latte at home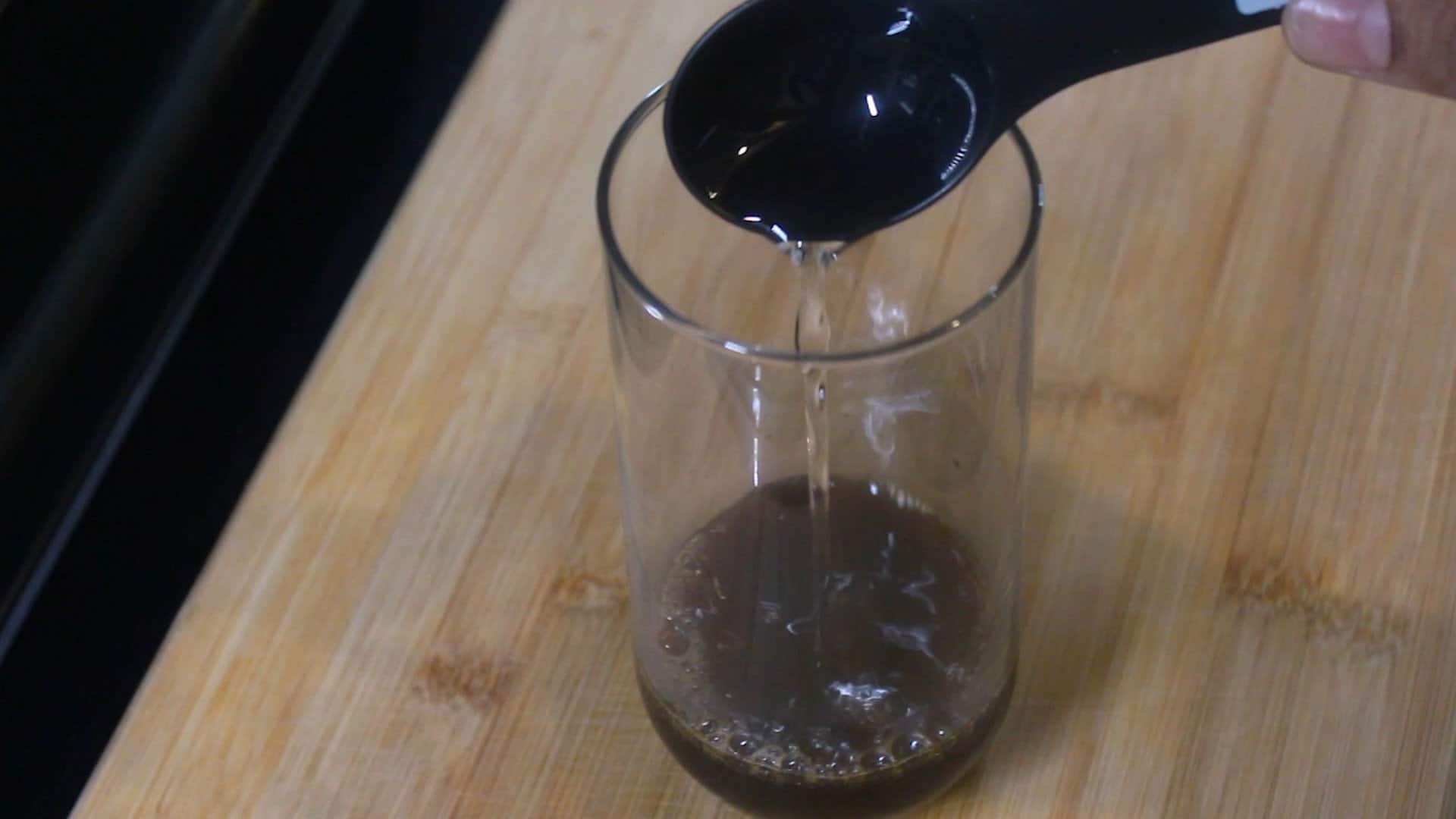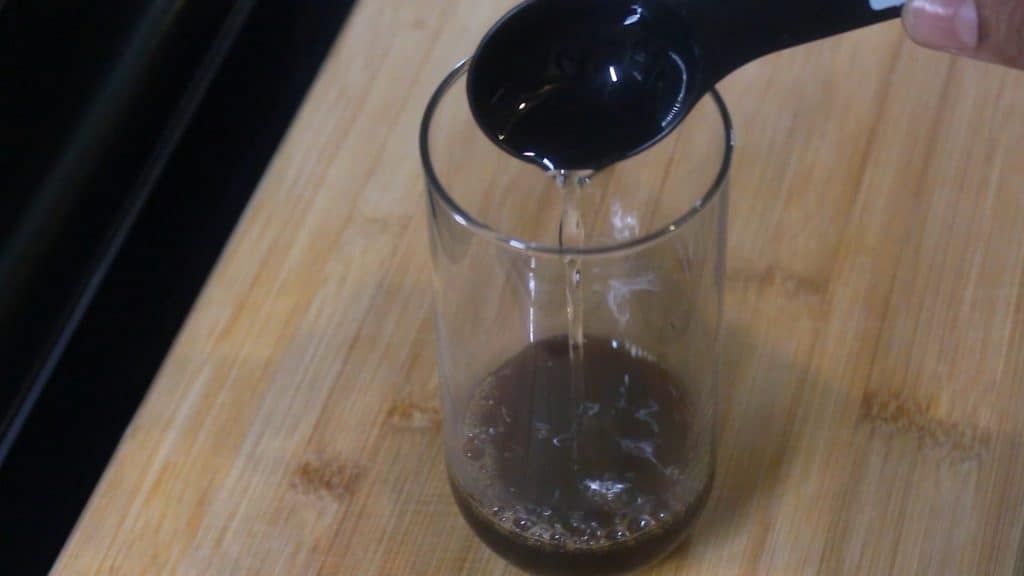 Stir everything well. Mixing gives mixed flavors or coffee and vanilla and makes it delicious while drinking.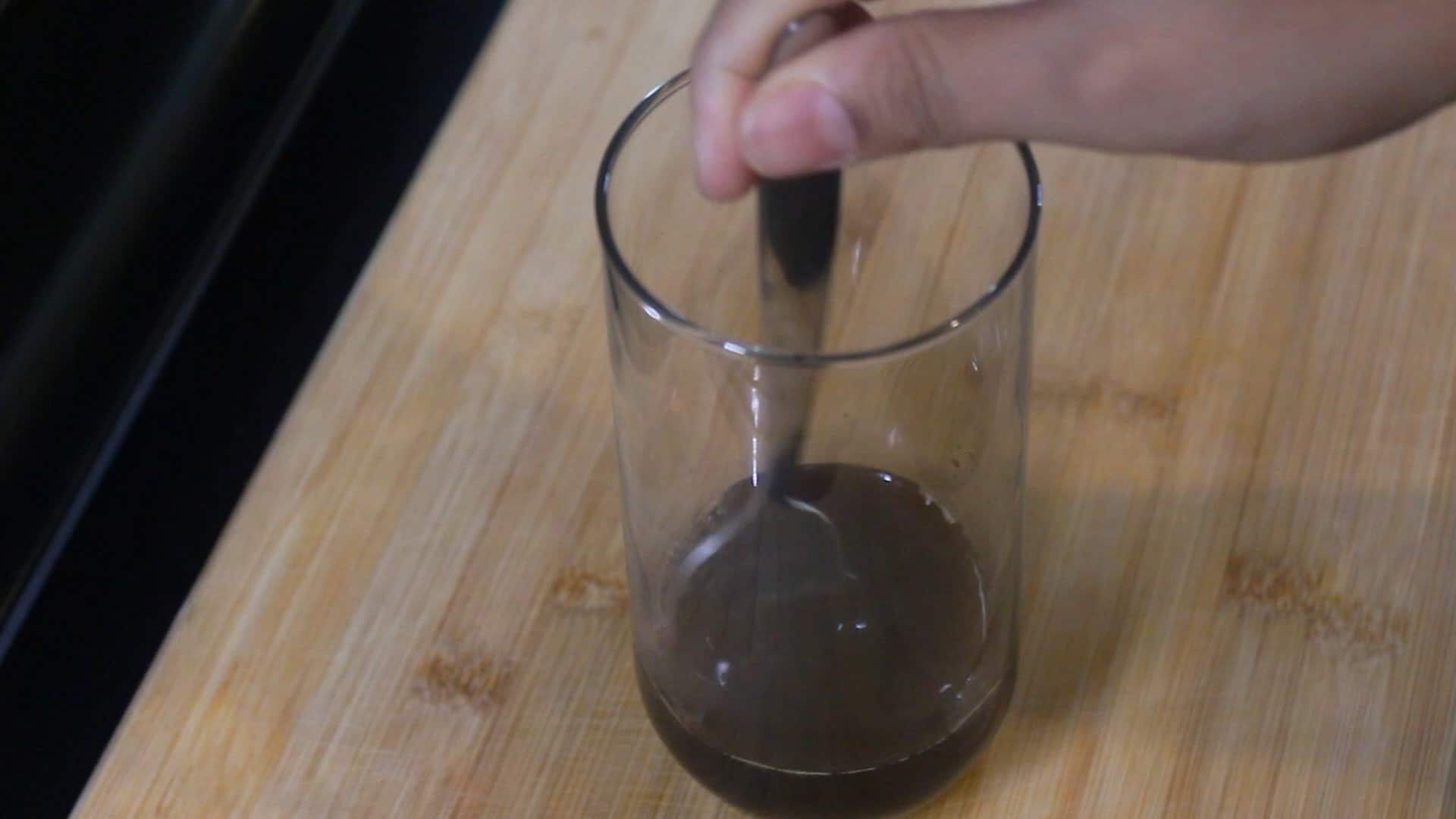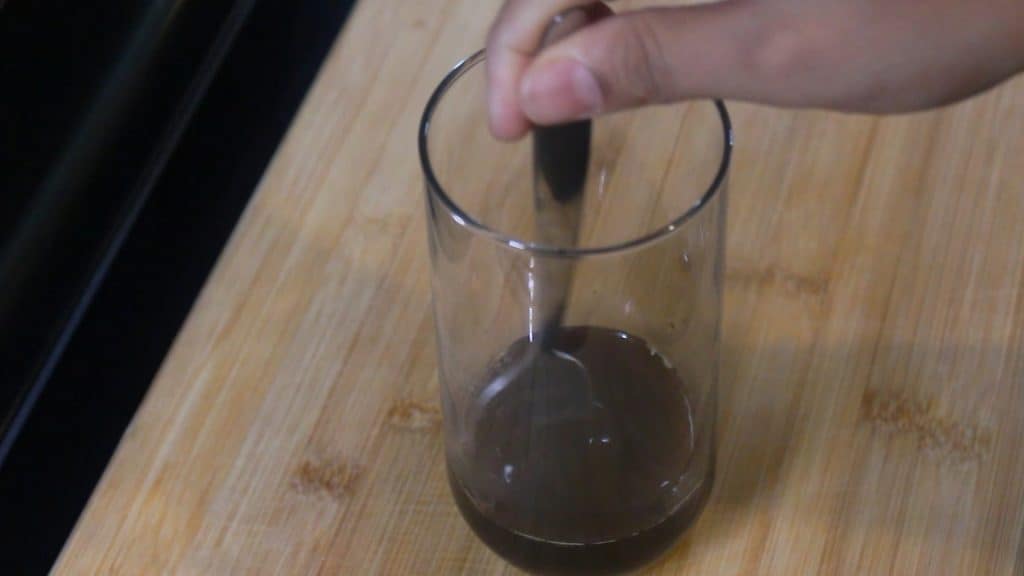 Add some ice cubes. Since it is an iced latte, ice cubes are essential and always have them ready during summers.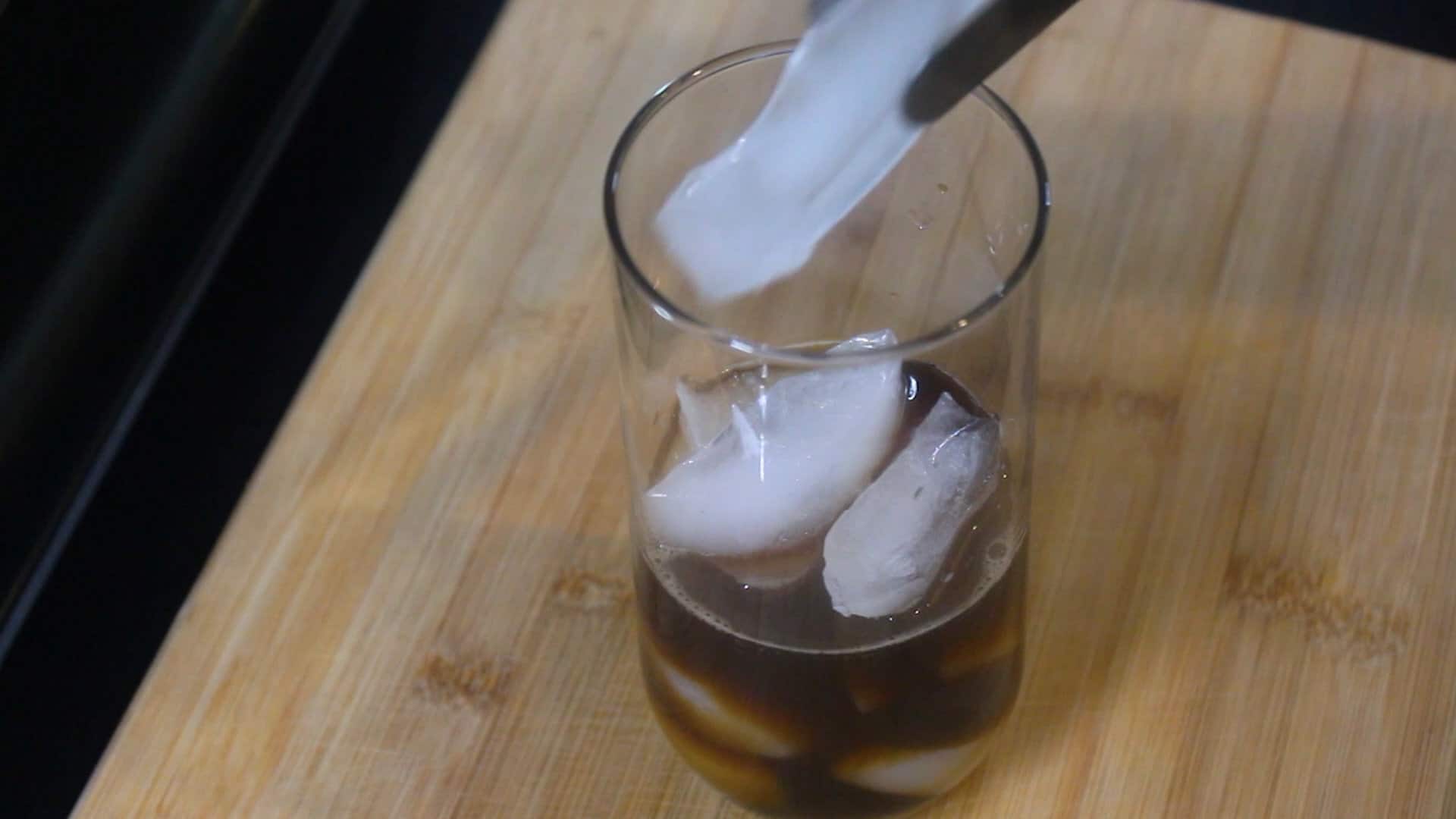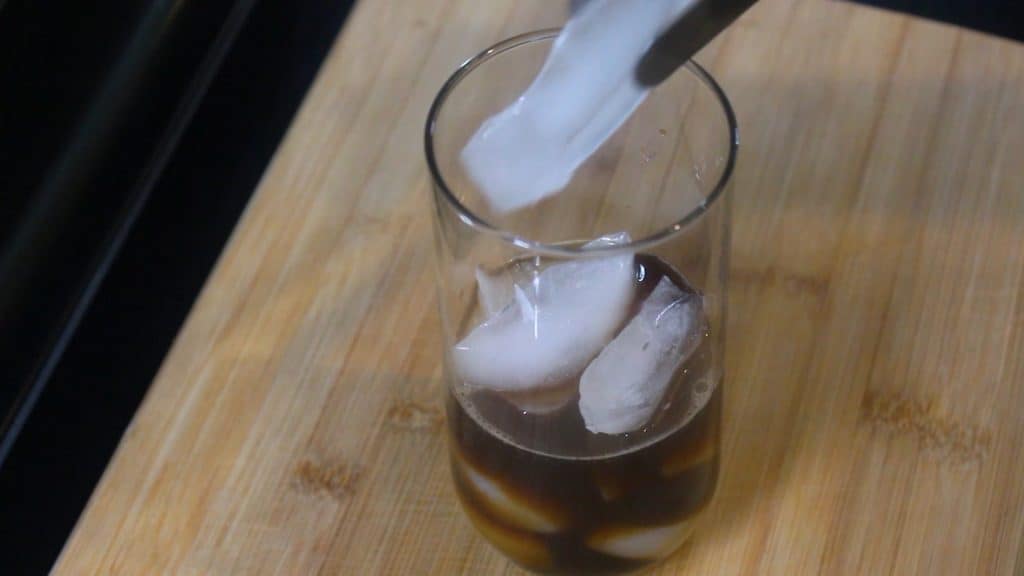 Pour milk. I am using chilled pasteurized milk and also use chilled skimmed milk or whole milk as per preference. For iced skinny vanilla latte use skimmed milk.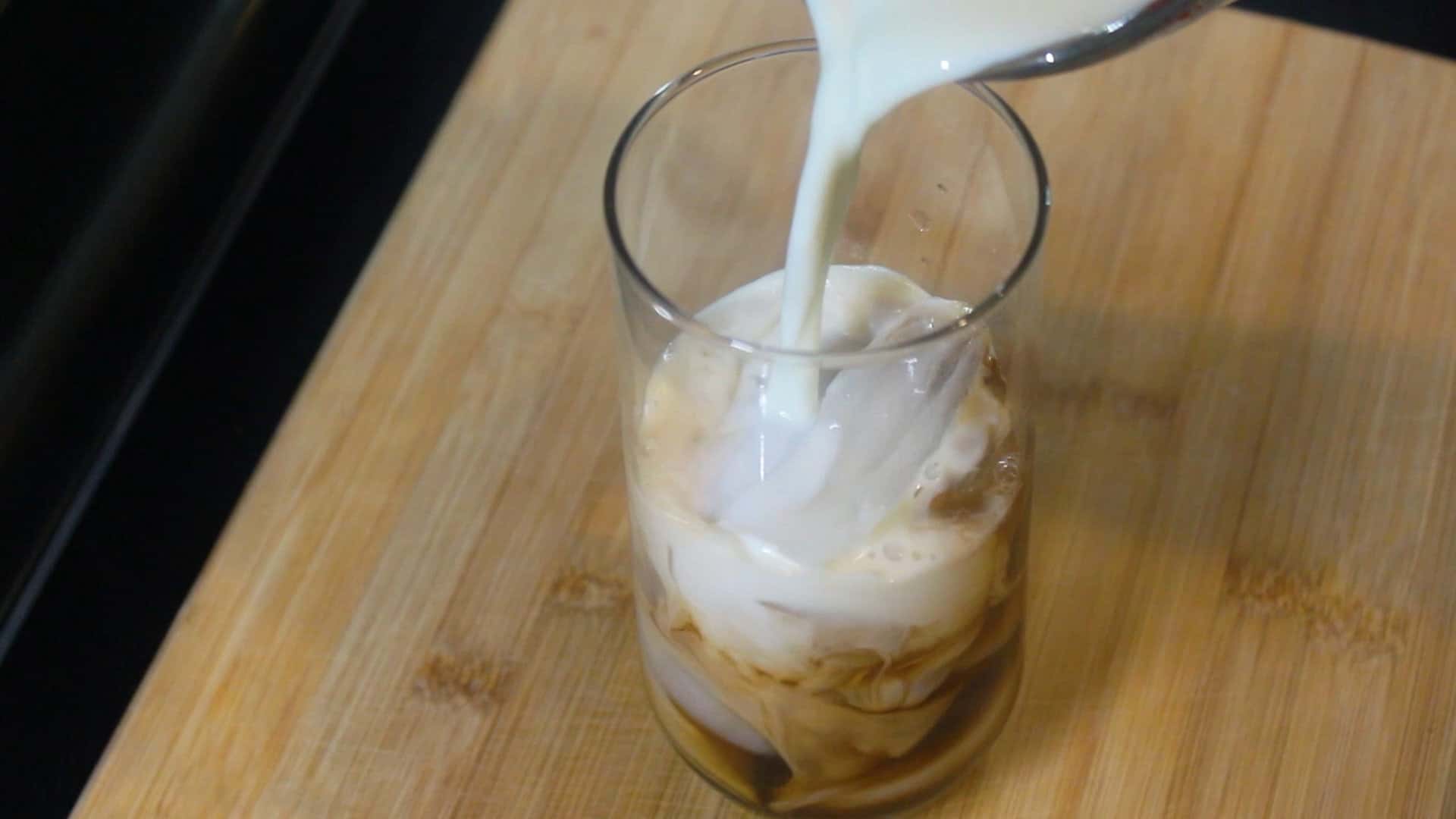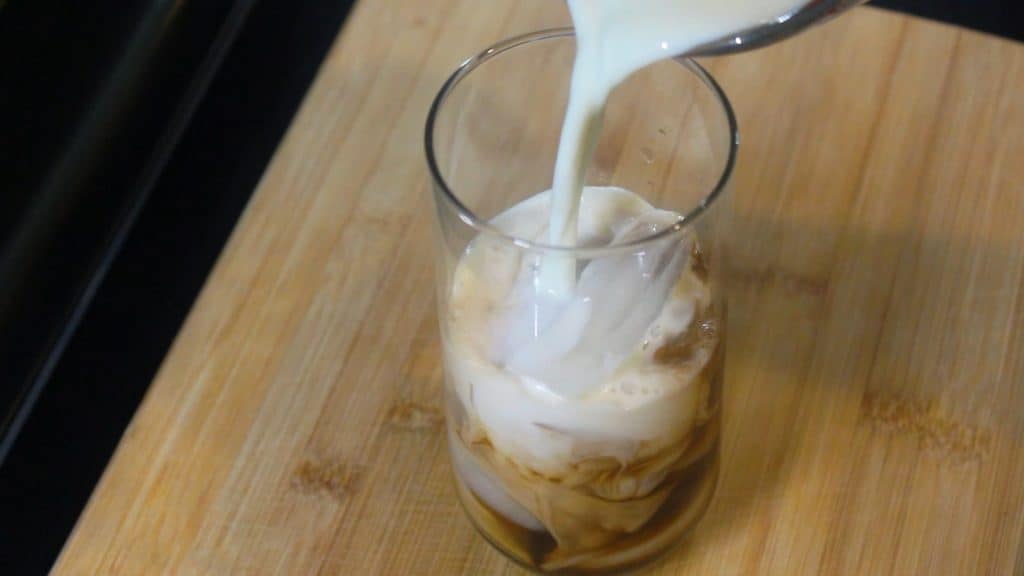 Top it up with whipped cream. Before topping with cream or foam stir everything or just have it in the form of layers without any stir.

My personal suggestion would be to stir everything after adding milk and lastly layer it with foam.
This way the latte turns out yummy.
Layering without stirring too tastes good and gives balanced flavours.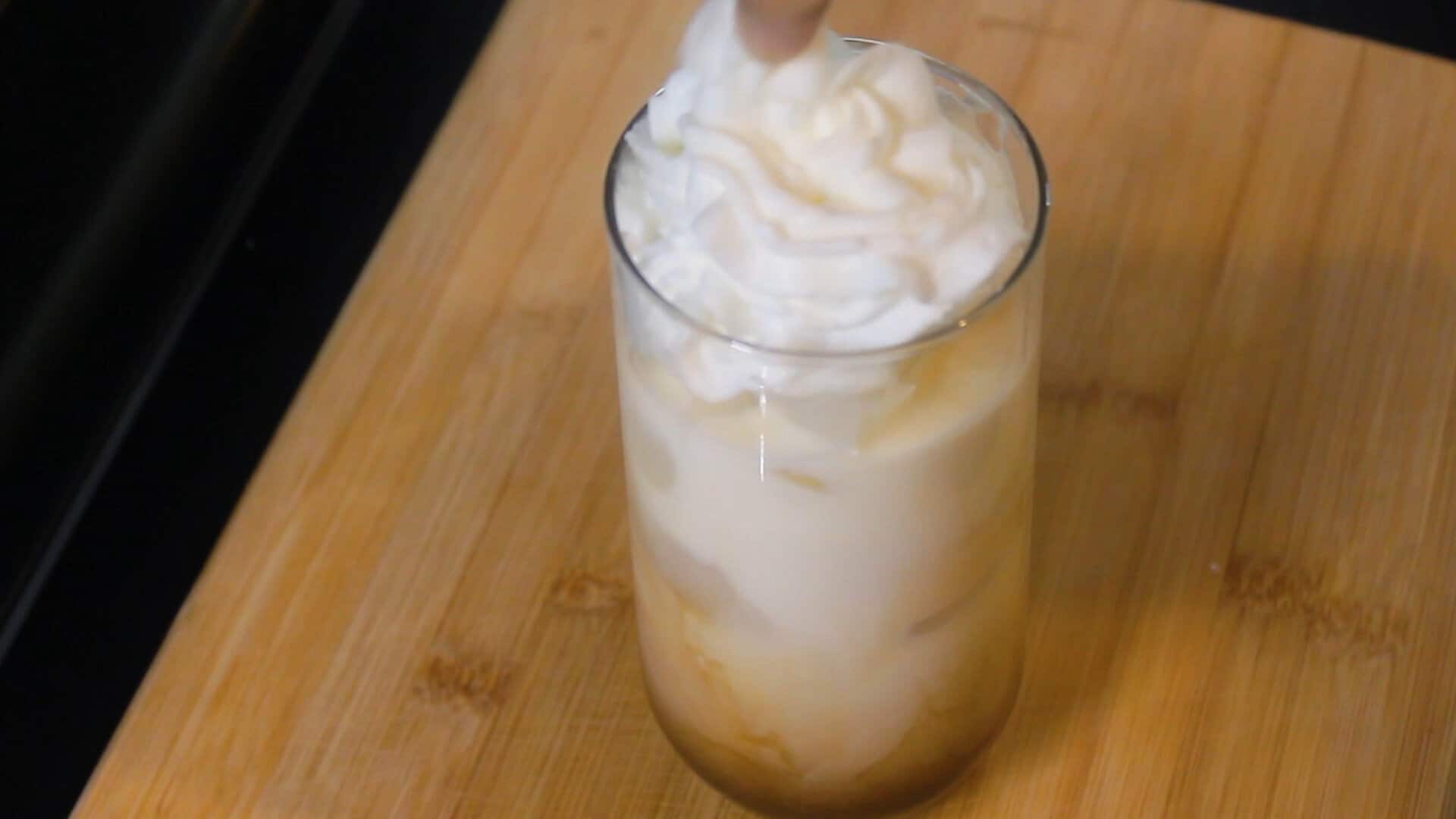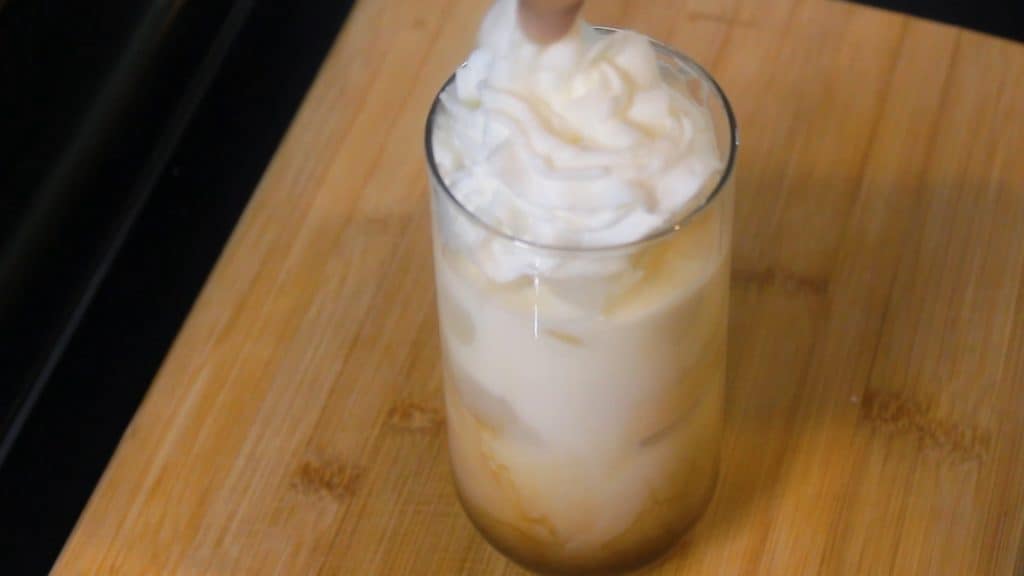 Serve chilled or stir everything and serve special do it yourself Starbucks iced vanilla latte.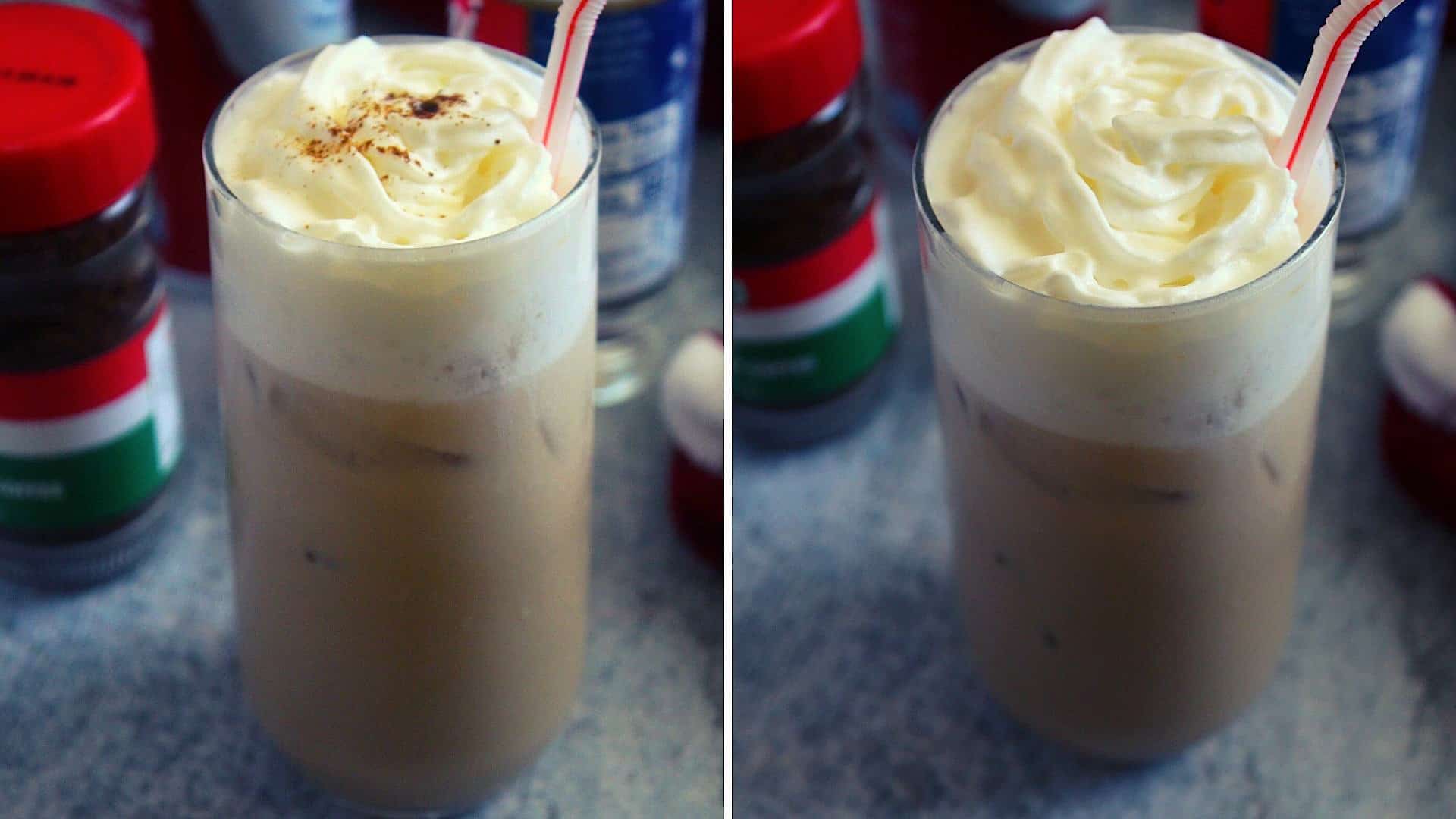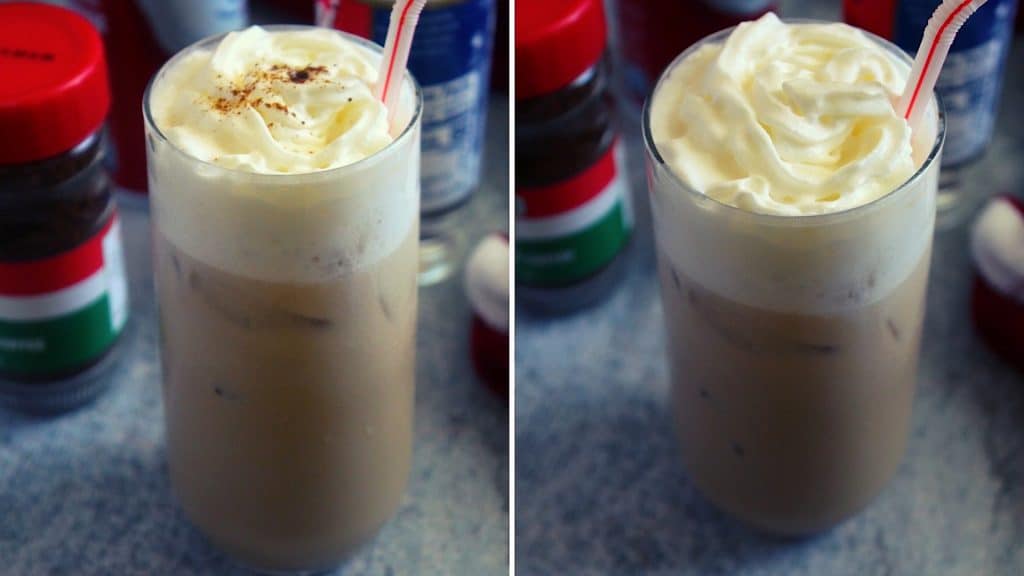 Note: I tried my best to give a homemade version of the Starbucks iced vanilla latte but one can try to enhance and make variations in their own ways.
Check out chocolate milkshake, cold coffee milkshake, Oreo milkshake which are exclusive summer special drinks.
Video
Recipe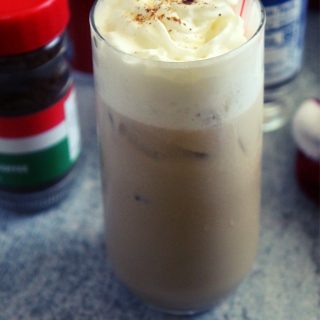 Starbucks Iced Vanilla Latte Copycat Diy
A simple and easy iced vanilla latte to be tried at home.
Ingredients
1

shot

brewed espresso or coffee

(approx... 30 ml)

2

tablespoon

vanilla syrup or two pumps

ice cubes

½

cup

milk

whipped cream for topping or thick foam
Instructions
Take a glass of any size.

Pour in brewed espresso/ coffee (cool it down and then add).

Add 2 pumps or 2 tablespoon of vanilla syrup.

Top it up with whipped cream.

Serve chilled or stir everything and serve.
Nutrition
Nutrition Facts
Starbucks Iced Vanilla Latte Copycat Diy
Amount Per Serving
Calories 231
Calories from Fat 36
% Daily Value*
Fat 4g6%
Cholesterol 12mg4%
Sodium 69mg3%
Potassium 1729mg49%
Carbohydrates 39g13%
Protein 9g18%
Vitamin A 198IU4%
Calcium 200mg20%
Iron 2mg11%
* Percent Daily Values are based on a 2000 calorie diet.
Variations
Yes, Since it is a Latte it takes in more milk but milk can be reduced and espresso shots can be increased to make different variations.
Do not add sugar as vanilla syrup is already in sweetened form and try to skip the sugar. If looking for fewer calories then use an unsweetened form of vanilla syrup.
If you are looking for a weight loss coffee then do check out my simple black coffee.
FAQ'S
Can I make espresso shot at home?
Yes, brewing espresso/coffee in hot water for a few minutes gives an instant brewed espresso and this can be used in any latte.
Machine too can be used for brewing coffee.
If making an iced latte just cool the brewed shots and add them to the latte once it reaches completely room temperature.
Can I make syrup at home?
Yes, make a sugar syrup and add vanilla extract as well as for more vanilla flavours add a vanilla bean while making syrup. Cool it down and store it in a bottle.
Can I use instant coffee powder to make this latte?
Yes, since it is a homemade latte, one can quickly brew some coffee in a microwave and use it while making this iced beverage.
Espresso powder or coffee powder can be used and the difference in these powders is how thick or how fine they are powdered or ground.
If the machine is handy then it can be extracted directly using coffee beans.
Can I use cold brewed espresso?
Yes we can but it gives a highly strong flavors since it is brewed overnight and dominates the latte vanilla flavors.
Therefore, it is better to avoid cold brewed espresso for this drink as a measurement of my recipe has balanced flavours and tastes amazing.
How to make 2 cups of latte?
Just make coffee in 2 different cups or glasses, add vanilla syrup to each glass, mix well. Add ice cubes and milk, stir and top it up with whipped cream. Serve this delicious Starbucks copycat iced vanilla latte.