Starbucks chai tea latte is a chai or tea recipe made in Starbucks way and so I decided to name it as a Starbucks copycat recipe. I tried to make it almost as similar to the one we get in Starbucks in an affordable manner at home with simple chai ingredients at home.
Chai is mainly a common word for "tea" in India. Any tea recipe made is called 'chai' in 'Hindi language and Starbucks has the same chai available in their own style and method which is a highly requested drink here in America. If looking to try more starbucks drinks then do check out starbucks double chocolate chip frappe.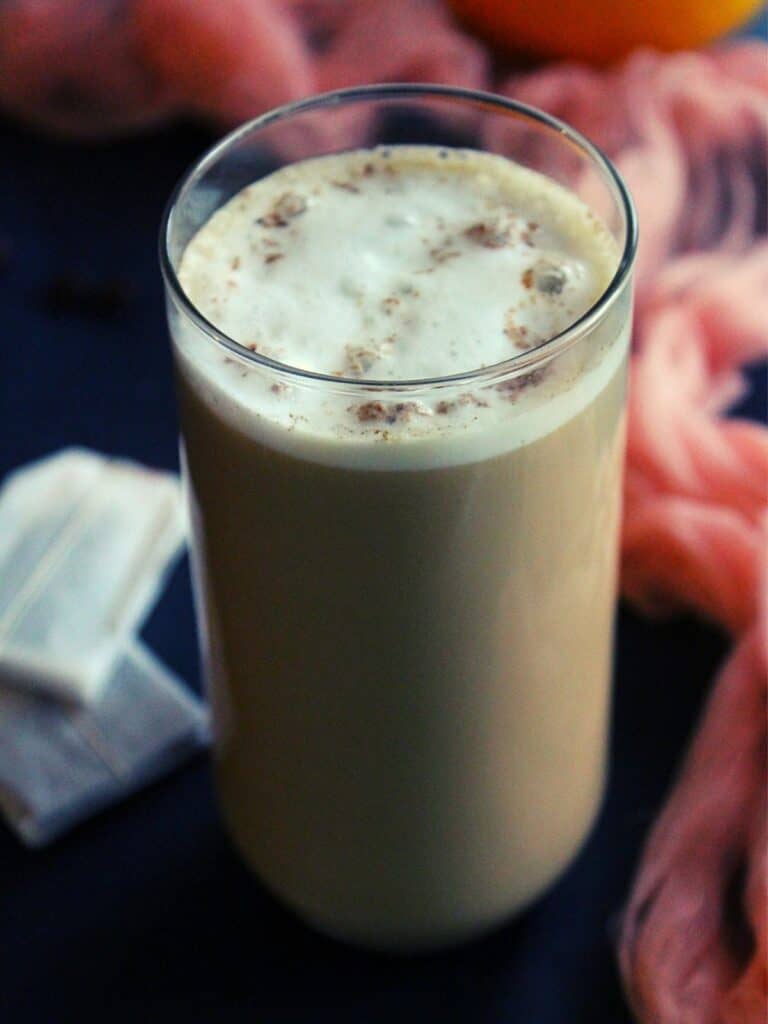 Other restaurant-style recipes to check out on the blog are iced caramel macchiato starbucks style, strawberry banana smoothie mcdonalds style, KFC style popcorn chicken etc.
About chai tea latte
This Starbucks copycat chai tea latte is made using black tea leaves and not using any espresso since it is a tea latte and chai teas always makes use of black tea leaves.
The chai concentrate is first made using tea leaves and whole spices and then letting the spices infuse well in water for few minutes before adding steamed milk.
The recipe basically uses hot milk here but different versions can be made using hot milk or cold milk.
This recipe is a modified Indian chai or milk tea made using Starbucks copycat style for the readers looking to make this kind of recipe.
I have tried my best to create a replica of the chai tea latte recipe with easily available chai ingredients and topping with some milk at the end which makes it even more appealing.
Tea leaves are an essential part of this recipe which can make the concentrate delicious. Using tea leaves that give a good taste is the secret behind making tea or chai and the same goes for this recipe.
If the chai concentrate is made from good quality and tasty leaves, the tea turns out delicious and tasty.
Check out the list of ingredients shared below to make the Starbucks style chai tea latte recipe at home.
Ingredients
cinnamon: Adding cinnamon sticks makes the tea a bit spicier and also gives a unique taste to the concentrate. Generally, traditional tea does not make use of whole spices unless it is masala tea but here we do add to make it their style.
cardamom: It is the most common ingredient to add to any tea recipe and really gives amazing fragrance and flavour to the tea. Chai made in any form is incomplete without using cardamoms in whole form or powdered form.
cloves: Again to give a spicier touch to chai flavours, adding these spices are necessary to make this kind of concentrates.
star anise: This gives a very strong flavour and if not willing to give deep flavours, it is better to skip adding this ingredient.
black peppercorns: This ingredient gives warmth to the chai tea latte and is a perfect spice to add during cold winters or monsoons.
ginger powder: Ginger again adds warmth to the drink as well as ginger and cardamom make a great combination while making tea recipes and chai recipes are incomplete without these two ingredients.
black tea bags: This is the main ingredient to infuse tea flavours and colour into the drink. The leaves are black or green in color and leave a strong taste and color in the water which actually acts as a stimulant as soon as the drink is consumed.
nutmeg: Adding nutmeg by crushing it well or in its powdered form but this can be skipped and is totally optional.
water: Any tea is incomplete without adding water and is an essential part of making tea recipes.
milk: This adds a creamy flavor to the chai concentrate. Milk added can be hot or cold as per preference. Since this is a chai tea latte that is hot, I am adding hot milk which can be low-fat milk or whole milk or full cream milk.
sugar or stevia: Chai tea latte tastes bad without any sweetener. Therefore, adding sugar, natural sweeteners such as honey or stevia is a better option to give a sweet touch to the latte recipe.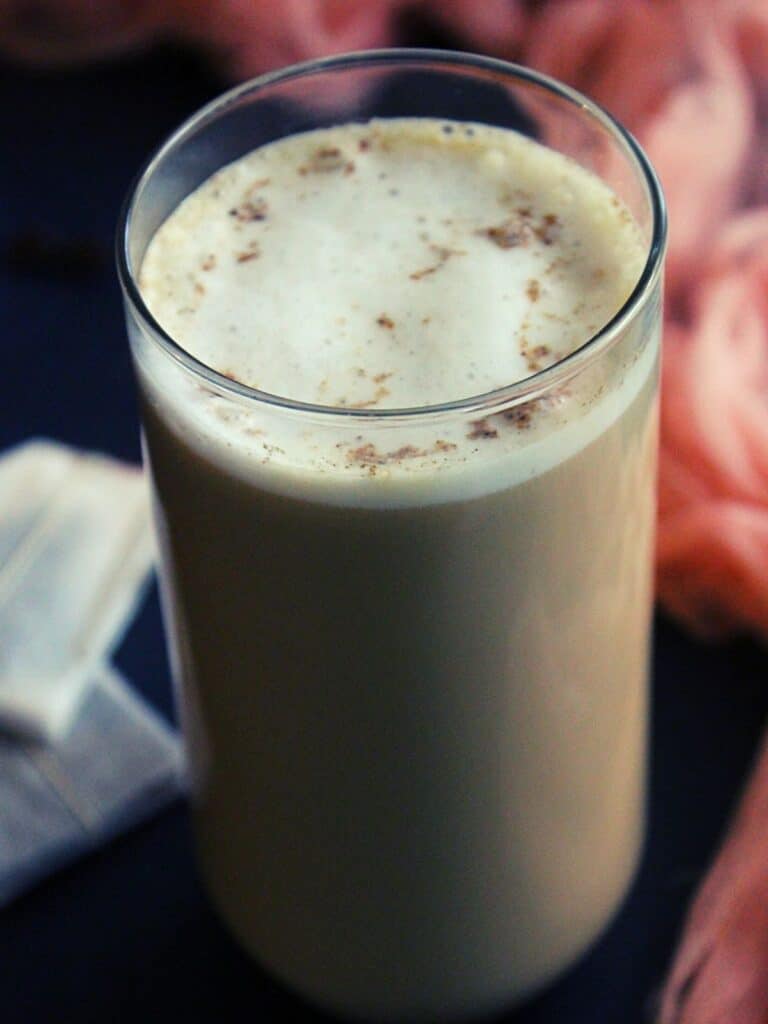 Does this tea recipe contain caffeine?
Yes, every chai recipe contains caffeine and it depends on the tea packs we buy. Different tea bags or tea leaves have different quantities in terms of content but every tea has at least a slight to a large amount of caffeine.
Tea compared to coffee has less amount of caffeine content and is a better option to consume compared to coffee. The key point to remember is to limit their intake for the right body functioning.
Other tea and coffee recipes or desserts to check out are black coffee recipe, iced vanilla latte recipe, turmeric tea recipe, homemade ice cream recipe etc...
Step by step procedure
Pour 2 cups of water into a saucepan.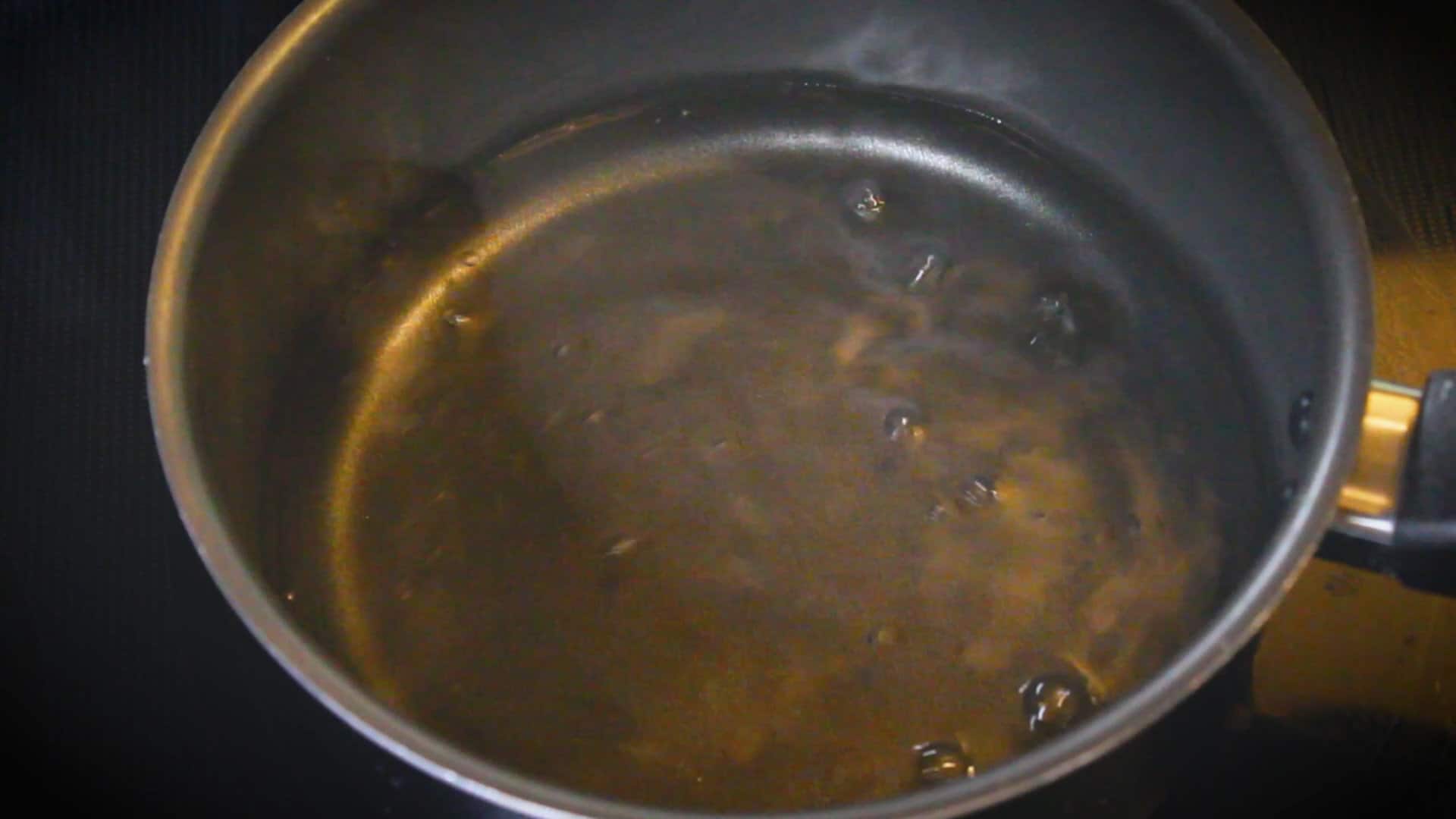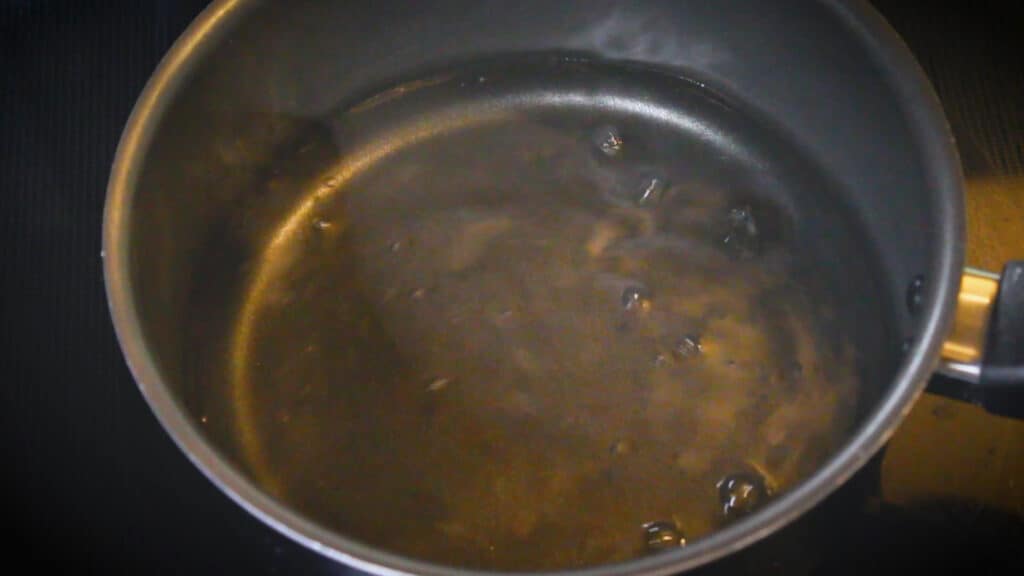 Add 2 cinnamon sticks and 2 cardamoms into the water. Also, add 2-3 cloves, 1-star anise, 5-6 black peppercorns, ½ teaspoon ginger powder as well as add 2 black tea bags, ½ teaspoon crushed nutmeg to the water.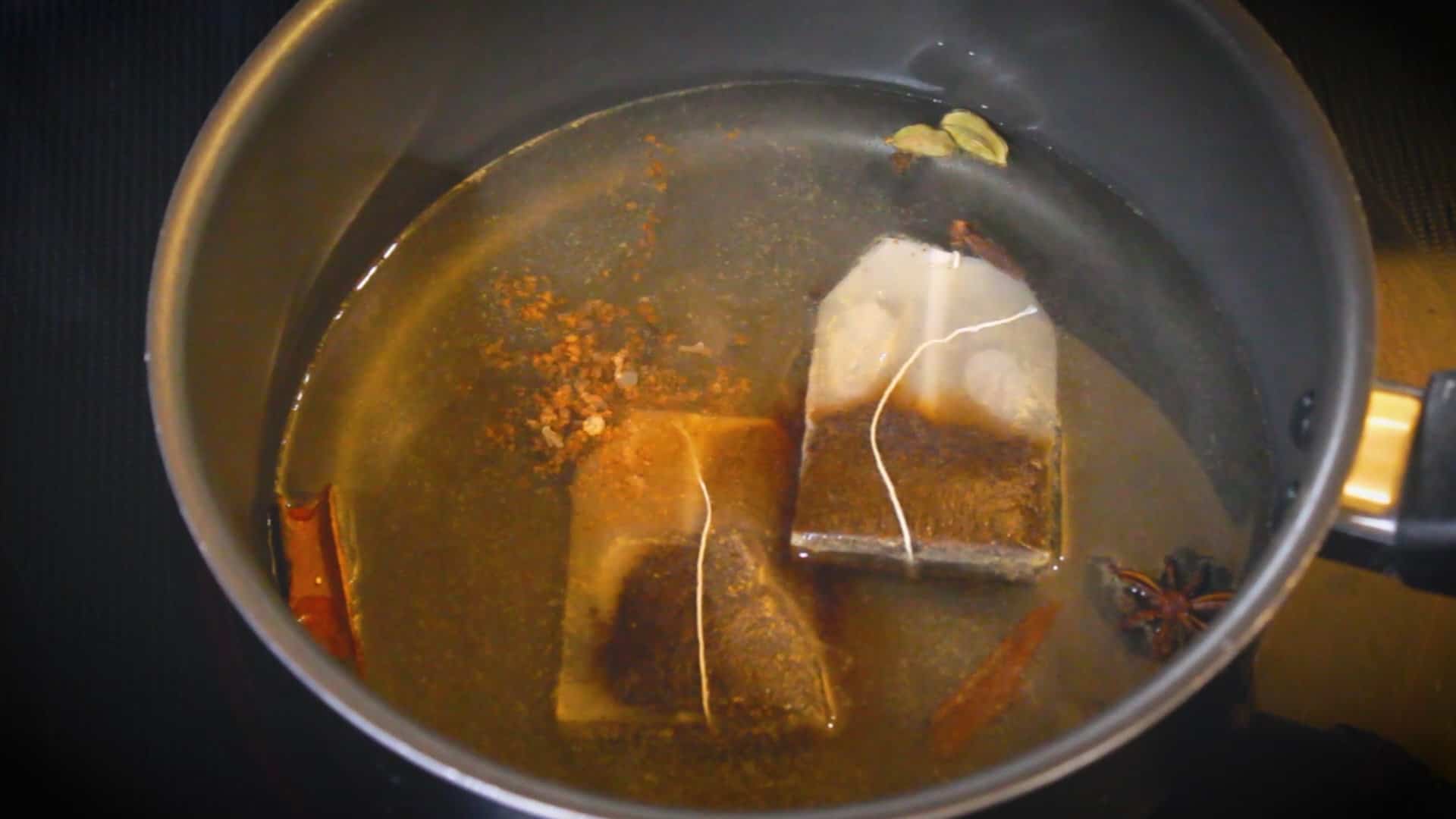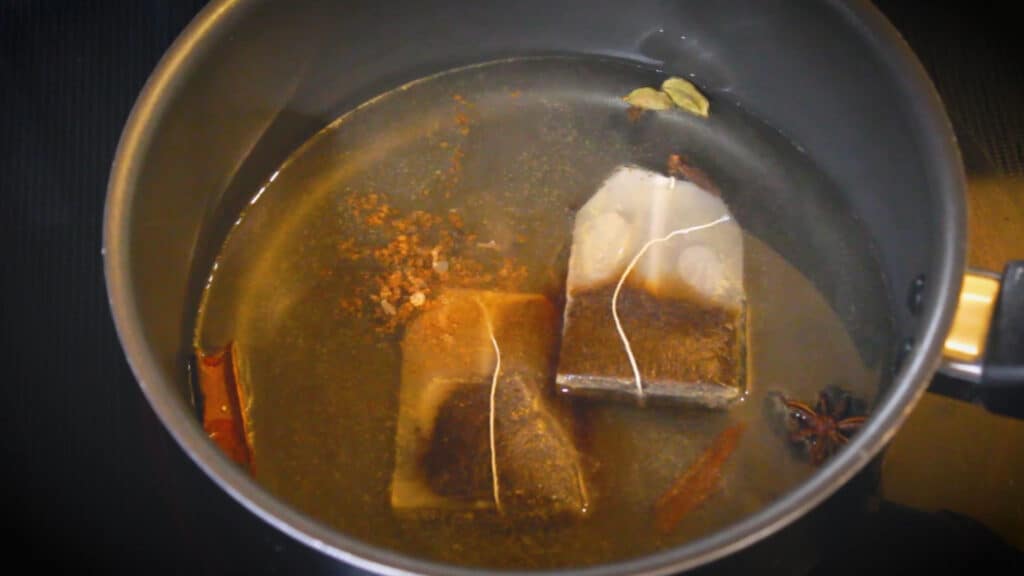 boil the water well for few minutes until the tea leaves and spices steep well into the water and turn off the heat.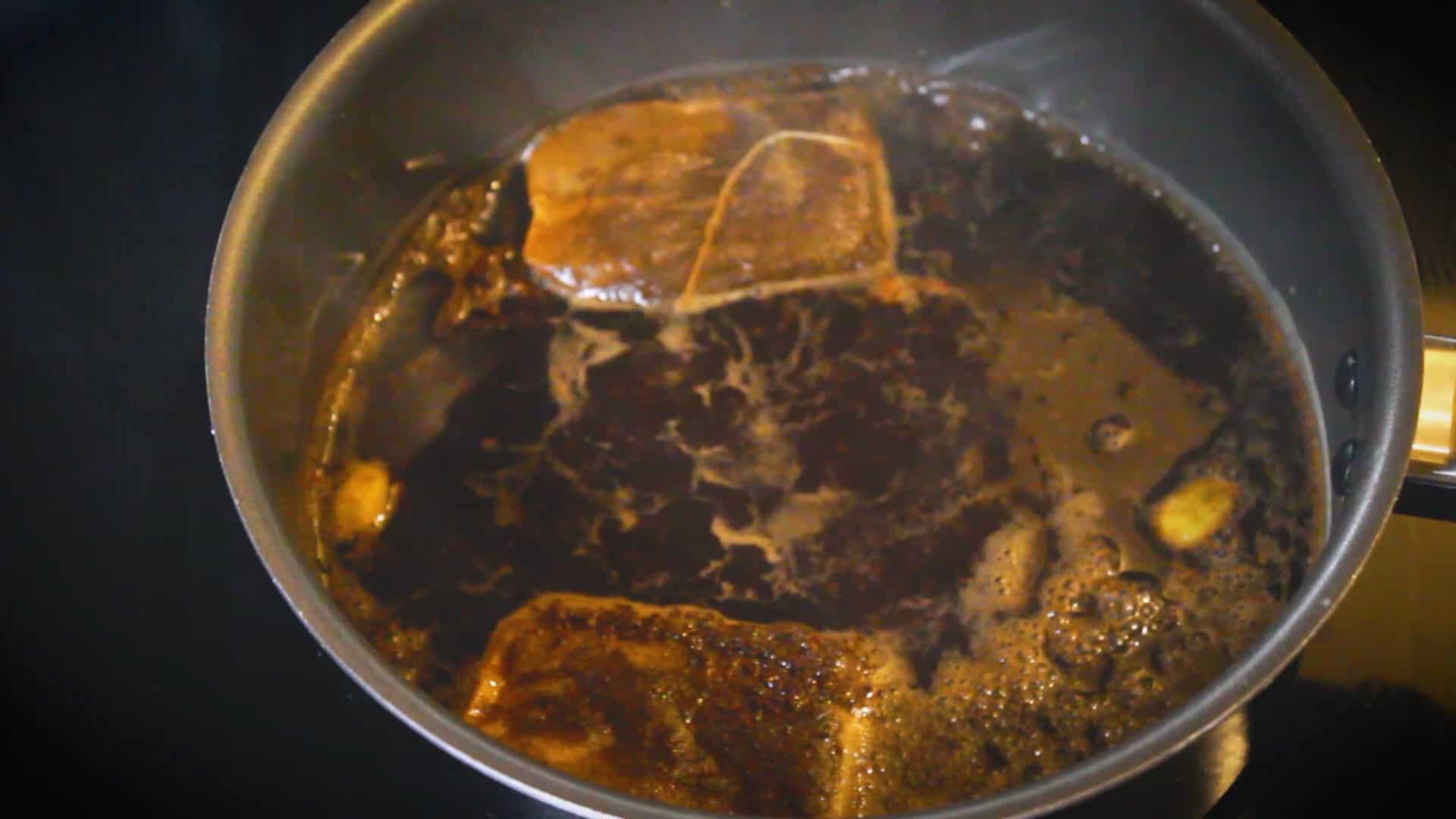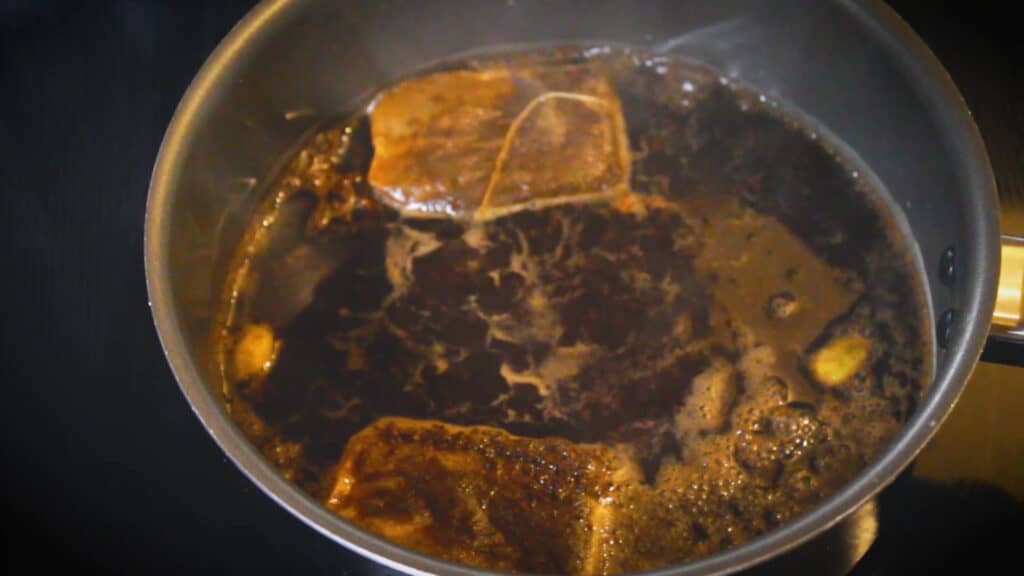 strain the chai concentrate using a strainer.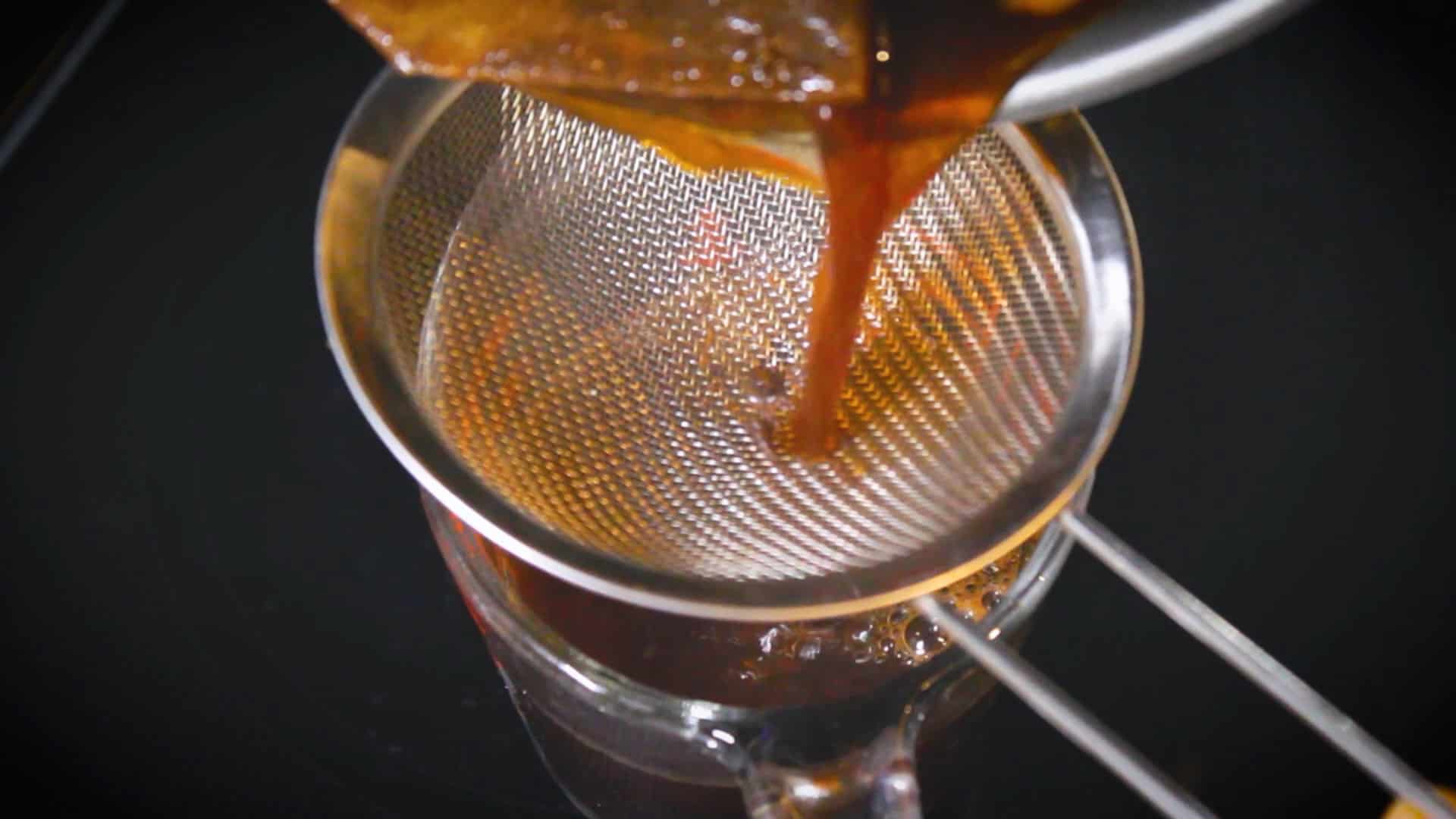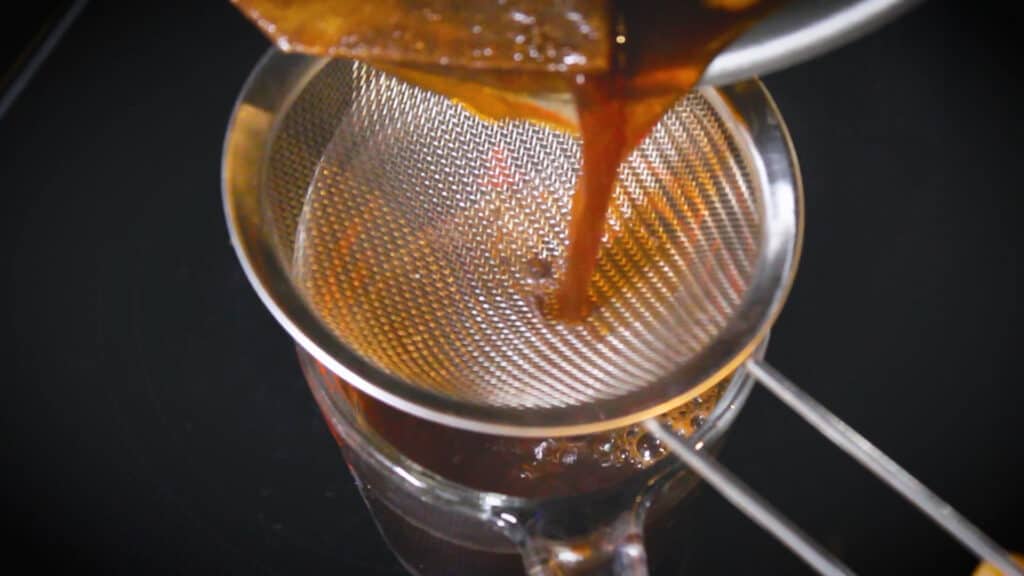 Add a teaspoon of sugar/honey/stevia or as per sweet flavor requirement and stir well.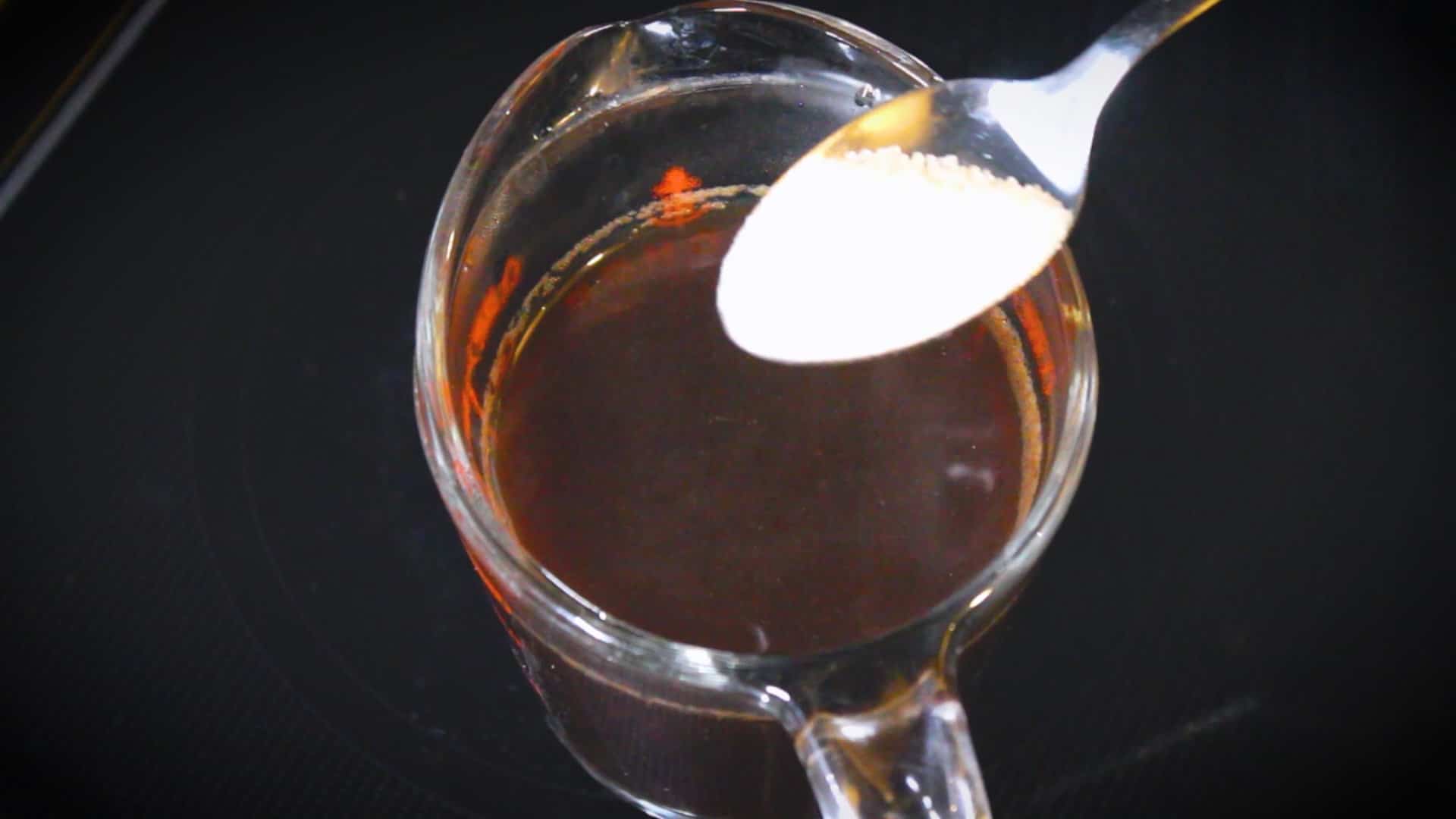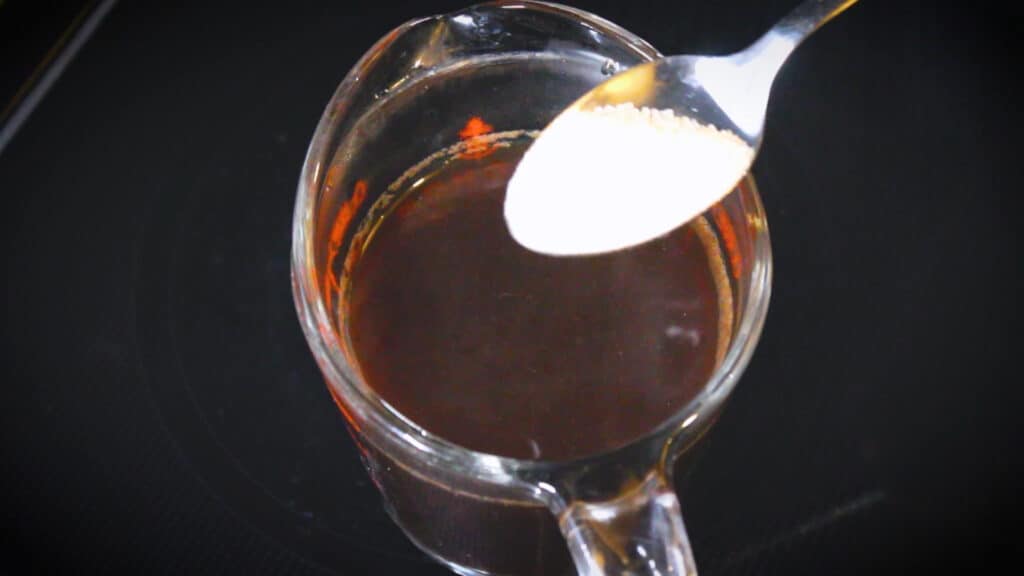 Take a serving glass. Pour 1 cup of chai concentrate.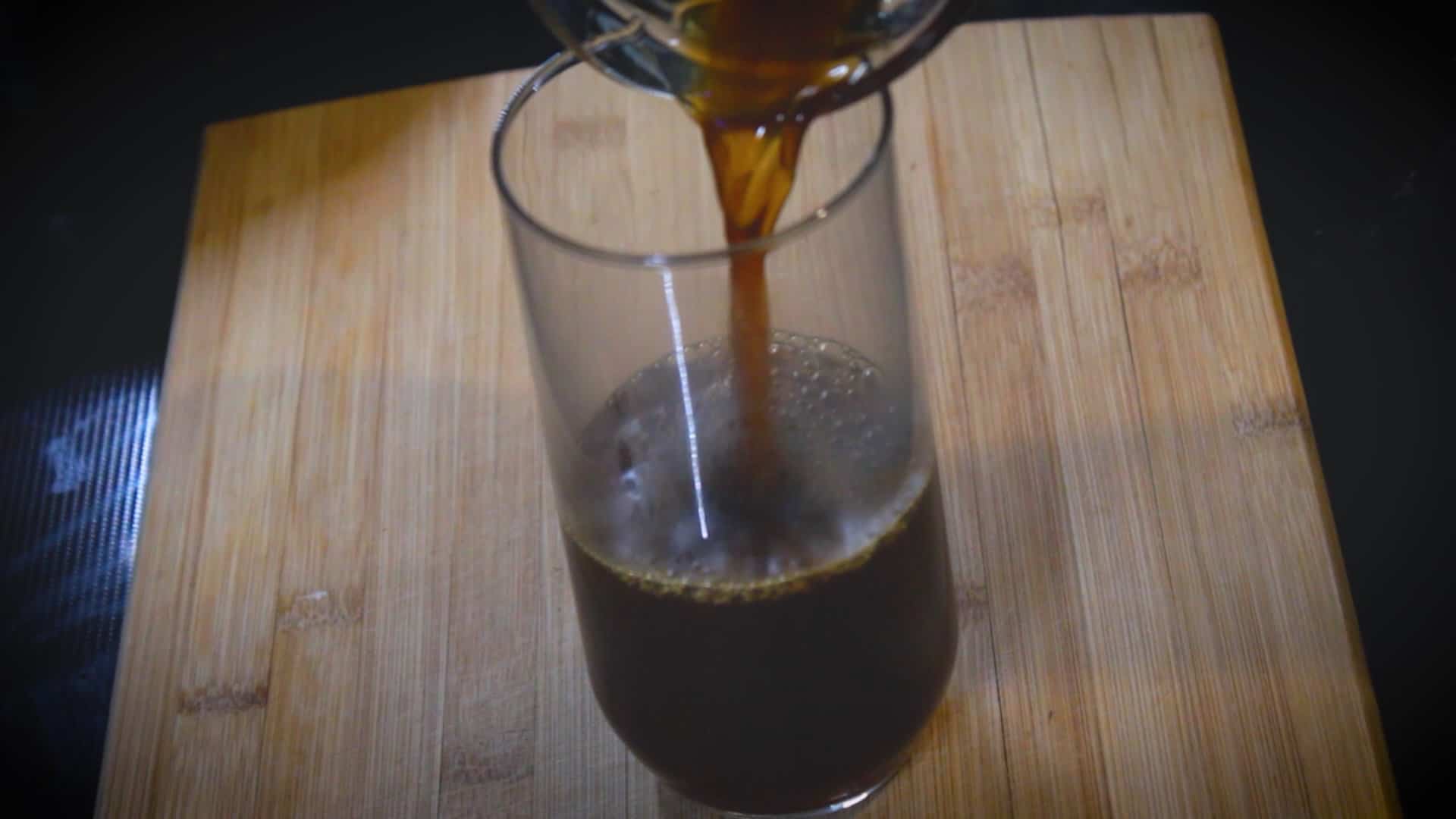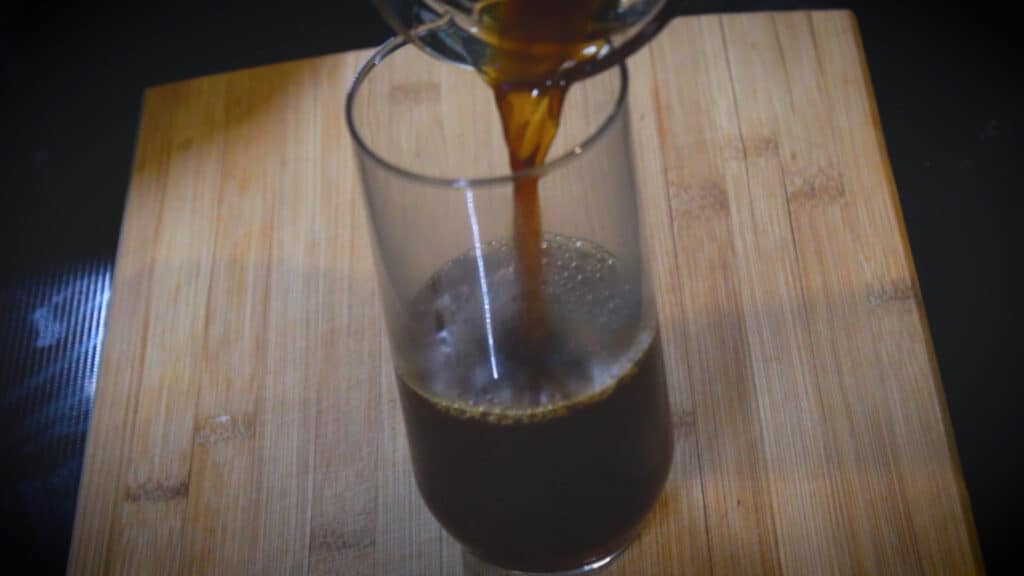 Pour 1 cup of boiled milk.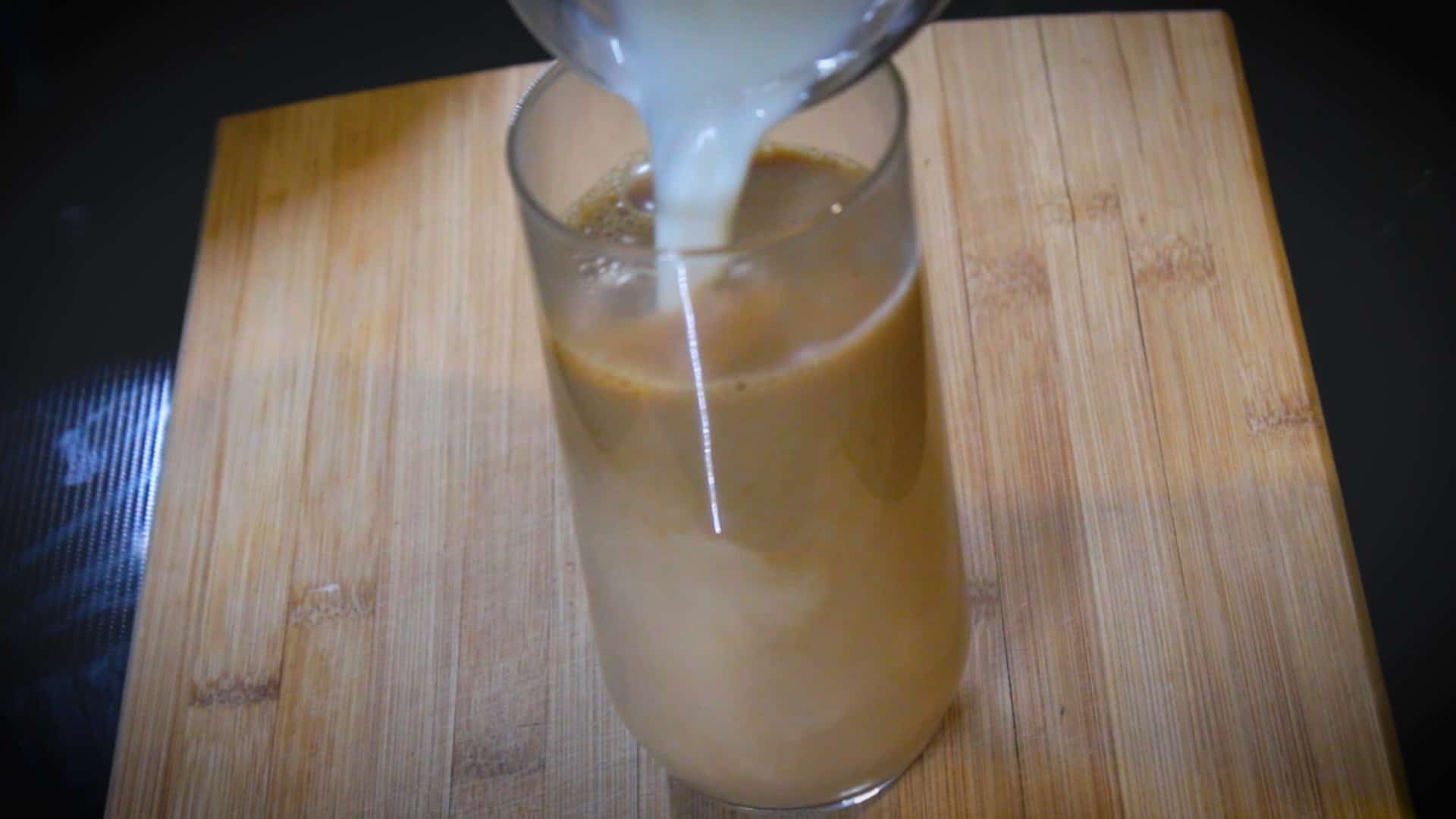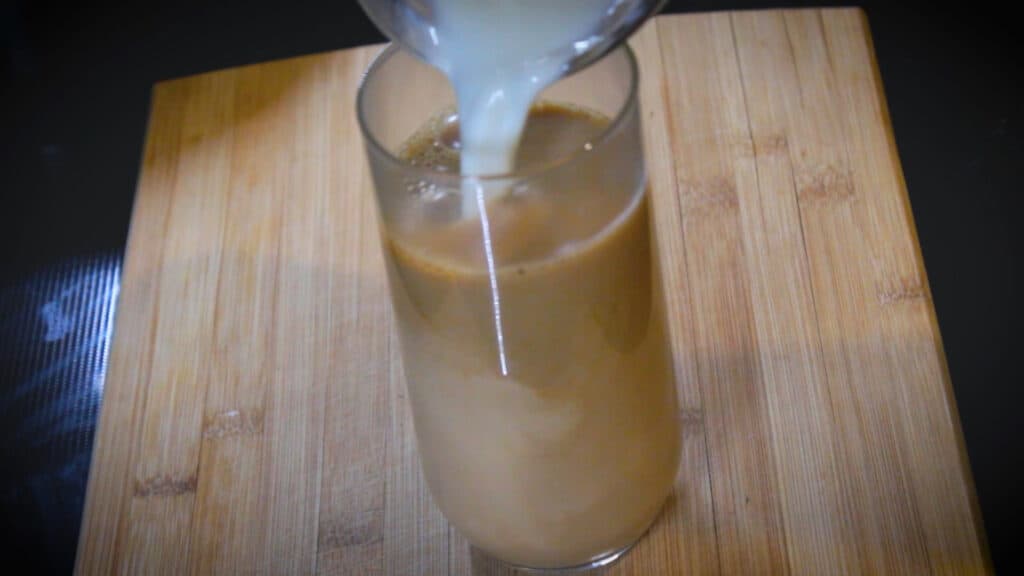 Top it with frothy milk or milk foam.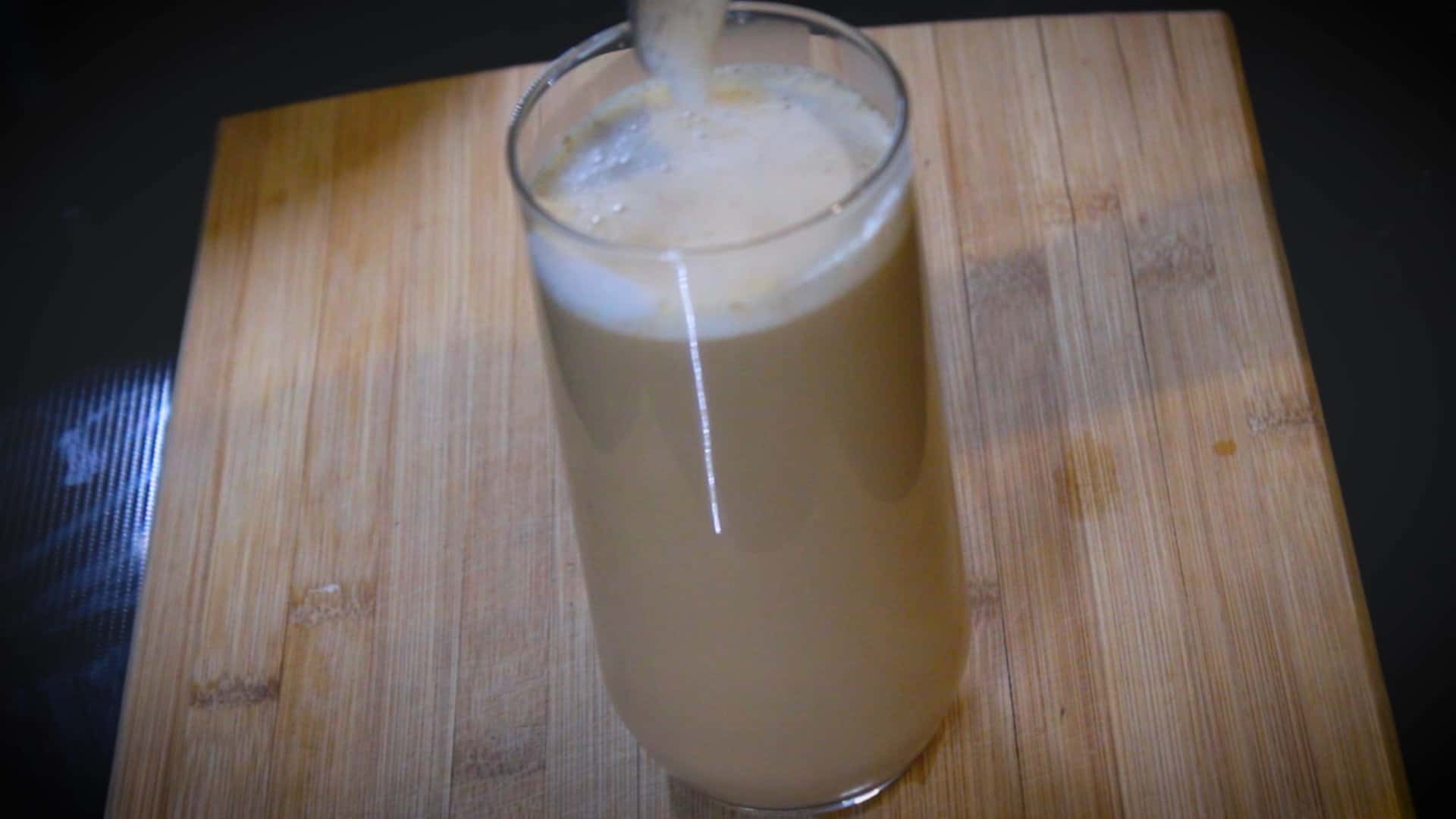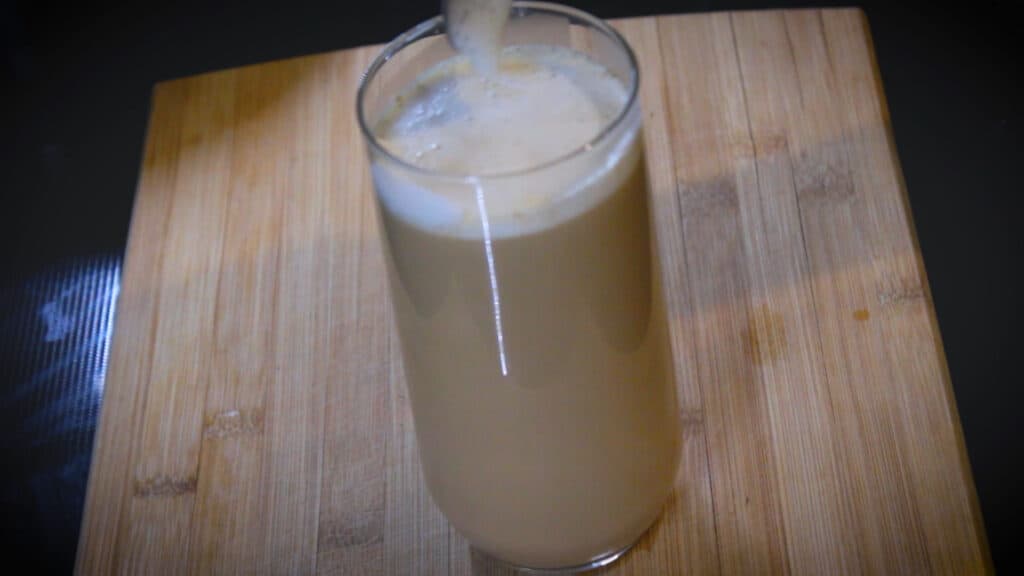 Add some vanilla creamer(optional).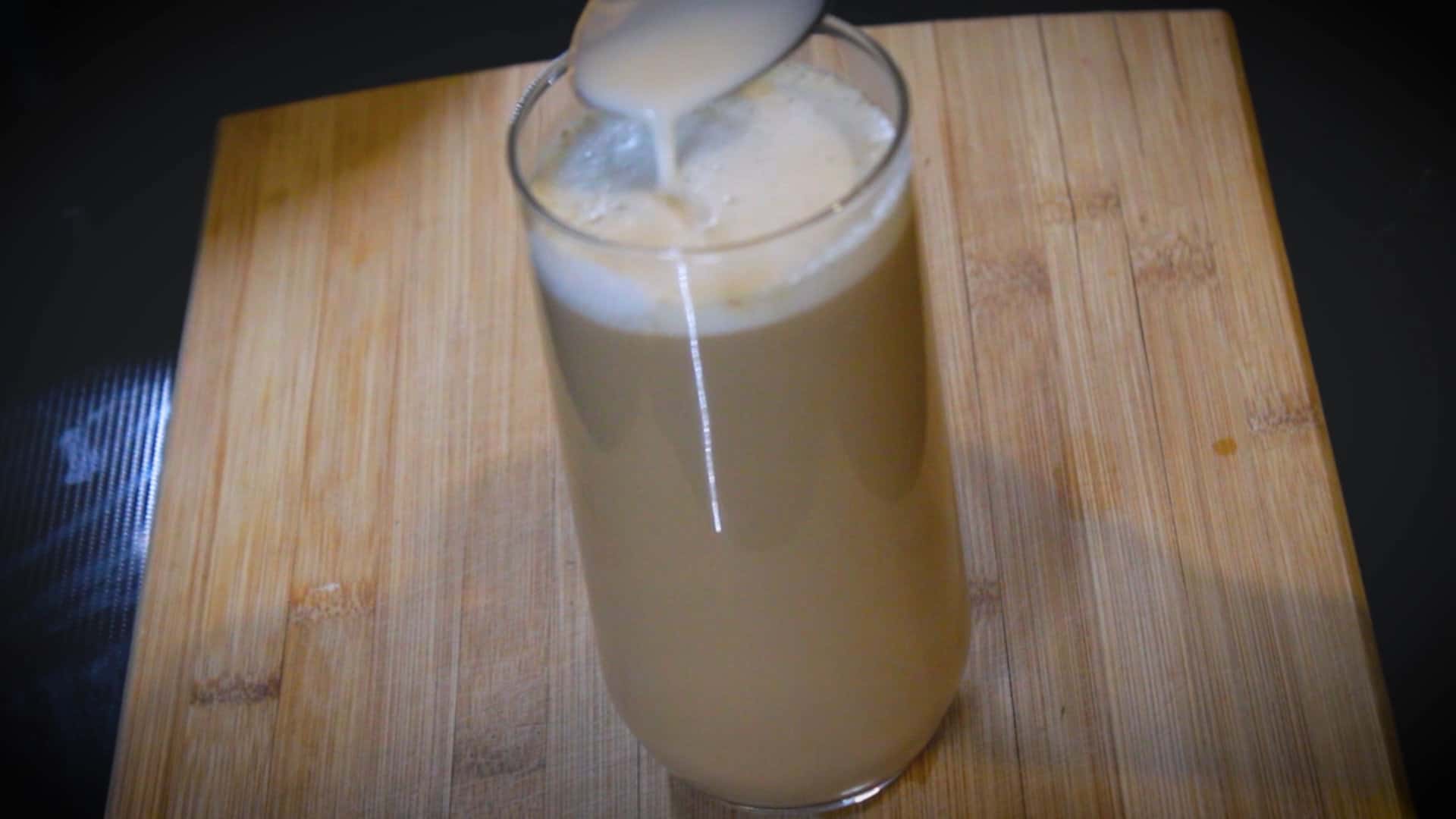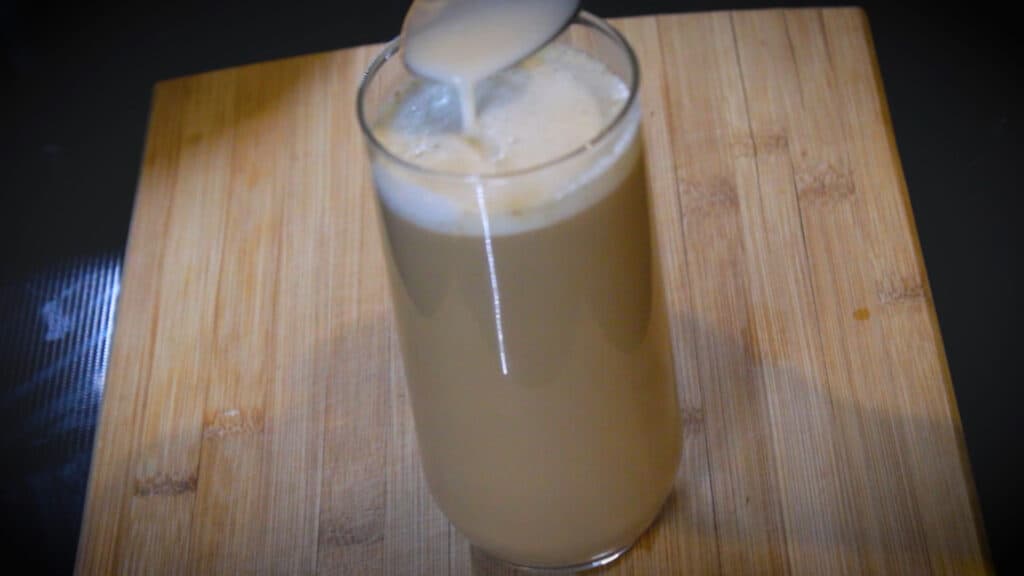 Serve the Starbucks chai tea latte with cookies or biscuits.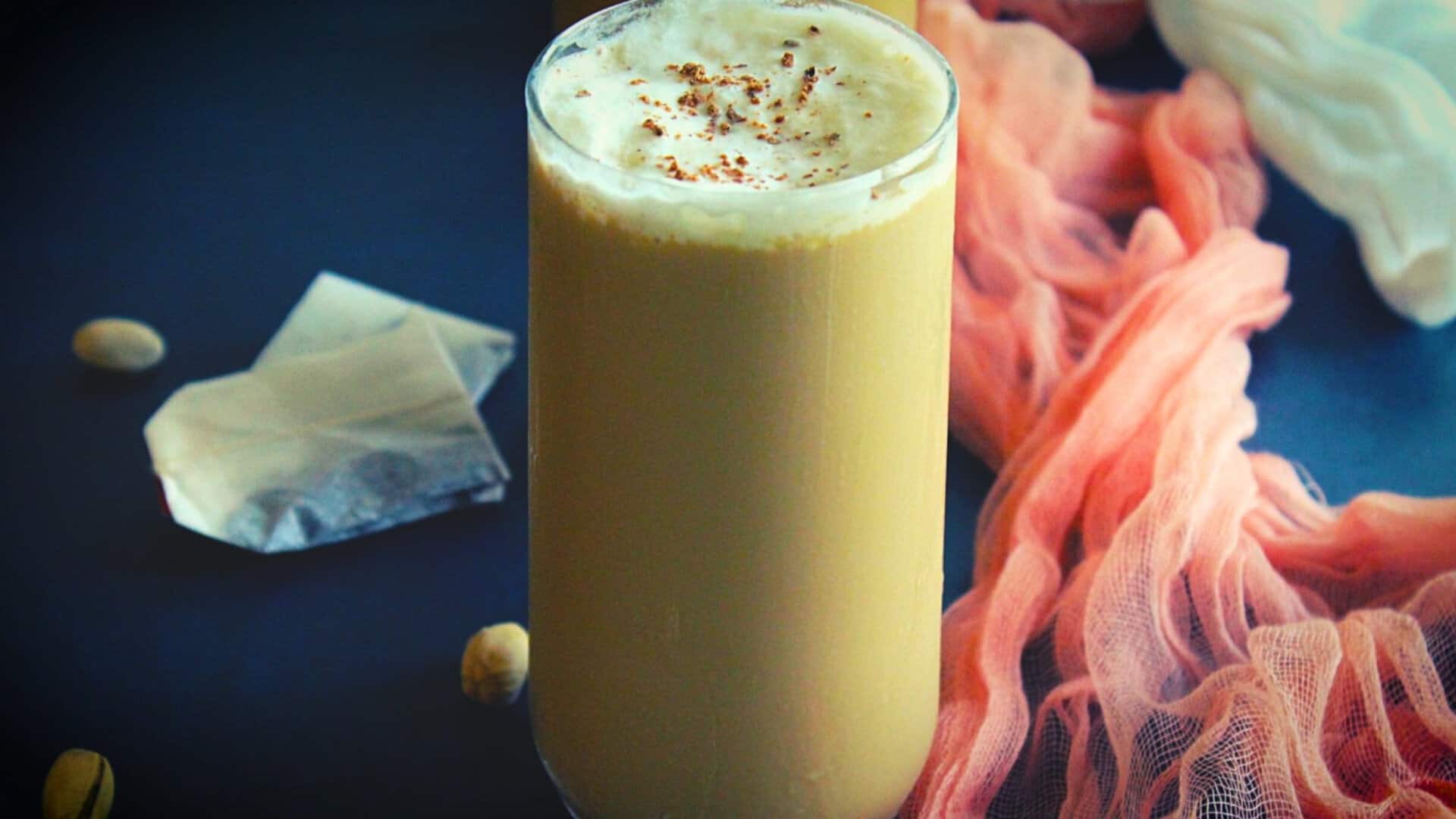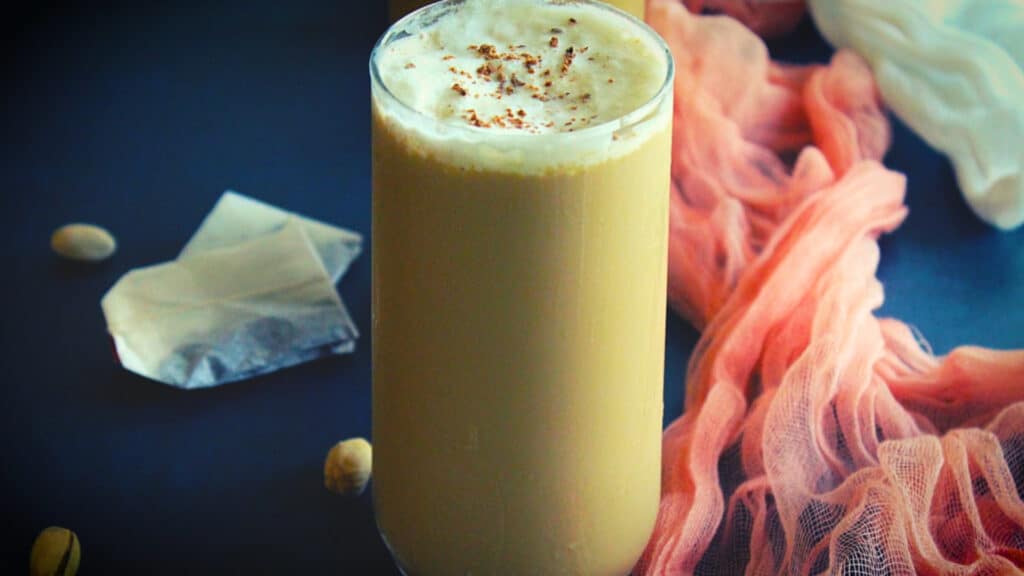 Variations
Different tea brands can be used to make this recipe at home and not only black tea but it can be replaced with green tea as well.
There are other kinds of lattes available in Starbucks and these tea recipes taste best if they have milk(hot or cold) added to them.
Various lattes and tea are available to try out from their menu and this is one of the simple, most commonly made tea lattes from the restaurant that I am trying and sharing with my viewers.
Matcha green tea latte is also another simple latte recipe that can be made from their menu.
Calories in tea lattes?
There is good enough calorie value present in lattes as they contain milk, sometimes cream as well as sugar.
All these ingredients contribute to high calories but replacing sugar with natural sweeteners and milk with low-fat milk and cutting down on using creamer can reduce their calorie value.
Benefits of tea latte
Chai tea lattes are great stimulants and give instant energy and help in refreshing ourselves as quickly as possible.
They can keep you awake for a certain amount of time as these act as stimulants and boost energy instantly.
This latte tea concentrate is made at home with fresh ingredients and spices which have many benefits to our health.
Having a cup of tea during cold weather or monsoons can give good warmth, help with digestion and help to get rid of cold and flu.
Recipe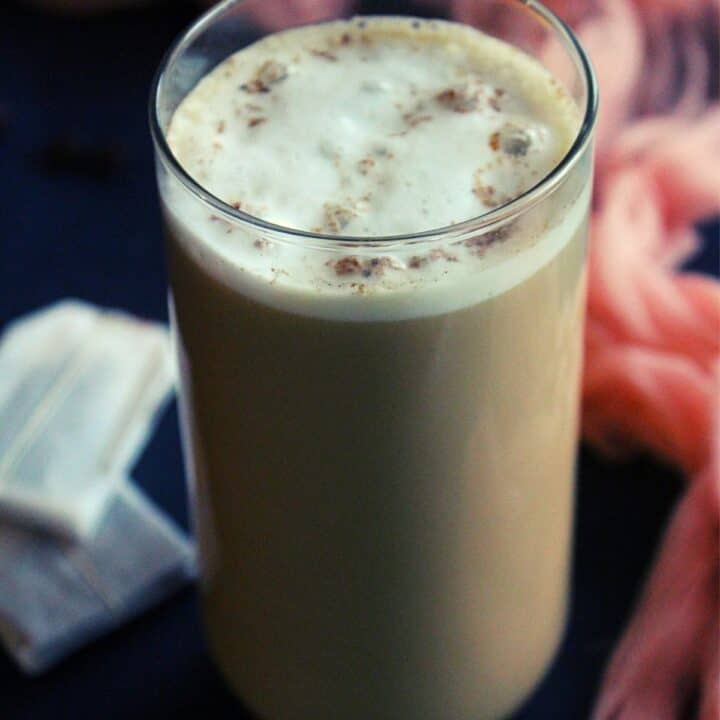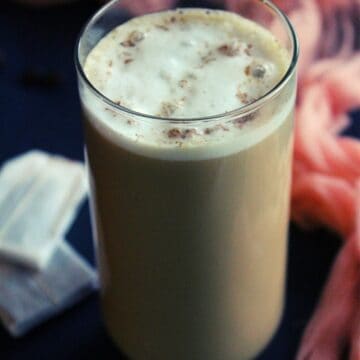 Starbucks chai tea latte recipe
A quick starbucks style latte drink made at home in an easy manner.
Ingredients
2

cups

water

2

cinnamon sticks

(medium size)

2

cardamoms

2-3

cloves

1

star anise

5-6

black peppercorns

½

tsp

ginger powder

2

black tea bags

½

teaspoon

crushed nutmeg

1

tsp

sugar

(can use honey or stevia)

1

cup

boiled milk

1

teaspoon

vanilla creamer

frothy milk/milk foam for topping
Instructions
Pour water into the saucepan.

Add cinnamon sticks and cardamoms.

Add cloves, star anise, black peppercorns.

Also, add ginger powder, black tea bags.

add in a pinch of crushed nutmeg.

Boil well for few minutes and let the tea leaves and spices steep well.

turn off the heat.

strain the chai concentrate.

Add a teaspoon of sugar/honey/ stevia.

Stir well.

Take a serving glass.

Pour the chai contentrate into the glass.

Pour boiled milk over the concentrate.

Top it with frothy milk or milk foam.

Add some vanilla creamer(optional).

Serve the chai tea latte.
Nutrition
Nutrition Facts
Starbucks chai tea latte recipe
Amount Per Serving
Calories 27
Calories from Fat 9
% Daily Value*
Fat 1g2%
Sodium 13mg1%
Potassium 57mg2%
Carbohydrates 7g2%
Protein 1g2%
Vitamin A 14IU0%
Vitamin C 1mg1%
Calcium 56mg6%
Iron 1mg6%
* Percent Daily Values are based on a 2000 calorie diet.
Faq's
Can we drink the tea latte every day?
Yes, limiting its intake to just a cup of tea every day is not harmful. In fact, tea is rich in anti-oxidants as the recipe here uses many whole spices where each spice has its own benefits in fighting many ailments.
Limiting intake and enjoying a cup of tea for adults is a good option and it is a healthy option if not consumed frequently as an overdose may cause negative effects.
Tea latte is better or coffee?
The caffeine content in coffee is much higher compared to tea and substituting coffee with tea is a better option. Always limiting the intake of both drinks can bring more health benefits without doubling their intake.
Always use both in small dosages not take many doses of these drinks to keep ourselves refreshed.
What does this latte taste like?
Since I am using different spice ingredients it has a mixed taste with some spice flavour as well as with a sweet touch to it. Adding creamer makes it even more rich and flavorful.
Related