Are you looking for a healthy drink that doesn't taste like cardboard? Check out Starbucks' oat milk drinks! These refreshing drinks with oats are low in sugar, making them a perfect choice if you want to maintain better health while enjoying a delicious drink.
Starbucks' oat milk drinks are delicious, but they're also good! They are low in calories, but they're also a good source of fibre and protein.
Not to mention, they're cholesterol-free and suitable for those on a vegan or vegetarian diet. So what are you waiting for? Try a Starbucks oat milk drink today!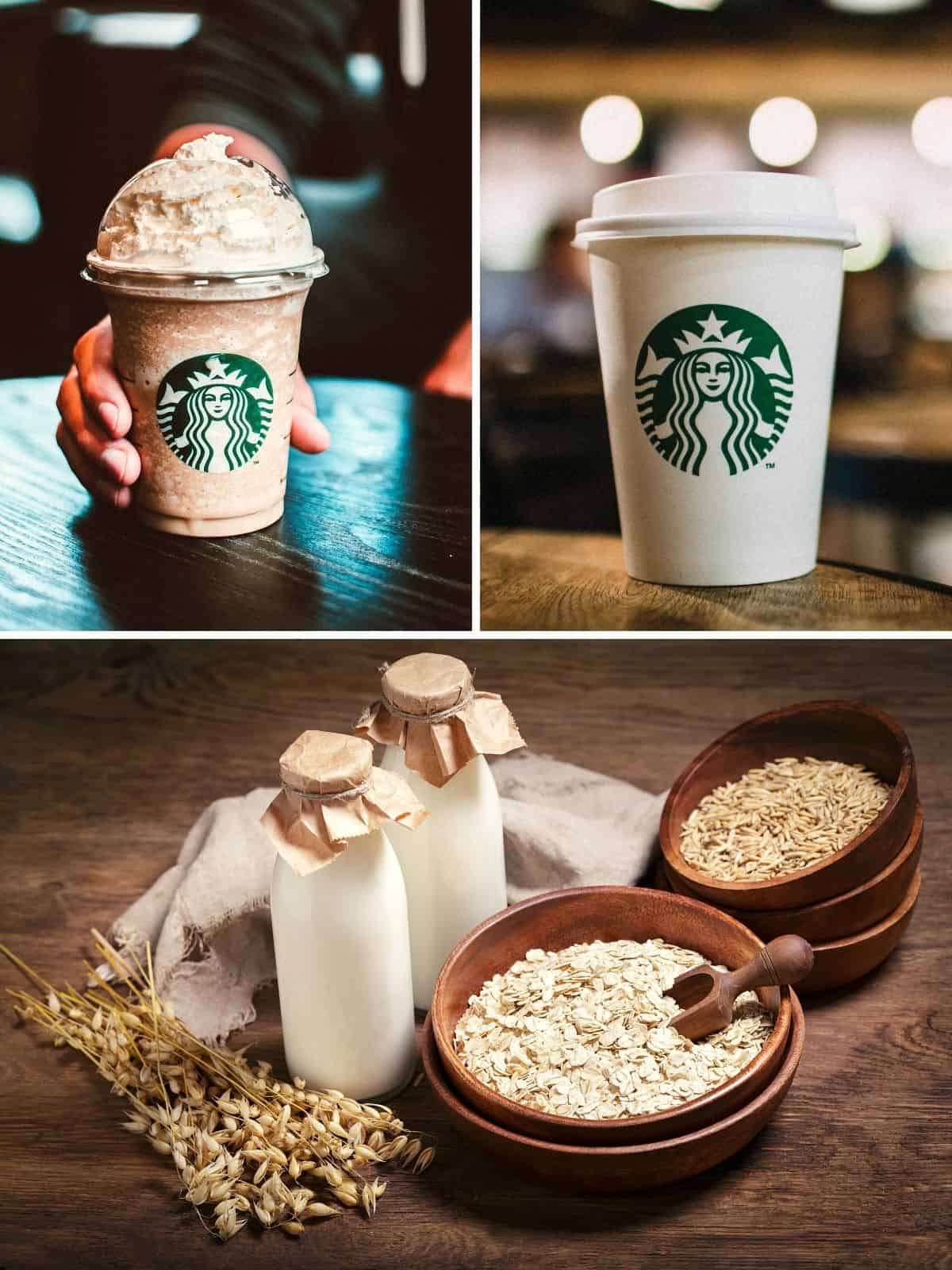 What is oat milk?
It is a plant-based product obtained from oats and water and is a creamy and nutrient-rich alternative that makes an excellent addition to anyone's diet.
Naturally sweet, with only 1g of sugar per glass, their special oat milk has a light, creamy texture with a consistency similar to skimmed milk. The oat milk contains no additives or preservatives and is 100% vegan friendly.
Oat milk is a dairy-free alternative to regular dairy milk. Just made from ground oats, water and a pinch of sea salt, it's naturally free of gluten and nuts.
Fine powder of oats makes up the body of the milk, meaning it's slightly thicker than most plant-based alternatives but thinner than cow's milk. With its light taste, oat milk is great in tea or coffee and pairs well with porridge in the morning.
Other non-dairy based options from Starbucks to check out are:
List of Oat Milk Drinks at Starbucks
We've found around 15 Starbucks drinks you should try that are made with Oat Milk, and they are seriously delicious. We've got something for everyone, from refreshing glasses to those that will warm you and satisfy your sweet tooth.
Oat milk is the hot new thing in the dairy aisle, and it's already showing up in bold flavours at your local Starbucks. Oat milk has a mild, naturally sweet taste that plays well with spices, natural fruit, and other drinks you might not have tried yet.
Check out their new range of collections of oat milk drinks and place an order for the drink you prefer.
1. Honey Oatmilk Latte
Enjoy a sweet and creamy treat with this new Honey Oatmilk Latte! Starbucks has blended oat milk and whole-grain cinnamon oats with our always fresh coffee beans to give a drink with a thick, frothy texture.
A deliciously creamy and rich latte consisting of several real ingredients in it. This drink also contains natural sugar to give it a sweet flavour without the artificial taste.
It does not contain high fructose content from corn syrup or artificial sugars; we use honey! With a smooth and non-gritty texture, this latte is perfect with a touch of milk.
Related:
2. Iced Flat White with Oat Milk
Espresso and steamed oat milk hit the spot, along with vitamins A and D from the Neuse River Dairy's sweet cream oatmeal milk.
Iced Flat White with Oat Milk makes mornings easy. Set it up with an ice cube for a smooth, creamy drink with a hint of sweetness.
Oat milk adds some depth of flavour to this yummy beverage based on one of our most popular drinks. It is nutty and creamy.
The oat milk works exceptionally well with the blend, adding a bit of nuttiness and complexity to everything you put in it. This is an iced latte without the coffee, and we're talking about "iced latte lite" here.
3. Iced Vanilla Latte with Oat Milk
The best latte you have ever had is the signature Iced Vanilla Latte. This caffeine-free drink will become a part of your day and is easy to re-create at home using oat milk.
The seasonal flavour is an indulgent treat. It's a silky, creamy iced vanilla latte with oat milk, a plant-based alternative that some consumers prefer to dairy milk.
A touch of oats lends a subtle sweetness, while our signature espresso extract makes each sip deliciously intoxicating. All the components come together ideally to create a truly delicious beverage.
4. Iced Brown Sugar Oatmilk Shaken Espresso
Iced Brown Sugar Oatmilk Shaken Espresso blend is a perfectly balanced, smooth and creamy espresso mocha made from Oatmilk, which comes from goats instead of cows.
We combine this delicious drink with ice and a shot of espresso topped with frothed brown sugar oat milk, and you've got a decadent treat - perfect for an afternoon pick-me-up or evening wind-down.
The Iced Brown Sugar Oatmilk Shaken Espresso combines the smoothness of melted brown sugar, the creamy texture of oat milk, and our most popular espresso roast. Perfect as an on-the-go pick-me-up or an after-dinner treat.
Suggested
5. London Fog Latte with Oat Milk
The London Fog Latte with Oat Milk is a delicious and addictive drink that combines the finest black tea, Sri Lanka's high-quality Ceylon Tea, with steamed milk and organic cane sugar and is served with a topping of warm evaporated milk foam.
London Fog is a traditional English tea made with Earl Grey and freshly steamed milk. We've replaced the steamed milk with oat milk in this latte for a heartier texture without the milk calories.
This blend of Assam black tea with fragrant Bergamot oils and a sweet honey flavour is reminiscent of daydreams in Covent Garden.
6. Iced Blonde White Mocha with Oat Milk
The Iced Blonde White Mocha with Oat Milk is an organic coffee and espresso drink most popular in the US. It is made with cold coffee, white chocolate, and various non-dairy creamer.
It is the world's first drinkable café au lait and white chocolate mocha. In addition to being available in stores. Order online from the Starbucks website is public.
Iced Blonde White Mocha combines the sweetness of vanilla and milk chocolate with a hint of lightly roasted coffee and is a perfect pick-me-up, and it's made even better with the addition of Oat milk.
Suggested
7. Mocha Cookie Crumble Frappuccino with Oat Milk
Start your day off with a Mocha Cookie Crumble Frappuccino with Oat Milk! This delicious treat comes with Starbucks espresso, whole milk, mocha sauce, and vanilla syrup.
It has a cinnamon dolce crumble topping with crunchy, roasted oats and a drizzle of caramel sauce.
Mocha Cookie Crumble Frappuccino with Oat Milk. The perfect mix of delicious Frappuccino topped with cookie crumble and chocolate chips blended with ice is a new morning favourite for an instant energy boost.
8. Oat Milk Chai Tea Latte
The chai tea latte is a blend of cinnamon, cardamom, cloves and fresh ginger—subtle hints of rose petals and warming black pepper. The tea comes together like magic to open up the senses and warm you with every sip.
Brewed with oat milk and served in glass cups, this classic coffee shop favourite will lift the spirits.
Related low-calorie drinks:
9. Java Chip Frappuccino with Oat Milk
The smoothness of a classic Java Chip Frappuccino blended with earl grey tea, and a touch of creamy sweetness from soft vanilla serve.
The Oat Beverage is a delicious, creamy alternative to dairy-based beverages that delivers the same great taste. It supports the vegan way of life and is also lactose-free and cholesterol-free so that more people can enjoy it.
Enjoy it for a treat, as an everyday beverage—or even as an ingredient in your favourite recipes.
10. Honey and Hazelnut Oat Latte
Honey and Hazelnut Oat Latte is a fantastic coffee cocktail that includes all the goodness of steel-cut oats and crunchy hazelnuts, plus sweet honey and fine milk caramelized with pure vanilla.
This beverage is a limited edition latte made with oat milk, blended with roasted hazelnut butter and natural honey and warmed to the perfect temperature with hazelnut and caramel syrup.
This oats latte is a perfect and delicious way to think of a coffee break. This latte tastes as incredible as it sounds.
Made with oat and almonds, honey, and hazelnuts, which are beautifully blended until they reach the texture of fine sand. This latte is compatible with our 100% free Soy Milk.
11. Strawberry and Vanilla Oat Latte
Strawberries & Cream and Vanilla & Almond Oat Lattes packs love in every bottle. These indulgent flavours mix organic whole milk and oats with a unique blend of spices, natural flavours, and real fruit purées.
Oat milk blended with rich espresso and either strawberry or vanilla. It's a treat that never grows old—and pairs well with a fresh bagel.
12. Oatmilk Cocoa Macchiato
The new Oatmilk Cocoa Macchiato comes with a dollop of 100-per cent coffee-made whipped cream and decadent chocolate truffle sauce. Available in our winter seasonal lineup.
Oatmilk Cocoa Macchiato is an exclusive oat-based blend of cashews, oats, and dates. Blended with a splash of Madagascar vanilla, decadent dark chocolate and caramel flavours come through every sip.
Delicious as-is, or add your favourite shot of espresso for a tasty small-batch latte.
13. Dark Cocoa and Orange Oat Latte
Dark Cocoa and Orange Oat Latte are one of our most-loved drinks. It Consists of antioxidant-rich dark cocoa powder and a blend of oats, almonds and walnuts for extra crunch. Plus, it's fortified with vitamins D and B12 for extra energy.
Dark Cocoa Oat Latte and Orange Oat Latte provide a great dose of calcium without compromising taste or tenderness.
Two signature lattes flank a unique blend of oats, almonds, cinnamon and winter fruit—Dark Cocoa and Orange—to create this delicious beverage experience.
14. Caramel Frappuccino with oat milk
The Caramel Frappuccino with oat milk is a beverage from Starbucks. An oat kernel is ground into powder and used to prepare this drink.
The base consists of a sweetened coffee syrup with caramel flavour, topped off with oat milk and whipped cream with toffee nut topping...
For those hot summer days when icy cold beverages are the way to go, Starbucks has introduced a new drink: The Caramel Frappuccino with oat milk. Topped with whipped cream and caramel sauce, this drink is full of natural sweetness from the use of honey.
In choosing to use oat milk, the company can now offer lactose-free creations for its lactose-intolerant customers.
15. Iced Toasted Vanilla Oatmilk Shaken Espresso
Check out this new plant-based dairy-free drink from the popular coffee that is recently added to their long list of drinks belonging to non-dairy oat milk. It is a completely different drink with flavours of espresso in it.
This is a hand-shaken Iced espresso drink with flavours of caramel and vanilla added to the drink.
Simple drink by adding blond espresso shots to the dairy-free milk and in addition to it other flavours such as caramel and vanilla make the drink even more delicious when completely mixed and served by shaking the drink with the help of hands.
Check out this space for more new oat milk drinks as the oat milk beverages begin to increase on their menu.
Other non-dairy healthy beverages
Recipe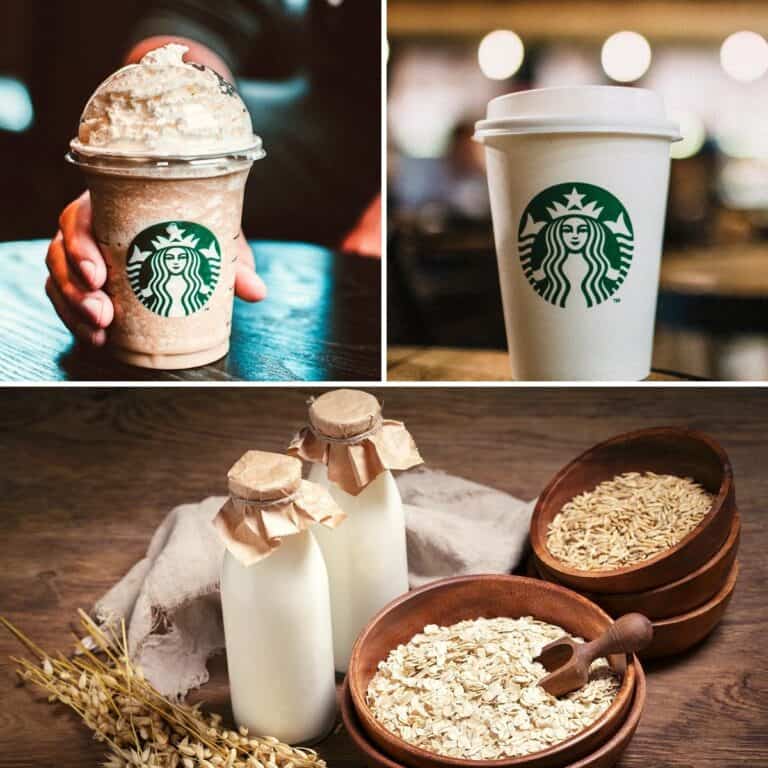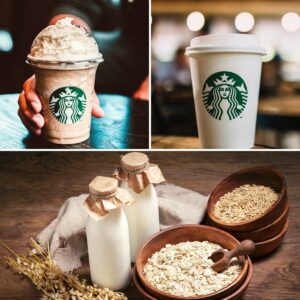 Starbucks Oat Milk Drink Recipe
A quick and easy oatmilk latte drink with honey.
Ingredients
1

cup

espresso shots

1

cup

oat milk

1

tablespoon

honey

crushed ice

toasted honey topping

(optional)
Instructions
Add crushed ice to the glass.

Add a touch of honey or just a hint of honey.

Add brewed espresso into the glass.

Pour in some oat milk into the glass.

Combine it for a sweet flavor or just leave it without combining.

Add toasted honey topping as optional ingredient.
Nutrition
Nutrition Facts
Starbucks Oat Milk Drink Recipe
Amount Per Serving (1 g)
Calories 213
Calories from Fat 27
% Daily Value*
Fat 3g5%
Sodium 147mg6%
Potassium 401mg11%
Carbohydrates 45g15%
Protein 4g8%
Vitamin A 492IU10%
Vitamin C 1mg1%
Calcium 351mg35%
Iron 2mg11%
* Percent Daily Values are based on a 2000 calorie diet.
Faq's
Does Starbucks have oat milk?
Yes, Starbucks has launched a new range of plant-based milk options such as soy milk, coconut milk, oat milk, and almond milk in place of whole milk to make healthy beverages and make them low-calorie drinks under 200 calories.
Does Starbucks have Frappuccino with oat milk?
Yes, it has those beverages and customizes your orders by replacing regular milk with oat milk. It has recently announced two new bottled frappuccino beverages to take home.
Does oat milk have sugar?
Yes, it has sugar in fewer amounts but is definitely a healthy non-dairy option to try.
Conclusion
So, whether you're a vegan or vegetarian or following a weight loss diet, looking for an environmentally-friendly option, or want to try something new and delicious, Starbucks' oat milk drinks are a perfect choice!
They are low in calories and cholesterol-free, but they're also a good source of fibre and protein. Give one of these delicious drinks a try today!
Recommended