Starbucks Vanilla Bean Frappuccino is a vanilla-flavoured frappe and to make this recipe, simple ingredients need to combine together. The frappe is a creamy milky frothy kind of a white shake that has vanilla flavours without using any coffee flavor and is perfect during summers or sunny days.
This is a complete decaffeinated drink and a good choice for those looking to drink any beverage that does not contain any coffee. Also, check out other related drink recipes that contain caffeine as well as without caffeine drinks such as iced caramel macchiato starbucks copycat, iced vanilla latte starbucks copycat , iced chai tea latte starbucks style, starbucks double chocolate chip frappuccino etc...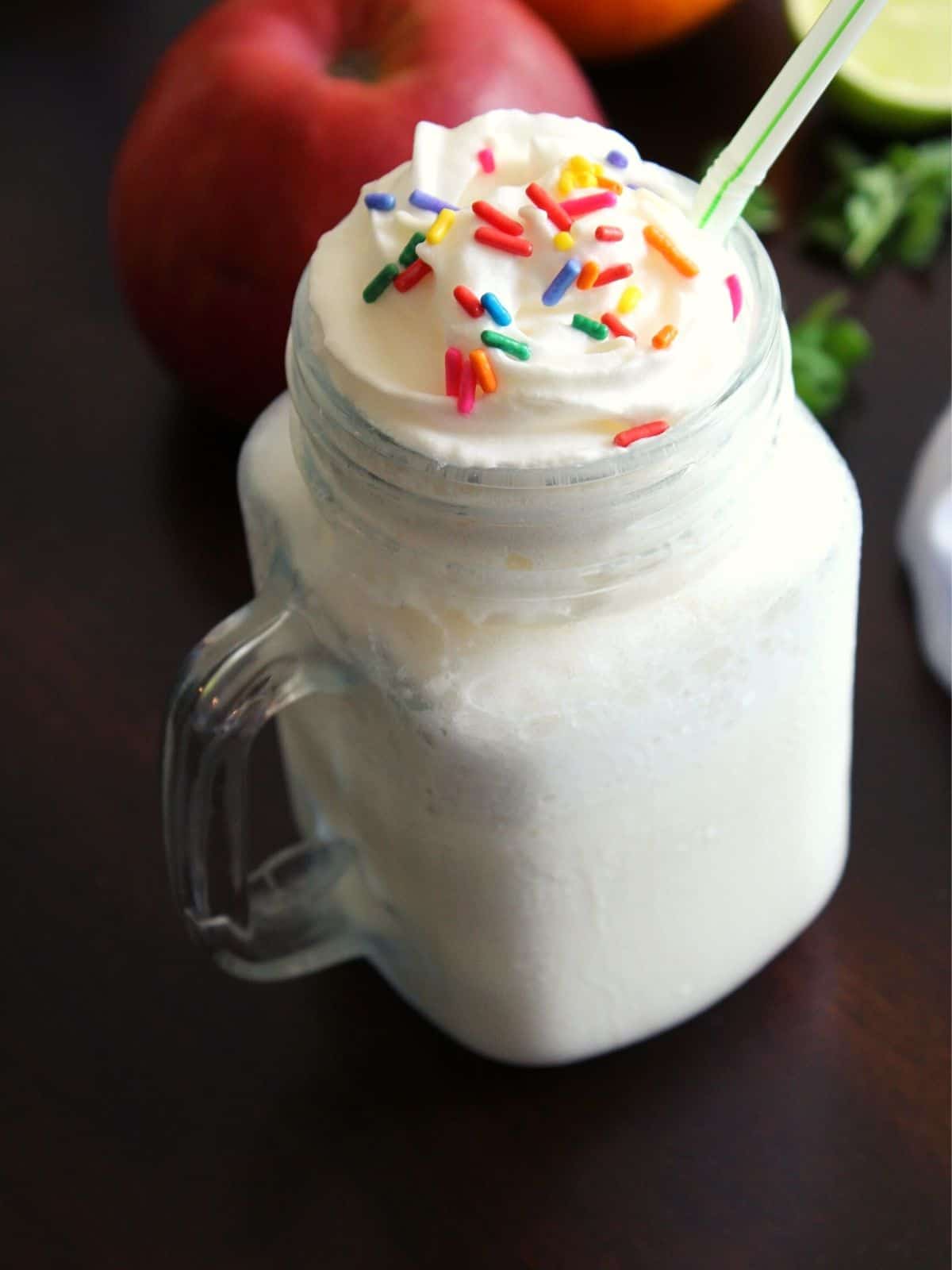 About the recipe
A simple mix of blended ice, ice cream, milk, sugar and vanilla flavor combined together makes a wonderful frothy frappe.
This recipe is almost a replica of Starbucks style frappuccino with a vanilla touch to the drink. There are many flavours in the Starbucks cafeteria and would love to try out different flavors and also try to share the replica of making those drinks easily at home.
They can easily cost us a lot if we step into those stores and try to sip any coffee flavor regularly but having simple ingredients at home can save some bucks and lessen the amount spent on those drinks.
During the pandemics and lockdowns, having a basic idea of making our favourite drinks can help us to enjoy our refreshing drinks without the need to miss these stores when closed.
There are some secret ingredients that are added and can sometimes be difficult to find but I am sure homemade drinks with easy ingredients can always be fresh as well as can have good taste too with slight variations.
Here, I am trying to use all the ingredients that are most commonly used to make the Starbucks vanilla bean frappuccino copycat version of the recipe.
There are a few ingredients one can skip if not handy but the ingredients I am using here can easily be found in grocery stores.
Ingredients
Vanilla ice cream: To get the vanilla flavour, using this ice cream flavour is a good option as the ice cream has a creamy taste and is a perfect choice for this recipe.
milk: To get a drink kind of consistency, adding milk to the drink frappe gives a good texture and consistency. Using pasteurized whole milk is preferable to get a creamy texture.
For a healthy option, low-fat milk is preferable but make sure to boil the milk well and pasteurize it properly.
sugar: To get a sweet taste, adding sugar or any sweetener makes the frappuccino delicious and yummy.
If one has a creme base, just skip the sugar and add only the base to get a sweet flavor as well as a perfect texture to the drink.
vanilla extract: I am using a liquid form of vanilla extract but vanilla bean powder too can be a good choice to get that kind of flavour.
ice cubes: To make a chilled drink, add some ice cubes and enjoy the cold drink. Always have some ice cubes ready to make any refreshing drinks, juices or milkshakes as the drinks turn out chilled and taste well with crushed ice in them.
Step by step procedure
add vanilla ice cream to a blending jar and make sure to add frozen ice cream take it from the freezer only before making the drink so that it does not melt and retains its fresh flavors.
Now, add some ice cubes to make the drink chilled.
Also, add milk and make sure to add pasteurized milk or just boil the milk and chill it before adding.
add sugar or any sweetener to give a sweet flavour.
add vanilla extract to the drink.blend everything well and combine all the ingredients by blending for a minute or two.
Serve chilled with a straw.
For other kinds of beverages or low-calorie drinks do check out weight loss drinks or copycat recipes as well as check out more drink recipes such as irani chai, black tea recipe etc.
Variations
In addition to the above-mentioned ingredients adding a creme base is a good choice to make Starbucks style frappe recipes as they hold the milk and other ingredients together without separating from one another.
It also adds sweetness to the drink without the need to add some sugar. If adding creme base just skip the sugar and the drink gives a sweet flavor because of the base.
Recipe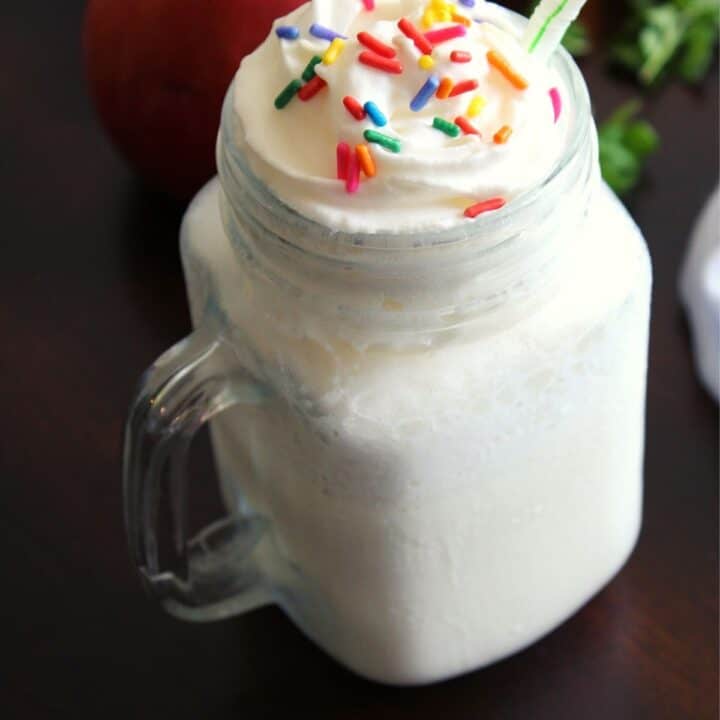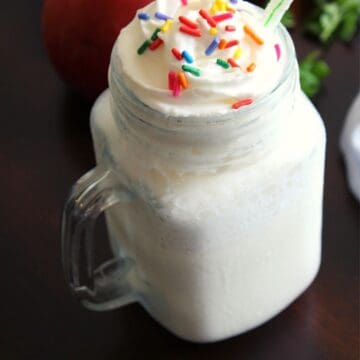 Starbucks Vanilla Bean Frappuccino Recipe
A quick frappuccino blended using ice cream and vanilla flavors.
Ingredients
1

cup

vanilla ice cream

some ice cubes

1.5

cup

milk

1

teaspoon

sugar

1

teaspoon

vanilla extract
Instructions
Add all the ingredients one by one such as vanilla ice cream, some ice cubes, milk, sugar, vanilla extract.

Blend everything well for a minute or more until everything combines well.

Top it with whipped cream.
Nutrition
Nutrition Facts
Starbucks Vanilla Bean Frappuccino Recipe
Amount Per Serving
Calories 524
Calories from Fat 234
% Daily Value*
Fat 26g40%
Cholesterol 95mg32%
Sodium 263mg11%
Potassium 752mg21%
Carbohydrates 53g18%
Protein 16g32%
Vitamin A 1149IU23%
Vitamin C 1mg1%
Calcium 583mg58%
Iron 1mg6%
* Percent Daily Values are based on a 2000 calorie diet.
Storage
These drinks do not taste good when stored and can become poisonous if stored and consumed. Therefore, make them fresh and consume fresh and chilled to experience a refreshing flavour.
Just chill the vanilla frappuccino for a few hours to have a chilled drink but do not store the drink for days in the refrigerator as it can spoil easily.
Tips
Along with some whipping cream, drizzle any chocolate flavour or drizzle some choco chips or top it with any favourite ice cream to add more deliciousness to the frappuccino.
Faq's
Do we need to add creme base at home?
It is usually added to the frappuccino drinks in Starbucks but if not an available ingredient at home, it can be skipped and made with just common ingredients.
Does this drink contain coffee?
No, this drink is a without caffeine drink and good choice if one is looking for decaffeinated drinks.
How many varieties of frappuccino are there in Starbucks?
It contains many more frappuccino drinks with different flavors and would like to highlight different flavors in different posts from my blog as I keep updating.
Can we add caffeine such as coffee to this drink?
Yes, if willing to give some coffee touch adding is no harm but making it without using any espresso gives a good taste and is light to drink without making it a heavy drink full of calories.
Recommended