Oreo milkshake recipe, a summer special chilled drink made using oreo cookies is one of the simplest and quick summer drink recipes which is a perfect shake recipe for both kids and adults.
Other healthy shakes on the blog are chocolate milkshake, malai kulfi, haldi doodh etc...
I have been trying to update this simple oreo shake for a while but could not update it. But today's article has a written recipe and a video which gives the procedure to make this recipe in a simple manner.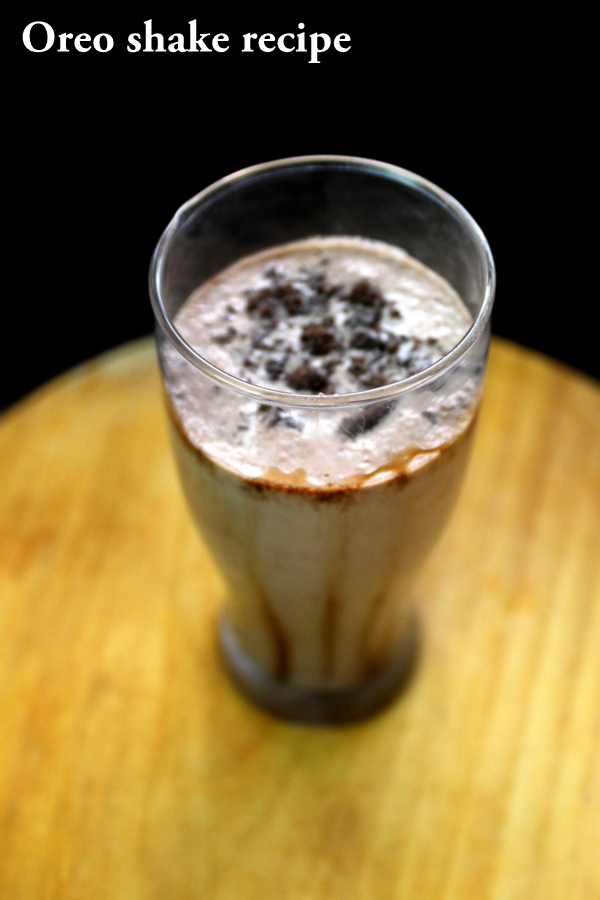 Summer is around and a day is not completed without having either fruit juices, shakes, cold coffee or any chilled drink that keeps us hydrated and keeps our body cool.
It is very essential to keep our body hydrated during summers with any kind of liquid and water is the best drink to keep ourself hydrated throughout the season, however we also prefer to consume other chilled stuff like ice creams, shakes etc...
Today I wouid like to bring to my viewers a very special summer drink and hopefully shall be adding many more beverages that would perfectly be suitable for this special season.
I have already shared some shake recipes and also chilled drinks such as dates milkshake, chikoo milkshake and would love to update with all kinds of milkshake recipes and juices as soon as possible.
What is Oreo Milkshake:
Oreo milkshake, a shake recipe made using oreo biscuits and some additional ingredients that are commonly used to make any shake recipe such as milk, ice cubes and since this milkshake needs to have some chocolate flavor in it, I have made use of chocolate syrup to make it a delicious milkshake.
Oreo biscuits are easily available in markets and any grocery store. There are different kinds of oreo cookies available in market with different flavors and any flavor biscuit can be used to make this shake.
I have not made use of any ice cream for this particular recipe but I shall soon be adding another version of making oreo milkshake with ice cream.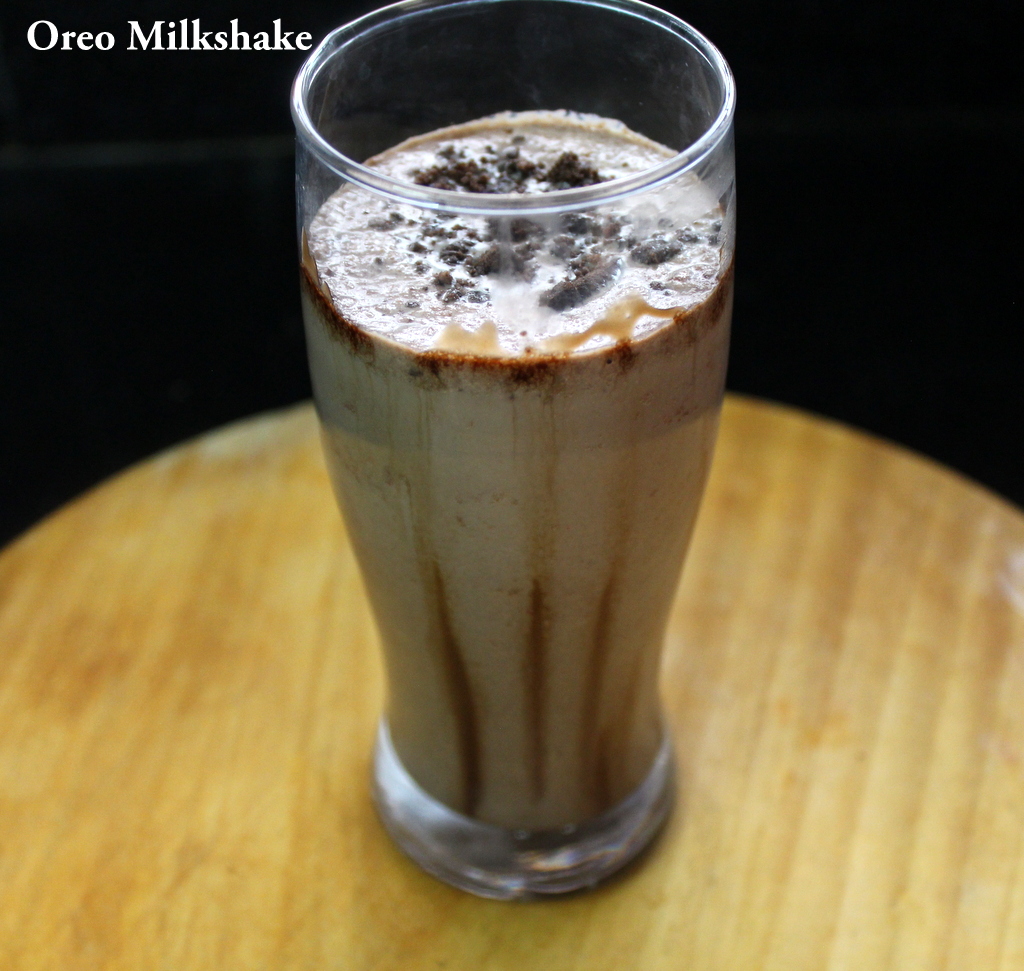 About different milkshakes:
There are several milkshakes that are usually made with mainly fruits, dates but the unique and different thing about this recipe is that it is made using biscuits. and the special biscuit that is used is oreo biscuit.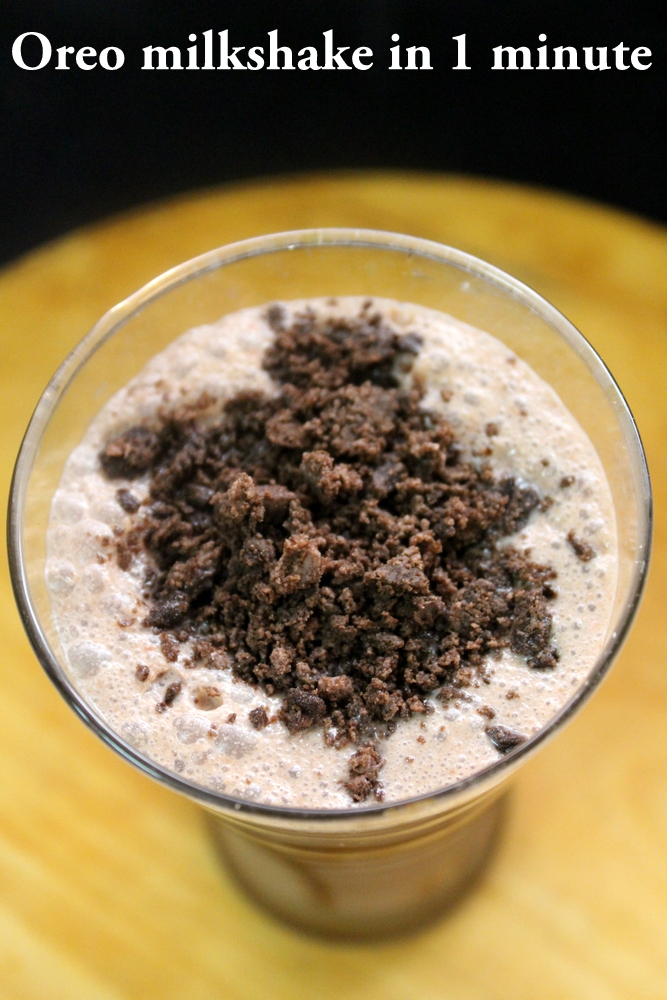 How to use oreo biscuits:
Generally biscuits with sweet chocolate flavor are preferred because they are suitable to make various dessert or sweet recipes and there are many varieties of such biscuits like parle-G, hide and seek, horlicks and many more.
Oreo cookies are used not only in making drinks and milkshakes but they are also used to make cake recipes, puddings and desserts.
Below is the recipe for easy and variety shake along with the video procedure on how to make it step by step. This recipe can also be called as oreo smoothie as both the terms are more or less same for making this summer special shake.
How to make Oreo milkshake: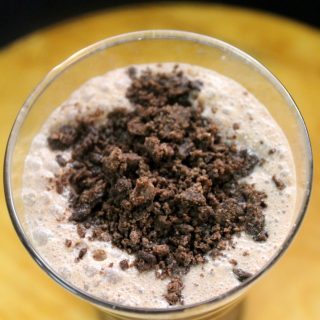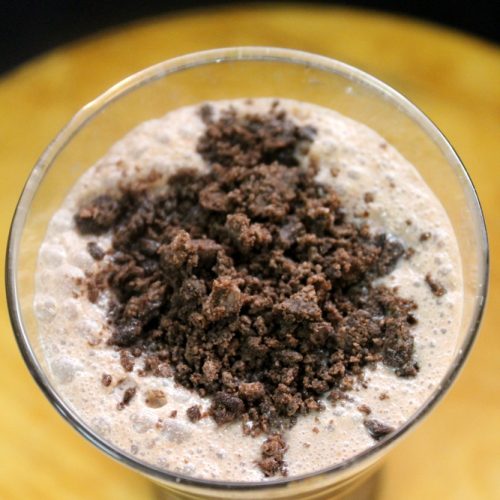 oreo milkshake recipe, oreo shake | oreo smoothie
Best milkshake made using Oreo biscuits.
Ingredients  
5-6

Oreo biscuits/ Oreo cookies

1

glass milk

(milk boiled and cooled)

some handful of ice cubes

2

tbsp

chocolate syrup

(any brand)
Instructions 
Take a juice jar or juice blender, into it add oreo cookies.

Add milk into it.

Add ice cubes into the jar.

Add about two tbsp chocolate syrup.

Blend all the ingredients finely approximately for about 3 minutes without any lumps.

Take any juice glass and garnish all the walls of the glass with chocolate syrup.

Pour the oreo milkshake into the glass.

Top it up with crushed oreo cookies or dry fruits.

Chill it if required or serve directly.

Beat the scorching heat with this shake.
Video
Notes
1. To make this shake, we can not only make use of only these biscuits but we can also make use of other biscuits such as parle-g, hide and seek, good day, horlicks, britannia or any other chocolate flavor biscuits and make the same milkshake following the same procedure.
Nutrition
Nutrition Facts
oreo milkshake recipe, oreo shake | oreo smoothie
Amount Per Serving
Calories 200
* Percent Daily Values are based on a 2000 calorie diet.
WANT TO WATCH VIDEO RECIPES?
SUBSCRIBE US ON YOUTUBE
We would love to hear feedback from our viewers on our recipes and would also like to hear suggestions on our recipes...Pour in your comments below in the comment section and your feedback is highly appreciable.