Strawberry juice is a fresh fruit juice made by extracting the juice of strawberries in a blender. Drinking with lots of minerals and nutrients is a very healthy option.
Strawberries are rich in Vitamin C and perfect for maintaining fresh and glowing skin.
Other juice recipes on the blog to try are mango juice, watermelon juice, pineapple juice, Mcdonald's strawberry banana smoothie, beetroot juice, etc...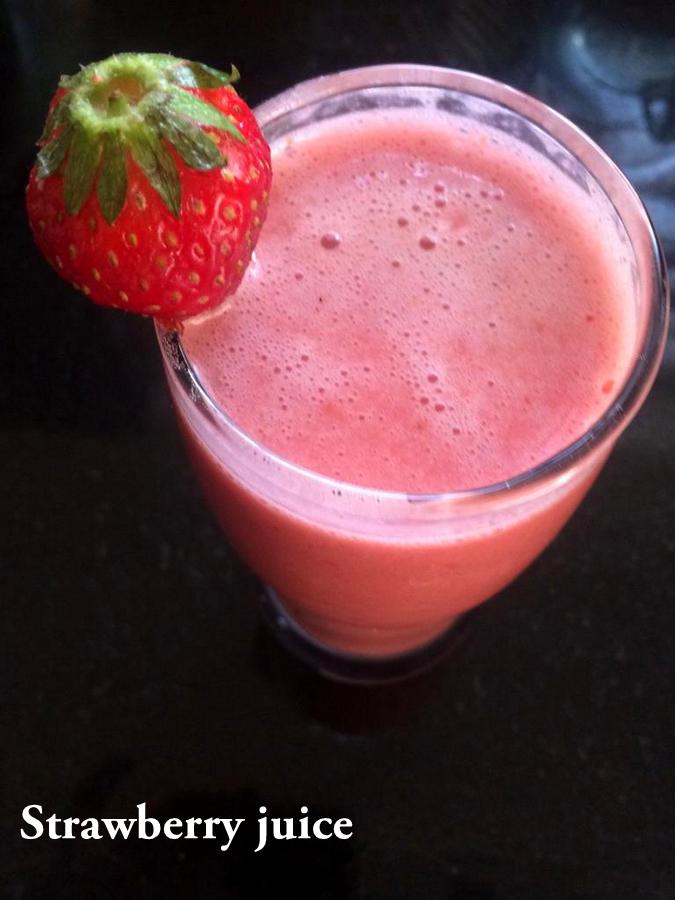 What do strawberries look like?
These are oval in shape ranging from bright red to maroon in color, which is quite juicy from the inside, and have a taste ranging from sweet to slightly sour.
These are available in plenty in almost every part of the world and are quickly growing in any part of the world.
In India, it is now easy to find this wonder fruit, and it is available easily in every grocery store and supermarket.
Suggested
How can these strawberries be stored?
Strawberries quickly lose their freshness and must be stored very carefully in refrigerators.
The critical step to storing them fresh for a few days is to wrap them in a paper towel to remove the excess moisture attached to the berries and then take the strawberry box, place tissue paper around the box, and finally place the dried strawberries into the box.
This method helps the berries remain fresh for a few days.
Another method to keep strawberries fresh for a long time is to wash them well, remove the stalk of the berries, dry them well and then place them in an air-tight container or sealed bags.
The air-tight container or sealed bag can be placed in the refrigerator, which helps retain their freshness for a few days.
Strawberries are pretty healthy and packed with excellent health benefits.
This fruit should be included in our daily diet as it is the healthiest fruit and wonder fruit with lots of vitamins inside it.
Ingredients
I am using quite a few ingredients here.
Strawberries: The quality of strawberries is essential, as over-ripe strawberries can spoil the juice taste. If the strawberries taste sweeter, the juice turns out yummy and easy to consume.
Honey: Most of the time, strawberries are sour and to balance the sweet content, add honey for a healthy option or go for brown sugar or white sugar if willing but going for honey is a better option.
Ice cubes: They give a chilling effect to the drink, and a good idea to have them during summer.
Water: This is added slightly to give the right texture to the juice. If not added, the juice may turn thick.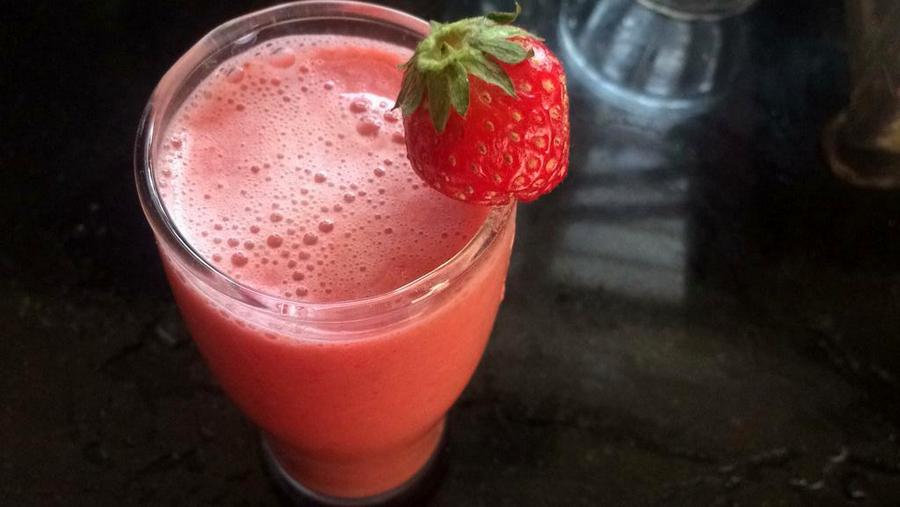 Uses
The strawberries can be used in various recipes such as cakes, chocolates, ice creams, jelly making, different juices, and milkshakes; it is highly used in making puddings, desserts, etc...
I have seen fantastic cake varieties made using strawberries, and it is also used to make delicious syrups that can be used in many recipes such as cakes, fruit juices, etc...
Strawberries should always be thoroughly washed before consumption.
I have already shared some strawberry recipes on my blogs, such as strawberry milkshakes and smoothies.
These are highly requested recipes that have been posted along with video procedures.
I have shared recipe instructions for this simple and easy juice recipe which does not require much time and ingredients and can be blended in just a few seconds and consumed fresh.
Recipe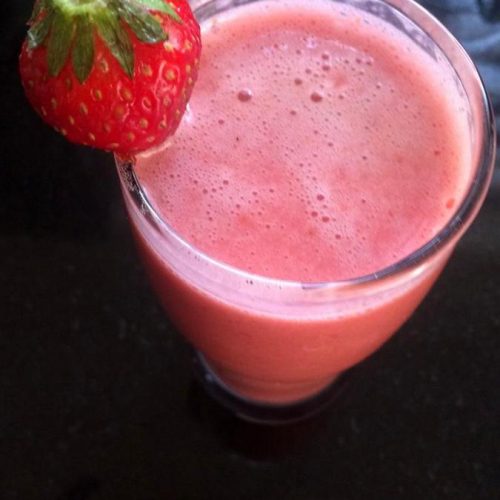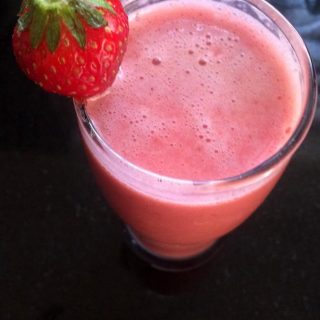 strawberry juice recipe
A quick and healthy juice made using strawberries.
Ingredients
8-10

fresh strawberries

1

tablespoon

honey

1 ½

cup

water

handful of ice cubes
Instructions
Take each strawberry, wash them well under running water, cut out the stalk of the strawberry.

Take a blending jar or a juice jar, add the strawberries into it, add some sugar, ice cubes, water into the jar.

Cover the lid and blend well for few minutes.

Take serving glasses and pour the juice into the glasses.

Garnish the juice using strawberry slices and serve chilled.
Notes
 I would suggest adding honey to sugar while making any juice, which is healthier.
Adding honey or sweetener is necessary as the strawberries taste slightly sour, and adding some sweet content balances the juice or drink completely.
Instead of water, milk can also be added along with some strawberry syrup or ice cream to make it more yummy and tasty.
This drink does not need to be strained and can be served directly by pouring it into the glasses.
Nutrition
Nutrition Facts
strawberry juice recipe
Amount Per Serving
Calories 95
Calories from Fat 3
% Daily Value*
Fat 0.3g0%
Monounsaturated Fat 0.04g
Sodium 20mg1%
Potassium 158mg5%
Carbohydrates 25g8%
Protein 1g2%
Vitamin A 12IU0%
Vitamin C 57mg69%
Calcium 27mg3%
Iron 0.5mg3%
* Percent Daily Values are based on a 2000 calorie diet.
Faq's
Does it help in losing weight?
Yes, to a certain extent, but do not make the juice using sugar. Adding honey and drinking it regularly rather than tea, coffee helps in cutting down the fat and avoids gaining unwanted fat.
How long does the juice last?
Since this is freshly made strawberry juice, having it fresh is highly necessary, and avoid storing it even for a day. Nutrients and minerals get lost, and the juice does not taste fresh and may give a different flavor if had after a long time. Consuming fresh is the best option.
I hope you liked this simple and easy-to-do quick recipe made with just 2-3 ingredients in a handy blender. Do give us your feedback and also share your versions of making different ways of strawberry juice.