Mango juice, a healthy summer drink recipe blended well to get a mango flavored drink with simple ingredients such as mangoes, sugar, ice cubes and water.
Mangoes are available abundantly in the summers in India and I am sure everyone loves to eat mangoes in this season. The scientific name of Indian mango is "magnifera indica".
Check out other cool juices or milkshakes on the blog such as dates milkshake, chikoo milkshake etc...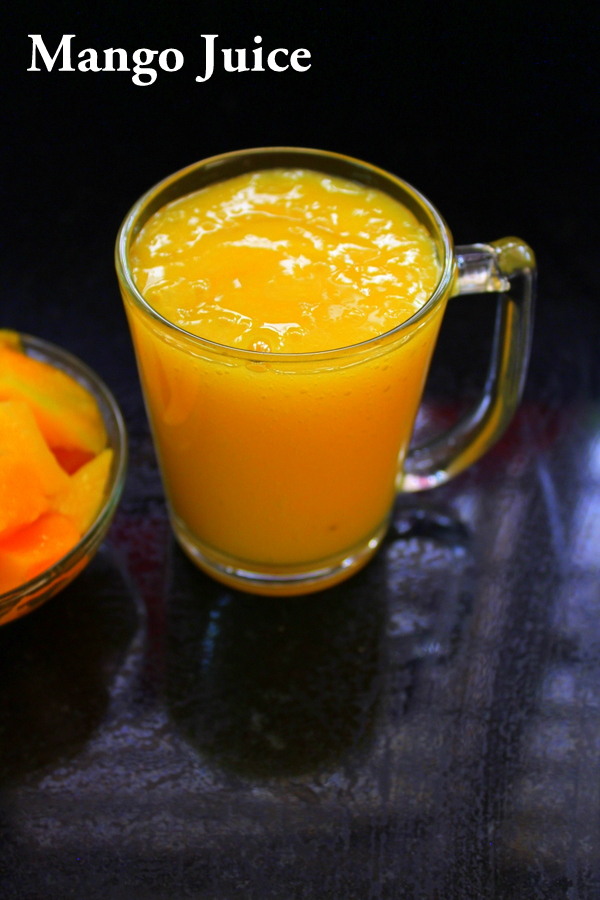 I have quite a few mango recipes on my blog and decided to add a few more as the season of mangoes has appeared.
Mangoes are eaten raw and ripen in India and there are several ways we make use of mangoes in our daily diet in this season.
How mangoes can be used:
Mango can be used to make hundreds of recipes be it a raw mango or a ripen mango. Summers give us a plenty of opportunity to make use of these mangoes and make many mango recipes which can be stored as well.
A few recipes to list down that can be made with raw mangoes are mango pickle, mango chutney, mango panna etc... and some of the recipes that are usually made with ripe mangoes are mango juice, mango milkshake, mango smoothie, mango lassi etc...
Today I have come up with a simple mango recipe which can be easily tried by anybody at home and it is a simple and highly requested mango juice.
Mangoes are available in plenty in the month of May in India and different varieties of recipes are tried and made maximum usage of this mango fruit.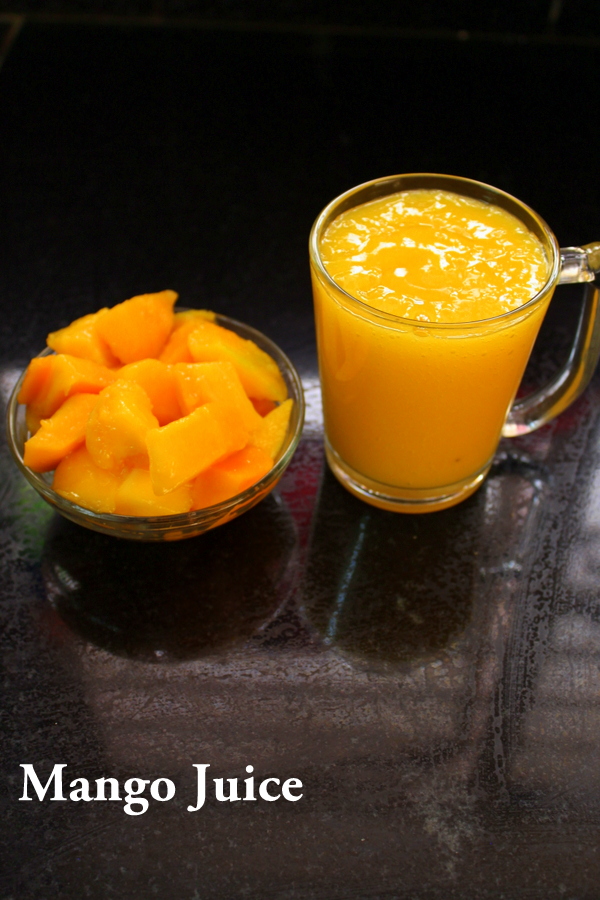 There are various varieties of mangoes in India and approximately there are close to a thousand varieties of mango types available only in India.
Several mango recipes can be made and stored for a year such as mango pickles, mango papad which are made and stored to consume at a later stage.
One more mango use that is highly made is to make aamchur powder and it is made to use in several dishes like curries, chaat recipes etc...
Here in today's recipe I have kept the use of mango in a very simple manner and this is the most easiest recipe that can made using mango fruit.
Mango juice recipe is the best drink as it has many health benefits which can be cured by having this fruit on a regular basis.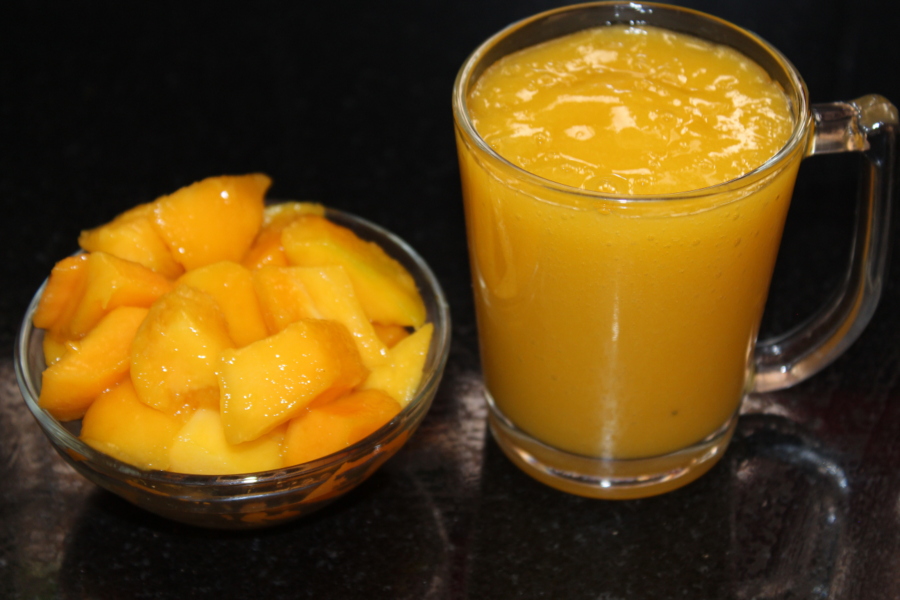 Below are some of the mango fruit benefits that we all should be aware of and include this fruit in our daily diet.
The first benefit is that the mangoes are very rich in Iron and Vitamin A. Vitamin A deficiency weakens our eyesight and including this fruit in any form could strengthen our eyesight and make them powerful.
The second benefit is that it is rich in Iron and people with anaemia should include this fruit as it helps in treating anaemic problems.
The third best reason to have this fruit is that it gives a good glow to our face and body and if one wishes to get the glow to their faces then consuming this fruit is a must.
It makes our bones strong and also helps in proper digestion.
In summers one should take care as this fruit generates a lot of heat and one best tip is to dip the mangoes in water for at least 30 min before eating as doing so takes away the heat from the mangoes and as a result they do not harm our body in a negative way.
I would be adding a lot more mango related recipes on my blog and would like my readers to try them and make use of this seasonal fruit as much as possible.
Video for aam ka juice plus other interesting juices:
How to make mango juice recipe: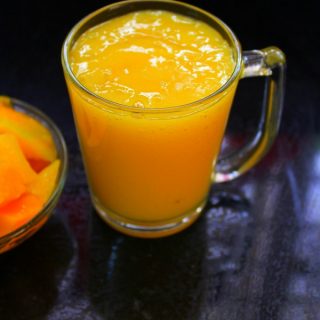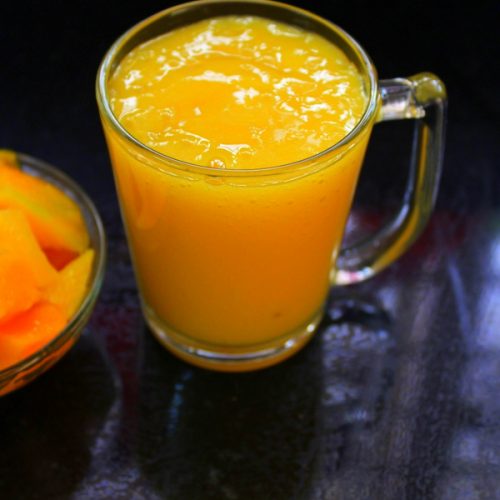 mango juice recipe, mango drink
A quick and best summer drink using ripe mangoes.
Ingredients  
1

ripe mango

(any variety)

2-3

glasses of water

sugar as per requirement

handful of ice cubes
Instructions 
How to select a mango:
Before using any mango to make a juice first check how ripe the mango is?

To make sure it is perfect, it should appear yellow in color on all sides and it should not be over ripen.

The skin gets pressed easily if it is over ripe.
Peel the mangoes:
Take the mango and peel off the skin completely and cut the flesh of the mango into small cubes and discard the huge seed.
Making of the mango juice:
Take a blending jar or a juice jar.

Add the cubes of mango into the jar.

Add some sugar as per sweetness.

Add handful of ice cubes.

Cover the lid and blend well.

Open the lid and add 2 to 3 glasses of water.

Check sweetness and add some more sugar if required.

Give a good blend for 1 to 2 minutes.

The juice should not be too thick nor too thin.

Take serving glasses and pour the juice into the glasses.

Garnish with finely chopped mango slices or ice cream of any flavor mainly a mango ice cream.

Serve chilled.

Enjoy the summer season with this chilled drink.
Notes
To get perfect taste the mangoes should not taste sour.
If juice is made out of sour mangoes then the taste of the juice turns out to be very sour and not sweet.
The juice should not be strained.
Adding water in order to get a perfect consistency is one's own choice. If thick consistency is preferred then add only 1 glass of water and adjust sugar.
If the consistency preferred is thin, then add additional glass of water and blend well.
If the fruit is quite sweet then take care of the quantity of sugar added while blending.
If the fruit is a bit less sweeter then the quantity of sugar added into it can be increased.
The more chill the drink is the better it tastes while drinking.
The most important thing to make mango juice is consistency. The more mango cubes are added and less water, then the chances are high to get a thick pulp during blending.
Therefore, reduce the quantity of mango slices and do not add more of mango cubes as the juice will not be obtained and instead we get a thick pulp.
Nutrition
Nutrition Facts
mango juice recipe, mango drink
Amount Per Serving
Calories 250
* Percent Daily Values are based on a 2000 calorie diet.
WANT TO WATCH VIDEO RECIPES?
SUBSCRIBE US ON YOUTUBE
Do leave your suggestions and feedback for this version of my mango recipe and also appreciate any more enhancements to this juice recipe.