Watermelon juice, a cool and chilled summer drink recipe made using cubes of watermelon and blending them well.
Check out Indian summer drinks and ice cream desserts on the blog namely nimbu pani, mango milkshake, mango juice, punjabi lassi, cold coffee, oreo milkshake, chocolate milkshake, malai kulfi, falooda, kiwi juice.
Summer causes a lot of dehydration and it is must to consume healthy drinks as well such as aloe vera juice, cucumber juice, chaas etc…
Watermelon is a perfect term used in English language as the fruit is pinkinsh or reddish inside which totally turns out liquid if blended well.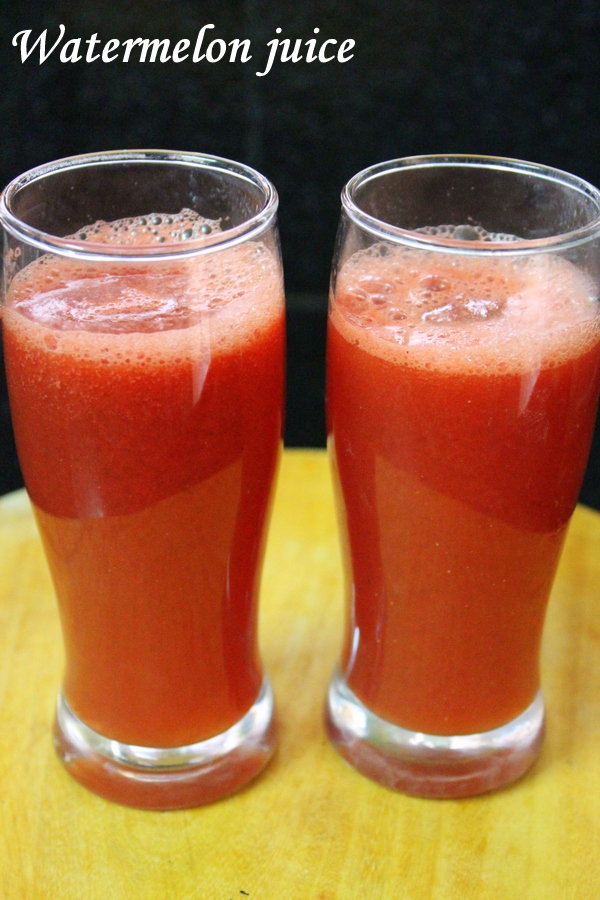 There are several ways a watermelon is termed in hindi such as tarbooj or tarbooz and its a favorite fruit for all the people out there in summer season.
How does a watermelon look like:
Watermelon is always in round or oval shape with a dark green or green in color with few white stripes here and there on the outer side.
The inside of watermelon is just a pinkish watery pulp with small black seeds stuck to the pinkish pulp inside. The pulp is quite watery and turns liquid even with a slight blend.
Ways of eating a watermelon:
Watermelon is a blessed fruit to have as it is totally hydrating and acts as a coolant if consumed often and in summers it is best to drink the juice of it or just cut the pulp into cubes and have it.
The cubes can be eaten by sprinkling some salt or black pepper powder or chaat masala powder all over the watermelon cubes, mixing well and using a fork to eat them.
Eating the watermelon without adding any of the mentioned spices above makes it very light in taste and creates disinterest towards the fruit. Hence, it is must to add or sprinkle salt and pepper and taste the goodness of the hydrating fruit.
A simple juice too can be made out of the wonderful fruit just by blending the cubes and serving which is also a simple way of using watermlon and also a healthy fruit that should never be ignored or avoided in summers.
This is the best fruit that one can have during summers apart from other things such as coconut water, buttermilk etc…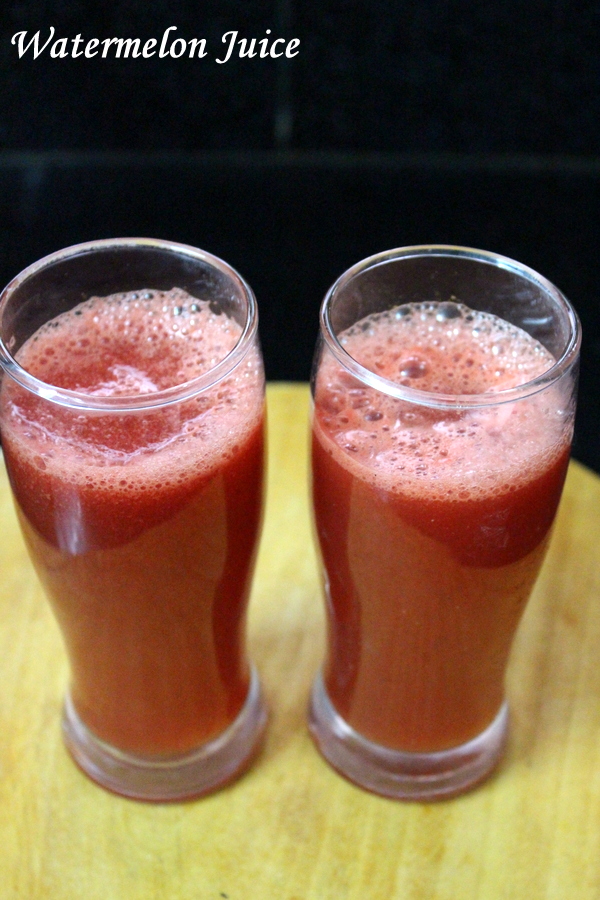 Benefits of eating or drinking a watermelon juice:
The first and the best health benefit as we all know is nothing but the fruit is very hydrating, gives us cooling effect and it has lots of vitamins and nutrients that keep our body fit and healthy.
Summers bring in heat, rising temperatures and along with that we all face sun strokes too and hence consuming it while hanging out protects us from sun strokes and we do not feel tired due to heat.
It is also said to keep our heart healthy and also helps in losing weight to certain extent if consumed regularly.
It is also one of the miracle fruits which help protect us from or fights against diabetes and also reduces any sort of inflammations on our body.
Ramadan is almost around the corner and I would suggest to have chunks of this fruit or make a juice out of it quickly as empty stomach develops more heat inside the body and once we break the fast with dates, this is the best fruit to be followed that gives a big relief to the tummy along with the refreshing drinks.
My today's post is a very simple and quick refreshing watermelon drink blended in just few seconds and it is ready to drink. Check out the recipe details below.
How to make watermelon juice recipe: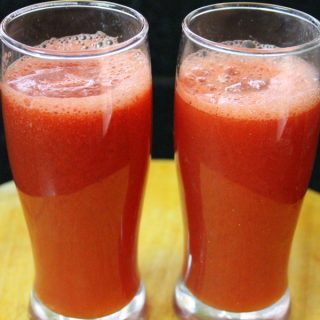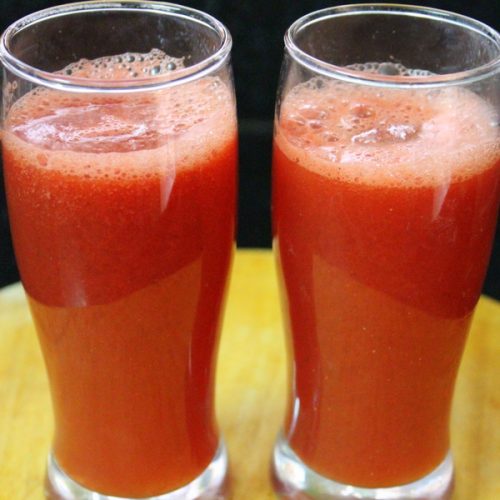 watermelon juice recipe, watermelon drink
A chilled and refreshing drink made using watermelon pulp.
Ingredients
1

medium size bowl of watermelon cubes

sugar 2 tbsp/ as per requirement

4-5

mint leaves

(optional)

1/4

tsp

black salt/ kala namak

lemon juice extracted from 1/2 a lemon

5-6

ice cubes
Instructions
How to cut watermelon:
Cut the watermelon into two haves and then try to divide the half part into more parts and cut the pinkish pulp into small cubes using a knife.
Making watermelon juice:
Take a blending jar, add the watermelon cubes into it.

Add sugar as per requirement.

Add mint leaves.

Close the lid of the jar and blend the juice well.

Take a bowl and with the help of a strainer, strain the juice.

Add black salt and lemon extract into the juice.

Stir well.

Discard the seeds.

Take serving glasses, pour the juice into the glasses.

Add ice cubes into the glasses.

Serve chilled.
Notes
If the watermelon is sweet then take care of the quantity of the sugar added while blending the juice or sugar can be skipped if the fruit is too sweet.
If the watermelon is less sweeter then do add sugar as per requirement or as per the sweetness preferred.
Adding mint leaves is totally optional and they can be skipped if the taste of mint is not suitable.
Adding ice cubes at the end or while blending can be opted according to one's choice.
There are some watermelons where seeds are not attached to the pulp and in such cases juice need not be strained and directly served. Straining is required only when there are seeds stuck to the pinkish pulp.
Nutrition
Nutrition Facts
watermelon juice recipe, watermelon drink
Amount Per Serving
Calories 140
* Percent Daily Values are based on a 2000 calorie diet.
WANT TO WATCH VIDEO RECIPES?
SUBSCRIBE US ON YOUTUBE
Hope you liked this version of my watermelon juice and if you have any more versions on making this refreshing chilled drink then do send us your suggestions on our email-id or through comments below.