Falooda recipe is a traditional drink and dessert as well made using sweet basil commonly called as sabja seeds as well as boiled semiya or falooda sev. Other desserts or sweets or related recipes to check out are chocolate milkshake, Oreo milkshake, semiya payasam, suji ka halwa etc...
We usually require two main ingredients to make this recipe that is sabja and seviyan and the rest of the ingredients that usually are needed to make this drink are thickened milk, ice cream, kulfi and to get that dazzling pinkish color we add rose syrup or rooh afza is commonly added to get pink color.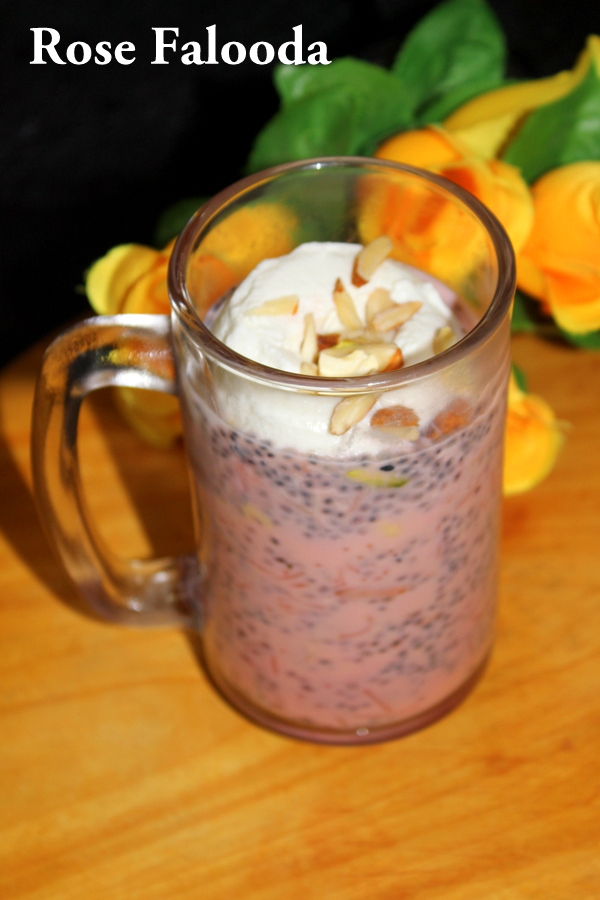 The flavor that is obtained after all these ingredients is amazing and a perfect drink dessert to be taken during summers as it has cooling substances such as sweet basil, ice creams and some nutritious ingredients like dry fruits, milk and ice creams in it.
Falooda is commonly found across many Indian streets and it is a very popular dessert all across Hyderabad. If one visits Hyderabad in summers then one can definitely spot the falooda ice cream stalls everywhere.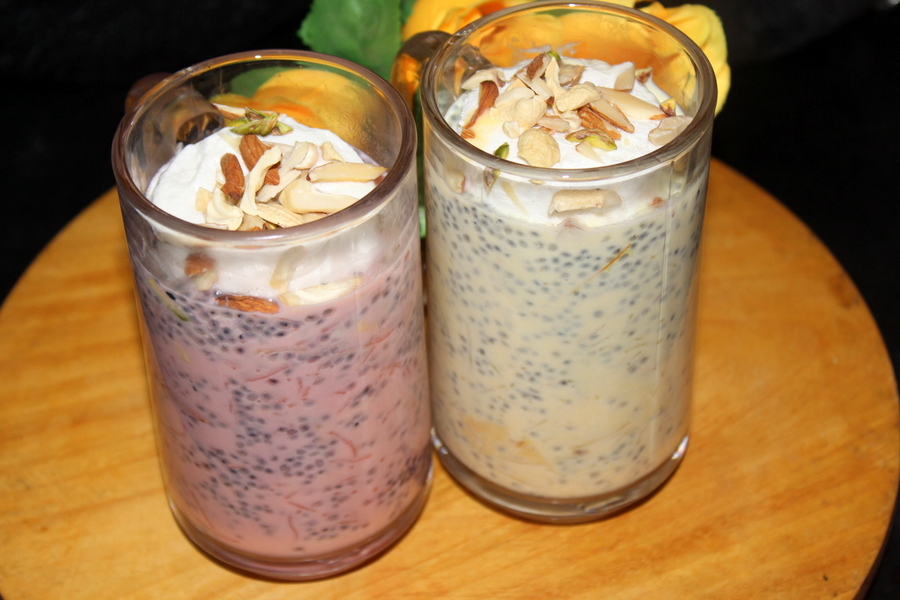 Flavors of Falooda:
There are basically two flavors found in falooda recipe, one is rose falooda or royal falooda which I will be sharing here in this post and the other is kesar falooda or kulfi falooda or faluda ice cream.
Royal falooda usually appears pink in color and kesar or kulfi faluda is yellow in color.
Both the falooda recipes give a cooling effect to our stomach and are great dessert drinks for Indian Summers.
Making faluda is the easiest if one has all the ingredients ready at home such as sabja, semiya, ice cream, kulfi, dry fruits, milk and the main important ingredient to get the wonderful baby pink color is rose syrup/rooh afza.
The falooda is then made by adding all these ingredients in layers into a glass and then mixing everything and garnishing with some dry fruits, fruits and ice cream of any flavor.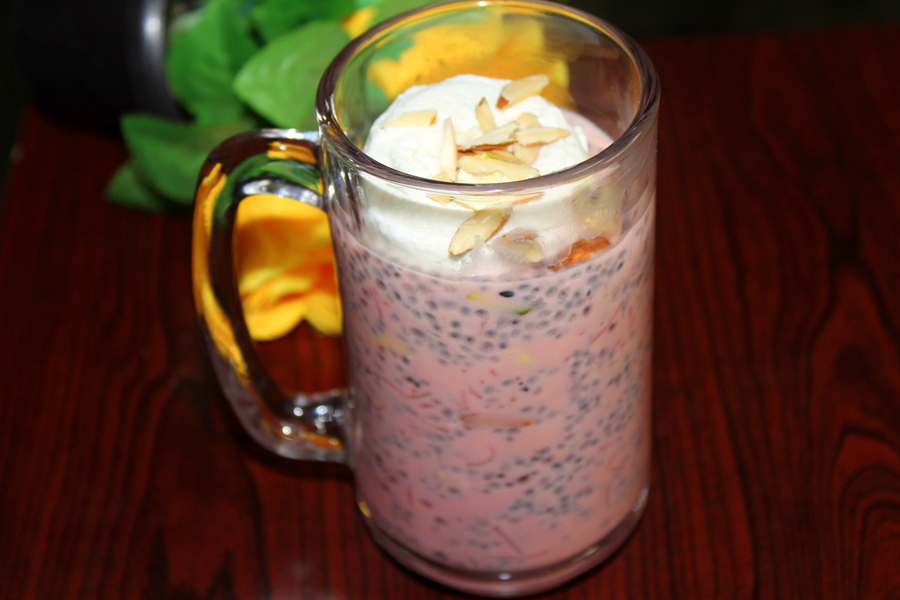 How to use Falooda Sev/Vermicelli:
Many of us get confused and spend lots of time buying falooda sev in stores and most of the grocery stores don't sell the falooda sev. If it is available then, it should be cooked according to the instructions given behind the pack and used in one of the layers in falooda recipe.
If falooda sev is not available in markets then, buy a packet of broken semiya or vermicell, boil it in hot water, strain the semiya and run it under cold water, spread them and use it in falooda.
Both the falooda sev and vermicelli give almost the same taste.
I am showing the traditional street side method of making falooda recipe and one can't resist to have it more and more of faluda once taken.
It is a very chilled drink dessert and while selling faluda, one stores all the prepared ingredients in their refrigerators and instantly prepare falooda as the customer comes to buy.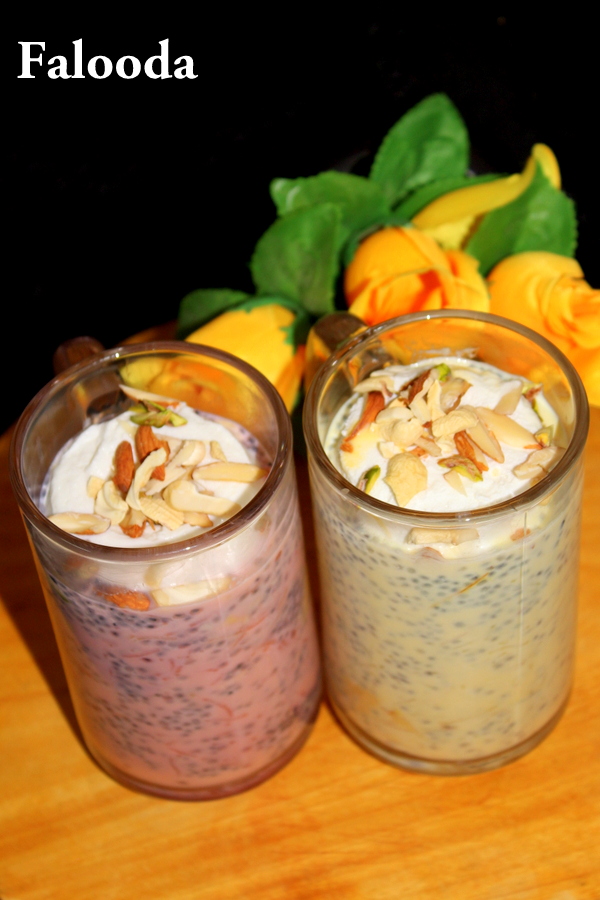 Steps to follow while making Falooda:
Sabja seeds should be soaked first.
Semiya/vermicelli/falooda sev should be boiled or cooked.
Milk should be thickened
Rooh afza should be readily available at home or any rose syrup.
Kulfi and ice cream too should be in deep freezer before making falooda.
Dry fruits too should be sliced and kept ready
On the streets sabja, ice creams, kulfi, milk and everything are kept cool by refrigerating and made immediately when a customer comes for buying.
Check out the recipe below where I would be sharing detailed recipe on how to make the royal falooda and enjoy the scorching summers.
Video procedure for falooda recipe:
How to make falooda recipe below:
Recipe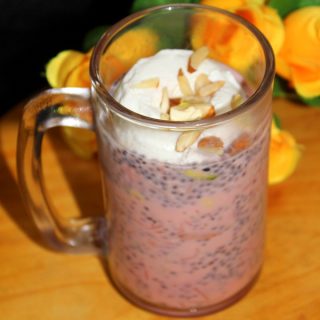 falooda recipe, royal falooda | rose faluda
A cool drink dessert made using soaked sabja seeds, rose syrup, seviyan, milk, ice cream, kulfi etc...
Ingredients
2

tablespoon

sabja seeds/sweet basil seeds

2-3

tablespoon

of vermicelli/semiya/falooda sev

3

tablespoon

rooh afza/ rose syrup

1-2

tablespoon

dry fruits finely sliced

cashews/kaju, badam/almonds, pistachios/pista

2-3

tablespoon

kulfi ice cream

3

cups

milk

2

scoops of vanilla ice cream for topping

finely sliced dry fruits for garnishing
Instructions
Preparation steps before making rose falooda recipe:
Step 1:
Take 2-3 tablespoon of sabja seeds in a glass or bowl, add some water to them until they are dipped well.

Soak them for about half an hour until they triple in their size and become puffy.

Place the soaked sabja seeds in refrigerator or aside.
Step 2:
If one is using falooda sev, then follow the directions behind the pack and use them.

If one has seviyan/vermicelli, just boil them in boiling water for 2-3 minutes, strain them, run the semiya under cold water, strain the semiya and spread it on a flat plate to avoid the semiya sticking to each other.

Semiya is ready to be used later.
Step 3:
Take 2-3 tablespoon of rose syrup or rooh afza and keep it ready.
Step 4:
Finely slice all the mentioned dry fruits.
Step 5:
Add the milk into a pan, simmer it for few minutes until it reduces to half or it becomes thick.

Switch off the flame and refrigerate it or place it aside.
Step 6:
Keep the ice creams handy like kulfi, vanilla ice cream etc...
Making of Falooda:
Take a glass, add the soaked sabja seeds as the first layer.

Add cooked semiya or cooked falooda sev as the second layer.

Add rooh afza or rose syrup as the next layer.

Add finely sliced dry fruits to the next layer.

Add kulfi as the next layer.

Add milk that has been thickened to the next layer.

Mix all the ingredients well with a table spoon.

Now add 2 scoops of vanilla ice cream as the topping and this completes all the layers in making falooda recipe.

Finally, garnish with some sliced dry fruits.

Refrigerate it until it gets completely cool as it tastes best when chilled.

Serve the dessert drink.
Notes
 Here, to make falooda I have freshly made all the steps mentioned and if one wishes to have this drink regularly, then it is better to store all the cooked ingredients in refrigerator and use them within a day or two or can be served to guests.
Ice creams and kulfi can anyways be stored in deep freezers whereas milk, soaked sabja, sliced dry fruits can be kept refrigerated and used with in few days.
 Always store rooh afza in room temperature as it solidifies if stored in fridge.
 With all these ingredients available, faluda can be made instantly and served.
 If falooda is prepared freshly as mentioned in the steps in the recipe card then, do refrigerate the drink and allow to chill for an hour before seving as it tastes the best when chilled.
 Any flavored ice cream can be topped over the falooda while serving.
Nutrition
Nutrition Facts
falooda recipe, royal falooda | rose faluda
Amount Per Serving
Calories 447
Calories from Fat 216
% Daily Value*
Fat 24g37%
Cholesterol 73mg24%
Sodium 315mg14%
Potassium 966mg28%
Carbohydrates 35g12%
Protein 23g46%
Vitamin A 1186IU24%
Calcium 827mg83%
Iron 1mg6%
* Percent Daily Values are based on a 2000 calorie diet.