Falooda ice cream, a dessert drink made with many chilled ingredients such as kulfi, ice cream and the key ingredients that are required to make falooda are soaked sabja seeds and boiled semiya.
Falooda is commonly found in several street corners of India and it is a very chilled dessert drink.
Other healthy summer drinks for summers are aam panna, mango milkshake , strawberry milkshake etc...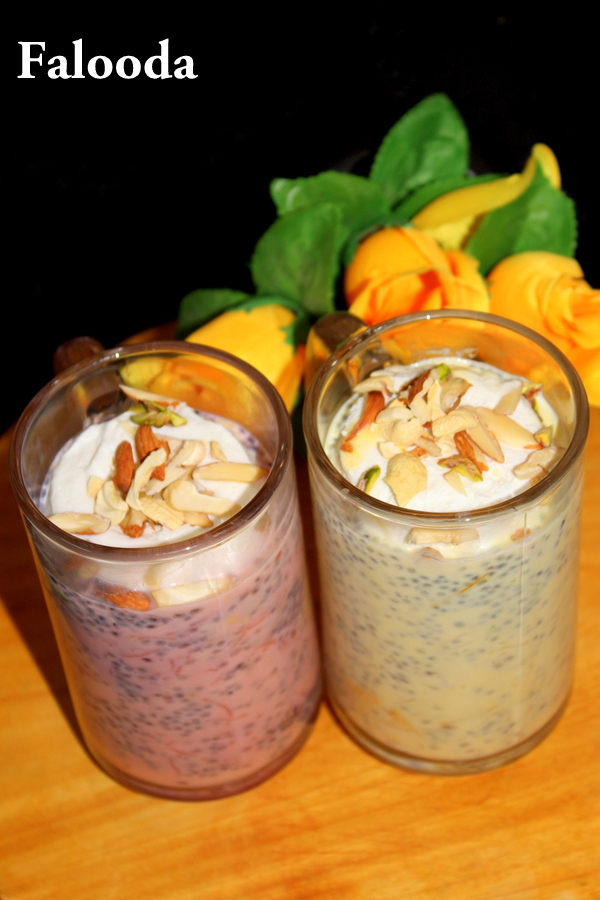 What are the two main ingredients to make kulfi falooda?
To make faluda one needs to definitely have soaked sweet basil and falooda sev. Along with it we need to have some ice creams such as vanilla ice cream and kulfi and some sliced dry fruits.
Flavors of falooda:
There are basically two kinds of flavors one is rose falooda, other is kesar faluda. Today's recipe is kesar faluda and my next recipe would be falooda with rose flavor.
It is difficult to find specially made falooda sev in stores or nearby shops and one need not worry as sev that is used can be our normal broken vermicelli which is commonly available in india.
Just boiling the broken vermicelli for few minutes and running it under water and using it is enough as falooda sev or vermicelli both are almost similar in taste.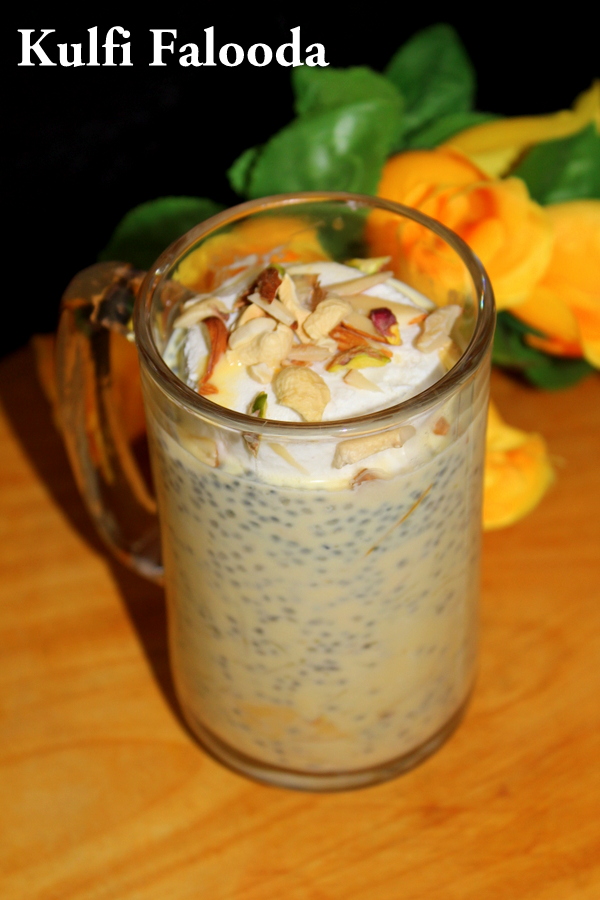 Whenever we go across the streets of Hyderabad or some other parts of India this kesar falooda stall is often spotted.
Loads of people prefer to eat this drink dessert which keeps us filled and more over it is a wonderful coolant to our body.
Since I am from Hyderabad I often see these faluda stalls all across Hyderabad in summers.
This dessert is often made and taken during summers as it has very cooling properties from soaked sabja, ice creams and the dessert is chilled before eating or drinking.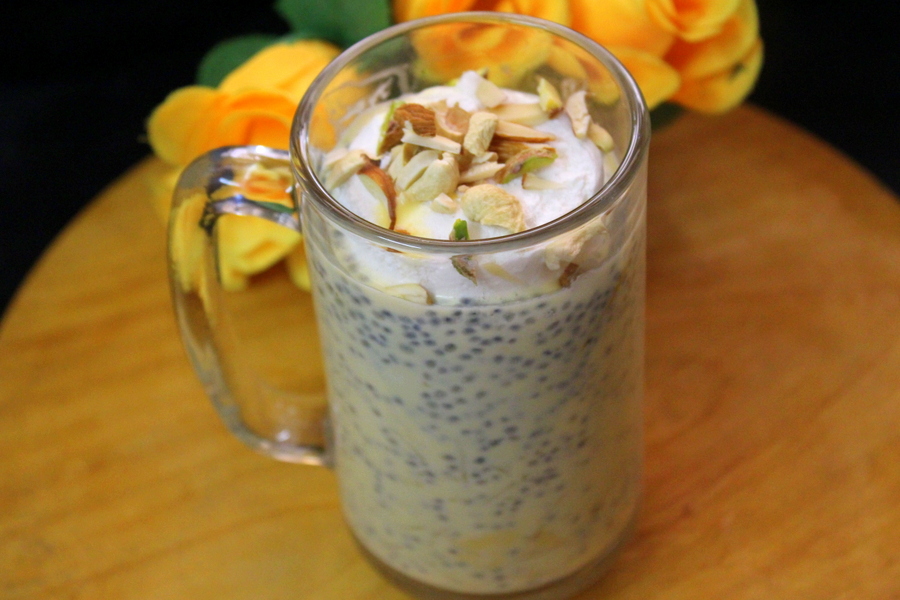 This dessert is usually made in a glass with several layers of sabja, semiya, dry fruits, kesar syrup, milk and ice cream.
Usually while selling this dessert all the ingredients are very chilled and they do it by chilling all the ingredients before hand that are required to be added as layers. They instantly make all the layers in a glass when ever a customer comes for buying and serve the kulfi faluda.
It is a different dessert and a very delicious flavorful drink which is usually yellow orange in color and in rose color.
Video procedure for the recipe is shown below:
How to make kulfi falooda ice cream:
Recipe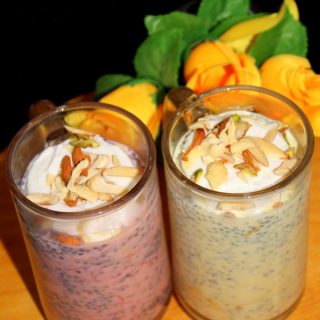 falooda ice cream, faluda ice cream | kulfi falooda
A special hyderabadi drink dessert made using falooda sev/ semiya and soaked sabja seeds.
Ingredients
2-3

tablespoon

sabja seeds/sweet basil

2-3

tablespoon

broken semiya

¼

th cup saffron syrup

saffron/kesar infused or soaked in milk

2

tablespoon

dry fruits

cashewnuts, almonds and pistachios

2-3

tablespoon

kulfi

2-3

cups

milk boiled and reduced to half

2

scoops of vanilla ice cream

dry fruits for garnishing
Instructions
Steps to be followed before making falooda ice cream dessert:
Step 1(Soaking of sabja):
Take 2-3 tablespoon of soaked sabja seeds in a bowl, add some water and soak the seeds for about half a hour.
Step 2(Boiling of semiya):
Firstly take a pan, add some water and boil it.

Add broken semiya/seviyan into the boiling water, cook the semiya for 3 minutes and strain the semiya.

Run the cooked semiya under cold water and spread it evenly to avoid sticking to each other.

Set it aside.
Step 3(Soaking saffron strands):
Take one fourth cup of milk, take 7-8 strands of saffron and soak them in milk for half an hour until it gets nice orange color.
Step 4(Slice some dry fruits):
Take handful of cashewnuts, almonds and pistachios, slice them finely with a knife and place them aside in a bowl.
Step 5:
Boil milk and start reducing its consistency on low flame and keep stirring in between until it reduces to half and once reduced to half switch off the flame and place it aside.
Making of falooda ice cream or kulfi falooda:
Take a glass, add 3-4 tablespoon of soaked sabja seeds into the glass as the first layer.

Add 2-3 tablespoon of boiled semiya as the second layer.

Add 2-3 tablespoon of saffron flavored syrup as the third layer.

Add some finely sliced dry fruits as the fourth layer.

Add 3-4 tablespoon kulfi as the next layer.

Add 1 cup thickened milk as the next layer.

Mix the entire mixture inside the glass using a spoon.

Finally, add 2 scoops of vanilla ice cream or any flavored ice cream such as butter scotch etc...

Garnish with any finely sliced dry fruits.

Refrigerate it for an hour and let it chill.

Serve chilled falooda and enjoy!!!
Notes
1. After making all the ingredients that are mentioned step wise can be chilled in fridge and used while making faluda and served instantly.
2. Use these chilled ingredients in a day or two and serve all the layers in a glass, mix and serve the chilled drink instantly whenever required.
3.Don't worry about having falooda sev. Buy it from from the stores if available and cook it according to instructions given behind the pack or one can use normal broken wheat semiya, boil it and use it in faluda.
Nutrition
Nutrition Facts
falooda ice cream, faluda ice cream | kulfi falooda
Amount Per Serving
Calories 350
* Percent Daily Values are based on a 2000 calorie diet.