Strawberry milkshake, an easy and very healthy recipe made using strawberries, milk and blending all together to get a fine milkshake. Other milkshake recipes on the blog are oreo milkshake, mango milkshake, badam milkshake, chocolate milkshake, cold coffee, malai kulfi, ice cream made out of a milkshake...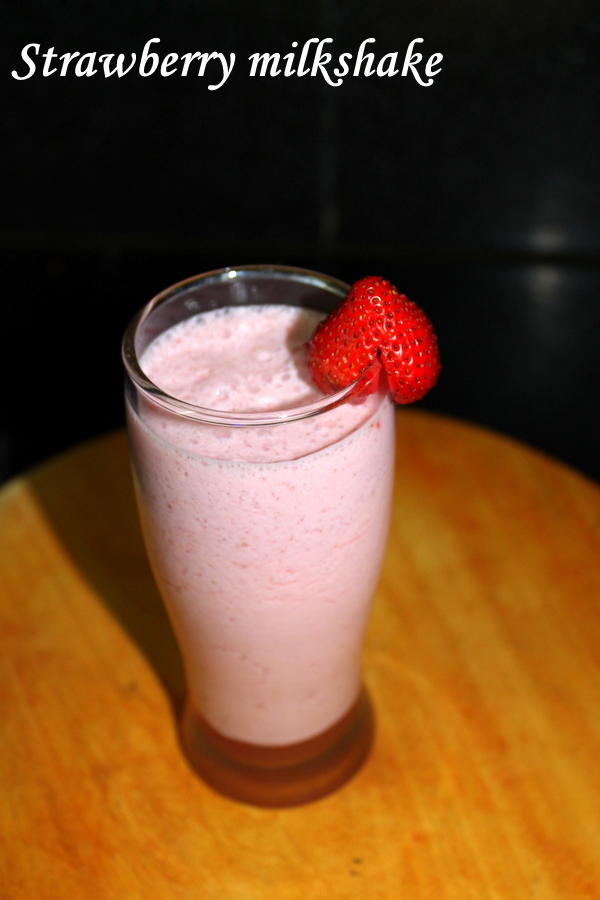 Summer is back in India and all we need is various drinks and we all look forward to drinking various kinds of liquids from water, coconout water to juices, milkshakes, cold drinks and several ice creams in our summer menu.
Here, today in this post of mine I took up a different fruit which is super healthy and have loads and loads of benefits. It is nothing but the name of the fruit I have used is Strawberries.
Availability in India:
Strawberries are available abundantly in India though a bit expensive, they are worth eating as they are packed with lots of good health benefits.
They are widely found in some parts of Maharashtra and mainly cultivated in Jammu and Kashmir and Himalayas.
They are easily available in supermarkets and hypermarkets in boxes or packs.
How does a strawberry look like:
Strawberries are deep reddish in color and sometimes they also appear maroon in color which is a very appealing color and they are available in half of the finger size and almost heart shape.
Their look and their taste both are just very appealing and we can try several recipes with this miracle fruit.
Here, I have made a summer milkshake recipe which gives a refreshing relief and acts as a coolant to our body as this recipe has many chilled ingredients like ice cubes and ice cream that goes in while blending.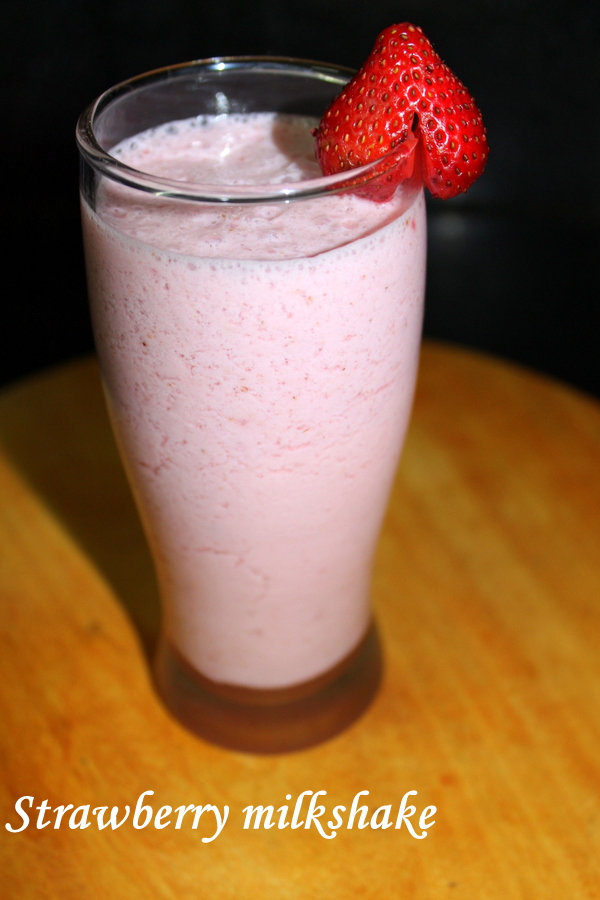 Benefits of eating strawberries:
If we talk about the goodness of having them or including them in our daily diet they are endless. Below is the list of some good reasons as to why this heart shape fruit should be included in our day to day life.
The one main reason to have it regularly is it prevents any heart related ailments like heart stroke etc...It is said that it causes less of heart diseases if taken often and also maintains cholesterol levels and also controls blood pressure.
One more reason which I am quite familiar with is the facial glow that is obtained after consumption of this fruit on a regular basis. Since this fruit is rich in Vitamin C it gives a natural glow on our face.
It is not only good for skin but also good for hair and it also has lots of anti-aging properties. The fruit has anti-oxidant properties which are good for our body.
Overall, this is one of the best and healthiest fruits to be consumed often and make the most of this fruit by eating it occasionally and get the maximum benefit of the fruit.
What can be made of Strawberries:
It is used to make many different delicacies such as jellies, ice creams, cakes, puddings, biscuits and many more desserts as well as juices and smoothies.
How to store strawberries:
This is a very simple and easy method...
Take empty strawberry boxes and clean them with a cloth or a tissue and remove any moisture stuck to the boxes.
Place a paper towel or a tissue paper all over the box.
Take each strawberry, clean it with any cloth and remove any moisture on the fruit.
Place the strawberries inside the box.
Place the strawberry box in the refrigerator.
This method helps in storing them and keeping them fresh for a long time.
Do not ever store the strawberry box directly inside the refrigerator as they tend to rotten very quickly if not stored properly.
Below are the recipe details on how to make a delicious strawberry milkshake in just a couple of minutes with simple ingredients and you could also check out other plain fruit juices such as strawberry juice, kiwi juice.
How to make Strawberry milkshake recipe:
Recipe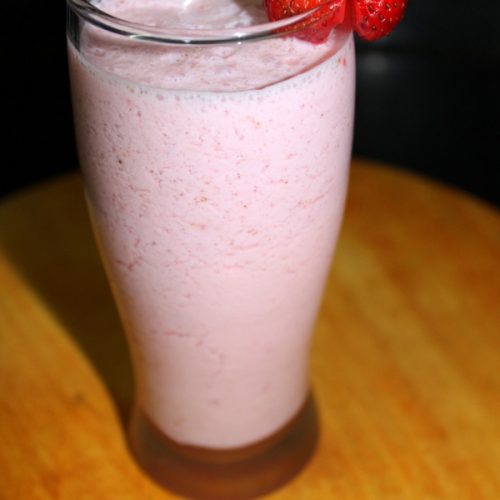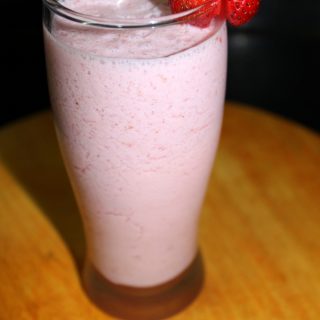 strawberry milkshake recipe, strawberry shake
Strawberry milkshake using strawberries, ice cream and milk.
Ingredients
6-7

fresh strawberries

1-2

scoops of strawberry ice cream

1

cup

of full cream milk

(milk boiled and chilled)

handful of ice cubes

1

teaspoon

sugar
Instructions
Step 1:
Remove the green stalk of the strawberries and wash them well before using.
Step 2:
Take a blending jar, add strawberries into it.

Add strawberry ice cream.

Add milk that has been boiled and chilled.

Add handful of ice cubes.

Add sugar into the jar.

Close the lid and blend all the ingredients for 2-3 minutes.

Open the lid and still some tiny pieces are appearing blend it again for a minute.

The milkshake is ready.
Serving:
Take a serving glass and pour the milkshake directly into the glass(do not strain).

Garnish with small strawberry slices or some ice cream as the topping.

Serve chilled.
Notes
We can also make use of honey in place of sugar which is more healthy and a fat cutter.
If strawberry ice cream is not available handy one can even make use of vanilla ice cream as the best alternative.
Nutrition
Nutrition Facts
strawberry milkshake recipe, strawberry shake
Amount Per Serving
Calories 150
* Percent Daily Values are based on a 2000 calorie diet.
Do try this simple milkshake recipe and we look forward to your feedback and comments below in the comment section and also do not forget to tag us on Instagram if you tried this recipe from our blog.