The pineapple juice recipe is made using pineapple cubes and also by adding some salt and spices in a blender. This juice can be easily made at home and one does not need to step outside to have a juice. It is very healthy to have fresh fruit juices which are homemade and what could be a better way than making them freshly at home just by using a blender and also no need to use even a juice extractor.
Other healthy juice recipes to be tried on the blog area kiwi juice , strawberry juice etc..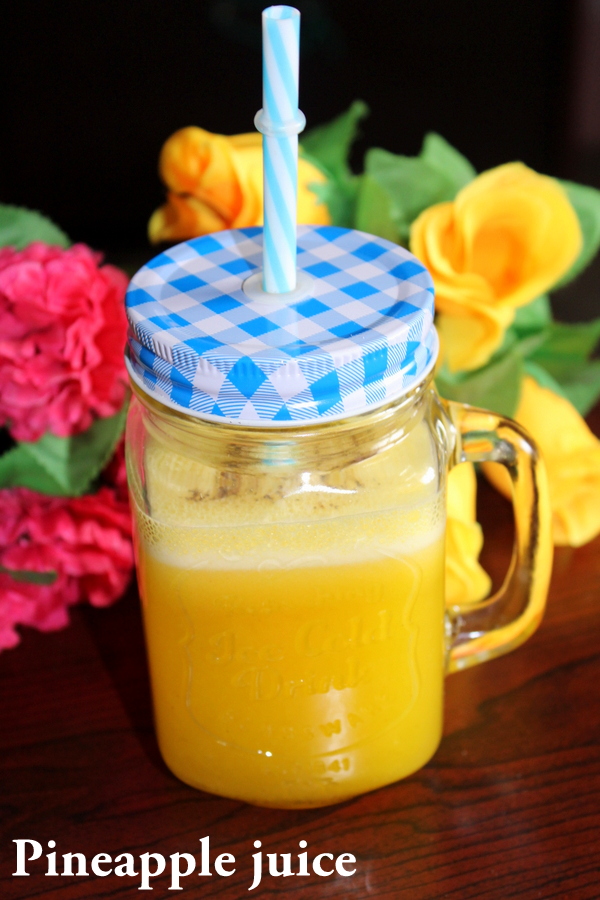 Jump to:
All we need to have to make this juice is a pineapple, a blender and a strainer.
Pineapple has got various benefits and we usually have many recipes to be made using pineapple in desserts area and also in drinks and salads.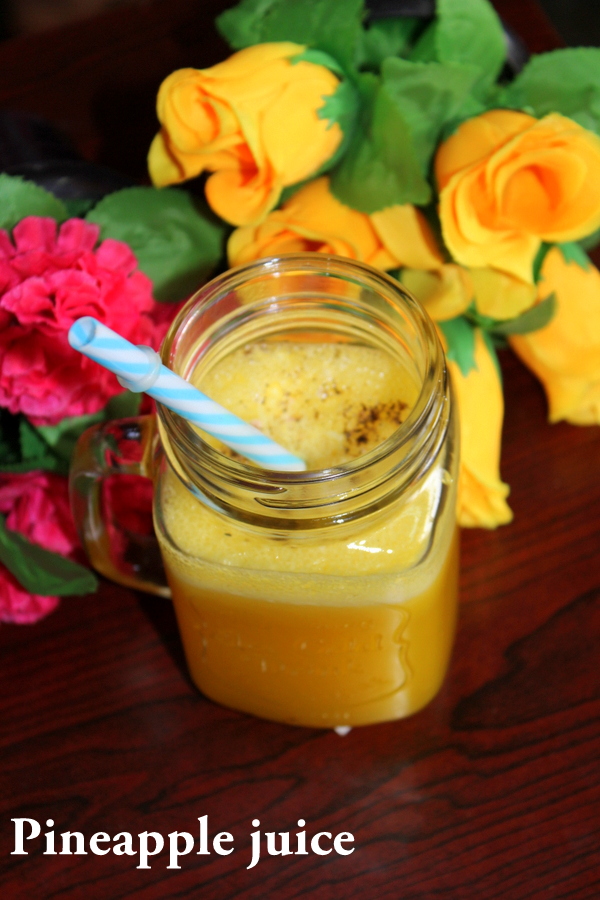 We often feel that using a pineapple is time consuming as it takes little time to peel the skin and cut into pieces. Though it is a time consuming process, at the end of the day its all worth it when we enjoy its benefits as it contains lots of nutrients and vitamins which are essential to our body.
Pineapple juice has its own benefits such as it works wonders for heart problems, it treats bloating as well as constipation and high in manganese. It keeps our bones strong, it also helps in reducing blood pressure etc...
Pineapple when bought should be checked well. If it is very hard and green from outside then, one need to ripe it openly in a room temperature before peeling and eating it. It usually takes 2 days to ripe it fully in a room temperature.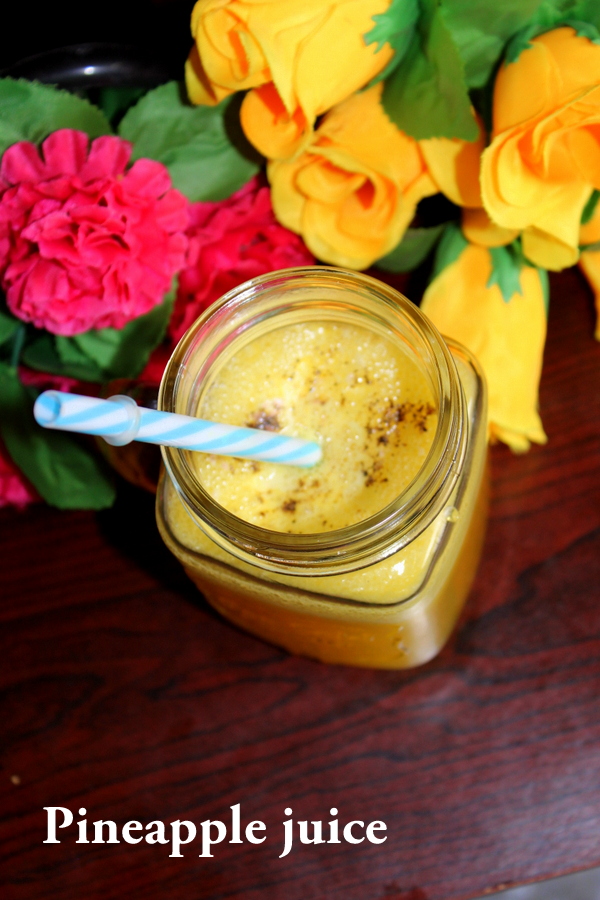 If it is yellow from outside and if one wants to consume it immediately after cutting then, always check whether it is slightly yellow and ripe. This kind of a pineapple tastes good and sweet too.
Do not buy if it is fully ripe and always consume it in a day after cutting the pineapple and never store the pineapple outside after peeling and cutting it. Always store it in a refrigerator after cutting it and consume it within a day after storing in refrigerator.
The juice is simply made in a blender by putting the cut cubes with some water, salt, pepper and then extracting the juice out with a strainer.
It is a very simple and easy way of making pineapple juice recipe at home without even having a juice extractor.
Below are the simple steps on how to make pineapple juice.
Recipe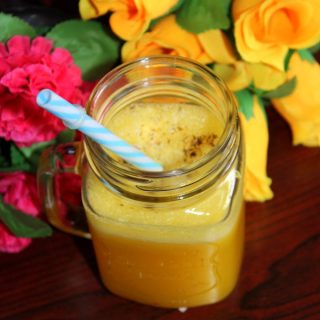 pineapple juice recipe, how to make pineapple juice
A quick juice recipe made using pineapple in a blender.
Ingredients
½

pineapple

3

tablespoon

sugar

¼

teaspoon

salt

¼

teaspoon

black salt

sendha namak

¼

teaspoon

black pepper corn powder

2

cups

water

some ice cubes
Instructions
Firstly, take half pineapple, peel the skin with a sharp knife, cut into small pieces.

Take a blender, add pineapple cubes, water, ice cubes, sugar, salt, black salt, black pepper corn powder.

Blend it for few minutes.

Take a strainer and strain the whole juice in a vessel or bowl.

Discard the pulp.

Pour the juice into the glasses.

Garnish with some black salt and pepper powder.

Serve chilled!!!
Notes
1. The juice tastes best by adding water and do not add milk.
2. Do not add more water to get a thick juice and if more water is added then, the juice turns watery and does not taste good.
3. Straining is necessary before consuming the juice after blending.
4. The juice is quite easy to prepare in a blender than an extractor, just blend the pineapple with some water and then strain the juice.
Nutrition
Nutrition Facts
pineapple juice recipe, how to make pineapple juice
Amount Per Serving
Calories 200
* Percent Daily Values are based on a 2000 calorie diet.