High protein low carb breakfast is a breakfast idea to have with a high amount of protein to keep you feeling full and also have low carbohydrates. This can help avoid fat deposits and burn all the calories easily that breakfast gives and helps maintain a healthy weight.
This article is going to discuss some of the breakfast ideas that are rich in protein, vitamins and lots of nutrients. Also, to make easily at home and serve for oneself or for your loved ones.
Also, it will cover what exactly protein does and why fewer carbs are necessary to have a healthy morning diet routine.
Suggested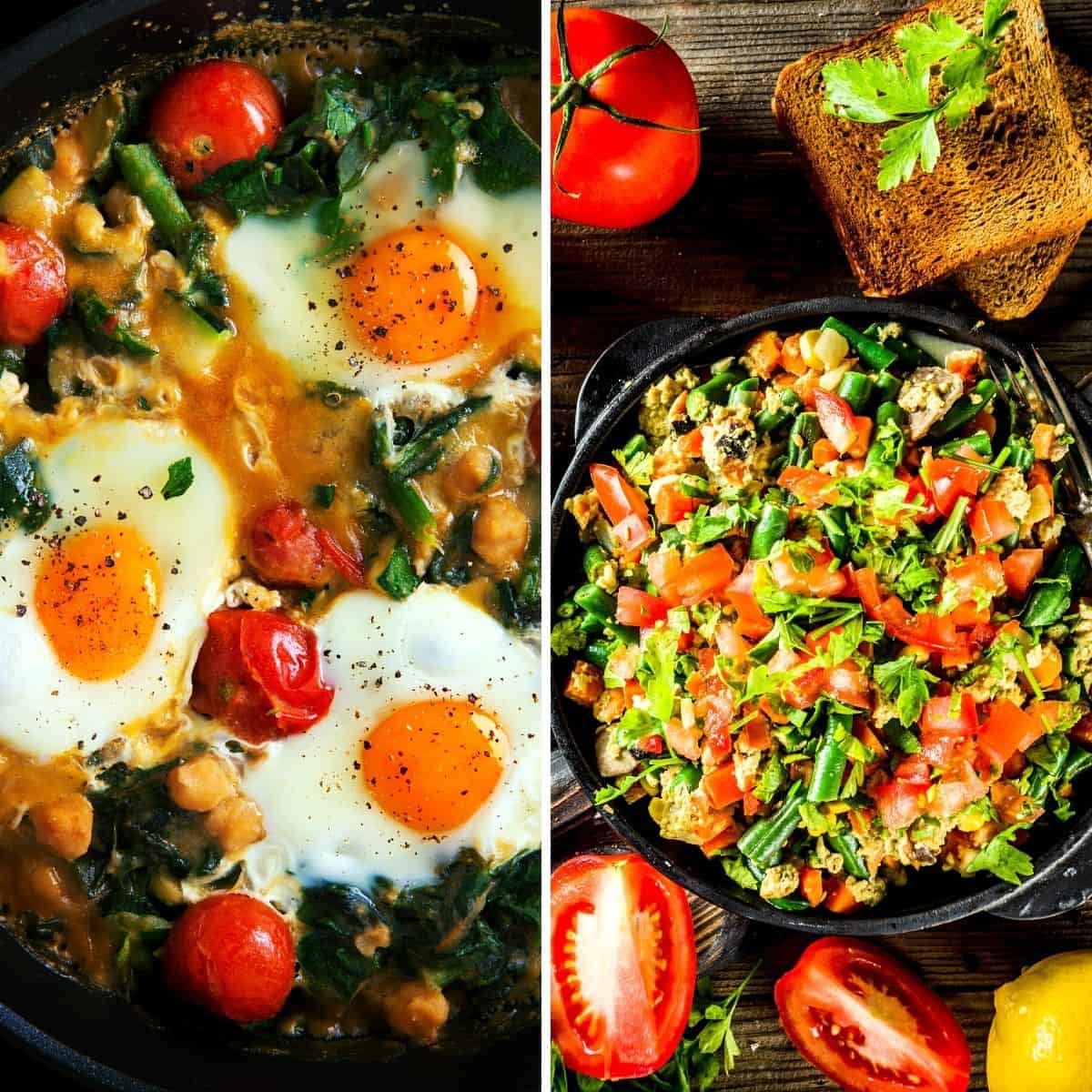 Jump to:
What does high protein low carb do to the body?
If eating only a high carb diet, it deposits a large number of fats(from calories) in the body and may be difficult to burn all the fats(deposited from high calories) that one gets through carbs and this can lead to weight gain easily.
It is also the same with a complete high protein diet as this kind of diet too is stored as fats (from protein calories) and may not burn completely and store as fats.
Thus, it is important to have a diet low in carbohydrates and high in proteins that can help cut down the fat throughout the day without storing those calories as fats in the body and also important to have the meal in a balanced way without too many high carbs nor too much of high protein.
Suggested
How does high protein help our body?
Protein is also a macronutrient similar to carbohydrates that give us calories with its intake, but, has different functions inside the body. Protein intake in the body digests slowly and this slow digestion keeps you full without increasing the appetite.
Carbs are of two types in terms of simple carbs and complex carbs. Simple carbs break down easily and are stored as fats. They can lead to weight gain if those fats are not burnt.
Therefore, it is important to have healthy carbs and they are complex carbs which do not break down easily such as whole-grain foods etc... They have fewer carbs and make a good option when choosing to make meals.
Therefore, eating a diet with good protein and fewer carbs is one of the healthy options for a good start.
What foods to avoid?
To maintain a high protein low carb breakfast avoid foods such as bread made out of flour, pasta, white rice, and drinks that contain a lot of sugar and can cause a deposit of large amounts of fats in the body.
Always choose good carbs such as brown rice, and whole grains to have a healthy intake of carbs.
Also, do not take too much protein in the form of meat which can cause increased health risks such as cancer, improper liver functioning etc...
Always, remember to have a balanced diet and if in need maintain a high protein low carb diet to help lose weight and have lean mass in the body.
What kind of breakfast to include in this diet?
Have a diet with eggs or recipes made using eggs such as scrambled eggs, egg sandwiches using whole-grain bread, and egg toasts using whole grain bread. Using greek yoghurt to make oats or pudding is also a great option for a healthy breakfast.
Other foods can be tofu, cheese of different kinds such as cottage, mozzarella or ricotta is a good choice to add while making breakfast. Also, nuts and various edible seeds make good choices for proteins.
Other delicacies that fit well in this category are lean meats such as chicken breast recipes, turkey or salads that include chicken or eggs and other lean red meat recipes. Other than these meats, seafood such as salmon is a healthy option.
Some more foods include almonds, peanuts, peanut butter, and walnuts added to breakfast recipes to add flavour as well as give us the healthy protein the body needs.
Suggested
Frequently asked questions
High protein low carb breakfast recipes
If you are looking forward to making recipes that keep full for a longer time and do not make you crave for anything else then check out some breakfast recipes with and without eggs that have a high amount of proteins and low amounts of carbs in them.
Suggested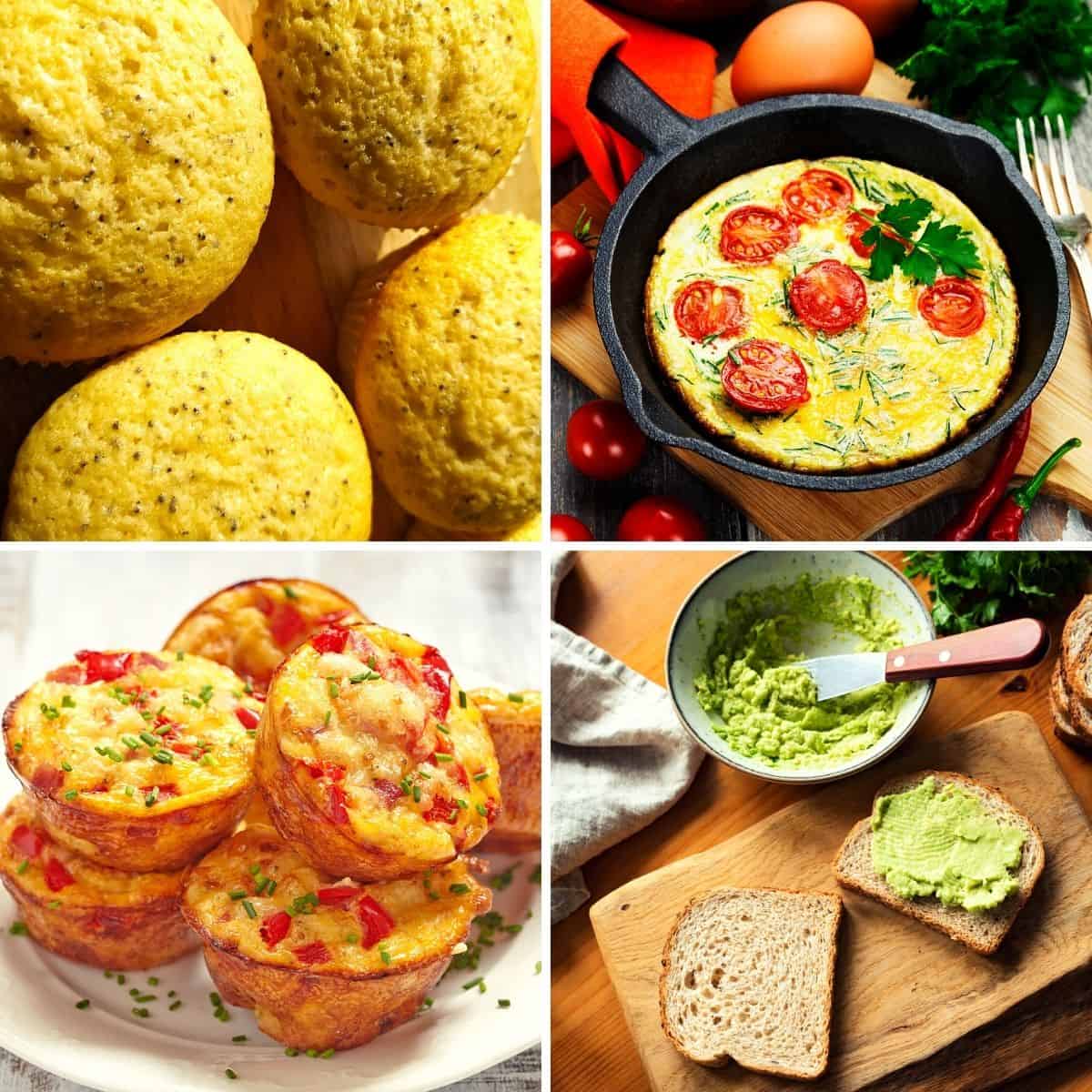 1. Low carb lemon poppy seed protein muffins
If you are a muffin person and love muffins for breakfast, this is a perfect recipe for people who love baking and also who prefer baking recipes for breakfast.
This is a go-to choice as a snack too, and, making them for mornings or meal prepping them as make-ahead breakfast is a healthy option.
If you are a non-dairy milk person and love using almond milk, then enjoy making it. This recipe uses some healthy ingredients such as greek yogurt, coconut flour, oil, almond milk, and protein powder to make healthy muffins.
Each muffin has 8.6g of high protein and 5.7g of low in carbs and this makes it a go-to choice if you really love to keep weight in control.
Suggested
2. Cheesy roasted tomato egg bake
Like tomatoes for the breakfast? Try out this baked recipe with tomatoes who don't like eggs and tomato combinations! This is another baked recipe with dairy flavours such as milk and eggs.
The combination of egg mix with roasted tomatoes baked in the oven for a couple of minutes makes a healthy high protein breakfast to lose weight easily and start the day in a healthy manner.
If you are a cheese person, then crumbling some cheese of your choice makes this a go-to dish for cheese lovers.
Try this cheese baked tomato recipe which has 15 g of protein and 5 g of carbohydrates and is a good fit for this category.
3. High protein veggie egg cups
Love to have loads of veggies for breakfast? Check out these vegetable loaded muffins made using eggs that make a healthy breakfast combined with a high amount of protein to keep you satisfied for a longer time without feeling hungry.
The recipe does not take up a long time and just needs some sautéing of veggies, placing them in a muffin tin and adding the egg mix and baking for a couple of minutes gives us a quick to make healthy morning breakfast with low carbs.
It uses green veggies such as broccoli and kale along with some cheesy flavors to enhance the flavors of the muffins and make them more cheesy.
It has 17 g of protein and 5 g of fibre to start your day.
4. Healthy chicken avocado salad sandwiches with low carb
Love salads or stuffings to fill in slices of bread or sandwiches? Make this salad that makes use of mashed avocado, and shredded cooked chicken. This is a creamy salad stuffing or a sandwich stuffing that goes well with any bread.
Using greek yogurt to make a mix of mashed avocado, chopped onions, shredded chicken and some flavorful herbs and spices make it a creamy salad filling that has a high protein amount of 27.6 g and carbohydrates of 6.3 g.
Stuff it in sandwich bread, for healthy options use whole wheat bread or healthy whole wheat tortillas or any which way you prefer. Works great as a make-ahead salad. Just prep It up at night, refrigerate and use it for fillings or stuffings.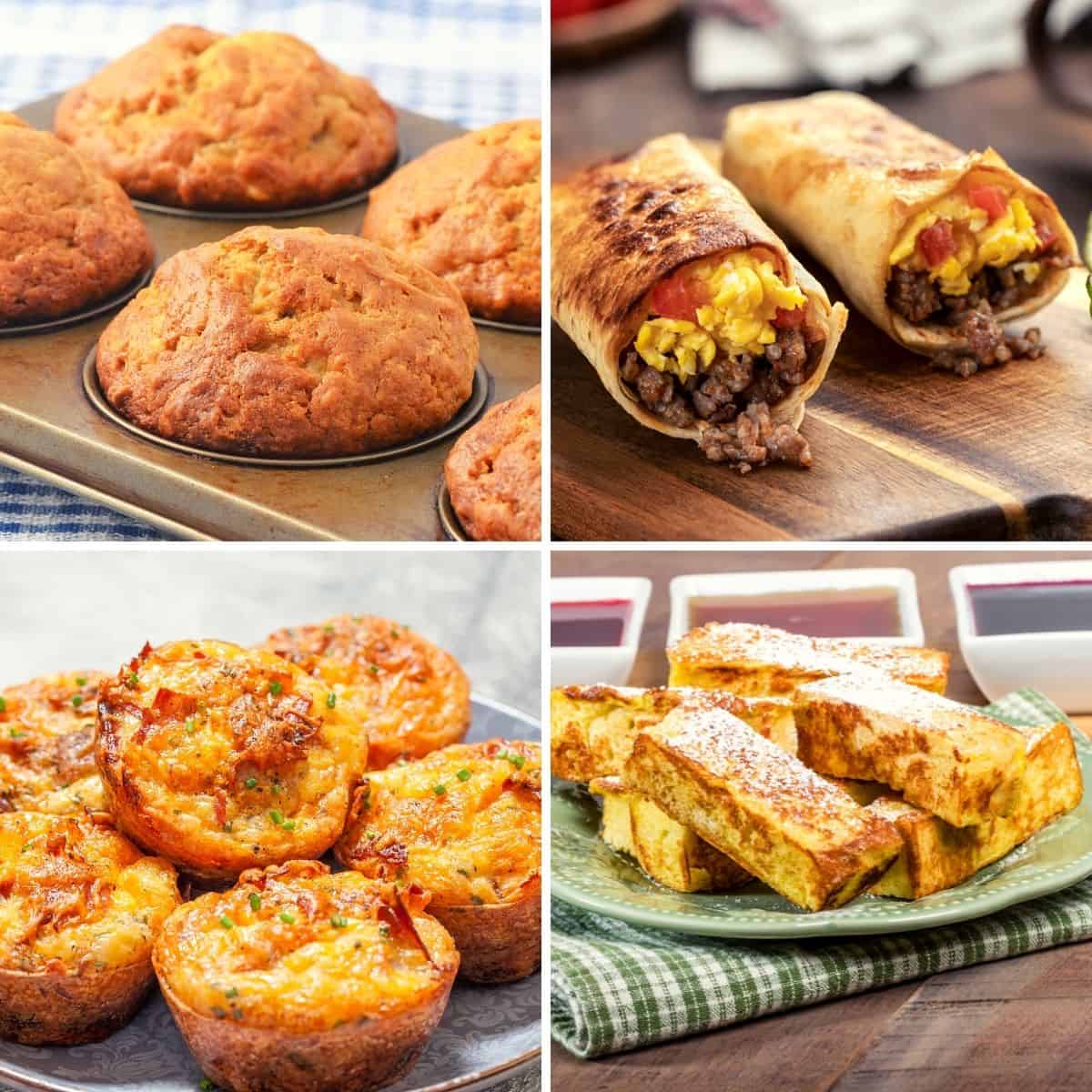 5. Healthy Breakfast Muffins
Want to have different kinds of muffins every time? Try these veggie mix hash brown muffins with dairy and eggs for a quick breakfast or a make-ahead breakfast in no time.
It has the energy to get going from potatoes by using sautéed shredded potatoes and some turkey sausage in the muffin mixture. This healthy mix makes it healthier, tastier and filling at the same time.
It has all the protein that the body needs from greek yogurt, cheese, turkey sausage crumbles and eggs mix and this makes it on top of the list for protein-rich breakfast.
Healthy muffins early in the morning keep us active throughout the day and help a person manage weight without gaining too much. It has a protein of 10 g and carbs of 6 g in each hash brown muffin.
6. High protein freezer breakfast burritos
Burritos make a filling breakfast and make an easy breakfast if you cook them as a make-ahead dish. The burritos need some time to cook and making them on weekends or during free time and storing them in freezer bags makes a healthy meal planning choice.
Prepare the mix by scrambling eggs, cooking ground chicken and turkey sausage separately and then filling a whole wheat tortilla with this burrito mixture and wrapping it up.
To give it more protein adding a cheese slice to the bottom layer of tortilla and then adding the egg and chicken mixture makes it super yummy and a complete breakfast meal.
Reheating the burritos on a stove, microwave or oven gives us plenty of options to make it ahead and have them as a ready to eat breakfast with 24 g of protein and 8 g of carbs in total muffins made.
Suggested
7. High protein chicken taco egg mini muffins
Like taco flavors in a muffin? Do try this taco seasoning mini muffin mixture with ground chicken and eggs. Cooking the ground chicken separately by sautéing and adding to the egg mixture and making mini muffins out of this mix makes another type of muffin breakfast.
The recipe uses egg mixture and some ground chicken in the egg mix along with some seasonings, herbs and spices that give the resulting muffin a perfect texture and taste.
This mini chicken taco egg muffin has 3.3 g of protein and 0.9 g of carbs in each serving of these muffins.
Adding some cheese to the egg mix increases the protein value and makes it a high protein low carb breakfast to enjoy as a grab and go recipe.
8. High protein french toast sticks recipe
This high protein low carb French toast is another healthier choice to make quickly with a protein touch to it and this protein comes from protein powder and eggs added to the toasted mix to dip the slices of bread and cook.
Making the mix in a simple manner by adding some flavors of cinnamon and vanilla to the egg mixture along with some protein in the form of a powder makes a delicious mix to dip the bread and cook in the oven.
The whole egg and protein mix has 46 g of protein and 3 g of carbs and is sufficient to make toast sticks with at least four bread slices.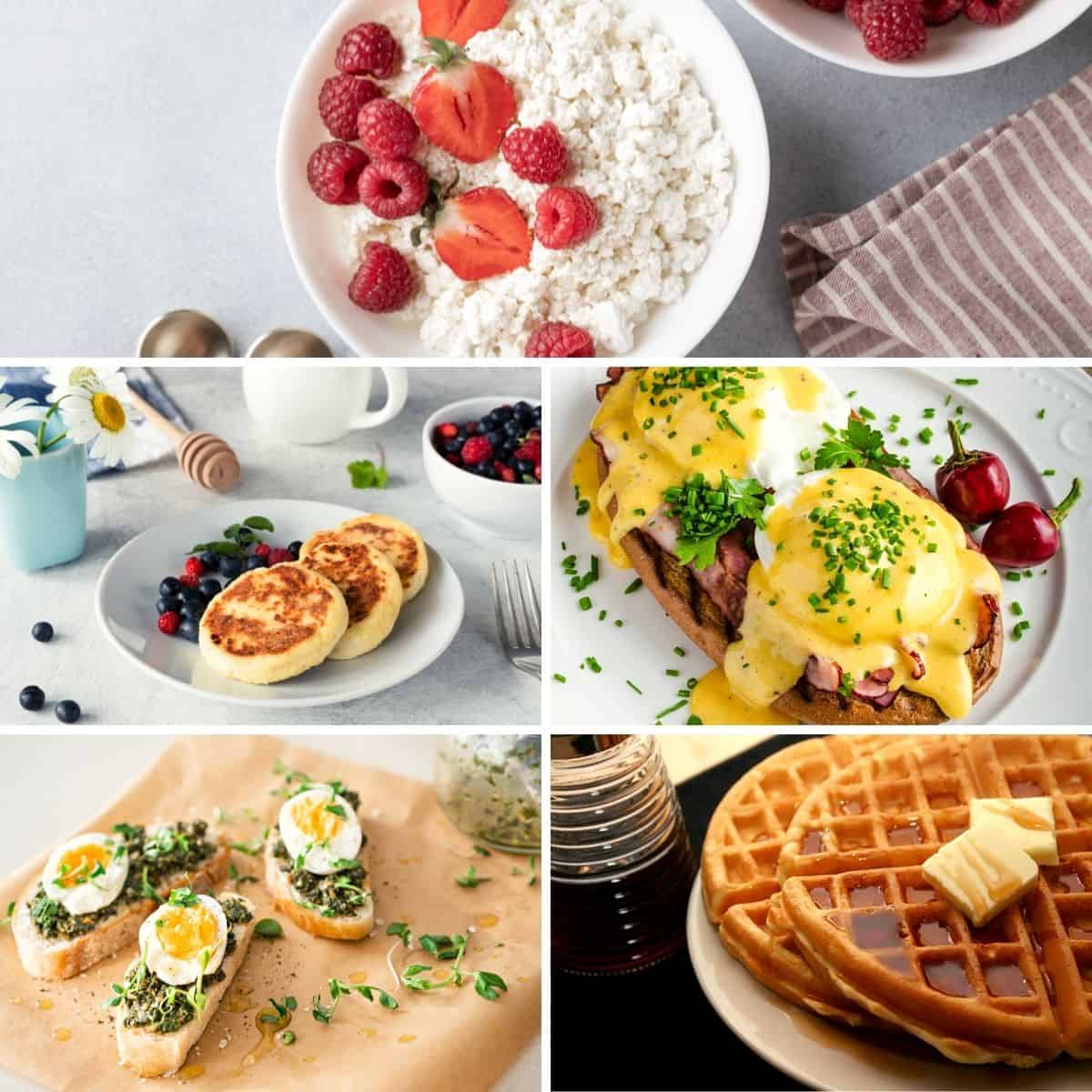 9. Cottage cheese breakfast bowl
Want to have some cottage cheesy breakfast as a complete meal and not just as a topping to any dish?
 Try this cottage cheese breakfast bowl that is a low fat cottage cheese mix with seasonings along with some healthy toppings such as sliced avocado, tomatoes, cucumbers or any other preferable fruit or veggies of your choice.
Cottage cheese is a good choice of high protein low carb breakfast and it keeps you full as well as doesn't take a long time to make it. This kind of breakfast recipe helps us to have a good meal and not skip breakfast at the same time.
Having 19 g of protein and 16 g of carbs in one bowl helps us to have a filling breakfast and also does not let us look at other unhealthy quick foods that can easily add in more carbs and calories.
10. Low carb cottage cheese pancakes
Like pancakes for the breakfast with a different twist? Check out these cottage cheese protein pancakes that are easy to make and made differently from regular flour pancakes.
These are made using dry cottage cheese, egg and rice flour, mixed in the dough, and then made like a patty to shallow fry them in very little oil on a non-stick pan.
This recipe has 33.4 g of protein and 17.9 carbs in each serving.
Suggested
11. Smoked Salmon Eggs benedict
Love to have salmon for breakfast? then try this non-dairy breakfast option that does not use any milk in the making and is purely a non-vegetarian recipe.
The recipe uses poached eggs with smoked salmon and this adds more protein to the recipe a combination of lean seafood such as salmon with eggs again is a powerful combination for a healthy breakfast.
Not just poached eggs but also boiled eggs that are hard can be combined with smoked salmon and make it an easy breakfast to use on toast or stuff between a sandwich.
This meal has 16 g of protein and a few carbs that make it to the top in the list of healthy recipes.
12. Quick Pesto Eggs
Love to have a good protein recipe with pesto sauce? Try this one and it will never disappoint you. Just using simple ingredients and very few ingredients such as pesto sauce and cooking eggs within the pesto and using the mix as a topping on a toast or a bread makes it delicious.
Adding some more carbs by using mashed avocado too as a spread on a toast gives us some energy as well as makes it a quick and fast breakfast recipe to make for a high protein value along with fewer carbs.
13. Three Ingredient protein waffle
Tired of making muffins and want to try a different breakfast? Make protein pancakes that make a lovely breakfast for kids too. Kids and young ones love waffles and making them quickly is an added advantage.
Just making a waffle mix of egg, protein powder, baking soda and water and adding it to the waffle maker and cooking the waffles makes a super yummy high protein low carb breakfast.
The recipe has 25 g of protein and just 1 g of carb, making it a healthy protein breakfast without craving for other food recipes.
Recipe