Thanksgiving vegetable side dishes come in handy during gatherings with family and friends as it is a time to enjoy with them. Now that's where our list is like a helping tool to pick out the recipes you like and make them.
Whether you're a vegetarian or meat eater in your family, we have recipes that will fit your needs.
Here are 27 delicious Thanksgiving vegetable side dishes that will help make your feast that much more special.
From creamy mashed potatoes to savory roasted Brussels, these dishes will satisfy everyone in your family.
So pull out the recipes, and prepare for the best Thanksgiving yet!
Thanksgiving Vegetable Side Dishes
Here's a fantastic collection of recipes for vegetable side dishes perfect for Thanksgiving or any time you want to serve a holiday meal with all the appeal but without extra calories.
Suggested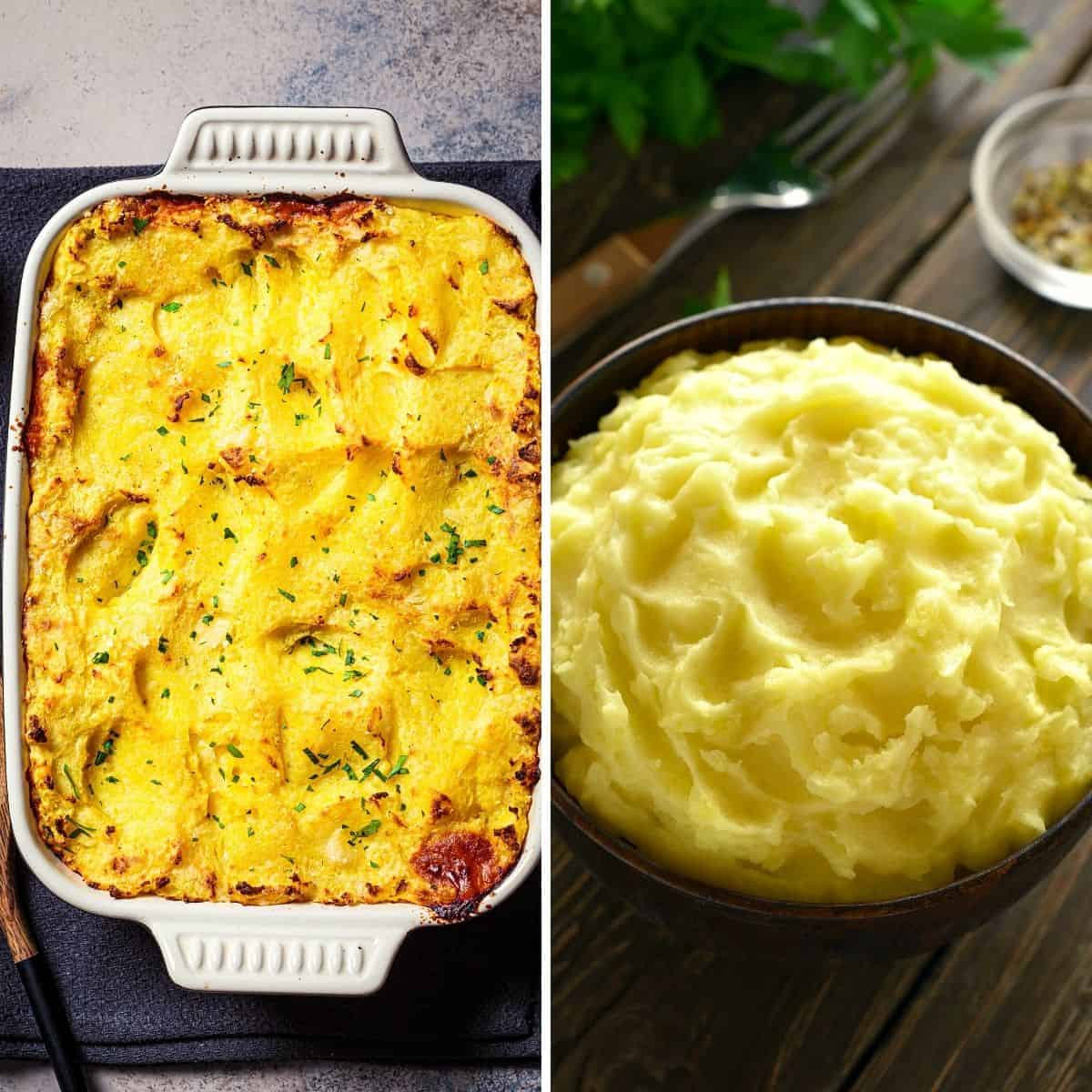 Jump to:
1. Cheesy Mashed Potatoes
 Cheesy Mashed Potatoes are classic comfort food. This dish is so simple that you may prepare it each night of the week.
Add these potatoes to your menu thanksgiving week menu!
These mashed potatoes have cheese and chives and will quickly become a family favorite.
These Cheesy Potatoes are the ultimate comfort food. The recipe requires fresh potatoes, butter, heavy cream, and cheddar cheese to create a rich and creamy mash.
2. Make-Ahead Mashed Potatoes
Mashed potatoes are an inevitable part of Thanksgiving dinner. These Make-Ahead Mashed Potatoes are a lifesaver for busy cooks worldwide!
You peel and boil the potatoes, then mash them with butter and sour cream at your leisure--up to one day before serving.
That way, you can rest easy as Thanksgiving dinner approaches.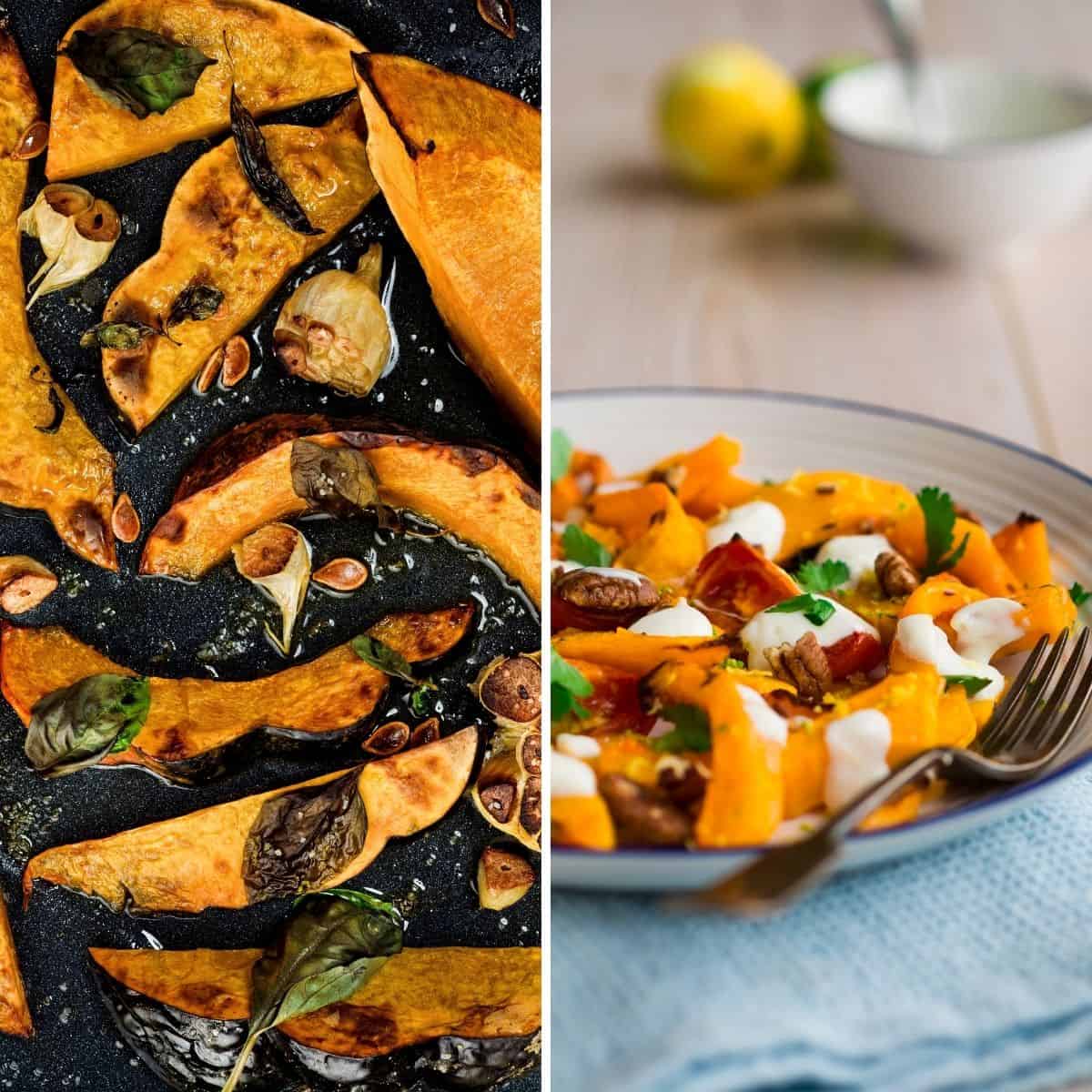 3. Roasted Delicata Squash with Cranberries and Feta
Roasted delicata squash with cranberries and feta cheese is a unique side dish that complements any entrée.
First, roasting the squash adds incredible flavor, accented by the tangy cranberries and salty feta cheese.
 Tender roasted delicata squash pairs with sweet cranberries and salty feta cheese in this easy Thanksgiving side dish.
The dish goes together quickly and requires just 15 minutes of prep time.
The delicata squash is a type of winter squash that's small and sweet, perfect for roasting.
4. Roasted Acron Squash Salad
Roasted Acron Squash Salad is a healthy, delicious salad that combines acorn squash's nutty, sweet flavor with sautéed onions and carrots.
Sweeten the dressing with maple syrup and brighten it with orange juice and zest.
Topping with roasted pumpkin seeds, crispy chickpeas, and an array of fresh herbs makes it quite appealing.
This roasted acorn squash salad is a lovely side dish on any table, Bursting with flavor and color.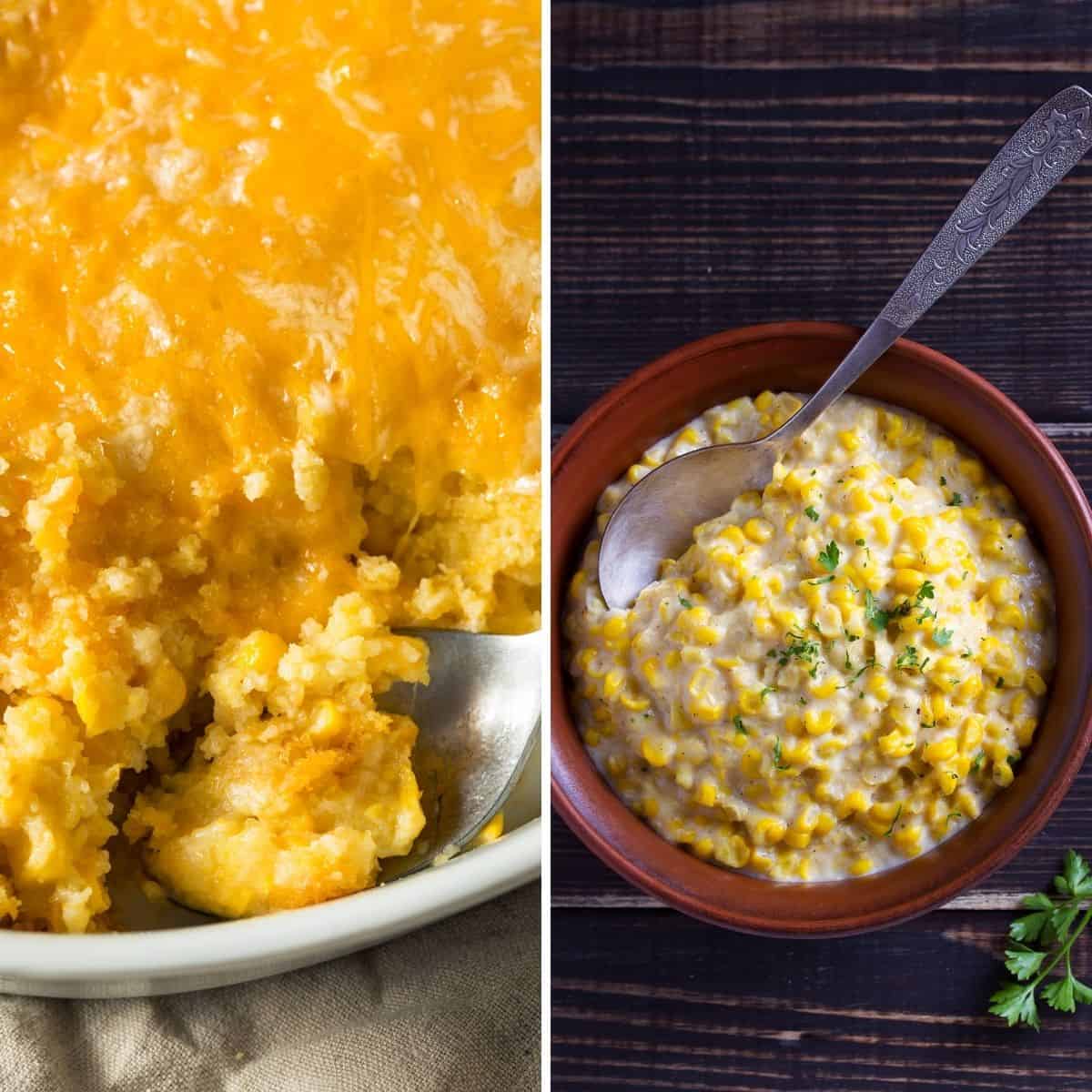 5. Sweet Creamed Corn Casserole (with Jiffy Mix)
 Sweet Creamed Corn Casserole is a simple and delicious side dish.
The secret ingredient is Jiffy Mix, the convenient cornbread and muffin mix that can be added to any recipe for a moist, rich taste.
Sweet Creamed Corn Casserole is a delicious pre-made casserole you can make for your family any day of the week!
Everyone who tries it will love this sweet corn casserole recipe.
It's so easy to make, with Jiffy mix and canned corn. The creamy topping will keep your family coming back for more!
6. Honey Butter Skillet Corn
 Honey Butter Skillet Corn is made with fresh corn and whole wheat bread crumbs, a healthy makeover of a classic side dish.
Our all-natural honey provides moistness and sweetness to this recipe, while the butter adds just the right amount of richness.
After being sauteed in your favorite skillet or frying pan, it's ready to serve as a delicious side dish with dinner tonight.
Perfectly swirling honey butter over fresh sweet corn is one of the summer's most enticing smells and tastes.
It's a perfect supper when served over juicy grilled chicken. You'll be back for seconds with the mix of salt and sweet with a dash of lemon.
7. Brussel Sprout Kale Salad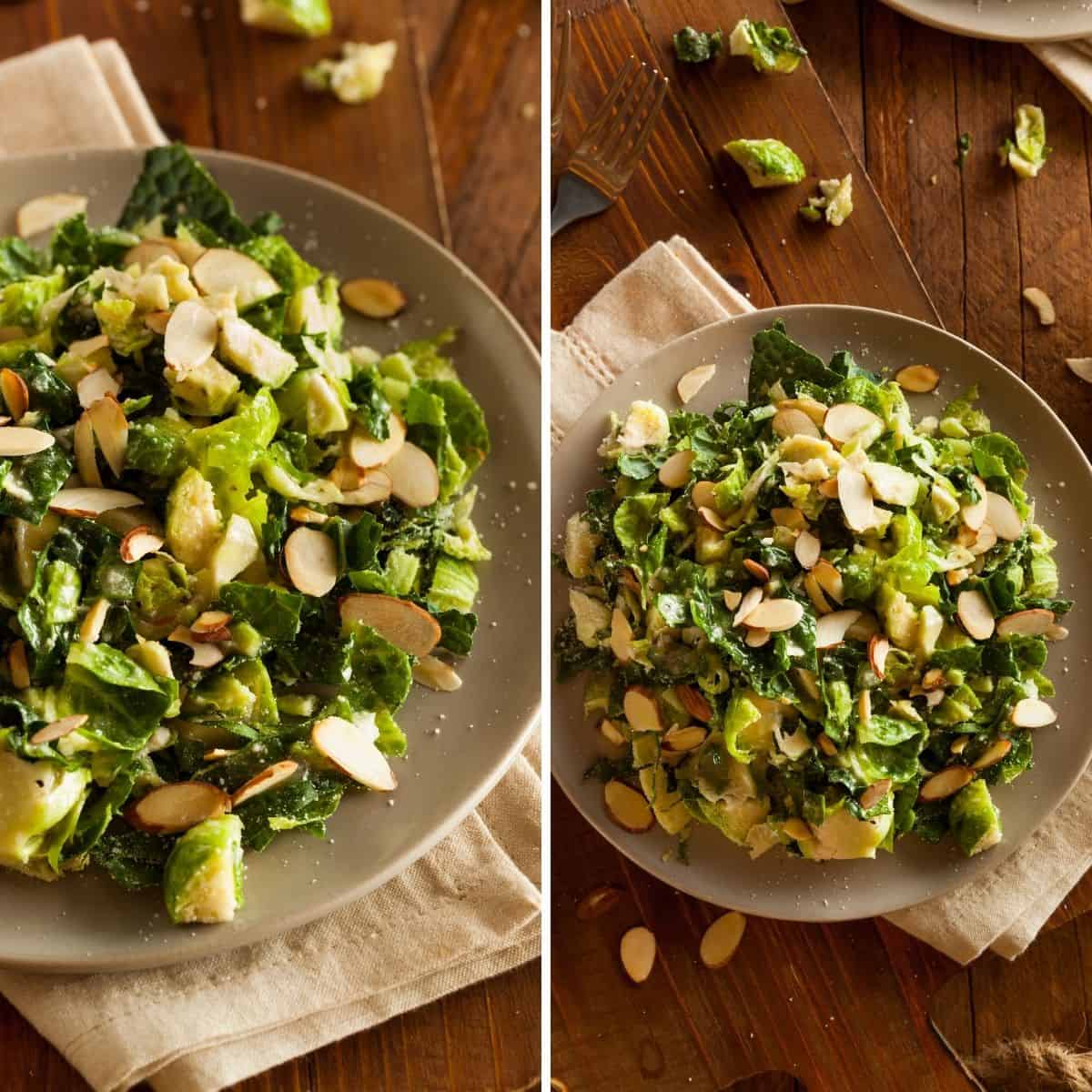 In this salad, the bitter, crisp kale leaves pair up with the sweetness of apple and red onion.
The crunchy and slightly salty shaved Brussels sprouts add richness and savory flavor.
Drizzling a bright lemon and mustard dressing over each serving accentuates the flavors and brings them together in one bite.
This recipe is straightforward, requires very few ingredients (like many salads), and takes about 30 minutes from start to finish.
 This salad features a complex crunch and a balance of flavors. The sharp cheddar, lemon, and vinegar dressing bring everything together.
8. Ultimate Green Bean Casserole Recipe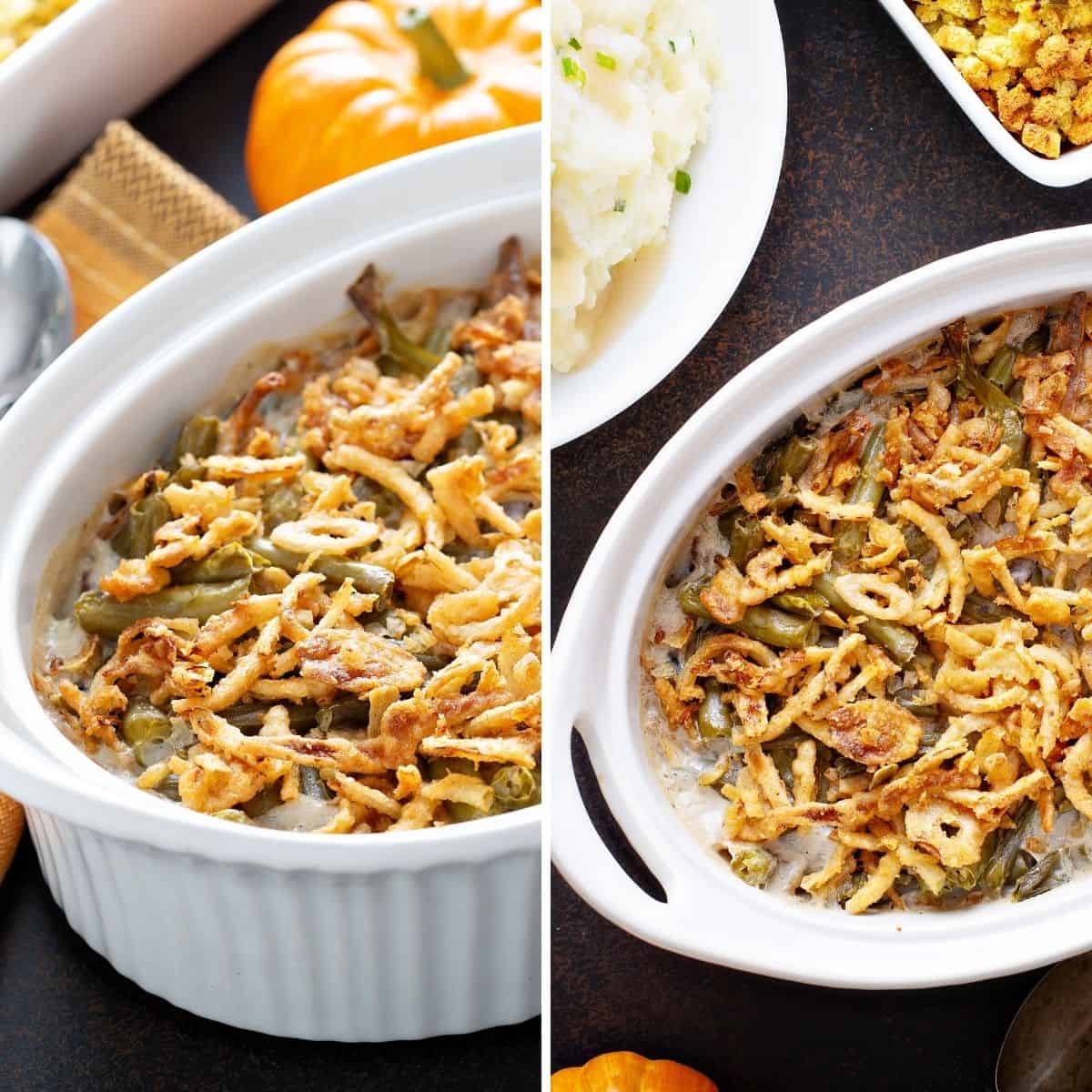 This Ultimate Green Bean Casserole recipe is a perfect side dish to bring to any holiday gathering or make as a vegetarian main.
Potluck dinners will be a hit with this recipe. The creamy mushroom soup and fried onions add just the right amount of crunch on top to an already delicious casserole.
 This is the most popular green bean casserole recipe. The sauce starts with sour cream and mushroom base and combines with green beans and crispy fried onions.
Once blended, top this dish with crushed potato chips for crunch, and you have an unforgettable side dish!
9. Roasted Garlic Parmesan Carrots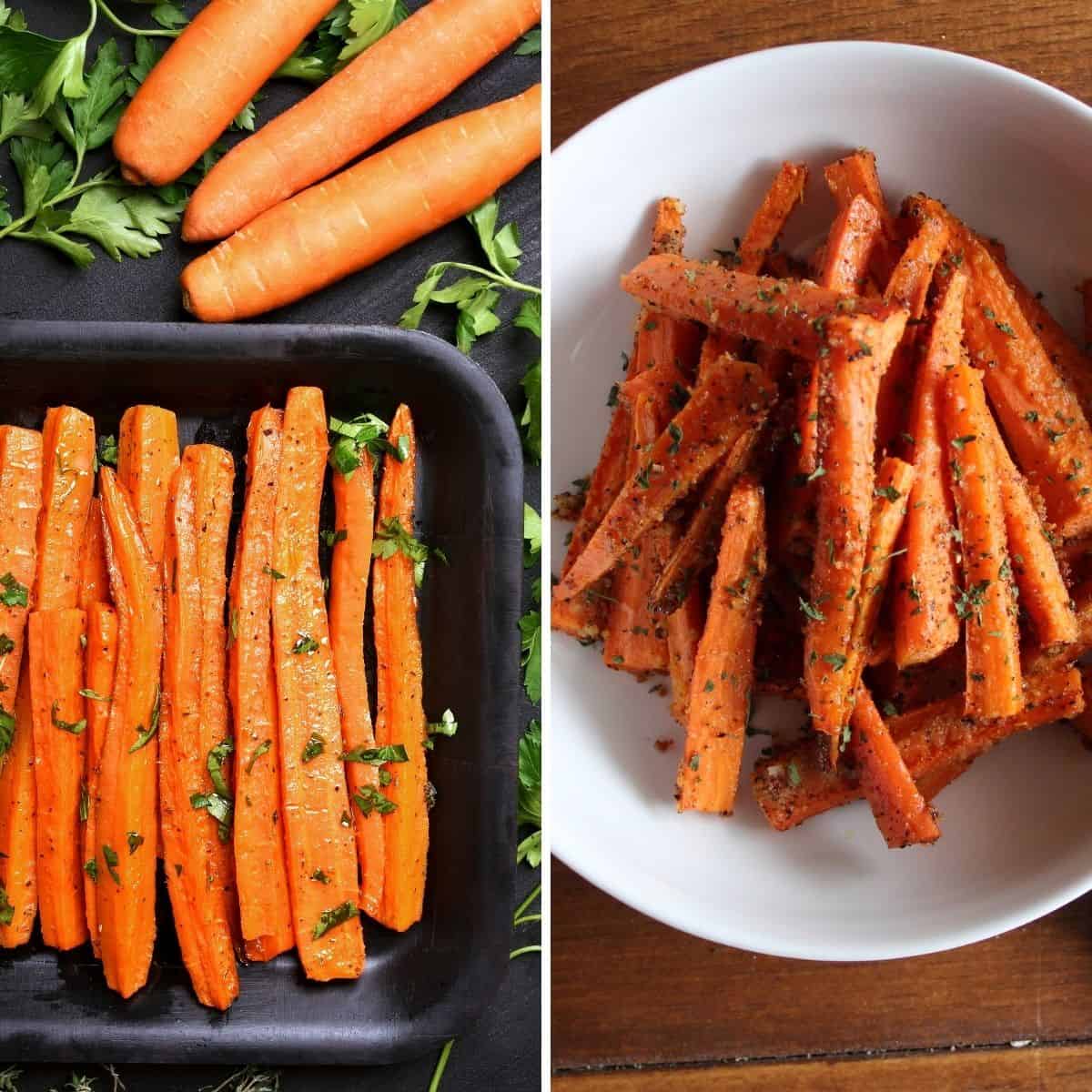 Roasted Garlic Parmesan Carrots make a fun, easy side dish. Fresh carrots, garlic, and cheese are baked together for a simple dish that goes great with any meal!
 These Roasted Garlic Parmesan Carrots are the perfect side dish to serve with any meal!
They're full of flavor, super easy to make, and can easily be made ahead of time for a simple weeknight dinner. 
Roasted Garlic Parmesan Carrots are a delicious, low-carbohydrate side dish that goes well with any meal.
Roasted garlic and grated parmesan cheese add flavor to these roasted carrots, making them an excellent option for dinner.
Serve at Thanksgiving dinners as a healthy food without going all out on carbs.
10. Scalloped Potatoes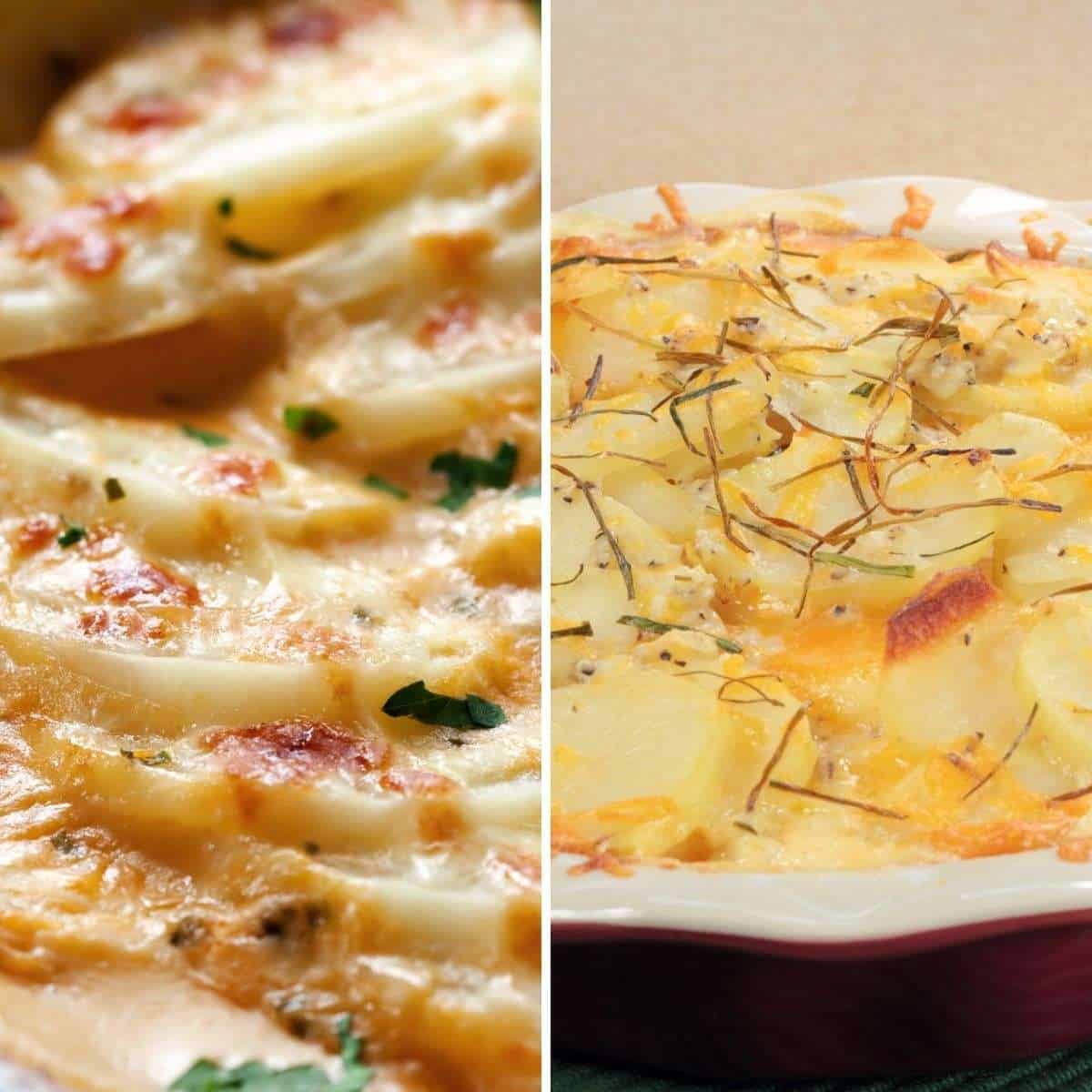 Savory scalloped potatoes are one of my favorite side dishes. This is an easy-to-prepare dish that contains lots of cheese.
Using Ham, turkey, and chicken leftovers is a great option to use or serve with this recipe.
Slicing crosswise round white potatoes into wide half-moon shapes, simmered in a sauté pan with evaporated milk and butter until tender, then topped with shredded cheese and baked until golden brown.
Scalloped potatoes are an elegant side dish that makes the evening meal feel special. We can make potatoes ahead; they reheat well and freeze well.
11. Oven-Roasted Beets With Honey Ricotta
Oven-roasted beets with honey ricotta make a lovely vegetable side dish. It's simple to prepare but looks very impressive at the table—an excellent choice for entertaining.
Combining honey, balsamic vinegar, and ricotta cheese in these oven-roasted beets is a winner.
Prepare the beets ahead of time and refrigerate them until ready to serve. This recipe makes a great holiday dish or appetizer for parties of all kinds.
The candy-like sweetness of roasted beets makes them a favorite of kids and adults alike.
The recipe sizing is to serve four people, but you can easily double it for a potluck or dinner party.
12. Spicy Southern Hot Corn
 Our Spicy Southern Hot Corn is a unique twist on the classic treat, sweet, buttery, and bursting with flavor.
It should be 100% natural corn tossed in a spicy glaze and then baked until perfectly crunchy.
The result is a flavorful snack that tastes like popcorn without the kernels! Great for movie night, game day, and any time you want to add some extra spice to your meals.
 Spicy Southern Hot Corn is the perfect recipe for game day, tailgating parties, and Cinco de Mayo.
With jumbo kernels, you'll enjoy a sweet taste of corn followed by a spicy kick that will keep you coming back for more!
13. Roasted Brussels Sprouts and Cinnamon Butternut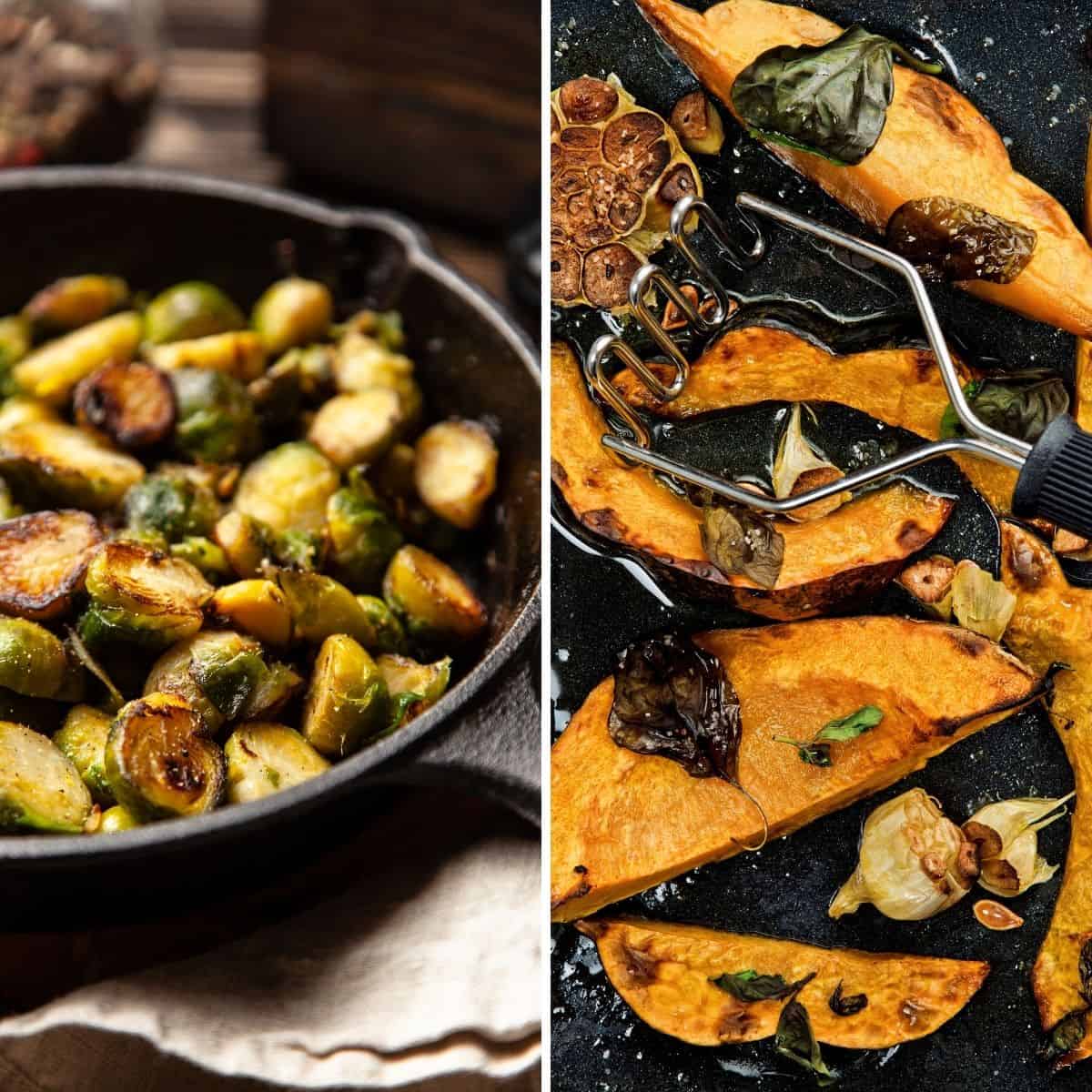 Roasted Brussels Sprouts and Cinnamon Butternut is a delicious fall side dish that is a healthy Thanksgiving alternative.
The natural sweetness of Brussels sprouts is enhanced when they are roasted to pair well with the earthy flavor of butternut squash, toasted pecans, and cinnamon.
Roasted butternut and brussels sprouts are ideal for the fall and winter seasons.
Roasted Brussels Sprouts and Cinnamon Butternut Salad is a simple salad that combines roasted brussels sprouts, caramelized onions, roasted pecans, and butternut squash with a cinnamon-brown sugar vinaigrette.
The roasted ingredients' warm flavor complements the salad greens' coolness.
14. Fall Corn Saute
 In this delicious corn saute, onion, garlic, red pepper flakes, and olive oil are blended with minced garlic, lime juice, and red pepper flakes to keep the dish fresh.
The spicy flavors kick your taste buds that go well with grilled seafood or chicken.
This corn sauce is a fall favorite as it is easy to make and delicious. Top with your favorite complementing toppings and serve alongside dishes such as pasta, seafood, or chicken for a flavorful meal with your family to enjoy.
15. Roasted Vegetable Medley
 Roasted Vegetable Medley adds roasted vegetables to a mix of our delicious, whole-grain pasta and white sauce.
This complete dinner is ready in 5 minutes, making it simple to create a yummy family meal.
Roasted Vegetable Medley is made with a medley of roasted vegetables combined with our creamy Parmesan dressing.
It's great when tossed into salads or pasta, topped on hot sandwiches and pizza, or served as a vegetarian alternative side dish for thanksgiving vegetable side dishes.
16. Herb Buttered Corn and Green Beans
 Bring out the taste of summer with Herb Buttered Corn and Green Beans.
The mixture of herbs, butter, and green beans creates the perfect balance of flavors that will make you want to keep eating!
This quick, easy, healthy side dish features herb-buttered corn and green beans.
We coat the green beans with herb butter and then saute them in a freshly salted pan with salt and pepper until crisp and tender.
We saute the corn kernels separately in butter, fresh herbs, and salt until cooked. Then the two are combined and served warm.
17. Cheesy Brussels Sprouts
It's a nice twist on traditional Brussels sprouts, but they taste just as good, if not better.
This dish combines the flavors of cheese, butter, and garlic to create a mesmerizing dish worthy of company or paired with a big juicy turkey. 
This recipe is perfect for any night of the week. The sprouts are nice and soft, with a crispy brown crust, while the cheese sauce is rich and creamy.
Season well before baking to get the most flavor out of this dish!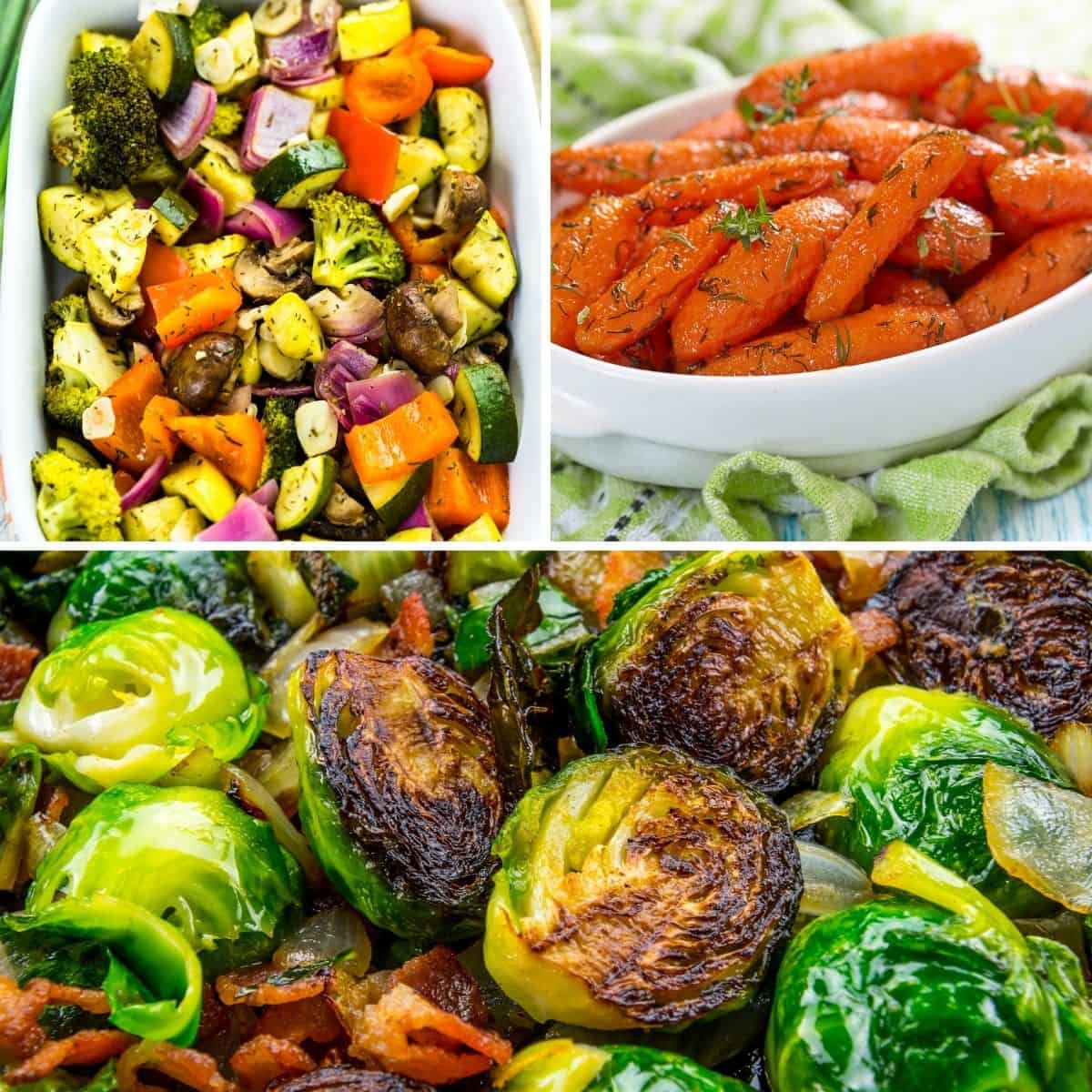 18. Oven-Roasted Vegetables
Oven-Roasted Vegetables add flavor, crunch, and vitamins to any meal. They are easy to prepare and make a healthy side dish for chicken, pork, or beef.
 Oven-roasted vegetables can be a nutritious, easy alternative to boiled or steamed vegetables.
Choose a wide and shallow baking dish, so the vegetable roast more quickly to achieve the best results when roasting.
Try roasting root vegetables like carrots, sweet potatoes, and parsnips, or add some healthy green leaves such as kale or spinach to this recipe.
This dish is ideally served with grilled fish or chicken for a healthy midweek meal or during holidays.
Suggested
19. Garlic Butter Roasted Carrot
Roasted to perfection and covered in a rich garlic butter sauce, these carrots are a must for any dinner plate!
Pair them with meat or chicken for a delicious meal your friends and family will love to eat.
Carrots roasted to perfection in a blend of Mediterranean spices, complemented by garlic butter.
A great side dish for meat or fish and an excellent choice for holiday celebrations.
20. Glazed Carrots
These Glazed Carrots will be among your favorites. They're perfect with chicken, red meat, and beef with a sweet and tangy glaze.
Made in the microwave and so easy, you can have them ready in just minutes!
These Glazed Carrots are a perfect side dish to make any day special.
We coat them in a syrupy sauce that adds another layer of taste, and they're made with fresh carrots and just the right amount of sweetness.
21. Easy Honey Glazed Roasted Veggies
This Easy Honey Glazed Roasted veggie is the perfect side dish for your holiday dinner.
Having only three ingredients, the dish is quick and easy to prepare!
Serve with roasted potatoes or rice as a side dish with chicken or red meat, or keep it vegetarian by serving it with roasted potatoes or rice.
Roasting is perhaps the simplest way to prepare healthful veggies in your home.
These Honey Glazed Roasted Veggies are a healthy alternative to your holiday main dishes and side dishes.
Serve them with any protein for a complete meal. Your family will thank you.
22. Lemon Roasted Brussels Sprouts
 Delicious and healthy, these brussels sprouts are roasted with lemons and topped with shaved pecorino cheese.
Perfect for a holiday side dish or anytime you want a tasty alternative to potatoes or rice.
This roasted Brussels sprout recipe is super simple to make.
Still, it's all in the details–we dress the sprouts with a tangy lemon vinaigrette, and the natural sugars in the lemon juice give them a slightly caramelized flavor. 
23. Thanksgiving Roasted Vegetables
 This roasted veggies recipe is an easy way to add a healthy twist to your Thanksgiving dinner.
The vegetable combination used in this recipe adds excellent flavor and texture to your favorite holiday dishes!
 Roasted vegetables are a vital part of the Thanksgiving meal, and these are easy to prepare and make for a delicious side dish.
The vegetables absorb the flavors of the seasonings, making them full of flavor, not just healthy!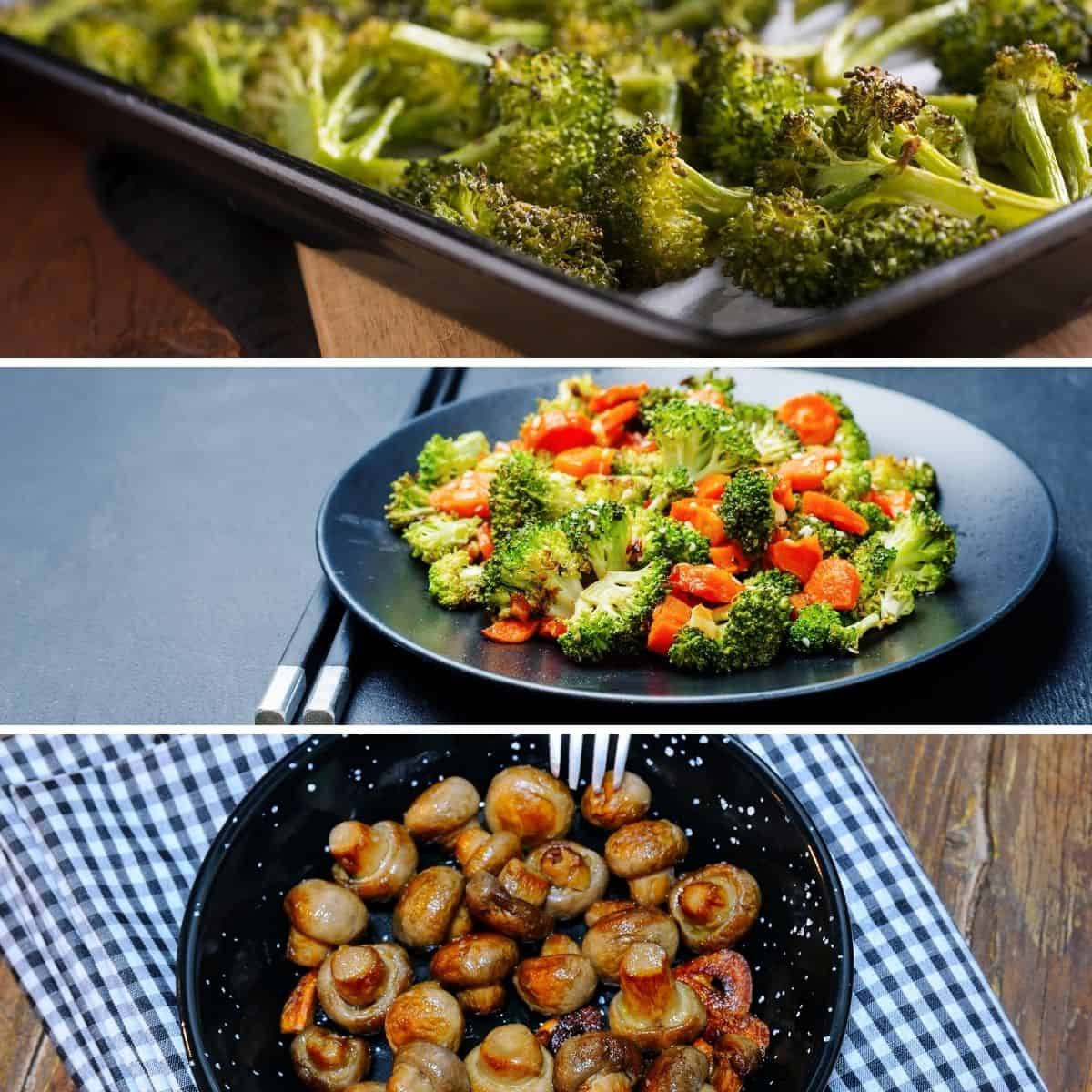 24. Garlic Roasted Broccoli With Honey Mustard Glaze
 Roasted broccoli is very simple to make and is an excellent side for any meal.
Making it with this garlic-roasted broccoli recipe creates a new flavor combination that people will love as much as you do.
Honey mustard glaze is made from honey and Dijon mustard, which adds a fantastic layer of flavor.
Broccoli is a delicious vegetable, but roasting it with some garlic and seasoning is the perfect way to make it even better.
The garlic and honey mustard glaze finish this dish with a sweet, tangy bite that will leave your family begging for more.
25. Roasted Broccoli And Carrots
Roasted Broccoli And Carrots is a nutritious and delicious side dish that can be served as a side or on its own.
Enjoying your meal ahead is also great without worrying about making a particular vegetable.
Roasted broccoli and carrots are a delicious and healthy combination.
Steam the tender broccoli florets to keep their bright green color, then toss them with the carrots and onions before roasting to create the ultimate thanksgiving vegetable side dishes.
26. Garlic Mushroom Side Dish
Garlic mushrooms are baked with butter, onion, and bell pepper until hot, juicy, and tender.
This garlic butter mushroom side dish is an easy vegetarian main dish or side condiment for chicken, steak, or meat chops.
Combining mushrooms, onion, garlic, and thyme gives this dish great flavor with a little kick from the red pepper flakes.
Next time you're looking for an easy side dish to accompany your steak or chicken, give this recipe a try!
27. Garlic Rosemary Potatoes
 These Garlic Rosemary Potatoes are the perfect accompaniment to any meal.
They're so good; your family won't even know they're super simple and healthy!
Made with natural garlic and fresh rosemary, these potatoes come together quickly for a delicious side that everyone will love.
 Garlic Rosemary Potatoes are twice roasted to crisp and golden perfection.
They're seasoned with the simplest ingredients – olive oil, garlic, and rosemary. They're easy to make and sure to become a family favorite!
Conclusion
Thanksgiving is essential to be done in a family for bonding, and it's better to prepare them by cooking a variety of delicious, unique thanksgiving vegetable side dishes to serve!
Whether you're looking for a simple side like sweet potatoes or carrots or something more creative, like roasted butternut squash with sage or gravy onions! This post has everything.
Check our blog for recipes and guidance on preparing these scrumptious sides this Thanksgiving!