Are you looking for healthy and under 500-calorie meals? We have brought a list of delicious and nutritious meals under 500 calories per serving. If you love food but want to stay healthy, it's essential to plan your meals ahead of time.
These recipes will help you eat well while enjoying all the flavors and textures that make eating fun!
If you are trying to modify your regular diet to lose body fat or want to have a kind of diet that supports your health goals, planning out your meals makes it easier for you to stick with your daily intake of carbs.
Suggested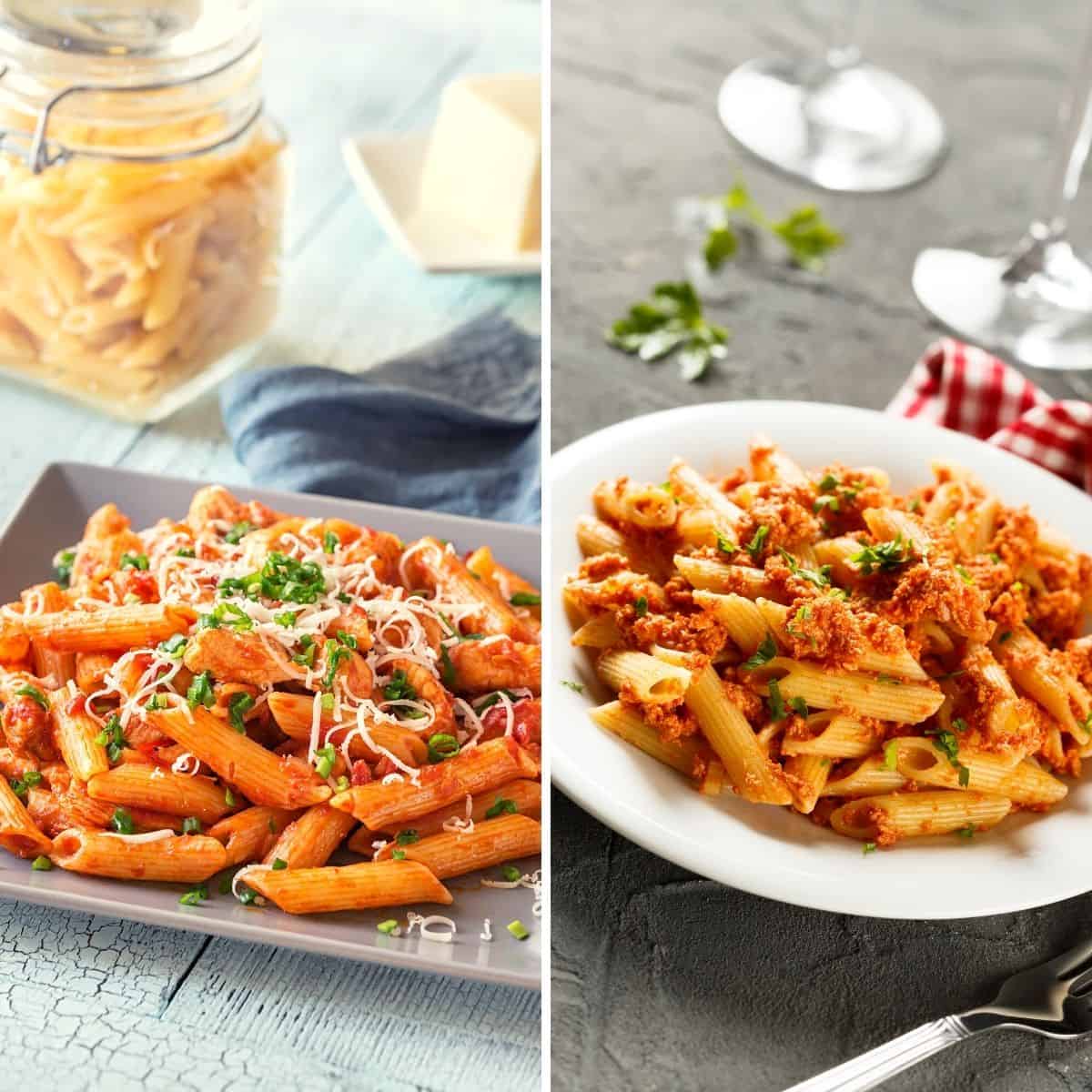 Jump to:
Why do we need low-calorie meals?
Low-calorie meals are necessary to lead a healthy lifestyle and reduce calorie intake. During our daily office or home routine, we tend to eat many foods that build up calories and negatively affect our bodies.
These calorie build-up leads to weight gain if not burnt well. To burn these calories, one has to do many physical activities throughout the day, such as walking in the office or working at home.
Rigorous activities such as walking or jogging may not be possible due to hectic lifestyles and work routines, and eating foods with heavy calories may take a toll on us.
This is because we may suffer from dangerous and life-threatening issues such as obesity, cardiovascular problems, high blood sugar levels and blood pressure.
Therefore, having a low-calorie meal under 500 calories helps us make more intelligent decisions in the foods we eat and burn the calories that the body has stored quickly.
The body now has sufficient calories to use for daily activities without storing, and one does not need to work out and burn those extra calories.
These 500-calorie meals or under 500-calorie meals make your day easier and help burn these calories as we finish our daily work and chores. They do not store and increase the weight or add on extra kilos.
Suggested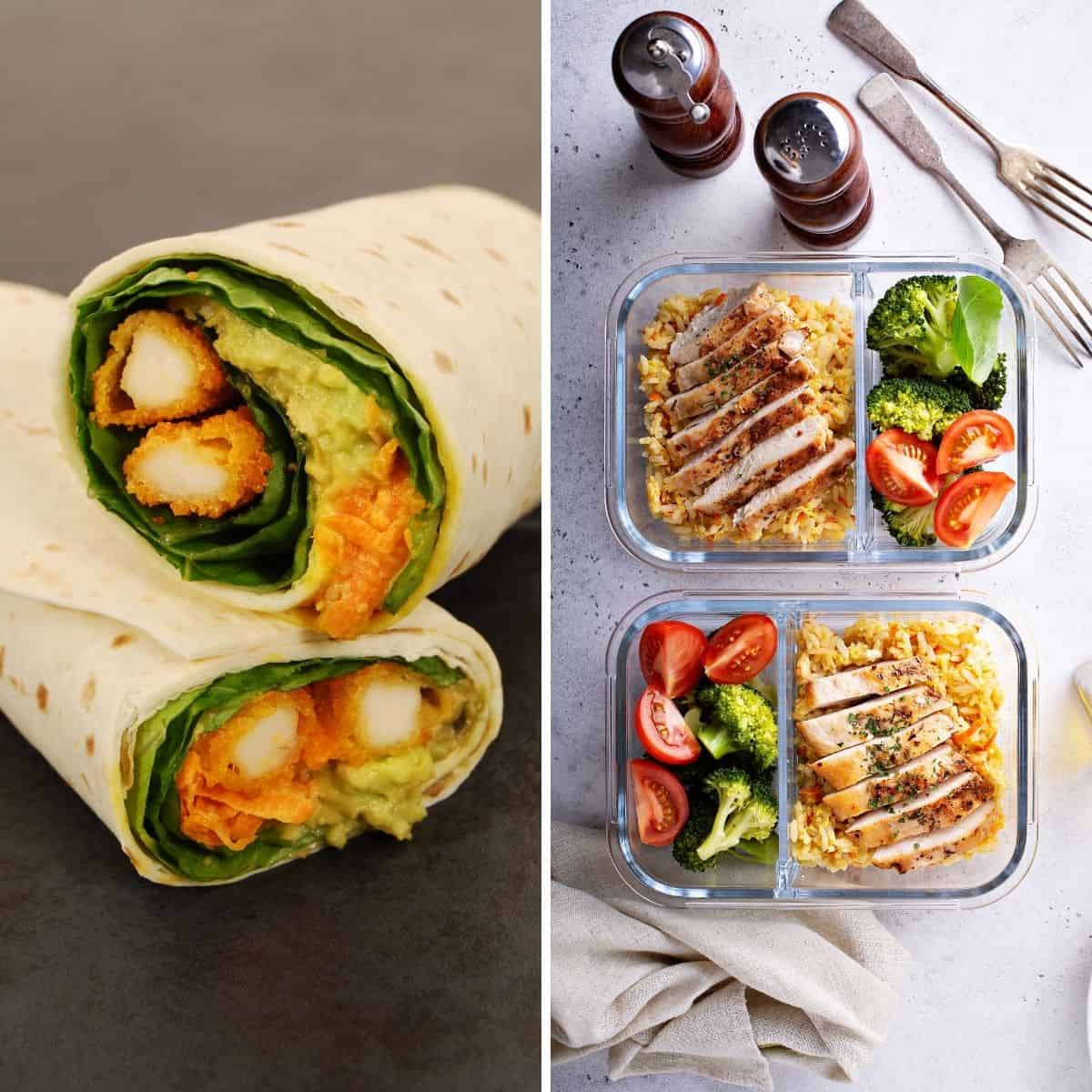 These Grilled Pesto Chicken Wraps are a healthy, easy way to enjoy your favorite flavors without compromising on flavor.
The pesto-marinated chicken is grilled and served in a whole wheat tortilla with fresh arugula, thinly sliced red onion, chopped tomato, and juicy cucumber slices.
The result is a crunchy and refreshing wrap that's packed with flavor.
This recipe only takes 10 minutes of prep time and 20 minutes of cooking time. It contains a calorie count of 456.
It's also super easy to modify and alter the dish according to your tastes, so feel free to add extra veggies or swap out the ingredients for your favorites.
This recipe calls for teriyaki sauce, which you can find at most grocery stores. It's full of flavor, easy to make, and takes mere minutes to prepare, which also is a healthy option with a calorie count of just 498 per serving.
If you are running short on any ingredients, feel free to substitute soy sauce instead.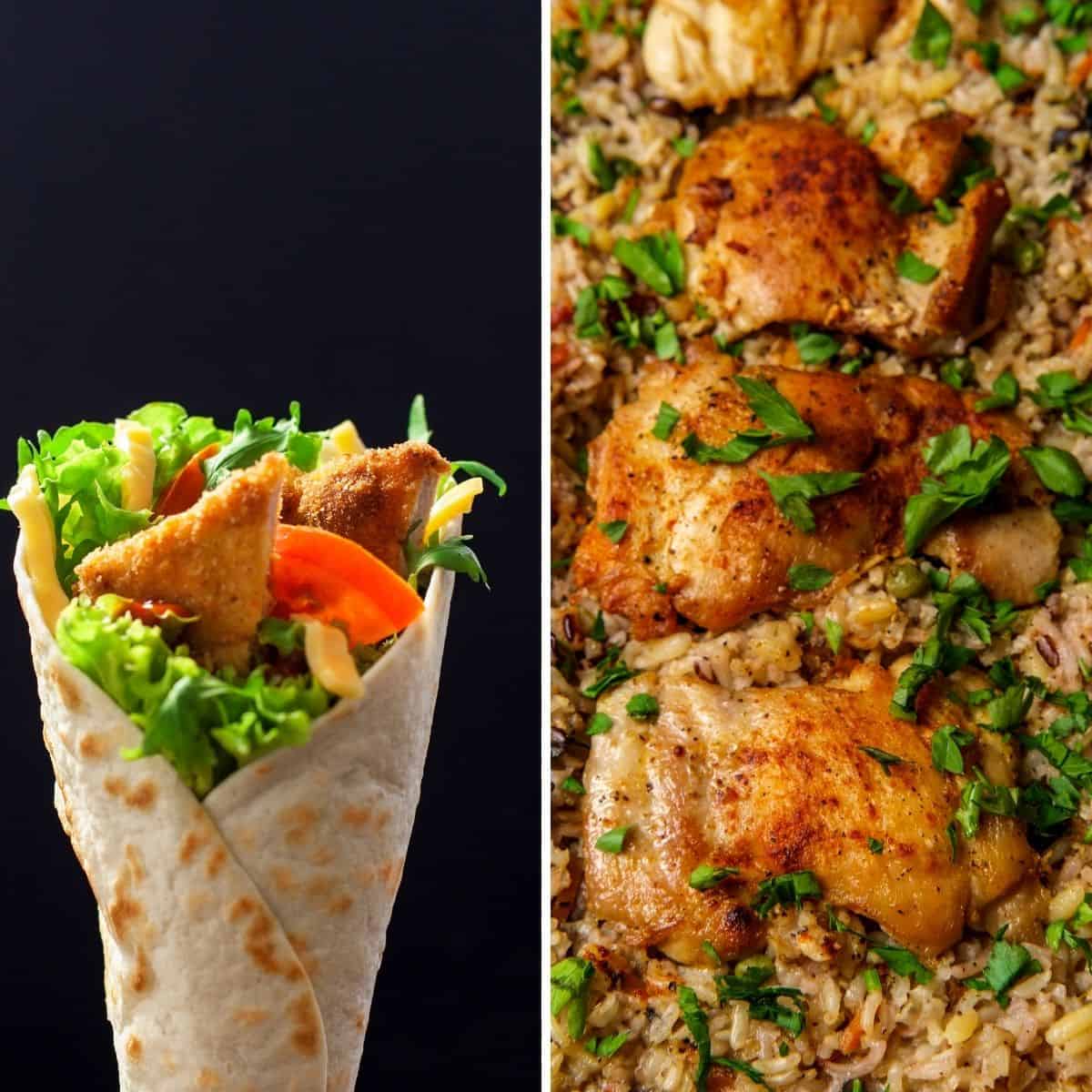 The Chicken Caesar Wrap is a healthy way to get your fix of protein and veggies.
It's made with grilled chicken breast marinated with signature Caesar dressing and then grilled to perfection, so it's a surefire hit with any taste buds.
All we need is to use a wrap and then fill it with fresh lettuce, tomatoes, and cucumbers. We finish it by adding our crunchy croutons, which give the wrap the right amount of texture.
This wrap has all the flavor and texture you love about chicken caesar salad—without all the fat and calories, as it holds just 440 kcal per serving.
Baked Honey Garlic Chicken Thighs is a simple recipe that is sure to please! This recipe is quick and easy and made with only four ingredients which are pretty healthy as its calorie count is only 495 kcal.
The chicken thighs are baked in the oven with honey, garlic, and soy sauce until they are tender and juicy.
These baked honey garlic chicken thighs make a great main dish or can be served alongside other dishes such as rice or salad. The flavor of garlic will fill your home while it bakes.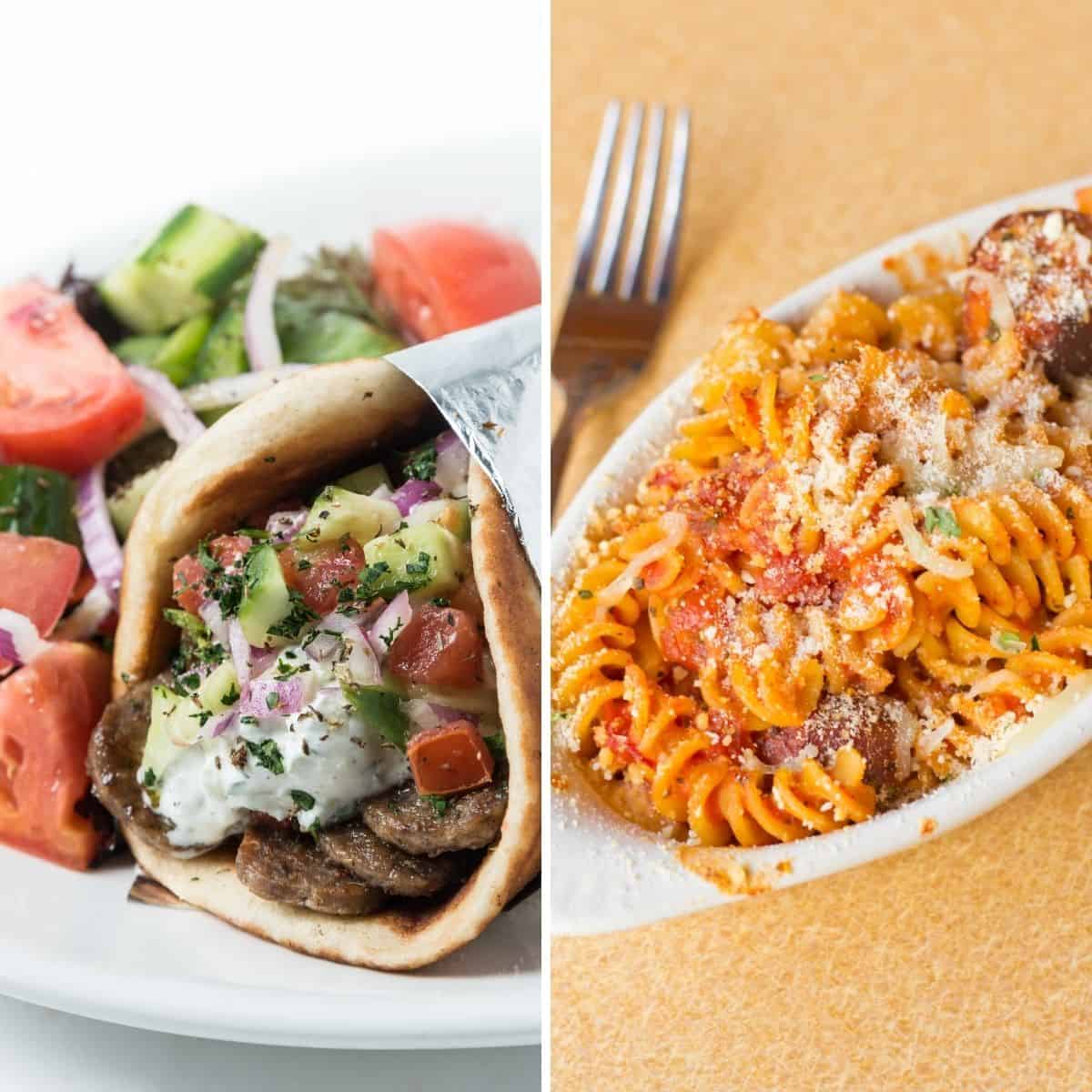 Do you not want to order take-out all the time? This recipe will give you a similar feeling as eating out without having to leave your house.
The garlic chicken & veggies pasta meal is a beautiful dish combining chicken and pasta flavours with the freshness of broccoli, cauliflower, and carrots.
You could use any pasta you prefer best, but I recommend using whole wheat noodles for a healthier meal with a 489 kcal calorie count, making it one of the best under 500 calorie meals.
Chicken gyros are a Mediterranean dish of chicken and vegetables cooked in a tomato sauce.
This dish is commonly eaten as a wrap or on top of pita bread. Chicken gyros are also sometimes served with rice and tzatziki sauce.
They are the perfect fresh and healthy meal for any time of year, with a calorie count of 402 kcal.
Chicken gyros are often made using whole chickens, but most recipes for this dish call for boneless skinless chicken breast because it's easier to cook and prepare.
Some recipes also call for ground beef, which can be added to the recipe if you like your gyros extra meaty and flavorful.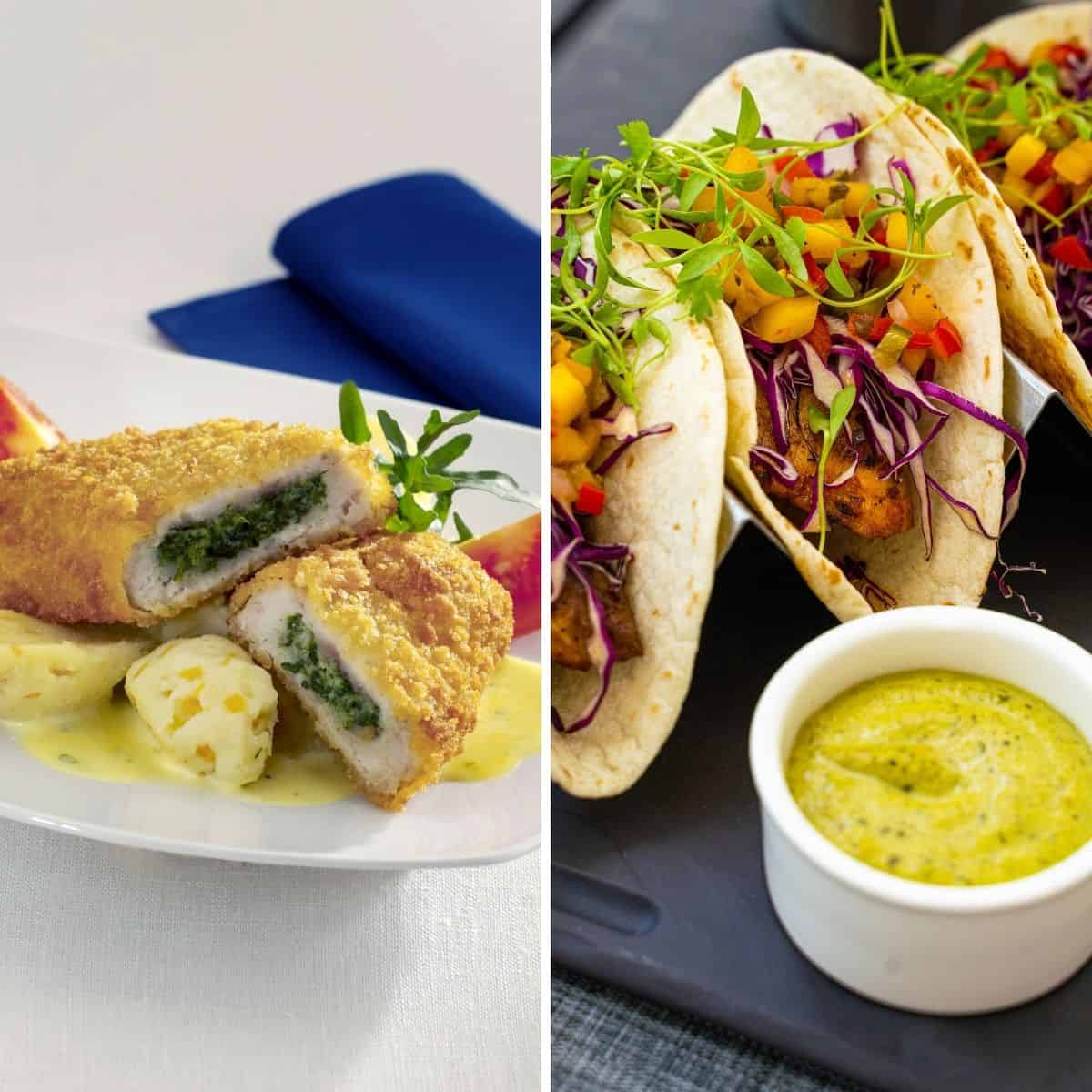 This spinach-stuffed chicken is a delicious way to get your greens on!
Spinach is a good source of vitamin K and A, which help promote healthy bones and vision with a low-calorie count of 407 kcal.
Spinach is full of iron, which helps prevent anaemia. This recipe also contains a high fibre content, which helps keep your bowel movements regular and feeling full for a longer time without increasing the appetite.
This recipe will make you feel like you're eating something decadent, but it's super healthy!
These fish taco bowls are a light and delicious alternative to traditional tacos. These bowls have a delicious flavor, nutrients, and a low-calorie count of 429 kcal.
So you can feel good about eating them—but don't worry! They're still totally satisfying.
The best part about these bowls is that they're super customizable—you can add whatever toppings you want.
The recipe calls for avocado, pico de gallo, and black beans, but you can use whatever toppings you like: sour cream, shredded cheese, cilantro etc. the possibilities are endless!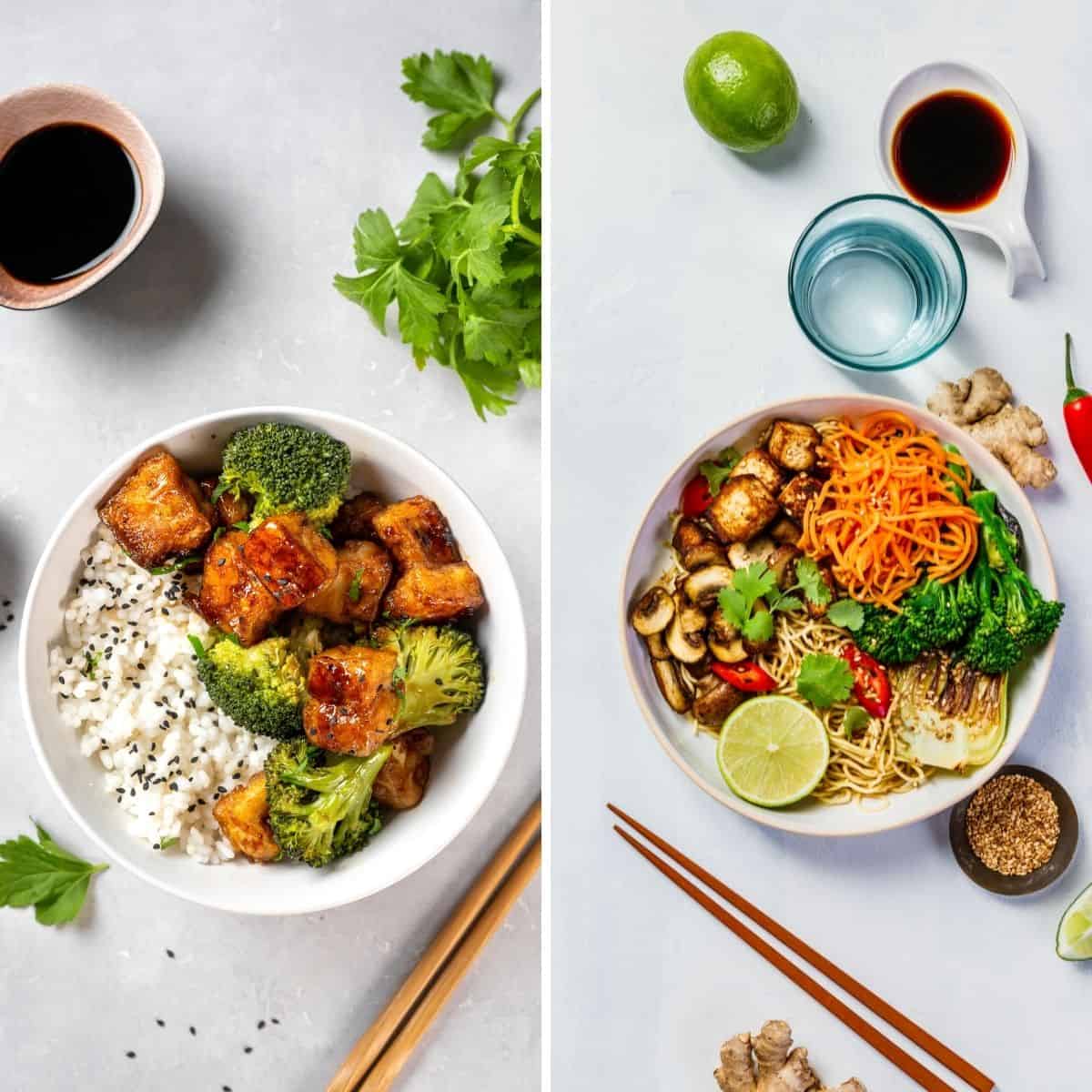 These bowls are the perfect way to make a weeknight dinner feel special. The pesto uses broccoli and almonds and is incredibly easy to make.
It has lots of fiber and protein with a low-calorie count of 497 kcal per service, so you do not worry about making it to your healthy diet list.
The potato bowl is a great way to use any leftover potatoes in your fridge, but it's also just as delicious as fresh potatoes.
And if you have no leftovers, no worries—it takes less than half an hour to bake up some new ones!
If you're not into eggs or potatoes, we've got some other ideas for using this pesto: toss it with pasta or rice, spread it on toast, or stir it into the soup at the last minute before serving.
Chorizo and sweet potato breakfast bowls are a great way to start your day. They're full of protein and low-calorie count of 478 kcal.
So you'll feel energized and satisfied, and they're easy to make.
These breakfast bowls with sweet potatoes are great for meal prep because they can last in the refrigerator until at least five days without getting slimy.
If you want to make them ahead of time, reheat them in the microwave or oven, and top with fresh parsley before serving.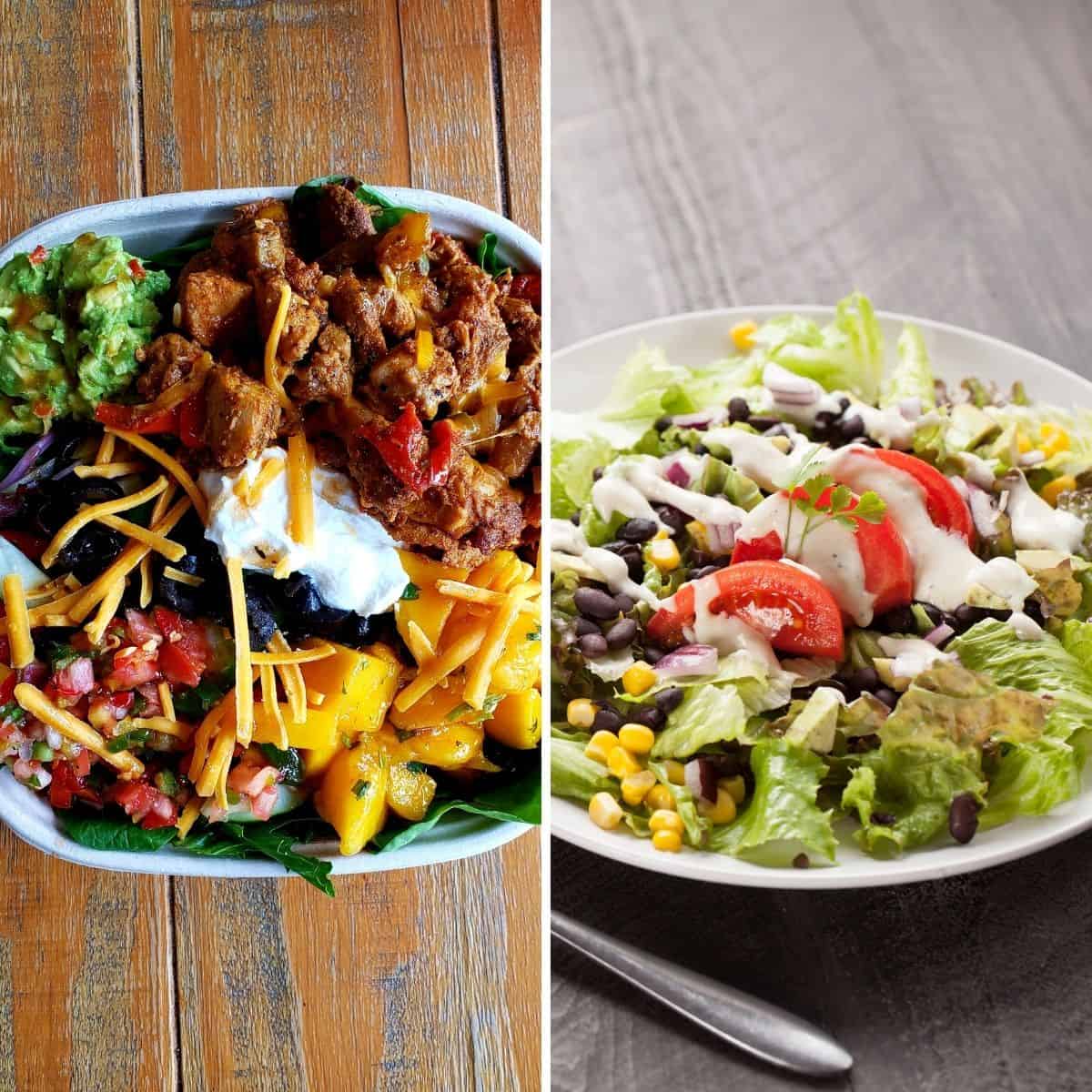 The sweet potato taco bowl is the perfect meal for a cosy night in. The combination of sweet potatoes, brown rice and black beans makes it hearty and healthy, holding a 433 kcal calorie count dinner option that's sure to satisfy.
Southwest Salad is one of those salads you'll want to make again and again.
With the combination of fresh ingredients, savoury dressing, delicious flavors, and a healthy option with only a calorie count of 417 kcal, it's just too good not to!
This recipe will take 30 minutes or less to make so that you can enjoy this salad as soon as possible and makes it among the best under 500 calorie meals.
Unstuffed cabbage casserole is a filling, savory dish perfect for any occasion. It's made with ground beef and rice, then topped with a creamy cheese sauce and baked until it's bubbling and golden.
It's also very healthy—it's low in calories at just 474 kcal and high in vitamin C, fiber, and calcium.
The best part? This recipe makes enough to feed a gathering of friends or family.
You can serve up the classic version or get creative by adding your favorite veggies or different kinds of meat—it's so versatile that the possibilities are endless!
Conclusion
There you have it; here are a few easy, healthy recipes that will leave you feeling full and satisfied!
These are under 500 calories each, so they're perfect for dinner or lunch. And the best part? These recipes can be made in as little as less than 30 minutes.
If you are looking for healthy recipes to make in no time, we have listed some of the best recipes to make easily at home without bringing unhealthy food from restaurants.
Check out these easy recipes and tell us which recipe is your favorite? Which one will you try? Leave us your feedback, and I will try to add more of them as I update.
Recipe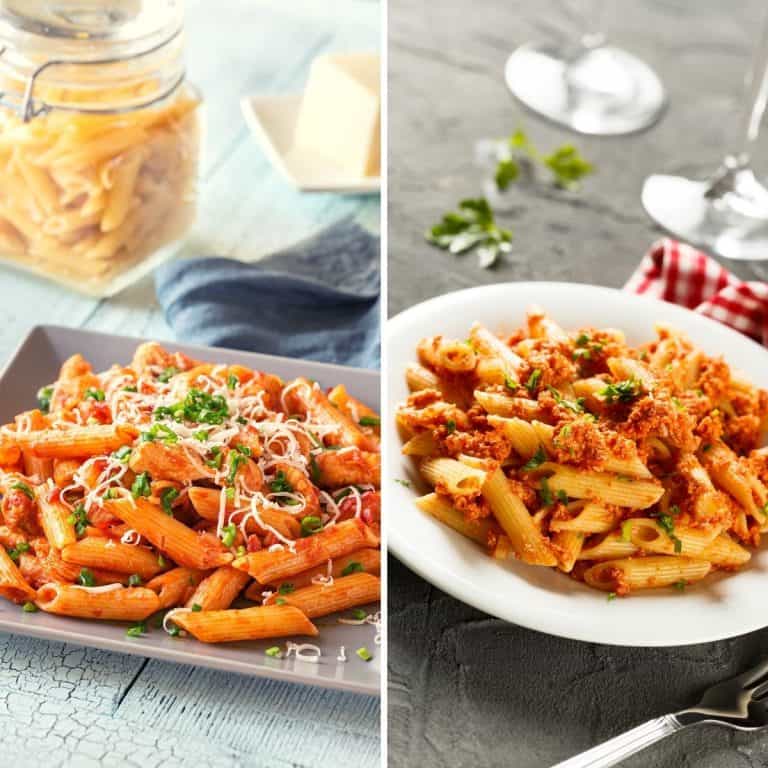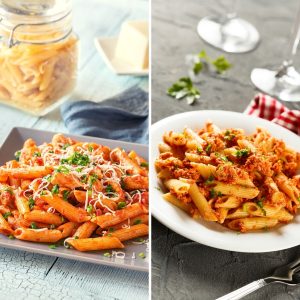 Under 500 calorie meal for dinner or lunch
easy one pot penne pasta and chicken meal recipe that is under 500 calories.
Ingredients
12

ounce

chicken breast

(cubed)

salt to taste

½

teaspoon

oregano

¾

teaspoon

garlic powder

½

teaspoon

onion powder

olive oil spray

½

onion chopped

2

garlic cloves, minced

14

oz

crushed tomatoes

7.25

oz

diced tomatoes

1

cup

reduced-sodium chicken broth

½

tablespoon

tomato paste

8

oz

penne pasta dry or ½ box

2

oz

low fat mozzarella

2

tablespoon

parsley fresh
Instructions
Wash and cut the chicken breast into small pieces or dice them.

Coat the chicken with salt, oregano, garlic powder, and onion powder and toss well so that it coats well.

Take a cooking pot and heat it well.

Add olive spray or add a teaspoon of olive oil to the pot.

Saute the diced chicken for a few minutes, keep stirring until it turns a golden color, and cook for at least 5-6 minutes.

Take the sauteed chicken out.

Into the same pan, spray olive oil and add the chopped onions.

Cook the onions for a few minutes or until they turn soft.

Add minced garlic and saute few seconds.

Add the diced tomatoes, crushed tomatoes, and tomato sauce, and stir well.

Add the chicken stock or broth, stir and bring the broth to a boil.

Add the penne pasta and the sauteed chicken into the broth.

Stir and cover the pot.

Simmer and cook the chicken and pasta for 15-20 minutes.

Add salt if required by checking.

Once done, add some fresh parsley and mozzarella cheese and mix.

Serve hot.
Nutrition
Nutrition Facts
Under 500 calorie meal for dinner or lunch
Amount Per Serving (1 g)
Calories 400
Calories from Fat 54
% Daily Value*
Fat 6g9%
Cholesterol 64mg21%
Sodium 576mg25%
Potassium 927mg26%
Carbohydrates 55g18%
Protein 32g64%
Vitamin A 571IU11%
Vitamin C 20mg24%
Calcium 194mg19%
Iron 3mg17%
* Percent Daily Values are based on a 2000 calorie diet.
Related