Sharing in this post is a list of Indian chicken drumstick recipes in which you can use chicken legs or chicken leg quarters and make these lip-smacking recipes.
Chicken legs or drumsticks are one of the tastiest chicken sections with which we can make many variations, such as snacks, baking the legs, or simply frying them.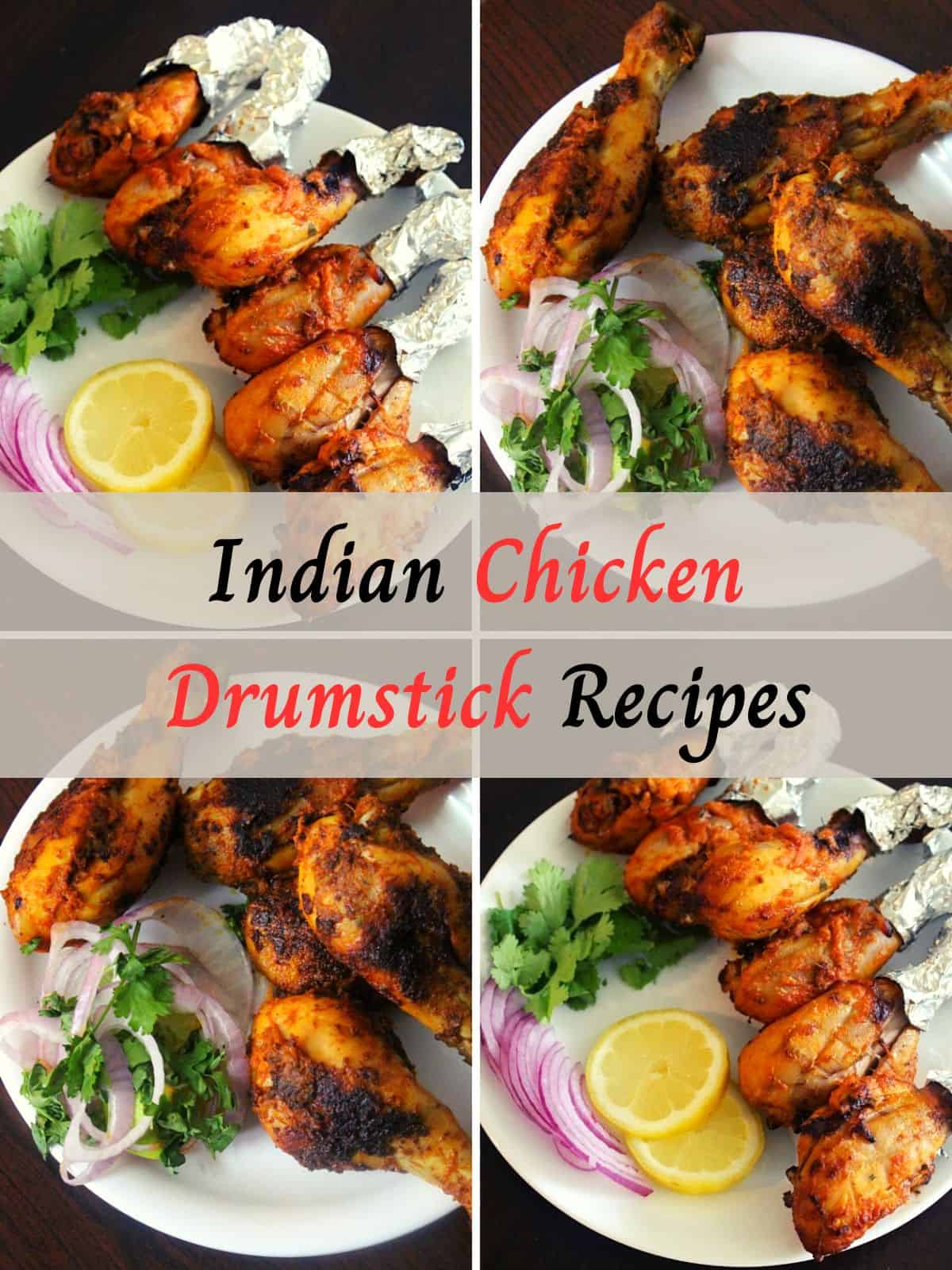 Every way of using chicken drumsticks turns out the best, but here, I would like to share recipes that follow Indian methods and consist of Indian marinations.
Check out the recipes below, which can use chicken drumsticks only, follow the same recipe procedures, and make mouth-watering chicken legs.
Jump to:
Suggested Recipe collections
1. Chicken leg piece fry
Use chicken leg pieces for the recipe and marinate the mix using spices, yogurt, or curd.
The marination of the chicken drumsticks helps the flavors infuse well into the chicken.
When the marination is done, fry the pieces in the air fryer, deep fry them, bake them, or cook them by sauteing them in one pot.
This chicken legs fry is a beautiful starter for regular cooking days or special occasions.
Serve the chicken with some onion rings, lemon wedges, and dips to have it during fun gatherings.
2. Tangdi Kabab
Do you prefer baking the tangdi kabab using chicken legs, follow this recipe procedure, and you will surely love its taste.
I tried and tested this recipe, the most delicious chicken leg recipe ever made.
This chicken dish is similar to the ones found on the streets of India and also readily available in several restaurants as a starter dish.
Using flavorful and aromatic spices such as kasoori methi, yogurt, and more seasonings makes it a special kabab.
Serve the kabab with yogurt dips or sauces, and onions and lemon seasoning make it even more delicious.
3. Tandoori chicken in the oven
The tandoori chicken can be made using chicken legs or chicken quarters, and use the same recipe if you are making it with only legs.
The recipe procedure is the same; you can make it by using the full legs or just the legs of the chicken.
You can make it by adding ready-made tandoori masala to the leg pieces or making the recipe as my method described.
The recipe needs good cleaning of the chicken legs or drumsticks and marinated well before baking the chicken in the oven.
Baking temperatures must be set appropriately for the chicken to turn out juicy, and overcooking the chicken legs can make the chicken hard and dry.
Follow the proper temperatures to make it perfect and juicy; these taste best as a starter dish and can be labeled as one the best Indian chicken drumstick recipes from the entire collection.
4. Tandoori chicken without oven
Are you worried about not having an oven? No need to be as this tandoori chicken can again be made using only chicken legs, and that too on a stovetop, and you don't even need an oven to make it.
We may not have the right equipment at home to cook some of the dishes even if we do have it, and we prefer to cook sometimes in traditional methods.
If you dislike making tandoori chicken in the oven, make it on a stovetop or use an electric grill and make a restaurant kind of tandoori chicken at home.
The recipe has all the flavors similar to those found on street food, and the aroma that comes out while cooking in a regular pot makes you make the dish all the time.
Making tandoori chicken in or without the oven is one of the easiest ways of cooking chicken in less time.
Just use the chicken legs, follow the same recipe procedure, and make it a side dish or enjoy it as a snack or a starter.
Make it for special occasions; weddings and events are always incomplete without this dish.
Enjoy this easy dish with your family and friends at home; they will ask for more.
5. KFC Chicken
If you have drumsticks and want to try something new, you can make KFC-style chicken fry just by using chicken drumsticks.
This is another recipe where you use full chicken legs or just the chicken drumsticks, and it turns out crunchier from the outside and juicier from the inside.
Serve this chicken fry with tomato sauce or ketchup; you will return to make it every time.
This is a perfect recipe for spending time with your family and friends.
You can also enjoy this fried chicken with an evening cup of tea as a snack.
The chicken legs need to be coated well with egg and flour and deep fried to get the restaurant-like taste.
Check out the recipe below and use only chicken drumsticks; you will love its flavors.
6. Peri Peri Chicken
If you like to add International flavors to an Indian dish, try the peri chicken by making the Indian style of peri sauce at home.
The recipe needs a sauce; coat the chicken legs, dip the chicken legs in the sauce, and bake your chicken legs by following the exact procedure.
Here, you can use the whole part of the chicken legs or the drumsticks, but the recipe will remain the same.
The only difference is choosing the chicken section of your choice.
I suggest using chicken legs if you plan to make something unique and a different dish using drumsticks other than tandoori chicken.
Other recipes
Biryani
Several recipes can be tried using only chicken legs, such as chicken biryani in oven.
Biryani is another recipe that you can make by using only chicken legs. Replace the regular chicken pieces with the chicken drumsticks and make the recipe as mentioned.
Making a biryani just by using chicken legs and making it as a pakki yakhni biryani or kacchi yakhni biryani is your choice.
If you like to check out different biryani recipes from the blog and use only chicken legs, try chicken dum biryani too.
Several restaurants sell chicken biryani made by using the legs of the chicken.
If you want to try out a biryani that way, follow any of my recipes and replace the cut chicken with chicken drumsticks; the rest of the recipe remains the same.
Curries
Other similar recipes to make using chicken legs are Indian chicken coconut curry, chicken 65, and punjabi chicken curry.
Curries are another best way to use chicken drumsticks and make any curry of your choice.
Other curries using chicken legs are Andhra chicken curry, Andhra chicken fry, etc., which are easy and simple to make.
Conclusion
I hope you like this list of recipe collections and recipes where you can use regular chicken pieces, but all the recipes mentioned in the list can be made using chicken drumsticks.
Make Indian chicken drumstick recipes by adding your flavors and variations, adding different seasonings and homemade masalas, and the recipes will turn amazing.