Chicken tangdi kabab, a tangri chicken drumstick recipe made using chicken legs by marinating in spices and baking them in oven.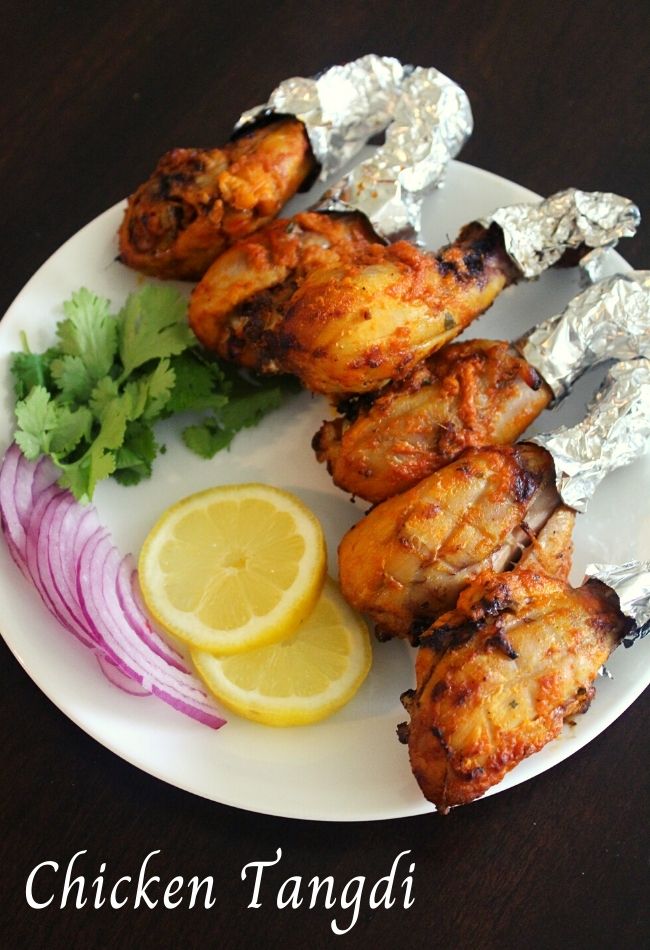 The chicken legs or the chicken tangri is a common street food recipe as well as a highly ordered restaurant chicken recipe. Many names are used for this recipe such as tangdi kabab, tangdi chicken.
For more similar indian chicken recipes on the blog check out punjabi chicken, mughlai chicken, pepper chicken, chicken jalfrezi, chicken curry indian style etc…
How does it look like?
The recipe is a simple chicken tangdi baked in oven which are juicy and can be used as a starter.
The chicken legs or the chicken drumsticks are marinated in spices and then placed in the oven which come out well with a juicy texture.
The spices that go into making the tangri chicken are salt, chili powder, black pepper powder, cumin powder, ginger garlic paste, oil, yogurt and dried fenugreek which makes the taste of the chicken more delicious and lifts up the flavors of the legs.
This is a very simple and easy recipe and can be even tried in a pan or tandoor but having a tandoor at home is quite difficult and making it in the oven gives a similar taste as made in a tandoor.
Tips to make it in the oven:
The oven should be pre heated at 380 ° F or 200 °C which pre heats the oven well and then marinated chicken legs should be placed into it.
The chicken drumsticks should be cooked for a couple of minutes upto around 25 minutes and then flipped and cooked for another 15 minutes.
Chicken turss out juicy and tender at this temperature and is perfecty cooked.
Following these tips makes the cooking process in oven quite easy.
The chicken if cooked for a long time makes it dry and therefore following the right steps are necessary for a perfect chicken.
The temperature should be set properly or else there are chances for the chicken to turn hard.
Similar chicken recipes to be made in oven are tandoori chicken in oven and oven biryani.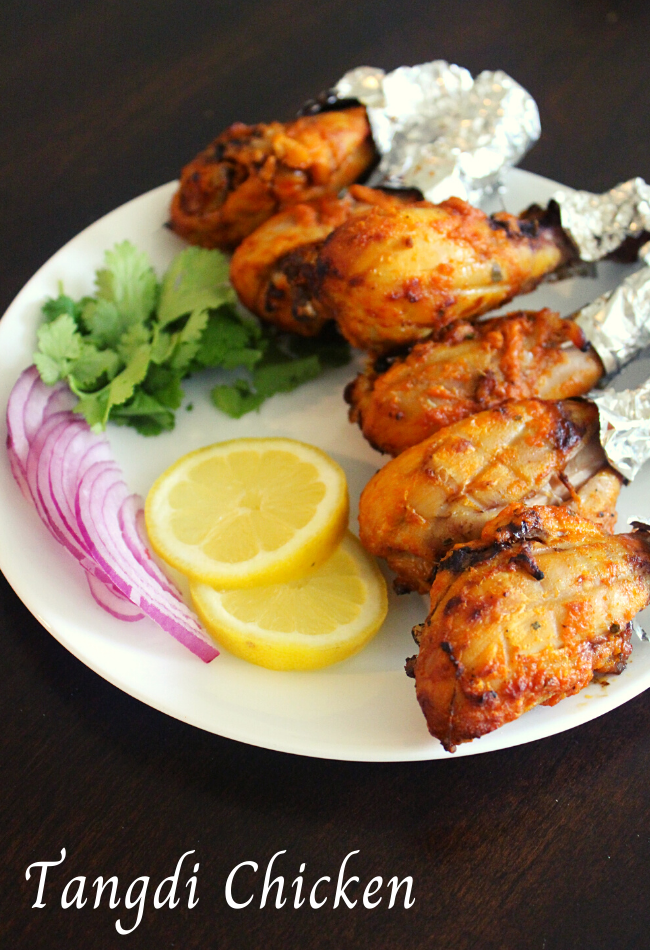 How to make them in a pan?
Can be done in two ways that is stir frying or deep frying:
Stir frying:
The chicken legs can be stir fried in a pan by adding little oil in a non stick pan and cooking them by on all sides by sauteing and tossing for about 20-25 minutes.
The outcome would be cooked if made in a non stick wok or a pan if there is no option of tandoor or oven.
Deep frying:
The chicken legs should be deep fried in oil which turn out as delicious kababs and are juicy enough which can be used as starters or can be served for special occasions.
How to serve these kababs or tangri chicken:
The kababs can be served with various sauces or chutney ranging from mint chutney, coriander chutney or any chutney dips.
These taste well and good just by eating plain and should be eaten while hot.
There are many ways the tangri kababs are made and in restaurants the common method is to place them on the tandoor or they are just deep fried but when making them at home according to me the best way would be to make it in oven.
Below are the recipe details on how to make the chicken tangri kebab with detail step by step procedure and a video too shall be updated soon…
The recipe is a simple starter and is one of the easiest chicken recipes to make at home in the oven.
Recipe card for making chicken tangdi kabab or tangri chicken below: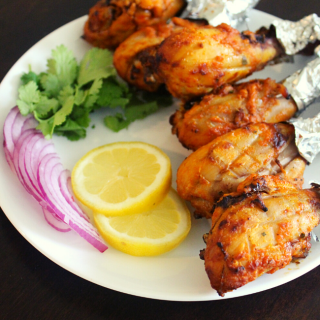 chicken tangdi kabab, tandoori tangri kebab
A simple marinated chicken legs recipe baked in the oven.
Print
Pin
Rate
Ingredients
6

chicken legs/ chicken drumsticks

salt to taste

1/2

tsp

red chilli powder

1/4

tsp

turmeric powder

1

tsp

ginger garlic paste

1/4

tsp

garam masala powder

1/4

tsp

cumin powder/ jeera powder

1/4

tsp

black pepper corn powder

1/4

tsp

chaat masala powder

1/2

tsp

dried crushed kasoori methi

2

tbsp

thick yogurt/curd

2

tbsp

oil

(mustard or olive preferably)
Instructions
Marinating the chicken:
The chicken legs should be washed well and kept in a strainer to remove any water content on the legs.

Place the legs in a mixing bowl and then marinate them with salt, red chili powder, turmeric powder, ginger garlic paste, garam masala powder, black pepper powder, chaat masala.

Also add cumin powder, dried crushed kasoori methi, thick yogurt, oil.

Mix all these ingredients well with the chicken legs.

Marinate the chicken legs for at least half an hour in refrigerator by covering them with a lid or a wrap.
Baking in the oven:
Pre heat the oven to 200° C or 350 °F.

Take a baking sheet and cover with foil inside and place a baking grid over it and place the marinated chicken legs on the baking grid.

Place the baking sheet into the oven, bake the chicken for 20-25 minutes.

After 25 minutes flip them and cook for another 15 minutes.

The chicken tangri kebab is ready.

Take them out and serve hot with chutney dip or enjoy as a starter directly.
Nutrition
Calories:
200
kcal
|
Carbohydrates:
1
g
|
Protein:
1
g
|
Fat:
9
g
|
Saturated Fat:
1
g
|
Sodium:
1
mg
|
Sugar:
1
g
|
Iron:
1
mg
Want To Watch Video Recipes?
SUBSCRIBE US ON YOUTUBE!