Have you ever tasted boneless skinless chicken thigh recipes? I guess so many times, but it's taxing to decide which recipe method we choose to make. Check out the fantastic compilation of these recipes, which can help you decide faster and make healthier choices.
Try out the different compilations from my blog for various other recipes. Check out this space for more ideas on cooking and using different ingredients to make dishes in multiple ways.
Suggested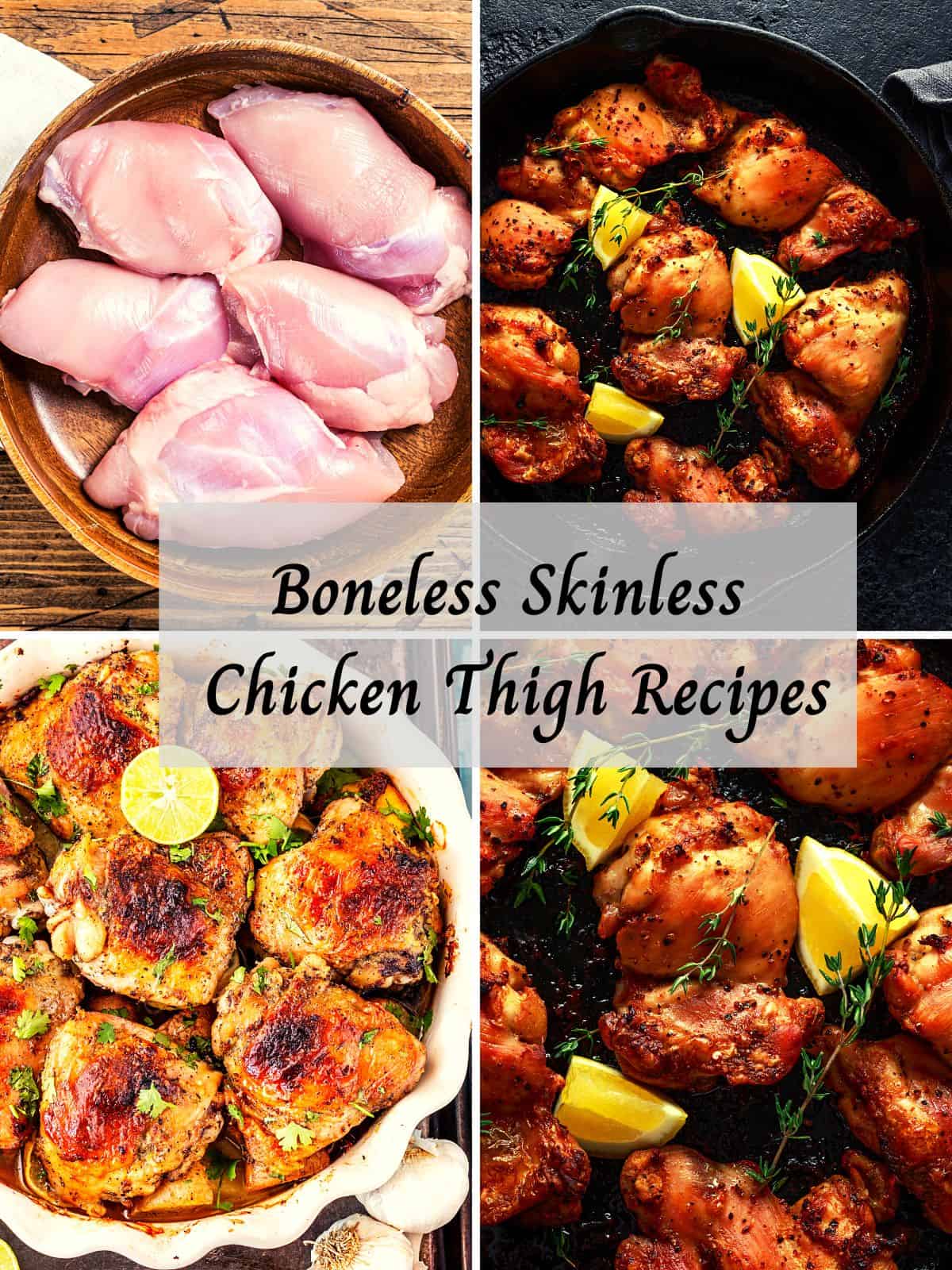 Why boneless skinless chicken thighs?
I am choosing this chicken cut to make a list of recipes on this post as this is a healthy cut next to lean chicken breast.
If you find lean chicken breasts expensive to buy regularly, you can opt for chicken thighs that are skinless and also boneless.
If possible, buy chicken thighs and remove the skin and bone at home if you like.
The second reason for using this chicken cut is to reduce the fats in the chicken.
Using skinless chicken thighs can eliminate the unwanted saturated fats, which are unhealthy and may cause health issues.
Weight gain can be a significant issue if we include the fatty portions of the chicken.
The fats from the skin are more in calories and contain saturated fats that may cause weight gain.
The calories also double up if you have chicken cuts with the skin.
The chicken thighs with the skin are tasty, but to eat them healthily and avoid fats and calories, go for boneless skinless chicken thighs.
Therefore, if you are weight conscious and do not want to take high calories, use lean chicken breasts or skinless chicken thighs.
Check out the recipe collection with this kind of chicken cut to make on a smoker, in the oven, stove-top, or air fryer, or by grilling; we have covered you, and I hope you love the collection.
Boneless skinless chicken thigh recipes
1. Air fryer boneless skinless chicken thighs
Are you looking for a healthy and less-oil cooking method? Try the air fryer method of cooking skinless chicken thighs without the bone and have it for any main course meal.
The chicken thighs are cooked with basic seasoning and some olive oil in the air fryer, which takes around 15 to 20 minutes to cook.
The air fryer chicken thighs taste best when flavors infuse well, and do try this if you are tired of making the chicken thighs in the oven.
Cook it immediately after seasoning or cook it by marinating it for a while; tastes delicious with a salad, and have them as a snack or make it during gatherings or family outings.
2. Oven Baked Boneless chicken thighs
Are you looking for a recipe for a quick dinner or lunch? This simple and quick recipe to make and tops the list of boneless skinless chicken thigh recipes.
The reason is simple, make it in under 30 minutes and have a healthy meal with a salad or potato side dish.
The recipe requires basic seasonings such as salt, paprika, and other flavorful spices.
To make it juicy, adding oil can change the thighs' look and make it appealing.
Use avocado oil or butter to give the juicy touch and make it delicious, but you can also opt for any healthy oil.
Season it with simple, flavorful spices, spray olive oil, or apply butter and bake them in the oven until they cook well.
Serve with your favorite side dish or healthy rice, or store in the refrigerator as a make-ahead dish for the next day.
3. Honey Soy baked chicken thighs
This recipe has some additional ingredients apart from seasoning and baking.
Using different liquid ingredients such as soy sauce, honey, and vinegar to make it juicy and flavorful is the secret to giving it a dark color and a soy-based appearance.
Chicken thighs dipped in soy sauce give a Chinese touch to the dish, and serving it with your favorite dishes, such as rice or noodles, or any salad, is the best way to have it for lunch or dinner.
Baking the chicken thighs or searing them with ginger and parsley flavors makes it a unique dish to try most easily.
4. Baked boneless skinless chicken thighs
These skinless and boneless chicken thighs are full of protein and a healthy option to make it.
The specialty of this recipe is Italian seasoning, onion, and garlic powder.
This seasoning coated well with the chicken thighs, infusing the flavors and making it a yummy dish.
The recipe is made in the oven by baking, and each thigh has approximately 155 calories, which is an excellent option for weight loss.
Having two thighs with roasted veggies makes it a healthy meal or dinner in 20 minutes with limited calories.
If you have thighs with the skin, remove and marinate the chicken, or buy this available chicken cut from the stores and make it.
5. Creamed Spinach Chicken
Are you tired of baking chicken thighs? Try this creamy, buttery spinach-flavored skinless chicken thighs.
This is a one-pot dish made by sauteing and cooking the chicken thighs or roasting them well until they are cooked.
This cooked chicken thigh is later added to a creamy spinach base.
The cream base is of a healthy chicken broth thickened using butter and sour cream and cooking it with baby spinach.
Combine the chicken thighs with the spinach base and prepare for a scrumptious meal.
6. Stove top chicken thighs
This is another quick stove-top chicken recipe, but the thighs are cooked only in the chicken broth by adding seasonings to the skinless thighs.
The cooked thighs can be stored in the freezer for up to 3 months by sealing them tightly, making it an excellent make-ahead meal prep.
Cook the seasoned chicken thighs in a broth on the stove-top and serve with roasted veggies, roasted potatoes, and pasta or store for later use.
7. Easy Baked chicken thighs
This is another simple chicken thigh in the oven without skin or bone and uses mayonnaise to coat the thighs.
This recipe makes the skinless chicken thighs in the oven and uses regular seasonings along with olive and mayonnaise, which again gives a creamy taste to the thighs.
Bake the seasoned chicken thighs by coating them with herbs, spices, mayonnaise, and olive oil in the oven for 30 to 40 minutes and serve hot.
8. Boneless skinless chicken thighs
If you like the honey, soy, and garlic flavor in your chicken dishes, try this easy baking in the oven chicken thighs.
This recipe uses skinless and boneless thighs by marinating in simple garlic flavors and adding a hint of sweetness of honey and a soy flavor to the chicken.
If you like a charred texture to the chicken thighs, broil the chicken thighs after baking and enjoy the grilled restaurant flavor easily at home.
9. Asian baked boneless chicken thighs
This recipe differs slightly from the previously mentioned boneless skinless chicken thigh recipes.
It has slightly different marination, and it uses a different oil that is avocado oil, fish sauce, vinegar, sriracha sauce, maple syrup, and garlic flavor, to cook the thighs.
Isn't the marination unusual and has a different Asian touch to the dish? Try this differently marinated chicken thigh in the oven and broil it to get the perfect charred look.
10. 20 min Air fryer boneless skinless chicken thighs
One can make this quickest chicken thigh recipe with two or three ingredients.
Rub the chicken thighs using a dry rub seasoning and leave them in the air fryer to do their work.
Serve directly with a sauce, dip, or preferred side dish.
A recipe made in just 20 minutes and a perfect quick dinner idea using chicken.
11. Mustard-flavored air fryer chicken thighs
Looking for a juicy chicken thigh to make using less oil? Try this air fryer chicken thigh recipe with a honey and mustard combination.
The recipe is marinated with garlic and spicy flavors such as cayenne to air fry it quickly for 15 to 20 minutes.
Try this simple, quick, skinless, air-fried chicken thigh as a healthy chicken dish.
12. Skillet chicken thighs with tomato basil spinach sauce
This recipe does not require an oven or air fryer but makes a delicious chicken thigh on a stovetop.
The recipe requires searing the seasoned chicken thighs well on both sides and adding later on to the tomato spinach gravy.
Make a separate base using tomato sauce, spinach, basil, and thick gravy that can later be stored as a leftover.
Adding the seared chicken thighs to the cooked tomato base and garnishing with parmesan cheese gives a different flavor.
A dinner meal is ready in 20 to 30 minutes for the entire family and makes an excellent meal to enjoy with your near and dear with different side dishes.
13. BBQ chicken thighs in the air fryer
If you do not prefer simple air fryer seasoned chicken thighs to cook in an air fryer, try this bbq flavored chicken thigh.
Cook the chicken thigh in the air fryer as done typically, and after minutes, spray bbq sauce and cook each side for a few minutes after spraying the bbq sauce all over the chicken.
This gives a bbq flavor to the chicken and makes it a different air-fried chicken, unlike the regular ones.
14. Lemon Garlic Beans, Chicken Thighs
The recipe looks delicious and needs some effort to get that look. The chicken thighs need to be seared on a skillet on both sides.
A separate thickened sauce is made by thickening chicken stock with seasonings, butter, and lemon juice.
Also added to this stock are the precooked green beans to let the whole mix cook well.
Lastly, finish the dish by adding the seared chicken thighs to cook for a few minutes and garnishing with your spices and herbs for fragrance.
15. Sticky baked Asian Chicken Thighs
You will love this dish if you like to make chicken with sauces. The boneless and skinless chicken thighs are coated with different sauces here.
The recipe used a thickened fish sauce, soy sauce, and sweet chili sauce thickened by slow cooking.
The thickened sauce is coated on the chicken thighs and baked for 20-25 minutes.
The simple yet delicious dish is ready in under 20 minutes and seasoned with sesame seeds to get the Asian taste and look.
16. Smoked boneless chicken thighs
This is a different dish, and I am sure you will love it. The chicken thighs are cooked thoroughly on a smoker.
The thighs are seasoned well with various spices, herbs, flavorful powders, and bbq sauce and smoked on a smoker to get that perfect look.
This is a different cooking method, but the same recipe can be tried on a grill to get the look and taste.
Lastly, serve these smoked chicken thighs with roasted potatoes, carrots, or any side dish you choose.
17. Baked Caprese Chicken Thighs
Love to make chicken thighs with Italian flavors? This recipe is the perfect way to make thighs that has all the Italian spices and herbs added to them.
The chicken thighs are seasoned with Italian spices and herbs, cooked on a layer of sliced tomatoes with pesto sauce, and topped with fresh mozzarella.
Baking the thighs until the chicken is thoroughly cooked and the cheese is melted well is a fantastic way of cooking this chicken.
18. Garlic Butter Chicken Thighs
These garlic butter chicken thighs are seared and cooked in chicken stock with lots of garlic flavors.
It gets its creamy texture from the butter added to the stock, and overall it has buttery garlic flavors infused into the chicken thighs.
The thighs used in this recipe are skinless and boneless, and the butter-flavored garlic chicken stock chicken makes the chicken tender and juicy.
19. Honey Garlic Chicken Thighs with Rice and Broccolini
The dish's name may be too long, but making the recipe is quite simple.
The chicken thighs are marinated in sriracha sauce, honey, and soy sauce and cooked in the oven.
The cooked chicken thighs are served with cooked rice and steamed broccoli.
This is a perfect option to make for your dinner or lunch or during weekends.
20. Air Fryer Honey Soy Chicken Thighs
This is an air-fried chicken thigh with a flavor of soy sauce and honey in the marinade.
The chicken thighs used are boneless and skinless and have a ginger garlic flavor to the simple chicken thighs made in the air fryer.
The recipe is quick to make, the seasoning is easy to make, and not many ingredients are needed to make the dish.
21. Oven Baked Greek Chicken Thighs
This is a good-looking and favorite dish as I love this marination procedure.
It has yogurt in the marinade, and also, to make it extra flavorful, it uses Italian seasoning.
The recipe is perfect to be served with rice or any side dish and makes a perfect meal for dinner or lunch.
Baked in the oven, it does not take a long time to cook and has a different and yummy taste of yogurt that makes it finger-licking.
I hope you liked this list of boneless skinless chicken thigh recipes, and do let us know in the comment section which recipe you liked and which you have tried.
Check out our recipe collections as we keep updating, and leave us your feedback on which recipe roundup you would like to know next.