Indian chicken curry, a simple and popular style of making chicken recipe using onions and also by using tomato puree and cooking it with basic spices.
This is a simple and quick to do regular chicken dish commonly made in Indian households as well as it is also found in dhabas which are usually found on the highways that connect major cities.
Chicken recipes on the blog:
Chicken dishes can definitely be made in many forms and chicken curries too are made in different varieties. Eating chicken is a very good substitute for proteins and including them often in various forms and also by steaming them, grilling them, boiling and having shredded chicken are one of the few methods to eat chicken in a healthy manner.
How can we make different chicken gravies or chicken curries?
Chicken gravies can be made from simple to complicated and simple curries are usually made just by using onions or onion paste and then to give more gravy texture tomatoes too are added.
Other ways to make chicken curries can be ranging from korma recipes to masala gravy recipes.
Korma recipes are usually made using coconuts, peanuts, onions, sesame seeds or by using poppy seeds and also by adding other masala stuff.
Chicken gravy recipes too are made by using tomatoes and yogurt into the chicken and slow cooking the chicken.
Chicken curries in India are found in many number of ways and every region in India make chicken curries differently.
South indian style of making chicken curries are totally different from north indian style of making curries. Kerala, Tamil Nadu all have different way of making the curry and north indian states like punjab etc... have other techniques to make these chicken recipes which are basically rich, creamy and buttery.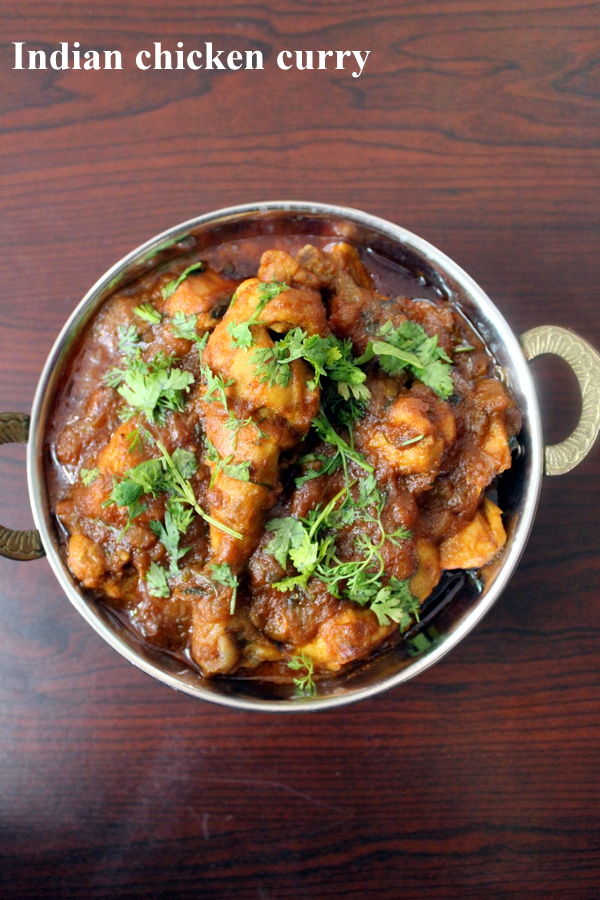 How to make this chicken curry:
This curry is very simply made by using onions and slightly browning them as well as adding tomato paste into it which gives a gravy like texture to the chicken.
What accompanies best with this curry?:
This dhaba style chicken curry tastes best with rice. Serve hot steamed rice or a simple pulao recipe with this curry and hear the appreciation that you get from your loved one's.
This goes well with plain parathas or naan as well and is a very yummy way of making chicken dish that does not require too many ingredients and the curry can be simply made just by using basic home made ingredients which are easily available at home.
This particular chicken curry can be made during several occasions as it is quick to make and tastes good with simple kitchen ingredients and perfect for festival cooking.
Why should chicken be eaten:?
Chicken is a great source of protein and eating chicken breasts is extremely good for health which helps in attaining a lean body and helps in muscle growth.
Chicken helps people suffering from anaemia and also chicken breast consumption helps in preventing any sort of cardiovascular diseases.
Which chicken flesh is better?
The chicken obtained from poultry hen is much better than the artificially produced broiler chicken which should be avoided and one should include healthy poultry flesh and poultry eggs to gain maximum benefit from chicken.
Best methods to cook chicken:
Chicken can be cooked in different methods or techniques using boiling or grilling methods which are a healthy option and steaming them is also a good way to consume it.
Other cooking methods such as baking, frying, roasting are more harmful as they take away all the nutrients and only the taste remains. In order to keep the nutrients intact, always follow the above methods of cooking chicken.
Below I have share detailed recipe on how to make this simple indian chicken curry and also a video procedure is shared for the recipe process to be understood in a much better way.
Check out the step by step procedure below and don't forget to watch the entire video...
Video for indian chicken curry:
Indian chicken curry recipe: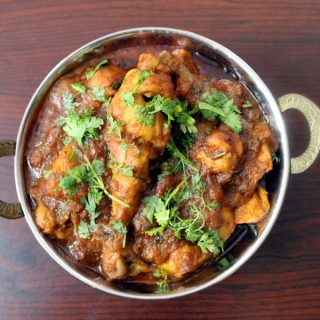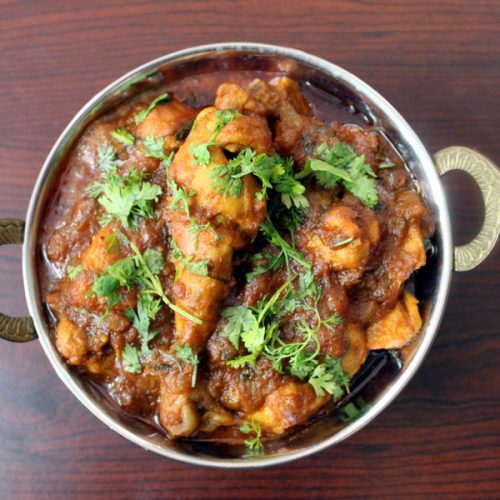 indian chicken curry recipe, dhaba style
A simple chicken curry using onions and tomato puree.
Ingredients  
500

gms chicken

(cleaned and washed well)

2

tbsp

oil

1 cinnamon stick, 2 cloves, 1 cardamom

2

onions, finely chopped

(medium size onions)

½

tsp

ginger garlic paste

salt - to taste

1

tsp

red chilli powder

¼

tsp

turmeric powder

2

tomatoes

(made into a puree)

1

cup

water

2

tbsp

freshly chopped coriander leaves

¼

tsp

black pepper corn powder/ kali mirch powder

¼

tsp

roasted coriander powder
Instructions 
Making of tomato puree:
Take 2 tomatoes, add a pinch of salt and blend it into a fine paste in a blender.

Use this tomato paste/ puree to add into the curry at a later stage.
Making of the chicken curry:
Take a pan, add oil and heat it.

Add whole garam masala such as cinnamon stick, cloves, cardamom into the oil.

Add finely chopped onions, saute until onions turn slight brown in color.

Add ginger garlic paste and saute for few seconds to get rid of the raw smell.

Add the chicken and roast it until the color changes.

Add dry spices such as salt, red chilli powder, turmeric powder, mix well and cook until oil leaves the sides.

Add tomato paste/ puree, mix and cook until the gravy is cooked well and until oil starts releasing from the sides.

Add some water, chopped coriander leaves, add salt according to taste, add black pepper corn powder, roasted coriander powder.

Cook for 2-3 minutes on low flame.

Cover and cook the chicken until it gets tender.

Keep stirring in between.

Once the chicken gets tender, slightly thicken the gravy if the curry is watery by removing the lid and cooking for few minutes on low flame.

Once the curry attains gravy consistency, switch off the flame.

Serve hot with rice or parathas or roti or pulao
Nutrition
Nutrition Facts
indian chicken curry recipe, dhaba style
Amount Per Serving
Calories 400
* Percent Daily Values are based on a 2000 calorie diet.
WANT TO WATCH VIDEO RECIPES?
SUBSCRIBE US ON YOUTUBE
Do try this recipe and leave us your feedback down in the comment section with your valuable suggestions as well....