Here is a list of chicken breast recipes from the Indian region, mostly made using boneless chicken. Chicken breast is a section that is entirely boneless and easy to eat.
Often we struggle to eat with the bone in, but it is not the case; using chicken breast is the healthiest part of the chicken, and boneless too.
Chicken breast dishes pair well with biryani and pulao or make a good chicken starter dish.
Apart from the chicken breast recipes, my blog has many other recipes, such as Hyderabadi chicken biryani, chicken biryani in oven, etc.
Jump to:
About chicken breast
While working out or having fitness goals, we only tend to eat chicken breast as it is the lowest in calories.
The chicken is high in protein, but the chicken breast part is not only high in protein but lean and healthy.
Including chicken breast recipes can be a good way of following a healthy diet and is also one of the best ways to lose weight.
Below is a list of some of my blog's best boneless chicken breast recipes in Indian style, which are in gravy and dry form, and some are easy recipes.
Also included are recipes that can be spicy, taste best and different North Indian and South Indian styles of recipes.
You can also try these recipes with different cooking methods.
The recipes can be stir-fried or air fried, and you can make them in the oven or stovetop.
1. Chicken 65
This is a quick recipe made using chicken breasts without even the breastbone.
The pieces are finely cut, marinated with spices such as corn flour, and seasoned well and deep fried.
The next step is to stir-fry the chicken in yogurt after tempering it with curry leaves and chilies.
This sauteed chicken recipe is one of the best recipes to make as a chicken starter or a chicken snack.
The recipe is made on several occasions and combines well with matar pulao, paneer pulao , hibachi fried rice, etc.
2. Andhra Chicken Fry
Simple chicken recipe with the help of chicken breast pieces sauteed in the seasoning of salt, pepper, curry leaves, and garam masala.
The chicken is roasted well until the chicken cooks well, and the aroma of this chicken fry is mesmerizing.
Andhra chicken curry and Andhra chicken fry are popular chicken recipes from south India and are highest selling dishes in restaurants in those regions.
It is a perfect side dish for various rice recipes, such as bagara rice and egg biryani.
If you love cooking chicken, try this one of the best indian chicken breast recipes.
3. Chicken Pakora
Looking for a deep-fried chicken snack using chicken breasts? Try this indian version of pakora using boneless chicken pieces.
Marinate the chicken boneless breast pieces in spices, season, and deep fry the chicken.
Deep frying gives a snack feel to the dish, making it on the top list of popular chicken snacks from the Indian region.
4. Chicken Fried Rice
Try this delicious chicken rice recipe made using boneless chicken pieces from the breast part of the chicken.
The chicken is finely cut into thin strips and sauteed well.
The chicken is then mixed in rice cooked in sauces, spices, and seasonings.
This recipe is an Indi-Chinese version of the chicken rice recipe, one of the famous Indian street foods.
You will love the taste of this dish as it replicates the street food method and tastes similar to the restaurant recipe.
Make it once, and you will fall in love with the recipe and return to try it again.
5. Chilli Chicken
Looking for street food chicken recipes? This dish should be on the top of the list.
This chili chicken uses boneless chicken pieces from the chicken breast, cut into cubes, and marinated with seasonings.
The chicken needs to be deep-fried like a chicken pakora. It is then sauteed in red chili sauce, soy sauce, and green chili sauce.
A perfect side dish to pair with egg-fried rice or vegetable fried rice.
6. Chicken Manchurian
This recipe is similar to chilli chicken but with a slight variation in the sauces we add and in the marination procedure.
The slight difference in the making gives the chicken a unique and delicious flavor.
You can have it as an evening snack or enjoy it as a starter dish, and you will love this Indo-Chinese chicken special.
This should be definitely tried if you love making Indian Chicken breast recipes.
7. Indian Butter Chicken
If you are looking for a chicken curry or chicken gravy using chicken breasts, try creamy, rich butter chicken made using cashew nut gravy.
The butter chicken is made by sauteing or grilling the chicken tikka pieces and then added to a gravy base.
The gravy is made from tomatoes and cashew nuts, cream, and given a flavor of fenugreek or kasoori methi to lift the aroma.
This Indian butter chicken is not only a popular dish from India but is one of the most ordered and popular dishes in International restaurants too.
This goes well with soft chapati, phulka, or naan and tastes best with any flatbread.
8. Chicken Jalfrezi
A quick and easy stir fry recipe similar to chicken fajita is made by cutting the chicken breast into thin strips.
The chicken strips are sauteed in veggies such as bell peppers and onions and then added to the chicken are basic sauces to finish the dish.
This can be a good side dish to indian flatbreads and can be made as a wrap by adding this filling to a tortilla to make a tortilla wrap.
The recipe makes a proper low-calorie lunch recipe and can be added to a healthy recipe diet as the breast has limited calories.
9. KFC Style Chicken Popcorn
A popular chicken snack not just in India but also in the United States is a deep-fried snack.
The popcorn chicken is quickly made by coating it with flour, egg, bread crumbs, and deep fried.
This KFC-style chicken recipe is one of the best and juiciest chicken starters or appetizers on the blog.
I often make this recipe as an evening chicken snack, and we only use tomato ketchup to pair it up.
Try this recipe, and please leave your feedback on it and hope my readers love making it.
10. Chicken Tikka
A quick and easy tikka recipe using a stovetop cooking method. If you are unfamiliar with the oven method, this chicken tikka can be grilled on a grill pan or a regular pan.
The chicken tikka pieces are generally grilled or baked in the oven, but the authentic way of cooking the tikka is in the tandoor.
Typically, household cooking cannot use a restaurant type of cooking technique as tandoor is a risky setup at home.
The best way is to grill the pieces outdoors or make them in a grill pan or in the oven, which tastes similar to the restaurant style.
Add some veggies to the skewers before making the chicken tikka to make it yummier.
11. Chicken Malai Tikka
If you like to grill chicken with rich and creamy marination, try this tikka recipe.
Made using boneless chicken breast pieces and then coated with a creamy yogurt paste.
The boneless tikka pieces can be inserted into a skewer or made on a grill pan or in the oven, or a healthier version is an air fryer.
Make this creamy tikka for your next party starter or appetizer, and enjoy the time with family and friends.
A quick tip is to make small pieces, stuff this kabab into a wrap, and enjoy the meal.
12. Murgh Makhani
This is a similar recipe that matches butter chicken and contains rich and creamy gravy added to the chicken tikka pieces.
The gravy is made from tomatoes, cashew nuts, and additional herbs and spices.
The chicken gravy is flavored with fenugreek and cilantro and paired with flatbreads.
A perfect dish to make during festivals, Indian weddings, and dinners, and a great dish to make during gatherings.
13. Chicken Seekh Kabab
To make the seekh kababs, chicken breast pieces are minced well and mixed with spices, herbs, and seasonings.
The flavorful minced chicken is inserted into a skewer, shaped into a thin round long kabab, and cooked by using any of your favorite cooking methods.
Kababs taste well with chutneys, dips, or sauces and go well by adding a dash of lemon extract and some onions with the kabab.
Pair it with bread or roti, or chapati or stuff it into a tortilla and make it as a wrap; add some mayonnaise and sauces and enjoy it as a lunch or dinner.
14. Chicken Shami Kabab
The shami kabab using boneless chicken breasts are patties made of minced chicken.
The patties are shallow fried but can also be baked or air fried.
This is similar to mutton shami kabab made using minced bonelss mutton or lamb.
The shami kababs can be enjoyed directly as a starter, or make the filling of the kabab into a wrap with your favorite sauce and have it for your next meal.
15. Hariyali Chicken
This chicken recipe is made by cooking chicken breast pieces in a green gravy base.
The green base is made by blending a paste of green herbs such as cilantro, mint, and green chillies.
The regular chicken is seasoned with basic spices, but this different-looking chicken turns yummy using the green herb paste, which brings a delicious flavor to the stir-fried chicken.
This can be paired with any special rice recipe, such as chicken pulao, tomato bath, tomato biryani, a soft chapati, or a phulka.
16. Chicken Keema
A simple and easy minced chicken curry using onions and chopped tomatoes.
The chicken used here is boneless from the breast and minced well to make it a minced chicken curry.
This is a famous Hyderabadi recipe from South India to eat with any biryani or rice recipe or roti.
The keema recipe is a quick-to-make dinner recipe for lunch and can be used as a side dish to rice or rotis.
This filling can be wrapped in a tortilla or made as a taco filling to try with variations.
17. Chicken Spring Rolls
These rolls are made by stuffing chicken filling from shredded chicken breast, veggies, and sauces.
The stuffing is placed into a pastry sheet or a spring roll wrapper which can be made at home or bought from the store.
The sheet is rolled like a spring roll with chicken filling and deep fried and served with tomato ketchup.
This is another best chicken breast recipes of Indian origin to try and master your cooking skills.
18. Chicken Cutlets
The chicken cutlets are made by cooking shredded chicken in spices and herbs, and then added to it are mashed potatoes.
The chicken and potato mixture is combined well to form a paste-like consistency, and the mixture is shaped into round patties.
The round patties must be shallow fried to get the perfect golden color and a crispy texture and finally served with ketchup.
The patties are the best and perfect recipe to make during fun evenings or an excellent choice on a rainy day.
The combination of potato and chicken gives the best flavor to the chicken cutlet, and you keep coming back to make it again.
19. Achari Chicken
If you love pickles and pickled flavors, this recipe will surely be your favorite.
Given the flavors and aroma of Indian pickle flavors to the dish, cook the chicken in a tomato gravy by giving pickled tempering.
This chicken gravy can even be stored for a long time and have it as a side dish to any main course meal.
20. Chicken Kathi Rolls
Love making chicken wraps for lunch or dinner? Try this chicken roll made using shredded chicken filling wrapped into a flatbread.
The specialty of this recipe is that the wrap is made deliciously using flour and eggs.
The tortilla or the roti combined with the chicken filling is a go-to recipe for any meal of the day.
21. Chicken Samosa
This famous Indian snack samosa can be made with any filling and stuffed in a pastry dough by giving a cone shape after filling.
The pastry dough can be made using whole wheat flour or all-purpose flour.
The dough is rolled using a rolling pin, cut into two halves, and then each half is filled with minced chicken that is cooked to perfection.
The dough is then given a cone shape and deep-fried to enjoy as an evening snack.
I hope you like our compilation of various chicken breast recipes in indian style, which are all easy to understand and make.
Some of the recipes may take a longer time to make but are easy to follow.
Make them for lunch, dinner, or special occasions, as I have shared different recipes suitable to one's needs.
The recipe details can be taken by clicking on the recipes. I hope you like our hard work in curating all the delicious recipes in one place from the blog.
Like, share, and follow our recipes, and leave us your feedback in the comments below.
Also, try some more chicken recipes from the blog, such as thin sliced chicken breast recipes, boneless skinless chicken thigh recipes.
Recipe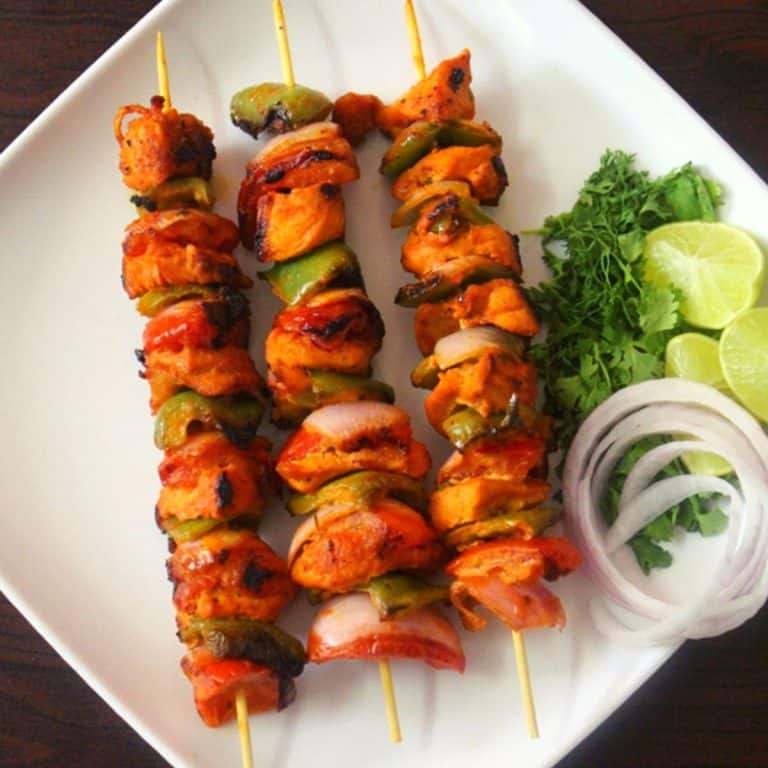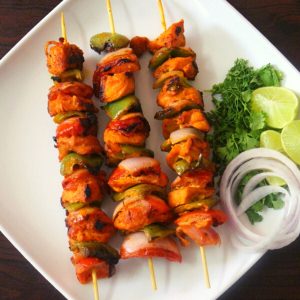 Indian Chicken Breast Recipes
A healthy way of making baked chicken breast in the oven.
Ingredients
2

medium size

chicken breast pieces

(boneless)

salt to taste

½

teaspoon

red chili powder or paprika

½

teaspoon

turmeric powder

½

teaspoon

cumin powder

½

teaspoon

garam masala powder

½

teaspoon

ginger garlic paste

1

tablespoon

olive oil

¼

teaspoon

black pepper corn powder

dash

of grated lemon zest
Instructions
Take a bowl, and marinate the chicken with all the spices and seasonings mentioned in the ingredients.

Add olive oil and coat the chicken well.

Cover and marinate the chicken for at least an hour in the refrigerator.

Preheat the oven to 380F.

Take a baking tray and line it with parchment paper.

Place the chicken breasts in the baking tray.

Bake the chicken in the oven for at least 25 to 30 minutes.

Do not cook for more than 40 minutes, as the chicken may not turn juicy.

For a juicier taste, cook for no more than 30 or 35 minutes.

Cut and serve it along with a salad.
Nutrition
Nutrition Facts
Indian Chicken Breast Recipes
Amount Per Serving
Calories 285
Calories from Fat 72
% Daily Value*
Fat 8g12%
Cholesterol 145mg48%
Sodium 272mg12%
Potassium 875mg25%
Carbohydrates 1g0%
Protein 48g96%
Vitamin A 225IU5%
Vitamin C 3mg4%
Calcium 21mg2%
Iron 2mg11%
* Percent Daily Values are based on a 2000 calorie diet.
Related