Chicken dum biryani here is made in oven and is one of the simple methods of making biryani in oven without any hurdles.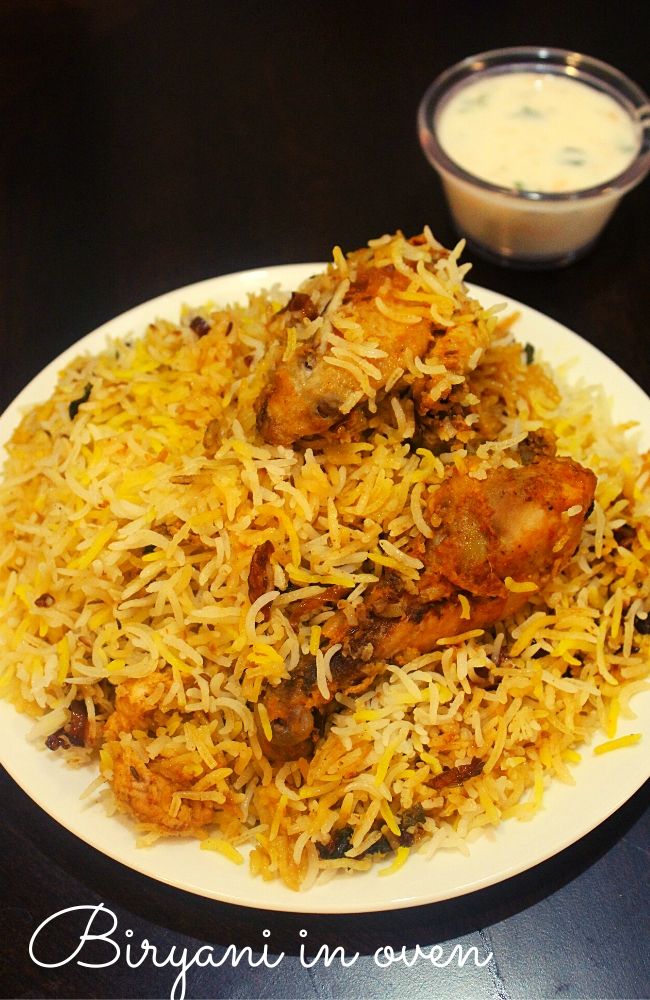 The biryani made here is done using chicken which is perfectly baked in the oven along with the rice.
Check out other biryani recipes on the blog made using traditional method such as chicken biryani, egg biryani or anda biryani etc...
Also there are other biryani recipes such as ambur biryani which is a south indian style of making biryani.
Difference between oven baked biryani and stove top?
Chicken biryani in oven is almost similar to the one made in stove top but the only difference is dum should be done in oven.
In dum biryani, the arrangement is made in such a way that marinated chicken is placed at the bottom and rice over the chicken.
To make it on stove top, the above arrangement is done in a heavy bottomed flat vessel and to make in the oven, the above arrangement is done in a baking tray and the tray that has been used here is made of aluminium and these baking trays are easily available in hypermarkets.
Dum is given on stove top by placing a tawa/ griddle below the cooking pot and sealing the lid tightly and put on dum for at least an hour for chicken biryani.
Oven baked method too is similar in giving dum and the baking tray has to be sealed tightly with an aluminium foil and placed in the oven which is pre heated at 350°F or 180°C and cooked for 1 hour to get a perfectly dum biryani.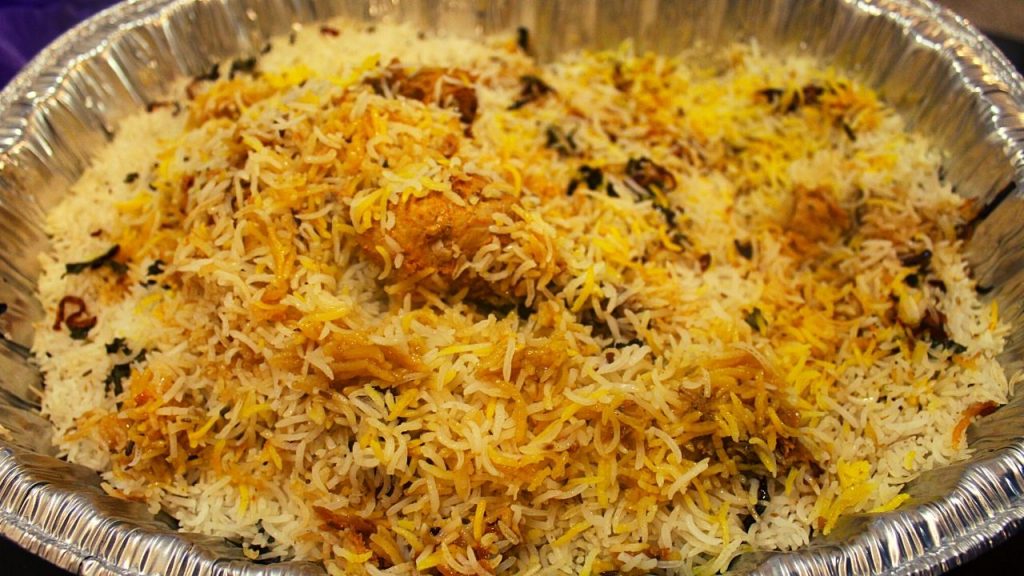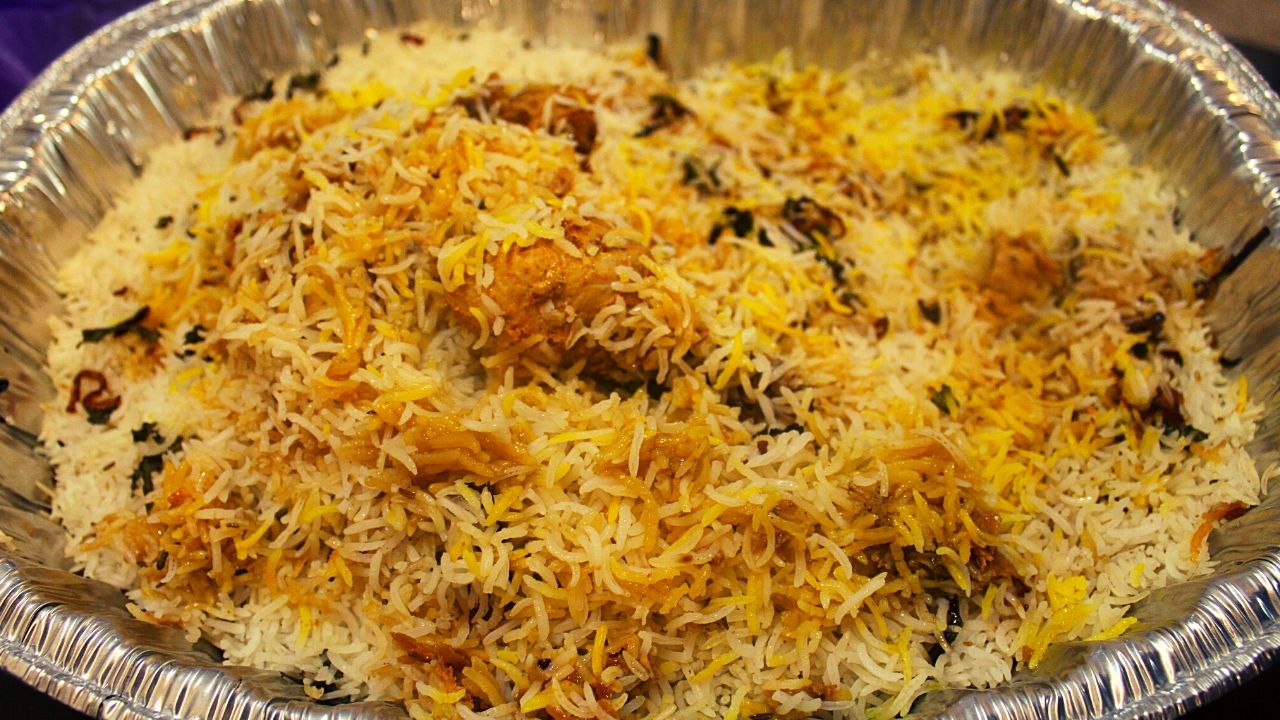 How many ways a biryani can be made?
Hyderabadi Biryani is made in two ways, one is kachchi yakhni biryani and the other is the pakki yakhni biryani.
In kachchi yakhni biryani, the chicken is marinated and placed on the dum along with the half cooked rice and in pakki yakhni biryani, the chicken is precooked and then layered along with almost cooked rice and placed on dum for less time compared to the kacchi yakhni biryani.
Here, the chicken biryani in oven is a method made in kachhi yakhni style where the raw chicken is marinated and the rice is half cooked and both are arranged together and put on dum for a long time.
Both the methods are fine and give good results and the outcome is perfect.
Below recipe is a mouth watering dum biryani which tasted really good and is one of the best chicken recipes made so far on the blog.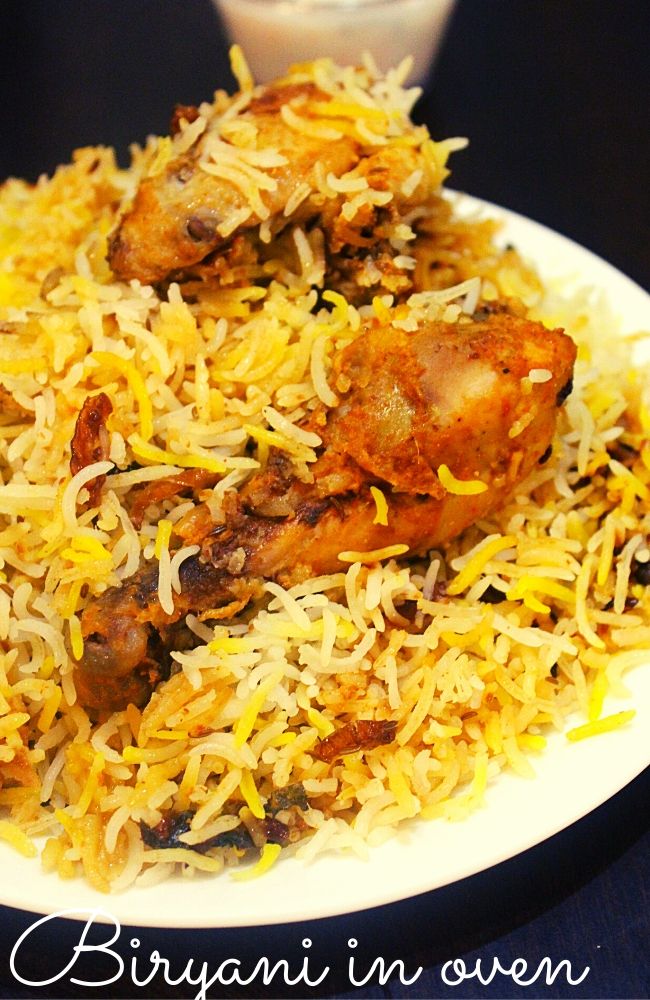 I decided to share this article after I started staying abroad where I found out that making biryani on cook top is less preferable and it is best to use an oven to make it.
Therefore, after trying it out along with my Hubby, I found out that this is the best way to make dum biryani if there is a difficulty of finding Indian utensils abroad.
The biryani in oven is baked easily and it does not burn at the base and comes out with long grain rice and perfectly cooked chicken.
Tips to be followed to make dum biryani in oven:
The marination procedure for chicken is the same.
The procedure to cook the rice is similar and done in a cooking vessel until it is ¾ th cooked.
The baking tray used should be wide and long and it is easily available in market.
The temperature should be preheated and then the tray should be kept inside the oven and then cooked for at least an hour or ten more minutes.
I have shared a video procedure below that helps in making this biryani in a much better way and is easy to understand.
Side dish for biryani:
It can be eaten plain or can be eaten with raita such as onion raita, cucumber raita, bagara baingan, baingan masala or mirchi ka salan, gutti vankaya curry.
Below are the step by step details to make dum biryani in oven along with a video and stay tuned as there will be many more biryani recipes that would be shared on the blog which are made on stove top as well as in oven and cooker rice recipes.
Chicken dum biryani in oven: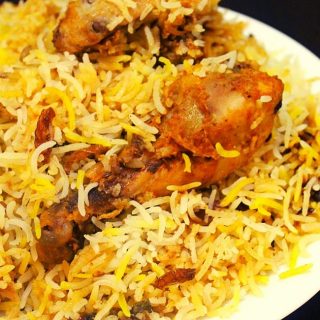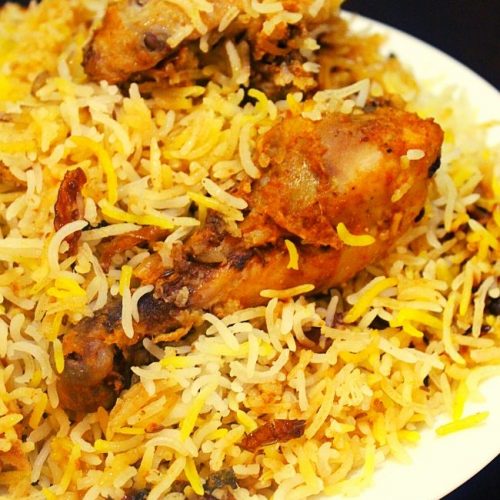 Chicken dum biryani in oven
An oven baked biryani which tastes as good as the biryani made in a traditional method.
Ingredients  
For marination:
1

kg

chicken

(cleaned and washed well)

½

tsp

turmeric powder/ haldi

2

tsp

red chilli powder

salt

to taste

3

tsp

ginger garlic taste

2-3

tbsp

lemon extract

½

tsp

black pepper powder

(kali mirch powder)

3-4

cinnamon sticks/ dalchini

3

cardamoms/ elaichi

3

cloves

(loung)

1

tsp

coriander powder

(dhanya powder)

½

tsp

cumin powder

(jeera powder)

1

tsp

garam masala powder

½

tsp

shahi zeera/ caraway seeds

3-4

slit green chillies

2

tbsp

oil

3

mint leaves

2

tbsp

chopped coriander leaves

1

cup

fried onions

1

cup

beaten yogurt
To cook rice:
800

gms

basmati rice

water

to boil the rice

2

tbsp

oil

salt

to taste

3

cloves

½

tsp

shahi zeera

3

cardamoms

3

small cinnamon sticks

2

black cardamoms
Ingredients for giving dum:
2

tbsp

fried onions

2

tbsp

yellow food color

2

tbsp

chopped coriander and mint leaves

1

tbsp

ghee

2

tbsp

oil
Instructions 
Step 1 (To marinate the chicken):
Drain the water from the chicken completely.

Take a mixing bowl, add the chicken pieces.

Add turmeric powder, red chilli powder, salt to taste, ginger garlic paste.

Add lemon extract and give everything a mix.

Add black pepper powder, cloves, cardamoms, cinnamon, coriander powder, cumin powder, shahi zeera, garam masala powder.

Add in the mint leaves, coriander leaves, crush and add fried onions, beat the yogurt well and add into the chicken.

Mix everything well and cover the marinade.

Marinate for at least 2 hours in refrigerator.
Step 2 (Soak the rice):
Take about 800 gms of basmati rice, wash it thrice and soak the rice for at least 45 minutes and 1 hour is good.
Step 3 (Cook the rice):
Take a cook pot, add good amount of water, salt as per taste, oil.

Add whole spices such as cloves, cardamoms, cinnamon, shahi zeera, black cardamoms.

Bring the water to a boil.

Add in the soaked rice into the boiling water. and stir.

Cook the rice for 10-12 minutes until it is 75% done while stirring in between.
Step 4 (Dum Procedure):
Pre heat the oven to 350°F or 180°C.

Add the marinated chicken all over the base.

Add in the 75% cooked rice all over the chicken by straining the rice with a strainer.

Top it up with some fried onions, coriander and mint leaves, yellow food color, oil, ghee.

Seal the tray with an aluminium wrap.

Place the biryani tray in the preheated oven.

Cook the biryani for 1 hour with the same temperature.

Take it out and remove the seal and serve hot.

Serve hot with onion raita, bagara khana or mirchi ka salan.
Video
Notes
Any food color can be used while garnishing during dum.
The cook time can be increased to 10 more minutes and not more than that.
Nutrition
Nutrition Facts
Chicken dum biryani in oven
Amount Per Serving
Calories 1316
Calories from Fat 468
% Daily Value*
Fat 52g80%
Cholesterol 100mg33%
Sodium 227mg10%
Potassium 485mg14%
Carbohydrates 169g56%
Protein 37g74%
Vitamin A 200IU4%
Vitamin C 3mg4%
Calcium 82mg8%
Iron 3mg17%
* Percent Daily Values are based on a 2000 calorie diet.
WANT TO WATCH VIDEO RECIPES?
SUBSCRIBE US ON YOUTUBE