Chicken biryani recipe is shared along with step by step details and a video procedure. This is a special eid recipe that can be made for eid all across the world and also for several festivals, weddings and occasions.
This recipe goes very well with onion raita or cucumber raita.
Other biryani recipes to check out on the blog are mutton biryani hyderabadi style, hyderabadi chicken dum biryani, mutton biryani recipe pakki yakhni, hyderabadi chicken biryani recipe.
I have shared a delicious chicken biryani recipe using dum method which is very easy and tastes the best. I would like my blog readers to make this recipe for the eid and serve their family members.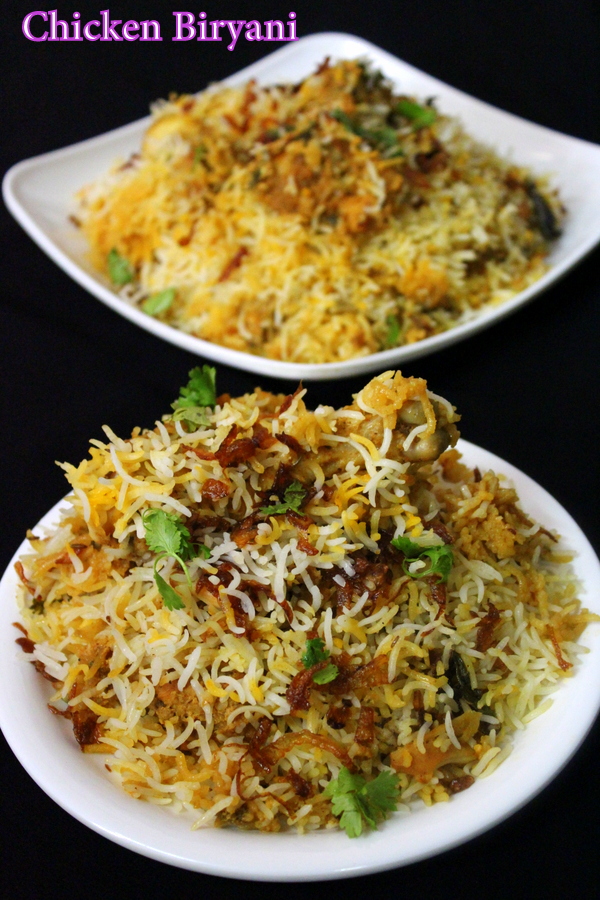 Biryani can be made in several ways and this is one of the several ways of making hyderabadi and hopefully would be posting several ways of making hyderabadi recipe using chicken and mutton.
Biryani making in south indian regions like tamil nadu, kerala is totally different from hyderabadi biryani and in Hyderabad usually we make use of dum method to make the biryani recipes…
In this biryani recipe, I have used the chicken, marinated it with some aromatic spices and herbs. The following step is cooking of the rice and adding the marinated chicken to it and giving dum.
The outcome of the recipe is as good as the restaurant style and what could be a better feeling than getting restaurant like flavors at home..
I have used common aromatic spices that are used in every household to make this chicken biryani.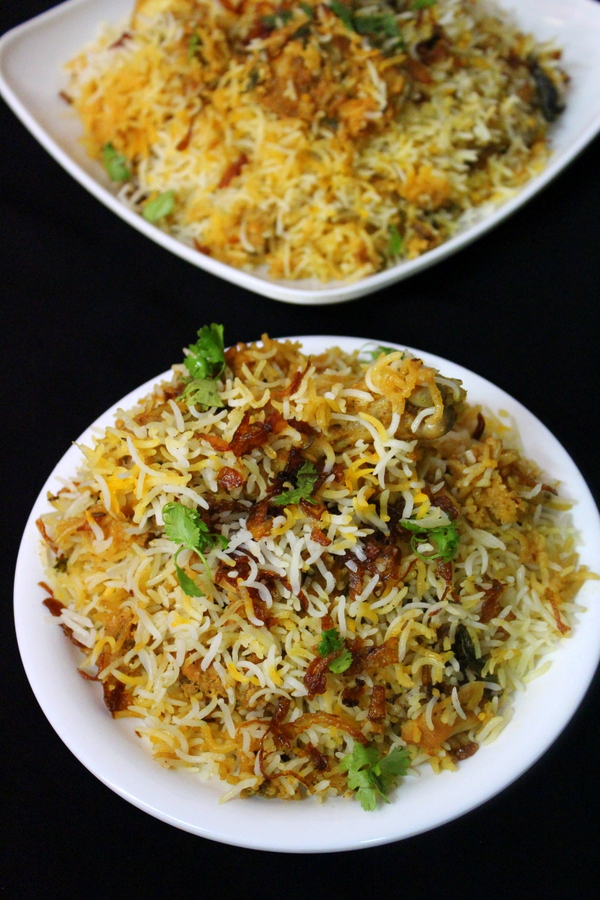 This method is a dum biryani method and I have marinated the chicken for about half an our to speed up the cooking process and yet I got the best flavors.
The recipe can not only made during eid but also for various other occasions.
Chicken biryani is the most sought after dish all across the world and I thought eid is the best time to share this recipe.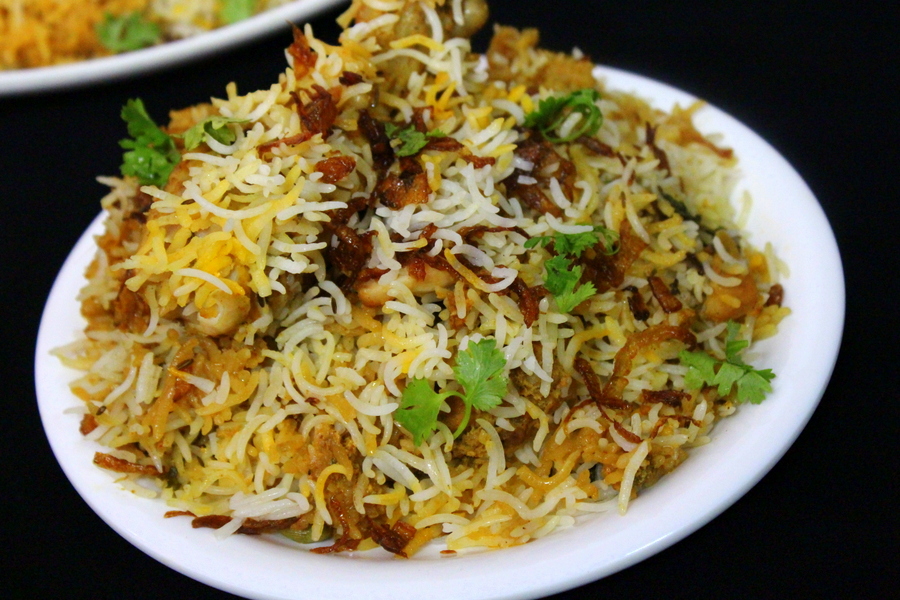 I hope this wonderful chicken biryani recipe is loved by all of them and hope to receive feedbacks after trying out the recipe.
Here, in this recipe I have made use of basmati rice and making use of basmati rice for dum biryani recipes is highly recommended to get restaurant like flavors in the biryani.
I have already shared other variations of biryani which are mentioned above with the help of links and would like to update many more biryani varities as I keep updating.
Do check out the recipe details below and also the video procedure for chicken biryani recipe.
Finally I wish everyone EID MUBARAK!!!
How to make chicken biryani recipe, Eid special recipe: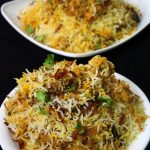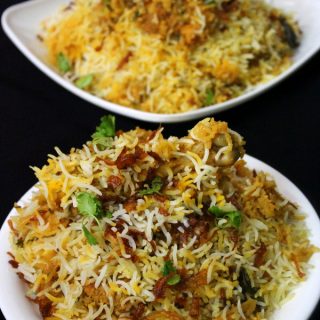 Print Recipe
chicken biryani recipe restaurant style
A delicious hyderabadi chicken biryani recipe made using dum method which can be made during several occasions.
Ingredients
For marinating chicken:
750

gms chicken cleaned and washed well

salt - to taste

1

tsp

red chilli powder

1/4

tsp

turmeric powder

1

tsp

full ginger garlic paste

1/2

tsp

garam masala powder

powder of cloves, cardamom, cinnamon, black pepper

1/2

tsp

black pepper powder

kali mirch powder

1/2

bunch coriander leaves

10-12

mint leaves

6

green chillies vertically slit

1

cup

fried onions

5-6 medium size onions deep fried

1

cup

beaten yogurt

1/2

tsp

green cardamom powder

1

tbsp

lemon extracted juice

1

tbsp

oil
For giving dum:
600

gms basmati rice

salt - to taste

whole garam masala

4 small cinnamon sticks, 4 cloves, 3 cardamoms, 6-7 black pepper corns

1

tsp

shahi zeera/caraway seeds

1

tsp

oil
For garnishing/seasoning while giving dum:
1/2

tsp

green cardamom powder

2

tbsp

fried onions

1

tbsp

lemon juice

8-10

mint leaves

2

tbsp

freshly chopped coriander leaves

1

tbsp

onion flavored oil

oil remained after frying onions

1

tsp

ghee

3-4

saffron strands mixed with 2 tbsp of milk
Instructions
Marinating chicken:
Firstly, in a bowl, add the chicken pieces, add salt, red chilli powder, turmeric powder, ginger garlic paste, garam masala powder, black pepper corn powder, coriander leaves, mint leaves, slit green chillies, fried onions.

Mix this whole mixture well.

Add beaten yogurt, green cardamom powder, lemon extract, oil.

Mix the whole marinade well so that the masala is coated well to every chicken piece.

After mixing well, marinate the chicken for half an hour.
Cooking the rice:
Wash the basmati rice and soak the rice in water for about 20-30 minutes.

Take a handi, add water into it, add salt as per taste, add whole garam masala (cinnamon sticks, cloves, cardamoms, black pepper corns).

Add shahi zeera and bring the water to a boil.

Add the soaked rice into the boiling water.

Cook the rice until it is 70% done or for about 5-7 minutes.

Switch off the flame and strain the rice.
Giving dum:
Take a handi, add little oil all over the base.

Add the marinated chicken at the base and spread the marinade evenly.

Over the chicken, add the rice that has been strained and spread it evenly.

Finally garnish the biryani with green cardamom powder, some fried onions, coriander leaves, mint leaves, lemon extract, some oil, ghee, saffron flavored milk.

Cover the handi with a lid.

Place a tawa on the stove.

Place the handi on the tawa.

Dum the biryani on high flame for 15 minutes.

Dum the biryani on low flame for 30-35 minutes.

Switch off the flame.

Biryani is done.

Serve the chicken biryani.

Watch the video procedure above.
Video
Nutrition