Pakistani chicken biryani is an authentic way of making biryani and it has some different aromatic flavors due to the spices and herbs added in it.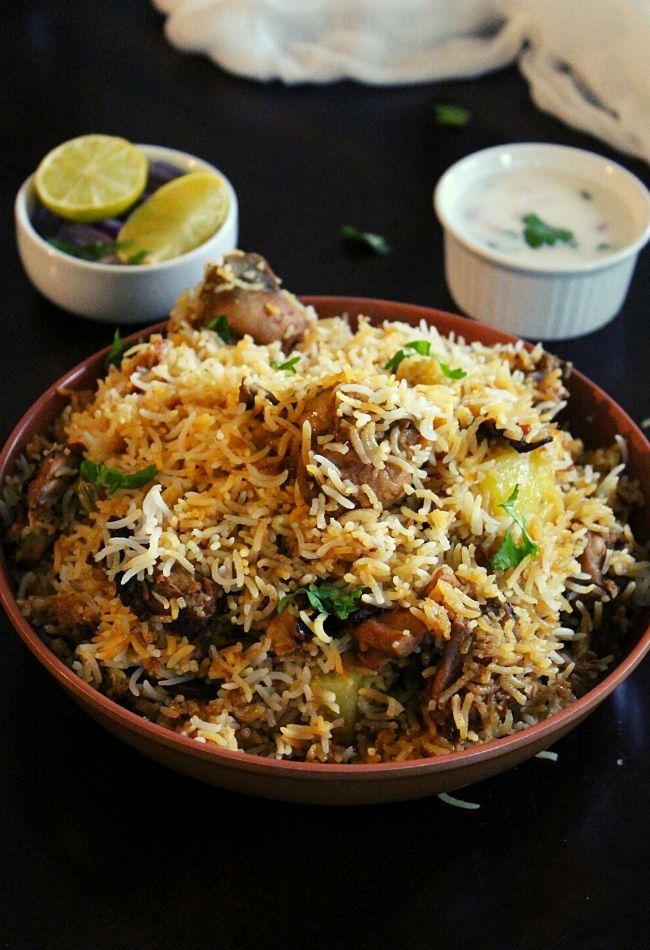 I have always been trying various biryani recipes from different regions and countries and this is my another variation of biryani recipe which is made in pakki yakhni style.
Every region or country makes biryani recipes in their way and today I decided to share this particular recipe for my blog readers to try it out and enjoy...
About the recipe:
This is a simple way of making the rice special dish by cooking the chicken first and then giving dum by layering cooked basmati rice and chicken curry.
I have used Basmati rice as the long grains give amazing aroma to the dish but one can use other rice variety as well such as sona masoori rice.
I highly suggest to give basmati rice as the first priority.
Other biryani recipes on the blog are: hyderabadi mutton biryani, hyderabadi biryani , how to make biryani which should definitely be tried.
How to make the recipe:
Firstly, fry the onions until golden brown and then cook the chicken in it by adding spices, tomatoes, yogurt and cook the gravy for about 20 minutes.
Separately, cook the rice by boiling the rice for about 10 minutes in boiling water.
Give aromatic flavoring of salt, whole spices such as cloves, cardamom, shahi zeera etc... and then the rice is boiled.
The boiled rice should be strained and added during the layering of chicken and rice.
The biryani pot should be sealed tightly after layering and then given dum for 5 min on high heat and 25 min on low heat.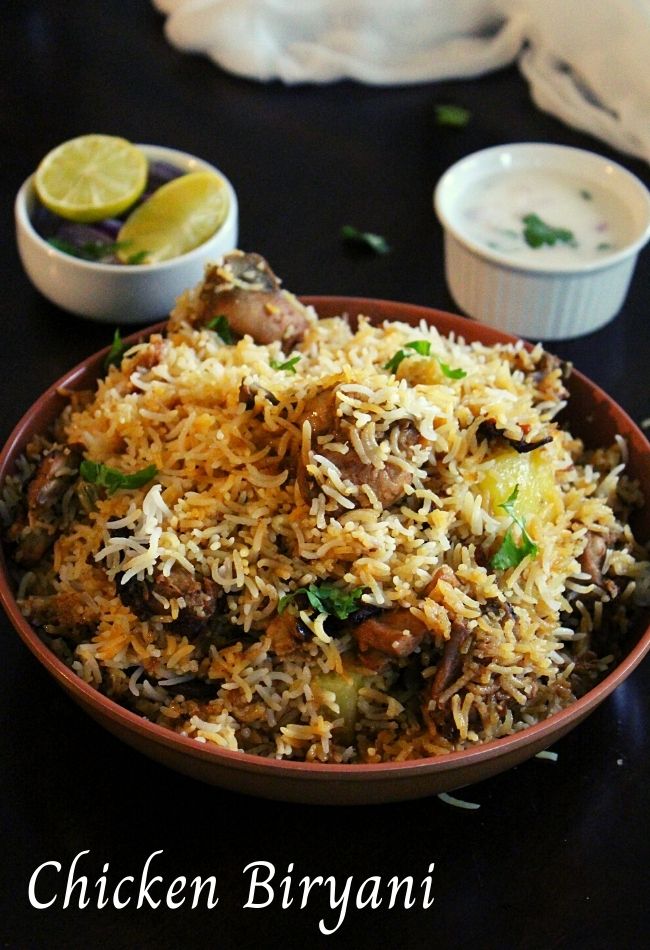 Ingredients to make the recipe:
Oil: This is needed to fry the onions until golden brown and then the same oil is used to make the curry as well.
Sliced onions: Using thinly sliced onions to make the barista gives the actual flavor required to get in the biryani.
The onions should be perfectly fried until they get golden color. This is the one of the main ingredients for the recipe.
Chicken: Here, to make the biryani I have used cut chicken pieces but other non veg such as mutton or lamb too can be used to make the biryani in same procedure.
Tomatoes and Yogurt: These two ingredients are required to produce the masala gravy and also to give the right balance of sour flavor to the chicken curry.
Without adding these ingredients the biryani would turn sweet and less tasty.
Whole spices: To the chicken curry, one has to add various whole spices such as cloves, cardamom, cinnamon, black pepper, bay leaf and other spices of one's choice.
The whole spices are essential ingredients of any biryani recipe as these give the spice aroma to the special rice delicacies.
Herbs: To get the right flavors herbs such as green chilies, coriander leaves and mint leaves are added.
Dry spices: These spices such as salt, chili powder, turmeric powder, garam masala powder are essential to every biryani recipe.
Rice: Preferably using basmati rice is suggested as it gives the long grainy texture to the rice recipe.
Ghee: This is an optional ingredient to be added during dum . If ghee is not handy, oil too can be used as a topping and placed on dum.
Tips to make perfect Pakistani biryani:
Soaking basmati rice for at least 30 minutes is essential to get long grains while boiling them.
While boiling the water in order to cook the rice, boil the water well by adding salt and spices as this gives good flavors to the rice.
After adding soaked rice to the boiling water, cook the rice for not more than 12 minutes as the rice turns out soggy during dum if boiled for longer time.
Do not cook the curry completely as the chicken can be cooked during dum along with the rice.
Cooking the curry for 20 minutes would be enough as the rest can be cooked in dum.
Always use a thick bottomed base to the give dum to avoid the base burning during the dum process.
Covering or sealing the vessel tightly is essential for proper dum.
Since this is a pakki yakhni biryani, dum the biryani for 5 minutes on high flame and 20 minutes on low flame.
Following these techniques gives the perfect biryani flavors.
Whole spices can be used as per choice of every individual.
Follow the recipe guidelines below to get a perfect pakistani biryani.
FAQ'S FOR THE RECIPE:
Can we skip aloo bukara?
Yes, it is not mandatory and can be skipped. It is added to give a tangy flavor to the gravy. Tomatoes and yogurt balances the tangy taste and if it is not available then it can be skipped.
Are potatoes mandatory?
Pakistani or Sindhi style of biryani recipes add boiled potatoes during the layering of biryani. It adds great taste to the biryani and also gives some uniqueness to the traditional style of making biryani.
Recipe card for pakistani biryani below: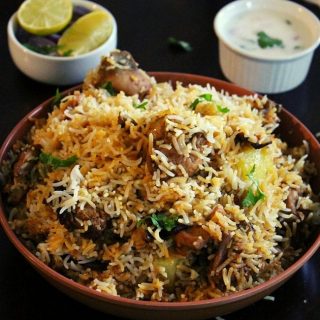 Pakistani biryani, Pakistani chicken biryani
A pakki yakhni biryani made using chicken curry, layering it with rice and cooking together.
Ingredients  
To make the curry:
750

gms

chicken, cleaned and washed well

¾

cup

oil

2

large onions, thinly sliced

(use 4 for medium size onions)

1.5

tsp

ginger garlic paste

3

cloves/loung

3

cardamoms/elaichi

1

large cinnamon stick

½

tsp

shahi zeera

1

bay leaf /tej patta

1

star anise

(totally optional and can be skipped)

salt as per taste

1.5

tsp

red chili powder

¼

tsp

turmeric powder

½

tsp

garam masala powder

¼

tsp

cumin powder

¼

tsp

coriander seeds powder

¼

tsp

black pepper corn powder

¾

cup

yogurt/curd

2

chopped tomatoes

2

tbsp

chopped coriander leaves

5

green chilies

4

aloo bukhara/dried plums

(optional ingredient)

2

potatoes, peeled and cut into 4 halves
To dum the biryani:
750

gms

basmati rice

(soaked for 30-40 minutes)

water for boiling the rice

salt to taste

1

cinnamon stick/ dalchini

2

cloves/ loung

2

cardamoms/ elaichi

½

tsp

shahi zeera/ caraway seeds

1

tbsp

oil

1

tbsp

lemon extract
For the topping during dum:
a pinch of yellow and orange food color

(mixed in water)

fried onions

4-5

mint leaves

1

tbsp

chopped cilantro/hara dhaniya

(coriander leaves)

1

tsp

ghee

1

tbsp

oil
Instructions 
Potato boiling:
In a cook pot, add enough water, add salt to taste, half a teaspoon of turmeric powder.

Add the peeled and cut potatoes into the water and boil them until they are half done or 50% cooked.
To cook the chicken curry:
Take a cook pot, pour oil and heat it.

Add the sliced onions, add some salt and stir fry them until they turn golden in color.

Take some onions out for garnishing.

Add ginger garlic paste and saute for a minute.

Roast until the color of chicken changes.

Add whole spices such as cloves, cardamom, cinnamon, shahi zeera, bay leaf, star anise.

Add salt, red chilli powder, turmeric powder, garam masala powder, cumin powder, coriander powder, black pepper powder.

Cook the masala for 3-5 minutes or until oil releases or appears at the sides.

Add the chopped tomatoes, chopped coriander leaves, slit green chilies.

Add aloo bukhara/dried plums into it, mix everything.

Cook the gravy for 15-20 minutes while stirring in between.

As the gravy is cooking, start preparing the rice.
Cooking of the rice:
Add enough water, add salt as per taste, add cloves, cardamoms, cinnamon, shahi zeera, a teaspoon of oil and lemon extract.

Bring the water to a boil.

Add soaked basmati rice into it and stir well.

Cook the rice for not more than 12 minutes or until it is 80% cooked.
Layering the chicken and rice:
Take some chicken curry out from the chicken pot.

Over it add a layer of rice.

Place the boiled potatoes over the rice.

Add the remaining chicken curry curry as another layer.

Add another layer of rice.

Top it up with yellow and orange food color mixed with water.

Top with some mint leaves, coriander leaves and some deep fried onions.

Add a teaspoon of ghee as well as a teaspoon of oil all over.
Dum procedure:
Place a tawa/gridle below the cook pot.

Seal the cook pot tightly.

Dum on high flame for 5 minutes and low flame for 20-25 minutes.

Switch off the flame and serve hot with biryani salan or biryani gravy.
Notes
To make the same biryani in oven follow the same procedure and do the layering work using a baking tray.
Top it up with herbs , color and ghee/oil.
Layer the baking tray with chicken and rice and then cover it tightly with a foil.
Pre heat the oven to 350 °F or 200 °C and then dum the biryani for 30 minutes or until it is nicely done.
Nutrition
Nutrition Facts
Pakistani biryani, Pakistani chicken biryani
Amount Per Serving
Calories 1151
Calories from Fat 423
% Daily Value*
Fat 47g72%
Sodium 509mg22%
Potassium 664mg19%
Carbohydrates 165g55%
Protein 15g30%
Vitamin A 582IU12%
Vitamin C 27mg33%
Calcium 135mg14%
Iron 4mg22%
* Percent Daily Values are based on a 2000 calorie diet.
WANT TO WATCH VIDEO RECIPES?
SUBSCRIBE US ON YOUTUBE