Hyderabadi Mutton Biryani Recipe is one of my most favorite biryani recipes from hyderabadi cuisine along with haleem recipe.
           This biryani is a dum method  perfect with raita and I just love making mutton dum biryani all the time and this is a special hyderabadi mutton dum biryani recipe.
       The biryani recipes always go well with biryani gravies.
Related Non Veg Biryani Recipes:
     This is a lamb biryani or one can call it as gosht biryani in urdu.
I have been trying to post this recipe for my blog readers but, could not do it and now I am so glad that I am finally posting one of my favorite recipes.
       This is the authentic style of making Hyderabadi biryani and in this recipe I am using the dum style to make Hyderabadi mutton biryani recipe.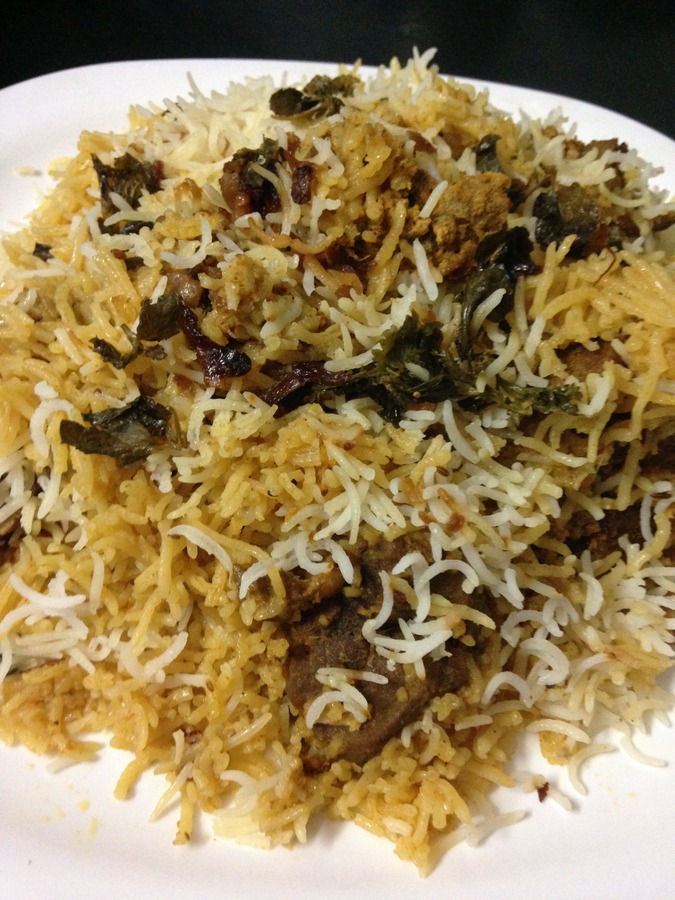 Dum method is the method in which the biryani is cooked only with the steam that is produced inside the cooking pot.
              Biryani recipe requires frying of onions and if one wants to understand how to fry onions for biryani then do read fried onion recipe for biryani.
This recipe is an amazing blend of spices, meat and rice and cooking them only with the steam obtained inside gives a real good taste. The mutton is not cooked and is cooked only while giving dum and therefore, this is a wonderful technique of making biryani.
In this mutton biryani recipe I have shown the traditional way of making biryani as cooking the biryani in cooking pots gives the authentic taste.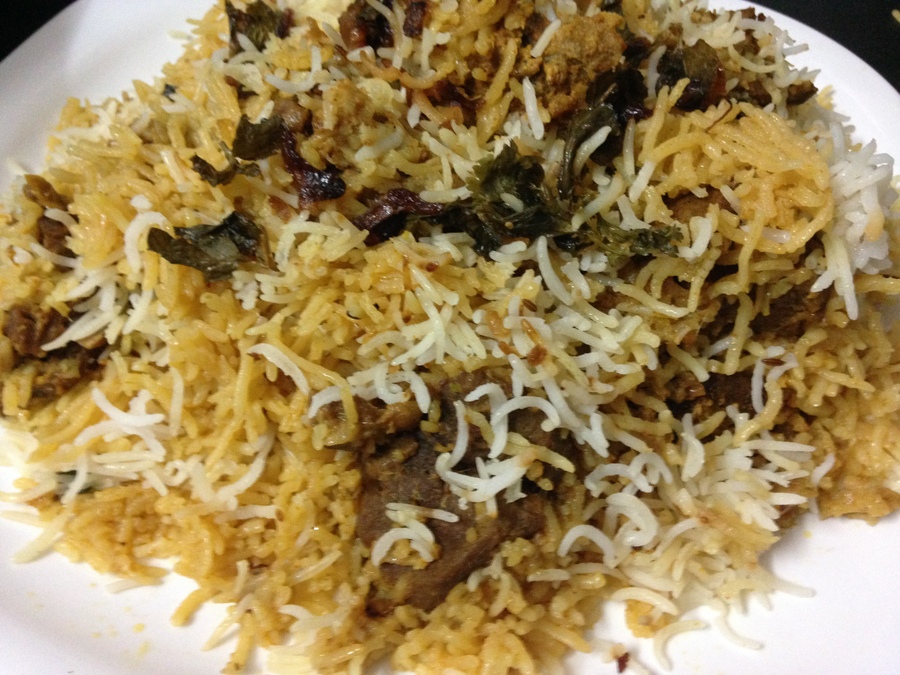 Hyderabad is known for biryani and I would love to post all the traditional hyderabadi biryani dishes as I keep updating my blog. Biryani can me made and twisted in several ways. It can be made in easy, simple and quick way too when in hurry.
Usually papaya paste is used in mutton dum biryani to tenderize the mutton to speed up the cooking process but, here in this recipe I have not used papaya and just marinated the mutton for a long time to bring a good taste into the mutton pieces.
I always focus on the meat as well as rice and I focus on bringing a good taste into the rice as well as mutton and that is what has been obtained in this recipe.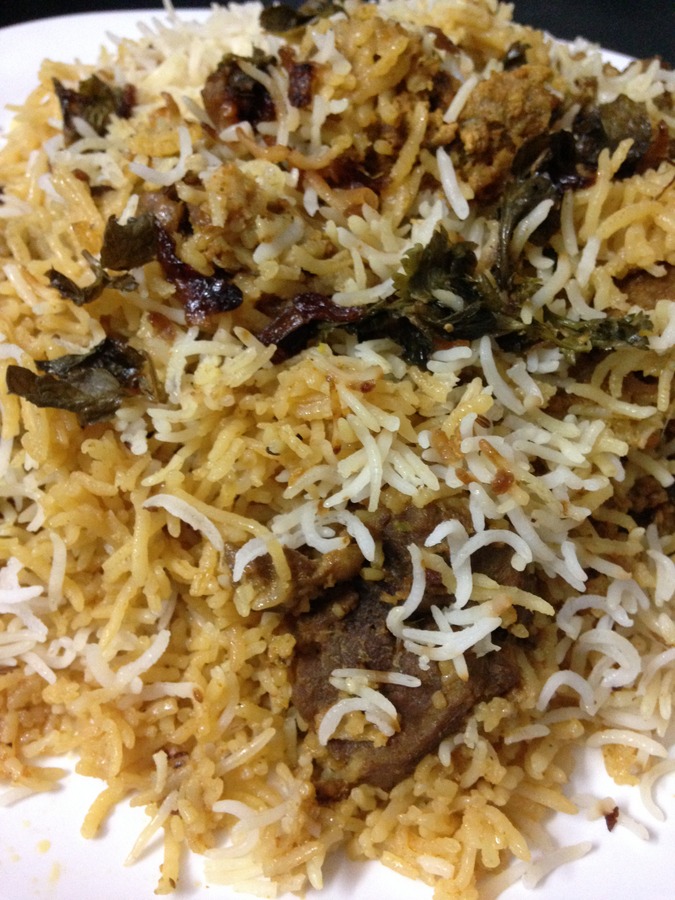 Raw papaya paste is advisable when the biryani has to be made immediately as the raw papaya paste acts as a wonderful and quick meat tenderizer.
I have used fresh and aromatic spices which play a key role in the fragrance of biryani. But I usually prefer not to make the biryani too spicy with lots of spices as it is unhealthy.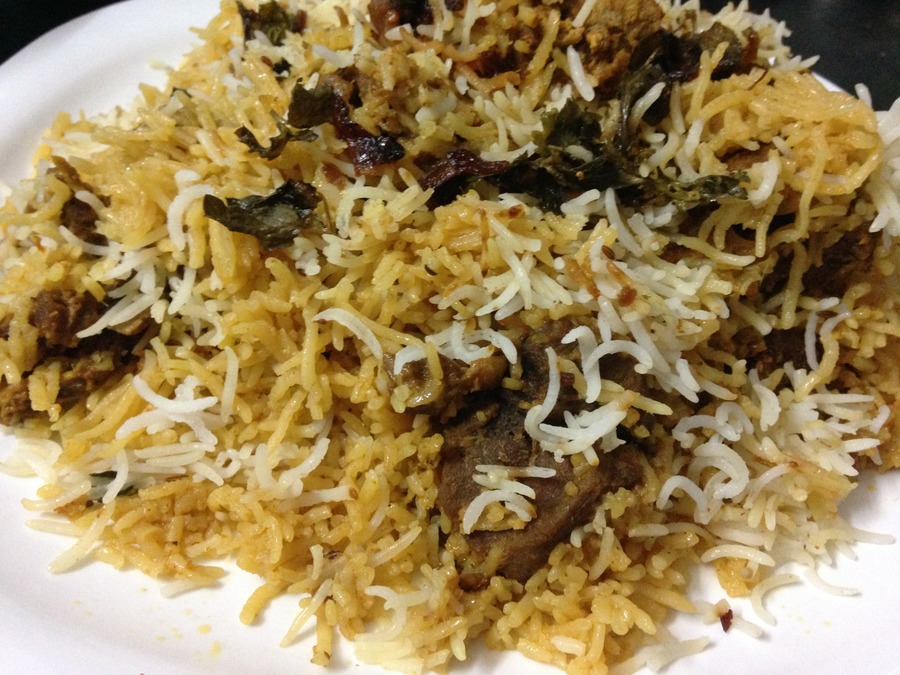 Do check out the recipe details of the hyderabadi mutton biryani recipe which is a stove top method in dum style....
Lets learn how to make hyderabadi mutton biryani recipe with step by step procedure in detail...
  Hyderabadi Mutton Biryani Recipe Below: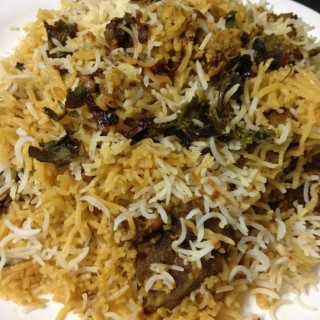 Hyderabadi Mutton Biryani Recipe
Hyderabadi mutton biryani recipe in dum style...
Ingredients  
For Marinating Mutton:
1 ½

kg

mutton cleaned and washed well

salt - as per taste

2

tbsp

red chilli powder

1

tsp

turmeric powder

3

tbsp

ginger garlic paste

3-4

small cinnamon sticks

dalchini

1

tsp

caraway seeds

shahi zeera

3-4

cloves

loung

1

tsp

green cardamom powder

elaichi powder

1

tsp

black pepper corn powder

kali mirchi powder

2-3

kabab chini

chinese cubeb

8-10

green chillies

1

large bunch coriander leaves

1

large bunch mint leaves

1

cup

of deep fried onions

2

tbsp

oil

1

tsp

garam masala powder

3

cups

yogurt/curd

1

tbsp

extracted lemon juice
For The Rice:
1.25

kg

rice

salt to taste

2

medium size cinnamon sticks

2-3

green cardamoms

3-4

cloves

1

tsp

caraway seeds

3-4

black pepper corns

water to cook rice

1

tbsp

lemon extracted juice
For The Dum and Seasoning:
a large cooking pot

2

tbsp

oil to coat the base

¼

cup

saffron flavored milk

2 strands of saffron dipped in ¼th cup milk

2

tbsp

chopped coriander leaves for garnising

2

tbsp

chopped mint leaves for garnishing

2

tbsp

crushed deep fried onions for garnishing

1

tbsp

ghee

2

tbsp

edible oil

2

tbsp

lemon extracted juice
Instructions 
For Marinating Mutton:
Firstly, in a large bowl, add the mutton pieces, add salt to taste, add red chilli powder, add turmeric powder, add ginger garlic paste.

Add cinnamon sticks, caraway seeds, cloves, cardamom powder, black pepper corn powder, cubebs and mix the whole mixture well.

Add 3 tbsp green paste(paste of green chillies, coriander leaves, mint leaves by adding a pinch of salt) into it and mix well.

Add crushed deep fried onions, oil into it and mix it.

Add garam masala powder and mix the whole mixture well.

Rest this marinade in the refrigerator for about 4-5 hours.

When the mutton is marinated for more than 3 hours, add beaten yogurt into it and mix well.

Also add lemon extracted juice into it, give a mix and rest it aside.
For Cooking Rice:
When the mutton is marinated for more than 3 hours wash and soak the rice for 40 minutes.

Meanwhile take a large cooking pot, add water generously into it.

Add salt into the water for taste.

Add whole spices such as cinnamon, cardamom, cloves, black pepper, caraway seeds into the water.

Bring the water to a boil.

When the water boils add soaked rice into it.

Cook the rice until it is ¾ th done / 70% done.

Strain the rice completely.
For The Dum and Seasoning:
Take a large cooking utensil, add oil and coat the base well.

Add the whole mutton marinade at the bottom.

Over it add all the rice that has been strained.

Over the top, add some water/milk all over the rice.

Add saffron flavored milk all over the rice.

Garnish with coriander leaves and mint leaves.

Garnish with deep fried crushed onions.

Add some ghee for fragrance.

Add little oil all over to prevent the biryani from getting dry.

Add lemon extracted juice all over the rice.

Seal the lid of the cooking pot tightly with a chapathi dough.

Place a skillet/tawa below the cooking pot while giving dum.

Dum the biryani for about 15-20 minutes on highfllame and for 40 minutes on sim flame.

The biryani gets cooked in an hour.

Always take the biryani out from one corner and take it out from the bottom to the top.

Serve the biryani with any raita or mirchi ka salan or bagara baingan salan.
Video
Notes
Always place a skillet/tava between the cooking utensil and the flame while giving dum as doing so prevents the marinade from sticking to the base of the vessel while cooking.
 Quantity of the spices can be increased if more spicy flavor is required.
Marinating the mutton for a longer time brings out a taste into the mutton as well.
If the biryani is cooked for 3-4 members just reduce the quantity of ingredients into half which are mentioned in the recipe.
If it is made for lesser members then a small handi can be used to make the dum mutton biryani.
Instead of sealing the cooking utensil with a dough, a heavy weight too can be placed on the cooking pot while giving dum as placing a heavy weight too can prevent the steam from coming out.
Nutrition
Nutrition Facts
Hyderabadi Mutton Biryani Recipe
Amount Per Serving
Calories 750
* Percent Daily Values are based on a 2000 calorie diet.
WANT TO WATCH VIDEO RECIPES?
SUBSCRIBE US ON YOUTUBE