Hyderabadi Bagara Baingan is another authentic Hyderabadi cuisine which is a mouth watering eggplant dish or baingan ka salan as it contains a masala paste which brings up the flavors of the baingan in the curry.
Bagara Baingan tastes good with below biryani recipes
Bagare baingan is a wonderful dish made with brinjals/baingan/eggplant and is an amazing combo with rice like bagara rice or roti. It tastes amazing as a side dish with hyderabadi biryani recipes...
Brinjal curry or baigan ki sabji is not commonly liked by most of them but if made in the form of bagara baingan, one can never resist eating it as it is a very tasty vegetable curry. In hyderabad we refer to it as hyderabadi baghare baingan.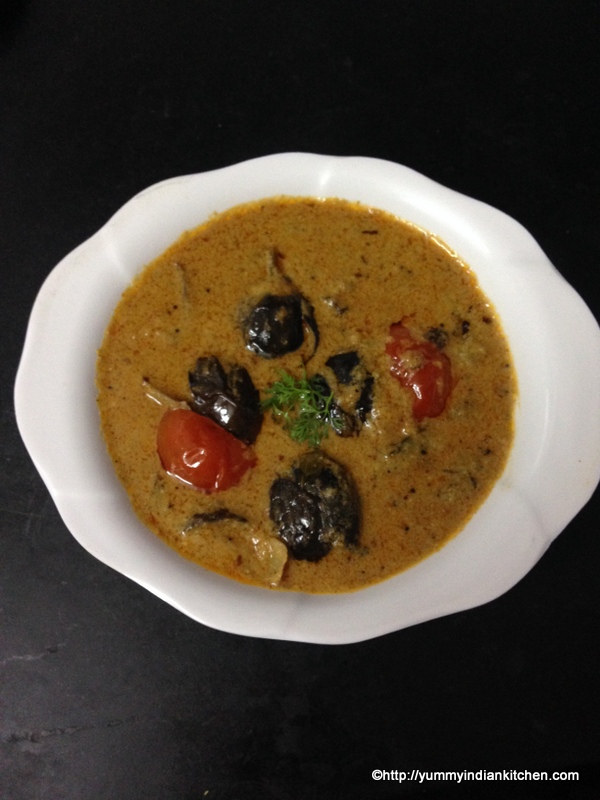 My today's post is authentic hyderabadi recipe of masala baingan which I can't wait to give it to my blog readers as it is a do try dish.
Ingredients used to make the masala for this recipe:
It takes in some of the masala ingredients such as coconut paste, peanut paste, onion paste, sesame paste, cumin powder, coriander powder etc...
These can be roasted and made into a paste separately or all the ingredients can be roasted individually, combined and made into a fine paste.
Once the paste, is ready the brinjals have to be cut and placed in salt water and I always suggesting cutting brinjals just before adding into the curry. The brinjals if cut long before cooking gives a different taste and also there are high chances of the brinjal turning black soon.
In hyderabad this kind of masala baingan is made in several versions and some tend to add more masala paste or replacing one of the ingredients with other.
The three ingredient masala paste combined gives a very heavy masala flavor and in order to make the gravy light sesame or onion paste can be skipped or both the ingredients can be skipped depending on one's preference.
Baingan/brinjals can be made in various forms, it can be used to fry, make simple curry or baingan ka bharta or baingan masala, and many other innovative recipes can be made with the help of baingan.
It is a wonderful accompaniment with biryani along with hyderabadi mirchi ka salan. Muslims during special occasions serve biryani recipes or bagara rice along with these side dishes and also serve desserts like double ka meetha and sheer korma as a complete meal.
The main ingredient in the hyderabadi bagara baingan recipe is the masala paste which is made of peanuts, coconut, roasted onions and sesame seeds. The bagara baingan cannot be called so without the masala paste and also the main part of the recipe is the tempering.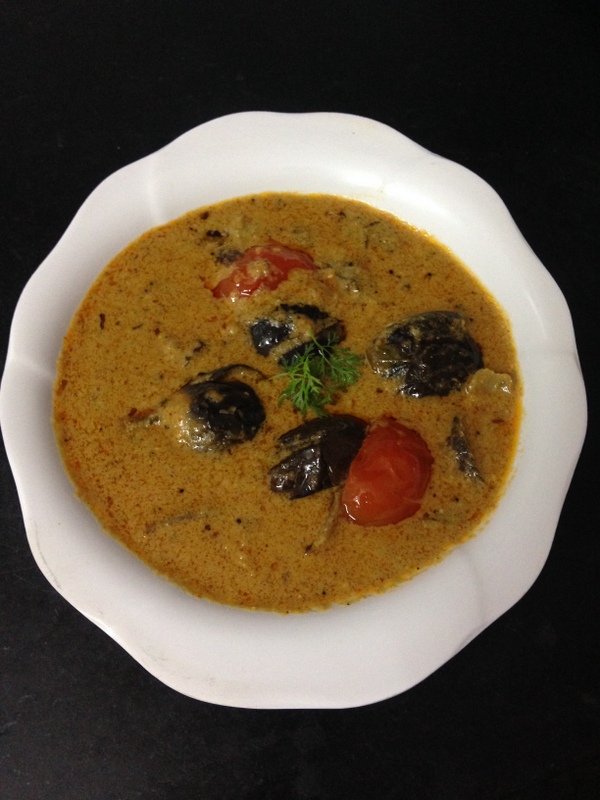 There is no need of stuffing the brinjals/eggplant/baingan with the masala paste and the baingan can be added by frying them. Hyderabadi cuisine is one of the mouth watering cuisines with the best vegetarian and non vegetarian recipes.
'Salan' is the word used for curry or sabzi and bagara baingan ka salan is the curry made with brinjals by giving tempering and adding masala paste to the brinjals.
I often make this recipe when I am bored of eating normal vegetable curries and yet want to try something interesting with the vegetables available and end up making this recipe which is very easy to make.
Recipe instructions for Hyderabadi Bagara Baingan:
Recipe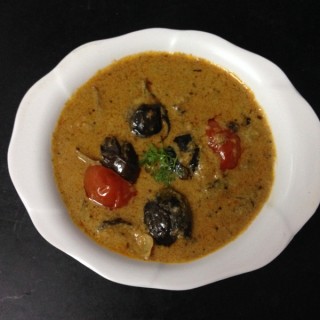 Hyderabadi Bagara Baingan Ka Salan Masala Recipe
Bagara baingan is a hyderabadi side dish for biryani.
Ingredients
2

tablespoon

oil

2

teaspoon

cumin seeds

2

teaspoon

mustard seeds

¼

teaspoon

fenugreek seeds

5 - 6

dried red chillies

7-8

curry leaves

8 - 10

brinjals slit into + form

1

tablespoon

ginger garlic paste

salt to taste

2

teaspoon

red chilli powder

½

teaspoon

turmeric powder

2

teaspoon

coriander powder

1 to

mato

1

large lemon size tamarind extracted pulp

1

tablespoon

coriander leaves for garnishing
For the masala:
1

tablespoon

peanuts

1

tablespoon

desiccated coconut cut into pieces

1

tablespoon

sesame seeds

2

medium sized onions sliced
Instructions
Firstly cut the brinjals into + form and put them in salt water.

Dry roast peanuts, coconut, sesame seeds separately and allow it to cool.

In a pan, add onions, smear little oil and roast them for a minute.

Make a fine masala paste of all the roasted ingredients which are peanuts, coconut, onions, sesame seeds and put it aside.

In a cooking pot, add oil and heat it, add cumin seeds, mustard seeds and allow them to crackle.

Add fenugreek seeds, dried red chillies, saute well, add curry leaves.

Add the brinjals/eggplant/baingan and fry them well until the color of the baingan changes.

Add ginger garlic and saute well for few minutes.

Add the masala paste into it, mix well.

Add salt, red chilli powder, turmeric powder, coriander powder, mix well and cook the masala until oil appears at the corners.

Add the tamarind extracted pulp and stir well.

Add water if required and salt too.

Add tomato which is cut into two halves.

Cook the whole bagara baingan ka salan until the gravy thickens and oil appears.

Garnish with coriander leaves.

Serve hot with roti or rice.
Nutrition
Nutrition Facts
Hyderabadi Bagara Baingan Ka Salan Masala Recipe
Amount Per Serving
Calories 320
* Percent Daily Values are based on a 2000 calorie diet.
Recipe Video of Hyderabadi Bagare Baingan Masala: